Bad at Sports is pleased to have Martine Syms of Golden Age as a guest blogger with her picks from last week's New York Art Book Fair. "Martine Syms is a conceptual entrepreneur based in Chicago, Illinois. You can usually find her doing "research" (reading blogs) in the back office at Golden Age or watching television shows on DVD. Golden Age is a concept shop, founded in 2007, that sells publications, music, apparel and other editioned works created by artists. Golden Age makes a statement about an alternative mode of making and selling art; that it can be straightforward, accessible, and moderately priced."
This year Printed Matter's NY Art Book Fair claimed all three floors of P.S.1 to present over 200 international booksellers, galleries, and independent publishers/artists including art luminaries Dexter Sinister, Peres Projects, Electronic Arts Intermix, and E-Flux. Unlike most commercial art fairs this year, the NY Art Book Fair managed to escape the shadow of the recession. Everyone seemed to be having fun amongst the many DIY initiatives that have been doing so much with so little for so long. However, similar to most art fairs, NYABF was incredibly overwhelming and I couldn't possibly see everything. Here are some highlights from last weekends event, if you want to link to projects that I missed, please do so in the comments.
A Modest Proposal For A Serving Library – Dexter Sinister
A Modest Proposal For A Serving Library, Nick Relph and Oliver Payne Dexter Sinister [http://dextersinister.org] (designers Stuart Bailey and David Reinfurt) presented a very heady not-so-modest proposal for taking over an abandoned library in Los Angeles that is also the site of the newest video by Brits Nick Relph and Oliver Payne. In the video, books are chroma-keyed onto shelves, and the librarian's serve red wine. Over the weekend the Serving Library also hosted a screening of Truffaut's Fahrenheit 451 with an introduction by my favorite Dot Dot Dot contributor Rob Giampietro.
The Werkplaats Typografie
The Werkplaats Typografie, a Dutch post-graduate design program, brought all 17 students to New York for the fair. Across from a wall displaying their most recent graphic output, the students set up studio in which they would bootleg any of the Werkplaats' catalogs for a mere $5.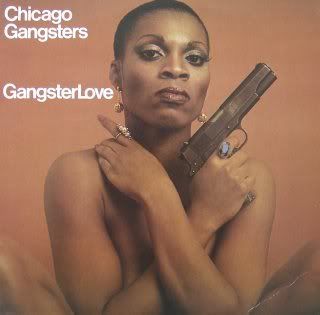 On this week's roundup I discovered dresses that are made for cats, Pruned gave their plans for a 2118 Chicago winter Olympics, and I found Chicago Ganters' badass album cover for Gansterlove. If you haven't checked it out yet go see Philip von Zweck: The Fortieth Anniversary of the First Anniversary in May '68 at Threewalls before it closes this Saturday. Have a good weekend.

Chicago Gansters = Badass album cover.
Design Council Image Database "was formed to educate the British public about good design" We need one of these. 
Plural Blog has some previews for the latest issue of Lumpen. 
Cat Fashion | http://bit.ly/2blYUQ
RT @threewalls Philip von Zweck: The Fortieth Anniversary of the First Anniversary in May '68 (in September)..ending this Saturday!!!
Potentially Boring | "Between the Folds" a documentary on origami.
@art21's new season starts tonight but what I really want to watch is ESPN's 30 on 30. Tonight a doc on Wayne Gretzky. 
I don't feel so good about the full Kirsten Dunst, Murakami thing.
Just received an email from my mom. She just got the latest J Crew catalog in the mail and asked "Where are the female artists." Good point.
Joe Fusaro has an interview with Janine Antoni on @art21. 
IDLM has some cool work and an interview with Shin Murayama. Sort of Hannibal Lecter meets Sports Chalet. 
@pruned gives their vision for a Chicago 2018 Winter Olympics bid. http://tiny.cc/Eu5mn
RT kingstitt More reminders on the state of Chicago art criticism from @badatsports. well said @ClaudineIse:
I haven't purchased a Taschen book in a while but am thinking of picking this up. 
Alan Moore has a new journal out called Dodgem Logic.
The winner of the first annual edition of ArtPrize has been announced, and it's Ran Ortner from Brooklyn, New York. The Prize is a contemporary art competition based in Grand Rapids, Michigan that has eschewed traditional expert juries in favor of a public vote on the winners. Ortner, 50, won the top prize of $250,000 for a painting titled "Open Water No. 24," a dramatic, 6 x 19 foot oil painting depicting ocean waves in a realistic fashion.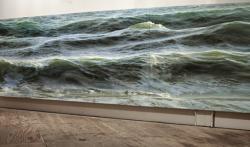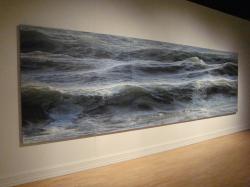 Taking the second prize and its $100,000 award was Chicago artist Tracy Van Duinen for his tile mural titled "Imagine That!" on the façade of the Grand Rapids Children's Museum.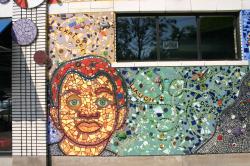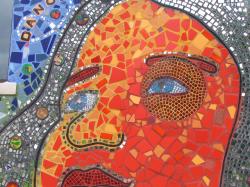 The $50,000 third prize went to artist Eric Daigh of Traverse City for his portraits made entirely from colored pushpins.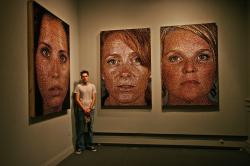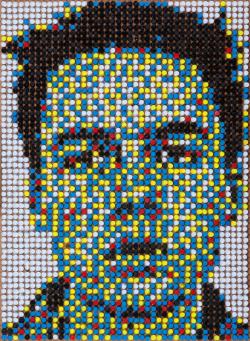 The other artists in the Top Ten each received $7,500 prizes. All winners of the ArtPrize were determined by votes cast on the ArtPrize Web site or via text messages sent from cell phones. The winners were announced last night.
$449,000 — the total amount of prize money in the contest–is, as they say, a shitload of cash. This alone has made ArtPrize the most monetarily rewarding contemporary art competition in the world right now. Where did contest organizer and social media entrepreneur Rick de Vos (who established the website Spout.com, a social-networking site for film buffs) get it from? The Dick and Betsy De Vos Family Foundation (Rick De Vos' parents), who is listed as ArtPrize's primary sponsor (Rick De Vos is the grandson of Amway's cofounder). Numerous other De Vos family relations were also top contributors to the contest funds (see here for the full list of ArtPrize sponsors). The Dick and Betsy De Vos Family Foundation's mission, according to its 2006 funding guidelines, is
"to serve as faithful stewards of God's blessings through a focus on 1) Christian Evangelism through church building, family building, and youth programming; 2) Education through programs that provide support for parental choices in determining where their elementary and secondary school-aged children attend school; 3) Public Policy that results in a freer, more virtuous, more prosperous society. The Foundation does not allocate funds to individuals, for-profit organizations, or candidates for political office."
(If you're interested, you can learn more about which groups and projects fall into the categories listed above by reading about the Foundation's funding choices here and here).
Clearly, the material benefits to artists gained from winning the three top prizes and even the lesser amounts are tremendous. In terms of its financial benefits, winning a contest like this one far is better than winning a grant–at least in terms of how profitable it is. Rick De Vos told the Detroit Free Press that his goals in establishing the contest were to promote conversations about art and to create a hip cultural event for Grand Rapids, Michigan. And the contest succeeded in creating lots of buzz and tons of entries–1,262 artists entered the contest, and nearly 14,000 votes were counted in the final round (334,000 votes were cast for the initial pool of entrants). So not only did the contest offer the biggest monetary prize, it promised a democratization of the means of selection. Everyone who took the time to register in person at the ArtPrize event got to vote on the works of art hanging before them. And the results of their votes mattered – a lot.
But does ArtPrize offer a viable model for others to follow? Not really, as I see it. For one thing, it's hardly a replicable format. If de Vos had rustled up that much cash in any other way other than tapping family money, I'd be more apt to sit up and pay attention. But the fact remains that this contest with its enormous prize would not have been possible without primary support from a single Foundation that, at least in its other funding efforts, has shown itself to have very specific social and political agendas.
Yes, the Grand Rapids audience was given the empowering opportunity to circumvent the critics and the curators and the other so-called gatekeepers to make their own statement about which artists are most deserving of recognition.  Lucky for everyone involved, it appears that none of the artists selected for voted the top three winners make the type of work that would prove to be embarrassing to the contest's sponsors – no poop photographs, no naked ladies, no same-sex coupling. What would have happened, I wonder, if an unknown artist making photographs with subject matter similar to that of Catherine Opie's "Domestic" series had won? Nothing, I'm sure – but it's a good bet that if that happened, next year's ArtPrize wouldn't have mom and dad's big money behind it. And probably not nearly the number of artists entering the contest. And audiences/voters caring about it.
Art21 contributor Nicole Carruth was asked by the ArtPrize organizers to reflect on the significance of the contest through a series of written essays that included an interview with Mary Jane Jacob, Professor and Executive Director of Exhibitions and Exhibition Studies at School of the Art Institute of Chicago. In the interview, Jacob offers a pointed critique of the contest, which in part centers around her misgivings about the competition's huge prize award. Notes Jacob:
"My real misgiving strategically, long-term, with the project is the huge disparity in the prize money in an art world where artists need a lot of support — art always does.

We're at the 48th anniversary of the Calder, which was a high point of public motivation of art, and the NEA's flowering, and so forth. We've seen the demise of the individual artist grant program and we're still suffering from that. Some grant programs were out there already, some ramped up further, like Pew in Philadelphia or Bush in Minneapolis. But then other ones with a lot less resources and smaller amounts have done volumes of work, like Creative Capital and Artadia. And nobody in any of those is getting $250,000. I think we're not looking at $250,000 artists here. I have a problem with the division it creates when that amount of money, $500,000, could be spread in equal or on more egalitarian ways.  That could support 10 or more artists.

… That confrontation, that nexus between the aspiring artist, emerging artist, overlooked artist and the broader public is a great conversation. We see it enacted here and it's a great success, I think, on that level. But then when the final result becomes something that then shifts to a paradigm that is more like American Idol or winning the lottery, it doesn't necessarily sustain either that individual or this system or the art world. I even find it problematic with colleagues from those institutions that I've named who are struggling to have something that doesn't join the conversation of [artist] development, sustainability and support…To see that supporting artists is a positive and necessary endeavor has a great ripple effect."
Jacob's critique offers us an invaluable framework for considering the true value of big-money contests such as this one and, even more importantly in my mind, for putting the "generosity" of sponsors like the de Vos Family into its proper context. Many people from various points on the political spectrum are troubled by government funding of artists, and to be sure there are a  number of valid reasons for their discomfort. But we should think twice about investing too heavily in the contest model offered by ArtPrize.
To my mind, the "democracy" of choice promised by ArtPrize masks a more distrubing desire on the part of its major sponsors to do away with government support of the arts advocated by those who they imply are "cultural elites." But as Jacob points out, not everyone can win the lottery, and not all artists will win an ArtPrize. ArtPrize makes for some razzle-dazzle regional publicity, sure–but it doesn't present any real alternatives that the rest of us can run with.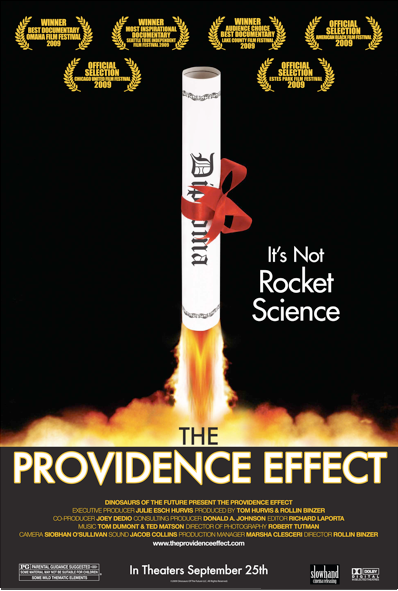 I live in Chicago, I work with kids, and I am one of the many people who are aware that the public education system (in Chicago and elsewhere) is doing a huge disservice to our youth. That said, I was very curious when I saw the trailer for The Providence Effect and it stated that a school on Chicago's west side had gotten 100% of its graduates into four year colleges this year…and has been doing so for the past 30. Years. Damn.
I got into a nice early bird matinee, hoping I would be the only person in the theater, and was until a gaggle of high school girls and their teacher decided to join me. They did shut up when the film started, thank god, but there was quite a bit of talk about homecoming. Maybe it was all this youthful estrogen in the room that actually made me a little teary towards the end of the film.
The streak of sending every graduate to a college started when Paul J. Adams III began working at Providence St. Mel School in Garfield Park, first as a guidance counsellor and then as principal. He came to Chicago after he was "blacklisted" in Alabama for being involved in the Civil Rights movement. Basically, the school relies on discipline, teachers who are passionate about what they do, and a hands on administration. There is some narrative arch, sort of, about how the Catholic archdioces sought to close the school, and the Baptist Paul Adams ended up buying the building so he could continue what he was trying to do.
But this is an art blog, so lets get serious. The film was very straightforward. There was no conflict to be resolved, no sudden twist of fate, just a bunch of educators talking about what they do. That said, it did seem fascinating that our public schools are so epically failing while this one system is succeeding so incredibly, and everything that the people involved with it were saying seemed so damned simple. Have competent teachers. Excite the students. Set the bar high. Expect and celebrate excellence.I think that the momentum of the school also helps set the pace for the students; I mean, who wants to be the one kid who doesn't get into a college?
The actual filming of the feature was mediocre at best. The talking heads were fine, well lit, interesting backgrounds. But interspersed between these interviews was reality-tv-esque shots of jumpy handheld hallways and classrooms. The camera seemed almost intrusive in the classes, and incredibly awkward. While discussing gearing children towards college from a young age, a kindergardener is attempting to anwer a question when a camera swoops into his face for a close up and he struggles to finish his sentence. Nice one, jerk. In another incredibly uncomfortable moment, the assistant principal is catches a student doing *gasp*homework from Spanish while in math class, and the cameraman practically falls running over to catch her handing the book over, head hung in shame. The soundtrack was all inspirational pump up music that at one point reminded me of "Eye of the Tiger", and added a significant cheesy factor to the overall experience. Also, at least a good 30 minutes could have been shaved off of the total time.
If you want to feel good about kids in one school in a bad neighborhood being serious about their education, and maybe cry a little, this is the film for you. Just try not to think about the hundred and something thousand other schools that are completely in the shitter.
How hard is it to make a Piano sound even remotely like a human voice? Well Austrian composer Peter Ablinger spent a few years to create a sound wave to note translation system that gets pretty close. The video is of the system in action reading text from the "Proclamation of the European Environmental Criminal Court at the 2009 World Venice Forum". Watch and be amazed at just how many keys it takes in succession to even get close to a single human vowel.