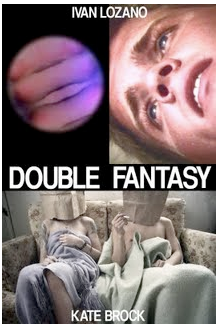 Man, I love when the name of a gallery references where it is located. I mean, how convenient? Noble and Superior Projects had their first opening this past weekend with their show DOUBLE FANTASY featuring the work of Ivan Lozano and Kate Brock. The brand spanking new gallery is run by SAIC grad students Erin Nixon and Patrick Bobilin.
The space is an apartment that is not trying to be anything more than what it is. You enter through the kitchen. The show consists of an installation by Lozano and a small room of Brock's photography. The installation is a projected video with sound, two circles on of video the wall, the bottom image falling onto a mirrored floor. The bottom is a male face, in agony or ecstasy, in extreme slow motion. The top image is more amorphous shapes, colors and patterns. The sound is repetitive and loud, like exceptionally unpleasant dance hall music. The piece is encompassing and engrossing, spilling off the wall onto the floor, changing the color of the entire space, with mesmerizing patterns. I couldn't stop watching. Knowing a little bit of Lozano's work, I understood the allusions to disco and could tease out the origins of the bottom face from some gay porn. However, because there wasn't any literature available at the show, I think some of the subtleties that could have been enjoyed (where the footage came from, heck, even the title of the piece) were inaccessible.
Brock's work was photography displayed in a small room off of the installation. There were four small black and white images, three slightly larger color, and four large color prints. They were all portraits of semi naked, thin, attractive people in various environments, sitting, standing, lounging, wearing brown paper bags to cover their heads. They are expertly executed portraits, visually stunning, with urban landscapes and intimate interior spaces as the backdrops. From the gallery website, the series (BAGHEAD, not sure why all caps) "highlights the shape of the body and forces the viewer to imagine each of her characters through the prism of an irreconcilable anonymity." Well, yes. Because there is no face to connect your gaze, you are left looking at these people and their attractive bodies. I enjoy this idea of removing agency, and how the relationships between the characters are complicated by the lack of eye contact, in the series however it comes off as a sort of one-liner.
I did appreciate the dialog between Lozano's work and Brock's. There was delicate connection between where to place or locate the gaze in the photographic as well as an extreme emphasis on the gaze in the larger than life face in the installation. In the conversation between the work, Lozano's work felt much more secure in a time and place (post-AIDS epidemic) while Brock's work felt very contemporary it did not feel deeply attached to a history.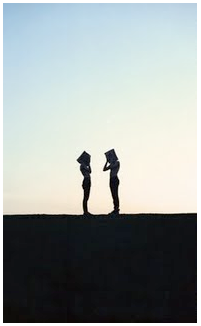 More so than the show itself, chatting with Nixon and Bobilin really excited me about the future of the space. They want to focus on two artists at a time; one working in a way that must be "experienced" (I'm thinking more video, installation, performance) and the other in a way that is able to be easily distributed. For this show, I got to take home a small photo of Brock's work (packaged in a paper bag, no less). I think this could be a very dynamic experience, and with so many galleries or shows focused purely on one concept or the other, I am interested to see how this plan develops.
Noble and Superior Projects is located at 1418 W Superior St in Chicago, IL. They are open to the public Saturdays from 12-6 and monthly for openings. They can be contacted at nobleandsuperior (at) gmail.com
Acclaimed photographer Roy DeCarava, known for his empathetic images of the everyday lives of African Americans in Harlem, died last Tuesday at the age of 89.
From his obituary in the L.A. Times:
DeCarava (pronounced Dee-cuh-RAH-vah) photographed Harlem during the 1940s, '50s and '60s with an insider's view of the subway stations, restaurants, apartments and especially the people who lived in the predominantly African American neighborhood.

He also was well known for his candid shots of jazz musicians — many of them taken in smoky clubs using only available light. Shadow and darkness became hallmarks of DeCarava's style.

"Roy was one of the all-time great photographers," Arthur Ollman, founding director of the Museum of Photographic Arts in San Diego, said in 2005. "His photographs provided a vision of African American life that members of the white fine art photography establishment could not have accessed on their own."

DeCarava's first major exhibit was at the Museum of Photographic Arts in San Diego in 1986. Ten years later, he was the subject of a one-man exhibit at the Museum of Modern Art in New York City.

"What's extraordinary about the pictures is the way they capture his lyrical sense of life," Jonathan Galassi, a curator at the Museum of Modern Art, said in a 1996 interview with ABC.

"You see pain, you see anger and you see an extraordinary quality of tenderness," Galassi said in a separate interview with CBS.
It's been a possibility for awhile now, but nonetheless I was surprised and saddened to learn that I Space Gallery will officially close its doors on December 31st. Last ditch efforts at fundraising, which once looked quite hopeful, ultimately could not overcome the hurdles presented by economic hard times, the University of Illinois at Urbana-Champaign's ongoing budget crisis and the University's admissions scandals. Gallery Director Mary Antonakos will also lose her post. Antonakos tells me that a new UIUC Gallery is slated to open nearer to campus, which means students will still have a University venue in which to exhibit their work – just not one in Chicago.
The Gallery's last two exhibitions, "The Philosophe's Tango: Permanence and Flow, The Last Works of David Bushman 1945-2008," and "Architecture of Crisis:
Roger Hubeli, Julie Larsen with Aptum Architecture In collaboration with Beat Steuri," will have their openings on the evening of November 20th. "Its been a very tough and challenging couple of years," Antonakos told me via email, "but I'm going to try to go out by celebrating what we've accomplished."
Check out these enthralling, atmospheric, super-sinister art videos that were part of an installation at Galeria Animal, Santiago, Chile by the artists Niles Atallah, Cristobal Leon & Joaquin Cociña. Those chilling whispered voiceovers are probably going to give me nightmares. Which reminds me – only two more days till Halloween, creeps! (Videos via Beautiful/Decay, natch).
On this week's pick we bring you a clip from the 1930's film 'Le Sang d'un Poete' or 'The Blood of the Poet' by Jean Cocteau.
via netcomuk:
"Technically, The Blood of a Poet reflects Cocteau's trials and errors as a novice filmmaker who had to turn irreversible mistakes to his advantage and improvise every celluloid foot of the way. During shooting, he used the dust raised by studio cleaning men to enhance the mysterious atmosphere of the final scenes. Special weightless effects were obtained by camera trickery to show the little girl flying up to the ceiling and the poet moving painfully along the corridor wall. Once Cocteau discovered that he could turn shooting disasters into happy accidents, he was off on a career of making films that carried his cachet of surprises…"