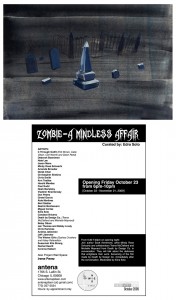 Don't forget that tonight is the opening for Zombies: A Mindless Affair at Antena Gallery.
And get there early, because from 6:30 – 7:00pm there'll be a discussion between author Scott Kenemore, artist Mindy Rose Schuartz and collaborators Teena McClelland and Michelle Maynard from Death by Design Co. about "the darkness that enlightens their work" moderated by exhibition curator Edra Soto.
There will also be a screening of the film "Throb" made by Death by Design Co. immediately after the conversation.
OK, so here's the deal for right now. Every week (well almost every week) I do a pick of shows that I think are most likely worth seeing (I am often wrong). The problem is that I sometimes don't get to go to all the shows on my list (I generally see art on the weekend and usually just go to openings, I don't have the "it's so crowded in here, I can't see the art" issue, I just shove my way through and look, but I digress). So this week I am giving ya'll a list of where exactly I am going. I chose this route because I noticed something odd this weekend, there are seven apartment gallery show openings and closings in the next three days. I figured, what the hell, I'm going to be out, some of these places I like, some of them I don't really like, some of them I've never visited, why not make a circuit of them all, a selection of this Chicago art institution known as the "Apartment Gallery" and see the "State of the Apartment" so to speak. And (this was added after the list was mostly done), I like openings that go till 10 or 11 at night, you can cram a lot more in that way.
APARTMENT GALLERY OPENINGS (AND CLOSINGS) THIS WEEKEND:
1. Australia at Concertina Gallery
And I quote, "Acting as a springboard for works by both Anthea Behm and Aron Gent, Baz Luhrmann's 2008 movie Australia provides loaded content for each artist to pick apart and reconstruct. Though the artists work off the same source material, they diverge in form and intention. Triggering questions of cultural ownership and responsibility, Behm and Gent address the cultural transmission between those represented and those representing." This is how the gallery describes the show. I'm most interested in going to see Anthea's work, she's a friend of mine and I'm curious to see what she's been doing.
Concertina Gallery is located at 2351 N. Milwaukee Avenue, 2nd Floor. Opening Reception: Friday 7-10pm
2. Double Fantasy at Noble & Superior Projects
So this place is brand-spankin'-new. I don't even know if it is actually an apartment gallery, though all indicators point to that (especially the directions that once you get to the address, "Rear House, Through The Gate!!!"). As you can see by the ever-so-informative card-announcement-thingie, the show features the work of Ivan Lozano and Kate Brock. I can't find a website for Kate Brock, guess you'll just have to go to the show.
Noble & Superior Projects is located at 1418 W. Superior St. #2R. Opening Reception: Friday 6-10pm
3. 2-for-1: After Effects at secondBEDROOM and Side Effects at Medicine Cabinet.
A two for one in Bridgeport. For those of you who haven't been there, these two "galleries" are both part of the same apartment, secondBEDROOM located in, you guessed it…and Medicine Cabinet is the name for the installation space/bathroom.
In the secondBEDROOM: "Thad Kellstadt's After Effects attempts to explore the possible afterlife of objects, once dependent on human touch, now neglected but possessing a new presence. Some believe that the breaking of a mirror brings a lengthy stint of bad luck due to the soul confiscating power of the mirrors reflective surface." Yep.
and in the Medicine Cabinet: "Pharmaceutical marketing strategies and scenic nature photography combine to serve up a warning: Don't get too comfortable on that plateau. While the view is spectacular there are other forces at work, just out of earshot and bubbling their way toward the placid peaks." Uh huh.
secondBEDROOM and Medicine Cabinet are located at 3216 S. Morgan Street Apt. 4R. Opening Reception: Saturday 7-11pm.
4. The Trunk Show at Barbara and Barbara
Barbara and Barbara do love you, as their web address so astutely says. For this round the Barbara-ganza is putting on a show dealing with the idea of travel.The show includes the work of a crap-load of people, incuding: Sierra Berquist, Ben Bontempo, Peter McLean-Browne, Evan Burrows, Pete Cuba, Fred Frederick, Julia V. Hendrickson, Landon Manucci, Colin Nusbaum, Emma Powell, Scott Reinhard, David Schalliol, Elizabeth Stoutamire, Christopher Sykora, Sean Sykora, Jessie Vogel, Kelly Wallis, Rustél Weiss, Hannah Zurko
Barbara and Barbara is located at 1021 N. Western Ave. Opening Reception: Saturday 7-10pm.

5. Exhibition 2. 10242009 at MVSEVM
Ok, so I'm a bit confused as to who exactly MVSEVM are and whether or not there are two of them. So, instead of linking to the blog that seems like it might be theirs but says they are on vacation, I'm linking ya'll to the On The Make (another wonderful site) page about the show and gallery. And I quote, "For its second exhibition MVSEVM invites eight diverse artists to contribute site specific works and installations that address the ambiguity of the space as both domestic and professional, private and public, as well as external concerns. In Exhibition 2.10242009 these inquiries manifest in an interrogation of social paradigms, raising questions pertaining to human relationships filtered through biological and technological themes." Artists in the show: David Brooks, Joe Cruz, Chris Cuellar, Szu-Han Ho, Jesse Vogler, Gabriel Martinez, T UM', Andrew Yang and Harley Young.
MVSEVM is located at 1626 N California Ave. #2. Opening Reception: Saturday 6-10pm.
6. Deedee Davis and Casey Roberts at Home Gallery

Less of an apartment gallery and more of, well, a home (go figure), Home Gallery is located down in Hyde Park and run by Laura Shaeffer. For this round of exhibitions, Home will be featuring the work of Deedee Davis and Casey Roberts.
Home Gallery is located at 1407 E. 54th Pl. Opening Reception: Saturday 6-9pm.
7. Marginal Waters at Golden Gallery
So, this isn't and opening, it's a closing. Golden is also, like Home, on the edge of the "apartment gallery" definition, but what the hell. For this round of Golden-tastic-atude, they are closing out Marginal Waters, work from the 80s by Doug Ischar. And I quote, yet again, "Ischar will exhibit a body of photographs from 1985, never before seen in its entirety, taken on the now defunct Belmont Rocks in the city of Chicago, and a new single-channel video work." The closing is also rolled together with the catalog release, and there'll be an interview with John Neff.
Home Gallery is located at 816 W. Newport. Reception/Catalog Release: Sunday 3-6pm.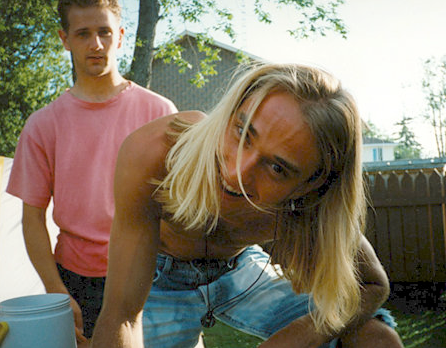 Presented by the Department of Film Video and New Media at SAIC, the Video Data Bank and the Gene Siskel Film Center, as part of their Conversations at the Edge series, Mark is a video portrait of Mark Karbusicky, created after his suicide in 2007.
Director Mike Hoolboom began his opening remarks by stating that there was a time in his life when all the good things happened in a movie theater, until a day in 2007 when he found out that his friend and collaborator of six years Mark had killed himself, which he was told right before a movie began. Yikes.
The film reads less like a documentary and more like a moving collage of stock footage, childhood portraits and relics, as well as interviews with his friends and family. Beginning with his oldest childhood friend, the film traces the life of a man you end up knowing less about in the end than you did to begin with. It is an odd portrait in that it seems to capture more the periphery of his life than actually attempting to memorialize the man himself. Or perhaps documenting the margins of his life, his politics, odd moments in home videos, Hoolboom was attempting to achieve a more genuine view of Mark as a person.
Created mostly of footage taken by his partner (who happens to be transsexual, although this is actually irrelevant), of her own performances and activism, Mark by default seems to be the supporting character in his own life memorium. Mark was clearly a tortured person. Deeply invested in animal rights, queer politics, and helping others with mental illness, a lot of attention was focused on how little he cared about himself and put all others before him. Hoolboom spoke after the screening about how the film was created in the space between the way things were before Mark had died and before things had settled into the way they would be after his death. The rawness of this period is apparent especially in the interviews, which were all done within the year after his death.
The film is edited to create an intense amount of tension. Many pieces of footage are overlapped, the hand-heldness is emphasized in upside down and shaky camera work, and shots seems to be just too short, or just too long or just too out of focus for one to feel comfortable. In an interview with one of Mark's friend and coworker, the camera is at table height, and the woman is half obscured by a large candle holder. The focus goes in and out as she tells this heartwrenching rendition of their final interaction. After the screening, Hoolboom explains that he wanted to give his interviewees physical space, and referenced this shot in particular to demonstrate how he wanted the candle to mediate the space between her and the camera. Although I acknowledge the  gesture after he spoke about it, during the shot I felt myself wanting to peer around the obstacle and actually see her face. Another shot I thought was more successful was that of Mark's partner Mihra-Soleil Ross; the camera was focused on the deep red wall of their apartment, you could see a bookcase and a plant, and she walked almost around the frame while she spoke about her recurring dreams during their ten year relationship that he had left her. Her body was just present enough to give you a sense of agency, but the lack of her presence really caused you to focus on her words and storytelling.
I wish the voiceover was left out. Hoolboom in person is charming and eloquent and gesticulates beautifully; on screen his voice seems affected and melodramatic. I think the subtly is lost when documentarians feel the need to describe what has happened instead of letting moods come across through images.
The film was successful in that it felt vast and encompassing, through the use of stock footage that spanned decades, Mark's own home videos and photos as well as different people speaking about him. It did not feel like the entire momentum of the piece lead up to a dramatic revelation of how he killed himself, which was refreshing. Hoolboom said that his death was not the most important thing that happened in his life, and I think the film reflected this sentiment.
There's a great discussion going on right now at Edward Winkleman's blog inspired by Winkleman's post Thinking While Making Things, which was in turn inspired by an interview with Robert Storr conducted by The Art Newspaper, and an article written for Proximity by artist and frequent BaS contributor Mark Staff Brandl titled Artists Write: Thinking While Making Things. The discussion on Winkleman's blog revolves around the ways that artists can/should/have engage(d) theory in their work and writing, the different forms that "theory" may take when it comes to artistic practice, and further on from there. Go check it out and add your voice to the discussion.
And on a side note, I have a small request of my own for current or former MFA students and/or art history graduate students, along with their professors and teachers:  I'm trying to break down what often seem to be monolithic notions of what "Theory" constitutes nowadays by looking at it from more a text-specific level.  I'm especially interested in what strains of "Theory" are being taught to younger artists who are engaged with / emerging from art programs TODAY (rather than, you know, 20 years ago, which was arguably when deconstructionist/ post-structuralist / psychoanalytic / postmodern / cultural studies-driven,  capital T Theory was in its heyday and held greatest sway). Are there any new Theories out there that I should be aware of (she said, tongue planted firmly in cheek)? What are you proverbial kids reading today? It can't be the same shit I was reading twenty years ago…can it? Let me know what your profs are assigning or recommending (links to full-on syllabi are welcome!), and which authors and theoretical texts you're talking about with your friends and colleagues. I want to try and map out, in painfully literal fashion,  just what it is we're talking about when we talk about Theory.
Thanks. Now, go check out the discussion over at Mr. Winkleman's house (and please make sure to restrict any comments here to the specific topic I put forth above…I don't think it's cool to siphon off discussion from another blogger's post).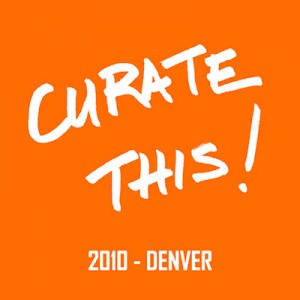 Curate This! a city-wide international emerging contemporary art and design exhibition that starts June 24, 2010 in Denver, Colorado, is the latest example of how some regional arts organizations are trying to encourage a greater engagement in contemporary art among the general public by circumventing traditional approaches to group exhibition-making (particularly the top-down selection processes of curators or juries) in favor of a contest model, one which allows for the display of work by a wide field of entrants whose efforts are assessed and judged by the public. Unlike most group contemporary art shows, which tend to be organized around a theme or other connective thread, the contest model offers viewers something altogether different: a winner. A winner that the audience can help choose. A winner who, if the contest has the right backers, can earn big, maybe even big enough to be life-changing, cash prizes.
Unlike Grand Rapids' recent, quarter of a million dollar ArtPrize, Curate This! offers its single winner a somewhat more modest prize of $10,000. And unlike ArtPrize, which relied entirely on the public to select the winners, Curate This! shoots for a kind of middle ground between juried exhibition and the pure populism of the contest mode. In fact, the title of Curate This! is somewhat misleading, because the public isn't in any way involved in the curation of the artworks on display. That job is still left to a panel of professional curatorial "advisers" whose identity will remain hidden until the selections have been made. Once that happens, the selected entries will go on view at various Denver-area venues and at that point the public will vote on a winner. (There will also be a Curator's Choice Award, but as far as I can tell there is no financial prize connected to it).
Unlike the ArtPrize, which for a number of reasons seems like an ineffective and somewhat suspiciously motivated model, I don't see much that's problematic in what the city of Denver and the BECA Foundation (the Foundation arm of the New Orleans-based Bridge for Emerging Contemporay Art) are trying to do with Curate This! For one, the $10,000 prize, while still generous and attention-grabbing, isn't stratospherically out of proportion to what an artist might (once) have received from a regional grants foundation, pre-recession anyway. For another, the prize money comes from The BECA Foundation itself, a nonprofit organization whose goals–to "serve as a bridge by which new ideas and new art + design flow freely between New Orleans and the larger national and international contemporary art + design communities" and to "support innovation, exploration and the advancement of new ideas in contemporary visual art + design" are publicly in line with those of this contest.
Competitions like Curate This! and even ArtPrize suggest that the contest model will be primarily useful as a marketing and public relations tool for cities who wish to engage new audiences in contemporary art along with their region's other cultural offerings. In the case of Curate This!, that city is Denver, but the exhibition goes beyond regional interests in its inclusion of international entrants, which serves to connect Denver's art world with its counterpart in other cities and countries. That all makes sense, and for these reasons the organizers behind this particular competition seem to be approaching it in a thoughtful and notably anti-sensationalistic fashion.
Beyond its attractions to a general public, could the contest model offer something valuable to arts professionals, even to (gasp!) curators themselves? It's hard to say, but what I am certain of is that contests like these pose little threat to the top-dog model that already characterizes the curatorial profession at large. Hans Ulrich Obrist will still be the winner, this year's #1 guy (in Art Review magazine's estimation, at least). It's still too early to tell whether the contemporary art contest is just a passing fad or will ultimately prove popular enough (and a big enough revenue-generator) to be taken up en masse by other organizations and cities. If it does, I'm of the opinion that that wouldn't be such a terrible thing–as long as we don't inadvertently convince people that other forms of public financial support are dispensable when there are so many big cash prizes out there for artists to win.