Supernova from Siggi Eggertsson on Vimeo.
On this week's video pick we bring you Siggi Eggertsson's Supernova. You will probably recognize his work since he is a pretty popular Illustrator based in Berlin. He has done cover work for Gnarls Barkley's Odd People, Wired magazine, and most recently for Microsoft's Zune.
Check out Siggi's site for more info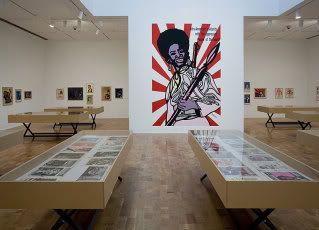 Emory Douglas will be speaking tonight, Tuesday, December 1st, at Columbia College. Douglas was the Minister of Culture for the Black Panther Party and recently has received a resurgence of interest after his touring retrospective. I had a chance to catch Black Panther: The Revolutionary Art of Emory Douglas at MOCA's Pacific Design Center in 2007 and am looking forward to hearing Douglas speak.
Tuesday, Dec 1, 2009
6:30 PM – 7:30 PM
Ferguson Auditorium, 600 S. Michigan Ave., 1st Fl.
via Columbia College:
"After working in a prison printshop while incarcerated as a teenager and more formally studying commercial art at San Francisco City College, Emory Douglas took on the role of Minister of Culture for the Black Panther Party, creating the group's visual style and iconic representations of the Black Power Movement. Through the party's newspaper The Black Panther, Douglas' graphic work helped motivate the disenfranchised to action throughout the 1960s, 70s and 80s. Colette Gaiter has describer him as the "Norman Rockwell of the ghetto" portraying the strength and dignity found among even the most harshly oppressed. This lecture is presented as part of the Scraping the Surface Lecture Series. Presented by Anchor Graphics, in conjunction with Critical Encounters: Fact & Faith."
Guest post by Damien James.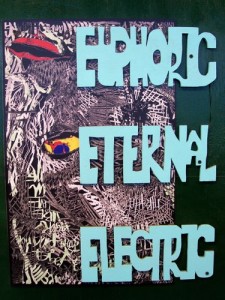 I heard all about what made the ancient Romans laugh (an inordinate amount of what were essentially absent-minded professor jokes), where Wittgenstein and Buster Keaton converge, the bathroom habits of insects, and Jewish humor. I heard clips of what is considered to be classic comedy, saw unreal films made and animated by Bob Sabiston, witnessed people actually slapping their knees while experiencing John Hodgman's charmingly eloquent bullshit, and others share stories about themselves without the least bit of encouragement simply to pass the time while waiting in line to have a book signed.
It was such a bustling couple of weeks that I really didn't have much time to do any actual and focused thinking about laughter, though. In hindsight and when I seriously put my mind to it (not necessarily easy for me), I began to consciously appreciate just how loaded laughter is, how there is a laugh for every emotion, how easily and naturally laughter is used to cover embarrassment, anger, self pity, contempt, all of which had passed through my thoughts at various times throughout my life, but had never featured prominently for any appreciable amount of time. [Read more]
Make sure and check out the Chicago Tribune today for an article about Deb Sokolow's current residency project with Daniel Boone Elementary School, which is part of Chicago Public School's "Crossroads" program. Sokolow is helping 3rd, 4th, and 5th grade students create a wall mural that will become a permanent part of the school's hallways. As is typical for Sokolow, the wall mural will contain a combination of text and images that tell the story of the school's 80 year history in an idiosyncratic and detour-laden fashion, including, for example, an account of the 1932 murder of Mabel Chenoweth, a woman who owned a candy shop a block away from the school. [Read more]
Good morning to all of you out there in TV land. I hope you are feeling bloated and a little ashamed, now that the national day of gluttony is done. I wish I could say I have an exciting lineup of shows to get you out into the streets, crawlin' off those extra calories, but alas, there are but three shows opening this weekend, all tonight. Now, I'm not putting all three on my picks, if you want to know the other two you can find them on my Gallery Crawl. No, dearies, I'm giving you my one pick, from three: The Op Shop.
1. The Op Shop at, well, The Op Shop –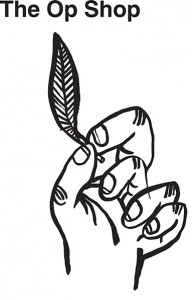 So, I'm not exactly sure what the story is here. It has something to do with Laura Shaeffer over at Home Gallery, and includes a lot of artists she's shown: Anders Nilsen, Katrin Asbury, Rachel Tredon, and Albert Stabler, among others. As far as I can tell, it is a new idea for a roaming space, called the Op(portunity) Shop, derived from the Australian term for thrift shops, apparently. Not sure where it's going next, if anywhere, but hey, if you happen to be in the vicinity of Hyde Park, why not stop by?
The Op Shop is located at 1613 E. 55th. Reception tonight, 6-10pm.