It's been over four years, over 200 episodes, over 210 hours of audio, over 300 bottles of beer & now it's over 1,000 posts on Art & Culture for Bad at Sports. Not only that but we're just getting warmed up. More posts, more news, more reviews, more humor & more insight into this world of Art that we love by everyone from staff to guest writers and from art celebs to letters to the editor written by everyone that reads B@S.
There is more to come and you have more voice then ever to help direct the energy.
Want to have your voice heard? Write mail@badatsports.com and let us know what you think.
Don't like to write or are illiterate like myself? We have a phone number you can call and speak your piece 312-772-2780.
You don't write, speak or really get out of the house? Email us a illustration expressing your opinion on the current pedagogical discourse in the new millennium and it's relation or lack there of to the larger commercial Art market both domestic and international and we will post your drawing on our white as a fridge website, Simon.
Basically at this point there is no reason not to contact us and help make this site better for you, the art world as a whole and even people who are just getting into & interested in the Arts since let's get real we have all "slept together" enough and need to widen the scope a bit and enlarge the party some.
Happy New Year and lets take this recovering art economy out for a spin and build it better then before.
Thanks for reading Bad at Sports and as long as your here we will be as well.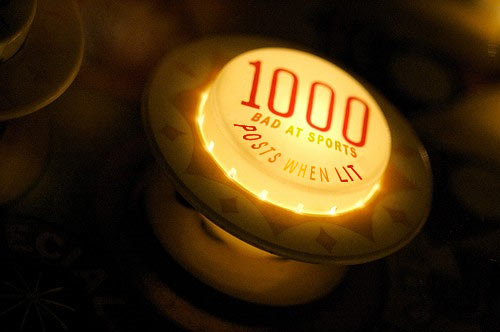 Semiconductor, an artistic collaboration between the UK artists Ruth Jarman and Joe Gerhardt, have put together a three minute video titled Black Rain. It's a compilation of heliospheric satellite images– as the artists describe it, "raw scientific satellite data which has not yet been cleaned and processed for public consumption" — that were taken during the NASA stereo solar mission, but it could easily pass for an early work of experimental film.
Black Rain from Semiconductor on Vimeo.
Via Blur and Sharpen.
While I was looking at the photographs of Anna Shteynshleyger at the opening of this Russian-born, Chicago-based artist's new solo exhibition at at The Renaissance Society, a middle-aged woman wearing a fluffy, faux-fur coat sidled up next to me. "Do you know what that is?" she asked me, pointing to the image I was peering at intently. It was a blue-tinged photograph of some sort of twisted, fleshy material that looked like raw bread dough.
"I'm not exactly sure," I replied. "I can't tell if it's soaking in a bowl of something or what."
"It looks organic," the woman mused, "like an organ from a body."
"Well, it's challah….It's not baked yet. But I can't make out what this part is," I said, gesturing to the circular, fan-like opening out of which the doughy form appeared to be rising.
"Oh, it's challah!?" she exclaimed. "I know what challah is — I make challah. But that looks more like a body part. How do you pronounce the artist's name?" I told her I had no idea, and she nodded. "She should have changed it to Smith!" [Read more]
Artist Blake Fall-Conroy is in the process of making a sculpture that enables everyone to earn minimum wage (or rather, the wage set by the state of New York–Illinois law guarantees a minimum wage of $8.00 per hour for workers 18 years of age and older). From Conroy's website:
"The minimum wage machine allows anybody to work for minimum wage. Turning the crank will yield one penny every 5.04 seconds, for $7.15 an hour (NY state minimum wage). If the participant stops turning the crank, they stop receiving money. The machine's mechanism and electronics are powered by the hand crank, and pennies are stored in a plexiglas box."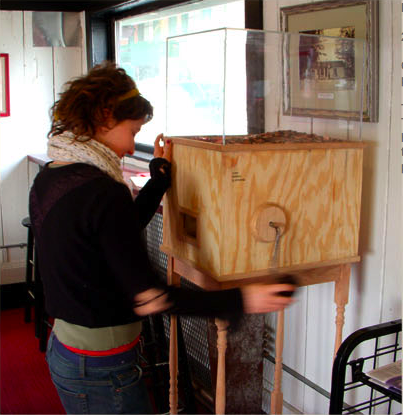 Via New Art via Tomorrow Museum.
Right now your doing one of two things probably
1. Shoping for beverages for a party
2. Looking for music for a party playlist
Well B@S is here to help and even though our tastes run a bit indie-rock and instrumental we can promote the biggest hits of 2009. Luckily someone has done the work for me and remixed the top 25 songs of this year in one song. Yes one song and one music video. Hopefully this will help in your search, if not you can always go with "Blitzkreig Bop" but that's like black it goes with anything.
I still think "Take Your Shirt Off" by T-Pain is a underrated masterpiece that will be remembered years from now 🙂
UPDATE: We want to thank DJ Earworm for the remix and here is the download for the hi-bitrate mp3 file. Happy New Year!