In one of PC gaming's most famous series, Half-Life, players take on the role of Gordon Freeman.  Across numerous games, the Half-Life series sees its hero traipse through dangerous environments, mostly as a result of an initial scientific accident that calls forth alien hordes. Throughout all this, Gordon is an obvious example of the "silent protagonist." The silent protagonist is one who, quite literally, remains silent. Even in conversation with another character or the face of apparent death, Freeman makes no sounds.
The opening sequence of Half-Life is famous for an engaging establishment of its environment. The player, as Freeman, is transported via a futuristic railcar to a desert facility named Black Mesa, an amalgamation of shadowy government experimentation. As Freeman, the player takes in vague sights and listens to the monotonous drone of a pre-recorded speech extolling safety procedures. The first character Gordon Freeman interacts—and I use the term loosely—with is a security guard. The guard, upon opening the railcar door, greets him: "Morning Mr. Freeman. Looks like you're running late."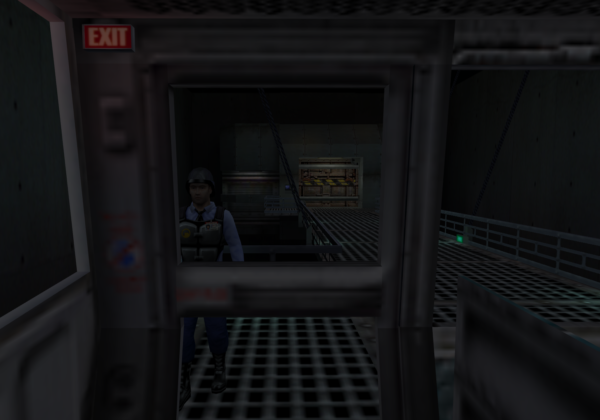 This bit of dialogue is one of a small collection of identifying information about Gordon, but ultimately, it doesn't reveal much. All the player knows is that he has a prior line of history and existence with this facility. In essence, the player knows he is returning to his day job. The comment is an allusion to this character's constant existence, his place in the game's narrative.
In games, characters, narratives, and environments are essentially defined through two aspects. The first is that which already exists, coloring the history and environments that define the in-game world and people within it. The second is that which colors the player-character's present, which is intrinsically tied to the game's action—essentially what we as players see and experience. A more important distinction between the two is that the history and narrative are defined by the developer or creator, while the present of the game and the character's present, is defined by the player and his or her actions.
As he is silent, Gordon's interactions with other characters are defined solely by the dialogue and intent of those that interact with him. Freeman meets a variety of characters on his journey through the games, and some even develop close relationships with him. Just as the security guard's comment solidified his history as a scientist, those interactions which occur during the actual game fill out his nature as perceived by both the characters around him, and the environment in which they exist—all as predicated by the developer. Developer-dictated detail and narrative is that which the player cannot affect, but only know and learn passively.
This is the opposite of that narrative detail which is defined by action, and as a result, the player. A large part of what begins to define the character relies upon and is determined by player action—and this action sometimes occurs in direct opposition to character history.
When a player plays as an established hero—say, Batman—the action that occurs during the player-defined portion is usually entirely in agreement with that character's history. That is, when a player controls Batman and beats up a gang of thugs, this action is fully in line with what players expect from Batman's colorful and storied history. His historical, developer-defined narrative transitions seamlessly into the player-defined action.
What's perhaps most odd about Gordon Freeman is though his established history is scarce, what shines through results in direct opposition with his player-controlled present. Gordon's day job is that of a theoretical physicist. His physicality—prominently displayed only on some editions of the box art, in the game's menu, and briefly during spin-off games—paints him as an obvious ectomorph. Yet his player-defined narrative has him leaping over pools of caustic acid, wielding numerous firearms with incredible accuracy, and dispatching hordes of aliens and marines alike.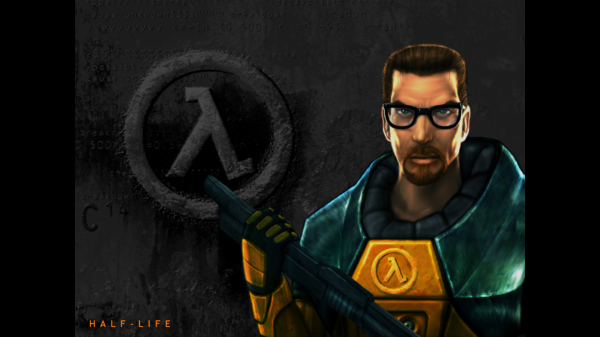 This isn't an argument that the game should have been a scientist simulator—one that, given the events of the game, would have probably ended in premature death or hiding in a reinforced closet. But the developer-defined aspects of Freeman as a character—his history and his relationships—don't come together with the player-driven narrative to create a complete, acceptable portrait. And when this happens, the relationship between the protagonist and player is not as fulfilling. Rather than portraying Freeman, the player is portraying a fantasy, and Freeman is merely a replaceable vessel.
This year saw the release of The Fullbright Company's Gone Home. Much has been written about Gone Home, and for good reason—the game deals eagerly with a non-violent plot and consists of relatable family life complete with uncomfortable discovery, a 1995 setting with a Riot Grrl soundtrack, and celebration of sexual identity.
But in addition to that—which alone makes the game worth exploring, ten times over—it offers a refreshing version of the player-defined narrative, one that creates a unique relationship between player, protagonist, and environment. One of the geniuses of Gone Home is that its environment is not only entirely unknown to its player, but that its environment is also entirely unknown to its protagonist. The protagonist, Kaitlin (or Katie) is an elder daughter returning from an extended overseas trip. In the meantime, her family (a father, mother, and younger sister) have moved into a house willed to them from the father's estranged uncle. Her return finds the house empty, leaving her and the player without a guide or character with which to interact.
This single aspect defines the environment an exciting way: one that is entirely unknown to both the player and the protagonist. This allows for the player to more closely identify with Katie as a protagonist, sharpening the relationship. And when the relationship is a closer one, the player-driven action becomes more relevant in moving towards meaningfully defining a character and world.
Gone Home is essentially a story about relationships, told via intelligent discovery and modern archaeology. As the player-as-Katie moves through the home, mysteries unfold via papers left out. Notes from Katie's younger sister Sam provide the central narrative, while crumpled notes, pamphlets, and other documents fill out the mother and father in addition.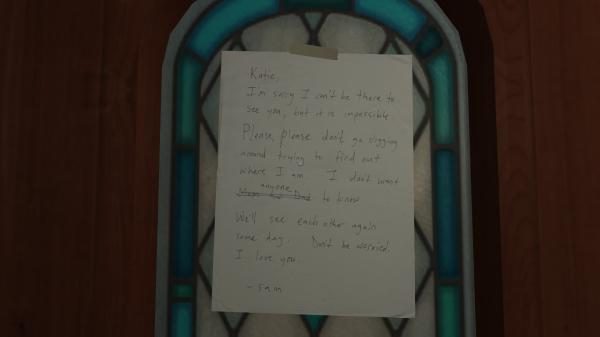 What's interesting about Gone Home isn't just the unified developer-defined narrative, but the narrative that develops as defined through the player's action. Rather than shooting aliens or (gleefully) breaking crates as in Half-Life, Gone Home's interactivity is defined by searching and discovering. While the player's actions on a most basic level defines Kaitlin as a snoop without any sort of respect for boundaries, they, perhaps more importantly, serve to define the environment around them. Much of the game's content is bound up in secrecy, waiting to be unleashed, and only with careful searching does the world come into focus.
Historically—and in games such as Half-Life—the environment and the characters within it are developer-defined, and as a result, the protagonist's history is as well. But in Gone Home, the lack of external characters ultimately means a lack of active developer-driven meaning, and instead the player finds something that feels more personal.
And while of course, all of the content in Gone Home has been placed there by the developer—they are still the writer and creator of the game, after all—the player's action is what actually serves as the access point. Though the player in most games propels the action simply by playing—in the same way a reader reveals the action by reading—the player in Gone Home serves as a more active propellant of the slow reveal of the environment and its characters.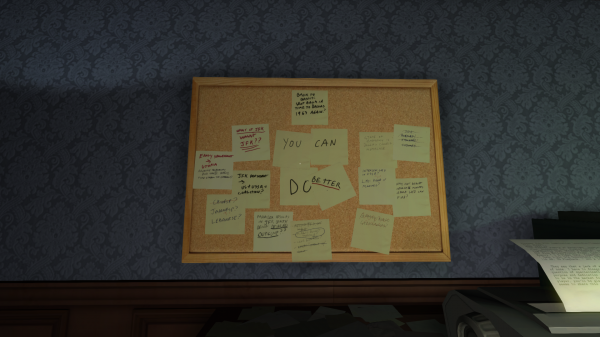 What begins to develop, then, is a picture of Gone Home as a game where the player-as-protagonist is the driving force for the narrative. This is because Gone Home's player-action is one that paints a picture of the protagonist and the relationships around her in the exact way the protagonist would on her own. This allows the protagonist, and the resulting player/protagonist relationship, to feel incredibly powerful. Because when the player-as-protagonist defines the narrative or the environment, the player/protagonist's action defines the way in which that entity interacts with them. In a sense, they become the driving force behind the game's emotional impact. When a player-as-protagonist feels as though they have the power to drive forth the narrative, defining the environment and protagonist through their discoveries and actions, gaming as a medium truly shines.
But perhaps more importantly, as the player gains control and the ability to define the narrative through the interactivity of the medium, the developer appears to exert less control. And when the developer wields less control, they fade from the experience of the game, allowing it to stand on its own. While the relationship between the player and the developer is an interesting one (and well worth exploring at another time), they happen to be at direct odds with either's direct relationship to the game and the protagonist. In a sense, the developer must be able to release full control of their creation, their child, to the player, and allow them to determine the protagonist's existence and relation to the game as a whole.
It was a schizo week of art viewing for me that started with a trip to New York last Friday. I had been excited to hit the Lower East Side with the taste still in my mouth of Jerry Saltz's assault in New York Mag on the Neo-Mannerist painting that has taken over the Lower East Side and Bushwick (though I don't think he pins the tendency to a specific area). Reading it on the plane it struck me as a bit ironic that the fate of the LES art scene, whose life expectancy is often a subject of speculation even as galleries continue to mushroom there, should be so fastened to the the success of painting, an art form with five centuries on it, and which has risen from the dead more times than the number of years most of the LES artists have walked the planet.
But alas I didn't have the chance, so I traveled to the artistic opposite of the LES where, I targeted the Met's newly overhauled European wing. The giant Tiepolo remains on the left at the top of the main staircase, but inside, the galleries are completely restructured, and the shuffled deck of masterpieces forced me into a complete reevaluation of the story of the Italian Renaissance:
Pardon me for a moment while I digress toward the conspiratorial.
Our current notion of the renaissance wasn't codified until Jacob Burckhardt did so in the middle of the 19th century. And the treasures of art that signify that rebirth weren't substantiated until the wheelings-and-dealing of mercenaries like Bernard Berenson and Joseph Duveen canonized them only more recently. The subsequent narrative about the primacy of Italy has been reinforced by a century of lectures from auditoriums dimly lit by the pale glow from Kodak slide projectors loaded with Fra Angelicos and Mantegnas.
Despite the gospel to which we've willingly subscribed, rolling Pico Della Mirandola, Boccaccio, Machiavelli, Cimabue, Giotto, Raphael, Titian, etc. etc., into a tidy narrative that spread Northward, I had to wonder at the Met whether, if we could press 'reset' on the Game Cube of Western Civilization, we would end up listening to adjunct professors recite an alternative story of the North, of Erasmus, of the Hussites, of the Hanseatic League, and Martin Luther and Gutenberg…and of course in art, of van Eyck and van der Weyden, with Da Vinci, Tintoretto and Titian relegated to supporting roles?
If History is a story of overcoming tradition and inventing change, the North seems to have a good case for preeminence.
Art Historians, address your letters to me not to the Bad at Sports' offices.
That was the ferment in my head as I flew home the same evening to Milwaukee. The very next day I inadvertently got the antidote to the Met in Bayview, that I missed on the LES.
In a semi-improvised gallery called Usable Space at a studio building at 1950 S. Hilbert Street, on what might be the very same narrow footprint of any gallery on Ludlow in NYC, stands a modest painting show that will remind naysayers of the enduring thrill that comes from pushing pigment and binder around a canvas with a brush. The show, "Information Processors" curated by Shane Walsh serves up meat-and-potatoes painters that celebrate the gooey joys of the tradition, with more than a few eccentric, non-traditional moments to keep us on our toes. Notable are Michelle Bollinger's naked and luscious abstractions, which recall everyone from Franz Kline to John Lasker to Thomas Scheibitz, to the deliciously strange sprayerbrusher, Trudy Benson, without losing their singularity.
Janet Bruhn's "Melting Jello Cake" is too representational a title for a painting that first smacks as an abstraction with gorgeous marbled painting inside an unexpected perimeter of languid brushwork that I only eventually realized was a container. Without the title telling us, we would have naturally inferred the sense of a confectionary orgy, even if we didn't identify the subject matter directly.
There are other high points in the show, so go see it for yourself, but I'll fittingly conclude with Bradley Biancardi's "Crystal from Berwyn (after Titian)" which seems less Titian than Matisse…with a Dash of Alice Neel and David Hockney, but inspiration is inspiration.
Still, c'mon, Titian? No Van Eyck. Maybe Biancardi's influence reaffirms the triumph of the Italian Renaissance. Thinking of Titian made me doubt my musings about alternative histories. But whatever the real foundations of the last half-millennium of Western painting, it's great to see that there are still plenty of practitioners willing to carry on the legacy, willing to approach canvases without guile or cynicism, and do their best to keep the gravediggers at the art cemetery leaning on their shovels. This experience will make it easier to stomach the ailing Neo-Mannerists at the Orchard Street hospice next week.
1. The Forgiveness Beneath the Mountain or Sleep, Repose, and Duration in the Brokenhearted Year at Linda Warren Projects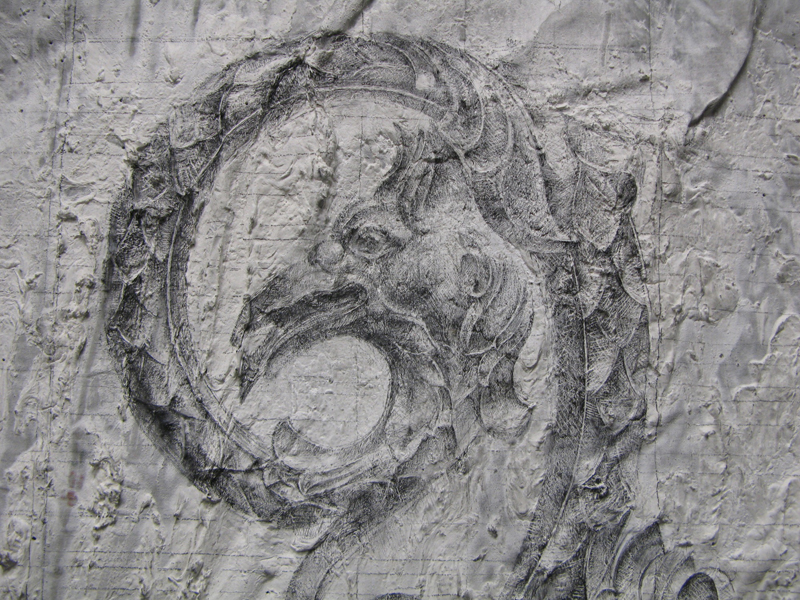 Work by Matthew Woodward.
Linda Warren Projects is located at 327 N. Aberdeen, Ste. 151. Reception Friday, 6-9pm.
2. Slow Fade to Black at Rhona Hoffman Gallery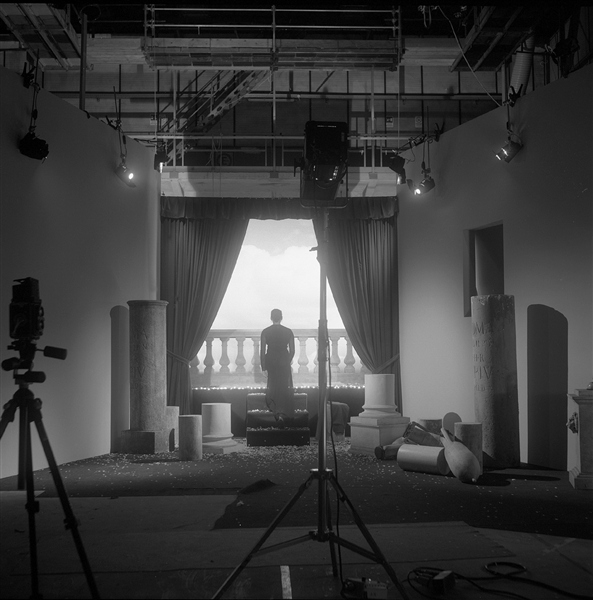 Work by Carrie Mae Weems.
Rhona Hoffman Gallery is located at 118 N. Peoria. Reception Saturday, 2-5pm.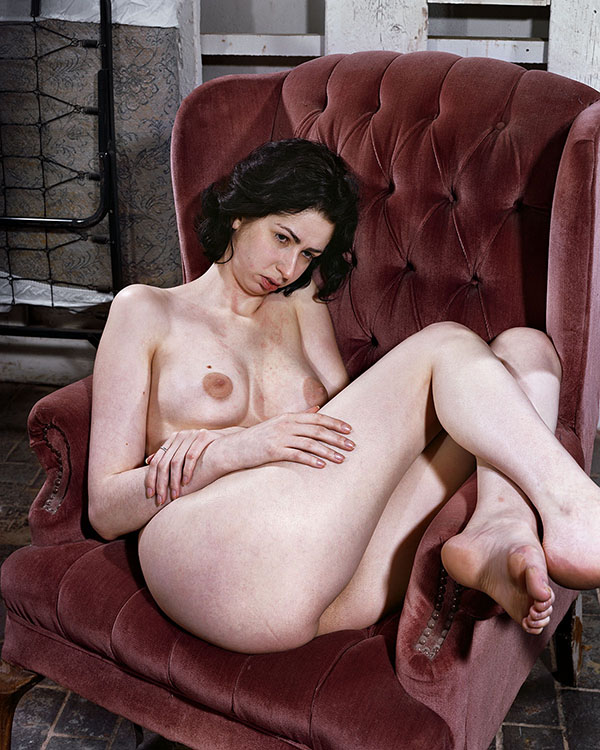 Work by Nick Johnson.
Document is located at 845 W Washington Blvd. 3rd Fl. Reception Friday, 5-8pm.
4. As Close As Near is Far at Adds Donna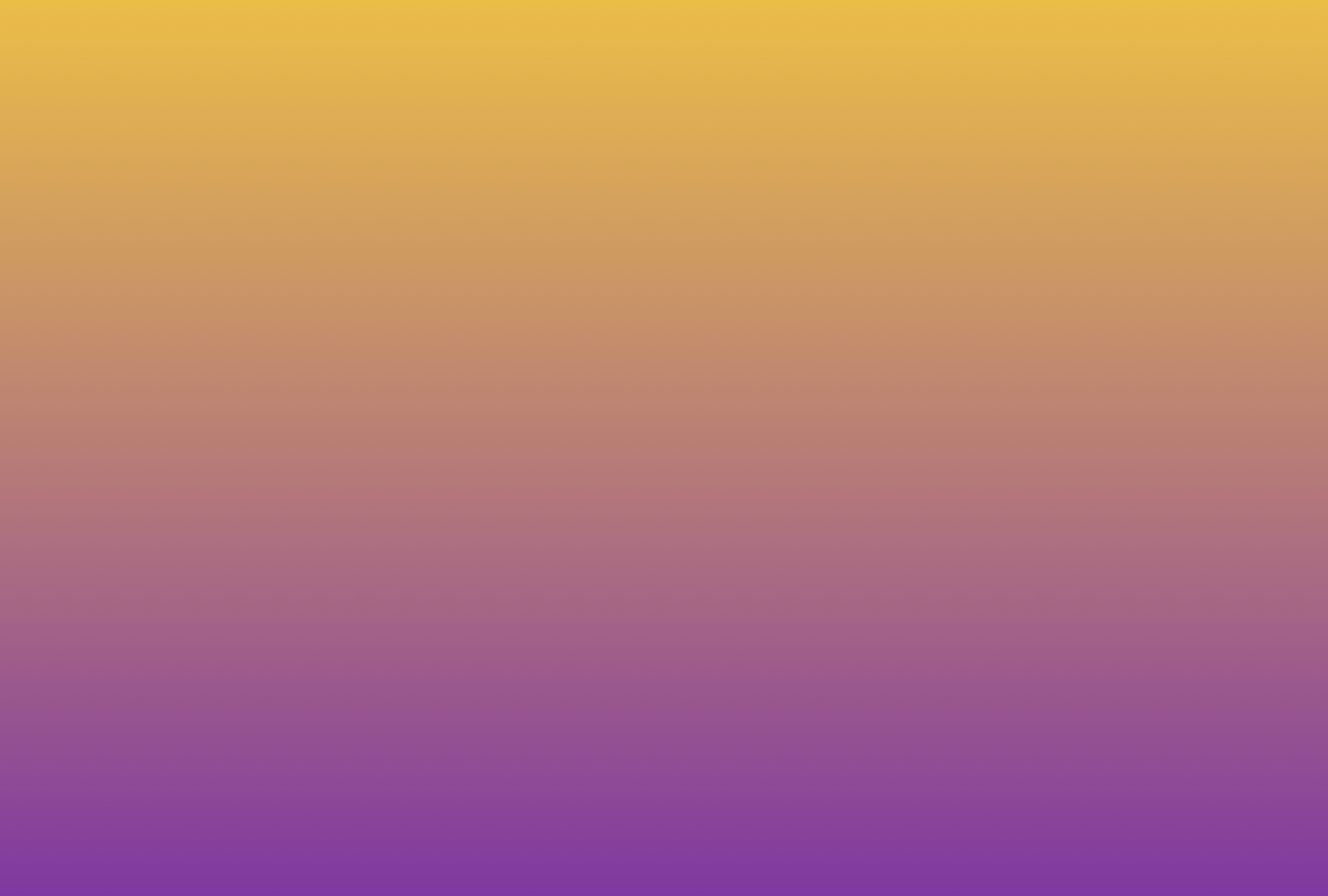 Work by Daniel Baird, Edmund Chia, and Laura Hart Newlon.
Adds Donna is located at 4223 W. Lake St. Reception Sunday, 3-6pm.
5. John Dillinger in Chicago at Firecat Projects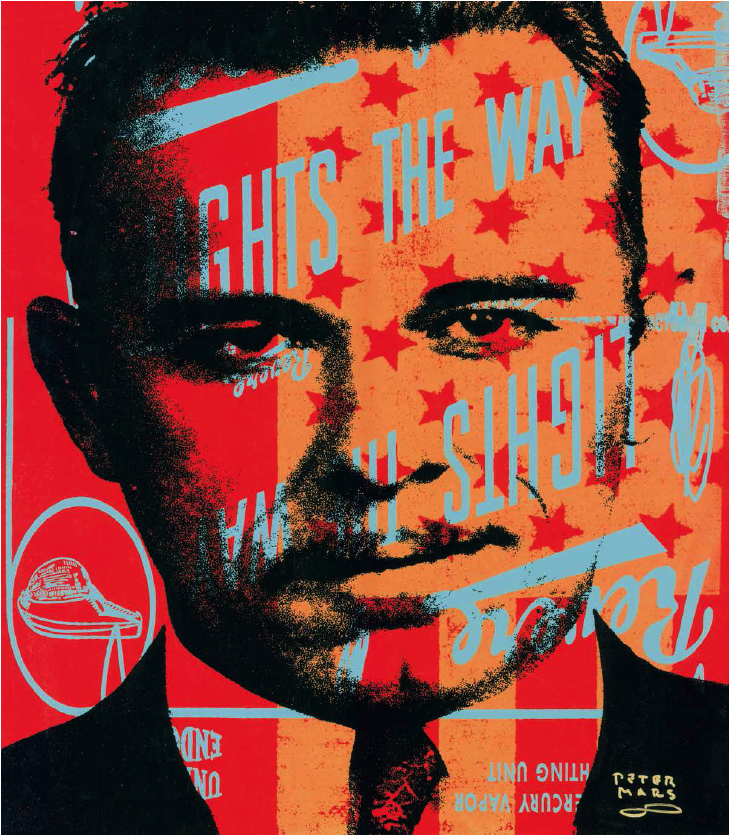 Work by Peter Mars.
Firecat Projects is located at 2124 N. Damen Ave. Reception Friday, 7-9pm.
Into Light
James Turrell's work has been everywhere recently. A retrospective of his at the Guggenheim just came down last month. A major retrospective of his work, James Turrell: A Retrospective is up at LACMA.  Other exhibitions include: James Turrell: The Light Inside at Museum of Fine Arts, Houston; Sooner Than Later, Roden Crater at Kayne Griffin Corcoran Gallery in LA; James Turrell at Almine Rech Gallery in Paris; James Turrell Perspectives at the Art Academy Museum, Easton Maryland; and Roden Crater and Autonomous Structures at Pace Gallery in New York – these are all from 2013. The year prior, the exhibition Phenomenal: California Light, Space, Surface was up at Museum Contemporary Art San Diego. This enormous retrospective spanning 3 major institutions (Guggenheim, LACMA, and Museum of Fine Arts Houston) and 92,000 sq. feet may have arrived at a fitting time. [1] What can we say about the experiences he creates for us and what does that mean for our world?
Martin Heidegger, the enormously influential 20th century continental philosopher, writes in his essay "The Origin of the Work of Art," that "to be a work means to set up a world." [2] At first blush, this statement seems to coincide with the work that Turrell provides for us as viewer. Then, the question becomes: what is a world, the world? For Heidegger, world is not just an accumulation of objects that exist in the world, a totality of beings, nor is it merely the "region" where these beings exist. Rather, Heidegger defines world as where a being whose being is of concern for it, Dasein, lives as Dasein. This world has various possibilities including that of "public" world and one's "own" world. [3] These questions of world are significant to Turrell's works. How do his installations world a world for us? Further, what is the relationship of his works to truth? Do his works enable us to gain access to truth of this world?
It may seem dry to delve into an examination of Turrell's installation work in terms of Heidegger, but that this may be a moment where the particular issues surrounding worldliness and truth should be addressed instead of the oft discussed perception, reality, and illusion themes. Turrell's work, whose material is that of light, space, and perception, can be easily read as illusion, that the works merely play with the frailty or faultiness of human perception. However, this cannot and should not be the main theme we grasp onto. Experiencing his work opens up the perceptual space that allows us to examine our being-in-the-world and our relational condition. What I'd like to argue briefly is that Turrell's works, particularly the early Projection Pieces, create situations of veiling and unveiling, which for Heidegger are tantamount to discovering and truth. These pieces, in their perceptual complexities, point to our relational nature, our being as Dasein.
Light Explained Away
In a general survey of the literature on Turrell, there are multiple mentions of perceptual psychology and phenomenology, with perceptual psychology, considered as science, taking precedence. When phenomenology is referenced, only Maurice Merleau-Ponty and Edmund Husserl are addressed. Martin Heidegger, a student of Husserl and a major figure in philosophical phenomenology is generally left out of these discussions.  Instead of grounding Turrell's work in the ontological foundation of Being, his work seems to be merely referenced as influenced by phenomenology, particularly of Merleau-Ponty. Turrell's work, however, can't just be taken as a product of phenomenology influence; his work participates in the  exploration of this philosophy as it relates to our existential being, our being-in-the-world as Dasein, translated literally as being there.
In Heidegger's Being and Time, he attempts to tackle the problem of being, of ontology. He says that in order to address this question, we first need to establish who is asking the question. This being is Dasein, the being whose being is of concern for her. Closing Division I of the book — "The Preparatory Fundamental Analysis of Dasein" — is §44, "Dasein, Disclosedness, and Truth." In this section, he lays out the traditional concept of truth, which relies on the statement's being in agreement with the object in the world that is external to us, and proposes a more primordial theory of truth which is unconcealing, or in Greek, ἀλήθεια. This formulation of truth as an unveiling, uncovering, unconcealing, depends upon Dasein; fundamentally, truth depends on the being whose being is of concern for it. He does warn, though, that this is not an arbitrary subjectivism. [4]
Before analyzing Turrell's work, especially Afrum (White), 1967 in relation to Heidegger's theory of truth, allow me to briefly outline a couple of terms: phenomenon, semblance, appearance.
Heidegger describes phenomenon as "what shows itself in itself," which is distinct from both semblance (the possibility of beings showing themselves as not themselves) and appearance ("something which does not show itself announces itself through something that does show itself"). [5] These are all made possible, however, by light, illumination: "'phenomena,' are thus the totality of what lies in the light of day or can be brought to light." [6]
In Being and Time, the figure of light takes on the meaning of Dasein's coming into disclosedness. Heidegger states that
"To say that it is "illuminated" means that it is cleared in itself as being-in-the-world, not by another being, but in such a way that it is itself the clearing [Lichtung]. Only for a being thus cleared existentially do objectively present things become possible in the light or concealed in darkness." [7]
In his marginal notes, the first "cleared" is marked with an asterisk, which adds "ἀλήθεια — openness — clearing, light, shining." [8]  Important to this discussion of light is the notion of "radiance" which figures prominently in Heidegger's essay that appeared ten years after Being and Time, "The Origin of the Work of Art." Radiance here entails a shining forth or an emanation, something in excess. [9]  Taken in relation to Turrell's work, his light becomes excessive; it points to its own immaterial limitations, a gesture that pushes us to consider the betweenness and limitations of being. Andrew Mitchell discusses this betweenness that arises in Heidegger's examinations of Ernst Barlach's sculpture: "Being takes place between presence and absence, at the surface where the being extends beyond itself and enters the world. Being takes place at the limit of the thing — understanding limit as Heidegger does, not as where something ends but where it begins." [10]
In the case of Turrell's Afrum (White), how do these terms of phenomenon, semblance, and appearance function? Where does illusion factor in? What of the truth in the perceptual experience? What about the spatial relations of the between and the limit? Many of these questions that Turrell's work poses get addressed through phenomenology, but, as mentioned above, it is normally that of Merleau-Ponty and Husserl. There is an easy case for these two phenomenologists, particularly Merleau-Ponty because of his explicit focus on the corporeality of perception and experience, which can easily address the structure of perceiving Turrell's installations. Merleau-Ponty's Phenomenology of Perception allows for the human body to actively participate in our experience and knowledge of the world. This sentiment echoes in Turrell's reply to the question: "Are your works primarily visual experiences for the person who visits the space, not translations of your experiences?":
"Yes. Of course, it takes somebody's vision to have set that up, so the artist does create and limit the universe of possibilities, and within that you're on your own. In that sense it is like any other art. But it does demand a certain decision to deal with it, which is this art's price of admission. But every art, I feel, has a price of admission, and often many people don't pay it.  They end up looking at the work rather than into it. I think that's the biggest problem with contemporary art for a large portion of America. America hasn't learned it has to pay the price of admission, to look into it rather than just at it." [11]
Something more may need to be accounted for, however. Is it a matter of what we can know about our experience or what we can discover about our being? Heidegger's ontological project, which may always be on the verge of falling into a metaphysics, should still remain an important aspect of our questions about art and experience. What we may need to consider when experiencing these installations is that they create conditions for Dasein's disclosedness. The installations don't just make us aware of the mechanics of perception, they make us aware of our being-in-the-world. The method of phenomenology leads us to ontological distinctions, and these distinctions shouldn't be ignored.
The Truth in Illusion
Dawna Schuld, along with many other critics, talk about Turrell's Afrum (White) as illusion; Schuld even juxtaposes the piece to the famous Necker Cube, the line drawing of a cube that switches orientations. In her essay for Phenomenal: California Light, Space, Surface, "Practically Nothing: Light, Space, and the Pragmatics of Phenomenology," she describes the perceptual experiences Turrell creates for the viewer in Acton (1976) and Afrum (White):
"What follows is the delightful awareness that one can return to the illusion simply by repositioning one's body vis-à -vis the sensing space. This ability to consciously hold perception in flux is also a characteristic of many of Turrell's projection pieces, notably the Afrum "cube," which like a Necker illusion can be cognitively manipulated to invert into its corner or revert into a projected cube that juts out toward us, while with a step to the left or the right it "rotates." Not one interpretation achieves primacy." [12]
Further, she claims that "[t]he intentional object is no longer the image on the wall but rather the ways in which we can manipulate our own perceptual mechanisms, within given circumstances." [13]  Though operative in the works, these claims keep us with the intentional structure of perception Husserl develops, which differ for Heidegger. In viewing Turrell's work, it is a being-toward, not necessarily a manipulation. Manipulation brings with it the structure of power and control, which isn't the same thing as unconcealing through the disclosedness of Dasein.
Nancy Marmer's 1981 review of Turrell's exhibition at the Whitney, James Turrell: Light and Space, focuses on the "chilling art of deception" which is Turrell's "more rigorous, even didactic, aspect to [his work] that tends to be ignored." [14]  This attention to illusion or deception isn't specific to Marmer. From that same year, Wolfgang Zimmer's review in ARTnews is titled "Now You See It, Now You…" [15]  This is important. Questions about being and truth are glossed over when the work is only described as illusion and deception, simple plays of perception. This is too simplistic to fully describe Turrell's work. Rather, it is the interplay of appearance, semblance, and phenomenon (in Heidegger's sense: of something showing itself from itself in itself). It is not a simple either/or situation, where you either see the illusion, or the "true" material conditions of the piece. The totality of this situation of being-with the piece is the truth of the work, its unconcealedness in the disclosure of Dasein, our being as being-in-the-world.
Turrell claims that "he is not trying to fool the viewer." [16]  Craig Adcock references Turrell's rejection of "illusion" to describe his work quoting Turrell: "People have talked about illusion in my work, but I don't feel it is an illusion because what you see alludes to what in fact it really is — a space where the light is markedly different." [17] This statement may coincide with one of Heidegger's from the work of art essay, that the "work lets the earth be earth," earth here meaning foundation of world that is not merely matter. [18]  Afrum (White) doesn't merely point to the way our perception may trick us, it instead opens up world as worldliness. In the measurement or, shall I say, rational description of Turrell's works, the work disappears. Only in remaining concealed as a totality can it allow for the disclosure of Dasein as being-in-the-world: "Color shines and wants only to shine. When we analyze it in rational terms by measuring its wavelengths, it is gone. It shows itself only when it remains undisclosed and unexplained." [19]
In a world where government shuts down and the NSA surveils our telecommunications because everyone is dissembling as a terrorist, what does it mean for us to consider the unveiling of the world? What is the relationship between surveil and unveil? The surveil, the on top of the veil, still maintains the veil of concealedness. Information-gathering does not get us any closer to truth. Maybe it's time to think of other ways to be in the world. Dancing with the projected light in the corner of the gallery allows me to experience the work of Afrum (White), with work meaning the "setting forth," which entails a setting to work of truth. I move around the piece, seeing it this way, seeing it that way. It clears the space for my being as a being in this space with this light and with these others that are also in this space with me. I am in this gallery, in this museum, in this city, in this country, in this world, choosing to move with this lighted corner that has unveiled itself as a work of art. Is this choice a narcissism or a solipsism? A nihilism? I would argue no; my perceptual experience with this work has to involve all others that participated in its making and those that are viewing it alongside me.
In the atrium of the Guggenheim, Turrell's Aten Reign, encourages us to sit together and decide upon the truth of what we are experiencing. This work has drawn some highly critical reception, comparing it poorly to the collective experience of Olafur Eliasson's The weather project for example. What both of these projects offer us is the sun, the ability to sit and stare at the sun, the light that burns us. "Aten" of Aten Reign, is Aten, or Aton, the highly controversial Egyptian god of the sun and refers to the disk/orb of the sun itself. This reference to the sun brings us to another important aspect of Turrell's work: his references to the Allegory of the Cave in Plato's Republic. In this allegory, prisoners are trapped in a cave and can only see objects of the world as shadows on the cave wall — puppets backlit by fire controlled by puppeteers. If a prisoner is set free, her first experience of the true sun beyond the darkness of the cave is so overpowering and blinding that "he [sic] will suffer sharp pains; the glare will distress [him], and he [sic] will be unable to see the realities of which in his [sic] former state he [sic] had seen the shadow." [20] This pain makes the prisoner turn away and seek refuge back in the cave where the shadows are more familiar.
What Aten Reign may give us is the space to look into the light without pain. It is a foggy light and may dissemble with its changing colors, but it shows itself in such a way that maybe we can spend the necessary time with it in order to let in unveil itself. Turrell may, in a sense, occupy the position of the puppeteer, but he also opens the opportunity for us to look at the blinding light. One could argue that his skyspaces do this better, and that may be true, but they are also indirect gazes at the sun.
I secretly took a photograph of the installation (I know I wasn't supposed to). Only later did I realize that a thin veneer of dust and grime had covered the camera lens on my phone. The image that I have of this experience of mine is blurry, foggy, a hazy memory that prompts me to consider what it was that I really experienced.
Notes
[1] Wil S. Hilton, "How James Turrell Knocked the Art World Off Its Feet," New York Times, (June 13, 2013), 1: http://www.nytimes.com/2013/06/16/magazine/how-james-turrell-knocked-the-art-world-off-its-feet.html
[2] Martin Heidegger, "The Origin of the Work of Art," in Basic Writings, ed. David Farrell Krell (San Francisco: HarperCollins, 1993), 170.
[3]Â Heidegger, Being and Time, trans. Joan Stambaugh with revisions by Dennis J. Schmidt (Albany, NY: State University of New York Press, 2010), 65.
[4]Â Ibid., 227.
[5]Â Ibid., 28-29.
[6]Â Ibid., 28.
[7]Â Ibid., 133.
[8]Â Ibid.
[9]Â Andrew Mitchell, Heidegger Among the Sculptors: Body, Space, and the Art of Dwelling (Stanford: Stanford University Press, 2010),10.
[10]Â Ibid., 23.
[11]Â Richard Andrews, James Turrell: Sensing Space (Seattle: Henry Gallery Association, 1992), 37.
[12] Dawna Schuld, "Practically Nothing: Light, Space, and the Pragmatics of Phenomenology," in Robin Clark (ed.), Phenomenal: California Light, Space, Surface (Berkeley and Los Angeles: University of California Press, 2011), 116-118.
[13]Â Ibid., 118.
[14] Nancy Marmer, "James Turrell: The Art of Deception," Art in America, vol. 69 (May 1981), 97.
[15] Wolfgang Zimmer, "Now you see it, Now you…," ARTnews, vol. 80 (Feb 1981): 225.
[16]Â Craig Adcock, James Turrell: The Art of Light and Space (Berkeley and Los Angeles: University of California Press, 1990), 12.
[17]Â Turrell interview with Julia Brown in Occluded Front, James Turrell, quoted in Adcock, 13.
[18] Heidegger, "Work of Art," 172.
[19]Â Ibid., 172.
[20] Plato, Republic, Book VII, lines 515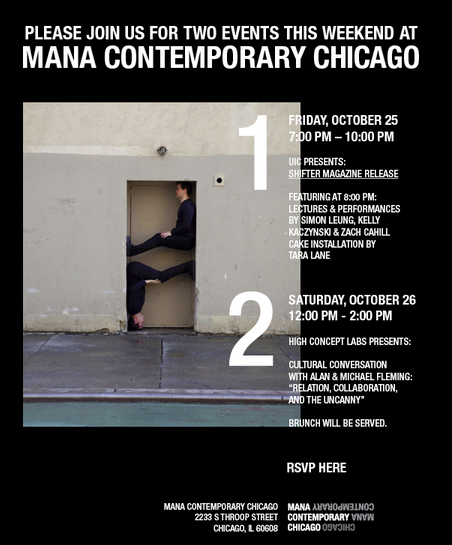 The latest issue of SHIFTER comes out this Friday with a launch at MANA Contemporary from 7-10pm, featuring lectures and performances by Simon Leung, Kelly Kaczynski and Zach Cahill, with a Cake Installation by Tara Lane. A Cultural Conversation with Alan and Michael Fleming on Saturday in case you want to sleep over. RSVP here.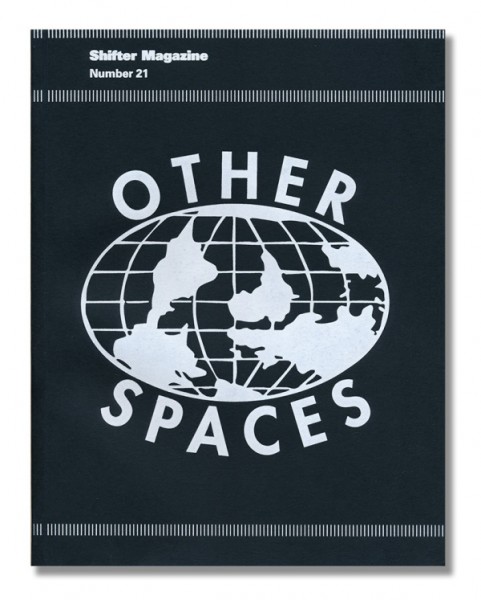 Shifter's 21st issue, Other Spaces, considers the body as a site where architecture's traditional polarities of private and public collapse. This polarity, mirrored in the distinctions we draw between individual and social freedoms and domestic and political action are challenged every day by spontaneous, collaborative re-imaginings of space.
In this issue artists, writers and critical thinkers reflect upon and imagine those other spaces that are coming to be and that are yet to be imagined in the social transformations of our present. While Other Spaces may appear to be an Atlas, it may just as well be read as a diary.
Number 21 features contributions from Jeremy Bolen, Luis Camnitzer, Tyler Coburn, Julia Fish, Beate Geissler & Oliver Sann, Sheela Gowda, Joanne Greenbaum, Tehching Hsieh, Kitty Kraus, Dan Levenson, Blank Noise, Alison O'Daniel, Sean Raspet, Blithe Riley, Jacolby Satterwhite, Greg Sholette & Agata Craftlove, Lise Soskolne, Mariam Suhail, and Josh Tonsfeldt.