Last month, in the midst of the crazy Expo Chicago extravaganza, I had the pleasure of going on a tour with Gallery Weekend Chicago. GWC was founded by Chicago gallerist Monique Meloche in 2011 and offers annually a weekend of private gallery and museum tours. I went on the Sunday tour which took us down to the Washington Park and Hyde Park neighborhoods on the South Side and made stops at the Arts Incubator, the Smart Museum, the Renaissance Society, and the Logan Arts Center.
The Arts Incubator in Washington Park was the first stop of the day. This space, part of the University of Chicago's Arts & Public Life Initiative, was conceptualized by Theaster Gates, who is now director of the project. The Incubator is home to an artist residency program, a community arts education program for teens, as well as an exhibition and performance space.
The Incubator currently hosts five resident artists. They have access to all of the facilities at the Logan Arts Center, where we headed later in the day, and have studio space at the Incubator. The Space Between, an exhibition of these artists' work, was installed at both the Incubator and the Logan. The work addressed the social differences between these two spaces – one located in the University-centric Hyde Park, the other in the adjacent Washington Park neighborhood.
Despite the early hour of our arrival four of the five artists were kind enough to meet us at the Incubator to show us around their studios and the exhibtion: Avery Young, Cecil McDonald, Cauleen Smith, and Tomeka Reid. We were also joined by the curators Allison Glenn and Monika Szewczyk.
Cauleen Smith created two "space stations" for the exhibition – one in her studio at the Incubator and the other in the gallery at the Logan. The installation in her studio played off the aesthetic of a work space with filing cabinets, a work table and a temporary wall made from screens that she used to screenprint wallpaper for the other space station at the Logan. There were also shelves with plants and small artifacts that she made from materials found in the surrounding neighborhood: chunks of cement and fragments of a road sign.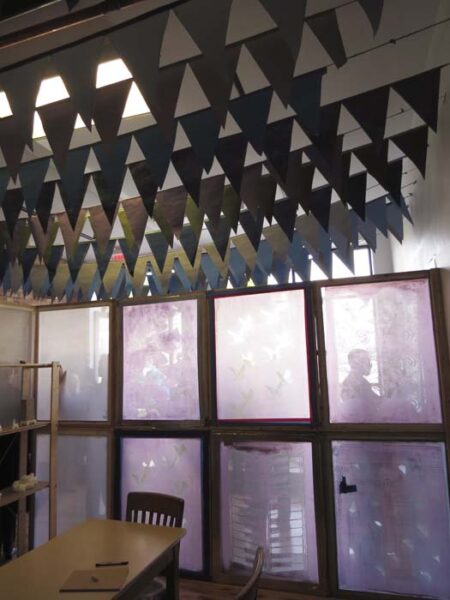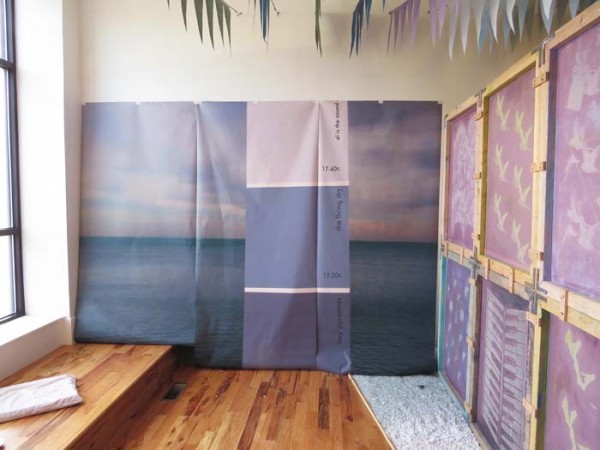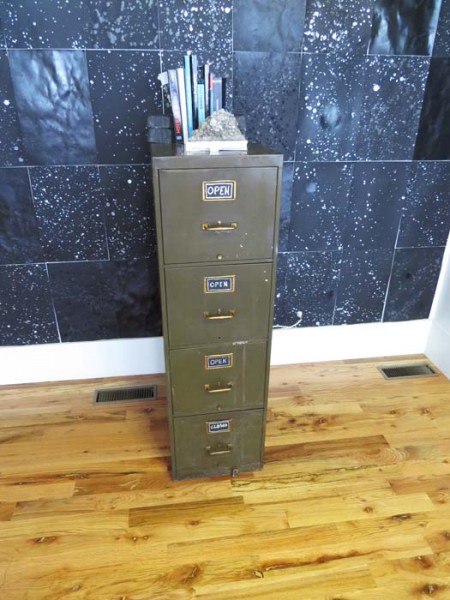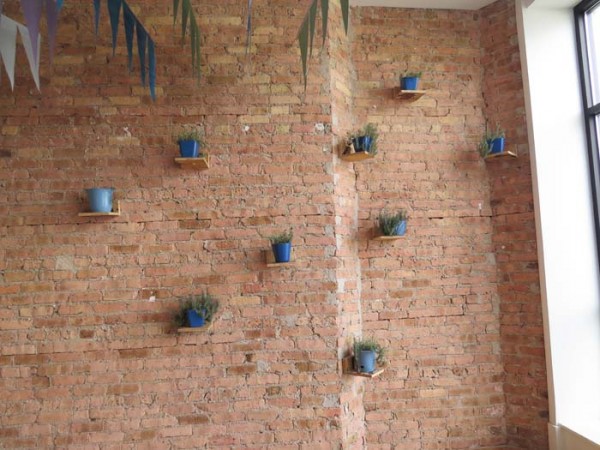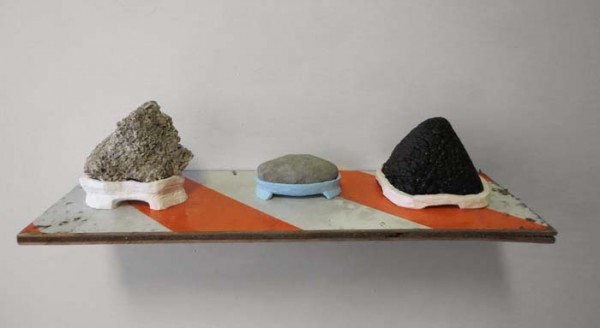 Avery Young and Cecil McDonald have a shared studio space, the floor of which was laid out with Avery's work for Groun(d), a solo show now up at the Incubator.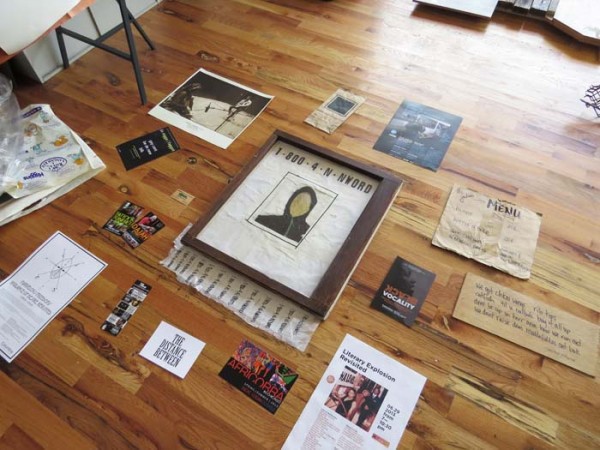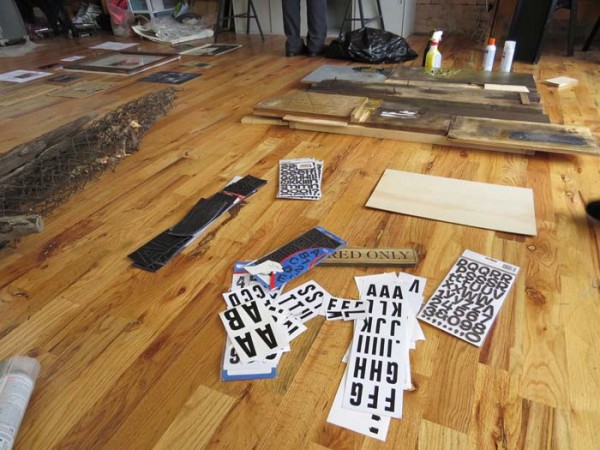 In the main exhibition space Avery Young, Tomeka Reid, and Cecil McDonald spoke to us about their work.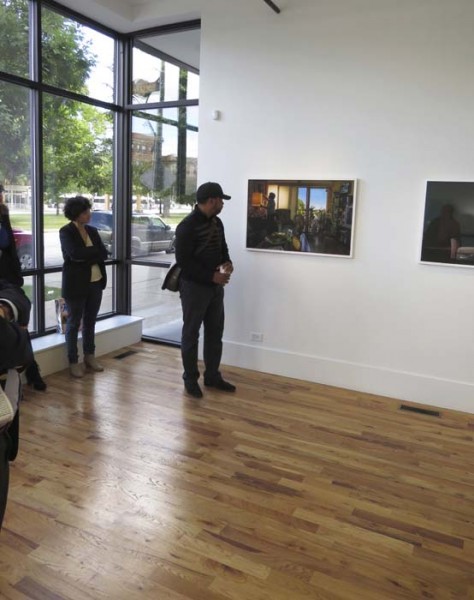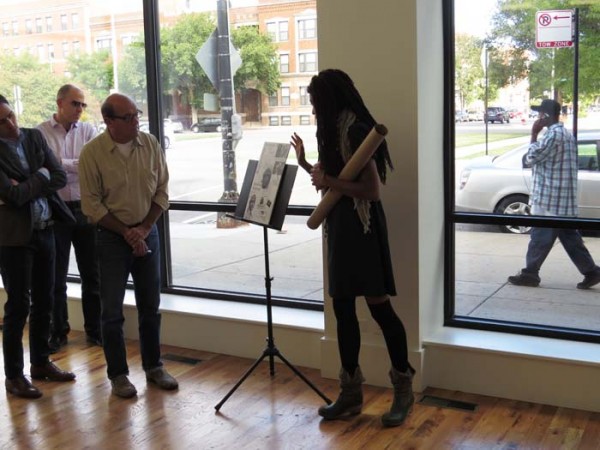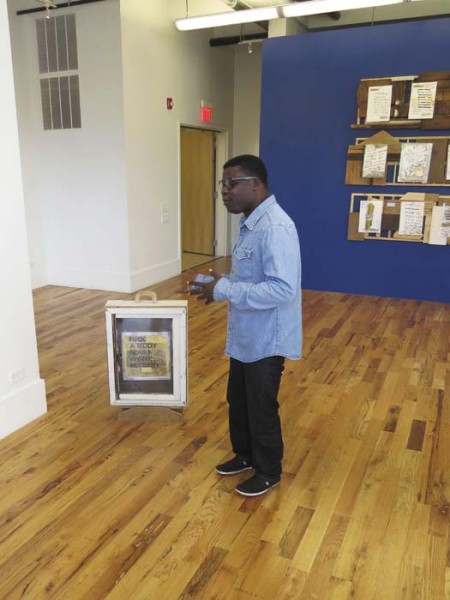 After going to the Smart Museum and the Renaissance Society (both of which have amazing shows up right now – Suicide Narcissus at the Renaissance Society blew me away.) we ended the day at the Logan where Monika Szewczyk showed us the other half of The Space Between, featuring Cauleen Smith's other space station, photographs by Cecil McDonald, assemblage works by Avery Young, and sound pieces by LeRoy Bach.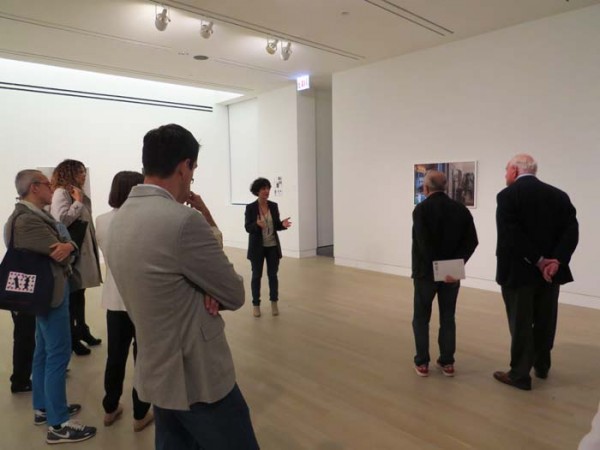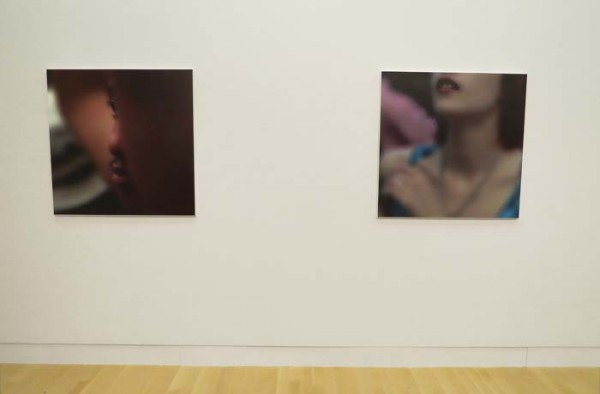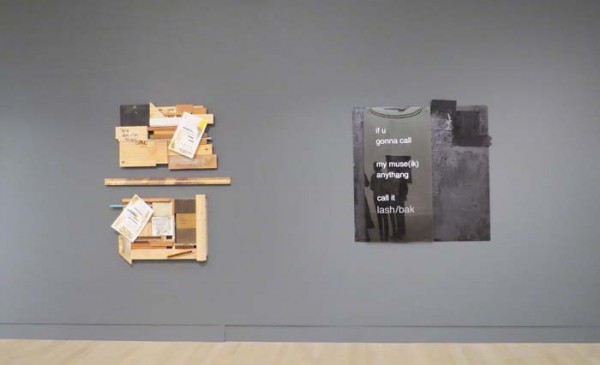 Monika also gave us a tour of building and, by the way, the view from the 10th floor is pretty phenomenal.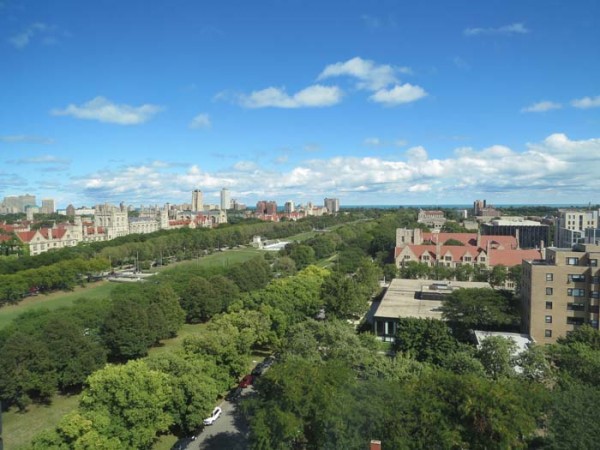 Bailey Romaine is an artist and bibliophile based in Chicago.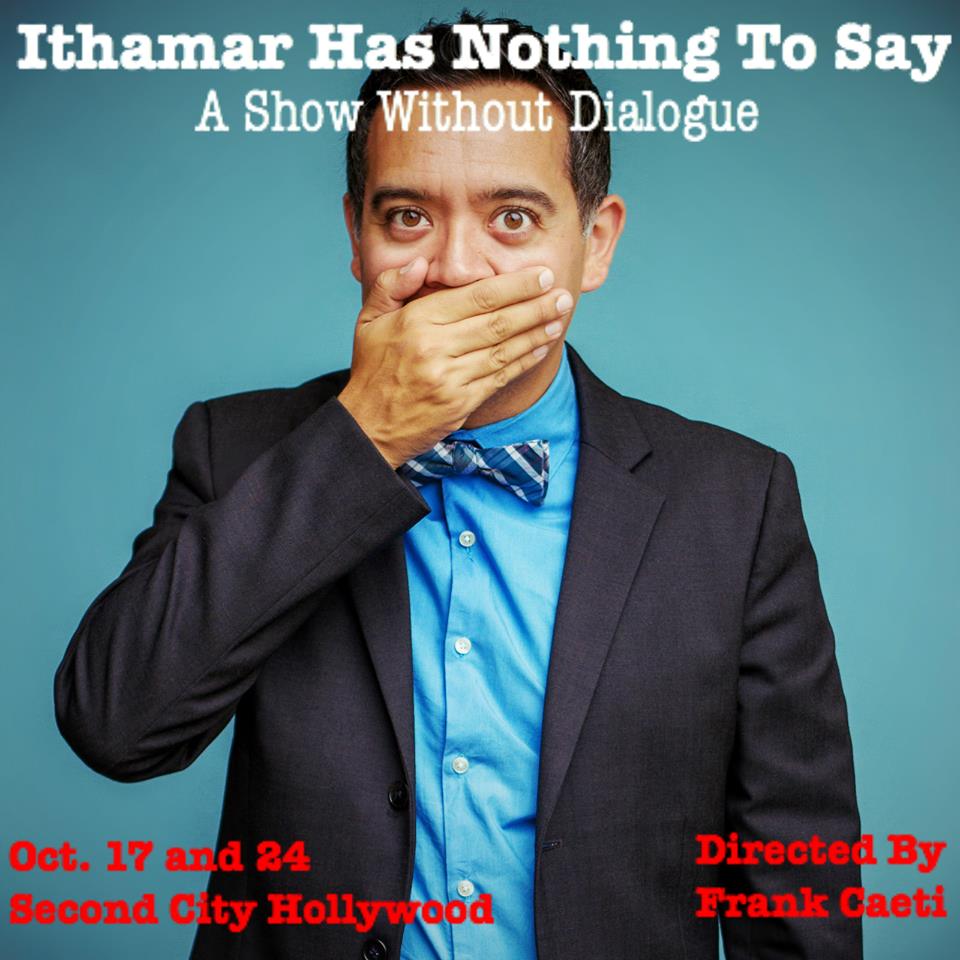 Ever heard of the The Second City ? Of course you have. This is a Chicago based arts and culture website, and Second City is "The" comedy theatre in Chicago, right? The Second City Chicago has turned out such comedy greats as Alan Arkin, Fred Willard, Tina Fey, Amy Poehler and Steven Colbert to name as small group. The Second City opened its doors in Chicago in December of 1959 as a small cabaret theatre. As the success of the Chicago company grew, it gave birth to off shoot companies and comedy schools in Toronto (John Candy, Dave Thomas, Catherine O'Hara and Martin Short  are all alumni as well), Los Angeles, and touring cast and a TV show called SCTV.
But I don't live in Chicago, I live in Los Angeles, and I am not a part of the comedy world. I watch Saturday Night Live (full of Second City alumnus), and I watch Arrested Development and 30 Rock on loop with my Appletv, but I have never been well versed in the art of sketch, stand-up and improvisational comedy. I work in film. Dark, gritty, independent film where people drink, cry and fight and have irresponsible sex with inappropriate partners…(I'm talking about the characters in my films, not the people in my real life…I swear.) However, recently I've had several friends who have very real interests and talents in comedy and so I've found myself at the Second City Hollywood theatre quite a few times in the last couple of years. This past month I saw two shows by which I was extremely impressed. And not just because the performers are my friends, but also because comedy is HARD and they are working HARD at it and their work pays off for the audience in a big way.
The Second City offers classes for performers from everything to beginners improvisation comedy, to sketch comedy, to comedy tv writing at various stages. I've attended several comedy tv pilot readings and, as a writer myself, am always impressed that people sat down and wrote a show. A whole episode of a show that they invented. They thought of characters, and jokes and silly scenarios that are sometimes totally relatable and sometimes absolutely ridiculous, but hopefully funny enough to make the audience laugh. Sometimes the pilots work, and sometimes they don't. As I mentioned, comedy is hard. At least, it seems hard to me. I've also watched a lot of improv comedy groups. I've learned that there are rules to improv comedy. Always say "Yes" to your improv teammate. Meaning, if your teammate says "hey, you're a cow" then you must say "yes, I'm a cow" and then play the part of a cow for the rest of the sketch. That is the best way to create a cohesive, smooth and funny scene. I've seen this work, and I've seen this implode (usually when the teammate says "I'm not a cow, I'm Matt Damon.") It seems to me that comedy is about commitment to a moment and a character, even if it is isn't the character that you would have wished to have to commit to.
Recently, I've sat in the audience for more sketch comedy. In the last couple of weeks I've seen two very different sketch shows that were all about commitment to character. The first was from a group called The Virgina Slims. They are a duo of performers who, in this show, played the roles of a duo of performers. Ha! The show is called Ronnie and Lorraine's Last Reunion Show IV. A high quality mock TV preview that played as the shows opening told the audience that Ronnie and Lorraine were once the America's Sweethearts of comedy couples (Think Lucy and Dessie or Donnie and Marie (but married)) In their heyday they had comedy specials and musical albums and toured around the world. But drugs, scandal, and divorce drove them apart, but now they are back for a reunion show! Then for the next 50 minutes or so the Virgina Slims (Laura Eichhorn and Pepper Berry) performed comic sketches and songs as Ronnie and Lorraine playing their old characters. It was very Shakespearean…the play within the play and all that. The sketches were swift and funny. Clever and physical. In between the sketches the characters of Ronnie and Lorraine talked directly to the audience about themselves, their struggling careers and occasionally their obviously strained relationship. The actors (Berry and Eichhorn) stayed very committed to their characters both in and out of the sketches, and that's why the show worked so well. These characters were silly and unglamorous but highly relatable. They wore gaudy 1970's outfits and wigs but so naturally that we as the audience were never distracted by them. At one point Eichhorn's Lorraine sang a dark, serious power ballad about hitting a deer with her car (if I remember correctly) while Berry's Ronnie popped up over and over behind her with different rhythm instruments. Because the performers took the moment so seriously, no winking at the audience, no acknowledgment of the silliness of their wigs and the subject matter of the song, the audience cheered. On the whole, the show was not only a great showcase of the Virgina Slims comedic performance talents, but also of their writing talents, and musical abilities.
The following week I saw a totally different kind of sketch show. Entitled, Ithamar has Nothing to Say, the comedian, Ithamar Enriquez, performed a series of non-verbal sketches to music. It was a mixture of pantomime, scene structure, and interpretive dance all in a one-man show (but that description doesn't do the performance justice.) The show opened by Enriquez (really in his 30's) as a crotchety old man with a cane shuffling on stage, taking out his teeth (pantomime, of course) and turning on a scratchy old record. Then as the old man fell asleep, Enriquez acted out the characters from the old man's dreams, depending on what song played from the record player (this is my interpretation.) Over the course of the next 30 minutes Enriquez silently became a sexy, elegant female prostitute and several of her drunk Johns, a trio of jazz lovers who can't help but dance when they listen to music, a Mexican wrestler who enthusiastically wrestles (and pins) a soft red blanket, and a hapless magician who you can't help but route for. In one sketch, he used a very weird half monkey/half man puppet to create an uncomfortable run in at a bus stop (we've all had those, if not with a half monkey man puppet) which showcased that this performer has puppetry skills as well. The show was light-hearted and hilarious and even sentimental at times. In the final sketch of his show, the Old Man returns and plays out the entire meeting, courtship, and marriage of he and his wife (the wife being played by the cane,) ending with the two, now old with grown children, relaxing together listening to the scratchy record player. It brought tears to my eyes, both of laughter and of emotion. The show was charming, and hilarious and (other than the creepy masturbating monkey man) completely family friendly. I think my parents would have loved it! I think Enriquez's parents would love it! I do know Ithamar Enriquez personally, and I always knew he was a talented comedian. He works a lot in the industry, in commercials, and TV including Arrested Development, Key and Peele, and The League to name a few recent appearances, and he is high enough in the company at The Second City that he is one of their staff members and teachers as well as a performer, but I thought this silent show showcased  talents I hadn't really considered. It harkened back to the brilliance of Charlie Chapman and the silent clowns at the circus (minus the pies in the face and the creepy make-up.) It was his commitment to each character that made you watch, believe, enjoy and most importantly…laugh!
So, The Second City Hollywood may not have the same long standing reputation for great comedy as its forefather The Second City Chicago, but it is in fact churning out great new comics all the time. So, I've had to accept that L.A. is not just a film town where people like me are churning out gritty independent drug movies and big budget space films, but there are also tons of people making thoughtful committed comedy shows as well. This is probably not a surprise to anyone else, I mean, Andy Dick came out of The Second City Hollywood so… But for me, I feel lucky to have found some comedy to balance out the darkness of my Breaking Bad addiction.
For more info on the Virgina Slims check out their Facebook page and follow them on twitter at @VSimprov and follow Ithamar Enriquez at @IthamarEnriquez and check out his website at www.Ithamarenriquez.com.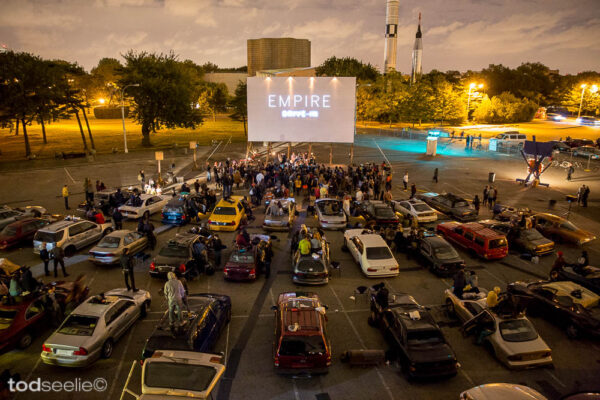 Photo: Tod Seelie
Empire Drive-In is a full-scale, twelve-night, outdoor cinema and social spectacle. Hosted by the New York Hall of Science, and brilliantly programmed and designed by artists Todd Chandler and Jeff Stark, this project is an ambitious statement on upcycling and participatory culture seen through the defunct theater of suburban drive-in entertainment.
On the surface, Empire Drive-In has plenty of nostalgic charm, but it doesn't take long to see how the project redirects retro sentimentality into much more nuanced conditions of creative re-use. Made entirely from re-animated waste, including cast-off lumber and 60 wrecked cars salvaged from a Brooklyn scrapyard, the project's junk aesthetic offers up a critical interrogation of our culture's throw-away mentality, and the tremendous value that can be recaptured with artistic reconsideration and a little bit of elbow grease. Chandler and Stark offered their impressions this conceptual overtone:
"One of the things that we're saying, or that we're trying to get at, is that this kind of place – a place that is built by hands and is brought alive by living artists and performers – offers a type of critical alternative to the safety of theme park nostalgia. […] People love nostalgia. A lot of us have an almost emotional attachment to the romantic idea of a drive-in theater. So we use that as kind of a set-up. People come to Empire with that romantic idea, and what they experience is on some level quite different: It's a bunch of dirty old cars in a parking lot. We're not trying to trick people, but we are deliberately looking for a little nuance – a little questioning."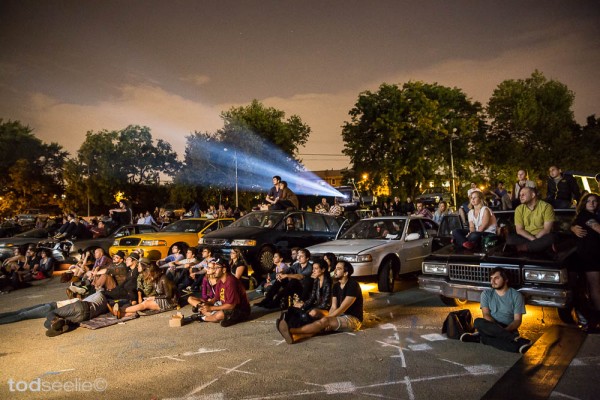 Photo: Tod Seelie
The creation of public and private space is another big picture idea that plays into the experience of Empire Drive-In. Sitting an early aughts BMW on the evening of my visit, I found traces of the previous owners scattered around the car, purposefully left behind by the artists. A wallet-size studio portrait of two young children and an ATM receipt with a balance for little more than $9.00 created a humanizing and intimate fantasy of these earlier occupants. The private narrative unfolding in the car was met on the other end with the larger, public narrative taking place outside, as people moved around, socialized, bought popcorn from the snack bar, and lounged on the hoods and roofs of cars. This division between public and private has always been part of the haphazard choreography of the drive-in theater, though here these narratives feel more direct and curated for personal discovery.
In addition to the social concepts it tackles, let's not forget that Empire is essentially a series of film screenings; a program that is thematic, collaborative, and diverse – including a Bollywood Bash, Jim Jarmusch's Night on Earth (1991), and silent films. I attended the Teenage Wasteland double feature, with screenings of Over the Edge (1979) and Suburbia (1983), both about the uprising of white youth in the face of oppressive and alienating suburban communities; a rebellious delight. The films were preceded by a presentation of Stephen Mallon's impressive documentary photographs of scrapped subway cars in the process of becoming artificial underwater reefs, tying into the space's larger theme of industrial re-use – though hanging somewhat awkwardly in relation to the rest of the evening's programming. RVIVR, an energetic punk foursome from Olympia, WA played a set during intermission, giving the crowd another opportunity to gather before heading back to our cars.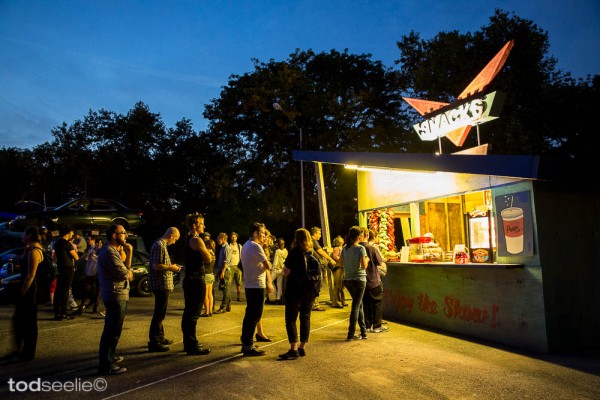 Photo: Tod Seelie
While participation plays heavily into the artists' thinking about this work – as it also does with Stark's other "unauthorized" events in which complicity is an unambiguous, horizontal requirement – true, active participation at Empire feels optional. Interaction is certainly encouraged here, but some may simply go for a controlled, car-bound experience. "There's been a lot of talk about the tyranny of participation, and yet it's true that Claire Bishop and a lot of ideas about social practice have influenced some of our thoughts about Empire Drive-In," remarked Chandler and Stark.
"What we're after is a space that compels participation in the face of spectacle – one that allows for both at the same time. We're hoping for an almost a civic impulse. But at the same time, we would never force people to join in a Bollywood dance lesson, or demand someone to climb up on top of a car. We talk a lot about the distinction between public and private space at Empire, and about how the drive-in is an American institution that allows for both. We often celebrate the public aspect, and work on encouraging it, but private space is important too."
There are several big, concurrent messages at Empire Drive-In. Perhaps this is an effect of it being a multivalent product of many collaborators, or perhaps it's a resistance of reductive categorization. One thing is for sure: if all art-going experiences were this inclusive, a wider public might start to recognize themselves in the visual culture that represents them. Museums take note.
Empire Drive-In at the New York Hall of Science closes on Sunday, October 20.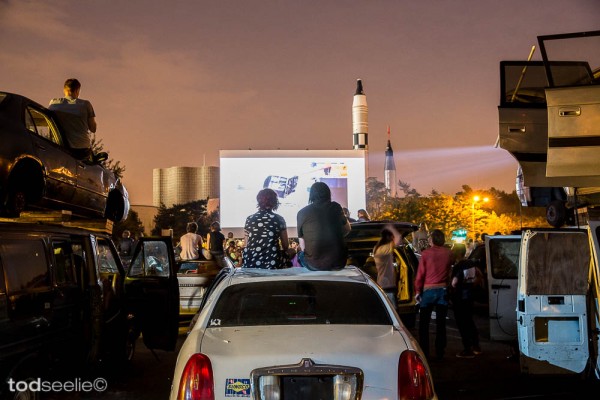 Photo: Tod Seelie
1. Histories/Photographies at DePaul University Art Museum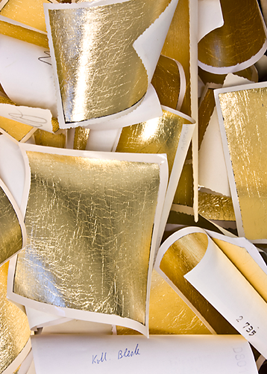 Work by Jeremy Bolen, Alan Cohen, Adam Ekberg, Myra Greene, Shane Huffman, Barbara Kasten, Jason Lazarus, Aspen Mays, John Opera, Jason Reblando, David Schalliol, Matthew Schlagbaum, and Adam Schreiber.
DePaul University Art Museum is located at 935 W. Fullerton Ave. Reception Friday, 6-8pm.
2. Ghosts Don't Burn at SideCar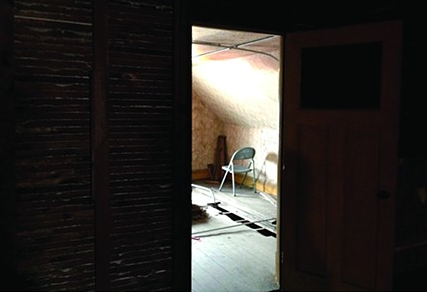 Curated by Lucas Bucholtz with work by Carl Baratta, Zack Wirsum, Lauren Ball, Nathan Carder, Mariano Chavez, Karolina Gnatowski, Pedro Munoz, and Mindy Rose Schwartz.
SideCar is located at 411 Huehn St., Hammond, IN. Reception Saturday, 5-10pm.
3. Of Walking at the Museum of Contemporary Photography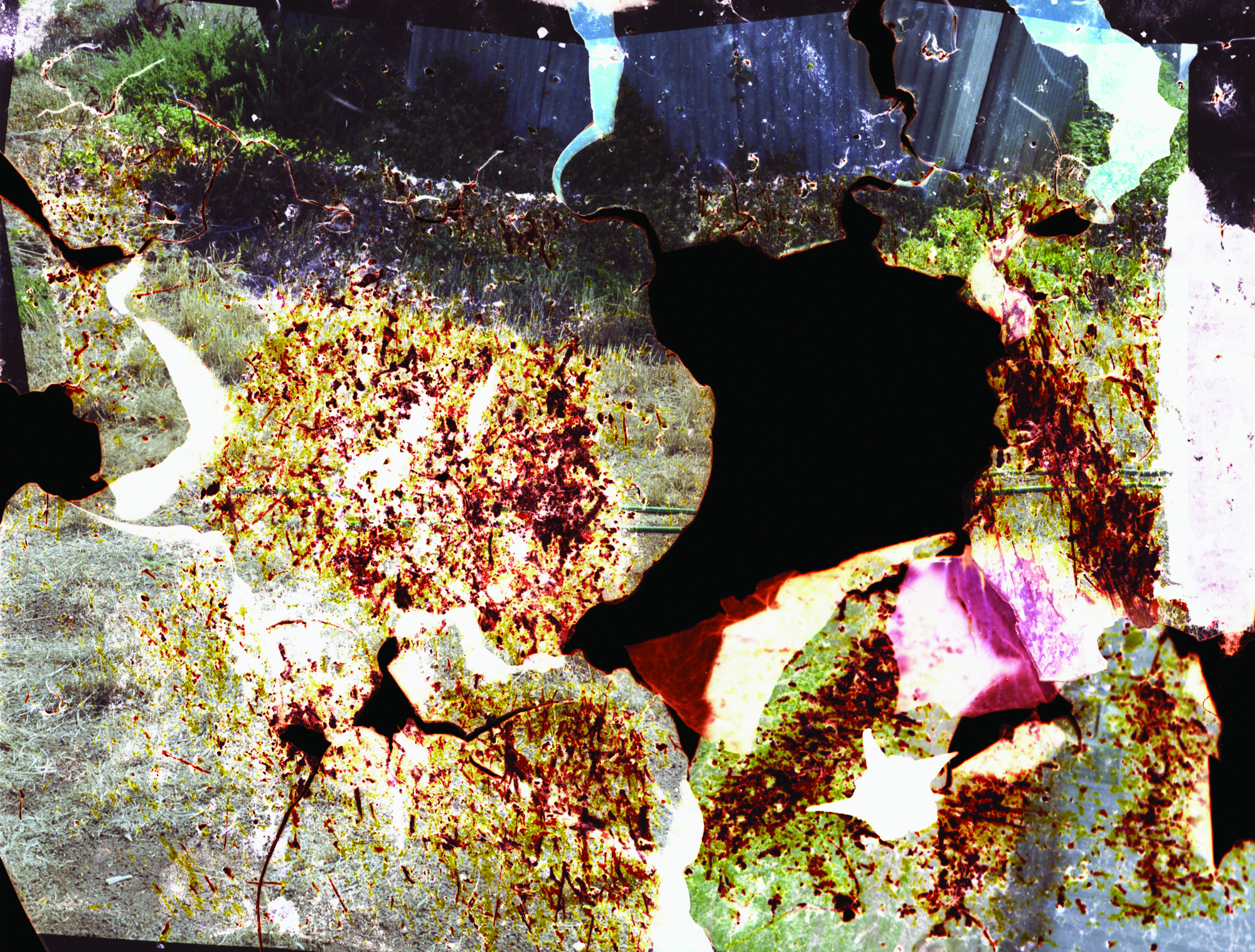 Work by Paulien Oltheten, Odette England, Atget, Garry Winogrand, Sohei Nishino, Simryn Gill, and Vito Accondi.
Museum of Contemporary Photography is located at 600 S. Michigan Ave. Show opens Friday.
4. 1st Annum-Hurrahs Lorry Celebration at TRITRIANGLE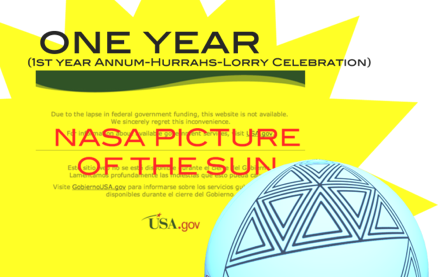 Work by Harvey Moon, Nick Briz, Yaloo Pop, Jason Soliday, William Robertson, Daniel Rourke, Incidental Music, shawne michaelain holloway, Kevin Carey aka Yung Pharaoh, and Chris McLaughlin.
TRITRIANGLE is located at 1550 N. Milwaukee Ave. Fl. 3. Reception Saturday, 7pm.
5. Paint, Paste and Sticker: Chicago Street Art at Chicago Cultural Center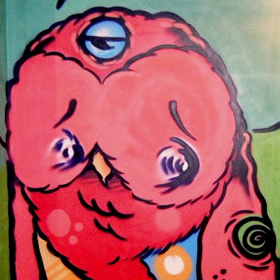 Work by Slang, Zore, Ish Muhammad, Hebru Brantley, Uneek, Statik, Brooks Golden, Chris Silva, Your Are Beautiful, Oscar Arriola, and more.
Chicago Cultural Center is located at 78 E. Washington St. Reception Friday, 5:30-7:30pm.
Guest Post by Jacob Wick.
So far, the things that have made the most sense in Los Angeles to me have been the things that make no sense at all. I'm writing about Juliana Paciulli's recent solo show at Greene Exhibitions, "Are you talking to me?" and Andrew Choate's poetry, like this one from Stingray Clapping:
more nipple than fig
more fig than nipple
dress up as fig
for Halloween
dress up as
nipple for birthd
figple
Choate sings his poetry, or singsongs it, more of a sprechstimme than a musical. I've never seen him read the poem I have placed above, but there's probably a tune it goes along with, and somebody always snickers at it, as I have seen them snicker in, now, several situations in Los Angeles. It's the same kind of snicker, or nervous laugh or outright laugh, perhaps if one is confident, that happens at a total failure of communication, when there is some kind of sudden – perhaps sudden, perhaps dramatic, possibly completely banal, like being hungover or otherwise exhausted – breakdown in a conversation or scene.
A scene perhaps like that in the title video of Paciulli's exhibition. A teenage girl, wearing a sagging black American flag as a cape, stands in typical suburban house – indeed a suburban house so typical it played Ferris Bueller's house in Ferris Bueller's Day Off - rehearsing De Niro's famous scene from Taxi Driver. She raises her gun; the shot centers on it: it is a yellow watergun (full disclosure: my yellow watergun; fuller discloser: John Paul Glover's yellow watergun), apparently empty, or mostly empty. The shot returns to the girl's face; she finishes the scene, pauses, says "oh, ok," and looks down and away. A housecat jumps over the flag/cape, which has apparently fallen off.
More forceful, adjacent to the sags another black flag, printed on bamboo twill, with a banana-yellow QUACK printed across its lower third. The flag might signify something, maybe national pride or Jasper Johns or Black Flag, a band I very unfortunately saw recently – a bunch of pathetic, ridiculous old men prancing around the stage like a bunch of assholes, which they certainly appeared to be – but the QUACK arrests its signification in the act, leaving the viewer speechless, in the strange afterimage of a short-circuit of meaning.
It has been important, certainly since the turn of the 20th century, to ask what things – not just art, everything – mean. What does this abstract painting mean? What does this realist short story mean? What does this rock mean? I learned at the Santa Monica police station, from an incredibly chatty technician who gently rolled my finger on the scanner, that the print on my left index finger is of the sort that less than 1% of people have. I asked, laughing, but not really, I felt pretty serious about it – it was my first thought – "what does it mean?" She said, "oh, probably nothing." If I look it up online – I think it was a double loop or a Peacock's eye or maybe a tented arch, I wish I remembered or wrote it down, but I didn't – it might mean that I'm a perfectionist, that I'm indecisive or diplomatic, that I'm independent and inflexible, or that I am "fiery."
The trouble with asking what things mean is that they often mean nothing, and those things that don't mean nothing often could mean many things along a varying scale of possible validity. I once wrote a review, for a class in undergrad, of that Ann Hamilton piece that is a bunch of white shirts, seams opened and singed, on a table. I wrote that it "meant" something about the Triangle Shirtwaist Factory fire. You know: sewing machines, fire, melancholy, death, feminism. It's certainly possible that the piece meant something, and that that meaning had something to do with about the Triangle Shirtwaist Factory fire, but it's equally possible it meant something about self-image, about burning or singing the demand to appear a certain way, or even the privileging of appearance (it's on a table after all). I point this out not to champion a wry, pseudo-"ironic" approach, an approach that I find vapid and profoundly irritating – and completely dissociated from the actual function of irony, but that's another story – but rather to wonder if it is not more interesting, or exciting, or even relevant, to ask what things do, rather than what they mean. In the case of Choate and Paciulli, their work could mean a variety of things, doubtless some of which are fascinating, but what is most important – to me at least – is what they do: they short-circuit or gag the transmission of subjective information. In so doing, they resuscitate the possibility of gesture.
What is gesture? Giorgio Agamben, in his enigmatically unfinished "Notes on Gesture," refers to the ancient Roman philosopher Varro:
The third stage of action is, they say, that in which they faciunt "make" something: in this, on account the likeness among agere "to act" and gerere "to carry or carry on," a certain error is committed by those who think that it is only one thing. For a person can facere something and not agere it, as a poet facit "makes" a play and does not act it, and on the other hand an actor agit "acts" it and does not make it, and so a play fit "is made" by the poet, not acted, and agitur "is acted" by the actor, not made. On the other hand, the general [imperator], in that he is said to gerere "carry on" affairs, in this neither faciti "makes" nor agit "acts," but gerit "carries on," that is, supports, a meaning transferred from those who gerunt "carry" burdens, because they support them. (57)
The three categories of action are, then: to make or produce; to act or perform; to carry on or support. Agamben identifies gesture with support, with gerere, to carry or carry on. The error that apparently was being made in the first century BCE, that of confusing performing with supporting, is simply exacerbated in the twenty-first century CE, where that which is supporting simply disappears. We see the actor perform, and admire the poet who made, but we miss, or fail to focus on, the gesture that supports: the tone of voice, the rise and fall of an arm, a certain tenseness or relaxation. It is the gesture that finally closes the act of signification, and for Agamben, this carries tremendous weight. As that which supports or endures, the gesture "opens up the sphere of ethos as the more proper sphere of that which is human" (57). It is not – or should not be – the sphere of production, nor the sphere of praxis, that determines one's humanity, but rather the manner in which one supports or endures, one's gestures. It is in one's gestures that one's character appears.
"Notes on Gesture" tracks the disappearance or capture of gesture from the late 19th century to the present. Beginning with Gilles de la Tourette's catalogue of irregular gestures, which became the basis for what is now called Tourette's disease; to Tourette's catalogue of normal gestures, which he describes with pre-cinematic relish. According to Agamben, after numerous cases being reported in the late 19th century, cases Tourette's disease "practically cease to be reported" from the beginning of the twentieth century until Oliver Sacks reportedly noticed several apparent cases of Tourette's while walking down a New York street in 1971. Agamben suggests, somewhat amusingly – a nervous laugh, a snicker – that this could perhaps "in the meantime ataxia, tics, and dystonia had become the norm and that at some point everybody had lost control of their gestures and was walking and gesticulating frantically" (51). The reemergence of Tourette's in the 70s signals not a sudden gaining of control of gesture, but perhaps the moment when the obsession over gesture – as one obsesses over anything one has lost, as any lost thing becomes transfigured into "destiny" – reached some kind of mark.
In any case, the desire to reclaim gesture or the nostalgia for gesture propels cinema. Extending Deleuze's term "movement-image," which implies that cinematic images are themselves in movement, Agamben writes:
Every image, in fact, is animated by an antimomic polarity: on the one hand, images are the reification and obliteration of a gesture (it is the imago as death mask or symbol); on the other hand, they preserve the dynamis intact (as in Muybridge's snapshots or in any sports photograph). The former corresponds to the recollection seized by voluntary memory, while the latter corresponds to the image flashing in the epiphany of involuntary memory. And while the former lives in magical isolation, the latter always refers beyond itself to a whole of which is it a part. Even the Mona Lisa, even Las Meninas could be seen not as immovable and eternal forms, but as fragments of a gesture of as stills of a lost film wherein only they would regain their true meaning. And that is so because a certain kind of litigatio, a paralyzing power who spell we need to break, is continuously at work in every image…
Cinema seizes and redeploys gesture, and as such "belongs essentially to the realm of ethics and politics" (55). For cinema suggests or imposes character, characters, ethos. For if it is through cinema, as Agamben so eloquently writes, that we dream of gesture; the question then becomes how to "introduce into this dream the element of awakening" (56). How do we, how can we, pinch ourselves back into awareness of our own gestures?
For Agamben, the key is to forget, or to remember, or to forget to forget, to forget to remember. Gesture appears involuntarily, in moments when we lose our track, when we are gagged, "indicating first of all something that could be put in your mouth to hinder speech, as well as in the sense of the actor's improvisation meant to compensate a loss of memory or an inability to speak" (59). Perhaps this is what Cage dreamed of when he asked for silence. When we are gagged, when we forget suddenly or witness a forgetting – for the gag is more than the actor forgetting, it is everyone in the theater witnessing that forgetting, participating in it – we witness gesture as pure means, dissociated from production or praxis.
And if cinema is the tool by which we dream of gesture, then Hollywood is the capital of dreams, of dreams suggested or imposed; and if we consider gesture to be the sphere of politics, as Agamben does, or if we consider gesture to be the support or character of ideology, as I do – or both, for that is perhaps two ways of saying the same thing – then Los Angeles becomes perhaps the ideal place to think about gesture, or to focus on work that brings forward the possibility of gesture, work that stops us from explaining what it means and forces to encounter what it does.
Jacob Wick is a conceptual artist based in Los Angeles. For more information, visit jacobwick.info.