1. Hatch Project: Curator Application deadline: September 8, 2013 Fee (USD): $15.00
HATCH Projects is a yearlong, juried incubator for contemporary Chicago artists and curators that strives to support an ecology of curatorial and artistic practice. A pioneering initiative of Chicago Artists' Coalition (CAC), HATCH Projects fosters shared experimentation, exchange and creativity to produce ground-breaking exhibitions and programs.

Four Curator Residents are accepted into the program based on an application evaluated by four leading and established Mentor Curators (To be announced). Curator Residents are then responsible for selecting the twenty-four Artists Residents. Each Curator Resident manages a group of six artists for the year to realize three innovative and experimental exhibitions and public programs at CAC. In addition, curators receive professional development through feedback from and working with Mentor Curators, as well as through conversations and critiques with an active peer-to-peer creative network. Through this unique hands-on experience and mentorship program, curators develop valuable insight and experience in contemporary exhibition making. Read about it here.
The Hodder Fellowship will be given to writers and non-literary artists of exceptional promise to pursue independent projects at Princeton University during the 2014–2015 academic year. Potential Hodder Fellows are writers, composers, choreographers, visual artists, performance artists, or other kinds of artists or humanists who have "much more than ordinary intellectual and literary gifts"; they are selected more "for promise than for performance." Given the strength of the applicant pool, most successful Fellows have published a first book or have similar achievements in their own fields; the Hodder is designed to provide Fellows with the "studious leisure" to undertake significant new work.

Hodder Fellows spend an academic year at Princeton, but no formal teaching is involved. A 75,000 USD stipend is provided.  Fellowships are not intended to fund work leading to an advanced degree. One need not be a U.S. citizen to apply.

Applications must be submitted by October 1, 2013 through the Princeton Jobs site athttp://jobs.princeton.edu/, requisition # 1300448

Writers:
Submit a resume, a 3,000-word writing sample of recent work, and a project proposal of 500 to 750 words.

Performing and Visual Artists:
Submit a resume, a project proposal of 500 to 750 words, and examples of ten minutes of performance through link(s) to sites such as YouTube, Vimeo, Flicker, etc. Visual artists should provide up to 20 still images saved as a PDF file and submit as part of their online application or supply a link to a website, YouTube, etc.

We cannot confirm receipt of applications nor can we accept applications submitted after the deadline. Limits on the statement size (500-750 words) and sample size (3,000 words) are strict.

The appointment of the Hodder Fellows will be made in January 2014.

An announcement of the award will be posted on our website:
http://www-dept-edit.princeton.edu
4. Travel Grant!: Roberto Cimetta Fund Deadline: 30 September 3013
The General Fund is open to all requests for travel grants that respect the eligibility criteria of RCF, whatever the destination of travel, the artistic discipline or the direction of mobility. The General Fund functions on an annual basis which means that candidates can apply for the March session and to the other sessions in June and September depending on the funding available.

Some grants for travel from the South on the General Fund are provided by the European Union as part of the Istikshaf programme.

The Conseil Général des Bouches du Rhône and Marseille-Provence 2013 provide funding on two specific funding lines. Details concerning these funding lines are provided on the Cimetta Fund website http://www.cimettafund.org

Artists and cultural operators living and working in Europe, the Middle East and North Africa can apply in Arabic, English or French. Priority is given to mobility from the South and East of these regions.

The results are announced as follows:
Fourth session: 1st December 2013 (Deadline for receiving applications: 30/09/2013)

If you want to apply, please visit the Roberto Cimetta Fund's website and fill in the contact form on the website www.cimettafund.org. The office of the Fund will send you the link to the online form to fill out.
This piece was originally submitted to Chicago Artist Writers:
Guest post by Daniel Baird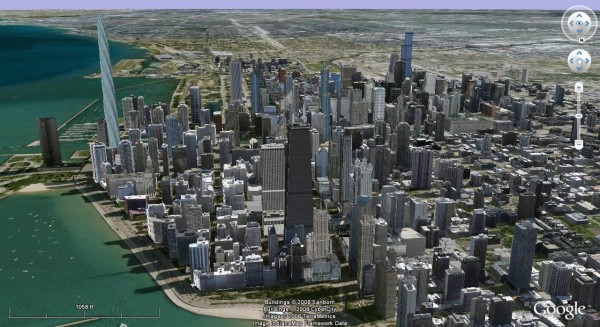 In the recent Field Museum exhibition 'Scenes from the Stone Age: The Cave Paintings of Lascaux,' perfect replicas of a 20,000 year old archaeological site in the Southwestern countryside of France are brought to Chicago by way of 3D models, to-scale stone replicas and cast artifacts. The process by which the drawings and cave structures are being visualized shows a contemporary trend of using advanced imaging technologies to digitally represent and conserve the surfaces of objects and locates it purely within an aesthetic analysis of surface.
The recent predominance of surface is seen most notably in cultural objects that come to us via the internet and hand-held mobile devices. Google Earth is a leading proponent that is warming us to this way of being in the world. Ambitious in its scope, it seeks to map out by way of photographic image an accurate depiction of the entirety of the earth. It does this via satellite imagery and numerous on land instruments that take 8 simultaneous pictures and seam them together as a flowing surface. In this digital replicating of the world through image, one is able to traverse any place on earth through a screen. Spin-Cam, a recent application for the iPhone, allows viewers to download panoramic images of locations from around the world and view them, hands outstretched, through the surface of their screens at the same position they were taken. Literally spinning in place while a different location is grafted onto the present. A recent development in printing technologies, centralized to the advertizing industry, has allowed for images to be placed onto a mesh vinyl that is able to be seen though when near, but at a distance reveals an image. Used in construction sites during the restoration of important structures, it has been used to place an image of the building as it is planned to look on the outer scaffolding, or skin, to mask the potentially unflattering things being done to its exterior facade. In all of these instances, including the recent Field Museum exhibition, the surface of the experienced world is presented as disembodied and able to be understood as object.
Lascaux, as the caves paintings have come to be called, was discovered in 1940 and made into a tourist attraction in 1948. Due to heavy carbon monoxide levels generated by roughly 1200 visitors per day, the caves were shut down to conserve them from damage. To satisfy the desire to see these ancient discoveries, in 1983 a nearby quarry was used to house a pair of to-scale replicas of walls from the original. It was given the name Lascaux II in recognition of its artifice. Constructed with armatures and concrete, detailed diagrams were made of the original paintings and reproduced by hand using pigments and tools similar to what may have been used by the creators of the original. The field museum presents another, mathematically precise, iteration of the replicated cave drawings.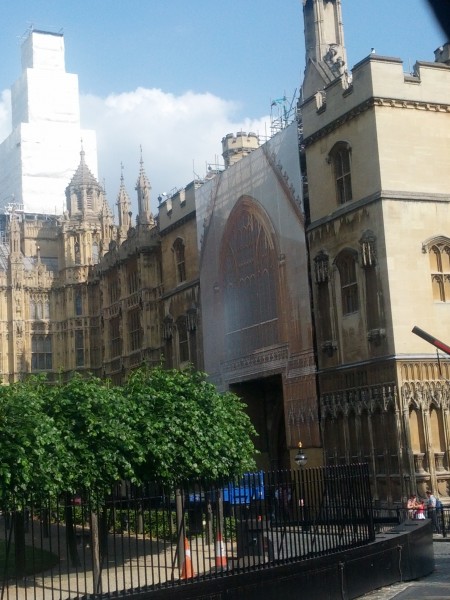 The entrance of the exhibition begins with a stone object that is worn, weathered and dimly lit. This initial confrontation with the stone object anchors the viewer in a familiarity to the real. Light slowly traces the contours of faint engravings on the fragment calling our attention to an abstracted horse hidden within the surface. The revealing of a hidden illusion on the surface of the stone sets the stage for a type of reversal between the real and the artificial that occurs throughout the exhibit.
In an adjacent room, the mesmerizing sound of a synthesizer pulses soothing digital tones that feel like a sacred chant. Six stark-white, bulbous vessels recall decayed and hollowed out tree trunks resting on skewed geometric bases. At waist height, these objects refer to horizontal bodies balancing precariously on the peaks of mountains. Sleek, bendable lights are perched at the entrance to each of these forms illuminating the interior surface. The hollow vessels are so thin that the interior and exterior skins appear to be the same.
A realistic digital animation projected onto the wall is the heart of the exhibition. It connects the forms surrounding the viewer into a single entity that slowly rotates amidst a black background. It looks like an organic spaceship, floating with no reference to its own scale. As the animation rotates the cave structure, the viewer becomes aware that the exterior surface is derived purely from images of its interior. The cave as 3D model is a pure flowing surface. This visualization of the cave structure as an absolute object is an experience that would be impossible to attain in real life.
The camera enters into the digital cave structure and moves with anthropomorphic gestures through the detailed interior, bobbing ever so slightly to the left and right as if to mimic how we walk through the world. Artificial bats rush through the caves and floating balls of fire illuminate the chambers casting faux shadows on the walls. At the end of the tunnel is a bright light that obscures any further view. This visualization of the caves interior is key to understanding the objects in the room. The white vessels in the space become blank sheets of paper that the viewer can now graft the cave drawings onto. It is impossible to resist imagining oneself inside the vessels at a 1:10 scale.
Surface and replication are emphasized by the exhibition. In digitally acquiring the undulating surface of the cave drawings through 3D laser scanning, we are left only with images that can be grafted onto mathematically precise points in virtual space. These points hold no depth and can be seen anywhere in the world, at any time with any digital device. The caves are now pure information. The thinness of the physical structures throughout the exhibition exemplify the 'zero-dimensional' quality of 3D models. Each physical object we encounter is derived from the original 3D model and pushes against its own architectural and structural limits in order to maintain this illusion of immateriality.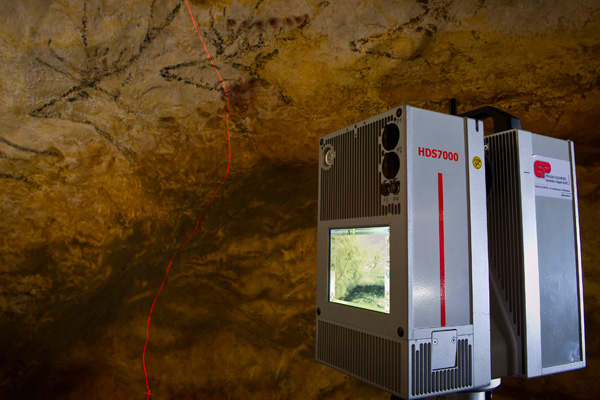 The next room in the exhibit presents enormous, to-scale wall replicas of select rooms of the caves. Faux-stone surfaces with crude pigmented drawings tower over the viewer. They appear rocky, irregular and roughly an inch thick while being held from behind by large geometric structures (mirroring the display techniques holding the 1:10 scale models) Termed 'stone-veils', these massive replicas attempt to enter into this depth-less and perfect zone of the digital. Lights subtly change in this new space, revealing different perspectives of the drawings that are on the walls similar to how the faux-candles changed the surface in the animation. Two hyper-real sculptures of a man and woman clad in animal skins and jewelry peer out of the cracks of adjoining walls. The woman points her finger outward with a look of fear on her face while the male, much older in age, sits beside her with a passive expression. Their uncanny expressions, particularly that of the woman's, instills a feeling of trespassing and self-awareness within the viewer. Despite all attempts, eye contact with the ancient figures is impossible. They always look through you.
The translation of the physical into the perfect digital and back again into the physical is tested in this part of the exhibition. In placing the figure physically into the 3D caves represented in the prior room, we physically enter into a world understood to be built from the virtual. The forms are fragmentary and stand in as samples for the entire structure. In bringing together these fragmented 1:1 replicas, the entirety of the cave is presented. In encountering these forms, the question as to whether or not the replica can carry more weight than the original is predominant. Would the replicas and the recreated 3D model shift in meaning or value if the interior structure of the original cave tragically collapsed in on itself and became forever lost? Would the 3D model, and the perfect reproductions that can be derived from it, function as the new original? Or, to speak to recent cultural apocalyptic fetishism, if the world should disappear would Google Earth be the perfect world before it beset an unfortunate event? The ancient cave drawings at Lascaux now digitally exist everywhere and at all times simultaneously, trapped photographically in the moment they were recorded. Visiting the original now seems fruitless and arbitrary.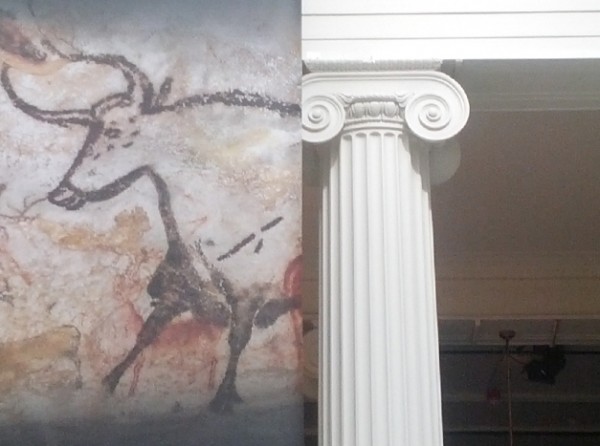 This possibility of representing the cave structure in virtual space results in a new consideration of aura. In becoming virtual, the caves are now equated with any digital model of any object and as a result now exist in historical ambiguity. A digital spoon, table, asteroid, CAT Scan, height-field map of a farm in Nebraska or the Lascaux Caves all share the potential to exist simultaneously with one another, and at any scale, in the digital terrain. The digital caves are now a pseudo-artifact that share a likeness with the function of the souvenir. The 3D model of the cave presents the possibility for an acute historical analysis of the markings on its surface by way of mimicking the lighting conditions, zooming into the surfaces and experiencing time inside of the virtual models.  It also allows for them to be placed in any virtual situation as object, container or reference.
The trans-historical preoccupation with the surface of objects is emphasized by these contemporary reproductions of the Lascaux caves. Created 20,000 years ago, these early articulations of physical reality on a flat picture plane have traversed through time to be embodied by our most recent iteration of representation. Whereas historically the placement of images on surfaces has been the dominant concern of art and aesthetics, we are now seeing a preoccupation with the pure surface able to exist anywhere and in any form. We can now experience the cave with more exactitude than we ever could in real life.
The Field Museum exhibit, "Scenes from the Stone Age: The Cave Paintings of Lascaux" closes on September 8th, 2013.
Daniel G. Baird (b. 1984) received his BFA from the School of the Art Institute of Chicago and MFA from the University of Illinois, Chicago. Recent Solo exhibitions include 'Vestige' at the Institute of Jamais Vu, London, 'Has the World Already Been Made? X4' at both Roots and Culture, Chicago IL and Hedah, Maastricht, Netherlands, 'Meridian' at Robert Bills Contemporary, Chicago, IL and 'This New Ocean,' at Appendix Project Space, Portland OR. Recent Group exhibitions include Bowling Alone, Andrew Rafacz Gallery, Merge Visible, Prairie Productions, Chicago, IL. He will present work at the Elizabeth Foundation, NY and Leeds College of Art in 2014.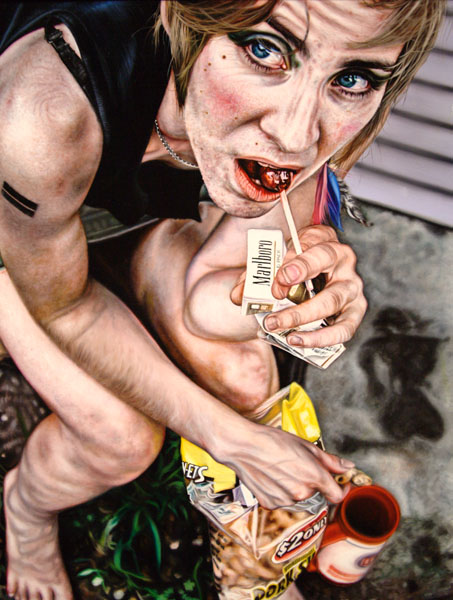 Work by Amanda Elizabeth Joseph.
Zg Gallery is located at 300 W. Superior St. Reception Friday, 6-8pm.
2. Nucleotide at Thomas Robertello Gallery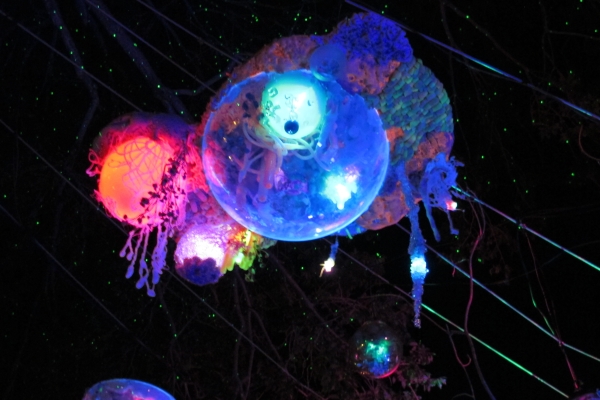 Work by  Meow Wolf.
Thomas Robertello Gallery is located at 27 N. Morgan St. Reception Friday, 6-8pm.
3. Low-Dose No-Doz at Johalla Projects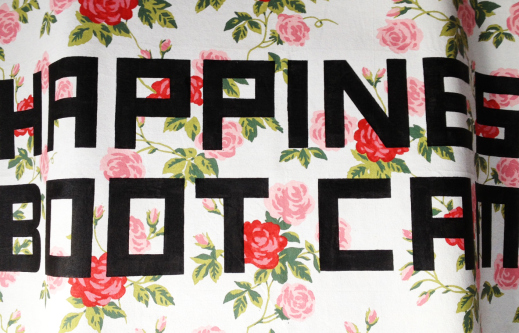 Work by Ryan Duggan.
Johalla Projects is located at 1821 W. Hubbard St. Reception Friday, 7-10pm.
4. Wisconessee at Kasia Kay Gallery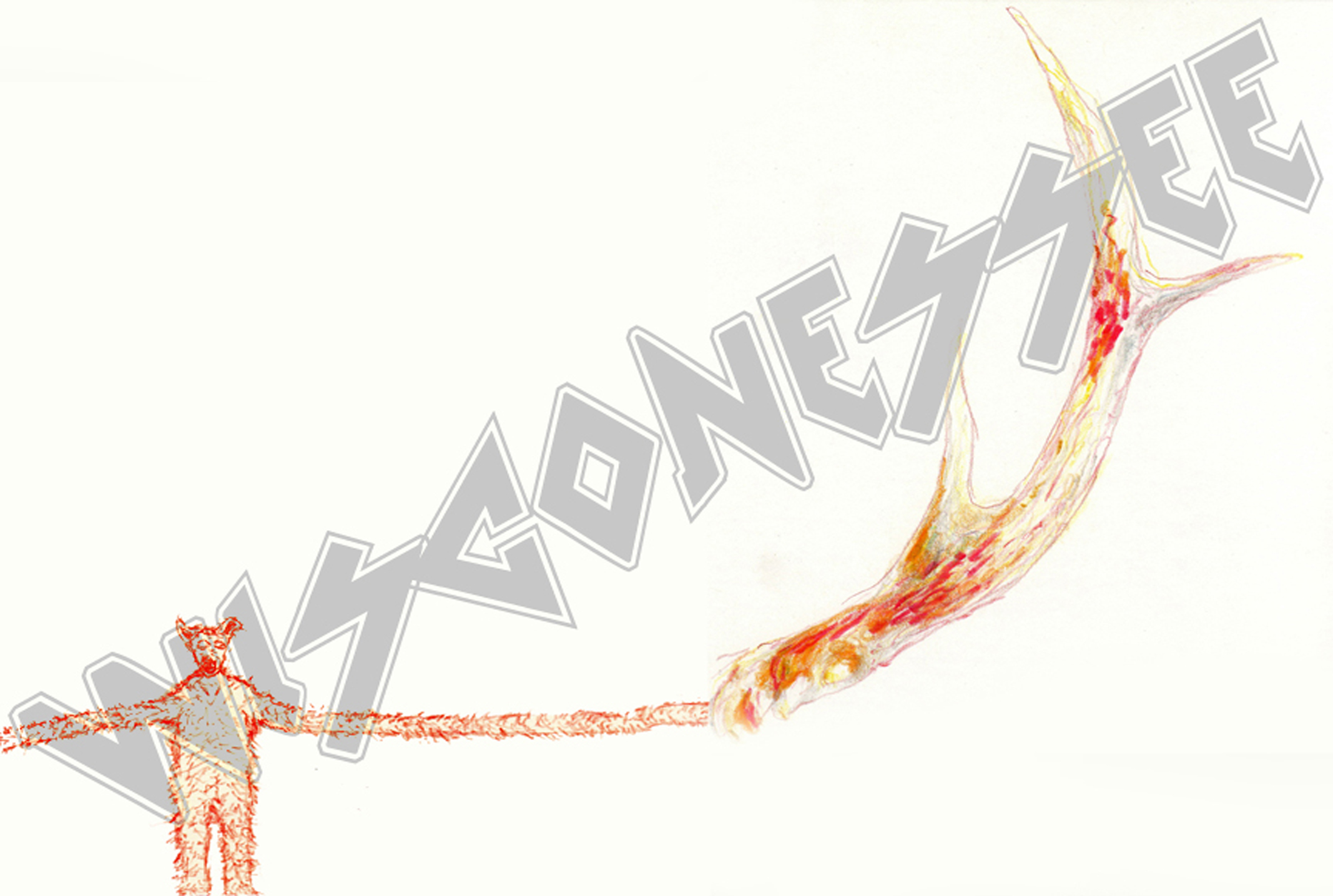 Work by Daniel Bruttig and Duncan Robert Anderson.
Kasia Kay Gallery is located at 215 N. Aberdeen St. Reception Friday, 6-8pm.
5. When Wish Still Helped: Adventures in Western Refractoria at Packer Schopf Gallery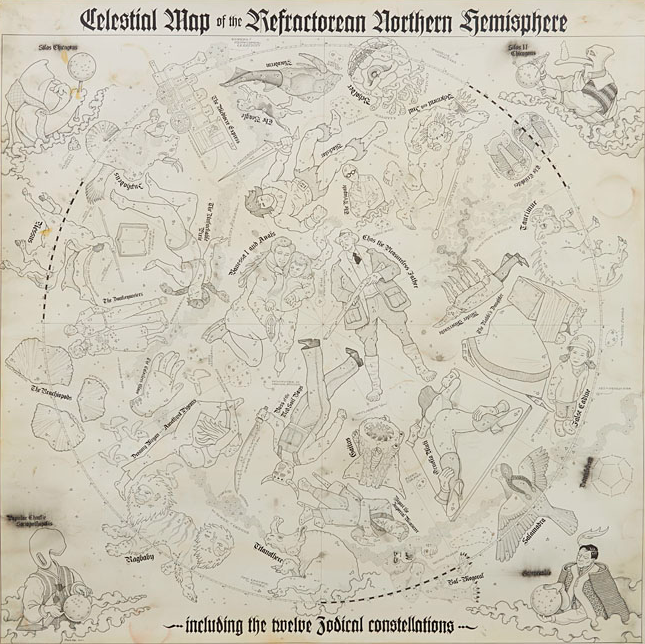 Work by Jeffrey Beebe.
Packer Schopf Gallery is located at 942 W. Lake St. Reception Friday, 5-8pm. Â 
6. Casilda Sanchez at Aspect/Ratio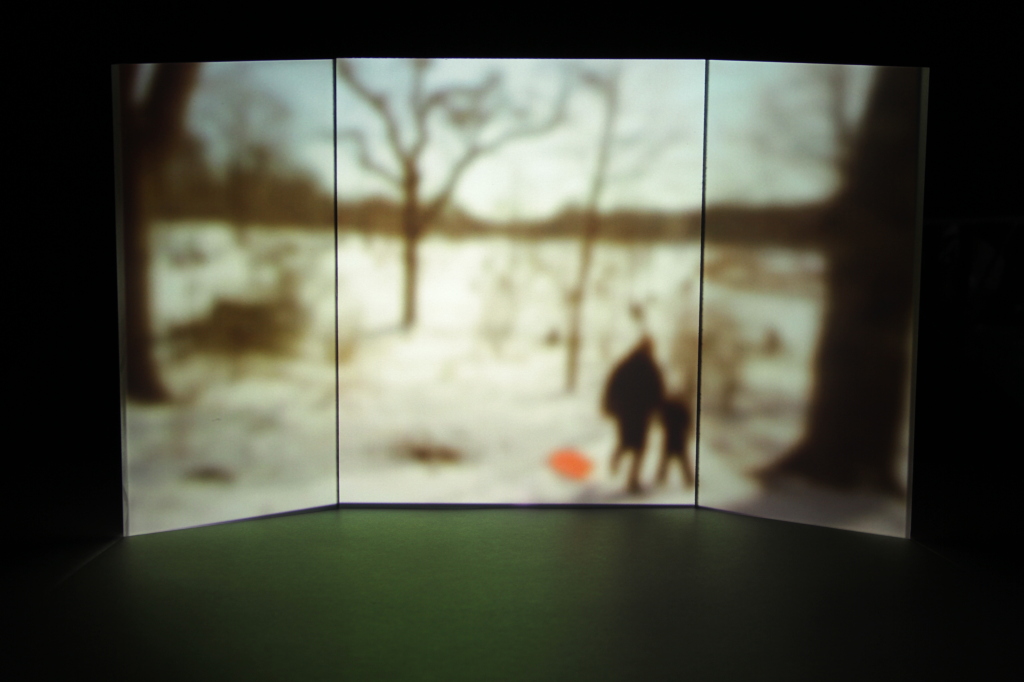 Work by Casilda Sanchez.
Aspect/Ratio is located at 119 N. Peoria St. Suite 3A. Reception Friday, 6-8pm.
7. How Many Feminists Does It Take to Change a Light Bulb? at Antena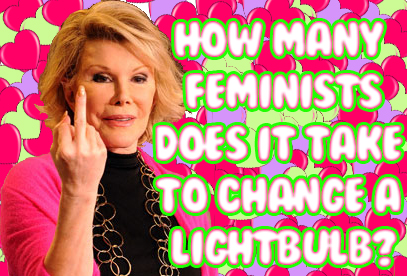 Work by Sarah Kelly, Marisa Williamson, Katya Grokhovsky, Rachelle Beaudoin, Andrea Hidalgo, Roxy Farhat, Em Meine, Cristine Brache, T. Foley,  Lex Brown, Lilly McElroy, Molly Shea, Shana Moulton, Becky Sellinger, and Rosemarie Romero.
Antena is located at 1755 S. Laflin St. Reception Friday, 6-10pm.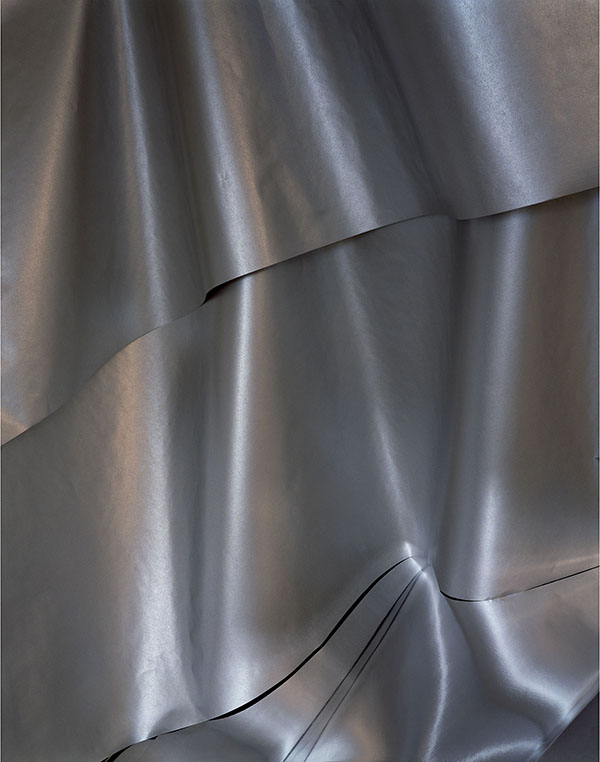 Work by Scott Fortino.
Document is located at 845 W Washington Ave. 3F. Reception Friday, 5-8pm.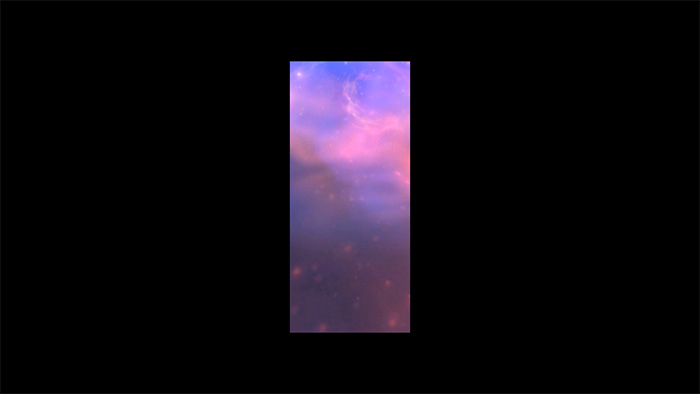 Work by Chris Naka
Julius Caesar is located at 3311 W. Carroll Ave. Reception Sunday, 2-5pm.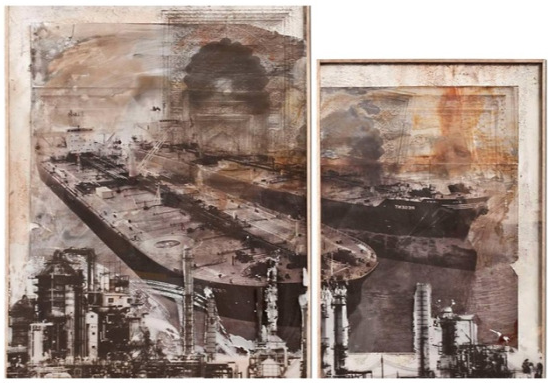 Work by Miguel Guzman
Paperish Mess is located at 1955 W. Chicago Ave. Reception Saturday, 7-11pm.
Hello friends,
It has been a pleasure to be able to share my love for all things art in Indianapolis with you over the summer!
This will be the final installment of my series. For this post I'd like to focus on looking forward at what Indianapolis has in store for the fall.
Perhaps it will be enough to convince some of you Chicago-dwellers to make the 3 hour journey down?
THESE ARE MY TOP FIVE FALL PICKS
5. General Public Collective Opening – September, Fountain Square Neighborhood
General Public is an artist-run project space and concept shop dedicated to sharing ideas through exhibitions, performances and original works of art. They are opening their unfinished space for a special performance on September 11th featuring Calvin Johnson from K Records – Donations are encouraged. I'm excited to see how this space evolves. Right now it has a lot of components – shared work space, concept shop, art gallery, music venue, self-service print kiosk- I wonder which will come to the forefront, or if all can be simultaneously relevant. A wonderful experiment!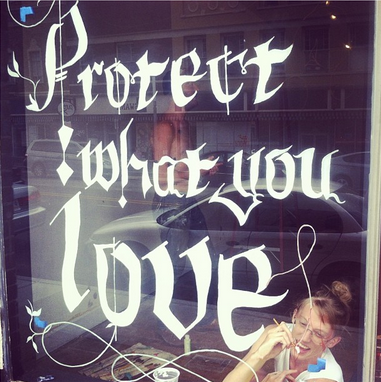 Image via General Public Collective
4. September First Friday Openings – Friday, September 7, All over Indianapolis
September First Friday brings a number of exciting openings around town. The Harrison Center for the Arts is featuring work by Kyle Herrington, Jude O'Dell, Tom Peck and more. They will also be giving away $10,000 through the final 5×5 competition (a local initiative to give $10,000 to ideas that combine art + community, art + placemaking, art+technology. The 5×5 has funded pop-up movies and a mobile literacy lab). The Murphy Building in Fountain Square's Mt. Comfort Gallery will feature work from the collectiveEverything is Anything  Else.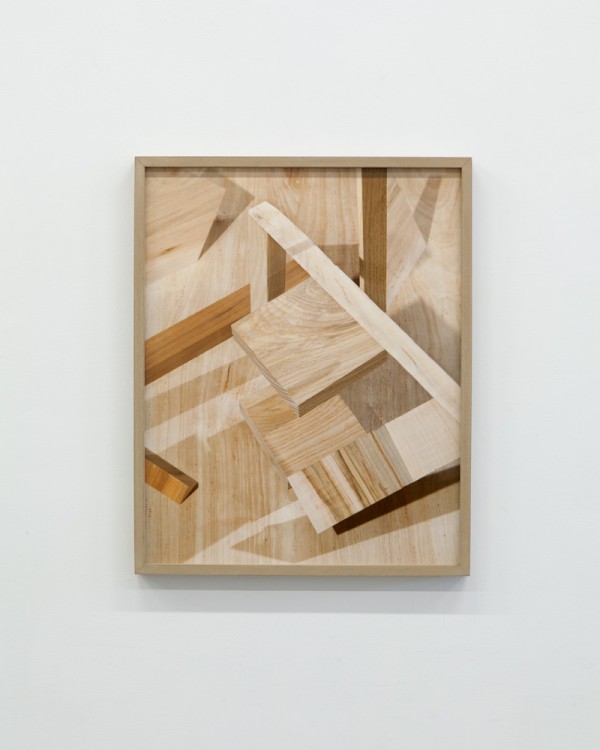 Image via Everything is Anything  Else Tumblr
3. Touchy Subjects at the Indianapolis Art Center – Friday September 27, Broad Ripple
Art, Sex and Humor. Touchy Subjects will feature SAIC alum Jedediah Johnson's Makeout Project, Kyle Herrington's collection "Catcalls" and work from the Kinsey Institute.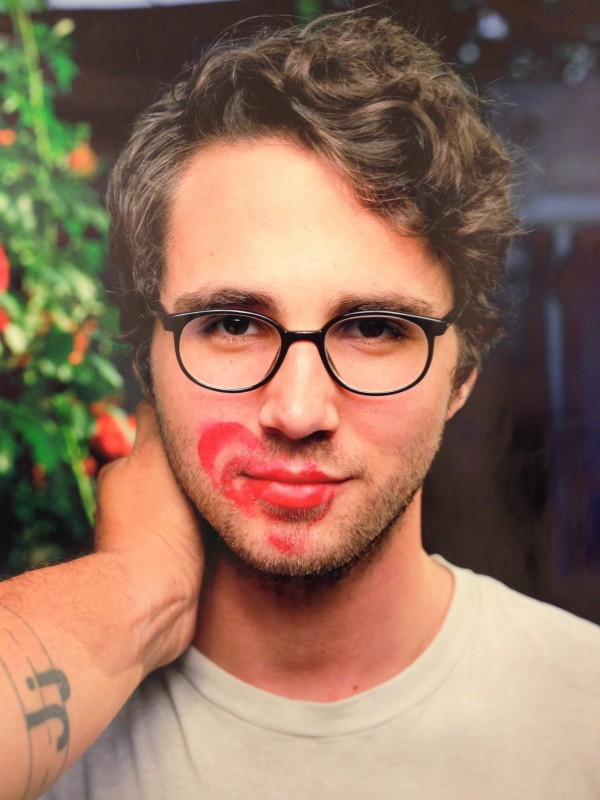 Jedediah Johnson's Makeout Project
2. Art Squared Festival + Art Parade – Saturday, September 21, Fountain Square Neighborhood
For a single Saturday in the month of September Fountain Square explodes with activity. The day starts with an art and writing competition called Masterpiece in a Day. Artists and writers register in the morning and create a piece of work in less than 12 hours using the neighborhood as their studio. At the close of the competition judges pick a winner for a cash prize. The afternoon closes with a rag-tag art parade put on by residents and local businesses.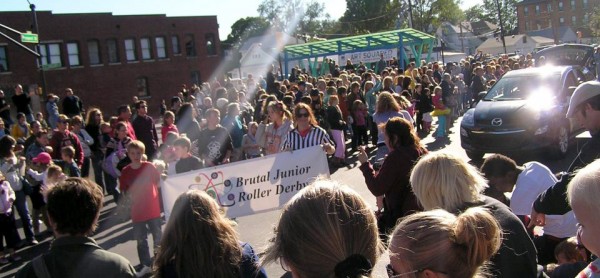 Image via Discover Fountain Square
1. Optical Popsicle – Friday, October 18th, Athenaeum Theater
A visual treat! Know No Stranger's annual visual variety show is back with more puppets, music, dancing and laughs then ever before. This is the most wonderful feel-good night for Indianapolis. Know No Stranger is all about bringing folks together with their unique brand of performance art. Trust me, you've never had this much fun.

With love from No Mean City,
Wendy
Wendy Lee Spacek is a poet who lives and works in Indianapolis, Indiana. She likes her city very much. She is a core volunteer of the Indianapolis Publishing Cooperative (Indy Pub Co-Op), publishes small editions of handmade books under the name Soft River and is an arts administrator at the Indianapolis Art Center. She will be posting monthly all summer long about her encounters with art, culture, creative experiences and resources in her city.
Two years after the first iteration of his epic USSA 2012 project opened at threewalls in 2011 in the form of the hyper-conceptual "orphanage project" (after a controversial Bad at Sports podcast about an orphanage the artist had allegedly proposed on the South Side drew confused ire), Zachary Cahill brings the third and final installment of his world to the Smart Museum. USSA has grown up and outward over the years, its hallmark institutions morphing from orphanage to gift shop (the People's Palace Gift Shop at the Cultural Center last summer) and now a riff on a mountain sanatorium. Each iteration has also gotten even more ephemeral, diffuse, and challenging: the Smart Museum show, entitled USSA 2012: Wellness Center: Idyllic—affair of the heart, consists of a banner declaring "A Sea of Wellness," a number of watercolor paintings scattered in offices around the museum, and both analog and digital postcards from the Wellness Center. (There's also some heart-wrenching confessional poetry and estranging emoji, among other digital objects, on the show's website.) For Smart Curator Sarah Mendelsohn, the challenging evasiveness of the show, and Cahill's world, is part of the pleasure: "The difficulty of locating the USSA is part of what makes the conversation around this work so enjoyable," she reasons.
This kind of logic is certainly in line with Cahill's larger themes. USSA 2012 has taken on vast aesthetic, political, and increasingly personal topics for the artist over the years, and this latest iteration is no exception, with references to different kinds of modernisms within the history of painting, Thomas Mann, and the relationship between wellness and art, within his ever-present wide-ranging institutional and cultural critiques. I spoke with Cahill over email after the show's soft opening last week. (nb all strikethrough text is intentional)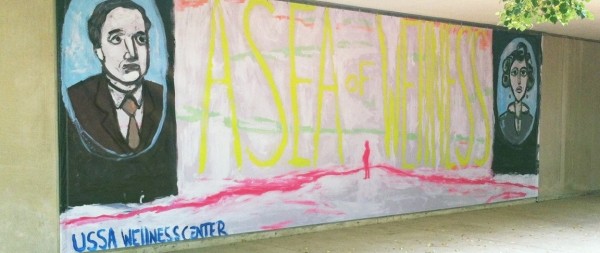 Idyllic—affair of the heart banner
MW: Can you write an introduction to an imaginary travel guide for USSA? The culture, the people, the flags, the scenery depicted in the postcards, the social institutions, the art, the vibe… Is it an Olympic village? Cosmopolitan (as I imagine sanatoriums to be, as the art world is?)
ZC: ok here goes:
Sochi 2014 Cultural Olympiad
2013 – The Year of the Museum
USSA 2012:Wellness Center
The fourth year of the Sochi 2014 Cultural Olympiad USSA 2012:Wellness Center is devoted to museums. As always, the organizers of the first Winter Games in the history of Russia USSA will present the public with hundreds of the best cultural events. They include dozens of exhibitions, shows, competitions, festivals, and special exhibitions, as well as forums, workshops and educational programs that will be held throughout the country.
The Sochi 2014 Cultural Olympiad Wellness Center is a unique project by the organizers of the USSA 2012, offering the best cultural events in the country. In 2014, visitors to the Olympic host city will not only be able to evaluate the sporting competitions, but also Russia's the USSA's cultural diversity at dozens of performance venues located in Sochi and Krasnaya Polyana. Therefore, since 2010, the Sochi 2014 Organizing Committee, along with dozens of regions throughout the country, has been carefully selecting the best of Russian USSA culture. Between 2010 and 2014, thousands of diverse cultural events have and will be taking place throughout the entire country. Each year, the Cultural Olympiad is dedicated to a different art form: 2010 was the Year of the Cinema, 2011 the Year of the Theater The Orphanage Project, 2012 the Year of Music The People's Palace's Gift Shop, and 2013 is the Year of the Museum/Wellness Center 2014.
The national scale of the project will make it possible to involve every resident of the country in this grand celebration of music wellness, maintaining and increasing the cultural riches of our country. All of the events of the Cultural Olympiad can be followed on www.culture.sochi2014.com ,
http://smartmuseum.uchicago.edu/exhibitions/zachary-cahill-ussa-2012-wellness-center/
That's kind of what I imagine it would sound like, but maybe written in the style of Thomas Mann (who is something of a spiritual grandfather to the wellness center-his book The Magic Mountain is especially important)…The artist Susan Hiller I think once said about her project From the Freud Museum…something like, "I think we all live inside the Freud Museum, metaphorically."..not meaning (obviously) that we live inside her installation but i think something along the lines that today we all are are living in and through the influence of Sigmund Freud and the life of the unconscious…possibly the Wellness Center is a bit like that…it's not something I made exactly…it's just something we all are living in…wellness as a perfume-y like presence that can't be nailed down to any one specific location…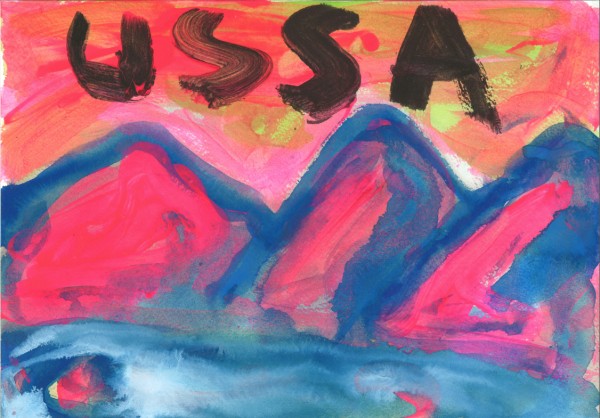 Wellness Center watercolor 13
MW: What do you think of USSA as a kind of "worlding"? What is its ontological status?
ZC: I am sure that is probably right but I feel like maybe the USSA isn't so much a form of "worlding" but rather marks the condition of being world-ed…moving in and by forces that are in many respects beyond our control…maybe the difference is negligible … I guess I'd say for me that the project…the totality of the USSA 2012 is really ontologically unstable and that's kind of the point…it's not that I am looking to create fiction….or create an alternate universe or what have you… it flickers…my understanding is that these alternate universes are what we all create and inhabit everyday…we can't stop doing it…even the most so-called unimaginative person is a hardcore world-builder and imagineer…they maybe even the best at it… seeing as it's their boring hum-drum world that we (for lack of a more credible option) seem to buy into and slog through most often….I guess everyone is worlding…so many worlds colliding…
MW: The project has reached the end of its lifespan–Â the orphanage story, childhood to adulthood, and now (after) the end. It's also getting arguably more conceptually challenging as well as seemingly more personal. Is it getting more permeable with the real world for you? Where do you leave the world?
ZC: I always hoped that the USSA 2012 project would have something like a life span that could be mapped onto the different iterations…youth (the orphanage project)…middle age (the gift shop) and old age (wellness center)…and maybe..who knows …an afterlife?
Yes, it is getting more overtly personal in a sense… and these different life phases are meant to reflect a kind of growth through time…
MW: Re: getting personal: is the painting genre as personal a genre for you here as the confessional poetry? What kinds of approaches do you take to both?
ZC: I think so…in each instance [painting and writing] for the Wellness Center Project I try to be as honest and forthcoming as I can…Still, the confessional poetry piece is difficult for me to talk about…I wrote it…It's out in the world and that's about all I can manage to comment on at this times….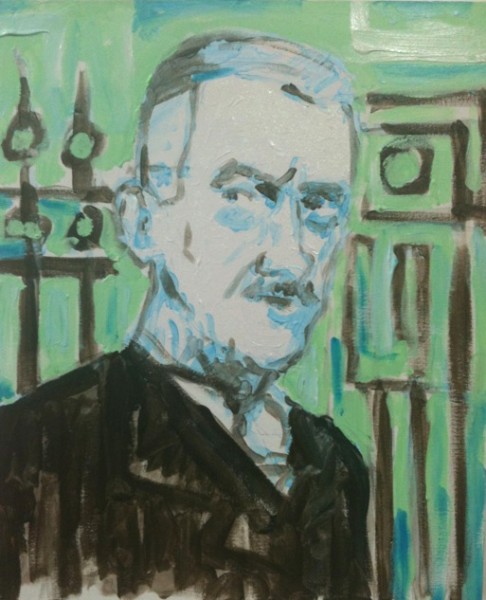 Iridescent Mann
Some of the paintings work this way too…but I suppose different modes of working are put to use for different parts of the project…so for example, with some paintings I try to imagine what the wellness center patients would make…what kind of paintings they would do as guests at an early 20th century European sanatorium…Of course, the imaginary is pretty close to the real in these efforts…I think the choice
of color gets at the personal for me…especially the use of fluorescent…I think if Munch were alive today…he'd probably use a lot of fluorescent paint…is that a way of answering the question?
MW: You have talked about the difference between internal and external experience, which also comes up in the curatorial writing for the show. Those experiences seem to map onto the painterly influences here: the small human figure in an overpowering landscape (Friedrich), the hugeness of subjectivity and interiority in expressionism. I guess this isn't really a question. Here's my question: is this hunch right? How is it more complicated than I suggested?
ZC: The blurring of the internal mind scape and the outside world is definitely an interest…In fact, I am teaching a class on the subject next year [Cahill is a Lecturer & Open Practice Committee Coordinator in the Department of Visual Arts at the University of Chicago]. I have been pretty influenced of late by a book a friend of mine recommended, Modern Painting and the Northern Romantic Tradition, by the art historian Robert Rosenblum, where he describes the psychic economy of painters like Van Gogh, Munch, and many others while tracing a Romantic lineage back to Caspar David Friedrich…It is a fantastic book of art history!…Illuminating sections abound. For instance,I had always wondered what is the opposite of the notorious commonplace "art for art sake"…Rosenblum points out that Van Gogh was interested in art for life's sake…I never heard it formulated so simply and that is something that interests me…
For the banner at the Smart Museum I was thinking about CDF…it is "after him" as they say, or some sort of perversion of his Monk by the Sea painting… which has always held a special place in my artistic heart because it so vividly merges an inscape with the landscape…I am sure you've experienced that feeling when…it's raining and somehow it just suits your mood perfectly and some kind of equilibrium is reached between your mood and your surroundings…that was what one of things I was going for in that painting…and how the psychic landscape might attach itself to the "real world" of human activity too.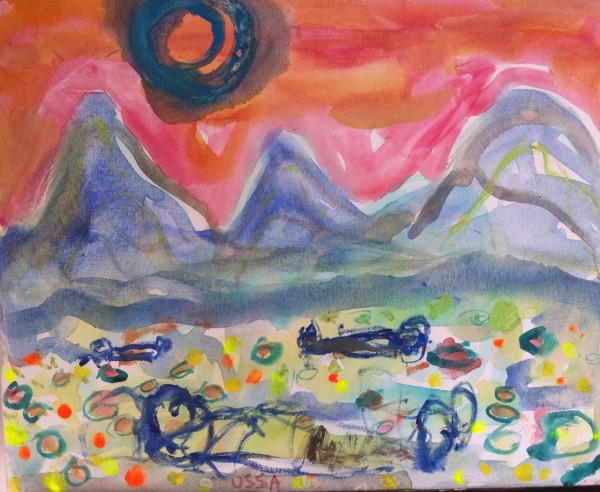 USSA Dreamers
MW: Past iterations of the USSA seemed more explicitly political than this one. How cynical or sincere are you politically in this show? Aesthetically?
ZC: Well I am sincere but I am not sure that matters much…my sense it is of little consequence to viewers whether I am sincere or not…they don't need me to be…that said the politics are there… in other projects of mine the political element has been pretty foregrounded and some might say strident…like nails on a chalk board (or so I hoped)… but this project for me has to do with psychology… a turning inward and trying to a concoct propaganda of the self…like what if your unconscious started to make banners and agitate… a revolution of the psyche…could that be political?
MW: What's with the flowers you've been posting on Facebook?
ZC: Slow to the party…I recently began to grasp the significance of flowers after talking about them with a couple of friends…and I started taking photos and looking closely at them over the summer around my neighborhood and discovered…shocker…flowers are amazing…they do all sorts of crazy things to light to get the colors they do…natural fluorescence…
I started thinking about bees and pollination…and how people use flowers in front of their homes, at weddings, funerals, …rituals…and I concluded that flowers must perform some apotropaic function….like a teddy bear or church gargoyle… they are meant to keep the bad vibes away…
and then I starting thinking of flowers in relation to propagation and propaganda..etymologically tied…and realized flowers are supremely political…so with all the NSA data collection going on I thought…well, if they want to know something about me…let them know that I love flowers..so the flowers on Facebook were a kind of protest but also a kind of advent calendar before the project at the Smart Museum opened.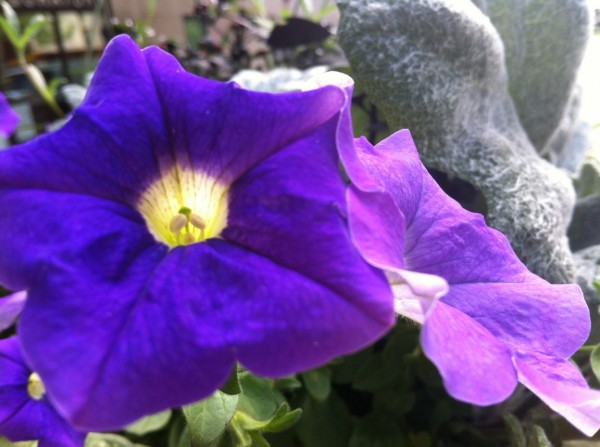 Flowers for Bad at Sports
MW: Art and mourning: these are the two huge driving themes for the show. What is art mourning? You've talked regarding previous USSA projects about economic depression, the way we're all "waiting for recovery," and healing from the trauma of the Bush era. Can art help us mourn? What is mourning?
ZC: I suppose I can only answer for myself here…But speaking in generalities (knowing I am going to say this all wrong and embarrass myself) …I think art is a very fundamental human thing… By that I mean art is a lot like one of the [5] senses…it's a way of apprehending the world around us…now Art clearly gets caught up in all other types of associations like the art market and folks tend to get hung up on that stuff but I think art is just something we do as people…market or not…
Therefore, I guess I'd say art can be an outlet for mourning …or that grief can pour out into your art …just
like it can pour out into any other aspect of your life…art might be a healthy outlet and also a way of sharing the experience…commiserating…when you suffer a major loss in your life you look for ways to cope …perhaps if you're an athlete your pour that energy into competition, or if you're a writer you write, but sometimes the grief can be so overwhelming that none of the things that once made you strong and "together" can fend off the sorrow…so if art fails it's a bit like having another part of your body cave in…but hopefully you find the resources to just hang in there…friends and family are important here and…well… so is therapy.
In terms of a larger geo-political situation that you mention…I do think art can have a similar function, it can help society recover, but it can no more make the world a better place than breathing…or sleeping… basic things humans do…true, when put to good practice things like breathing and sleeping and even art can make an enormous impact on the state of the body politic…that's encouraging and why I am big fan of political art and art that may or may not realize its political efficacy.
MW: People are going to be really confused about this show. At least I still find it ineffable and often difficult to parse symbolically, like a warren of rabbit holes. At lunch the other day you talked about an artist (I forget his name) who loved Apollinaire because his criticism was always wrong. You're interested in misinterpretation. Are you interested in critics getting this show wrong? Is this why so much of this project is oblique: to allow room for misinterpretation? What do you think about calling this show an inhibition instead of an exhibition?
ZC: The quote, if i remember right, was from Georges Braque, whose work I adore…and it's not so much that I am interested in people getting my work wrong or baffling the critics…it's just in some sense people will always get it right …even if I have no idea what they get out of it … my take on the project is simply one view among others…which is to say I am a tad mistrustful of artist's intentions (not that i unreservedly accept other interpretations)…It's just I think we often tell ourselves what the work is about for a whole host of reasons but there is (I think) always this weird secret cause behind the work…maybe it's not always secret exactly, but maybe some artists (myself included) have to look past that secret thing in order to create the work…it's a blind-spot that helps animate the work…this is a good thing…do people instinctually connect with that blind- spot…my guess is that they do…they don't know how or why they feel that blind-spot but when it gets to them if stuff is working right…maybe the rabbit hole analogy is a good one…I guess my work is made for the diggers…people who like to get down into things….and I hope that I create enough spaces for them to tunnel into….because I have that interest….I like being onto something too…
I mean I very much like the direct experience of being in front of an art work, but I enjoy being haunted by art works too…a visceral quality that occurs with the work of some of my favorite artists…they infect me and I can't stop thinking about it…Ideally, I'd like my work to do both: give off an affecting sensation for the viewer and to haunt them after they walk away from it… my work wants to have its cake and eat to….
To your last question…I am very much interested in what I think of as in-hibition, as a kind of balance to the idea of exhibition…perhaps stemming from a sense that we share a fatigue of living in public constantly…and wanting to create work for specific people that might not get seen by the "viewer"…this is why I made works to be displayed in the offices at the Smart…they are on view but just for the people that work there, not the generally audience…it's for the people that live and work at that institution everyday…or: the material posted to the Smart Museum's website, the post cards in the gift shop, the Smart phone performances… in each case I am looking for another type of connection to the viewer that play off one another….
So while i do think the traditional the exhibition setting of the gallery is great and the most efficient format for art— having potential to form something like a commons…which is how I hope the banner functions….I am interested in other ways people might encounter the wellness center too …live with it and in some sense make it their own… in-hibition and exhibition…perhaps it's a type of swinging door
Various exhibition and performance elements of the "USSA 2012: Wellness Center: Idyllic—affair of the heart"  show will take place between now and August of 2014 at the Smart Museum of Art. More information is available on the museum's website.