The Art Market is inflating out of control, making all but the wealthiest few cry foul. Like it or not, this is affecting the way contemporary art is viewed and thought about. Meanwhile, Jeff Koons continues to be the perfect Poster Boy for the inflation, and it just so happens he has work depicting the nothingness inside the bubble. Simultaneously, Banksy goes for a stroll in New York's neighborhoods proposing a different model. Is this the beginning of the end of the glutonous market? Or is this merely a long beginning?
Don't make the mistake of trying to analyze the Jeff Koons album cover work for Lady Gaga as if it were art. Think of it instead as a publicity stunt to drum up hype for his upcoming retrospective at the Whitney this summer. On the day the album cover was released, mtv.com ran a story with the headline: "Lady Gaga is Jeff Koons' Biggest Fan…But Who is He?" This collage of leftover studio remnants and a Botticelli print gets him access to a generation of people who are not likely looking at a lot of contemporary art, beefing up his celebrity status which he craves, at the same time adding to ticket sales. This, and the animosity from art enthusiasts will help make his retrospective THE BEST EVER!! Just a couple weeks before the Lady Garbage cover, T magazine – the glossy pulp supplement in the NY Times – had a stereotypically vapid conversation with the artist about his recent commission from Dom Perignon to made a limited edition DNA – shaped champagne bottle. Low end and high end commodity containers from ol' Koonie Balloonie. Not too different from anything he has done in the past, but the labeling becomes ever more irksome. Consider his output for the last decade, where most of his work is sold before its finished, and may only show at auction instead of a gallery or museum. Not that this is such a terrible thing. What has basically become a high end boutique practice is frustrating mostly because it is helping fuel the glut of the art market, and then regurgitated into the art world as important to the production and dissemination of art, to negative affect. As long as we wallow in the crystal palaces of Koons, Hirst and Murakami, we'll think that art is as uninspired as Gormley, Marden and  Whiteread.
Koons is in this rare position of being accessible to everyone but only collectable to a small handful of the richest in the world. As Carl Swanson recently stated in Vulture: "Koons can be the art world's great populist artisan, even as he operates as its most exclusive salesman."  Everything about the work is right there, so there's nothing to get. It is perfection and simplicity, the kind of thing that mocks you for looking too hard at it. Since critics are trained to look hard at things, they tend to hate Koons. And its boring to write about art just by describing what it looks like, so people tend to write about his career, his collectors, his record breaking prices at the market, his studio and the process of making his work. This only helps to build a persona around the artist, giving him the superstar flair that these major collectors are after. (And with this week's art fair, London's Frieze officially bigger and more bloated than ever, superstars have never been more in vogue.)
Both interesting and frustrating is how Jeff Koons' rise to the art commodity machine that he is may have helped shape the way the art market is an increasingly insiders game of fewer and fewer players more knowledgable about trading commodities than how to tell good work from bad. And with the auction prices soaring, the big named galleries just keep getting bigger in a kind of go-for-broke mentality* (not breaking them, just the artists they rep, in less of a financial type of broke and more of an artistic quality and integrity type.)
[*for a throughly depressing take on this, see Jerry Saltz's article on Vulture this week.]
At the same time all the grumbling about Koons' latest fart hit the web, Banksy has been doing a residency in NYC, creating work in the city in his typical fashion – covert and unannounced – the opposite of how you're supposed to make art. While seemingly on the other side of the art world, there are a lot of similarities between the two artists. Maybe Banksy isn't able to sell his graffiti work for 33 mil, but he is still operating inside the art market, selling regularly and at high prices. Lately, his work is often either garishly covered by a piece of plexiglass bolted to the wall he painted it on or is removed and sold, either way being seen by an enterprising public as separate from graffiti art and reborn as high art/commodity. His work is no stranger to auctions, museum and gallery shows, while being loved by mainstream society. His imagery is understood at first look, you don't need to read into it, and if you are, then you probably don't get it. Also like Koons, art critics hate writing about Banksy, saying there isn't enough to write about, because it is too surface and he isn't playing the game. But this game is being co opted by the wealthiest of collectors who have realized there is a market that won't burst and can't crash, so they've taken advantage of it. Buying a Koons gets you a ticket into  a very exclusive club. Buying the Banksy at auction though, means that you probably don't get it, because his work is to be freely viewed and is mocking the very lopsided system of capitalism that allowed you to buy it at auction in the first place. Getting it, though, is no longer important. Its having it.
As his position in the art world becomes more clear, Banksy's art frequently criticizes the market, and the latest example of this was a street sale of many of his iconic works on white canvases for $60 on the sidewalks of NYC. The work and the sale later appeared on his website, which is his way of providing provenance. These single color spray painted politically charged images lost all meaning shoved within the borders of these small store bought canvases, sold on the street among vendors hocking watercolors and prints of impressionist styled paintings. Subverted now to talk about the politics of class, taste and accessibility in a market that is more often hurting artists and keeping way too many people out of collecting art. It stifles artistic creativity to the point where every idea is either a recombination of greatest hits by the artist or an experiment to see how much money can prop up a bad idea. Artists start to flounder when they should be thriving. Shows are created for the specific tastes of the market and of a few clientele. Everything becomes dross and it feels like you are wading through a lake of effervescent puke whenever you go to a big exhibition, and anymore, they're all big. 'Cause if not, they may as well not happen at all. More and more, it sucks harder and harder to be a practicing artist in this climate. Unless, of course, you're Jeff Koons.
The acclaimed mixed-media creator on colonialism, women warriors, and the consumerism that pays her bills.
By Benjy Hansen-Bundy on Sat. October 12, 2013 3:00 AM PDT
Wangechi Mutu Photo: Kathryn Parker Almanas
"The power for me is to keep the story of the female in the center, to keep discussing and talking about women as protagonists," Wangechi Mutu said in a video introduction to A Fantastic Journey, her recent exhibition at Duke University's Nasher Museum of Art. For the casual art fancier who happens upon it, as I did this summer, the exhibition was like embedding in Mutu's mind: Black globes of crumpled plastic hang on strings suspended from the ceiling, a looping video of the artist devouring cake flickers on the floor, and triumphant warrior women occupy magnificent collage landscapes on the walls.
Mutu, a Brooklyn transplant via Nairobi, deploys mixed media to grapple with themes of consumerism and colonization, of gender and race—and war. Her large, lush collages draw from images familiar to us, such as magazine photos of bare flesh and car engines, which she transforms into works that are mysterious, beautiful, and somewhat terrifying. Her animated short, The End of eating Everything, done in collaboration with the singer Santigold, depicts a colossal machine/beast/planet feeding on black birds while floating in a vast industrial dead space. In an interview discussing the piece, Santigold praised Mutu for her "explosive renewal" of artistic expression at a time when vapid materialism dominates the popular culture.
A Shady Promise The Speyer Family Collection, New York. © Wangechi Mutu.\
Polyvinyl Records and Joyful Noise Records recently announced the release of Testimonium Songs, a studio album composed by the iconic Chicago band, Joan of Arc, and performed live in Every house has a door's latest performative work — debuting this week in Chicago — Testimonium. Every house is iconic in its own right, tied directly as it is to Lin Hixson and Matthew Goulish's prior collaborative project, Goat Island. While I was grateful for the opportunity to interview Hixson a little over a month ago, I wanted to dig a little deeper into the composition and collaboration present in the musical component of this project. What happens then when two organizations, drawing on two respective aesthetic discourses — rock and roll, and performance art in this case — meet to create something new? In this case, objectivist poet, Charles Reznikov stands at the center for both, creating a platform on which both musical composition and embodied choreography rely. In the following interview I asked Tim Kinsella — a member of Joan of Arc and author in his own right — to talk about his experience creating this record.
Caroline Picard:Â How did you start working with Every house has a door? Were you expecting to make a new album with them?
Tim Kinsella: Bobby and I used to play in another band together called Make Believe and that band toured non-stop for a few years. We acquired a pretty good collection in our van library – a cardboard box under the backseat. Matthew's book, 39 Microlectures, somehow ended up in there and the nature of that book invites rereading. So by the time I went back to school for my MFA at SAIC he was the person in the program whose work I felt the greatest familiarity and kinship with. And we're neighbors. So we ended up bumping into each other all the time and pretty quickly realized that not only did our sensibilities have some commonalities, but some practical eccentricities (is that a good way of saying 'constant travel?') also seemed compatible. The starting point for our collaboration was "falling between two chairs" and it's the only way it could've been. Our band has always failed to be what anyone wants it to be and Every House, though maybe in a more sophisticated way, seemed invested in frustrating and confounding expectations. And the album is essentially a byproduct of the collaboration. I don't know if I'm saying that exactly right, but what I mean is  — and this is true of the entire Joan of Arc discography — the process is determined and the limitations and indulgences agreed upon, etc.  The subsequent record just happens. At the risk of somehow sounding both overly analytical and hokey with earnestness, as far as I can tell, records exist only because the people making them somehow enjoy the process of making them together after agreeing on how to make them.
CP:Â What was your experience like composing new music for this particular project? Was it different from how Joan of Arc usually composes albums?
TK: It was the exact challenge that we were prepared for but didn't know exactly how we would focus. We had been writing longer pieces — an 80-something minute score to Dreyer's Joan of Arc that we had to pull of live; a series of records in which each piece was determined by how long one side of vinyl can be. One record was toured live before it was recorded and then recorded live in the studio with no overdubs and the one before that was made entirely in the studio, showing up the first day with no songs written and no instruments in hand, using only what we found at the studio. So writing in response to particular constraints was already our thing. A few years ago we had a giant and liberating break-through as a band — the realization that our own tastes had very little to do with what might be potentially expressive. Becoming comfortable writing against our own tastes simplified everything. I really just like Bad Brains and Lungfish. I guess I sometimes listen to Bauhaus and Can and Slayer. But I'm not interested in trying to sound like them. I guess people often write songs about their feelings or whatever, but I'm a grown man so I don't really have a sense of what my feelings would be like and even if I could somehow locate them, they hardly seem like a relevant standard of value to me. So it's good for us to have a standard by which we can determine success or
failure.
CP: On the one hand, the album feels like an autonomous project — something that one can sit down and listen to in a living room — however, in the live performance of Testimonium, the Joan of Arc portion is one piece of a longer performative event with Every house. How did that structure come together?
TK: Lin and Matthew are superlatively inspiring in many ways. The structural and formal balance that defines and sustains the tension of Testimonium is a demonstration that daringness and sensitivity are not contradictory impulses. It's been such a privilege and joy to see how they operate and compose. They contradicted my every intuition and in doing so created this thing with some weird Life in it.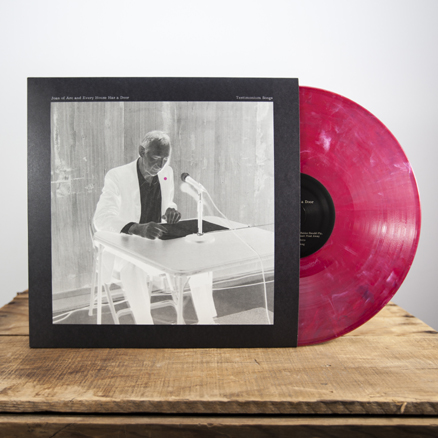 CP: What are you aware of when you're on stage with Testimonium? Does playing live music in a performance context feel different from playing at a music show?
TK: Oh yeah. All the rituals of live music performance are undermined and we love it. The whole catharsis-spectacle is frustrated and maybe we're grizzled old cynics to find that liberating, but I promise that Testimonium will equally frustrate those expecting a rock show as it will irritate those expecting a performance piece. We've done 5 weeks of Joan of Arc regular rock club shows this fall. I just got home yesterday. And I am aware that I internalize certain shortcuts or tricks to keep count. Muscle memory is subconscious and essential — my weight is on my left foot for the 2 and 4 of this song and my hip knocks out on this accent. But the potential promise of a rock show is that everything can blow apart to smithereens at any second. It remains almost constantly on the verge of falling into chaos. Testimonium on the other hand is so controlled. The quiets so drawn out. The blocking so precise. It removes that essential sense of tension and by simply reframing how a band is set up on stage, the entire experience gets broken down to its core components. It's thrilling and perverse while also so simple. And its greatest threat, it might bore you. Nothing in the fucking universe is more boring than watching the rituals of mediocre rock clichés constantly begging to be paid attention to. It's embarrassing for the performers and the audience. But people not interested in seeing their live music stripped of those kind of cliches will find this difficult and maybe even painful. So of course we're taking on a certain kind of associative baggage. But if that's what it takes to draw attention to the usual baggage a rock band brings to performing, we're fine with it. Thrilled in fact!
Every house has a door will premiere Testimonium in Chicago with seven shows as part of SpinOff beginning October 18. Seating is limited for this free event, so please RSVP to guarantee your place.
You can also visit this site to pick up your copy of the Every house/Joan of Arc record, Testimonium Songs, Magenta vinyl limited to 550 hand-numbered copies. "In a departure for the band, these highly structured compositions, developed over a two-year rehearsal period, emulate Reznikoff's poetics by shaping themselves according to a mosaic method – rotating a fixed set of musical units in warping permutations. The lyrics re-invent the strategies of Objectivist poetry, by turns surreal, ordinary, testimonial, and explosive, releasing the undercurrent of emotion in the poems while (almost) never quoting them directly. Beyond collecting the Testimonium Songs, the record has a life of its own, with the contributions of stellar musicians David Grubbs, Fred Lonberg-Holm, Michael Zerang, and Jim Baker, additional vocals by Melina Ausikaitis, and musical material not included in the performance. The cover art was made by renowned Chicago artist Jason Lazurus."

.
Is this ok? Is this a responsible use of this privilege? How much does Bad at Sports pay its writers? Its readers? I'm like you, reader. I'm in the weeds. I'm in the thick of it. Everyone is paying everyone else too much. Our government runs smoothly but we don't have any use for it. There are no trains and no one runs for anything, not even office.
It's been a month, but I'm saying it's been a week. This is what I've been thinking about recently: bpNICHOL wrote for Fraggle Rock.
This is a record of this moment but also a place to put open tabs. We should all share all the open tabs. The radio today told me social media was 2000 years old because we used to tell each other things too. I turned off the radio and listened to myself singing and chopping.
I'm excited about this project: MAI through FVNMA at SAIC as run by EF. 
Jim Davis (Princeton [but for this work: Chicago] filmmaker)
Jim Davis (Muncie visual artist, writer) (also excellent to see a sentence where both "artists" and "entertainment" are in quotation marks)
Jim Davis ("Dallas" actor)
Fugue State(s)
Also, this band, The Fugue, that I saw at Bard in 2002 or 3 (first year of college). They were friends of a friend and they played a good show. Then, this year, I found this funny clip on youtube (though my interest in television courtroom interruptions).

This led me to re-visit this.

And this.


(which is really part of that this)
I can pretend I'm not thinking about this pretty often. Especially when linked with this.

The re-release of Codex Seraphinianus by Luigi Serafini (which learned about from Bad at Sportsers PvZ and RH).

idyrself by Krystal South.
Editions and Additions by Jacob Edmund
Morgan Fisher on Ivor Cutler. Morgan Fisher of Mott the Hoople, not Morgan Fisher of Projection Instructions and ( ) and other marvelous films.
(Draft for) Infinite Black Flag 
This other medium inane idea I just made up.

A gif for every one of 1001 Nights.
A list of the dumbest lists on BuzzFeed.
Under 1 who is under 1 (part of a profile on an athlete/artist who is 8 months old).
Sibling Cinema (thanks to the Frameworks list-serv for responding so well to my query) :
George and Mike Kuchar,
Jonas and Adolfas Mekas,
James and John Whitney,
Mark and John Jr. and Michael Whitney,
Paul and Greg Sharits,
Peter and Kathy Rose,
The Lumière Brothers,
Jane and Louise Wilson,
The Brothers Quay,
Jem Cohen and Adam Grossman,
Dziga Vertov and Boris and Mikahil Kaufman,
Tom and Ed Bowes,
TwinArt Sisters,
Soda_Jerk,
Bruce and Norman Yonemoto,
Reggie and Warrington Hudlin,
The McDonagh Sisters,
Nadjoua and Linda Bansil,
The Cifuentes Sisters,
Albert and David Maysles,
These three, posted elsewhere, but that do something together:

Guy Sherwin — Man with Mirror (1976/2011)

Peter Campus — Three Transitions (1973)

The Marx Brothers — Duck Soup (1933, excerpt)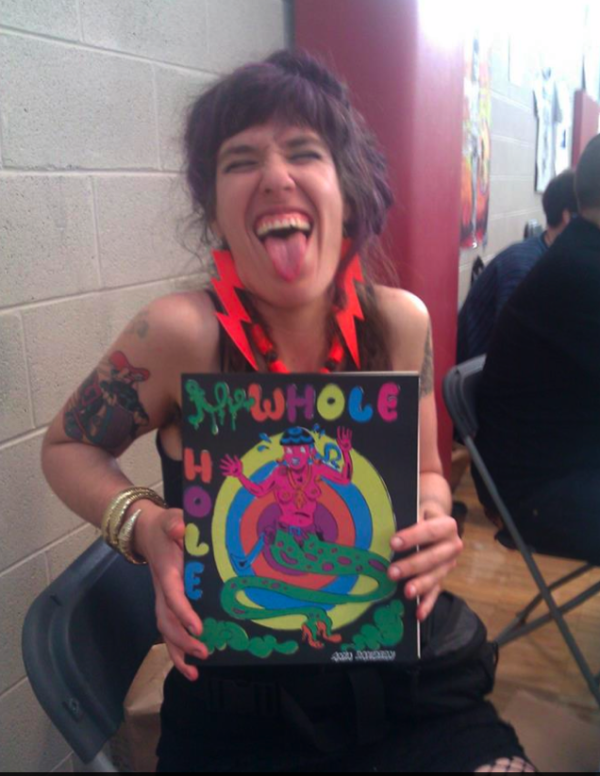 Chicago-based artist and musician, Anya Davidson, has recently debuted her first full-length comic book, School Spirits. Up until now, her modest print editions make her work difficult to come by outside of the defiantly small world of alternative comics. Davidson is probably one of the few artists for which it is appropriate to combine words like brush pen and bad-ass in the same gust. Her stories are often eclectic mash-ups of metal fantasies, female overlords, science fiction, collected vernacular and whatever else gets whirl-pooled away into her consciousness. Her newest creation, a high school story that follows the friendship of two teen girls and their fanatical love of a metal band, is a keen understanding of comics as an art form synthesized with Davidson's own radical tendencies.
She graciously took the time to give me a tour of her studio and working process and shed some light into the zany world(s) of School Spirits.
———————————————————————————————————–
How do you describe School Spirits to people unfamiliar with your work?
School Spirits is a story about two very unusual girls. Most of the narrative takes place over the course of a single school day. There's a large supporting cast of characters, some fantasy and some inter-dimensional travel as well
Why did you want to make a high school narrative?
I wanted to examine the friendship between women. I had done a zine called School Spirits years and years ago and it was basically the same idea. The comic was pretty crude. I was still figuring out how to draw and cartoon but the idea was very similar. It just didn't go away – that desire to explore gender and female friendships. That's something that has always felt alien to me. In terms of gender, I'm happy to be a woman I just feel like it was really hard for me to relate to other women growing up. I don't know how I missed a lot of the messages that other girls were getting. I grew up in rural Canada and I was always out riding horses and stuff. Really being confronted with, oh this is the norm, this is how women are supposed to behave. It just didn't jive with my personal experience. I think the friendships that I had as a kid, really intense friendships with other weird women, were very formative. So I wanted to delve into that.
Do you think of your characters as surrogates for yourself?
In fiction for sure. I'm not interested in making autobiographical work. They definitely are all surrogates for me. When it comes to making characters, part of it is because it's cathartic and part of it is that I don't know anyone else. I'm curious to examine all aspects of my personality and delve into them, create nasty characters out of the nasty parts. I heard George Saunders lecture and someone asked him if he wrote the characters of young girls so well in his book, the 10th of December, because he had two young daughters. And he said, "no, that young girl is an aspect of my personality."
How long did you work on School Spirits?
Two years.
I have a good friend of mine from high school who always wanted to be a Latin teacher. She's in a masters program right now to teach, but I watched her get thrown into a couple situations while she was in undergrad. She had a couple teaching jobs that were really really stressful and didn't feel ready or supported to teach at that moment. So I was thinking about her a lot too when I wrote the teacher characters.
Did she form the basis for the art teacher in the book?
Yea. Loves to teach, loves her subject, and loves her students but doesn't feel equipped to do the discipline stuff. I really like teenagers. I really care about them. In addition to not ever feeling that comfortable with gender norms, I really don't feel comfortable with norms in general in terms of how adults are supposed to behave. I feel like our culture is really stifling. I was big into punk and hardcore music as a teenager. I think that that ethos carried over. I do feel that society is fucked and you should do what you love. As tough as teenagers are, it's sort of socially acceptable for them to manifest dissatisfaction with power and just be a little moody, or on a voyage of self-discovery. But at a point that it's not socially acceptable to be on a voyage of self-discovery anymore. I think I will be on a voyage of self-discovery until I die.
What were you making as student work at SAIC? There were probably no comics classes when you were there.
I was in the painting department. I'm still a nut for painting. A good painting drives me crazy in a way that nothing else can. I'm a really big fan of painting and painters.
You can totally see that in your line work too.
Yea, it's really all over the place. It's really big. I work huge, and I've been obsessed with asking other cartoonists how big their originals are.
My boyfriend's work, Lane Milburn, is real tiny. He's part of a group of cartoonists originally from Baltimore. They all went to Mica together. They were putting out anthologies as Closed Caption Comics. Then recently, they are all branching out and becoming more independent with the stuff that they are making. He works tiny and he uses a tiny little nib pen. Everything is just so detailed and his pen control is so spectacular. And I'm just like making giant brush marks with a giant brush pen. I really envy people who have that kind of detail. But I don't think that will ever really work for me.
How big are you working?
The pages from my book were 13×18. I did a zine recently, that was maybe, 15×20. Pretty big!
The narrative of School Spirits is really unstable in an exciting way. While I was reading it, I wasn't sure when reality was happening or when the reader was in the realm of fantasy. Adolescence comes across as a fantastical space, which, I think it is for a lot of people.
The logic of the book is my own internal logic. The first three chapters are staging for the final chapter. You are meeting the characters and getting to know them. I think of it as one story, but the few short pieces are just build-up.
I was curious to experiment. The one narrative thing that I tried that is unlike the rest of the book, is the 30 page silent battle story. I was really curious to know how people would react to that because I thought, oh this is like playing a guitar solo alone in your room. It sounds cool and interesting to you but if anyone else were listening they would just be like, oh why is this person dicking around. It's fun while you're in it but not fun to listen to. I was wondering if that silent part of the story, if I would just lose people.
I wanted to do a piece where Oola and Garf visit the natural history museum and we see the entire creation myth of the peoples that they are coming to see. When you're in a place like a museum, you can see these totems that are just radiating power and energy and people are just like, where's the snack bar! I also worked at the planetarium for a while, so I'm pretty fascinated by museum culture or what putting something into a museum does to an object and wanted to examine that. But wasn't sure if anyone else would have any idea what it was about.
In School Spirits the reader is waiting for a magic love ritual to be performed. But the ritual never happens.
That was something that happened in the original School Spirits zine. I wanted to examine that. It's a laugh at the characters' expense. Grover is clearly unavailable to anyone. I wanted to magnify that. To make one character who was not giving off any sexual cues, totally off in their own world and this other character who's a puppy dog following them around. Grover is really unsexy.
You seem to have two distinctly different ways of approaching comics. You have a crazy, unstructured, stream of consciousness style of setting up a page and a more straight forward linear approach to comics like in School Spirits. I was wondering how you make the decision to set up a story?
For the more experimental stuff, it can take ten pages to tell a few pages of story because it's more of a stream of consciousness with me working around a theme. For Barbarian Bitch – I love like Kung Fu movies, I love trash cinema and I've always been obsessed with the idea of the righteous warrior. Somebody who has carte blanche from above to exterminate their foes in the name of something greater. How does that work? Because they seem so antithetical. I've been really fascinated with warrior priests. I'm really obsessed with discipline, what it takes for someone to master a craft. That piece in Kramers 8 was a meditation on that. It was me pulling threads of that all together. Whereas School Spirits is me attempting a storytelling approach. Even if I were to approach School Spirits in that way, it would have been a mediation on female friendship and then I just would have been pulling from my source material different threads but I wouldn't have been able to have those moments where characters have sustained conversations and I wouldn't have been able to develop the characters.
I like both of those ways of working, and I still reserve the right to work in both of those ways.
For the CAKE (Chicago Alternative Comics Expo) zine, I just googled The worst experience of my entire life, and it was fascinating and not what you'd expect. It was really weird. One person's rant about how they slept in a hotel room that was really dirty and they found a crack pipe in the ventilation system. Some angry bitch ranting about how, like a Motel Six or something, how the cleaning staff did a lousy job, and it's like, really? That's the worst experience of your entire life? Sleeping in an unclean motel room? There was one that was someone's middle school experience, but it was really evocatively written. The language was really fascinating. I just like those kinds of sources and pulling them together. For a graphic novel, I don't think that would really work. But for short story writing I think that's a fun avenue to explore.
Do you consider art making and discipline going hand in hand?
Absolutely. Creativity is a muscle. Also-cartooning is a craft. You have to be extremely disciplined to hone it.
Have you always been interested in writing dialogue? Your characters come across as very real.
I took some creative writing classes. I've never been able to keep a journal but I was always I'm really into listening to people speak and recording conversations.
You're a collector?
Yea, maybe at the cost of plot. That stuff interests me a lot more. Character development and dialogue more than building the skeleton of a story. What I will do is, I'll have scenes and scenarios in mind that are unconnected by a story. Then I will weave them together. I will have a character and I'll know more who they are than exactly what they are supposed to be doing. It grows organically out of knowing I want a scene.
There is a scene in School Spirits where Garf is at her job at a fast food restaurant with her co-worker who is complaining about his toe. He tells a story about how it was injured when he was young. That's the story that one of my co-workers told me. I thought, this is an incredible story, and I knew I wanted to incorporate it in the book and I knew I wanted to show this character at her after school job, because I had these vivid memories of my after school jobs. How weird they were and what a strange training ground it is for the real world. Your weird mall job that you have when you're 15. That's a lot of my process – collecting those moments, paying attention to the way people speak, and listening to other people's stories.
Are you worried about repeating yourself?
I repeat myself a lot. What I realized about most of the fiction writers that I love, is that they really like to riff on a theme. Sometimes it gets frustrating. John Irving has written the same book like 15 times. I really don't have the patience for that anymore. There is definitely a danger, but I do think that we live in our own bodies and our own minds.
You're also a very dedicated screen printer?
I do my screen printing at Spudnik Press. I do a lot of screen printing. That's my favorite thing to do. It sucks because they are so labor intensive. I can make 50 or 100 if I'm really busting my ass and then they're gone.I love Spudnik. I was on their board of directors for about four years. Angee Lennard, who runs the shop, was in the same year of college as me. She could charge like two times what she does for studio access, but it's really part of the mission to make screen-printing accessible to everyone.
You seem really excited about the prospect of teaching.
Yes I am. and I feel like Spudnik gave me the foundation to start doing that. I'm really pro Spudnik. I feel very grateful that I got a lot of the skills that I have. They gave me a lot of opportunities. I thanked them in the book.
In terms of influences, not necessarily limited to comics, who are you looking at?
The old masters. John Stanley, Milt Gross, Harvey Kurtzman, Wally Wood. A ton of E.C war, sci-fi and horror comics.  The underground heroes too: Crumb, Spain, S. Clay Wilson, Dori Seyda.  Some French Heavy Metal artists: Caza and Philippe Druillet.  Gilbert Hernandez. Osamu Tezuka and Jack Kirby. I looooove Carlos Ezquerra's Judge Dredd. Ross Andru and Mike Esposito.
Is there a soundtrack for School Spirits? What would be on it?
Yeah, it's pretty much the soundtrack of a gore obsessed kid in the early 90's. Carcass, Death, Morbid Angel, Cancer, the Misfits.
Where are you going next?
I do know where I'm going. I think it will be based on another zine that I made in my early 20s. I feel like, those ideas are ideas that I have not explored fully. And now that I have more discipline and focus I can flush them into full, bigger stories. I do want to play with color a lot. I'm committed to making the next thing exactly what I want and if someone will publish it that's great, and if not, I will publish it myself.
Updates about Anya's work can be found on her website.
School Spirits can be obtained through the PictureBox website.

School Spirits
PictureBox Inc. 2013
144 pages
8.5 x 10.75, b&w hardcover
ISBN 978-1-939799-02-9
*Many thank yous to Brian Nicholson.