Tercer Cuerpo,the claustrophobic experimental play by Argentinian company Timbre 4 opening at the MCA next weekend, takes place, according to director Claudio Tolcachir, in "an office that doesn't have any more reason for being, its services have no meaning."  While remaining in the office set, characters as obsolete as the space in which they labor appear to act in other settings, other places. Tercer Cuerpo is partly about labor and identity, particularly the disappearance of sustainable, meaningful jobs for people. What happens to these characters, and us, when we must find meaning in our lives apart from a career or calling? The always-already obsolescence of the form of theater makes the piece of interest to representing labor in contemporary performance and medium specificity in dealing with contemporary collapses of space and time. But the company Timbre 4 is also a landmark for contemporary Argentinan art practices; their home base in the working-class Boedo neighborhood of Buenos Aires has become a hotbed and model for independent, experimental theater and performance.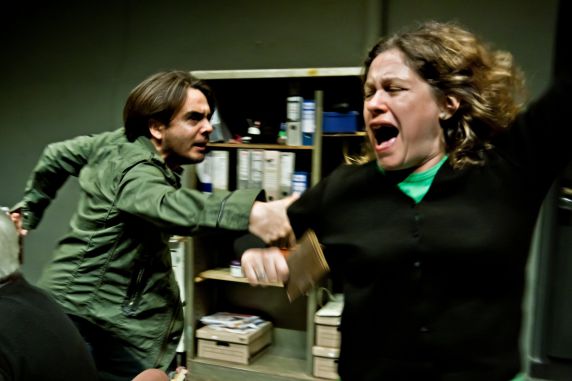 Tercer Cuerpo, courtesy of the MCAÂ 
This Spring MCA's Yolanda Cesta Cursach talked with Tolcachir about the approaching Chicago debut of Timbre 4. Her interview, translated by Cursach, appears below.
YC:  In Tercer Cuerpo, it seems the playing area is some undeniable womb for five very different biographies.
CT: Tercer Cuerpo is a fragmented telling of 5 simple stories crisscrossing the solitude of these individuals immensely incapable of dealing with what life deals them.
The decadence of the playing area reflects the characters' personal disorientation. They want something from their lives. Simple things. Things that in general can be had. But they don't, and this situation causes them enormous shame.
What I like in live theater is getting absorbed and at the same time taken by the story to an uncomfortable place. But this still depends on an intimate place, for my discomfort being the spectator can identify with the great and the small. With what is being known in my heart. In that divide between laughing at the same time that we could cry is where we identify with others.
YC: Timbre 4 has toured widely outside Latin America. What's the audience's response to your plays?
CT: It's fascinating, sometimes foreigners are even more demonstrative that Argentine people. I don't know if that's because they find the plays odd. When you write a play, you think of the audience of your country. Furthermore, these plays are shown with subtitles, so I don't know whether the translations are alright or not, I just trust the translators. I remember once, in Dublin, a man asked me, "Did you get inspiration from an Irish family?" In France, for instance, people asked, "Do all Argentine mothers sleep with their sons?" European people are amazed by the fact that we Argentine artists create plays with a very low budget. They can't believe some actors rehearse for free and, even so, the plays are still amazing.
YC:Â Â You seem to be interested in alternative family ties.
CT: I believe that everything revolves around the family—building a family is building a society too. Hamlet can be a political play or a family drama. I'd rather make the spectator feel involved with the story between the characters than anything else.
YC: Timbre 4 is an ensemble. What is your connection after 12 years since forming ?
CT: Our theater is about investigation, and we have modest beginnings keeping us aware of our city's social situation and the multitude of other storefront theaters' beginnings. From staying together all these years we manage to overcome the limitations of our neighborhood and of experimental theater, so that we can get the regenerating public which we so want to reach.
YC: What's the difference in Argentina between mainstream plays and storefront plays?
CT: I've performed a lot in mainstream theatre, as an actor. The production scheme is different. When you are directing a mainstream play, you ask for a couch and the next day you have it in the set. In off-theatre plays, you have to get in your car, start your engine, go to a market and buy the couch yourself. But then, the feeling between the actors is the same. I've never directed a play I didn't like. I couldn't direct a play if there was a bad working environment.
YC: Why make theater at all? What is so irrepressible about treating your writing this way?
CT: In my case it's completely selfish. Theater makes me happy, I feel alive, excited from it, and to be honest I'm not good for anything else. Investigation, risk, collaboration, unraveling and breaking routine each time never ceases to seduce me.
1. The American Dream: The (W)holy Grail presented by 6018North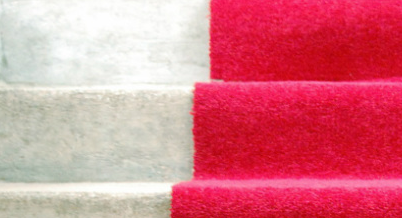 Work by Christine Tarkowski, Jason Reblando, LaMont Hamilton, Kirsten Leenaars, Lise Haller Baggesen Ross, Vincent Tiley, Erol Scott Harris II, Macon Reed, Chicago Studio, and more.
6018North's event with be located at 1050 W.  Wilson. Reception Friday, 6-10pm.
2. Nw Wrks at Firecat Projects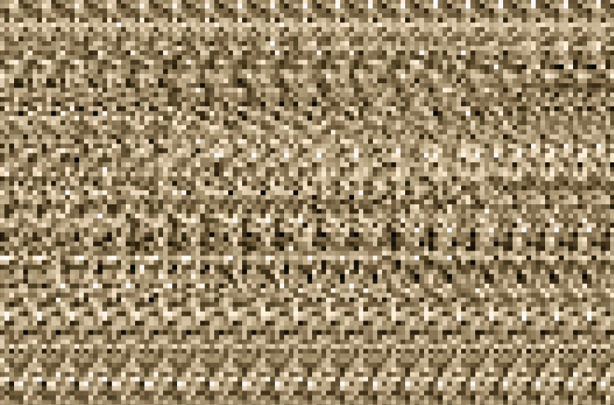 Work by George Blaha.
Firecat Projects is located at 2124 N. Damen Ave. Reception Friday, 7-9pm.
3. Bone & Blood: Structural Bodies in Motion at Squid3 Gallery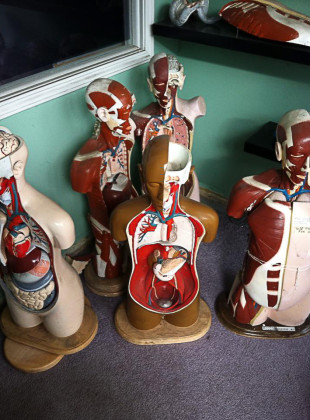 Curated by Phillip Schalekamp.
Squid3 Gallery is located at 1907 N. Mendell, #4-H. Reception Saturday, 6-10pm.
4. PROCESS OF SUBTRACTION at Chicago Art Department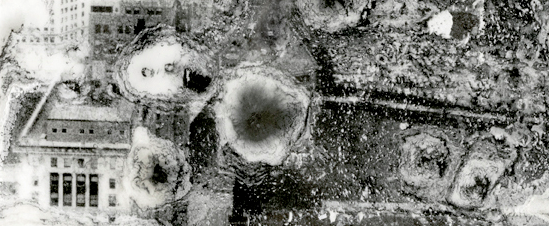 Work by Allison Grant, Nathan Miller, Jessica Pierotti, Victor Salgado, Chuck Przybyl, Daniel Hojnacki, nicole white, and Edyta Stepien.
Chicago Art Department is located at 1932 S. Halsted St. Reception Friday, 6-10pm.
5. Much Much More presents Karen Reimer at Chicago Public Library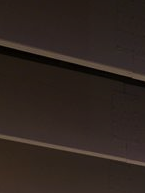 Work by Karen Reimer
Chicago Public Library, Humboldt Park Branch is located at 1605 N. Troy St. Reception Saturday, 3-4pm.
The Hagedorn Foundation Gallery, located surprisingly in a nondescript complex of galleries and antique shops in Buckhead, a north-side neighborhood of Atlanta, curated a show focusing on feminism, performativity, and photography. The works in the show by the artists Jill Frank, Mónika Sziládi, and duo Double Zero (Hannah Ireland and Annie Vought) examine how to make a photograph of someone, a person, a woman (perhaps) and what that means. One of the organizing principles of the show – performativity, a buzz word indeed especially since the 1990s with Judith Butler's work on gender – finds itself in relation to photographs that draw attention to the process of their making. Alongside considerations of gender and femininity as performative gestures, the works in the show investigate the apparatus of photography and imagistic representation itself – Jill Frank's work in particular. Adding to this work by Frank is the Untitled (Projection) series by Steffani Jemison presented in her solo exhibition, When I Turn My Head, in the upstairs gallery at Hagedorn.
The works in Ready for My Close-Up evoke other images of women from history: paintings, film stills. These other images, not necessarily direct references, exist in an assemblage of representation with Frank's, Sziládi's, and Double Zero's. When seen in conjunction with When I Turn My Head, the sphere of the imagistic medium, photography, opens itself to critical examination and self-reflection. Ready for My Close-Up seems to ask whether the question of female or feminine representation is the question of representation itself.
Jill Frank's Menacing Romance
Four photographs from Jill Frank's series Romance are presented in the show: Romance / Popocatépetl and Iztacchíhuatl (2012), Romance / Secret Sniper (2012), Romance / Vertigo (2013), and Romance / Un Homme et un Femme (2013). All images are chromogenic prints with rich colors that provoke fantasies, and with their large size (30" x 37"), the viewer feels as if she can initially step into the scene. The first two images, Romance / Popocatépetl and Iztacchíhuatl (2012) and Romance / Secret Sniper (2012), depict more unsuspecting narratives, whereas the last two images, Romance / Vertigo (2013) and Romance / Un Homme et un Femme (2013) start to take on a more sinister e/affect.
A woman lays across a kneeling man's knee with her head invisible to the viewer – it hangs down, exposing her throat where his his hand rests. Her knee hosts a series of bandages, the slingback of her shoe has slipped from her heel.
Two men stand at the edge of a dock. Wearing matching colored shorts, one holds the other from behind, grasping at his neck and chest. The man standing in front reaches over his head to hold onto the man behind him. The man in front looks up obliquely with an indistinguishable gaze.
These two photographs: Romance / Vertigo (2013) and Romance / Un Homme et un Femme (2013) exemplify the complications Frank creates for our traditional senses of Hollywood romance. Frank's statement for the show describes her process and intentions behind the series:
"The photographs in this exhibition portray couples re-performing poses inspired by popular media images that were formative in constructing their own understanding of romantic interaction and presentation. The photographed performances challenge the authority and familiarity of the collective visual archive of American romance in order to engender a critical conversation about the influence of dominant representations." [1]
The show's title Ready for My Close-Up directly references the last lines aging Hollywood actress Norma Desmond speaks in the 1950 film Sunset Boulevard. The film, a story of a silent film actress gone mad yearning to occupy the space of the Hollywood picture again, ends with her face approaching the camera until it disintegrates into a haze of grey. Her closeness to the camera quite literally destroys her, but it was the years of distance which contributed to her delusions. [2] Hagedorn's exhibition statement describes the cultural reference to the film in relation to the photographic works shown in Ready for My Close-Up:
"In the last half century, feminism and performativity have influenced contemporary photography more than any other cultural markers. The exhibition title is taken from the exit line of Sunset Boulevard, a film which questions female identity issues, the rehearsal of the self, the gaze of the viewer, and the use of the theatrical to command attention, all influenced by culture and all features of this group exhibition." [3]
The works in the group show can all serve as critical responses to the film, whether the work is explicitly influenced by the film or not; they exist together in the sphere of representation's history. Frank's photographs play out the deranged romantic entanglement of the film's Desmond and Joe Gillis. Mónika Sziládi's photographs present the viewer with a crowded and disorienting perspective of cultures and practices of representation. Double Zero's photographs and video portray a feminine masquerade pushed to hyperbolic extremes.
Sziládi, The Montage-Paparazzi
Sziládi's photograph Untitled (Ladies) (2012) sticks a fuzzy and blurred face into the foreground of the image. The close-up shot has gotten too close like Norma Desmond's final close-up in Sunset Boulevard. The six photographs shown at Hagedorn are from her series Wide Receivers, possibly a play on the position in American football, the players that are able to receive passes from the quarterback and are often celebrated for those glorious catches. Her statement describes her interests in the "social sphere and its attendant behaviors" and her "aim to collapse the space between the physical and the virtual." [4] The images, a flattening of perspectival depth, contain images of imaging or representational processes and those who are allowed representation. There is a sense that when one figure stands in front of another, there is no space between their bodies; one actually cuts through the other's body.
Untitled (Blonde) (2011) can be read as representing representation itself. Through Sziládi's inclusion of images of handheld cameras, subjects posing for snapshots, a woman putting on make-up reflected in a mirror, and a perhaps drag queen taking up the center space of the photograph, after whom the photograph is titled, the photograph seems to become a commentary on the practice of photography itself. Next to the blonde, a man was caught with his eyes closed. To the left of him, a man's eye peers directly out of the frame towards the subject looking at the photograph. Michel Foucault states that the 17th century painting Las Meninas (1656) by Diego Velásquez
"presents us with the entire cycle of representation: the gaze, the palette and brush, the canvas innocent of signs (these are the material tools of representation), the paintings, the reflections, the real man (the completed representation, but as it were freed from its illusory or truthful contents, which are juxtaposed to it); then the representation  dissolves again: we can see only the frames, and the light that is flooding the pictures from outside, but that they, in return, must reconstitute in their own kind, as though it were coming from elsewhere, passing through their dark wooden frames." [5]
Sziládi's digital composites of images taken at "public relations and networking events as well as trade shows and meet-ups of social segments that have connected online to interact offline" [6] comment on the constructed nature of the way we present ourselves in public and the ways in which we image those constructions. Like Velasquez's painting, the apparatus of representation shows itself explicitly, drawing our attention to our own practices of presentation and public performance.
Double Zero's Revealing Masks
Double Zero's photographs and video push these meticulous constructions of public appearance to the extreme. In their video Cha cha cha changes (2013), Hannah Ireland and Annie Vought dress each other up with unconventional objects or conventional objects in unconventional ways. Over the course of the video's almost 23 minutes, the two women take on absurd costuming and masking. With materials that are used for make-up application and other cosmetic tools, their faces become covered in lipstick and face paint, their heads bound in bubblewrap and what appears to be foil that could be used to dye hair. Flower stems are stuck into the fabrics wrapping their heads, blooms sticking out from their faces.
The two take turns transforming each other's appearance. In what appears to be a reference to Matthew Barney's Cremaster Cycle, particularly Cremaster 3, they go through processes of bodily manipulation and adornment. [7] If Barney's Cremaster Cycle is about the development of the male testes, what can be said about Double Zero's feminine transformations? Their statement reads: "We have united to use our 20 year friendship as the basis for investigating the ways we affect one another, the boundaries between us, and different modes of taking up space in the world. With the complexities of friendship and the trust we've built over time, we pursue these themes directly in the actions and objects we make together." [8] Their photographs and video show a relational transformation. They affect one another whether they choose it or not. The silliness of the objects and the resulting ornate masks when coupled with their facial expressions in the video, the phenomenon of feminine friendship grows into a complex situation of acceptance and denial.
Norma Desmond, after she convinces herself that her script for her film about Salome, the ancient femme fatale, will be directed by Cecil B. DeMille, she starts a rigorous beauty routine. She claims that she needs to make herself ready to be in the pictures again and a sequence shows her being massaged, prodded, wrapped, lotioned. At one point, while wearing products on her face and with her hair wrapped, she enters Joe's room, but tells him not to look back at her; when she is made-up in this way instead of the proper way, he is not to gaze upon her. Desmond's excessively vain self-consciousness, is a private practice made public. At another moment in the film, after gazing at herself in the mirror, eyes wide with frenzy, she rips off the cosmetic strips on her face before walking into Joe's room to discover he is leaving her. She chases him as he exits the house. To get his attention, she shoots him. She shoots him again. This is the moment of her breakdown. After this moment, all she can do is sit in front of the mirror and prep for the camera.
Concluding Remarks: does Jemison's ink adhere?
Desmond lives in a world of cameras and characters. To her, cinema ended when dialogue began. She says to Joe "We didn't need dialogue, we had faces." She then steps into the light of the film projector in her home movie theater that is showing one of the movies she had starred in. The woman actress need only have a face; she didn't need a voice – this is the kind of cinema that Desmond supports. The voice destroys the perfect face; the face of 1932 Marlene Dietrich's Shanghai Lily that Laura Mulvey gazes upon in her essay "Visual Pleasure and Narrative Cinema." [9] As Joe Gillis voice-over narrates, Norma is a "celluloid self." [10] Is the celluloid flat? Does it have any depth? Is her self only surface, the merging of the surface with the underlying anatomy, her body? Or, is her self a thin veneer covering the surface of the filmic foundation?
The upstairs gallery of Hagedorn hosts Steffani Jemison's show When I Turn My Head which "considers issues that arise when conceptual practices are inflected by black history and vernacular culture" and also "addresses the form and materiality of a photograph through the fugitivity of the image." [11] Works from her series Untitled (Projections), photographs printed on acetate, explore the ways in which an image may separate from its support. The ink does not sink into the acetate; it rests on the surface, creating a depth of materiality. [12] Mary Ann Doane writes in her seminal essay "Film and the Masquerade: Theorizing the Female Spectator" that "The masquerade, in flaunting femininity, holds it at a distance. Womanliness is a mask which can be worn or removed. The masquerade's resistance to patriarchal positioning would therefore lie in its denial of the production of femininity as closeness, as presence-to-itself, as precisely, imagistic." [13] Taken together with the works in the show on the ground level, what do we discover about photography as a tool and method for thinking through and creating structures of representation? How much does the image adhere to what it represents and the foundation which holds that very representation itself?
Sziládi, the figure of montage-paparazzi, makes apparent the apparatus of representation while Frank's photographs create scenes in which non-extraordinary people inhabit the characters of Hollywood in order to experience true romance. What Frank shows us, though, is that these typical narratives are not without their dangers. Norma murders the man she has come to love. Whether or not that love is true is a question we could ask. In considering Ready for My Close-Up, must this love be artificial? Double Zero's work seen as a sort of parody of making-up for the camera, expresses the artificial nature of feminine identity construction. However, within the framework of feminine friendship, we can't too quickly dismiss these gestures of dressing one another. The collage nature of Sziládi's digital images is seamless. Before knowing that they were constructed, I stood in front of the photographs pondering what parties they came from: where do these people gather? Are they all in costume together, playing into some collective fantasy?
Frank's series grew from an iconic image, at least in today's age of Hollywood: the image of Baby / Jennifer Grey crawling towards Johnny / Patrick Swayze in Dirty Dancing. A recognizable image. What sets Frank's later photographs apart is their subjects' poses are initially unrecognizable. In some way, their illegibility may gesture towards an infiltration of our cultural imaginary that we now fail to recognize. The everyday performances of relationships and romance congeal in Frank's photographs.  Ready for My Close-Up, a show curated around the issue of feminism and performativity, finds its complexity in Frank's strangely unsettling images of menacing romance, Sziládi's disorienting flatness, and Double Zero's interplay of masking and revealing.
Desmond, an embodied image of the female hysteric, is deluded. Her wide eyes stare out at the film spectator. As the character Salome, a woman who has been historically represented as a seductress, she approaches the camera, staring directly out at us, outside the frame of the film. In this moment, is she re-living/playing her past traumas? Traumas that may have led to this moment? In the film's final moments, when Desmond declares that she is ready for her close-up, what can we say is exterior? What is interior? Â Who is she? And, gazing at her, making eye contact, who are we?
Ready for My Close-Up
September 12, 2013 – October 25, 2013
Artists' Reception: October 4, 2013, 6:00 – 8:30 PM
Panel Discussion with the artists and Wendy Vogel, Associate Editor at Modern Painters: October 5, 2013, 12:00 – 2:00 PM
Hagedorn Foundation Gallery
425 Peachtree Hills Avenue, Number 25
Atlanta, GA 30305
Notes
[1] Jill Frank, Statement
[2] Sunset Boulevard. Directed by Billy Wilder. 1950.
[3] Hagedorn, Statement
[4] Mónika Sziládi, Wide Receivers statement, http://msziladi.com/index.php/image/statement/13
[5] Michel Foucault, The Order of Things: An Archaeology of the Human Sciences (New York: Vintage, 1994), 11.
[6] Sziládi, Wide Receivers statement
[7] I am indebted to Justin Andrews for calling this to my attention.
[8] Annie Vought, "Double Zero Videos," http://annievought.com/category/double-zero/
[9] Laura Mulvey, "Visual Pleasure and Narrative Cinema," Screen, vol. 16, no. 3 (1975): 6-18.
[10]Â Sunset Boulevard.
[11] Hagedorn Foundation Gallery, Press Release for Steffani Jemison's When I Turn My Head.
[12] During the panel discussion featuring Steffani Jemison, when I asked Jemison if she could describe the title choice and process of making these images, she replied that she was examining the make-up of a photograph: its support and its image. Panel discussion with Steffani Jemison, Rizvana Bradley (Assistant Professor of Women's, Gender, and Sexuality Studies at Emory University), and Rujeko Hockley (Assistant Curator of Contemporary Art at the Brooklyn Museum) on 9.21.2013 at Hagedorn Foundation Gallery.
[13] Mary Ann Doane, "Film and the Masquerade: Theorizing the Female Spectator" in Femmes Fatales: Feminism, Film Theory, Psychoanalysis (New York and London: Routledge, 1991), 25. Reprint of the essay's 1982 publication in Screen: Screen, vol. 23, no. 3-4 (1982): 74-88.
As a young art student in the late 90's, I attended a talk given by Ernesto Pujol at RISD, where he presented his then-current project: an installation of Nazi-era porcelain as a commentary on whiteness, purity, and the attendant relationship these meanings have to the atrocities of World War II. I was immediately struck and moved by his handling of materials and ideas; it was one of those projects that burned itself into my consciousness and stayed with me for a long time.
Fast forward to 2012, and once again I came into contact with Pujol through writing for A Blade of Grass Foundation, where we both had been contributing our thoughts and research. I reached out to let him know of my long-time admiration, and he reciprocated with an invitation to his home for afternoon tea. When we met, his charisma and generosity were just as disarming as that morning lecture at RISD so many years before.
Pujol is a site-specific public performance artist and social choreographer. He has a long record of intellectual and interdisciplinary art practices which have dealt with concepts of collective and individual and collective identity, the sacred, social and political issues, and public/private space. Since the late 90's, Pujol has also been working on public group performances, where the focus has rested with action, movement, the journey – and the central concept of the "artist-as-citizen." Additionally, he is the founder of The Field School Project, where  young and emerging artists are individually mentored in site-specific practices.
This fall, in conjunction with the French Institute Alliance Française, Pujol is bringing his first public group performance to New York City. Time After Us is an ambitious, 24-hour collaborative perambulation of the interior of St. Paul's Chapel in downtown Manhattan. By walking the space, animating it continuously from the morning of October 3rd through the morning of October 4th, Pujol and his twenty-three cohorts will produce a work about rest, second chances, and healing the past.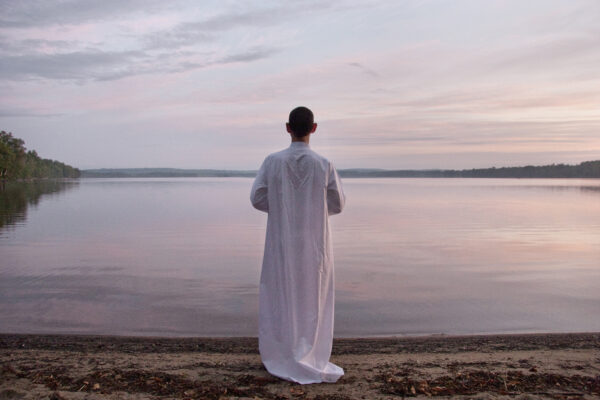 Catechumen (Baptism), Ernesto Pujol, 2009 (Photo by Ernesto Pujol)
You're currently getting ready for a major performance, Time After Us, at St. Paul's Chapel in downtown Manhattan, where you and a group of 23 collaborators will walk for 24 hours straight. Can you tell me a bit about how this project came together?
The curators of Crossing the Line 2013 contacted me last year, asking me to meet with them at the French Institute Alliance Française. They invited me to develop a new performance for the festival. This happened shortly after hurricane Sandy. They were moved by how New Yorkers united and responded to the catastrophe. They were also concerned about the future of the city, in terms of climate change. For the past two years, I had been quietly envisioning a performance that was constructed like a vortex, with performers walking a circle backwards and counterclockwise; combining vulnerability with the notion of the natural passage of time, time past and time to come, coexisting simultaneously in the now. I proposed it to them and they embraced my concept.
St. Paul's is an historic episcopal church, but became an important contemporary touchstone when it provided a center for relief and recovery workers during the period surrounding 9/11. Does its connection to the nearby Ground Zero site have a relationship to Time After Us?
I first developed the concept for the performance without a site. Initially, I wanted a vast interior, enough to hold a mighty river of people whirling, and hundreds of people surrounding them, watching silently. We considered the Armory and Saint John the divine, among other spaces. Curator Gideon Lester suggested Saint Paul's Chapel in Wall Street. Curator Simon Dove and I visited the site and fell in love with its interior and exterior. The third curator, Lili Chopra, approved it. The chapel feels like a little island within the larger island of Manhattan. It contains an amazing statement about mortality, with its green graveyard. There is no intended connection to 9/11, to Ground Zero. It is not a performance about loss and mourning, although a viewer may contribute that reading out of their own life story. For me, it is primarily a performance about rest and second chances; about revisiting the collective and individual past, and trying to heal it.
This will be your first public work in New York City. For someone who has made a conscious effort to satellite beyond the art world center, this feels like a very deliberate move. Why is it the right time to perform in NYC? 
I have had many solo exhibitions of images, objects and installations in galleries and museums in New York since the early 1990s. But this will be my first public performance, in terms of how I constructed my group performance practice since the late 1990s. Thus, this is not a "move," in the career sense. It was an unexpected invitation, which I accepted with humility, as a matter of public service. I believe in Carol Becker's notion of the artist as a citizen, a cultural worker. I simply seek to offer the city a place of psychic rest. I have lived and worked in this city for 28 years. I am 56 years-old. I have served as an educator in most of its art schools, as lecturer or adjunct instructor. There is no right time or wrong time. As a Zen Buddhist, I do not believe in human time. I am offering an ephemeral space-within-a-space for manifesting the intangible.
You've enacted many collaborative projects with diverse groups of people who are not necessarily artists.  How do you prepare someone – physically, intellectually, psychologically – who is not an active performance artist for an engagement like Time After Us?
As Rebecca Solnit said in her history of walking, one of my favorite texts, walking is one of the traits that made us human. Everyone walks. I believe that everyone yearns for moments of restful silence and creative solitude. They are a human right. I cannot imagine discerning one's individual or collective future, in terms of deep decision-making, without them. And slowness. One needs to protect moments of slowness. I believe that these basic yearnings are found within and shared by all human beings. My performance trainings simply name them, identify them, and encourage them out of bodies. I work like a midwife, unleashing remarkable human potential.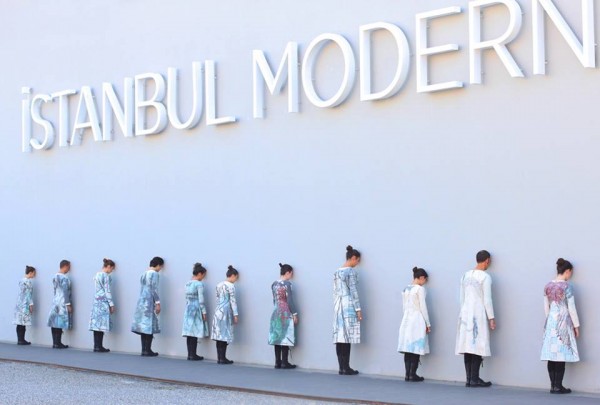 Flux, Ernesto Pujol with Jeffrey Baykal-Rollins & the Silsila Collective, Istanbul Modern, Turkey, 2013 (Photo by SC)
This summer, you choreographed FLUX at the Istanbul Modern Art Museum, a "reflection about our collective future," in collaboration with Jeffrey Baykal-Rollins and the Silsila Collective. This, of course, was taking place at the same time as the Gezi Park protests, during which the Istanbul public was also making a major push for their collective future. How do you feel this work resonated with this major cultural movement? What "publics" did it tap into?  
That was the second of two performances Jeffrey Baykal-Rollins asked me to collaborate on. We initially met in New York, where he did an internship with me one summer, at the end of which I strongly encouraged him to found a performance group in Istanbul. Turkey is undergoing great political changes. Its hybrid democratic tradition is under threat. The Turkish people are seeking many interventions and I was happy to support the use of metaphor in this cause. The silent group performance took place in the courtyard of Istanbul Modern. Many people came, professionals and students, young and old. They read through our encoded language and understood quite clearly that we were mourning the recent and ongoing violence, seeking to uphold the best of the Ottoman past, while also cathartically releasing anger and frustration, and finally finding a moment of rest before disappearing into their uncertain future. I experienced a humbling gratitude for being allowed to contribute my voice to the nation.
IT'S WITH MILD trepidation that I'm posting the essay I wrote for the upcoming John Preus show I curated for the Experimental Sound Studio (ESS) below. I say this chiefly because John's own lyrical prose, posted here yesterday, is a very tough act to follow.
As I was writing this text, conversations I had had with John, glimpses of work in progress I had stole at our studio visit, and fragments of phrases from email exchanges were all still marinating for me. You'll see some which percolated into the essay as quotations, but others are noiselessly wafting around and above it like a shimmering cloud of gnats.
This long-form approach to engaging with John's work is what draws me to it– I have the sense that it is both tightly bound, fitted and finely finished, while simultaneously being on the verge of a blow out, ready to burst back into all the little bits and pieces he used to put it together in the first place.
Hopefully you had a chance to take in some of his other handiwork at EXPO this past weekend, and experience the atmosphere his work can initiate even amidst the hustle and bang of a massive art fair. I liken it to several tenants of the growing Slow Food movement below, but again John has bested me, and I have come to prefer his term "temporary stasis" for how it marries the fleeting with the stable.
In a way, I feel that dichotomy reflects the relationship between my text and John's; mine being the former, his the later. I've used this introduction as a departure from my typical tone and mode of working in a nod to him, in gratitude for his art and writing which has inspired me, however cautiously, to adopt the gentle discomforts and bracing inscrutabilities of both lyrical prose, and long-lasting ideas built into short-lived experiments.
John Preus is an artist, musician, carpenter, woodworker, and magpie. In the
long-standing tradition of Chicago artists scavenging for "trash treasure," he lets
serendipity and the thrill of the hunt guide him in sourcing discarded materials. Each
new piece is a design challenge, contingent on entropy and surplus, to revive what
others have cast-off or given up on. His materials offer up an infinite number of
solutions which he is constantly attempting to "extract and exploit."
His built objects typically serve a functional purpose, and oftentimes they are made for
domestic spaces but comprised of cannibalized furniture. His work is Surreal in the
most basic sense that it de-familiarizes the familiar; we recognize a tabletop here or a
headboard there. Because of this, it occupies a liminal space between constituent
parts and compound whole.
At times, Preus foregrounds the beauty marks and scars of his material— a found,
hand-painted design becomes the focal point of a guitar, imbuing it with a certain
narrative quality. Other times, his material serves as a sort of visual pun— you've
heard of making bedposts metaphorically sing? Well, Preus does so literally, turning
one quarter of an old four-poster bed into an upright bass. By combining a fondness
for his material's embedded histories, with a craft person's skill at building, and an
artist's eye for shine, his pieces celebrate their past proudly, reveling in their physicality.
Oftentimes, this infuses them with a certain anthropomorphism. And yet, they are
incomplete without us— who will play them? Who will listen to them played? The
wistful air of the stray and the mutt also cloaks them, a perfect tragic foil to the
aforementioned comedy.
Slow Sound draws inspiration from the Slow Food movement, sparked in part by
Fergus Henderson's cult classic cookbook, "The Whole Beast: Nose to Tail Eating."
This call to eat not just the choice cuts "high" on the hog, but the whole hog, necessarily
means getting creative by saving bones for stocks, scraps for brines, and rendering
the rest. Henderson has famously stated; "If you're going to kill the animal it seems
only polite to use the whole thing." It's that mentality which resonates so strongly with
Preus's own practice, echoing his questioning of the contemporary consumerist
mantra, "Replacement is better then repair."
Closing loopholes by pulling items out of the waste stream is done not so much with
an overtly environmental thrust, although upcycling and net-zero philosophies are
applicable. Likewise, the importance of the locally sourced and the handcrafted factor
in, but aren't the main driver. When I imagine Preus spotting the corner of a legless
Formica table poking out of a dumpster in the alley, I bet he thinks about how the press
board hiding just underneath its laminate surface is comprised of the same wood that a
family heirloom is made from, and that in some factory somewhere, it was a person
who helped fabricate it. Preus understands that the materials he works with shape shift
as they move through the world, rising or falling in value due to changing tastes or
compromised functionality.
The importance of context then becomes paramount, and so viewing— and hearing,
these pieces at the Experimental Sound Studio is central. Preus's instruments are one-of-
a-kind— no two pieces are alike, the materials used to fabricate them are
unique, and their overall construction is unconventional. Simultaneously, however, they
produce relatively standard sounds. New Material, the band comprised of Mikel Avery,
Leroy Bach and Tadd Cowen, along with Preus, play straight ahead improvisations,
replete with melodic solos and quoted popular tunes. And so again, these pieces
shape shift, cultivating relationships across incongruities; they are accessible and
engaging while simultaneously surprising expectations of traditional instrument
construction, sound resonance and amplification.
Preus's practice conflates fine art, design, architecture, music, curating, writing, social
engagement and environmental studies, among other things— such as parenthood,
citizenship and faith. It transgresses commonly held notions of labor and value in favor
of a post-scarcity worldview. It questions industrialization's monocultural market place
and the planned obsolescence it perpetuates. It celebrates leisure time and recreational
activities in a loose sense, honoring unstructured deep play and creativity-sparking
boredom. It recognizes change as inevitable and speed as constant, but puckishly
messes with the variability of pace. More than anything, it is concerned with morphology,
how a given material might be used or re-used. Preus has referred to his work as
existing in "temporary stasis," which I must concede is a much more elegant term than
"slow." Like the Doppler effect, which explains why the frequency of a sound in motion
shifts in respect to its observer, Preus's work meets you where you are. It offers up its
past, points the way to a more sustainable future, and embroils you in the day-to-day
and the domestic through a practice heavily reliant on viewer involvement.
• • •
John Preus is a Chicago-based artist, musician and woodworker whose work explores
forms of attachment, craft, art, and community life. Preus holds an MFA from the
University of Chicago (2005), and his education in the trades includes a 2-year
apprenticeship with award-winning furniture maker John Nesset. With roughly 16 years
of building and design experience, Preus founded Dilettante Studios in 2010, which
creates and fabricates items for residential and commercial spaces, using predominantly
secondhand materials. He co-founded the art group Material Exchange
(2005-12) with Sara Black; and SHoP (Southside Hub of Production) with Laura
 Shaeffer (2010). He is former lead fabricator and project manager for Theaster Gates,
and oversaw production and installation of 12 Ballads for Huguenot House as part of
dOCUMENTA 13, Kassel, Germany. Additional exhibitions include the Museum of
Contemporary Art, Chicago; the Heilbronn Kunstverein; the Portland Museum of
Contemporary Craft; the Smart Museum of Art, Chicago; and the DeVos Museum of
Art, Marquette, Michigan. Preus's work will be featured in a solo exhibition at the Hyde
Park Art Center in Spring 2014.
 
My thanks go to John and the friendly, hard-working staff of ESS.  Please join us at The Experimental Sound Studio, located at 5925 North Ravenswood Ave. Chicago, IL 60660, for the opening reception of John Preus: Slow Sound, 9/27/13, 6-9pm. Special performance by New Material (Mikel Avery, Tadd Cowen, LeRoy Bach, John Preus) at around 7pm.