Audio clip: Adobe Flash Player (version 9 or above) is required to play this audio clip. Download the latest version here. You also need to have JavaScript enabled in your browser.
This week Duncan and Richard interview Monica Bonvicini about her work and her show Light Me Black which is the current Focus show at the Art Institute of Chicago. Well, it was largely Richard as he would not shut up and Duncan had to be wheeled into the interview on a gurney due to his case of swine/bird/monkey flu/pox, and therefore did not have the strength to lift the stun gun of containment which is typically used in these situations.
The following text was shamelessly lifted from the Art Institute's web site.
November 20, 2009–January 24, 2010
Gallery 182
Overview: Equal parts beautiful and menacing, Monica Bonvicini's sculptures, installations, videos, and drawings provoke an acute awareness of the physical and psychological effects of institutional, particularly museum, architecture. Favoring industrial materials that reference the modernist canon, such as metal and glass, often combined with the trappings of sexual fetishism—leather, chains, and rubber—Bonvicini confronts the power structures and contradictions inherent in built environments.
Text quoted from a variety of sources, including literature, psychoanalytic theory, popular music, and architects' own words, adds yet another layer to her wry commentary. More than any other artist working today, her projects aim to expose the disparity between the sexy, utopian, and avant-gardist claims of certain—largely male—"starchitects" and the realities of the spaces they create.
The first Focus exhibition in the museum's new Modern Wing, Bonvicini's project brings together three works that directly engage the Renzo Piano–designed building both formally and conceptually. Created specifically for the Art Institute, Light Me Black, an immense sculpture comprising 144 custom-made fluorescent lighting fixtures suspended from the ceiling, recalls the emphasis on light throughout the Modern Wing. In the now-iconic 1998 installation Plastered, re-created at the Art Institute, the entire gallery floor is constructed out of unfinished drywall panels that progressively crack and fragment as visitors move through the space.
The third part of the exhibition consists of three glass panels depicting altered renderings of earlier sculptural projects by Bonvicini and invoking the building's glass-curtain façade—replicated in a smaller scale in Gallery 182. The three discrete elements work together to acknowledge the aesthetic achievements of the building while hinting at its potential vulnerabilities. [Read more]
Audio clip: Adobe Flash Player (version 9 or above) is required to play this audio clip. Download the latest version here. You also need to have JavaScript enabled in your browser.
This week: Guest interviewer Anna Kunz (accompanied by Pamela Fraser) talks to Carroll Dunham about his show at He Said/She Said and more!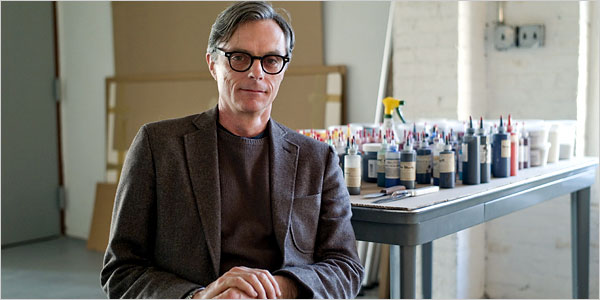 American painter. He completed a BA at Trinity College, Hartford, CT, in 1971 and later settled in New York. Initially influenced by Post-Minimalism, process art and conceptual art, he was soon attracted to the tactility and allusions to the body in the work of Brice Marden, Robert Mangold and Robert Ryman. Spurred on by the revival of interest in Surrealism in the 1970s, Dunham began to make abstract, biomorphic paintings reminiscent of the work of Arshile Gorky and André Masson, executed with a comic twist enhanced by lurid colours and the suggestion of contemporary psychedelia.
In the 1980s he began to paint on wood veneer and rose to prominence in the context of a broader return to painting in the period. Age of Rectangles (1983–5; New York, MOMA) is a highly abstract composition of differing forms, symptomatic of his work at this time: geometric sketches co-exist with eroticized organic shapes while the forms of the wood veneer show through the surface of the paint to suggest surging forces.
Towards the end of the 1980s he began to move towards single, dominating motifs; wave-like forms were particularly common. In the Integrated Paintings series he applied paint-covered balls and chips to the surface of the canvas to further develop the sense of organic life. Mound A (1991; priv. col.) is typical of Dunham's work of the early 1990s in which his forms began to resemble mounds of live matter, covered in orifices. Around 1993 his paintings began to feature schematic, cartoon figures which suggest the influence of Philip Guston. [Read more]
Audio clip: Adobe Flash Player (version 9 or above) is required to play this audio clip. Download the latest version here. You also need to have JavaScript enabled in your browser.

download


This week, another in the series of interviews Duncan and Christian did at the Banff Centre while they were on art vacation, Jonathan Watkins!
Jonathan Watkins (born 1957) is an English curator, and is currently Director of the Ikon Gallery in Birmingham. Watkins emigrated to Australia with his family in 1969 and studied Philosophy and History of Art at the University of Sydney, where he later taught. He was curator of the Chisenhale Gallery in London during which period this relatively small local gallery became an internationally known centre of excellence – many of the Artists shown at that time later going on to major acclaim including a number of Turner Prize winners, Watkins later moved to the Serpentine Gallery from 1995 to 1997 and worked in a freelance capacity as curator of the Biennale of Sydney in 1998. Watkins now lives in Birmingham, England. He currently directs the Ikon Gallery, and recently unveiled plans for a new museum of modern art in Birmingham. [Read more]
Audio clip: Adobe Flash Player (version 9 or above) is required to play this audio clip. Download the latest version here. You also need to have JavaScript enabled in your browser.

download


This week Duncan and Christian talk to Ron Terada about art, hockey fights and Blade Runner (for the love of God, Edward James Olmos's character was named Gaff!!!).
Ron Terada lives and works in Vancouver.
Recent solo exhibitions include Voight-Kampff (2008), Catriona Jeffries Gallery, Vancouver; Stay Away From Lonely Places (2006), Ikon Gallery, Birmingham; and You Have Left the American Sector (2005), ArtGallery of Windsor.
His work has been included in a number of group exhibitions including Tractatus Logico-Catalogicus (2008), VOX Centre de l'imageContemporaine, Montreal; Words Fail Me (2007), Museum of Contemporary Art, Detroit; The Show Will Be Open When the Show Will Be Closed (2006)Store, London and the Kadist Foundation, Paris; Intertidal (2005), Museum van Hedendaagse Kunst Antwerpen, Belgium; and General Ideas: Rethinking Conceptual Art 1990-2005 (2005), CCA Wattis Institute for Contemporary Arts, San Francisco.
Terada was a recipient of the Victor Martyn Lynch-Staunton Award, Canada Council for the Arts (2006); and the VIVA Award, Jack and Doris Shadbolt Foundation (2004); and was nominated for a Sobey Art Award (2007). Terada is represented by Catriona Jeffries Gallery, Vancouver. [Read more]
Audio clip: Adobe Flash Player (version 9 or above) is required to play this audio clip. Download the latest version here. You also need to have JavaScript enabled in your browser.
This week Duncan talks to Charles Esche, Director of the Van Abbemuseum, Kerstin Niemann, Research Curator at the Van Abbemuseum, and Stephanie Smith, Director of Collections and Exhibitions and Curator of Contemporary Art at the Smart Museum of Art about the current Smart Museum exhibition, Heartland.

Project Background
In 2007 and 2008, the Heartland curators, eschewing traditional research methods, set out on a series of old-fashioned road trips through the vast center of the United States. These research trips informed two distinct exhibitions. The first presentation, which opened in October 2008 at the Van Abbemuseum in the Netherlands, sought to uncover new ways of thinking about the American interior during the U.S. presidential election and gave European audiences access to a broad survey of the Heartland's culture, art, and music. The second, reconceived presentation at the Smart Museum, offers U.S. audiences a more focused look at the ideals of resourcefulness and invention that permeate the Heartland. Together, the two presentations offer a richly layered reading of a region that has too often been overlooked.
The exhibition is co-organized by the Smart Museum of Art and the Van Abbemuseum, Eindhoven, the Netherlands. The Van Abbemuseum's presentation of Heartland took place from October 3, 2008 to February 8, 2009. In Eindhoven, the project consisted of a group exhibition in the Van Abbemuseum together with a musical program in the Muziekcentrum Frits Philips. [Read more]