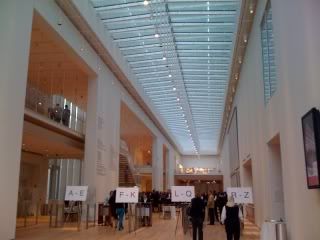 Last night I attended the staff preview for the Art Institute of Chicago's Modern Wing. The first floor has a Cy Twombly show and a photo show. I don't think that either of the rooms that these shows were hung in do much justice for the new wing. The ceilings are rather low and there is a lot of work to be seen in such a small space, which makes the museum feel narrow. I didn't have a chance to see the film video new media section which will be showing a Steve McQueen piece. I was really into Gaylen Gerber's piece "Backdrop" which consists of large sheets of photo paper pinned to the wall. The photographs are then hung on top of the piece.
The third floor houses the Contemporary collection from 1960 to present. This is where you get the picturesque views of Millennium Park. Yes, there is a lot of light and architecturally it really is a beautiful space to see work. My only gripe is that some of the rooms are filled with too much work. I like to have space to see each piece by itself or see a couple of pieces and how they play off each other. Viewing four pieces in all four walls plus a Calder mobile above you can feel claustrophobic, and causes all of the pieces to meld into one. This made me consider, however, the $18 admission fee to the museum and the average visitor. I would prefer more thoughtfully installed work, but it may be a more bang for your buck situation for the museum.
The Art Institute of Chicago's Modern Wing opens May 16th
power Station
) will thanks to the architectural design firm
Herzog & de Meuron
actually have a look that resembles the inside.
The £100 million-plus expansion is designed to increase the space by up to 60 per cent for more displays and to help relieve overcrowding. The wing is scheduled to be completed by 2011
"My dealer is acting weird," a friend from New York said to me recently. "Weird, how?" I asked, starting to work on my probable list of dual sided offenses and defenses between the two parties. "Weird like, I can never tell if she likes my work. She keeps putting off studio visits and some other stuff. I don't know what she wants from me"
"…other stuff…" Okay, so I can surmise that one of two things is happening.
One: this dealer is fixin' to screw my friend. The dealer has lost interest, found something better, is disappointed in sales. The dealer probably got an early pass to the MFA exhibition at one of the local Young Artists Vocational Schools of Instant Success and has replaced nearly half her roster of artists with youngsters whose installation work revolves around their "like, umm, genuine interest in Hip-Hop culture".
Then there's option Two, [Read more]

The first exhibition of paintings by Ciaran Murphy at Kavi Gupta gallery features twelve paintings on canvas, all small or medium in size. They're painted in a style that's become all the rage of late– that low key, often monochromatic rendering of disparate objects and interiors, you know the one. The one Luc Tuymans made famous; the one that brought back small painting from the bombastic Eighties. We've all learned to appreciate a little meditative, personally scaled rumination on delicate palettes and sensitive brushwork. I know I have.
Ciaran's paintings do just what this brand of painting aims to do. Well, some of them. The idea is really lovely; what at first seems simply under-described, gives way to a transcendent moment of reverie. That by flinging off all sorts of extra baggage, the paintings may, if done well, describe ever so much more than the ones that contain excessive information. In the case of this exhibition, the effect is achieved so well in a few of the works. "Frozen Tree" is a superb painting. Barely breathing through the flat gray field of color is a vibrant, odd fleshy tone of under painting. The fallen tree and its exposed root clump are rendered just enough, and not too much. The root clump, like an explosion on the otherwise quiet composition, makes the work a succinct beauty. "Storm Damage" and "Circular Cloud Formation" achieve the same thing- calligraphic gestures doled out in minimum, and with confidence. Like a good haiku, if I dare say.

[Read more]