I had the opportunity for a brief (and I mean super quick) walk through with co-curator Rachel Kalom of this show this past week. It opens tonight, and it is definitely worth checking out. I harassed Rachel with some questions about co-curating a show, and will share those answers and some pics from the opening later this weekend. From the press release:
Zolla Lieberman Gallery proudly presents a group exhibition addressing art making in an era of tightened belts and pinched pennies. Curated by Brian Gillham and Rachel Kalom and with works by Sarah & Joseph Belknap, Tom Berenz, Michael Cheatwood, Garrett Durant, Lucia Fabio & Robert Andrew Mueller, Shannon Goff, Nadia Hotait, Natalia Ivancevich, Sam Jaffe, Mark Khaisman, Austin Knierim, Jessica Labatte, Jesus Mejia, Phillip Orr, Vijay V. Paniker, Miriam Slager, Deb Sokolow, Katherine Webb and Jake Wells.
Opening reception: Friday, June 19th, 5-9pm
Zolla/Lieberman Gallery
325 W Huron
Chicago, IL 60654
www.zollaliebermangallery.com
zollalieberman@sbcglobal.net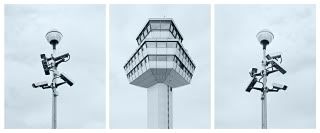 Daniel Everett's solo show at Scott Projects felt so quiet and had such a stillness to it I'm kind of bummed that the videos weren't working.
The first piece I was drawn to was the triptych "Omniscience Beta", which consist of what look like headshots of CCTV cameras on a light pole on either side of an air traffic control tower. The Bechers would have been proud with this execution, which renders the objects as flattened angular sculptures, while at the same time the viewer is still very aware of the multidirectional gaze of the objects.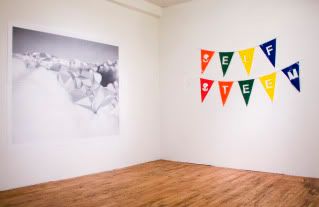 Around the corner is the first large print, entitled "Many Are Called, But Few Are Chosen #2", its pair (#1) is across the gallery. The image is a cloudscape, rendered in granular black and white and interrupted with digital additions of angular forms sprouting through the clouds. The title's biblical allusion, along with the choice of clouds and romantic black and white all point towards the futility of man in the face of god. It made me consider the significance of the attempt being made with computer generated lines and angles to add something to the image of the puffy, organic cloud landscape. The idea of futility or impotence is slammed home in the next piece, "Search Queries II (Self Esteem, How To?)" which is two strings of vinyl cut flags with the words SELF ESTEEM cut out of them. Parts of the letters hang limply, which I'm assuming is the feeling one gets when they search self esteem on the internets. Or buys a book about it. You've recognized a problem, you want to fix it, but dude, you just searched how to have self esteem on the internet.
The other triptych on the far wall, "Redactions From Personal Journal", is three portraits of balls of paper sitting on the floor, with the wall behind it like a horizon line. I like the visual reference here to the cloudscape, the divided plane, the angular shape of the balled paper. Again here is that sense of futility, the striving for perfection, the self editing, which also made me think of clearing one's internet browser's history or deleting files from a computer. You know you did it, you just don't want it there. I kind of felt sad for this guy.
There was a small gum installation that offered the only color in the room. Stamped into two segments of bubble tape were the words "All I Want Is To Not Want At All" (which is conveniently the title of the piece). I say this is convenient because upon my visiting the top half of the piece ("All I want is to…") was laying face down on the floor, which rendered this piece completely pathetic and much more dramatic that perhaps it was originally intended to be.
The banner entitled "Search Queries III (Is There Something Meaningful?)" which states SOMETHING MEANINGFUL reminds me of those half-assed parties you throw for coworkers and struggle to decorate with office supplies and come up with, yeah, something meaningful. It also made me think of the person who asks this question into the unknown and then answers it, cheekily.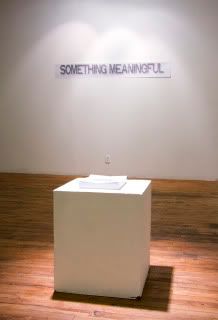 The piece I was most into was a work entitled "Journal" from 2008 that was a 307 page document stack of dot matrix printer paper. It is presented as Everett's computer history for the entire year of 2008. The front page has his IP address on it, as well as the year. Nice. As someone who internets quite frequently, I was excited to get a closer look at Everett as a person, and was interested to see how he chose to present himself via his internet history. Turns out, he googles himself a lot. As well as things like iPhones, videogames, takeout, Netflix, and grammar. I'm not sure what I was expecting, well, definitely porn, which in my cursory page through I found nothing of the sort. The naughtiest thing I saw was a search for Ortho Tri Cyclen Lo. But after seeing the images of his redactions from his personal journal, I couldn't put too much confidence in the authenticity of the history log. After all, what would I do on the internet if I knew people were going to be looking at it as a record of myself as an artist and person? Probably less PostSecret.
I really enjoyed the installation of the show. The work had plenty of room to breathe, and the sequencing worked. I liked the conversations between the pieces hanging near each other. The whole show was very office-supply-closet-chic. I liked that the work was installed with clear thumbtacks, that the journal was on dot matrix paper, that one of the images was of a book with one line highlighted in bright yellow marker. I liked the complications of this sentimental work work done on generic, bland surfaces. I was also into the aesthetic success and skill presented through the visual aspects of the show, everything being neat, orderly, well installed, coupled with the almost failed, futile content of the images.
I wish I could write about the video work, which was three pieces that were briefly described to me, but I was told the artist had taken the videos with him.
I missed the opening on the 6th, but the show is now available to see by appointment.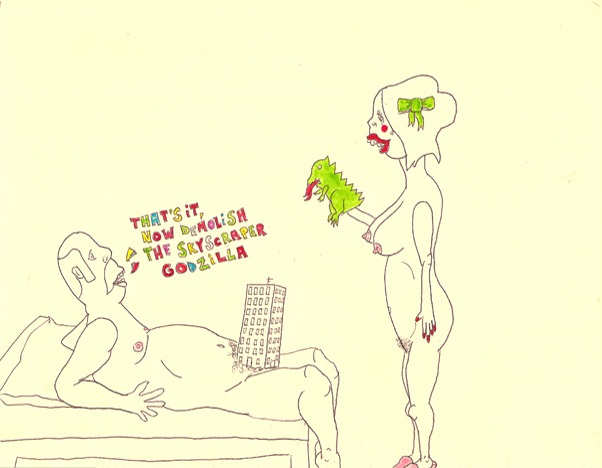 I recently had a chance to check out part of BelieveInn's "Out of Towners" lineup, their current show, Ferris Bueller, featuring work from Porous Walker, with Gabe Levinson and Timothy Pigott. Ferris Bueller's Day Off was, coincidentally, the first (and probably the last) film I ever enjoyed on LaserDisc.
San Francisco-based Porous Walker said that he wanted  to bring to life parts of the film "that were never seen." When I asked him why this film in particular, he said "Because it's a great film, that's all, simple. And because I knew Camerons house was going on the market so I hoped the two could somehow mesh and help promote." Artists with heart, that is what I like to see.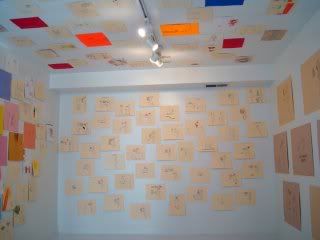 The BelieveInn space is the lower half of a house set back from the street. Three of the walls (and the ceiling) of the tiny immaculate front room was filled with Walker's drawings, which are pretty damn funny caricatures of naked women with sagging breasts and hair clips, and naked men with either very large, or very small, penises. Clean in form and raunchy in content, the illustrations are like the jokes that come right after fart jokes but before you find your dads Playboy. And who doesn't think about the cashiers at Trader Joe's without their clothes on, really?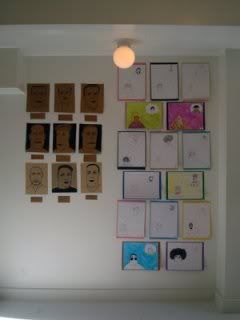 Gabe Levinson and Timothy Pigott's work was orderly installed on one wall, adding a nice grid counterbalance to the rest of the room. Pigott's portraits of "Characters Not in the Movie", consisted of head shot sketches of dweeby men referencing different details of the film. Levinson's piece, "Dudes Thinking About Dudes", were depictions of just that, kind of a one liner homo joke framed in construction paper.
Overall, the show feels like an articulate, very naughty boy's bedroom, and can pretty much be summed up in Levinson's paper plane installation instructions: 1) Tear out a page 2)Make a paper airplane 3)Aim it at someone's head 4) Don't apologize.
I missed the opening of this show, but I'm planning on catching the closing on June 21st from 1-4 pm.
Meg loves YouTube. Seriously. Some gems that she has dug up and forced me to watch recently include "Chimpanzee Riding on a Segeway", "Boogie Woogie Hedgehog", and various renditions of "Play Him Off Keyboard Cat", which range from awkward internet video clips to gruesome freak injuries juxtaposed with, you guessed it, a cat playing a keyboard. So when Meg posted about Sita Sings The Blues a few weeks ago, I was expecting, well, cats or at least a few cute animals.
Yeah, there are no baby animals riding scooters. But I was actually blown away by this movie, created by artist Nina Paley. It is a musical based on the Hindu epic the Ramayana, a story of the Gods Rama and Sita, and their failed marriage. In Sita, Paley weaves the story of her own failed marriage, three hysterical narrators version of the Ramayana, and Annette Hanshaws throaty, heartbreaking music into a gorgeous visual experience.
Paley utilizes drastically different animation styles in the work that could have easily felt as if they segmented the film, but seem somehow to feel inherent to the situations that they depict. In the storyline that is the rendition of her own marriage, the visuals are Sunday cartoon-like, comfortable, and very intimate, using clip-art looking props and collage environments.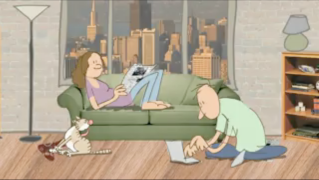 This aesthetic makes the scenes in which Sita is signing the words of Annette Hanshaw, one of the first great female jazz singers of the 1920s, seem even more lush. When Annette Hanshaw is crooning, Sita is transformed into a buxom Betty Boop with huge breasts, a tiny waist, and large, child bearing hips, which sway with the music. Hanshaws hypnotic voice and the dense, smooth environment of the animation are completely charming. The original Hanshaw recordings, complete with record fuzz, scratches and skipping, coupled with the hyper contemporary style of animation serves to transcend a particular time, and simultaneously give the super current animation a rich history and the music a contemporary body.

Progressing at the same pace as the evolution of the marriage, the last part of the animation uses three narrators telling together the story of the Ramayana. I laughed out loud at some of the things that these three had to say. The narrators, seen in the style of paper shadow puppets, argue, disagree, and attempt to construct a version of the complicated classic the Ramayana. While they are speaking, Paley uses more animation styles, collage, and hand done paintings, animated herself. The three voices complicate their own telling of the Ramayana, as well as the perception of the story of Paley's failed marriage. In that storyline, the husband is silenced, his words were written by Paley herself, and I agree with Richard and Meg in her original post, I was left really wondering what really happened in that relationship, and wish more of it had been shared.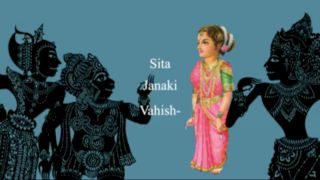 I think that this video is smart, and I particularly enjoy the range of visual references from Kid Pix, photoshop, and DIY animation, to ancient religious scripture, and contemporary comic strips. Nina Paley also seems like a very intelligent person from the interviews I've read, and she gets mad props from me for making this free to everyone under a Creative Commons Attribution-Share Alike License.
The film is easiest to watch on YouTube, where it is in ten segments, and about an hour long. A playlist of it can be found here. I would recommend watching it in HD, although it does take a while longer to load, at least on my slow ass laptop. The official website for the film is here.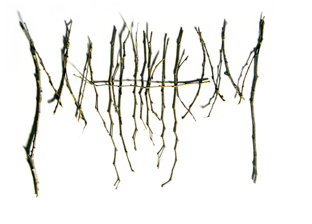 The Co-Prosperity Sphere, an experimental cultural center in the Bridgeport neighborhood of Chicago, will be hosting the Matchitehew Assembly, a music festival of sorts, on June 5th and 6th. The festival will be a two day, all-ages assembly of musicians from across the nation and otherwise, with styles ranging from traditional black metal to noise; a collection of extreme elements that encompass the spectrum of dark sound, which sounds a little LOTR to me, but could also mean a very good time. The assembly is not accepting sponsorship or promotion from any corporate company; groundwork for the assembly is volunteer-based, and the host location is non-profit. You should definitely pre-order tickets online here, and check out the really intense line up here.
The Co-Prosperity Sphere is located at 3219 S. Morgan in Chicago, Illinois.