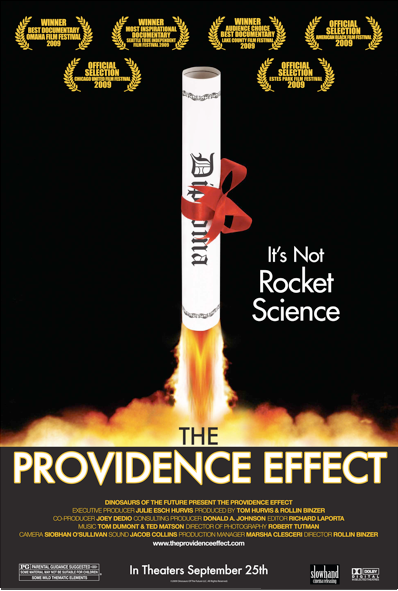 I live in Chicago, I work with kids, and I am one of the many people who are aware that the public education system (in Chicago and elsewhere) is doing a huge disservice to our youth. That said, I was very curious when I saw the trailer for The Providence Effect and it stated that a school on Chicago's west side had gotten 100% of its graduates into four year colleges this year…and has been doing so for the past 30. Years. Damn.
I got into a nice early bird matinee, hoping I would be the only person in the theater, and was until a gaggle of high school girls and their teacher decided to join me. They did shut up when the film started, thank god, but there was quite a bit of talk about homecoming. Maybe it was all this youthful estrogen in the room that actually made me a little teary towards the end of the film.
The streak of sending every graduate to a college started when Paul J. Adams III began working at Providence St. Mel School in Garfield Park, first as a guidance counsellor and then as principal. He came to Chicago after he was "blacklisted" in Alabama for being involved in the Civil Rights movement. Basically, the school relies on discipline, teachers who are passionate about what they do, and a hands on administration. There is some narrative arch, sort of, about how the Catholic archdioces sought to close the school, and the Baptist Paul Adams ended up buying the building so he could continue what he was trying to do.
But this is an art blog, so lets get serious. The film was very straightforward. There was no conflict to be resolved, no sudden twist of fate, just a bunch of educators talking about what they do. That said, it did seem fascinating that our public schools are so epically failing while this one system is succeeding so incredibly, and everything that the people involved with it were saying seemed so damned simple. Have competent teachers. Excite the students. Set the bar high. Expect and celebrate excellence.I think that the momentum of the school also helps set the pace for the students; I mean, who wants to be the one kid who doesn't get into a college?
The actual filming of the feature was mediocre at best. The talking heads were fine, well lit, interesting backgrounds. But interspersed between these interviews was reality-tv-esque shots of jumpy handheld hallways and classrooms. The camera seemed almost intrusive in the classes, and incredibly awkward. While discussing gearing children towards college from a young age, a kindergardener is attempting to anwer a question when a camera swoops into his face for a close up and he struggles to finish his sentence. Nice one, jerk. In another incredibly uncomfortable moment, the assistant principal is catches a student doing *gasp*homework from Spanish while in math class, and the cameraman practically falls running over to catch her handing the book over, head hung in shame. The soundtrack was all inspirational pump up music that at one point reminded me of "Eye of the Tiger", and added a significant cheesy factor to the overall experience. Also, at least a good 30 minutes could have been shaved off of the total time.
If you want to feel good about kids in one school in a bad neighborhood being serious about their education, and maybe cry a little, this is the film for you. Just try not to think about the hundred and something thousand other schools that are completely in the shitter.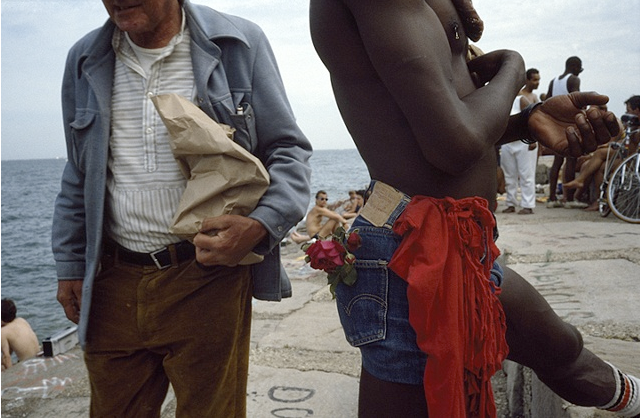 Marginal Waters at GOLDEN in Chicago exhibits 13 of the works in the series by Doug Ischar. The backdrop of Chicago's own Belmont Rocks, since destroyed, sets the stage for the documentation of gay men in the 1980s.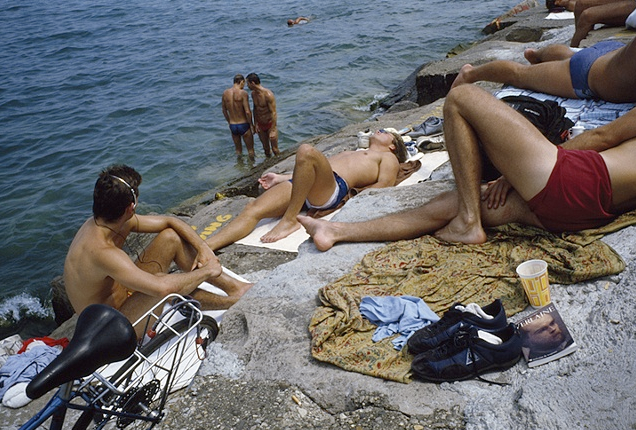 The first room in the impeccable space presents three large framed photographs. The titles of the images are sterile and indexical, simply numbered. MW 19 (1985), the first piece I confronted, is a portrait of a scattered group of men, sunning on the rocks by the water. Two men are standing close, just of the verge between friendship close and intimately close, and there are men stretched out sunning on towels. Besides the incredibly dense colors, there is something about all of the photographs that is so captivating; the latent sexual desire rubbing up against the innocence of an afternoon in the sun. The subtle hand on the thigh, the peak of underwear beneath impossibly short shorts, the glint of a nipple ring, or connection between two bodies that speaks to the audacity of a normally closeted culture behaving freely in a public arena, almost like Sunday In the Park on poppers.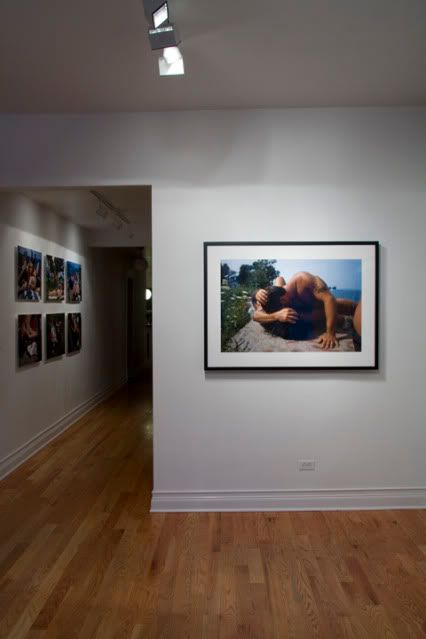 The dual landscape of bodies and the rocks was elegantly captured in MW 22 (1985), a portrait of two men embracing on the ground. The curve of the shoulder, knee, seem to act as an extension of the terrain. Also in this image is a lone can of Miller High Life, just one of the many cultural artifacts that look planted in the compositions. Other images include a Diane Arbus book, a Vanity Fair, walkmans (walkmen?), and many ten speed bicycles. There is a subtle illicit implication to the images, an innuendo of illegality.
This feeling of "getting away with something", as opposed to just being or doing is represented extremely well in the one video piece in the show, Forget Him (2009). This single channel video is extremely compelling and layered. Silent footage found by the artist in a Chicago area flea market in 1990, originally shot in the 1960s, is kept in its entirety with only the playback speeds altered. Ishcar adds captions of Walter Benjamin's One Way Street, as well as a beautiful section from Heirich Schultz's Symphoniae Sacrae (1629) . This video serves as a present day reflection on the project from the 80s. It begins with footage of a backyard flower garden, has spaces of blank footage with dust and scratches, and then segments of two men at the rocks. The men are changing, one taking off his pants and donning a jock strap, the other removing his fishnet shirt and khakis and dressing in the tightest shorts you have ever seen, struggling to zip them up. The whole time they are looking around, and the gaze of the camera catches passersby in the distance. This seems like a getting ready ritual that would contemporarily be done in the home, to get ready for a club, but takes place in the open space of the Belmont Rocks. The word from the text, "lovesick, sick, sick", echo on the screen, seeming to allude to the previously believed "illness" of homosexuality, as well as the consciousness of the AIDS epidemic.

The gallery itself, located in a classic Chicago graystone in Boystown, (apparently one of the first officially recognized "gay villages" in the United States) is incredibly appropriate, adding to the sense of history and urgency of preservation felt in the show. There was also a neatness to the images that worked extremely well in the historic yet well-groomed space. Jacob Meehan, director of GOLDEN, says that many of the neighborhood homos who showed up for the opening this past weekend actually thanked him for showing the work, and reminisced over the images. I think that this show is a great way to begin the year, and to make a meaningful connection with the community.
There is going to be a catalog for Marginal Waters, which will include all 26 of the images in the series as well as text by David Getsy, Steve Reinke and an interview with John Neff. The exhibition has been extended and there will be a closing and catalog release reception, the dates of which will be posted on the website.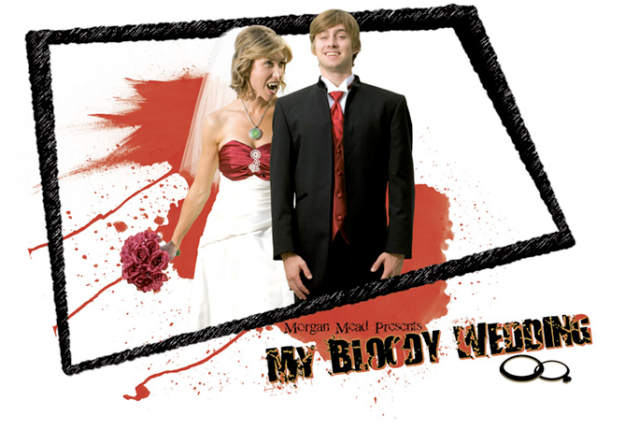 Everybody loves a zombie movie. I recently saw the trailer for a new film, My Bloody Wedding, and got to ask a few questions to the writer and star Morgan C. Mead. Not to be confused with Morgan D. Mead who cowrote the screenplay and directed the film.
From the website:
A feature length comedy about Doug, a dorky young mamma's boy, who is about to get married to his beautiful bride, Callista, when he notices a change come over her. He catches her sneaking around at night and lying to him…and she's begun to display flu-like symptoms. So naturally Doug thinks she caught a disease while cheating on him. In reality she has become possessed via an ancient stone and she's been eating his friends and family without him knowing. When the truth comes out Doug and his remaining groomsmen (his best friend, his robot, and a Luchador) must team up with a psychotic gardener to stop Callista and her demon-possessed bridesmaids before they kill everyone in sight.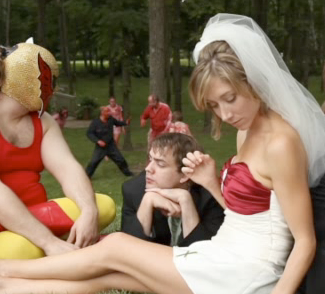 Why does the world need another zombie movie, especially now?
Oh gosh! I feel that now more than ever people are looking to escape! With the state of the economy; with work; or maybe without work, people have a lot on their minds. I am a big fan of giving the mind a break. My Bloody Wedding is definitely a good break from everyday thought. To me zombie movies are like romantic comedies – they can be done over and over again in so many different ways. Ours is a comedy/horror. It's more of a story about a misunderstood "possessed spirit", a love story. My college thesis was about postmodernism. It's been going on for centuries. I guess this was my first hats off attempt.
What attracted you to this genre?
I think the idea of a ton of blood and laughs attracted me. I always go toward contradictions. How can I make light of something dark? How can I look at something different than the norm? Also, horror fans are incredibly loyal. I have a ton of respect for that kind of commitment.
What was your inspiration for the screenplay?
Inspiration? Oy! I think that we subconsciously gather inspiration all of our lives. It wasn't until the actual shoot that I got to see what had inspired me. I must say my main inspiration was Morgan Mead; that's right! Not me, but another Morgan Mead that I cowrote the movie with. We inspired one another. We wrote the movie from different locations and every draft back and forth was a taunt to make the screenplay better.
You can become a fan on Facebook, and keep your eyes out for it to be released around February 2010.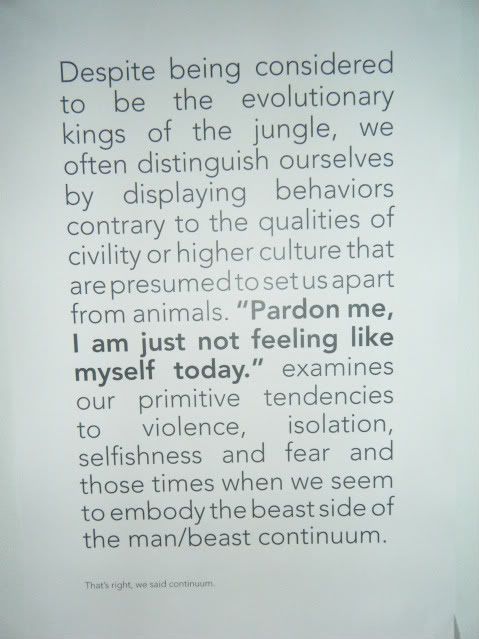 barbara&barbara is a gallery that doesn't accept commissions from the artists, supports itself by giving legit lesbian haircuts, and is having a BBQ for the closing of the show Pardon Me, I'm Just Not Feeling Like Myself Today at the end of the month.
The barbaras are Kara Wabbel and Sierra Berquist, who opened the gallery in October of last year, and moved to their current location this past April.
The show features the work of artists Ben Speckmann, Tim Pigott, Brian Yates and Tony Francesconi, and aims to focus on the more animalistic drives and desires that humans exhibit.
The space is a store front and has a few couches in the center. When I arrived, music was blasting, and one of "the barbaras", Kara Wabbel, greeted me in blue latex gloves. Not knowing about the salon operation in the back, I assumed she was preforming some sort of back porch surgery. I am not sure why my mind jumped to this conclusion.
The first work I encountered was Tony Francesconi's Snare (2009), forcing a fist (presumably his own) into his mouth. He is gazing off into the distance, and the figures teeth are violently pushing the flesh on the fist into wrinkles. The print is larger than life size and glossy, and feels very aggressive, like a bear gnawing it's paw off. I just grossed myself out.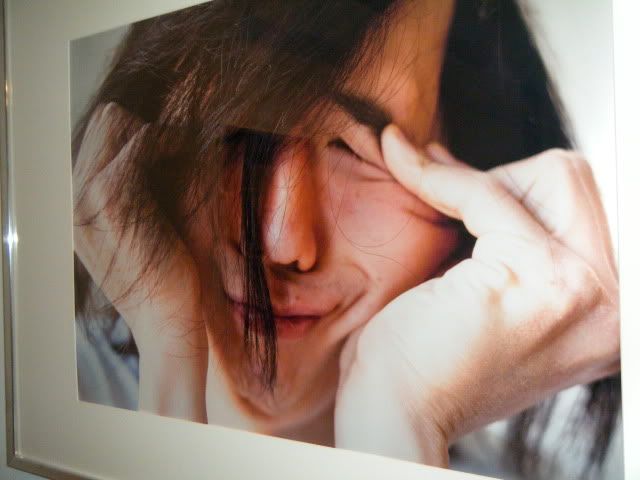 Brian Speckmann's Farmer's Tan Experience (2009) consists of documentation of an experiment of acquiring a farmer's tan. The male subject poses for a full body portrait of before, during, and after the experience. There are also photos of the subject in a tanning bed wearing a v-neck shirt, shorts, and socks. I have yet to see the fetishization of this type of body in contemporary photography, the quest for markings of someone who does manual labor. Coming from half of a lifetime spent on a farm in New Jersey (yes there are farms there), it seems like a fairly pathetic and urban gesture, along the lines of co-opting the mohawk or white dredlocks. Consulting the text for the show and the context of the work, however, I would read this piece more as attaining a camouflage of sorts.
Tony Francesconi's portrait, Dripping (2009) was by far my favorite piece of the show, apologies for the funky angle of the image. It is a close up photographic portrait of a subject presumably crying in grief. At least that is how I read it. Being an "ugly crier" myself, I immediately understood the gesture. From a distance, the grimace looks like a cartoonish smile, and I like how this is pushed up against (what I felt was) an agonizing moment.
Tim Pigott had a few hand drawn portraits in the show, similar to his work I had seen at BelieveInn, and Brian Yates had some sculptural and photo work.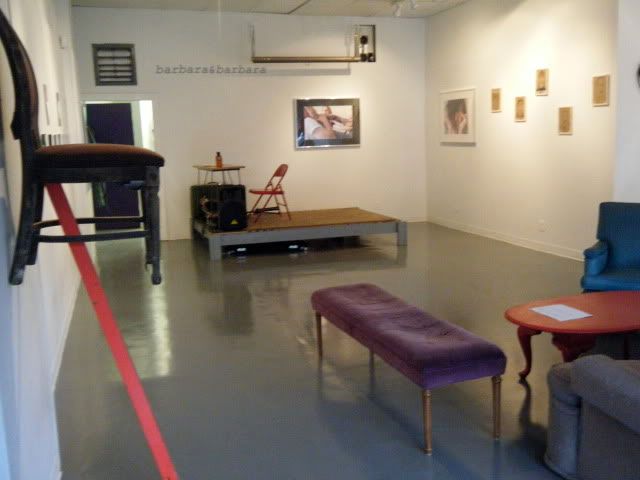 The show overall felt like a mixed bag to me. I was seriously drawn to a few of the works, and others I was pretty ambivalent about. I was really curious about a show exploring the fringes of human nature, but I was expecting something a little more raw and dirty than what I saw. But perhaps that is just my own human nature. I'm really into the gallery as an idea; supporting artists and supporting itself while still being accessible and sustainable. I look forward to seeing more shows in this space.
barbara&barbara is located at 1021 N Western Ave in Chicago, IL. The closing for Pardon Me, I'm Just Not Feeling Like Myself Today will be on September 22nd from 6-10pm.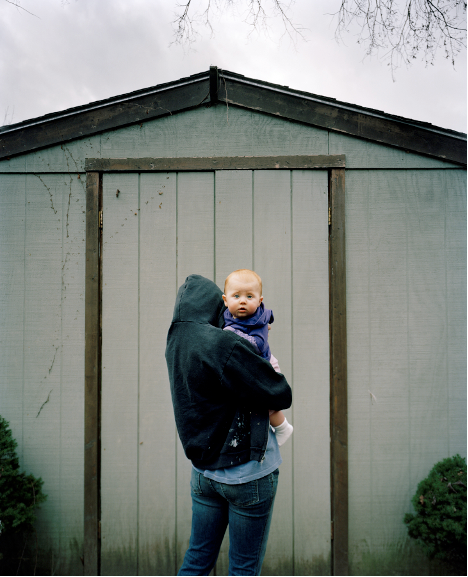 Jill Frank, who had a great show at GOLDEN just about a year ago, and now has a 12×12 up at the Museum of Contemporary Art in Chicago, will be giving an artist talk at the MCA this coming Tuesday, August 25th at 630pm. She was kind enough to answer a few questions for me, even though apparently she was in the middle of the woods.
What sports are you bad at playing?
All sports that require coordination. I like jogging because less can go wrong. However, I still run into tree branches and trip over potholes on a regular basis.
What was the first photograph that you ever took?
I remember taking a picture of this crawdad in my backyard, my friend was trying to hold it still for me and I was using a Polaroid camera.
Can you describe the evolution of your work?
I am interested in aligning images with actual experiences. I started with a project on my family, where we reenacted all of our most important memories for the camera, in a sense creating a more accurate family album. This included awkward, humiliating, embarrassing moments rather than the usual portraits. I moved from that project into photographing other people's undocumented experiences- (Psychodrama)- which involved advertising my project and looking for participants willing to share. I ended up with some really interesting people, and I learned a lot about how to document these incidents. I think the images became more about documenting a performance than making a pristine singular image of an event. Recently, I have been working less with individuals and more with groups of people and larger histories. I am really excited about this newer direction because it involves making alternate versions of culturally accepted images. I am interested in what seems to be missing from these iconic images: the awkwardness, the anxiety, the embarrassment of being human. I have included two of these newer works in the 12×12. One is Mother and Child #1, where the baby is not in a peaceful state; rather, it is exhibiting signs of anxiety at an early age.
What is the significance of creating images from your own memories, and how does this translate to creating images from collective memory (historical, etc)?
I think that images often serve as anchors for our experiences. It is really interesting to think about whether we or not we value the experience more or less if there is some visual document to serve as evidence. I want to facilitate a conversation with this project. As for the way it has moved from individual to more collective experiences, I think that historical events and collective memories can be just as subjective as our own personal memories. For me, this project questions the objectivity of the "original" image, and the authors and artists who made them. I also like to find room for my own spiritual curiosity inside the religious iconography. I am making these images work for me.
How did the transition in your work from creating images from personal narratives to historical, literary and biblical narratives happen?
I put the word out that I was looking for participants for the personal narratives, and I ran into several groups of people who were well-schooled in different religious histories. It was a very natural transition in which I learned a lot from the participants. I specifically enjoyed working with a group of students from Wheaton, Illinois who were extremely open to be a part of whatever strange idea I had.
Do you look at your work as documentation of performances or events, or more
as constructed portraits?
Both. I started out with very constructed portraits of the participants and moved into a looser, more documentary approach. Now I think of the performance as the most interesting aspect – the photograph as a document of the reenactment or the reinterpretation.
How has collaborating changed your work?
I enjoy meeting new people and learning about their interests and life experiences, so collaboration is very rewarding. I still make all of the photographs myself, but I have considered different approaches to this as well. Generally speaking, I can't imagine making images based only on my own experiences and interpretations; I am not that interesting! I think the most amazing part of the collaboration is the learning aspect.
What do you see as the failures and successes of photographic representation?
Well, I believe failure and success is relative to our expectations of the medium. The photographic image is the form of visual representation that most closely mimics the human experience, and it is through existing images that we gain an understanding of what may be worthy of representation. If there are pivotal moments in a person's life that go undocumented, are documented inaccurately, or events of historic consequence that are not photographed – it could be perceived as a failure.
Photography succeeds at specificity: things that our eyes are incapable of processing, a camera can render in permanent painstaking detail. I think this is a question of subjectivity- one person's idea of a successful photograph may not speak to another person's idea of that same moment in time. These conversations about the medium make you consider the larger questions surrounding the production of images.
Jill's work will be up as part of the UBS 12×12 New Artists/New Work program until the end of August.