Guest post by Damien James.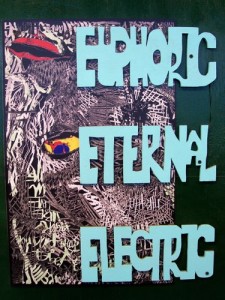 I heard all about what made the ancient Romans laugh (an inordinate amount of what were essentially absent-minded professor jokes), where Wittgenstein and Buster Keaton converge, the bathroom habits of insects, and Jewish humor. I heard clips of what is considered to be classic comedy, saw unreal films made and animated by Bob Sabiston, witnessed people actually slapping their knees while experiencing John Hodgman's charmingly eloquent bullshit, and others share stories about themselves without the least bit of encouragement simply to pass the time while waiting in line to have a book signed.
It was such a bustling couple of weeks that I really didn't have much time to do any actual and focused thinking about laughter, though. In hindsight and when I seriously put my mind to it (not necessarily easy for me), I began to consciously appreciate just how loaded laughter is, how there is a laugh for every emotion, how easily and naturally laughter is used to cover embarrassment, anger, self pity, contempt, all of which had passed through my thoughts at various times throughout my life, but had never featured prominently for any appreciable amount of time. [Read more]
Guest post by Damien James
I walked into Woman Made Gallery on Wednesday, October 14th, to view and review the Beatrice Fisher retrospective, which surveyed fifty years of art making. Intrigued by the gallery's website, which noted that this was Fisher's first solo exhibition and that she had studied under such renowned Chicago artists as Karl Wirsum and Don Baum, for better or worse I had fairly high expectations.
Everything had just been hung, and the space was still a bit of a mess—the opening wasn't for two more days and I hadn't let anyone know that I was coming—then I realized that the mess consisted mostly of Fisher's work, of which there was just too much to fit on the walls. (I was told that Fisher had thousands of pieces in her Evanston studio. Thousands was later corrected to hundreds.) After a moment of orientation amidst the clutter, I was able to focus on the walls, on her art, and was instantly taken, overtaken, by not only the range of her work but its consistent beauty and energy.
Fisher's Attachment/Separation series focuses on divorce in the most physical terms; bodies in surreal Siamese union, some split apart by knives or attached by zippers rendered with a level of detail which brings the stark flatness of the paintings and their sharp lines into a kind of focused intimacy that looks cleanly through you. At least, they seemed to look through me. Some are paintings of women and men joined at the hips or shoulders, others of women joined to women, skin stretching into long bands waiting to be broken, their faces staring so pointedly, hypnotically. On another wall were military-themed works which dressed disembodied penises in camouflaged field gear, while across the room a group of small paintings of Jesus clad in ruby slippers and floating in the clouds shimmered. The slippers were glitter. Jesus had a beatific and tranquil face. Maybe it was the shoes.
Truthfully, there was so much work that this could easily have been a group show of six or seven entirely different artists, though it wasn't difficult to see the common thread—the unique handwriting as it moved through all the pieces; the tongue-in-cheek humor, the cultural critiques, the exploration of sexuality and religion—yet each period in her career seemed to point to the absolute need to make art, out of anything and everything available. It was without a doubt the life of an artist on the walls of Woman Made, not just her art. [Read more]
We are pleased to introduce a new series to the Bad at Sports blog.  Off-Topic invites artists, curators, writers, and cultural workers to discuss a subject not directly related to the practice of making art. We would like to welcome Shawnee Barton as the first participant in this series with her post, "Thoughts on Feminism and Poker" . Shawnee is currently working on a project in which she keeps a roaming blog on other blogger's sites. She also will be in the show " Artist: Unemployed", a solo installation at LivingRoom Gallery in Chicago, on November 20th. Check back in the coming weeks to see other contributions to the series.
Guest post by Shawnee Barton
Thoughts on Feminism and Poker
The last time I was at the underground poker club on Ashland and Division in Chicago, it was 3 a.m. when I noticed that there was porn on every television in the card room. The porn wasn't on at 9, 11, or even at 1 a.m, but apparently social conventions left at 3. This club has since been robbed and moved to another location, but when it was still in business, 3 a.m. was also the time when the tiny female server in an even tinier black dress stopped serving cocktails.
I've given a lot of thought to what I should wear to work, and by "work" I mean the poker table.   The media clearly rewards female poker players who show cleavage.  If I want to be famous in the poker community, which is a lucrative aspiration, getting my own little black dress would certainly be a shortcut to one measure of success.  Unfortunately though, showing some skin can have consequences at the table.
One of the easiest ways to spot a bluff is to watch someone's chest to see if the person stops breathing.  People naturally have a freeze/flight/fight response to stress, but because poker players can't run away or smack the guy across the table, they will often just sit there frozen and hold their breath after bluffing.  Similarly, when people are excited (like when they look down and see pocket aces), the large vein running down the side of the neck pumps blood so hard and fast that you can often see it pulsing from across the felt.  Both of these tells are much more visible on a woman wearing a low cut tank top than on a big guy in a hooded sweatshirt. [Read more]
Guest post by Damien James
In the brief Chicago Humanities Festival preview posted a couple of weeks ago, I listed what I hoped would be some highlights, and I wanted to take a moment now that the festival is about halfway through its run to tell you about two events I recently attended so you get a picture—maybe fleeting—of how this years programming is meeting my admittedly high expectations.
In the near future I'll share more about specific events as well as thoughts on the festival theme—laughter—with the intention of communicating how important the Humanities Festival has been for me, maybe how important it is to the city itself, and possibly beyond. It's also my hope that it will become important to you, if it isn't already. After all, each of us is a part of the greater festival of humanities as it plays out in our own lives every day, in the choices we make which not only effect ourselves, but everyone in our local and even global community.
And if this happens to be your city, the excellence of CHF earns you some bragging rights. Privatized parking meters, bogus mayoral claims of how green Chicago is, Land of the Lost-sized pot holes and shitty CTA service, our former governor's "reality" TV career, and our failure (thank Jesus) to win the Olympic bid are not the only things we have going for us… [Read more]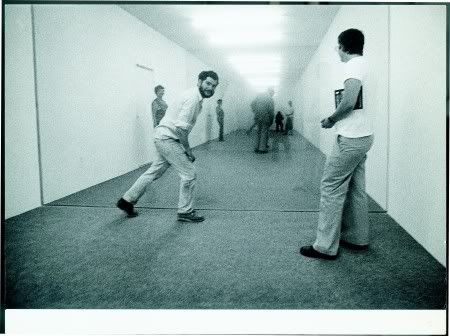 Guest post by Jen Gillespie
Walker Arts Center October 31, 2009- January 24, 2010
The Show was also at the Whitney and the MOCA
Opening Lecture Saturday October 31st with the curators from all three galleries as well as the band Japanther.
Last weekend I made a pilgrimage to see Dan Graham's first retrospective in the United States, in its third and final destination, the Walker Arts Center.  The Walker is in Minneapolis, and if you're from Chicago and you haven't been, you really should make the trip. Dan Graham's exhibition Beyond earlier this year was shown at the Whitney in New York (June 25 – October 11, 2009) and the Museum of Contemporary Art in Los Angeles (February 15 – May 25, 2009) and was co-curated by Chrissie Iles (Whitney) and Bennett Simpson (MOCA).  Beyond traces Graham's influential body of work highlighting his mirror and video installations as well as his conceptual work.  Graham's work, though over time has changed in its physical product, or the method of his conceptual delivery is tweaked, the work consistently deals with subject-hood, identity, duration/distance and the interconnectivity of environment/subject/object relationships.    Graham's discussion that took place at the Walker last weekend with the co-curators of the exhibition as well as the band Japanther was a fantastic one.  In this instance it was a rare example of three discordant aspects of the art world making the sweet, sweet music of politely agreeable disagreement.  Each with their own agenda, the curators, Dan Graham, and Japanther, these separate entities all contributed their perspective on Graham's work, though certainly Dan Graham got the final word. It is after all, his, that's only fair.  Check out the link to view this discussion, Dan Graham is absolutely a legend and shouldn't be missed.  I highly recommend the journey before the show comes down in January.