UPDATED WITH CORRECTIONS:
We received an email from Carlie Dennis, the exhibitions assistant at MOCAD, containing a few corrections to the piece below concerning the number of visual artists represented in the Art X exhibition at MOCAD. The correct numbers have been noted in bold in the piece, and Dennis' letter to Bad at Sports containing further clarifying details, etc.  follows the post in an effort to ensure the corrections are clear.  In addition, please note the following exhibition sponsorship information provided to us by MOCAD: The Art X Detroit: Kresge Arts Experience is sponsored by The Kresge Foundation, in partnership with the College for Creative Studies, Artserve Michigan, the University Cultural Center Association (UCCA) and the Museum of Contemporary Art Detroit (MOCAD).
— Claudine Ise
GUEST POST BY SARAH MARGOLIS-PINEO
It was in 1909 that Marienetti first recounts his fated car crash in the pages of Le Figero. He describes an evening where late-night mythologizing veers poetically into an early morning drive. Three "snorting machines" are caressed and brought to life, and he writes, "a great sweep of madness brought us sharply back to ourselves and drove us through the streets, steep and deep, like dried up torrents." Torrents, indeed. Of course we know how this ends: one shiny, red roadster meets two cyclists, ("like two persuasive but contradictory arguments"), and crashes grill-first into a gutter filled with the muck of industrial runoff. Overcome by his encounter with the speed and power of mechanical ingenuity, Marienetti emerges from the factory sludge a Futurist—belligerently positioned towards a new era, first will and testament in hand.
Coincidentally, it was this same year that Henry Ford's Model T made its debut at the Detroit Auto Show, and thusly set into motion the chain of events that would result in the creation of Motor City—a figment of Detroit's identity that persists over a century later. Artists in Detroit are consumed by the context of the post-industrial, post-urban cityscape. Like Marienetti, they are influenced by the concrete motorways and roaring engines that have shaped the physical space, economy, and consciousness of the city for decades.
Art X Detroit, an exhibition featuring 19 17 of the 36 Kresge Fellowship recipients, opened April 6 at the Museum of Contemporary Art Detroit. Wire Car Cruse, an event and subsequent video work, (titled "a dance for Diego,") by Chido Johnson, deliberately mines the history and present of car culture in Detroit. The Woodward Dream Cruise, now in its 16th year, is an annual event, where more than 40,000 classic cars and roughly 1.5-million spectators assemble along the 16-mile stretch of Woodward Avenue to observe and tailgate, while restored antiques and custom muscle cars takeover the arterial. I will say, that from someone who is admittedly more of a public transportation enthusiast, this weekend-long spectacle does not disappoint. Beer, barbeque, and tricked-out mechanics?! Um, yes, please.
Johnson uses the performance of Dream Cruise as the foundation for his own event, which combines the ritual of the Detroit car cruise with the practice of creating wire cars, a pastime from Johnson's childhood in Zambia and Zimbabwe. The performance articulates a hybrid cultural activity, which represents the artist's own negations with subjectivity living between two cultures. Moreover, Johnson's event cultivated a community of wire car enthusiasts, and in so doing, opened up this history of Detroiters and their cars to new audiences who may have been previously excluded from this specific cultural phenomenon.
The video documenting Wire Car Cruise is juxtaposed with a sculpture entitled, "me me me," which is a self-portrait of the artist as a carved African statuette installed on a deconstructed cardboard box on the gallery floor. This work further accentuates the search for a sense of identity between cultural spaces—a literal unpacking of the artist as subject. What interests me most about the video, statuette, and their installation at floor level, is their child-scale. The overall impression of the work is a sense of playfulness that Johnson associates with the practice of making. The video work, "a dance for Diego," takes as its title a sentiment from Diego Rivera who said that the city of Detroit is of makers and dreamers. Johnson's work at its essence is about making, and reinvigorating this type of creative industry with a sense of joy and wonder.
Abigail Anne Newbold's work, "Home Maker," addresses the urban frontier as an expanse to be explored via bicycle and wagon. In the tradition of the pioneer settlement, the Airstream mobile trailer, and the popup house, this project is comprised of an intricate toolkit with which even the least adept outdoorsman can create a makeshift home. The foundation of the piece is a custom-made bicycle and covered wagon functioning like a rickshaw trailing behind. The accompanying toolkit is exhibited in an arrangement both in the wagon and on a gallery wall, which operates like a hybrid one-bike garage meets REI store display. The literal use of the tools is ambiguous; however, the rugged, weather-ready materials in hazard yellow and orange renders the objects explicitly for outdoor survival.
Perhaps this work is a statement on the changing nature of settlement and domesticity given the shifting housing market, or maybe Newbold is supplying tools, (such as a three-fingered pot holder, a bouquet of tent stakes, and wilted bow and quiver of arrows), to the urban ethnographer. Regardless, "Home Maker" is a response to a city in transition, where the untamed urban prairie is an opportunity to develop and implement re-imagined infrastructures for living for the coming century.
Photographer Corine Vermeulen is the spiritual offspring of Dorthea Lange and Buckminster Fuller. Her series, "Your Town Tomorrow, Detroit 2001-2011," explores the identity of place through portraiture of the everyday Detroiter. Vermeulen's imagery, through documentary, ventures beyond the sensation-hungry media snapshot of blighted landscape and broken home. In fact, Detroit as an urban, city-subject is barely recognizable. Her subjects are framed by a landscape that has an immediate, visual association with the southern rural rather than the rustbelt. Families and haphazard communities are depicted in the liminal spaces of Detroit—in front of ailing fences, amidst the tall grasses of overgrown urban lots, and on rebuilt bicycles. It is from this ambiguity of place that Vermeulen achieves the futuristic sensibility referenced in the title of the series.
The artists refers to her portrait series as "memories of the future." Like the work of Newbold, Vermeulen portrays a city in transition—its citizens picking up the broken detritus left in the wake of post-industrialzation to re-cultivate land, rebuild homes, and re-imagine communities. Her portraits contain the "new topographies of urban life," and function as an alter-narration of what urban space can be, and indeed, may be, in the uncertain future of Detroit.
Other artists featured in Art X Detroit at the Museum of Contemporary Art Detroit are Shiva Ahmadi, Hartmut Austen, Lynne Avadenka, Kristin Beaver, Susan Goethel Campbell, Ed Fraga, Tyree Guyton, Rod Klingelhofer, Gordon Newton, Russ Orlando, Senghor Reid, Michael E. Smith, Gilda Snowden, Cedric Tai, and Sioux Trujillo. The exhibition will be on view April 6-24, 2011.
Sarah Margolis-Pineo is a curator and writer. She is currently the Jeanne and Ralph Graham Collections Fellow at the Cranbrook Art Museum.
Corrections from Carlie Dennis, PR Coordinator/Exhibitions Assistant at MOCAD:

There are a few clarifications that I would like to highlight regarding the Art X Detroit exhibition that is currently on view at MOCAD.  First, there are a total of 18 Visual Arts Fellows, 19 if one includes Eminent Artist award recipient Charles McGee.  Neither Charles McGee, nor Tyree Guyton (one of the 18 Visual Arts Fellows) have work in the exhibition on view at MOCAD, as they each have public installations elsewhere in the Midtown neighborhood.  Additionally, it is misleading to say that the exhibition features 19 of the 36 Fellowship recipients, as the other Fellows are in the Literary and Performing arts fields, and are therefore not included in the exhibition but are included in the week's series of public programs and events.  This statement makes it appear as if the exhibition was curated, when in fact it is an artist-driven showcase and includes all of the Visual Arts Fellows (please click here to read a lengthier description of the context of the exhibition: http://mocadetroit.org/).  Finally, while MOCAD is the venue for this showcase, it is important that proper credit is given to those who produced, organized and funded the exhibition: The Art X Detroit: Kresge Arts Experience is sponsored by The Kresge Foundation, in partnership with the College for Creative Studies, Artserve Michigan, the University Cultural Center Association (UCCA) and the Museum of Contemporary Art Detroit (MOCAD)."
"Teach 4 Amerika aims to empower artists to create the education they need and not beholden them to a system that professionalizes them out of their own specificity," — Bruce High Quality Foundation.
Lots of buzz surrounding the arrival of The Bruce High Quality Foundation in Chicago for two related events this week. The first–a limited capacity, intimate discussion on education and the arts that will be held at Roots and Culture tonight–is already booked solid. Maybe you can still sneak in? Or peek through the windows? The next event can accommodate more bodies: BHQ's Teach 4 Amerika Rally–billed as "a rally for anarchy in arts education"–starting at 6pm on Thursday, April 7th at the University of Illinois at Chicago's Lecture Center Room A-1, 821 South Morgan Street. These events are presented by Creative Time and hosted by Gallery 400 and Three Walls in Chicago. Below, full details; oh, and can someone snag me a t-shirt please?
Teach 4 Amerika is a five-week, 11-city, coast-to-coast road trip that
crosses state lines and institutional boundaries to inspire and enable
local art students to define the future of their own educational
experience. Traveling the byways of America in a limousine painted as a
school bus, BHQF will bring together concerned educators, artists, arts
administrators, and—most importantly—students to brainstorm on the future
of art schools.

The project calls for a national rethinking of the current art education
system, and will provide an opportunity to discuss issues facing artists
seeking an education, as well as catalyze discussions with students. The
Teach 4 Amerika tour is a rallying effort to begin this conversation on a
national scale and to encourage a new generation of students, artists, and
educators to imagine what is possible for art education in America.

Teach 4 Amerika will combine the spectacle and energy of a political rally
with the substantive dialog of a conversation series, featuring a
multimedia presentation, balloons, t-shirts, and music. In addition, on
April 6 at Roots and Culture, BHQF will also organize an intimate
conversation between students and a group of arts professionals to
transform the ideas and optimism of the rallies into real change (RSVP to
that event is required).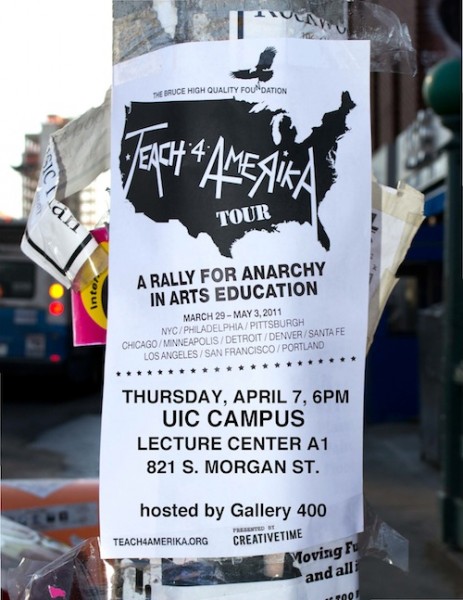 GUEST POST BY ELIZABETH CORR
Recently, I had the great pleasure of talking with Betsy Odom about her latest show Sis Boom Bah currently on view at the Hyde Park Art Center. Betsy, who lives and works in Chicago, received her MFA in Sculpture from Yale in 2007. Her fascinating body of work examines gender and sexuality in the sports world, highlighting the various ways in which these social constructs become public spectacle. Considering the nature of Betsy's subject matter, we both agreed that there couldn't be a more aptly named blog to host such a discussion.
Sis Boom Bah is on view until June 19th. For more information on this and other upcoming shows, please visit Betsy's website.
Elizabeth Corr: One of the things that I find so striking about your work is your deliberate use of materials – leather, sporting equipment, auto paint – materials that traditionally evoke the masculine. You take these materials and incorporate them through feminine decorative traditions such as sewing and weaving, while also utilizing established masculine practices like leather tooling. Suddenly, everyday sporting objects are transformed. It's like this "Ah-ha" moment, where the absurdity of society's gender roles is highlighted and you realize just how much these notions permeate our daily lives. Can you talk about your fascination with the politics of gender and why you choose to use sports as a metaphor to investigate these issues?
Betsy Odom: I am extremely conscious of seeking out materials, techniques, and objects that I think contribute to that tacit construction of gender. Sex is infused in tooling leather. We drink from faucets that have grown ever more phallic as time has moved on. Decoration, carving, stitching, tooling – I suspect that many of these activities grew as a way to busy "idle hands." And some of my own assumptions are way, way off, which I also enjoy. Like, I'm pretty sure that not many people see Emmylou Harris, a straight older country singer, as enough of a queer icon to merit her own sports-team. But my hope is that as soon as you start looking for signifiers, which are abundant in sports, you can conceivably see them everywhere.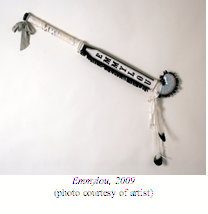 In some ways I am trying to act out a fantasy where you can be aware of the absurdity of our cultural influences and still enjoy them, slipping in and out of social constructs like gender, class, race, and sexuality as you please. It's sort of like the fun of mixing all the different sodas together to see what comes out. (Am I the only one who still gets a kick out of that?)
EC: I want to talk about your piece Double Whistle. To me this piece was so overtly sexual (all I could see was a double sided dildo, but that may say more about me than about your work…). I was fascinated by the fact that you chose to exhibit it within a Plexiglas box – essentially rendering it off limits. What are your intentions with this piece and what does say about female sexuality in the context of sports?
BO: The way I approach intentionality is a bit loosey-goosey. While I hate it when people say, "your interpretation is just as important as mine, my intent is not important, etc.", at the same time, I do like to start from some pretty obscure or perhaps entirely invented associations. My take on it is this: not everyone reads the piece as a double dildo, or a curmudgeonly old man gym coach, or a tantric musical instrument, or an opulent and rare conjoined artifact. But hopefully, most people do read it primarily as one of the dozen or so things it can reasonably be. Then maybe the other interpretations seep in as well, showing how complicated even a simple gesture can be.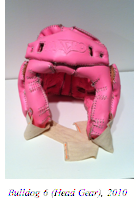 But, where Double Whistle actually came from: I had been mulling over the way my coach's mouth seemed unnecessarily emphatic on her whistle. I tried a lot of things to express that such as playing with scale, materials etc. It took me a year before the idea of mirroring the whistle finally hit me. I suppose one of the cool things about interviews is that you can get into the stories about a piece's process or origins, and about the artists themselves. On the other hand, I've had many an artist ruin my opinion of their work by revealing where they are coming from.
EC: Walking through the show, I was couldn't help but think about the work of Judith Butler and her theories about gender and gender performativity. Butler, in a distinctly postmodern approach to gender, calls into question the idea that certain feminine and masculine behaviors are "natural." She argues instead that the ideals that constitute 'feminine' and 'masculine' are socially constructed, in essence making one's gender a complicated ritual of performance. Sis Boom Bah draws our attention to one of the places where gender is regularly performed – the playing field. Talk about the ways in which you and your work have been influenced by postmodern feminist and/or queer theories about gender?
BO: This is probably going to be my longest answer, as I am casually passionate about gender theory. But, before I get into it, I'd be interested in your take on the notion of making art that talks to bigger issues. I personally needed a big dosing of queer and gender theory to even get comfortable with even the idea of making work that is explicitly about sexuality and gender. This is probably a bit of an aside, but I think a lot of artists have to deal with the discomfort that comes along with sometimes wanting to make work that is queer or political.
My discomfort is basically this. I had to face a fear of self-ghettoizing or even pandering in order to participate in a cause I care about, but I also had to cope with the awkward phase of early queer art, and more than that, a fear of continuing in a tradition that tends towards the cheesy. But, at the same time, there is a lot of great stuff actually going on by artists who are able to move in and out of a queer dialog pretty comfortably: Nicole Eisenman's fan drawing of Shane from The L Word with a fist coming out of her vagina, Collier Schorr's cover on the latest Aperture, Girls Like Us: Lesbian Quarterly for whatever that's worth. Do you think I'm just paranoid in still worrying about this stuff?
EC: Paranoid? Absolutely not. Actually, the feelings you mention constitute a real rift within in queer theory relating to feminist standpoint theory and identity politics as useful paradigms for understanding the world. As you point out, while there is this element of freedom and empowerment in being able to speak from a certain perspective (queer or female in this case) there is also the very real threat of alienation and co-option (while certain commonalities may exist, certainly not all queer or female perspectives are universal). And so, as the artist, your worry about viewers taking one perspective (yours) and extrapolating into some kind of universal political statement about said groups (queer and/or female) is very real.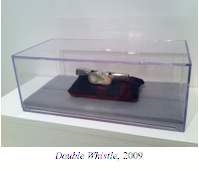 BO: At any rate, I am pretty revved up by Foucault's idea that our discourse around sexuality tends to be, in truth, the total opposite of what it claims (i.e. the confession of sexual sins propagates more sexual sins for which to confess). I translate this into something of a bait-and-switch in my work: a lot of my pieces try to draw you in with materials, content, color, etc., only to bring you close enough to see something a bit more provocative, then question why you were attracted to the object in the first place. Sort of like your question about interpreting Double Whistle. I very much like the idea of the viewer wondering, "Maybe it's just me?"
Judith Butler's work on the performance of gender and her thoughts on sameness and otherness were a driving factor in me getting into this work. I'm especially interested in the way Butler points out gay and lesbian creative use of gender performance. But I wonder if queer play with gender comes from a larger cultural desire (imperative?) to point-out a hegemony, or does it fall into the same heteronormative fallacy of a sense of "naturalness:" i.e. "but I really feel like an androgynous jock," which I often do, by the way, minus the actual athletic prowess. The need for consciousness of gender as a construct goes both ways I guess. And then there's the whole other question of how this applies to the very real social issues riding on a perception of queer difference. How do we negotiate all this information?
EC: For me, part of what is so appealing to Butler's approach to gender is how radically it disrupts normative ideas of heterosexuality. Can you tell me a little bit about how your works challenges these notions, and the ways in which queer culture and sexuality inform your practice and use of language?
BO: Butler is pretty convincing in pointing out that our focus on the biologically gendered body (or that gender is born of the body) encourages us to chain a big ol' leash on the much wider and more interesting discourse around gender formation. I use sport as place to play with the body, joking with the unnecessary weight we give the body in connoting gender. I enjoy digging into ideas like Butler's and others that gender is mostly relationary (the concept of female exists in relation to the concept of male, and vice-versa.). I am conflating those relations and projecting them back onto the body – in gear, skin-like materials, etc. What comes out may be a glimpse into what would happen if the performance we have all agreed upon as a society just suddenly ended.
EC: There is a long history of uneasiness with ambiguous gender and sex in sports, and this is partly because the sporting world so heavily relies on neatly packaged ideas of what constitute "female" and "male" especially as they relate to athletic ability. Your drawing, the only drawing in the show actually, references the most recent example of sex testing, which concerned Caster Semenya, a South African runner whose sex was called into question after her gold medal performance at the 2009 World Championships. What did you make of this story and can you talk about your appropriately named piece Un-titled (for Caster)?
BO: I was really blown away by this story because it is one of those instances where I really cannot get my head around what the "right" answer should be in terms of oppression vs. the roles of normativity in culture. Obviously the way this was dealt with is atrocious and inexcusable, which strangely seems to happen a lot when women's sports are finally noticed. (Imus, anyone? Or the constant focus on the fact that you don't see dunking in the WNBA?)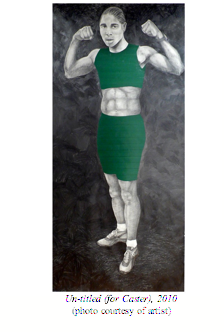 But, I don't know for sure. Is it fair for Caster to run? Can we just think of her mildly intersexed physiology as a genetic advantage similar to height or big lungs? Or should there be events for men, women, and "in-betweens?" I love that this story made the world deal with how complicated gender actually is. Caster is now officially allowed to run in women's sports and kept her title, by the way, but many speculate that there must be a caveat about testosterone suppression.
But honestly, my main interest in Caster's story was a glaring omission in the coverage. Namely, no one seemed to publicly care about her sexuality! It is such a rare moment in our culture where gender and sexuality are kept separate. I've always thought that separating these is something I would like to see; but in this instance I think it is another form of imposed gender-enforcement. I personally think that, whatever we feel about Caster's eligibility in sport, we should all agree on one thing, which is that s/he is amazingly sexy. So with the drawing, I simply wanted to celebrate her, well, hotness, the way we do with other athletes. Something like fan art meets the life-sized Michael Jordan poster for the back of your door.
EC: I'm a little embarrassed to admit this, but after seeing Sis Boom Bah I started thinking a lot about the lingerie football league! To me, your work represents one side of the spectrum of gender and sexuality that, excuse the pun, gets played out in sports. And, lingerie football it seems must exist on the exact opposite side of that spectrum. Here we have women sexualized in an overtly heteronormative manner, whose athletic ability and prowess are undermined by uniforms (or lack thereof) and (tit)illating team names like Philadelphia Passion, Dallas Desire and San Diego Seduction. What do you make of this? And, can you talk about how the queering of well-established sexual mores in your work relates to (or makes necessary?) this type of performance of sexuality.
BO: Oh boy is that funny! I'd love to see actual women's contact football teams doing lingerie football- pitting the Chicago Force against the Dallas Desire. I think it would put an end to the practice forever. Or maybe start a whole ancient Greco-Roman revival of naked athletics. Who knows!
Elizabeth Corr received a bachelor's degree in Psychology and a master's degree in African Studies from the University of Illinois at Urbana-Champaign. Her graduate work focused on contemporary African art in post-apartheid South Africa. She lives in Chicago and works at NRDC, an environmental nonprofit.
Guest Post by Dan Gunn
Artist Mindy Rose Schwartz has shown her sculpture and installations throughout the United States with exhibitions in Houston, TX; Brooklyn, NY; St. Louis and Kansas City, MO; Miami, FL and Chicago. Her work has been written about in artnet Magazine, Beautiful Decay (online), Time Out Chicago, The Chicago Tribune, Newcity, ArtForum, Frieze Magazine, Art in America and Whitewalls.  Schwartz earned her MFA at the University of Illinois, Chicago. I caught up with her after the close of her most recent show of work at Threewalls. The following is our conversation.
DG: How do you think about your materials?
MRS: The materials and processes I use have to make sense in relation to the meaning of the piece.  So, for example, in this body of work, one of my reference points are remembered objects from the house I grew up in.  So my use of ceramics, macramé, white stones, and gold chain are materials I came in contact with in my past and have resurfaced to add to a palette of materials for sculpture.  I am also interested in processes and skills that I learned while growing up, before I made it to art school.  Why do I know how to make every type of lanyard key chain, or a macramé belt, or to crochet a yarmulke, or to paper mache? They are a window into specific class, cultural and gender specific moments that shaped my experience.
DG: What else makes up those "reference points"?
MRS:  As I was developing my proposal for Threewalls, I wanted to transform the gallery space into an idealized and symbolic domestic space. There is a smaller room as you enter, a large grand space in the center and a smaller more intimate space at the end.  As you walk through, I thought of the first room as the foyer, the next as a living room and the last, a sunroom. In a home these are the spaces that you pass through, or only use on occasion or special occasion, not the every day living spaces.
The sculptures in each of the spaces are an amalgamation of the furniture, objects and people that would reside there. They reflect the kind of pictorial or fictive aspect that each of those rooms implies.   Some of the sculptures in the living room space are: Chandelier, Credenza, and Vanity. I mean the credenza, what is it for? Who has room for the credenza? It's a piece of furniture that's purpose is to hold and display decorative objects and fancy dishes. The Chandelier too has a type of aspiration to it, a light that is dressed up in its finest jewels. These objects and what they represent become starting points to imagine their transformation into something else.
DG: Then what about the sunroom?
MRS: I was trying to create a space that was sort of mournful and had a kind of longing to it, but peaceful too. The sunroom has a sun in it, of course.  It is created through a technique called, string art, which was a craft process I learned in fifth grade.  It was supposed to teach that straight lines create a curve. The piece is called The Tender Light of Hope. In the living room space, it has its counter part in a piece called, The Depths of Bleak Despair.  These two pieces provide a kind of emotional bracketing for the show.
Two other pieces in the space are called Friends, and A Peaceful Man.  Friends are two, coil pot, heads sitting on the remnants of my grandmother's mink coat. The coat was handed down through the family, repurposed, refashioned and redistributed as: a sporty jacket, a hat and some earmuffs. A Peaceful Man is also just a head, but his beard and mustache swoops down to form his legs and sprout a flower. I thought of it as my "Giacometti moment".
DG: You mentioned collectibles, how do they factor in? What kind of symbolism lies within them?
MRS: I was trying to find a way to get the figure back into my sculpture, in an effective way. As a sculptor, you're kind of off the hook.  You don't really have to use the figure, because the viewer is the figure. The sculpture exists in the same space as your body. There is this uncanny weirdness when you perceive your body in relationship to this representation of one. That begs the question. How does it get in there and not be a statue. Statues are hil-ar-e-ous! They're so heavy. There is funniness to them.  How to show the body… I tried to think of them along those lines then, to not be "figurative" but "figurine-ative"
Figurines and decorative objects have a strange life span to them, right? They sit in the home in one spot for a whole lifetime. Then they get handed down, auctioned off or go to a thrift store and go to another house to sit in one spot for another lifetime.
The collectible object is really a way many people experience sculpture in their everyday lives.  It is like the three dimensional version of a Picasso poster or, depending on your taste, a Margaret Keen poster.  That is how I experienced it mostly, more often through home decorating than a trip to the art museum or a stroll through a sculpture park. So there are these mass-produced objects that one way or another make it into your life and stay. Over time it will look very different and mean something very different to whoever has it. In fact two identical objects become fundamentally very different things. I'm trying to show how my history with specific objects morphs their form and how I perceive them with the their stories still attached.
Of the definite genres of collectible figurines some interest me more then others. I particularly admire ones that address the landscape or nature.  I made my versions of this type for Credenza.  There are also characters that reoccur across many different brands of collectible objects; the CLASSIC mainstays of every family of Precious Moments, Lladro, or Royal Dalton are the harlequin, mime and ballerina.  I made a series of those characters for the "Vanity" piece.
Aside from the emulated realism of collectible objects, I love the sincerity of those that adopt a modernist "look" as their most prominent style.   There is nothing like the grace or elegance of an abstract dancer's elongated neck or the motion of flowing dance attire captured in porcelain or electroplated aluminum.
DG: So you see the forms of décor as the remnants of Modernism?
Well, I guess this comes back to how and when I experienced Modernism as a  trickle down influence in popular culture during the seventies.  I saw a lot of Hollywood musicals growing up.  Most of these movies started out on Broadway and one of the byproducts of their translation into cinema, seemed to be these inexplicable dance sequence that would interrupt the regular narrative of the story to express some kind of emotional drama or conflict in the story. The Dream Sequence Ballet in Oklahoma and the Rumble scene in West Side Story are real stand- outs.  The main characters come onto these angular abstract sets and work it all out through Modern dance.  The piece Dream Sequence Ballerina has a little stage set and dancer's graceful head as a fantasy interlude atop a modernist piece of ceramics.
DG: As you think about the decorative object, is there also a kind of spiritualism, mysticism or "pop-religion" that is also reflected in it?
MRS:  Objects are very powerful, especially in how they can absorb meaning or deflect it, depending on the context.  There are a couple pieces in the show that allude to religious Jewish objects. For instance The Hands of God in the foyer,  references a religious object call the "yad".  "Yad literally means 'hand' in Hebrew.  It is an object that is used to read from the Torah because you are not allowed to touch the scroll.  It is an ornate stick about seven inches long with a very realistic hand on the end of it. They really are amazing looking objects. I made two yads. These long skinny arms with big hands swoop down from the ceiling. They are the hands of God giving birth and from their palms emerge people. The figures are these half formed little homunculus men.
Other figurative references are more specific to cultural or historical milieu. I'm thinking of the Credenza, actually, it's feet are the "keep on trucking" foot and it's pointing hand is from the "I'm with Stupid" Tee Shirt.
DG: Ha! So how does humor function in your work, is it important?
MRS: I try to combine several different emotions in one object like: Sad and pretty, or funny and strange, so there is more than one way to read the work at the same time. Humor is definitely in the mix.  I think through humor and often, unlikely connections result in something amusing. Another aspect to humor in my work is through bad taste.  Humor itself often has a double edge to it.  It can be really nice and really mean at the same time.
DG: Can you discuss your relationship to process and craftsmanship?
MRS: The finished object shows the history of how it's made. There is a particular look to materials when you first learn a skill that I happen to really like.  There is a type of enthusiasm and inventiveness that translates to the work as you try and form it into something. This has a unique type of meaning that is very different then something that has no loose ends.  The final look of the work has to support the meaning of it.
DG: How do you know when you've gone too far, or haven't gone far enough with your sculptures?
MRS: If it doesn't have a kind of balance between emotional responses it's not finished. For example I made a piece for the show where I wanted to reference something whimsical but to actually express a totally different feeling. The piece t ended up just being whimsical. There was no tension in it.  I'll still work on it, but it definitely didn't make the cut. There is a fine line between trying to make work about something and just making the thing in and of itself.
Dan Gunn is an artist, writer and educator living in Chicago.
Guest Post by Dan Gunn
Chris Bradley is an MFA grad from SAIC in sculpture. He's recently exhibited at Swimming Pool Projects, Raid Projects in LA, Dorsch Gallery in Miami to name a few. I sat down with him to talk following the opening of his new show at Shane Campbell Gallery titled Quiet Company.  The show is up until April 2nd.
DG: Your references seem to be clearly of a certain kind from the basketball, to the potato chip and now the pretzel rod. Of what 'kind' are they? How do you choose what referents get into your work?
CB: I think it might just be happenstance, something just clicks, a revelation for lack of a better word. Recognizing that "Oh yeah, there's an idea here." Then it's just a process of trying to figure out what I'm interested in. I end up pulling in these things that have been important for a while or that I've noticed in a different way. Then I play with them in the studio and after I've worked with them for a long time they become part of my vocabulary.
DG: For instance your show at Shane Campbell Gallery, Quiet Company, seems to be more associated with leisure. And I think that has to do with the palm trees. For me palm trees = leisure.
CB: For the show I've made targets set up in a precarious manner ready to be shot at. Or else they've been shot at and someone is a terrible shot. You can read that either way.
DG: [laughs]
CB: The leisure aspect is definitely a component, but I'm not trying to celebrate a tropical place or a vacation, I think it's more about the lack of the possibility to vacate. It's fabricating an exit that someone doesn't have an actual possibility of achieving.
DG: How do you indicate that lack of possibility?
CB: With this particular body of work its the ordinariness of the subject matter. You know I'm working with junk food, beer and paint rollers. I feel like these are materials that are really available for a lot of people. For some, alcohol is a means of exit. I feel like the artifice of using the beer can as the home of the potted palm dumbs it down to a level of patheticness.
DG: Would it be wrong to look at your work as working with completely masculine stereotypes? I have a hard time looking at Quiet Company, especially, and not imagining a watching a Packers game with a beer and some potato chips.
CB: I think a lot of people look at it that way. I think it's totally fine. It's bro-culture totally. I live with a gay male artist who's doing projects on effeminacy within gay culture and then there's me who's doing commentary on masculinity within Middle America. But I don't necessarily read it that way, though I'm OK with it. Being around a lot of different people I realize that I feel like I am just a dude. I'm happy to be a dude and to own that. I've been interested in working with motors, steel and things that move that have been commonly associated with the masculine. So I'm OK with the association but I wouldn't say that it's what I'm after. I think it might be inherent in how I think and what I'm in contact with. Often what stereotypically comes with masculinity is seen as insensitive and cold and I don't feel that way about my work whatsoever. So I think that works to negate some of the narrower ideas of masculinity.
DG: How do you think about materials? What kind of criteria do you have for how they go together as sculpture?
CB: I've had some of the potatoes and avocados for a long time actually. I cast them and I didn't really know what to do with them. I found some other resolution to the project that I was working on at the time. So I started playing with them again when I was in between projects and just made this target. Made a really strange pedestal and put them on top of it. I went "Oh that's doing something, let me see where this goes."
That was the impetus for the target series.
I started thinking about the potato chip as a subject. You know I'm very much a builder, I used to be more into image and 2D stuff,  and I still am but I don't really trust myself to do anything intelligent there. So I looked at the potato chip as a building block, but couldn't come up with something interesting.  While I was at the liquor store I saw some pretzel rods and I thought that there might be something there. So I bought some real pretzel rods and built a target with them and I was into it, seeing if I could build other ways with them and ended up making the giraffe with it.
There is something really approachable to the temporary, to the clips, to something bound vs. something welded or fabricated in a more permanent way. Because someone could go and just take it apart. I think understanding the way that something is built provides a direct way of accessing it. If someone knows how to use a ratchet strap they could take that thing apart.
If it's anything worthwhile people connect to it more because it's part of their world. A lot of people don't weld so that's not as accessible. I think that's more about believability and play on the precariousness of the palm tree and making a really stupid act that anyone could do. It has a certain way of communication.
Also with the targets the clips make sense because you can shoot it and then clip another one to it. There is a certain trickery that I want to maintain. Even in the trompe o' leil in something like the potato chip.
DG: The pretzel is kind of like an edible Lincoln log… Earlier you mentioned motors and motion, how does motion play into your work? I'm thinking specifically of the Cinnamon Spice Machine and its involuntary motion.
CB: I find it challenging to use kinetics in a sculpture in an effective way. For the sake of movement it's easy to do, but to make an artwork that couldn't be done without that movement is more rewarding. There is a balance in my practice where I'll be really into kinetics for a bit. It's a different thought process, but I get exhausted by it and move on to something else. I've been doing anything but kinetics recently and I'm starting to get interested in it again.
DG: If this kinetics focused side is one part of your practice, how would you characterize the side that produced Quiet Company?
CB: It was my approach to figure out where I stand within a bigger discipline. I take that body of work as something painterly. I think it's about being in the studio and spending half an hour mixing paint, trying to get the color right. I've been relating with painters more, to try and understand what they do and what I do. I'm getting over the separation between the disciplines and trying to figure out where I stand with that. I was really excited to find a resolution for the wall because that was the last thing that resolved for the show.
DG: Can you describe those pieces?
CB: They are the pretzel rod prisms. I take them as outlines of paintings, and consider them sketches because they are so loosely put together. There is also "Horizon" which is kind of a squiggly line of pretzels.
DG: I read "Horizon" as a backdrop to your tropical paradise that goes to your notion of a limited escape through objects. A dreaming through objects. If you can imagine a line of pretzels on a wall as a horizon then you have a pretty active imagination or longing for something else.
CB: That's putting a lot on pretzels! I think that's often what painting is about. It's about illusion and trickery. If you can stand in a room and point past a line of pretzel rods I think that's pretty effective. But I don't know if anyone's doing that…
DG: How does humor function in your work?
CB: I'll take it as funny, if someone wants to take it that way. I hesitate to call my work humorous because of a weird insecurity about calling yourself something that most people want to be. To be funny is a nice thing, to self proclaim something like that is odd to me. It's also like being an artist, I mean anyone can technically be an artist I guess, but there's a different level to it when someone else comes to take you in and say "This person is really doing something valuable". You have to wait for those things.
DG: I wouldn't say your work is purely funny because there is also a kind of fatalism in certain pieces. I'm thinking specifically about a work like Potato, where an actual potato travels on an oval track around a wall. I get a kind of perverse pleasure thinking about it in relation to De Scott Evans trompe o' leil painting "The Irish Question" in the Art Institute, though I doubt you were thinking about the Potato famine… Still there is something about the bland taste of a potato traveling a circuit repeatedly that is both funny and fatalistic.
CB:  I think the potato is a very loaded icon. I first approached it with those notions in mind with a very loose hand. I wasn't very conscious about what I was getting into. The first instance was a flying potato in Ireland.
DG: So it was Irish!
CB: It was a very performative gesture throwing a potato in the air, taking a photograph of it and hoping for the best. I think the fatalism that you speak of comes because the potato doesn't progress. It doesn't learn anything. Maybe we have it fantastic, because we don't just walk in circles? Or maybe we do. The potato is kind of monotonous,  Sisyphean, pathetic and strangely frightening. That's how I see it.
DG: So if that's the iconology of the potato, what about the avocado?
CB: It's just another piece of produce…
DG: See, because I read it as the analog to the potato chip, as the thing which will eventually go on the potato chip.
CB: Sure! You can definitely read it that way. Avocado, guacamole.
DG: It was a culinary read…
CB: Other people brought that up as well. I see it as some kind of parallel to something tropical. The more I worked with it I thought that it was kind of a romantic fruit with a big seed inside, and kind of lush. But in the end it's just produce.
DG: But what about your beer choice?
CB: I'm a Budweiser drinker. Nowadays I'm more of a light beer drinker and I would say that Modelo especial is kind of light. To work with beer cans you need to be conscious of who else works with beer cans, it's available and it's being used. So I went with a 24oz can to be specific with my choice and I ended up drinking a lot of cans. I started playing with these cans and I began to think about what it meant to be a Budweiser drinker.
The Modelo cans seemed to go really well with the idea of putting palm trees in them. It was a really conscious choice, a comparison between two different places. There is this longing for the other, for the unknown.
DG: A world inside of a beer can.
Dan Gunn is an artist, writer and educator living in Chicago.