Guest Post by Jamilee Polson Lacy
I'm wrapping up my stint as Inaugural Curator-In-Residence for the Charlotte Street Foundation in Kansas City. My final project, rises Zora, a multi-venue visual and performing arts exhibition, explores Kansas City as an urban labyrinth. While the labyrinth as a thematic premise initially seems a little hippy-dippy, it's one that actually encompasses and incorporates so much historically, philosophically, artistically, and more. Theories of the labyrinth—and there are many which span the ages of Greek and Roman mythology to early Christianity, Karl Marx to Umberto Eco, Cervantes to Borges and Calvino—demonstrate the thing as both concept and literal form that ultimately represents time. The labyrinth is an infinite series of choices to be made through time and space, and we get to decide whether to be conscious of those choices or not. I think the city, which quite obviously mimics a literal labyrinth, presents a plethora of choices—some exciting and dangerous, some banal and commonplace—so it's nearly impossible not to think of it as a conceptual labyrinth as well.
Kansas City has an interesting history that accommodates a show like rises Zora. It, like most cities inland west of the Eastern seaboard, was designed on a grid, which, according to its first known utilizer and urban planner Hippodamus of Miletus, is society's attempt at ordering the labyrinth. So, in the simplest sense, Kansas City features lots of beautiful right angles that repeat from the street level Jeffersonian grid into the design of enormous buildings and neighborhood squares. But what is more interesting, are the random parts of the city—those which don't conform to this guiding grid, this attempt to order the city and its users' navigation and time within it. Places where the highways meet and tangle up or where the parks and the rivers and the construction disrupt the perfect patterns are great of examples of how the labyrinth can't be controlled by a grid or a society. And in every case, there are multiple labyrinths that overlap and collide as neighborhoods, cultures, and ways of existing in the universe all configure as complex webs of time's effect on everything. These systems' inability to control the labyrinth's physical manifestation correlate to humanity's ultimate powerlessness to control or change the actual course of time. Only time changes us; we can never change it.
This idea of time as a series of labyrinths—also mazes, matrices, and networks, which are all versions of the labyrinth concept—emerges again and again in contemporary art. Artists, like Theseus navigating his way through Daedalus's labyrinth to its center in his efforts to conquer the Knossos minotaur, traverse complex, even confusing problems of time and space to reach some sort of goal. At that point, the artist must pass through one labyrinth to another. In other words, the artist comes to a rite of passage.  Italo Calvino, my favorite labyrinth expert, metaphorically discusses this rite of passage in every novel. In Invisible Cities, from which the rises Zora project title is taken, we see Marco Polo artfully describe and navigate the mysteriously international labyrinth that is Venice to the great Kublai Khan. In If on a winter's night a traveler, the reader, which may or may not be you or me, must navigate the labyrinths of literature, language, and lust. And in the under-appreciated Mr. Palomar, we experience alongside a man, Mr. Palomar, the many rites of passage that come with middle age and the realization that death is a real thing just like every other life event/labyrinthine transition.
The rite of passage has a long history in tandem with the labyrinth. Though we think of the labyrinth as inherently Greek in its roots (which isn't incorrect as the first reference to the labyrinth is the oral tradition that tells of Daedalus's architectures), it too is found throughout time and across geographies as part of pagan and tribal culture. Indeed, labyrinths as mystical symbols and ritualistic structures marked communal and individual life transitions including harvest, friendship, protection, love fertility, adulthood, death, and the list goes on and on. In Central and South America the Aztecs and smaller lesser-known tribes constructed the most elaborate hedges and mountain wall labyrinths, while in Scandinavia the Middle Age citizens built Troy towns to protect their maidens. In many cultures there is the walk about, for which the labyrinth is materialized as a vast geographical expanse of the unknown, within which one must learn to make choices outside their cultural context. I mention the walk about specifically because in two weeks a few of Charlotte Street's Urban Culture Project (UCP) Studio Residency participants will open a thoughtful group show at their designated gallery space called WALKABOUT.  The UCP Studio Residency program is unique in that it provides an important opportunity for Kansas City's young and emerging artists to have the space in the form of a free downtown KCMO studio and exhibition venue to develop their work and the professional practice. The program operates on an academic yearly cycle, and is therefore winding down for this year's residents. Featuring five artists who will leave the residency transformed in one way or another, this WALKABOUT exhibition strikes me as the perfect metaphor for the rite of passage they will soon experience.
Another exhibition in town, Barry Anderson's The Janus Restraint: The Ascension at The Studios, Inc. directly considers rites of passage as Anderson himself as an artist, a father, and a citizen of the great big universe experiences them. The Studios, Inc. is another residency program in town that provides free space to artists. Unlike the UCP Studio Residency, this one is for mid-career artists who have developed studio practices in Kansas City over a considerable period of time. Artists are given a huge space for three years, with the possibility of renewing for a second three-year term. The space and the artists tenure at The Studios, Inc. is subsidized both by The Studios, Inc. board/organization and a local patron, who both in exchange for their generosity receive an artwork from the artist for their respective organizational and personal collections. Perhaps the most exciting organization in town because it nearly bursts with possibility to be something more, The Studios, Inc. operates on the most interesting model and really does support some of the city's most interesting artists with space. Unfortunately though, the organization lacks vision in that their collection is rarely shown and, other than providing free workspace and an exhibition (in an on-site gallery space that could be really remarkable if its exhibitions were professionally curated and also sprinkled with some out-of-town flavor to contextualize/expand the production of Studios, Inc./Kansas City artists), they do little to promote their residents on a national or international scale. Anderson's exhibition, though it consists of entirely new work, feels like a retrospective precisely because it seems like it should be so pivotal to the artist's career. In some capacity, each artwork—photography, video, sculpture, and installation—takes on Anderson's personal, professional, and existential transitions. The show even has an urgency as it practically screams, "What am I going to do next?!" A serious question considering that this glorious exhibition isn't likely to be reviewed outside of Kansas City. There is no national/international coverage here, no critics with freelance relationships with Artforum, Art in America, Frieze, or the likes, and it seems to me like no one in town is working to do anything about this serious problem. (I actually hope that when I leave KC, I'll be able to create a rite of passage for another to provide KC-specific commentary on Bad at Sports.) After this year in Kansas City, I can very confidently say that amazingly prolific artists like Barry Anderson are plentiful here, but who will ever know, and more importantly, who will ever care if no one writes about them for the rest of the world to see? Though Anderson's solo show beautifully mines a variety of rites of passage on many fronts, there seems to be none in sight for him in this respect.
There do finally seem to be pathways opened up for new blood at Kansas City's art museums, which, though I hate to say it, present some of the most inconsequential contemporary art programming in the country (with the exception of the Nerman Museum of Contemporary Art, an incredibly smart contemporary art museum and private collection that lives miles away outside Kansas City in Johnson County, and KU's Spencer Museum, which lives 30 minutes far away in Lawrence, is pretty good, too). The Nelson-Atkins Museum is the biggest game in town. Much of the community's patronage goes into this institution, though it reflects very little interest in that same community that supports it. There is no regular local contemporary art feature or commission, and there are very few quality or comprehensive contemporary art exhibitions to expose the city's prestigious art school—the Kansas City Art Institute—population. The Nelson-Atkins has appointed a new Curatorial Director, Antonia Bostrom, who I hope comes to the museum with at least a little interest, respect, and enthusiasm for art being made today. Also, the Kemper Museum, a private collection and exhibition program of contemporary art run by one of the city's wealthiest families, finally hired a curator after last year's layoff scandal calmed down. Given the banal sensibilities and rigor-lacking qualities of the exhibitions chosen and organized by the museum's current senior-level administration, I doubt (but really hope) that this curator, Erin Dziedzic, will bring with her the clout needed to integrate local and cutting edge art and issues into the programming plans and change the museum. But, I'm holding my breath that this rite of passage will include local artists because I'm an optimist!
Maybe it's because I've reached my own transition point in that I'm finishing my own residency and leaving this city—and thus passing through a formative stage of my life—in mere weeks, but I feel like there are identifiable rites of passages happening all over Kansas City right now. In recent months, three of the city's arguably biggest contemporary art players have announced that they will transition out of their longtime roles in the contemporary art world.
1)   John O'Brien, owner and director of the Dolphin Gallery, one of the city's few commercial galleries, has decided to get out of the business. This is a huge blow to many artists who already feel the suffocating grip of an almost non-existent art market in Kansas City. But poetically and poignantly, O'Brien's daughter Caitlin mounted the last show at her dad's gallery, showing that a family tradition for contemporary art will likely bare fruit in Kansas City some day. One hopes that O'Brien's labyrinth which holds numerous Kansas City artists of all stripes could spill into the realm of Bill Brady KC, a gallery run by the New Yorker, but given Brady's lack of interest in the local folks, I don't see that passageway being paved anytime ever. I do hope, however, to see a young townie open her gallery doors with a roster that promotes a collection of Kansas City's emerging and longstanding artists alongside the international talent with which they are equal stock.
2)  Margaret Silva, the Hallmark heiress, has announced that she will close the city's most nationally relevant venue, Grand Arts, a kunsthaus-type space that she funds mostly on her own dime. To me, this news brings the most despair. In a city that is home to some incredibly experimental cultural production, there must be a place where artists can see the work of other leading conceptual artists—their international contemporaries. Grand Arts brings in some of the best artists in the world to present challenging, provocative exhibitions and social practice programs. Unfortunately, the organization is much too quiet—they hardly market a thing—and their programming schedule is inconsistent not to mention thin. I've been here nearly 11 months, and though they have a number of part-time and full-time employees, I've seen two shows there (with many months-long gaps in between them).  But man, when Artistic Director Stacy Switzer finally gets a show up and going, it's darn good. I'll be sad to see this place close its doors in 2015.
3)   And finally, Charlotte Street Founding Director David Hughes, Jr. (full disclosure: Hughes is one of my bosses, for lack of a better term) will step back from the organizational helm over the coming months. Hughes, in collaboration with the organization's diverse board and savvy Charlotte Street Co-Director Kate Hackman, has been instrumental to the success of the city's most experimental and ambitious artists through the facilitation of Charlotte Street's Visual and Performing Art Awards (aka thousands of dollars unrestricted CASH for artist winners), in addition to numerous exhibition and professional development opportunities for artists and others (like me!). Hughes will stay on with Charlotte Street in an advisory role, but he will pass the reins to a new executive director yet-to-be named.
Hopefully, these folks will expand the matrices that currently exist in Kansas City to accommodate new paths for contemporary art. While I know that many in town are worried, and they should be, I'm sure that the rites of passage between these folks and venues will pass on to someone ready for the challenge. And me, I have accumulated Kansas City artists into my own labyrinth, which I can't help but take with me everywhere I go. And the new Charlotte Street Curator-In-Resident, whoever s/he may be, will likely do the same because Kansas City artists and their work are magnificent and relevant. After all, the labyrinth is just time. And again, because I'm an optimist, I'm sure that time will keep moving along and shifting to open one passageway after another for Kansas City contemporary artists.
**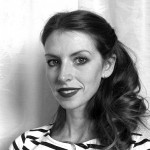 Jamilee Polson Lacy is an artist, curator and writer based in Chicago. Currently, Lacy is the Inaugural Curator-In-Residence for Charlotte Street Foundation in Kansas City, where she organizes exhibitions, educational programming and publications for Charlotte Street's Crossroads District gallery, la Esquina. In Chicago, Lacy additionally operates as the founding director of Twelve Galleries Project, a transitory, collaborative exhibition experiment. She has engaged in solo and collaborative projects with many creatives and institutions, including A+D Gallery at Columbia College Chicago, The Black Visual Archive, Chicago Artists' Coalition & Hatch Projects, the School of the Art Institute of Chicago, Hyde Park Art Center, Museum of Contemporary Art Chicago, Western Exhibitions and Quite Strong, among others. In addition to numerous catalogue essays, interviews and articles, Lacy has published Color: Fully Engaged, a book of interviews and essays, and written series for Flash Art's Umelec Magazine, Art 21 and now, Bad at Sports. Lacy holds two undergraduate degrees in studio arts and art history and a Masters of Comparative Literature and Arts from Northwestern University.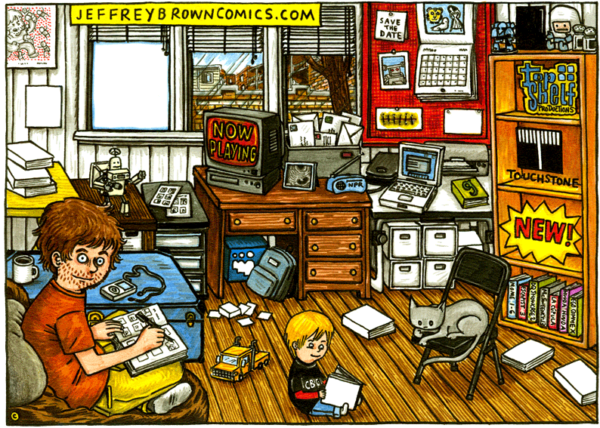 Since self-publishing his wildly successful first novel Clumsy in 2002, he's created numerous other painfully funny autobiographical comics, co-written the 2012 star-studded film Save the Date (starring Party Down's Lizzy Caplan and Mad Men's Alison Brie) and penned a hilarious series of graphic novels that explore the challenges of being both Darth Vader–ruler of the evil Sith empire–and a single dad.
Brown's newest Star Wars-themed book Jedi Academy (out on Aug. 27), is a coming-of-age story about a boy named Roan and his adventures mastering the Force while juggling all the issues that come with being a middle schooler.
Brown took the time to answer a few questions via email — keep reading to learn more about his past and current work in film and publishing.
Guest Post by Wendy Lee Spacek
Greetings from INDPLS, new friends!
Caroline and I saw one another a few weeks back at a poetry reading I gave at Heavy Gel in Chicago. I gushed about life in Indianapolis to her, so she asked me to send a monthly dispatch from the Circle City all summer long, and I'm delighted to do so. You may be thinking: INDIANAPOLIS?!?! WHERE IS IT? WHAT IS IT? You may even be thinking "more like, IndianaNOPLACE!" and I assure you, many a naysayer has said that (including our own Native Son, Kurt Vonnegut Jr.)
But let me relay to you a tale of a place that has touched me deep down in my soul like not so many things can. For a number who live here, Indy is the most magical Midwestern city; Steeped in possibility, affordable, walkable, bike-able, jam-packed with public art and home to some seriously nice people.
Indianapolis is the 12th most populous city in the United States (sandwiched between #11 Jacksonville, FLA and #12 San Francisco.) As of today our population is approximately 834,852.
Indianapolis is the state capitol of Indiana. The capitol used to be in Corydon (pop. 3,122) but in 1820 some powerful dudes decided to move it to the very center (almost) of Indiana. In part because most capitols are located in the center of their states and partially because they mistakenly believed that the White River could be used as a highway for boats. Well they were wrong- Indianapolis is the largest city in the United States on a non navigable body of water.
Being our capitol city, downtown is the center of government, so we have a high density of beautiful, historic government buildings, memorials and monuments.
Speaking of these beautiful, historic government buildings, this May First Friday (the night out for art here in Indy) brought a once-in-a-blue-moon, one-night-only opportunity to enter the former City Hall building on Alabama Street for an exhibition of work by 47 current, former or graduating students from Herron School of Art and Design. Aptly named VACANT, the exhibit took inspiration from the wildly successful TURF exhibition held in the space during Indy's moment in the spotlight: Super Bowl XLVI.
The show was curated by graduation Herron Seniors Taryn Cassella, Anna Martinez and Andrea Townsend. Where TURF was an exhibition of installation art, VACANT included work across mediums. I especially enjoyed Jordan Ryan's section off the main library detailing the history of the building. A good review with some pictures from the exhibition an be seen on Indy's weekly arts newspaper, Nuvo's website.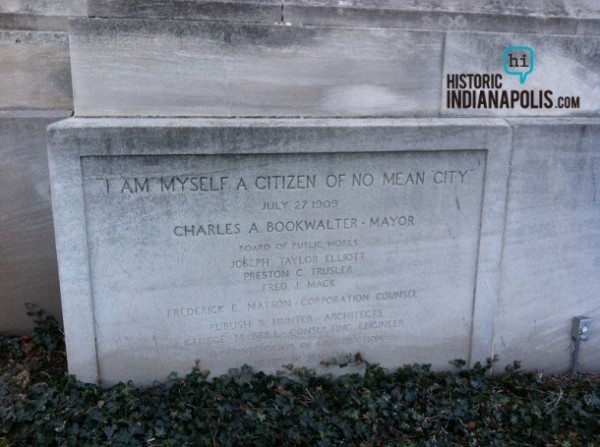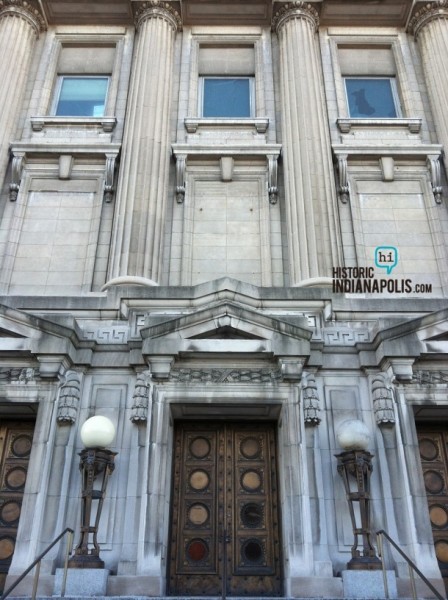 Vacant Old City Hall Building. Image via Historic Indianapolis.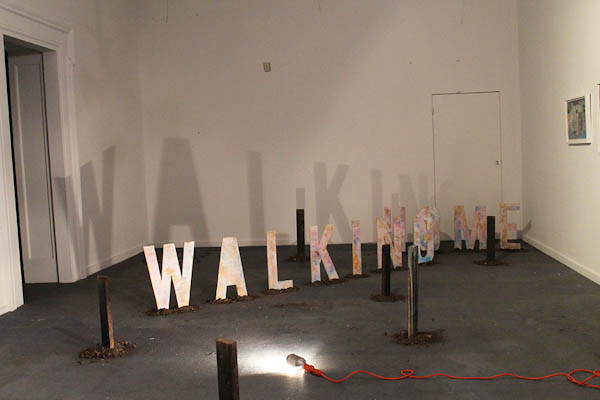 Jon Keown's artwork in VACANT. Imagine via Nuvo.net.
This same evening I also made it to Monster Gallery in Fountain Square (one of the city's most happening neighborhoods) to catch Portland-based artist Tripper Dungan's show: What's For Dinner?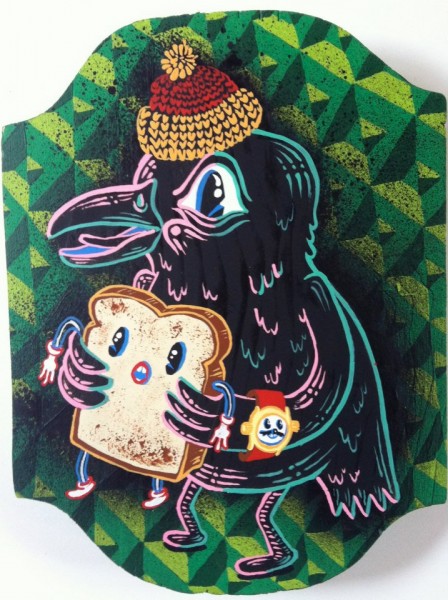 This is actually one of the most exciting things I've seen lately. The paintings themselves demonstrate a super high level of skill, extremely tight and in an incredible array of colors. The addition of Chromadepth 3D glasses was almost too much to take. I spent at least an hour circling through the gallery taking in florescent anthropomorphized fast food and dancing psychedelic popsicles popping out at me. It was a visual treat. Plus, Tripper was there and his whole outfit was in Chromadepth and he was a really nice guy.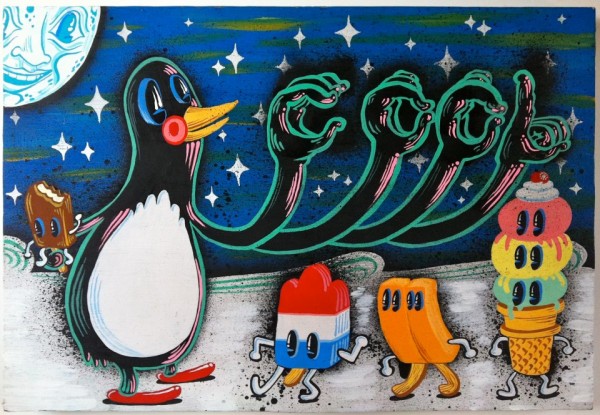 Images via Monster Gallery
The very next day brought the long-anticipated opening of the Indianapolis Cultural Trail (an 8 mile bike & pedestrian path that connects the city's seven designated cultural districts.) It was an all-day event that featured tons of free activities along the entire trail. A sampling of what I saw/did: petted an albino skunk, talked to a miniature therapy horse, saw a knit bombed house, and saw live performances by 9 marching bands! The marching bands were my favorite part because of their historical context in celebrations/mourning, as well as their significance for youth. Six high school bands converged on Market St. downtown with the sole purpose of playing "Get Down on It" by Kool & The Gang.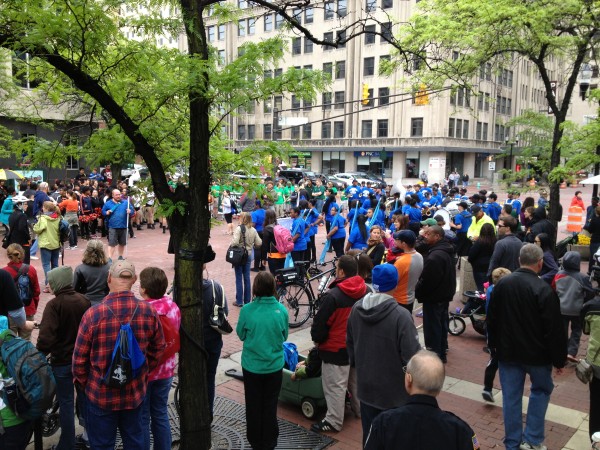 High School Marching Bands converging on Market St.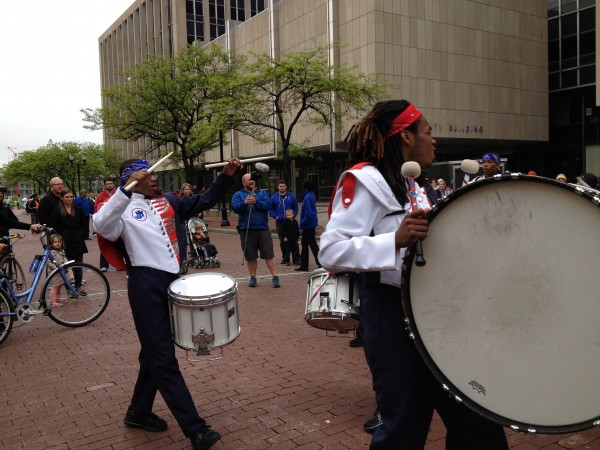 John Marshall Community High School's drum line playing "FREAK THAT" on closed down Market St. Downtown.
A contemporary twist came through the addition of a free performance on the ground/steps of the Central Library by Chicago's own Mucca Pazza as well as a Brazilian-style party parade down the trail led by Bloomington's Jefferson St. Parade Band.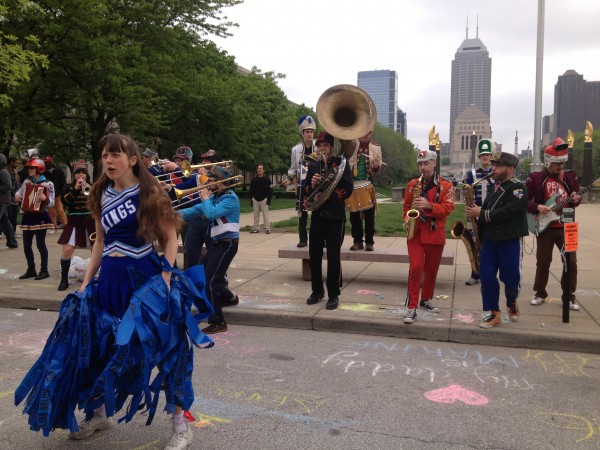 Mucca Pazza performing in front of the American Legion Mall
Late in the month brought the Broad Ripple Art Fair a fundraiser for the Indianapolis Art Center, (my place of employment) which included 225 local, regional and national artists. My participation was working the Make Art Take Art Leave Art Market where people could make and trade art for free!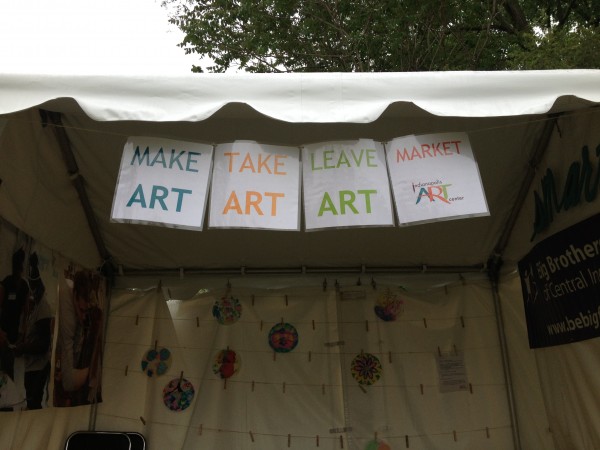 I also hosted a poetry reading at Indy Read Books, our only independent bookstore within the downtown area. Here is a Vine from local Poet Doug Manuel's reading.
My friends and I also painted this mural (on the sly?) on an electric box in our neighborhood:
And lastly at the end of every month the Indianapolis Museum of Art hosts an free event called Final Friday and I typically find myself there. The music is curated by DJ Kyle Long of Cultural Cannibals and features both a DJ set by him and a live performer or band. This month was a Pakistani via Brooklyn garage band called The Kominas. Overall it was a good event. Although I did get in trouble for trying to dance with a Georgia O'Keefe painting.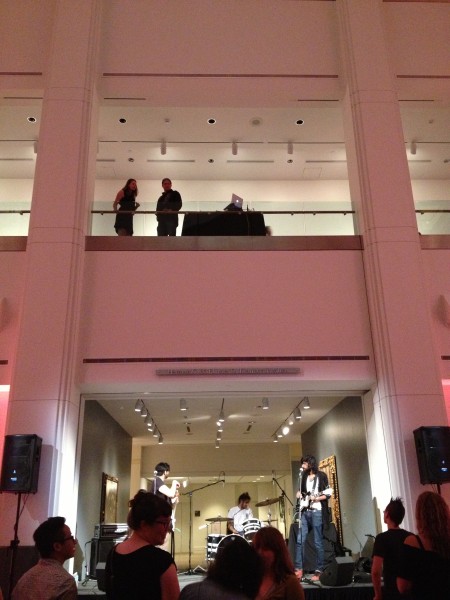 The Kominas playing at the IMA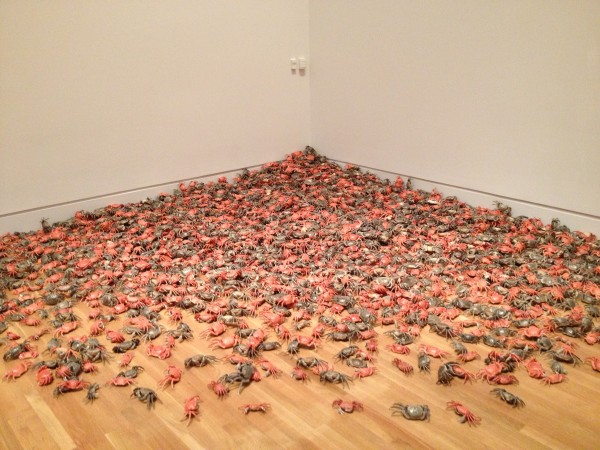 Ai Weiwei's Installation "He Xie"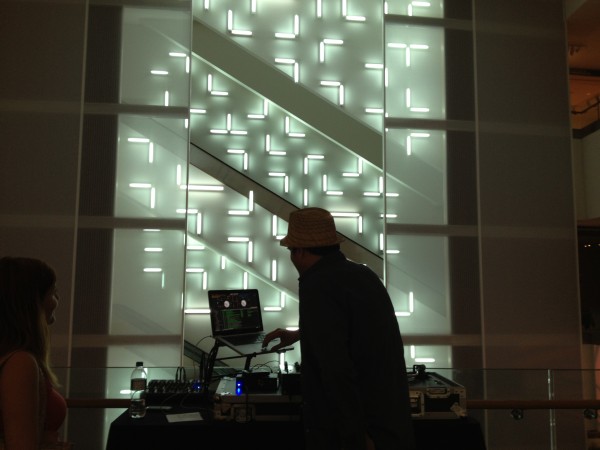 Kyle Long DJing in front of Robert Irwin's, Light and Space III, 2008.
Until next month!
Yrs,
Wendy
Wendy Lee Spacek is a poet who lives and works in Indianapolis, Indiana. She likes her city very much. She is a core volunteer of the Indianapolis Publishing Cooperative (Indy Pub Co-Op), publishes small editions of handmade books under the name Soft River and is an arts administrator at the Indianapolis Art Center. She will be posting monthly all summer long about her encounters with art, culture, creative experiences and resources in her city.
Barbie and La Nouvelle Vague (part 2)
I remember my first Barbie. I received her as a Christmas present from my Aunt Diane.  My aunt gave me other dolls (Strawberry Shortcake and Cabbage Patch Kids) over the years, but none consumed my imagination like Barbie. And even after she lost a leg—I'd flushed her down the toilet in an effort to gain attention—I still played with her.  I played with her alone. I played with her alongside the kids from down the street (the "bad ones" my parents worried would improperly influence me). We played Malibu Barbie, Wedding Barbie, and Travel Barbie.  In an instant we were teleported with the accessories she wore.
I can appreciate Dr. Cunningham's concerns that Barbie is overtly sexual. I can even ignore my mother's eye-roll as I tell her about the importance of Barbie—she only became a symbol as my social consciousness was formed.  To my-1986-self Barbie was static and the epitome of femaleness. As I use words like "static" and "femaleness," I'm keenly aware that this is my-2013-self dissecting the feelings of childhood. Barbie was my girlhood friend.  In fact, she was reminiscent of "Yvonne," played by Michèle Méritz in "Le Beau Serge" ("Handsome Serge"). She, like Barbie, could bend and lose—endure hardship and remain hopeful. In the end, Yvonne birthed a viable baby. In the end Barbie is the ultimate feminist and symbol of womanhood.  And, "some feminists actually believe she is the symbol of female emancipation because she works and does not have to depend on men for her wealth and possessions," Kristin Riddick argues ("Barbie: The Image of Us All"). Despite her amorphous state, my experiences with Barbie are quite tangible.
I became a writer while playing with Barbie.  It occurred during the fall, well as much of fall that ever visits Pasadena, California. So, this means it was September, and the new school year had just begun, I was six or seven.  While taking "Ocean Barbie" and "Baby Keiko" the whale out of the box, I read the description about their origin and it became clear that the story lacked pertinent details. Barbie's text needed more variation and a valuable reworking of characteristics. I realized that the name "Ocean Barbie" was without history. That meant, in the moment, I could continuously edit her title and rewrite her story.  I could make her story mine by writing about identity.  What makes Barbie different from me? I wondered.  And, I thought, what makes us similar? I already understood that people were fragmented, that they were driven by thoughts and feelings. Barbie did not possess this ability. But I knew that she had an identity.  She is Ken's girlfriend, Midge's friend, Skipper's sister. As I jotted these details down, I considered their significance. I knew that where you come from has a major part in shaping who you later become.  I wrote an elaborate tale about Barbie's birth and childhood.  Did you know that Barbie was adopted? The words boomed, sometimes creaking, as they filled my coloring book. This process continued for some time.
Play time with Barbie created a space for the infinite possibilities that language enables. This is, albeit a different medium, how the principles of La Nouvelle Vague operate. Within this movement there seems to be an intense need to circle-back, to recreate, and to satirize all with the intention to provide a variety of end results. It is the distance that is traveled while watching these films that should be observed. They provide a wealth of possibilities. For instance, in "À bout de souffle" I am amused by the collage of scenes that jump back and forth like a child playing jump rope. The mismatched shots pull from a variety of American cultural references. I recount the jazz notes and sounds, Andy Warhol's Campbell's soup cans, Humphrey Bogart, and countless other references. As I played with Barbie, I adapted. I coordinated a sense of wonder and culture, and this established my freedom to create.
Imagination is essential to my connection with Barbie. Amanda Kingsbury, author of "Social Structure of the Playground," observed children as they chose and played with the toys. She writes, "There is usually a continuous story being told about what Barbie's doing, where she's going, and what she's thinking." What would Barbie think of the identity I've given her? I wonder. Would she care that I defend her. Would she want to be defended? And, as I write in my journal, I wonder: Would Barbie prefer the narrative instead of the poems?
Jamie Kazay teaches in the English Department at Columbia College. A California native, she holds a BA in English from California State University, Northridge and an MFA in Creative Writing, Poetry from Columbia College. She co-curates the Revolving Door Reading Series and is currently reading of a lot of Camus, Derrida, and Dorothy Allison. Her collection, Small Hollering, was published by Dancing Girl Press in 2011.
Guest Post by Robert Burnier
I once had a penchant for the obsessive, compulsive traditions of certain Dutch painters like Paulus Potter, Adriaen van der Spelt and Jan van Cappelle, so whenever I was in an encyclopedic museum, I would always make my way toward those galleries. Afterward, however, I would go straight to where the modern art was and stand in front of a Cy Twombly or some other such work. In 2002 the Gerhard Richter retrospective, 40 Years of Painting, came to the Art Institute of Chicago. One salient aspect of this was to witness a similar kind of range more or less present in one artist; one who held up Reading, Grey Mirror, and 256 Colors as artistic statements of the same order. I see these memories as analogies for the way I continue to approach works of art, especially – though in a limited sense – when it comes to issues of craft.
When I look at art today, I would say my taste still involves a dialectic similar to my earlier favorites. I can appreciate artists like Roxy Paine and Mari Eastman, Nicole Eisenman and Richard Rezac. With Paine, we have someone creating sculptures by a distribution of expertise among multiple minds through the idiosyncratic use of high-tech machines and processes, producing objects of a mysterious and alien ilk. Eastman at once shows her knowledge and understanding of painting while withholding some obvious trappings of virtuosity in favor of revelations of a seemingly more personal sort, which are then often further complicated by some borrowed subject or motif. Eisenman is commingling many ideas of painting together with the understanding of craft necessary to put them in conversation with each other, adapting them to her subjects. Rezac makes highly resolved and technological constructions that are nonetheless very slippery to our perception and suggestive through their careful arrangement. In all cases, the individual hand moves, sometimes at a distance, even if only to turn the knobs so that the machine overruns its target output.
Of course, for many reasons – call it the loss of center [1], bourgeois democratic/market forces, technology, transportation, and communication – our era is splintered artistically. It is apparent in public collections where many eras are present at once, creating a stacking effect of latent visual experience. Our perception of space and time are compressed. It isn't really possible to point out what to do or not to do because no one person can index all of it. Technology is of little help. It only reminds us of our difficulties even more. But we can reach into this heap of history, as I like to think Robert Smithson might have put it, for resources, touchstones, and questions unanswered. [2] We can look for ways and means that might yield new meanings or recuperate older ones in new ways. Not only does this apply to the mode and medium, but also to the work, effort, or craft involved.
The degree of facility is linked to the effectiveness of the artistic statement, with the critical caveat that it is for something and not self-reflexive. I often find myself saying to people that craft is only craftiness when facture overtakes ethos. If you paint the sides of a stretched canvas because you want it to look "finished" the painted side remains a superficial garnish; if the painted side reinforces the conceptual aspect of the object, it can serve the work intrinsically. We could get into semantic questions of intent here, but I think if you really know it and mean it, it has a greater chance of seeming to be true, or we have a greater chance of becoming involved in the work on a deeper level. A specific example would be the vast difference between Karthik Pandian's recently exhibited sculpture at Rhona Hoffman, I Am My Own Wife – a highly polished construction in steel and industrial-grade color – and any number of sculptures that are often sprinkled along Navy Pier or grace the ad pages of a major art magazine, aspiring to a similar finish. Pandian's work perhaps takes us a distance toward examining issues of gender while the other sculptures too often don't take us anywhere in particular beyond the awareness of their often massive size and tired formalism. Another successful example would be the work of an artist like Alicja Kwade, whose phenomenological sculptures and installations can cause a shift in our basic understanding of the elements of experience. Works such as Andere Bedingung (Aggregatzustand 6), 2009, toy with assumptions of objecthood in terms of weight, substantiality and permanence. So what I'm saying is that with our incredibly intense media saturation, I turn to usage before material specificity for what I get out of seeing a work of art. I want to try to not judge a book by its cover; to allow the myriad options to play out; to remain variable, accepting and catholic in my assumptions about material and craft. Here I am reclaiming the non-religious sense of having a catholic attitude, which simply means to be open to a wide range of tastes.
Alternatively, the work of an artist can be de-skilled either in the sense that he does not concern himself personally with technique or high craft, or he transfers it to an outside technician (or even leaves it to chance). But if this becomes too dominant to the meaning of the work, then the lack of facility or personal involvement may fall into banality. For example, I've found it hard to pay attention to very much "glitch" art. This has surprised me somewhat since it seems to go against my own extensive background in computer science. However, much of it seems to stop at the glitch itself, piling one glitch on top of another. Aside from the sense that I think glitch art may be claiming a little too much for itself anyway [3], I just can't be too impressed by the mere malfunction of a computer, even though I'm fully aware of the potential auratic qualities of such failure. [4] It just stops too soon. That said, I really liked Christopher Meerdo's recent show at Document. What separates his work is not only a very careful selection of some of the more uncanny images and a spectacular transformation into the medium of print, but also the stress laid on the origin and the process of exhuming source images: discarded vacation photos on found memory cards. Meerdo's exhibition really reflects on the medium, its relationship to our human lives, and our capacity for recording and forgetting through the usage and leveraging of those very same auratic tendencies of malfunction. I draw a similar conclusion about the difference between some of the stacking and leaning of things we are seeing today [5], and the output of an artist like Felix Gonzales-Torres, some of whose best work relies utterly on stacking and piling for it to function.
So there is a kind of competence I see that has to do with an investigation within an artistic practice and through the artist's level of experience with it. This most often involves objects and materials, though it could also be bodies and spaces or something else. The artist grows a micro history of production, a personal academy and repertoire. The depth of the work emerges from the depth of the investigation and the shape of the path walked by the artist. She can come to know quite well what she is doing, while avoiding the twin pitfalls of connoisseurship and disinterestedness. This is about studio time. [6] The artist may find it better to reflect on what she did rather than what she thought, or accept what happened over what she intended. This doesn't involve the rejection of purpose, but the acceptance of things that come into view. For example, looking at R.H. Quaytman's work for the first time a few years ago, I felt initially that the pieces functioned like works of art as essays in the sense put forward by Art & Language [7]. But even as they projected a kind of ultra-intellectual air they had a resolve and physical quality that drew me in. From subsequent lectures and artist talks, I learned about the experiential origins of much of Quaytman's work. [8]  A frequent refrain I remember in her talks went something like "… after I did that, of course I thought it worked because…" In the end, the body of work she's constructing is one of thoughts and contexts, but also of trials, errors and discoveries.
What kinds of experts do these artists become? All of them possess expertise in the statements they want to make in relation to their own concerns and toward the historical context. But in the same way that de-skilling was a term borrowed from economics, I want to say that these works have been "right-sized" in their respective areas of making. Pretty close to the mark from my perspective is a relatively recent piece by Claire Bishop where she says, "Some will say that skills no longer matter, that the artist today should be fully 'spectralized,' because the truly emancipatory position is to erase the line between professional and amateur. […] That said, the best forms of de-skilling evoke in the viewer something of this spectralization: Such works generate in us not a disdainful 'I could do that' but the generative energy of 'I want to do that!'" [9] If I ever get that kind of energy from viewers of my work, then I have probably done my job.
NOTES:
[1] I saw this phrase in Christine Mehring, Jeanne Anne Nugent, Jon L. Seydl, Gerhard Richter: Early Work, 1951-1972. J. Paul Getty Museum, 2010.
[2] http://www.robertsmithson.com/drawings/heap_p104_300.htm
[3] What I mean here is that glitch is a breakdown, a misuse or a chance process. Not a new idea, though consistent with a medium specific conversation, the fact that it is a computer malfunction makes it a contemporary concern. It's a concern that is, of course, worth examining, but the question is how to approach it.
[4] See, for example, Martin Dixon, The Horror of Disconnection: The Auratic in Technological Malfunction, Transformations Journal, http://www.transformationsjournal.org/journal/issue_15/article_06.shtml
[5] Robin Dluzen, https://twitter.com/RobinDluzen/status/324255330265595904/photo/1
[6] For a fascinating read on contemporary issues regarding studio time and its effect on the production of art, try Dieter Roelstraete, The Business: On The Unbearable Lightness of Art, http://www.e-flux.com/journal/the-business-on-the-unbearable-lightness-of-art/
[7] Such as in Charles Harrison, Conceptual Art and Painting: Further Essays on Art & Language, MIT Press, 2003.
[8] Society for Contemporary Art lecture, The Art Institute of Chicago, March 15, 2012 and The Opening Reception Artist talk at The Renaissance Society, January 6, 2013.
[9] http://www.brooklynrail.org/2011/12/art/unhappy-days-in-the-art-worldde-skilling-theater-re-skilling-performance
ROBERT BURNIER is an artist and writer who lives and works in Chicago. He is an MFA candidate in Painting and Drawing at The School of the Art Institute of Chicago and holds a B.S. in Computer Science from Shippensburg University of Pennsylvania. Recent exhibitions include The Horseless Carriage at Andrew Rafacz Gallery, Salon Zurcher at Galerie Zurcher, New York, the Evanston and Vicinity Biennial, curated by Shannon Stratton, and Some Dialogue, curated by Sarah Krepp and Doug Stapleton, at the Illinois State Museum, Chicago.