Over the coming months, the Bad at Sports blog is featuring quick glimpses of the art world as it exists in smaller cities across the country and around the world. Each glimpse is byway of some of the said city's local characters, which include but are not limited to artists, curators, creative writers, and critics. This week, we take you to Kansas City, the state-stradding city that produced the likes of Robert Altman, Amelia Earhart, Robert Morris, and Charlie Parker, to name a few. 
Six Shows and a Paradox
Guest post by Will Meier
January's freezing wind blew into Kansas City more than a handful of interesting art shows, most of which fit into a conversation concerning the correlation between pictures of things and picturesque things. Six of these recent exhibitions feature crossbred sensibilities of both flat and dimensional work, seemingly split halfway along either side of a conceptual Möbius strip.
At City Ice Arts hang several of Miles Neidinger's drawings and mixed-media assemblages. The show's center of gravity is The Anatomy of the Palace of Wisdom, a creature-like storm of various vibrant plastic line-segments. Spanning the 20 or so feet from the ceiling to its sedan-sized footprint, the piece is definitely a sculpture in its verticality and volume. But Neidinger says he wishes we would consider beauty, rather than architecture; with that logic, Anatomy could also be thought of more like a canvas laid on its back, with frantic, sparkly brushstrokes swooping up into the room like an animated de Kooning.
Up-and-coming ceramicists with work in OBJET, a "pop-up boutique" at Charlotte Street Foundation's Paragraph Gallery + Project Space (part of the organization's Urban Culture Residency Program), extrude along three axes not just composite gestures but actual, concrete things. Assembled by Dean Roper (curator of Weed-Craft), OBJET is e-relevant, with a second-life on tumblr launched promotionally before the show's opening and outlasting it as a form of documentation. This in particular raises the big question (especially applicable to the physically remote "silicon prairie" of Kansas City): What is the value of the-real-deal next to its likeness? Around the room, a squiggly Kid-Pix-plus-crystals aesthetic comes to life, displayed on minimal, geometric structures reminiscent of web-design. But internet architecture aside, these artists are paying homage to the way printing (in both dimensions) has revolutionized the craft industry. Take any of Joey Watson's funky, futuristic Dope on a Rope necklaced rapid-prototypes, or shirts by Jennifer Wilkinson, featuring previously made and found objects flattened into digital images on fabric, which is then tailored and wrapped around the body like an IRL displacement map.
In the larger of Haw Contemporary's galleries, Del Harrow from Colorado also shows a spread of digital-come-ceramic work in Breath. There is a CAD-plotted drawing that flattens the many evolutions of a CNC-lathed vase. But at the back of the room sprawls the showstopper: an assembly of many organic and geometric forms that Harrow calls a "still-life." Motifs from some of the scenic arrangement's discrete objects are echoed in the structural "morphology" and surface treatment of others, like in one brilliant detail—a tiny slice of leafy shadow cast in gold paint, barely visible on the side of a giant Lemonhead. This sort of inter-object contingency forms a scenic, pictorial stew of three-dimensional abstract harmony.
As seems customary, Haw Contemporary features two concurrent shows. The doorway between them begins our Möbius twist into imagistic territory. Corey Antis' The Head on the Door presents mostly small paintings of wonky, boxy forms. Antis, who believes perception is "measured between the solidity of material and its image," plays a game with "twofoldness," where a painting is both a material plane and a representational portal. But his works are glitchy portals, residing in paradoxes of contradictory spatial cues. Take one of Antis' "proposals for…perception," like Untitled (Demo), where the void of the panel's white ground corrugates the sunnily stripy pattern of something seemingly solid. In the end, of course it's an image of that wedge-ish thing, whatever it is…sort of.
Inferable by the title of the ongoing SPECTRA film series' exhibition, Sculpties, guest-curated by artist David Rhoads, the five videos in the H&R Block Artspace gallery show us scenes of objects and phenomena, aimed at an experience "closer to sculpture than film." Here, rather than as a narrative vehicle, time functions as motion in space. Rhoads shows all the work at once in a considered layout, instead of in typical 'screening' format. Two painterly collaborative videos by Robert Heishman and Megan Schvaneveldt, who live and work in Chicago, are shown back-to-back on large flatscreens. The artists puppeteer colorful, textural materials and symbolic objects within a shallow depth-of-field, compressing props, natural forces like wind and gravity, and their own personas into dynamic images. During Sculpties' one-night opening, it was easy to forget that, despite being the two-dimensional medium that most closely mimics all the phenomena of the real world, video is still really, really flat.
Last but certainly not least, Scott Dickson's solo-show, We Are Not This Body, at PLUG Projects, is full of fantasy, providing portholes not just to non-spaces or our own reality, but to another surreally fictional world entirely. Using the transformative medium of collage to transplant peculiar forms from one image into the stage of another, his precise compositions read mostly as landscapes. Yet they are also LEGO-like, monumental science-fictions about humanity's screen-bound destiny.
As elucidated by the work in these six shows taken in totality, images of objects and imagistic objects, despite their surface distinctions, are just two sides of the same cyclical conversation. Take the staged picture of Wilkinson in one of her shirts: a ceramic nodule, photographed, printed, sewn, worn, seen anew as an image in your web browser. Screens and substrates (think Antis' surfaces) are tangible things even though we now primarily 'touch' them with our eyes (as we do with anything in the third dimension, including Neidinger's plastic abstract-expressionist tornado). It is our inclination to wish that images of our fantasies were real and that what's real would fit the images of our fantasies. It's a paradox. One that is gaining increasing relevance in proportion to the amount of our daily experience made up of pixels. And as the boundary between what is real and what is like-real continues to dissolve, one thing is certain—the most engaging way to explore these sorts of ideas is through the fluid forum of art.
Will Meier is an artist and writer living in Kansas City, Missouri. After completing his BFA in Painting and Creative Writing at the Kansas City Art Institute, he was awarded an inaugural studio writing residency through Charlotte Street Foundation's Urban Culture Project. His writing has been published in various Kansas City print publications and can be seen on his blog: willmeiertext.tumblr.com
Over the coming months, the Bad at Sports blog is featuring quick glimpses of the art world as it exists in smaller cities across the country and around the world. Each glimpse is byway of some of the said city's local characters, which include but are not limited to artists, curators, creative writers, and critics. This week, we take you to Kansas City, the state-stradding city that produced the likes of Robert Altman, Amelia Earhart, Robert Morris, and Charlie Parker, to name a few. 
Every City's Second City
Guest Post by Garry Noland
When I was asked by Bad at Sports to write this article, the request focused on what it has been like to be an artist in Kansas City for "however many years it has been."
I've been making things since I was a boy but started thinking about the context of my work in 1980.  I knew going in that artists didn't make any money. That's why I thought art history would be a good career move in 1976; it seemed like doing research on Frederick Law Olmsted, for example, would be an easier job.  I've had factory work slagging welds and jackhammering frozen coal piles.  That didn't work out either.  Along with a series of day jobs I've thrown together a studio career that's gone from the kitchen table to a 3,000 sq. ft. studio and back again. I feel successful if I don't factor in money. I'm grateful for the support of my family and artist colleagues here and around the country.
In 1977 I was a student assistant for Hollister Sturges, who was in Chicago curating for a show at the University of Missouri – Kansas City (UMKC).  The show, titled Chicago Abstractionists: Romanticized Structures, allowed me into the studios of John Henry, Paul Slepak, Dan Ramirez, Miyoko Ito and others. Ted Argeropolos had passed by then, but his work was unforgettable. We had dinner at Vera Klement's place and a few too many drinks at a Greek restaurant with Jane Allan, founder of New Art Examiner and Derek Guthrie, a painter and NAE's publisher.
Flash forward to 1993.  I hailed a taxi at Midway.  I was in town for a show at Deson-Saunders Gallery. Mark Saunders had seen my work at the NIU Chicago Gallery and then included a few of my pieces in a group show. I was amazed by the activity in the Chicago galleries and knew there was nothing back home like this.
The driver asked me where I was from. "Kansas City," I said. Eyes up in the rearview driver says, "you know they call KC 'Little Chicago'."  It had something to do with the mob, he said, and if it got too hot in Chicago, "the boys hightailed it to KC."  Nice to know.  It doesn't happen that way, probably, anymore.
So this was the SECOND City?  Driving back to KC with a load of paintings and sculpture I wondered….if Chicago's the Second City, how good was the First City? And like Dorothy's Emerald City, what happened when the curtain was pulled aside? Where did KC rank in all this?
The truth is every city's the second city. Being an artist carries with it a cruel joke. We pursue beauty, achieve it sometimes, but nothing's ever enough. At least it shouldn't be; it's how we move forward. The grass is always greener on the other side of the fence or in another gallery.
There's a lot more activity in KC these days compared to 1977, or even 1993.  About the only chance for a Kansas City artist in 1977 to gain a little traction was to be chosen for the Nelson-Atkins Museum of Art's "Thirty Miles of Art" or to teach at the Kansas City Art Institute (KCAI) or UMKC. "Thirty Miles of Art" (for which my work was rejected twice) was a local, less vigorous version of the Museum of Contemporary Art's "Chicago Works" series.  Another alternative was to get involved with the Kansas City Artist's Coalition (KCAC), an artist-run space that formed coincidentally with Chicago's N.A.M.E. and ARC.
What's better now in 2014 stems from one thing:
Millenials are coming to town and sticking around.  The Charlotte Street Foundation's (CSF) sustained programming, supporting the work of Kansas City artists, has not gone unnoticed by recent classes of art school and university art department graduates.  Kansas City is a viable alternative to more expensive locations—such as Chicago, New York, Los Angeles and San Francisco, to name a few—in which to set up a studio, develop and show new work.
The result is young people working in the studio—even if it's a kitchen table, opening exhibition venues, writing poetry and scripts, publishing blogs and creating choreography.
In artspeak, these people are called emerging artists. Truth is, if you're not emerging, you're not an artist.  The inherent problem is: if an artist's always emerging (code for not producing commodity), how can the collecting class count on a stable, value-enhancing product?  For the commodity art you'll have to go to New York and that's exactly what the collecting class of places like Kansas City does. That will always be the problem in Kansas City. Artists in Indianapolis, Pittsburgh, Williamsburg and Red Hook are likely to tell the same story. 
CSF is not the only institution that's supporting and motivating this new, broader generation:
The H & R Block Artspace at the Kansas City Art Institute sponsors a biennial of works on paper called KC Flatfile, a project that archives into several large flat files scores of area artists' drawings, collages, prints and more. The Artspace, led by director and chief curator Raechelle Smith, makes a point of involving local and visiting curators to create short-run installations featuring works culled from these flat files. Furthermore, Smith and her Artspace team actively support experimental presentations by local curatorial and studio projects.
The Nerman Museum of Contemporary Art at Johnson County Community College regularly hosts artist talks for the student population. Director Bruce Hartman is a booster of KC artists by making sure that the museum's collection represents KC diversely. Dylan Mortimer, a local artist, is currently having a solo exhibition at the Nerman.
The Kemper Museum of Contemporary Art's newish curator and educator (she's been on the job for a little more than a year) Erin Dziedzic is becoming known for making studio visits and is planning a series of group exhibitions focusing on artists in the metropolitan area.
PLUG Projects is an artist-operated storefront gallery.  PLUG focuses on exhibitions by local and national artists. Its exhibitions are supplemented by a film series, critique night, and 8 ½ x 11, a printed venue for art writing in KC.
UMKC's Fine Arts Gallery has been remodeled and, under artist Davin Watne's guidance, is kicking up the energy several notches with multi-disciplinary programming and projects by emerging artists.
Artist Inc., in conjunction with UMKC, CSF and ArtsKC, a city arts council, provides networking resources and entrepreneurial workshops for artists, writers and actors in an effort to help them build a sustained professional career in KC.
There are others, too: KCAC, Rockhurst University's Greenlease Gallery, Fishtank Theater, The Living Room, Cupcakes in Regalia, Blue Room's Jazz Poetry Series, The Writer's Place, Garcia Squared and Studios Inc.
How have all these millenials affected me, someone who just turned 60?  I am amazed at their work ethic and dedication to studio practice.  It makes me work harder. Conversations about work and ideas are exchanged in organized critiques, and sometimes one on one.  They've raised the temperature and sophistication of the dialogue. They seem interested in the older generation and the history of KC, thus the paybacks seem reciprocal.
There's pressure too: to perform… to attain or retain some semblance of relevance locally and nationally.  It'­­­­­s common to hear fellow artists comparing and contrasting colleagues' work.  A context is established and all boats rise. Artists want to do "8 for 8." They want fair value for their work. It sounds middle class and that's a good thing.  We all want to work and we all do work.  There's ample trade in doing what artists do: (cliché alert) asking and answering questions, questioning the status quo and blurring jobs and job descriptions. Maybe the country's new creative class is the country's new emergent middle class.
That's my city.  I know though, in the larger picture, if there are 50 artists here working their asses off, there are 100 in St. Louis, 500 in Chicago, 5000 in New York and who knows how many in Dehli or Shanghai.
Turns out, every city's the second city.
Garry Noland graduated from UMKC in 1978 with a BA-History of Art. He contributed regularly to New Art Examiner, Forum (the monthly of Kansas City Artists Coalition) and Art Extra, a publication from Wichita, KS. He won a NEA Fellowship in Paintings and Works on Paper in 1994 and was awarded a Studios Inc Artist Residency in 2011. Noland's work has been exhibited recently at Bemis Center for Contemporary Arts, Indianapolis Art Center, Hardesty Art Center and la Esquina. Upcoming exhibits include The Center is a Moving Target at Kemper Crossroads (Kansas City) and exhibitions at Zarrow Gallery (University of Tulsa) and Beverly (St. Louis) with his daughter, Peggy Noland.
Guest post by A.Martinez
Nick Jirasek is a food artist and founder of underground food entity Guerrilla Smiles. He has worked with Tony Fitzpatrick, Links Hall, Redmoon Theater, Linda Warren Projects, Hauser Gallery, Ensemble Dal Niente, High Concept Laboratories, and more. Nick has a strong love of Malort and makes a mean pork shoulder. I got to ask him some questions about who he is, what he does, and his exciting presence in the arts scene.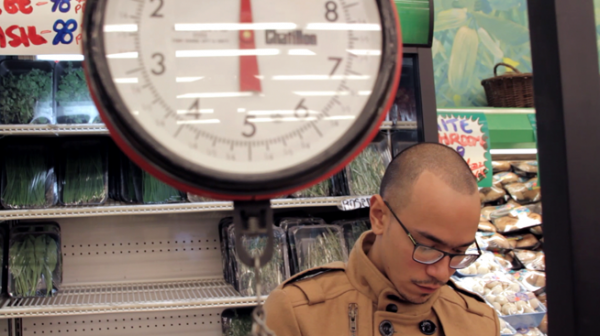 A.Martinez: What is your definition of a food artist and what you do?
Nick Jirasek: A food artist is one who uses primarily comestible materials to create, explore, or challenge ideas. Â I work professionally in this capacity at exhibition openings, private events, the streets, house-parties, underground dinners, performances, pop-ups, talk-shows, and screenings.
Martinez: You are a self-trained- how did you develop your skills?
Jirasek: Immersion. There are seemingly unending resources, documentation, and wisdom surrounding food. Everyone wants to talk about it, wants to teach you the 'right way to do it,' to share the ritual of eating with you, the most authentic place to buy kielbasa, the healthiest diet, the ethical diet, the best place to eat carnitas. Once I had the feeling that being a food artist is what I wanted to do, I made it my entire life. Some of the learning has been traditional in cooking under trained kitchen professionals, but most of it has been in acute observation and guerrilla learning tactics. I'll sound like a broken .FLAC if I say the internet has been a tremendous resource, so I'll say it's been invaluable. That of course means the usual suspects of e-books, Youtubes, and blog trolling, but also some harder to find fountains of information in more underground and illicit venues of the www. Once one is cognizant of basic technique, cultural/ethnic culinary tradition, and flavor pairing, is when some cooks then begin to hone their craft or get the fuck out; an Italian chef mastering the different regions of Italy, travelling to the Piedmonts to study centuries of tradition in Agnolotti, or a trade-school dropout in search of Tru. They begin to specialize based on their talents, their genealogy, and interests. But, I'm not interested in specializing my edible journey. I want to continually challenge the ideas and traditions of food while building a vocabulary of how to articulate that comestibly, socially, and literally.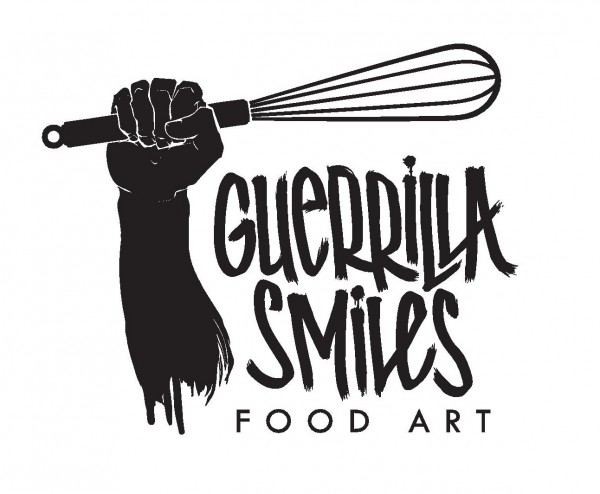 Martinez: Who and what is Guerrilla Smiles and how long has it been around?
Jirasek: Guerrilla Smiles started as a social project about 6 years ago; to simply spread smiles in unexpected places and unexpected ways that would serve to beautify our lives and the lives around us.
I was a worn-out, director of food and beverage at Chicago's 4th tallest building, the John Hancock. I worked a ridiculous amount of hours. The dreams at night of P&L's, and the commute home down Chicago on the 66 bus was the cherry on-top of the soul sucking sundae. One day someone at the Hancock had ordered what must have been nearly a hundred gold, helium filled balloons and thrown them in the loading dock after the party was over.  I grabbed all the balloons and walked down the street, handing a floating ball of gold to anyone and everyone that would take them. People like balloons, or maybe just the color gold more than I had thought. I was overrun by would-be gold-diggers by the time I made it to the McDonald's on State street. At that point I walked to the middle of intersection and released the remaining bouquet of gold into the sky. Similar projects came in weeks following like cashing half my paycheck at the currency exchange in quarters and handing them out, then throwing them in the air and off bridges. Safety became an issue.
Around the same time my good friends Claire Molek and Erin Babbin were starting a gallery practice called Studio1020 (later theStudio and thisisnothestudio).  Building on the ideas put forth on the street, I pleaded with them to seize the opportunity of the ubiquitous gallery food & wine table.  The idea was simple; to mirror the displaying artists' work aesthetically or thematically in comestible form. This way the dialogue of what the artist's message was, was literally palatable and hopefully led to broaden and ease the discourse.  Through the past 5 years, a changing cast of cooking professionals, artists, and friends have helped carry on this mission from private dinners of 9 to public events of 900.
Martinez: The Break The Bread series focuses on your collaborations with visual artists at galleries around the city. How do you choose what artists and galleries with which you're going to collaborate? Or do they choose you?
Jirasek: For the vast majority of gigs, the artist, gallerist, or curator approaches us. Guerrilla Smiles does not advertise, has no website, and uses social media sparsely as a means to communicate. That is to say, we truly relish our underground disposition. My time with Studio1020 afforded me a great opportunity to interact and network directly with interested parties, interesting artists, and share lots of ideas through food. It all started from there and kind of naturally branched out by word of mouth. I have, in special situations, approached artists I want to work with and am looking forward to doing so more in the near future, as well as producing independent original work.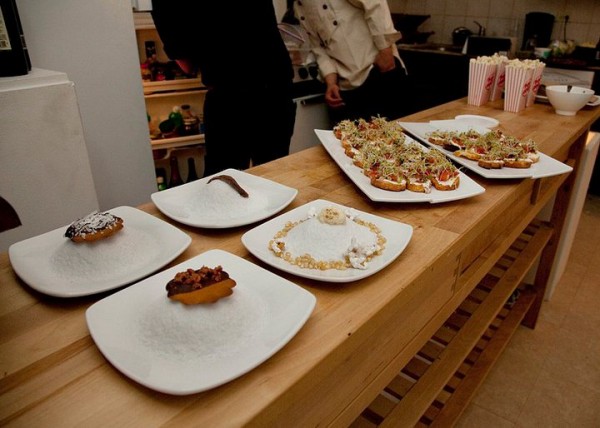 Martinez: What is the process of trying out new dish?
Jirasek: I kind of have an ongoing list of techniques, ingredients, serving vessels, equipment and ideas I'm waiting for the right opportunity to try. When it seems appropriate, I get to try out new stuff. In general, the basis for everything I make is a new dish as every exhibition or performance is new. There is some safety in knowing my control of flavor is adept, my technique is solid, but conversely an exciting trepidation in knowing that this dish has components I have done before, but altogether is completely new.
Martinez: What is the biggest revelation you've had about the way you work?
Jirasek: One needs to be aware of their work patterns and not sabotage their opportunities. I don't like asking for help, and no one will ever work for me for free.
Martinez: Is shopping for ingredients an important part of your creative process?
Jirasek: Extremely. I devote at least an entire day to shopping for an event that can completely change the menu. The Green City Market is a staple and only occurs on 2 days of the week. But generally I go to local specialty stores and markets that take me from 113th to Skokie. This process of traveling all around the city, of breathing in the lifeblood of our diverse culture, of interacting with ethnicities whose only commonality with me is Chicago and food, is probably my greatest inspiration. It's not dissimilar to the interaction I have with people on the night of an event. Most 'food people' will disagree with me on this, but I'm less interested in the local food movement and more interested in small, local family businesses, and traditions in Chicagoland.
Martinez: What is your favorite ingredient to work with?
Jirasek: Celery or Popcorn.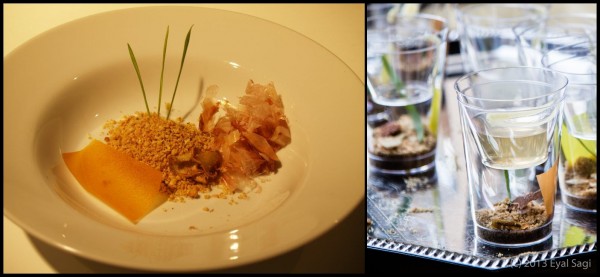 Martinez: Guerrilla Smiles has a dish called Oak Street Beach. Describe this dish and how it came about.
Jirasek: Oak Street Beach started as dish for a thisisnotthestudio show featuring artist Xiao Tse at High Concept Laboratories. Tse took upwards of a thousand pictures from the concrete pavement of Oak St. Beach's shore, facing the lake and narrowed it down to one piece that combined around twenty of the most discerning shots. It is essentially a deconstructed soup, with the broth held separately so as not to affect the aesthetic and textural integrity of the dry ingredients. The dry ingredients are held in a ten ounce clear plastic glass. The sand is a combination of ground peanuts, cashews, and maltodextrin.  The grass is julienned wild ramps. The trash is a candied ginger chip. The fish is a rice flour fried smelt. The towel is a soy and turmeric based spring roll wrapper. The wet ingredients are suspended above in a fitting five ounce plastic glass, rimmed with suntan lotion that is garlic mayo. The Lake Michigan water is a kombu dashi. The eater is instructed to take a small mouthful of the dry ingredients and wash it down with a swig of the wet ingredients, going back and forth in a double fisted affair like they are swimming, until they are finished.
The service of Oak St. Beach was very much so inspired by a dish put forward by Michael Carlson of Schwa at Redmoon Theater's Spectacle Lunatique 2011 called "Walking Through the Forest."
Martinez: You were born and raised in Chicago and this has a strong influence on the food you make. Are there any other cities or cultures that you either look to for inspiration or are inherent in your work?
Jirasek: I think Mexican food simply got everything right. We obviously have a large population of Mexican-Americans in Chicago, and benefit greatly from the cornucopia of ingredients, flavor, and culture they have imbued upon us. Aside from that, I took great inspiration from my time cooking in Panama City, whose flavors are a great amalgamation of the diverse foreign cultures who have occupied the area and the local flora and fauna. I look forward to delving into historical American First Nation culinaria as a geographical inspiration, and look forward to marrying Filipino and Czech food with acidic flavors.
Martinez: Food-wise, what do you think are some exciting places or events happening around the city?
Jirasek: I think The Plant in The Back of the Yards is going to be a blueprint for metropolitan farming worldwide. Asado Coffee's recent expansion plans and concept of 'nano-roasting' is next level. Smalls BBQ is the kind of approachable, forward thinking neighborhood restaurant that Chicago has lacked to put it on the level of NYC. Floriole's baguettes are worth lining up for a la Paris when they come out fresh at 11am everyday. Three Aces is what every gastropub should strive to be. I also think we'll see a boon in quality independent food writing like Graze, Middlewest and whatever Anthony Todd has up his sleeve.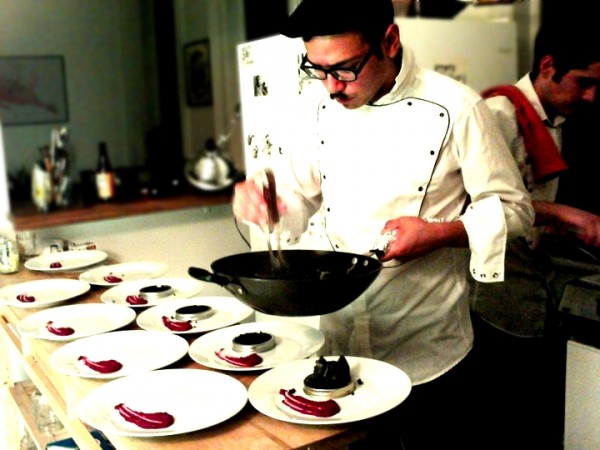 Martinez: What is your favorite Chicago-style food? And where's your favorite place to get it?
Jirasek: Chicago's hot dog is unmatched. Though not all the classic ingredients are included, Gene & Judes' can't be contended with because of the volume they go through and the freshness that entails, and fries like woah. Gotta go with underdog Chickie's for beef because their giardiniera is only quickly cured and crunchier. Salerno's for pizza because the true Chicago slice is thick crust and party cut.
Martinez: What does Guerrilla Smiles have lined up in the coming months?
Jirasek: In the great tradition of former Redmoon Theater Development Director Sean Kaplan, we will be curating the amuse-bouche portion of the upcoming fundraiser Spectacle Lunatique, outfitted Guerrilla style, primarily by the underground supper clubs of Chicago. We are in post-production for the next episode of our Break The Bread series with OnTheRealFilm for last year's THAW fundraiser for Links Hall, as well as designing a menu for a soon opening southside cafe with one of Chicago's champion contemporary artists.
Martinez: Is there a piece of advice, food-related or not that you think of often?
Jirasek: Don't crowd the pan. When it rains, it pours. Be safe, be strong.
All photos courtesy of the artist.
A.Martinez is a freelance art and music organizer living in Chicago, IL.
"Out of the Mouths of Artists" is a new bi-monthly series on the Bad at Sports blog. The series presents a space for guest artist bloggers– of varying career statuses– to write, to reflect, to pontificate on their current situations, failures and/or successes, and ideas on what it means to be an artist. "Out of the Mouths of Artists" also gives readers a glimpse into artists' portfolios and studios. 
Relocating a Center
By Nicole Mauser
Just last week, a question was posed to me: "Where is the epicenter of Chicago's art scene?" This was part of a casual elevator conversation with someone who had just moved from the East Coast to Chicago. I was struck by this question because it made me pause and consider where I geographically invest my time and conversations about art and research. Having relocated back to Chicago from Kansas City, MO, for a second time this past summer, I found myself picking up where I left off.  In some respects, I am engaged in existing dialogues and structures, while in other professional respects I have set out to tackle completely unknown territories and new challenges.
With the question, I realized how fascinating it is to be an observer on the periphery (even if only temporarily) and see what galleries have disappeared, endured, and emerged, while exploring a 'new' to me Chicago in terms of private collections and historic venues such as The Arts Club or Union League.
I had no short answer for the East Coaster-cum-Chicagoan: 119 Peoria has been all but dismantled (will Three Walls stay or go?); however, there is still a bastion of galleries in the West Loop on Washington. Mana Contemporary is becoming a household by name teaming up with various institutions. Each university with a MFA program from the universities—Northwestern, UIC and U of C—to the art schools—Columbia College and SAIC—has is its own mini-epicenter with concentric circles emanating outward into the art scene. A handful (a few handfuls, really) of Chicago artists are being highlighted in the upcoming Whitney Biennial by Michelle Grabner and Anthony Elms. The MCA has gone through upheaval. Art Expo is back. Ultimately, there is no dominant discourse. In dynamic and thriving arts ecologies, there is a multitude of rich conversations happening. These conversations are being instigated by the artists themselves and to varying degrees by the institutions.
One thing I do know: my life now in Chicago is an inversion of the one I led in KCMO.
After an initial brief stint as an art handler in Chicago, I learned a difficult lesson that not all businesses touting the arts support artists; some exploit employees who make the ultimate sacrifice to pay their bills: no longer making their work. Currently, I juggle a full-time administrative job at one local art school while teaching painting as an adjunct at another local university. And I recently struck up a relationship with Reynolds Gallery in Richmond, Virginia, to exhibit a few pieces of my work. While all of these roles help me pay the rent and gain professional experience, they combine to make ends difficult to support a studio practice.
This is the predicament that many conversations with artist friends revolve around: balancing studio/research time with demands of a job to afford overhead. Whereas in KCMO, many artists cobble together part-time teaching, waiting tables, and selling work to afford three times the living space and a studio. In that smaller metropolis, it is a choice to leverage income to focus on the studio practice. It is an option to survive on much less. Therefore, it has become an environment that lends itself to risk taking and igniting experimental collaborations. I found that I was able to do many things, and still work to afford an artist's necessities. With a number of others, I founded and rigorously participated in two artist enterprises: PLUG Projects and Kansas City's Plein Air Coterie (KCPAC), both of which are going still going strong. The collaborative work I did (from 2011 to 2012) with the always professional co-founders and artists at PLUG was rewarding, and I am grateful to my conspirators there for their mutual desire to shape unique exhibitions and ancillary programming, all from the perspective of the artist as curator. Also, this time at PLUG helped me hone my ability to simultaneously hold down a full time staff job at SAIC and an adjunct teaching appointment at UIC. I believe my experience as part of KCPAC, in which I was working from observation in the elements, helped to erode any assumptions about the relationship between abstraction and perception.
Recently, in Chicago, a few artists and I rekindled a critique group consisting of grad school colleagues (and friends!) for studio visits. Inscribing this regular practice into our studio research is gaining terrific momentum. I truly value these relationships and the quality of our conversations. I am continually blown away by the multitude of in-depth cross-conversations, generosity, and ferocity of investment in each other's development. In this context, which is a kind of epicenter for me, criticality is not a rebuff but a way of asking better questions. I find that I am now breaking rules that I once set for myself in the past. I am working to explore abstraction through a host of reference materials, including still lifes, photos, Xeroxed images, and art historical references, in order to push against my own non-objective proclivities.
Through it all, though, I find myself returning to ponder the eternal question, what is the healthiest scenario to support my work? It is the gallery system? Is it the academic system? None of these scenarios are necessarily the sustainable answer. Constantly having open conversations negotiating alternative models and redefining healthy arts ecology seems the best start for me.
In summary, it appears that the current epicenter in Chicago, and in all cities, is a moving target—for me and for others. This scenario seems to simultaneously present plural opportunities and elusive support mechanisms for one's longevity in the arts. And yet, it feels like a great time to be an artist in Chicago.
I hope someone asks me where "the epicenter" is again in five years.
Nicole Mauser (b. 1983, Indianapolis) currently lives and works in Chicago, IL. She obtained a MFA from The University of Chicago (2010) and a BFA from Ringling College of Art & Design (2006). Her works have been exhibited nationally and internationally. Mauser was a 2011 recipient of a Post-MFA Teaching Felllowship at The University of Chicago and a recipient of a Student Fine Art Fund Grant for travel and research in Berlin from The University of Chicago. Exhibitions include Ft. Gondo Compound for the Arts (St. Louis), Carrie Secrist Gallery (Chicago), The Dolphin Gallery (Kansas City), H&R Block Artspace (Kansas City), DOVA Temporary Gallery (Chicago), Gladstone Community Center (Gladstone, MO), Center for Art+Culture (Aix-en-Provence) and AR Gallery (Milan). Collections include The Alexander (Indianapolis) and The Nerman Museum of Contemporary Art (Overland Park, KS). Mauser's writings have been published in 8 ½ x 11 and Art Practical. Mauser is also a co-founder of the artist run gallery, PLUG Projects and co-founder of the Kansas City Plein Air Coterie (KCPAC).
See more of Nicole's work at www.nicolemauser.com.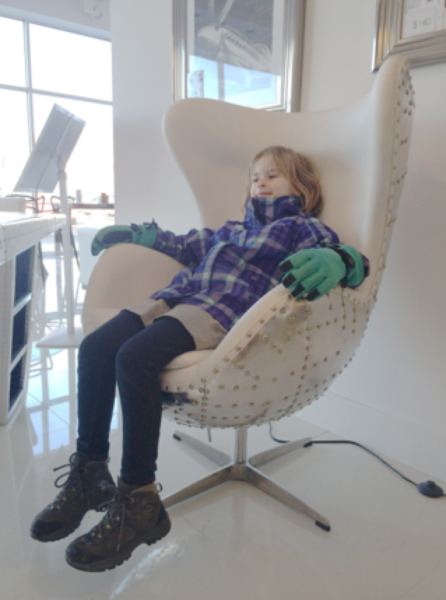 Guess post by Lise Haller Baggeson Ross
At the mini mall where I buy my art supplies, next to Starbucks and Whole Foods, there are two design furniture stores to supply the well to do urban area where we live.
In the window display at Design Within Reach is a Fritz Hansen Egg chair, designed by Arne Jacobsen for the Radisson SAS hotel in Copenhagen in 1958. Originally produced in green wool, the most popular model, like the one it the window, was upholstered in black leather.
A classic.
In the adjoining shop window, they have a very similar chair. It is an egg-shaped swivel lounge chair in white leather with curvy lines and a star shaped aluminum base. The outside of the shell is covered entirely in aluminum, riveted together with chunky bolts, giving the whole thing a patchworked steam-punk-Barbie-in-an-Amsterdam-hair-salon aesthetic.
My daughter, who just turned eight, thinks this chair is dreamy. I think it is an abomination. But I'm having a hard time explaining to her why, and why this is a bad thing —after all one woman's homage is another woman's pimping—and we can't even just err on the side of good taste.
Beyond the field of good and bad taste is the boundary of the shocking, and out there   Allen Jones' Chair is back in style –in Bjarne Melgaard's pimped up "retoxified" version of it — now available in black.
"The racist chair" as it has been dubbed—because now it is apparently the chair that is racist, not the artist who made it, not the patron who bought it, not the editor who published the photo which is currently being circulated, not the context of the international art elite (—who already included Jones's original into our canon as part of the TATE's permanent collection. A Pop art classic. )
Jones considers the threesome (the chair is accompanied by a table and a hat stand following the same design philosophy) his boldest statement. In reference to his work, he explains that:
The erotic impulse transcends cerebral barriers and demands a direct emotional response. Confronted with an abstract statement people readily defer to an expert; but confronted with an erotic statement everyone is an expert. It seems to me a democratic idea that art should be accessible to everyone on some level, and eroticism in one such level.[1]
This abstract statement makes me wonder about the democratic implications of making one half of the population accessible as furniture for the other half, but off course I'm no expert on democracy.
If the image of a rich, beautiful white lady perched on top of a contorted busty black woman in bondage sits uncomfortably, it could be because it reminds us of how comfortable we have become with the idea of our bodies being commodified, black and white, black by white, female and male, female by male.
The Russian art world super nova Dasha Zhukova, for it is she in the picture, claims that the outrage over the picture was caused by it being "published completely out of context,".  She claims that it is in fact "a commentary on gender and racial politics," implying that in these international art world matters, she is the expert and we, the internet mob, are not. That we don't get it.
Melgaard's art-world buddies have come to his defense, one of them claiming that: "He is not racist. He even dated a black man,". But, like with Jones' defense of his original when he said, "I love women. I was using misogyny ironically!," you can love and debase somebody at the same time. Forniphilia (human furniture) is a fine example of this.
That is called pimping.
No stranger to pimping, Melgaard in fact started off his career with (beautiful) watercolors of himself jerking off on the grave of his idol, Paul Gauguin, it is hardly surprising that he has not apologized as much as philosophized about the incidence. His press statement, released to Art Info through Gavin Brown enterprise, ends with the following:
We see this photograph to be extraordinary. We see this debate to be a distraction from the true challenges that face us. We applaud both the sitter and the seated. To fault the sitter, now in the age of the Anthropocene, in the midst of enormous and REAL obscenities that threaten our actual existence, reflects a civilization that is not dying but already dead. Turn your outrage upside down.

This reference to the "age of the Anthropocene" basically means: this is nothing compared to global warming. But the statement skirts around the fact that global warming is the result of an economy that hinges on the continuous commodification of bodies. The REAL obscenity in this context is the business as usual of employing the "end of history" rhetoric by those who consider themselves "winners" —feminists are not "done" with history, nor is the civil rights movement –but Melgaard in his statement turns the moral responsibility for this upside down.
To a certain point he is entitled to this position –after all artworks can operate in this field beyond moral good and bad, because of their dual relationship with form and content –artist's statements, on the other hand, cannot since they are only really dealing with content.
Pimping  (like irony) in a sense relies on the knowingness with which we acknowledge the relationship between form and content, and how we are able to destabilize it, in the knowledge that  (to use Melgaard's phrase) both the sitter and the seated "gets it", although it does not always sit comfortably.
Recently Miley Cyrus was given a fair amount of push back for pimping a content she didn't entirely get both in the form of the Afro American phenomenon of Twerking as well as the feminist legacy of Sinead O'Connor's shaved head. In Rolling Stone Magazine Cyrus explained how her Wrecking Ball video is a tribute to O'Connor's majestic crying game, Nothing Compares To You:
I wanted it to be tough but really pretty – that's what Sinead did with her hair and everything. The trick is getting the camera up above you, so it almost looks like you're looking up at someone and crying.[2]
O'Connor called her out and replied with a talking to in the "spirit of motherliness":
It is in fact the case that you will obscure your talent by allowing yourself to be pimped, whether it's the music business or yourself doing the pimping.[3] […] The look I chose, I chose on purpose at a time when my record company were encouraging me to do what you have done. I felt I would rather be judged on my talent and not my looks. I am happy that I made that choice, not least because I do not find myself on the proverbial rag heap now that I am almost 47 yrs of age… which unfortunately many female artists who have based their image around their sexuality, end up on when they reach middle age.
Miley's response was to repost O'Connor's two-year-old tweets, in which she calls for help in treating her mental malady and suicidal impulse, along with an old photo of O'Connor tearing up a picture of the Pope on Saturday Night Live.
(Not getting how absolutely radical that gesture was at the time, and still is. How could she—she wasn't even born then! But some of us remember.)
Proving, if nothing else, O'Connor's point about the pimping.
But, as I was hinting in the beginning, one woman's pimping is the other woman's homage– after all there is no pimping without love.
To that point, I must confess I love that song, which hums like the pimped up cyborg love child of James' Browns Sex Machine and David Bowie's TVC 15, even if I'm told that Robin Thicke is the new exterminator in the "War On Women," but I don't love Miley Cyrus enough to go to one of her concerts.
Instead, I went to see Sinead O'Conner when she was passing through town, and although it was weird sitting in that winery surrounded by middle aged fans like myself, when the lights dimmed and she took the stage she was as bald and as beautiful as ever. She was wearing a low cut washed out shirt that read "Rasta at Heart". I started dreaming about egg chairs in red, gold and green wool upholstery.