"Out of the Mouths of Artists" is a new bi-monthly series on the Bad at Sports blog. The series presents a space for guest artist bloggers– of varying career statuses– to write, to reflect, to pontificate on their current situations, failures and/or successes, and ideas on what it means to be an artist. "Out of the Mouths of Artists" also gives readers a glimpse into artists' portfolios and studios. 
Relocating a Center
By Nicole Mauser
Just last week, a question was posed to me: "Where is the epicenter of Chicago's art scene?" This was part of a casual elevator conversation with someone who had just moved from the East Coast to Chicago. I was struck by this question because it made me pause and consider where I geographically invest my time and conversations about art and research. Having relocated back to Chicago from Kansas City, MO, for a second time this past summer, I found myself picking up where I left off.  In some respects, I am engaged in existing dialogues and structures, while in other professional respects I have set out to tackle completely unknown territories and new challenges.
With the question, I realized how fascinating it is to be an observer on the periphery (even if only temporarily) and see what galleries have disappeared, endured, and emerged, while exploring a 'new' to me Chicago in terms of private collections and historic venues such as The Arts Club or Union League.
I had no short answer for the East Coaster-cum-Chicagoan: 119 Peoria has been all but dismantled (will Three Walls stay or go?); however, there is still a bastion of galleries in the West Loop on Washington. Mana Contemporary is becoming a household by name teaming up with various institutions. Each university with a MFA program from the universities—Northwestern, UIC and U of C—to the art schools—Columbia College and SAIC—has is its own mini-epicenter with concentric circles emanating outward into the art scene. A handful (a few handfuls, really) of Chicago artists are being highlighted in the upcoming Whitney Biennial by Michelle Grabner and Anthony Elms. The MCA has gone through upheaval. Art Expo is back. Ultimately, there is no dominant discourse. In dynamic and thriving arts ecologies, there is a multitude of rich conversations happening. These conversations are being instigated by the artists themselves and to varying degrees by the institutions.
One thing I do know: my life now in Chicago is an inversion of the one I led in KCMO.
After an initial brief stint as an art handler in Chicago, I learned a difficult lesson that not all businesses touting the arts support artists; some exploit employees who make the ultimate sacrifice to pay their bills: no longer making their work. Currently, I juggle a full-time administrative job at one local art school while teaching painting as an adjunct at another local university. And I recently struck up a relationship with Reynolds Gallery in Richmond, Virginia, to exhibit a few pieces of my work. While all of these roles help me pay the rent and gain professional experience, they combine to make ends difficult to support a studio practice.
This is the predicament that many conversations with artist friends revolve around: balancing studio/research time with demands of a job to afford overhead. Whereas in KCMO, many artists cobble together part-time teaching, waiting tables, and selling work to afford three times the living space and a studio. In that smaller metropolis, it is a choice to leverage income to focus on the studio practice. It is an option to survive on much less. Therefore, it has become an environment that lends itself to risk taking and igniting experimental collaborations. I found that I was able to do many things, and still work to afford an artist's necessities. With a number of others, I founded and rigorously participated in two artist enterprises: PLUG Projects and Kansas City's Plein Air Coterie (KCPAC), both of which are going still going strong. The collaborative work I did (from 2011 to 2012) with the always professional co-founders and artists at PLUG was rewarding, and I am grateful to my conspirators there for their mutual desire to shape unique exhibitions and ancillary programming, all from the perspective of the artist as curator. Also, this time at PLUG helped me hone my ability to simultaneously hold down a full time staff job at SAIC and an adjunct teaching appointment at UIC. I believe my experience as part of KCPAC, in which I was working from observation in the elements, helped to erode any assumptions about the relationship between abstraction and perception.
Recently, in Chicago, a few artists and I rekindled a critique group consisting of grad school colleagues (and friends!) for studio visits. Inscribing this regular practice into our studio research is gaining terrific momentum. I truly value these relationships and the quality of our conversations. I am continually blown away by the multitude of in-depth cross-conversations, generosity, and ferocity of investment in each other's development. In this context, which is a kind of epicenter for me, criticality is not a rebuff but a way of asking better questions. I find that I am now breaking rules that I once set for myself in the past. I am working to explore abstraction through a host of reference materials, including still lifes, photos, Xeroxed images, and art historical references, in order to push against my own non-objective proclivities.
Through it all, though, I find myself returning to ponder the eternal question, what is the healthiest scenario to support my work? It is the gallery system? Is it the academic system? None of these scenarios are necessarily the sustainable answer. Constantly having open conversations negotiating alternative models and redefining healthy arts ecology seems the best start for me.
In summary, it appears that the current epicenter in Chicago, and in all cities, is a moving target—for me and for others. This scenario seems to simultaneously present plural opportunities and elusive support mechanisms for one's longevity in the arts. And yet, it feels like a great time to be an artist in Chicago.
I hope someone asks me where "the epicenter" is again in five years.
Nicole Mauser (b. 1983, Indianapolis) currently lives and works in Chicago, IL. She obtained a MFA from The University of Chicago (2010) and a BFA from Ringling College of Art & Design (2006). Her works have been exhibited nationally and internationally. Mauser was a 2011 recipient of a Post-MFA Teaching Felllowship at The University of Chicago and a recipient of a Student Fine Art Fund Grant for travel and research in Berlin from The University of Chicago. Exhibitions include Ft. Gondo Compound for the Arts (St. Louis), Carrie Secrist Gallery (Chicago), The Dolphin Gallery (Kansas City), H&R Block Artspace (Kansas City), DOVA Temporary Gallery (Chicago), Gladstone Community Center (Gladstone, MO), Center for Art+Culture (Aix-en-Provence) and AR Gallery (Milan). Collections include The Alexander (Indianapolis) and The Nerman Museum of Contemporary Art (Overland Park, KS). Mauser's writings have been published in 8 ½ x 11 and Art Practical. Mauser is also a co-founder of the artist run gallery, PLUG Projects and co-founder of the Kansas City Plein Air Coterie (KCPAC).
See more of Nicole's work at www.nicolemauser.com.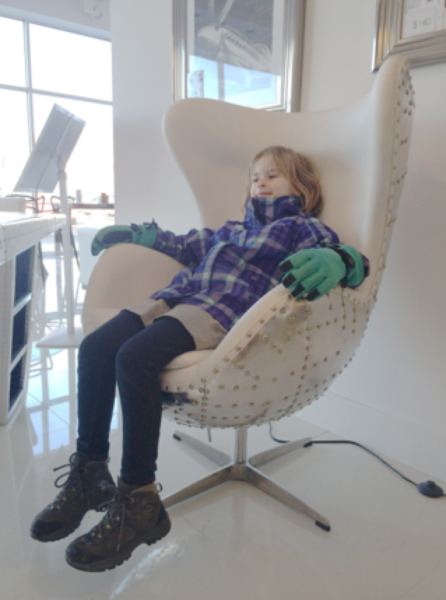 Guess post by Lise Haller Baggeson Ross
At the mini mall where I buy my art supplies, next to Starbucks and Whole Foods, there are two design furniture stores to supply the well to do urban area where we live.
In the window display at Design Within Reach is a Fritz Hansen Egg chair, designed by Arne Jacobsen for the Radisson SAS hotel in Copenhagen in 1958. Originally produced in green wool, the most popular model, like the one it the window, was upholstered in black leather.
A classic.
In the adjoining shop window, they have a very similar chair. It is an egg-shaped swivel lounge chair in white leather with curvy lines and a star shaped aluminum base. The outside of the shell is covered entirely in aluminum, riveted together with chunky bolts, giving the whole thing a patchworked steam-punk-Barbie-in-an-Amsterdam-hair-salon aesthetic.
My daughter, who just turned eight, thinks this chair is dreamy. I think it is an abomination. But I'm having a hard time explaining to her why, and why this is a bad thing —after all one woman's homage is another woman's pimping—and we can't even just err on the side of good taste.
Beyond the field of good and bad taste is the boundary of the shocking, and out there   Allen Jones' Chair is back in style –in Bjarne Melgaard's pimped up "retoxified" version of it — now available in black.
"The racist chair" as it has been dubbed—because now it is apparently the chair that is racist, not the artist who made it, not the patron who bought it, not the editor who published the photo which is currently being circulated, not the context of the international art elite (—who already included Jones's original into our canon as part of the TATE's permanent collection. A Pop art classic. )
Jones considers the threesome (the chair is accompanied by a table and a hat stand following the same design philosophy) his boldest statement. In reference to his work, he explains that:
The erotic impulse transcends cerebral barriers and demands a direct emotional response. Confronted with an abstract statement people readily defer to an expert; but confronted with an erotic statement everyone is an expert. It seems to me a democratic idea that art should be accessible to everyone on some level, and eroticism in one such level.[1]
This abstract statement makes me wonder about the democratic implications of making one half of the population accessible as furniture for the other half, but off course I'm no expert on democracy.
If the image of a rich, beautiful white lady perched on top of a contorted busty black woman in bondage sits uncomfortably, it could be because it reminds us of how comfortable we have become with the idea of our bodies being commodified, black and white, black by white, female and male, female by male.
The Russian art world super nova Dasha Zhukova, for it is she in the picture, claims that the outrage over the picture was caused by it being "published completely out of context,".  She claims that it is in fact "a commentary on gender and racial politics," implying that in these international art world matters, she is the expert and we, the internet mob, are not. That we don't get it.
Melgaard's art-world buddies have come to his defense, one of them claiming that: "He is not racist. He even dated a black man,". But, like with Jones' defense of his original when he said, "I love women. I was using misogyny ironically!," you can love and debase somebody at the same time. Forniphilia (human furniture) is a fine example of this.
That is called pimping.
No stranger to pimping, Melgaard in fact started off his career with (beautiful) watercolors of himself jerking off on the grave of his idol, Paul Gauguin, it is hardly surprising that he has not apologized as much as philosophized about the incidence. His press statement, released to Art Info through Gavin Brown enterprise, ends with the following:
We see this photograph to be extraordinary. We see this debate to be a distraction from the true challenges that face us. We applaud both the sitter and the seated. To fault the sitter, now in the age of the Anthropocene, in the midst of enormous and REAL obscenities that threaten our actual existence, reflects a civilization that is not dying but already dead. Turn your outrage upside down.

This reference to the "age of the Anthropocene" basically means: this is nothing compared to global warming. But the statement skirts around the fact that global warming is the result of an economy that hinges on the continuous commodification of bodies. The REAL obscenity in this context is the business as usual of employing the "end of history" rhetoric by those who consider themselves "winners" —feminists are not "done" with history, nor is the civil rights movement –but Melgaard in his statement turns the moral responsibility for this upside down.
To a certain point he is entitled to this position –after all artworks can operate in this field beyond moral good and bad, because of their dual relationship with form and content –artist's statements, on the other hand, cannot since they are only really dealing with content.
Pimping  (like irony) in a sense relies on the knowingness with which we acknowledge the relationship between form and content, and how we are able to destabilize it, in the knowledge that  (to use Melgaard's phrase) both the sitter and the seated "gets it", although it does not always sit comfortably.
Recently Miley Cyrus was given a fair amount of push back for pimping a content she didn't entirely get both in the form of the Afro American phenomenon of Twerking as well as the feminist legacy of Sinead O'Connor's shaved head. In Rolling Stone Magazine Cyrus explained how her Wrecking Ball video is a tribute to O'Connor's majestic crying game, Nothing Compares To You:
I wanted it to be tough but really pretty – that's what Sinead did with her hair and everything. The trick is getting the camera up above you, so it almost looks like you're looking up at someone and crying.[2]
O'Connor called her out and replied with a talking to in the "spirit of motherliness":
It is in fact the case that you will obscure your talent by allowing yourself to be pimped, whether it's the music business or yourself doing the pimping.[3] […] The look I chose, I chose on purpose at a time when my record company were encouraging me to do what you have done. I felt I would rather be judged on my talent and not my looks. I am happy that I made that choice, not least because I do not find myself on the proverbial rag heap now that I am almost 47 yrs of age… which unfortunately many female artists who have based their image around their sexuality, end up on when they reach middle age.
Miley's response was to repost O'Connor's two-year-old tweets, in which she calls for help in treating her mental malady and suicidal impulse, along with an old photo of O'Connor tearing up a picture of the Pope on Saturday Night Live.
(Not getting how absolutely radical that gesture was at the time, and still is. How could she—she wasn't even born then! But some of us remember.)
Proving, if nothing else, O'Connor's point about the pimping.
But, as I was hinting in the beginning, one woman's pimping is the other woman's homage– after all there is no pimping without love.
To that point, I must confess I love that song, which hums like the pimped up cyborg love child of James' Browns Sex Machine and David Bowie's TVC 15, even if I'm told that Robin Thicke is the new exterminator in the "War On Women," but I don't love Miley Cyrus enough to go to one of her concerts.
Instead, I went to see Sinead O'Conner when she was passing through town, and although it was weird sitting in that winery surrounded by middle aged fans like myself, when the lights dimmed and she took the stage she was as bald and as beautiful as ever. She was wearing a low cut washed out shirt that read "Rasta at Heart". I started dreaming about egg chairs in red, gold and green wool upholstery.
Guest Post by Virginia Konchan
"Feminism is  . . . just a gimmick to attract some voters who place gender above any other issue. Respecting the rules of the Money Power during a campaign means toeing the line of oligarchy while in power.   Neither men nor women benefit from this.  [Hilary] Clinton and her neoliberal allies are hijacking feminism and the rhetoric of diversity."
—Pierre Guerlain, Truthout
"There is no liberation that only knows how to say 'I.'   There is no collective movement that speaks for each of us all the way through."
—Adrienne Rich, "Notes Toward a Politics of Location"
The lampooning of Mitt Romney's quip in defense to sexist accusations ("I have binders full of women"), aside, the fact remains:  the social status of women as "placeholders" or sex objects in the commodity market is subtended linguistically, and historically:   for a woman to define herself as a subject, not relationally as a wife, daughter, or mother, is to demand a changing of the guards in patriarchal lineage, wherein women are permitted to enter discourse only under the name of the father, or husband, as gatekeepers to signification as well as social recognition.  This antagonism is explained away by Slavoj Žižek as a means of condemning women so as to control the flow of "feminine excess," threatening to destroy the masculine's economy of lack (a woman's performance of these roles for the male gaze or its representative prostheses—camera, video, canvas—the very source of phallic jouissance).
The prohibition against the a priori existence of women as volitional subjects (reproductive femininity as metaphysical and medical "problems"):  a black comedy, indeed.  The inadmissibility of female self-representation unless patrolled by a state-sponsored or private guardianship (marriage) is the subject of Lindy West's hilarious riposte in Jezebel to the box-office film "Love, Actually":  in West's reading, the film accords a "27-word allotment" of speech to women, which character Emma Thompson exceeds.  "Hugh Grant falls instantly in love with Natalie, which is understandable, because she hasn't yet exceeded her Love Actually attractiveness word quota (Twenty-seven. The quota is 27 words before you become Emma Thompson and must be destroyed.)"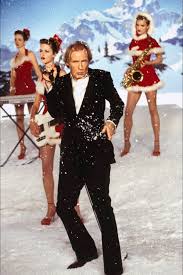 The 27-word allotment quip, along with Romney's "binders" comment, however funny, provide an important metacommentary to post-feminism:  from gaslighting to statistical disproportions in the workplace and economy (documented at VIDA'S The Count), the gag rule of enforced silence is predicated on the objectification of women (dolls don't talk, unless manufactured to do so):  all representations of female subjectivity not in service of the neoliberal male imaginary are aberrant misfires, and their authors must either be conscripted into un- and underpaid care work within the service economy, or (in First, Second, and Third Worlds), literally punished.
Rebecca Walker coined the term "third-wave feminism" in a 1992 essay:  since then, the Third Wave's focus on inclusivity has steered second-wave feminism's struggle against racism, sexism, and classism, toward an active embrace of pop culture and performance, embodied in Eve Ensler's play and book The Vagina Monologues; the punk rock's riot grrrls movement; the Guerrilla Girls; singers Madonna, Queen Latifah, and Mary J. Blige, among others, and the women depicted in television series such as Buffy the Vampire Slayer (1997–2003), Sex and the City (1998–2004), and Girlfriends (2000–08).  Third Wave cyberfeminists communicate largely through e-zines, blogs, and social media, online feeds proliferating alongside books attempting structural treatments of extant "feminist" aims.   "By about 2000, questions of sexualized behaviour raised debate on whether such things as revealing clothing, designer-label stiletto heels, and amateur pole dancing represented true sexual liberation and gender equality or old oppressions in disguise . . .  [The Third Wave's] greatest strength, multivocality, was attacked . . . Third-wavers countered this criticism by stating that the creation of a unified agenda or philosophy . . . was a goal that was not only unrealistic but undesirable."     [1]
The vision of the Third Wave lay not in economic analysis, or activism, per se, but identity politics:   a privileging of diversity, statistical accounting, and aesthetic hybridity.  This rejection of hegemonic culture, however, considering that to divide and conquer is a militaristic strategy imposed from without, the absence of a cohesive vision or praxis, like the Occupy Movement, can potentially weaken a movement, returning us to the question of governance (long abandoned as desirable in a pluralistic democracy ruled instead, ironically, not by a free, self-sufficient citizenry but by mass media and neocon war machines).  Opinions vary on the demarcation between the third and fourth waves of feminism, and what constitutes the "fourth wave," internationally:  the fourth wave, like the second, focuses on legislative rights, and statistical tracking (e.g. The Counting Dead Women campaign) but also online misogyny, economic parity, and, during the years after the 2008 financial crash and the coalition government, activism against loan predation (education, housing, credit cards), unemployment and under-employment, zero-hours contracts, bedroom taxes, damaging rhetoric against immigrants, the disabled and those who need support from the state. This new generation of feminists are tech-savvy and gender-sophisticated, in part due to trans-health initiatives (e.g. the Feminist Women's Health Centers in Atlanta) and trans-inclusive organizations like Third Wave Foundation (helmed by feminists in their twenties and thirties).  "Reproductive justice" is an oft-bandied term by fourth-wave feminists, as transgenderism, male feminists, sex work, and complex relationships with the media, spectacle culture, and identity politics structures this aporetic movement.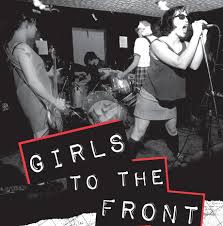 Anti-essentialism (the recognition that women's condition is always at odds with women's differences from one another, as well as their social and economic power), has become the backbone of postmodern feminism:  an academic discipline wherein the idea that subjects (genders, races, and cultures) share intrinsic qualities was exchanged for the "neither/nor" flux of postmodernity's memes (multiplicity, catachresis).  Anti-essentialist feminism acknowledges difference, yet, the ontological disciplines contextualizing personhood (biology, psychology) have become increasingly irrelevant in post-humanist discourse.  Without the language to mark the difference of one's body from other bodies, and the subtle conditions (social and epistemological) governing entry into discourse communities, it becomes impossible to articulate the "difference" between human branding and consumer choice, amid a glut of media blitzes offering opportunities for self-fashioning through purchasing power (the diet, fitness, salon, cosmetic, and retail industries).  The cults of personality, hipster cool, and "original" ideas:   priced (commodified), shelved, and sold.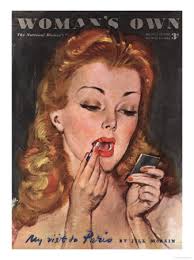 In 2006, and 2008, Toril Moi published two consecutive essays in PMLA, and Feminist Theory, respectively:  entitled ""I Am Not a Feminist, But . . .":  How Feminism Became the F-Word," and 'I am not a woman writer':  About women, literature and feminist theory today."  According to Moi, postfeminist culture gradually arose after the debates between Peggy Kamuf and Nancy Miller in the early 80s dismantled a coalitional feminism, and women's writing and sexual difference as legitimized categories of scholarship and cultural practice.
Poststructuralism also worked to invalidate categories of difference, according to some:  in the 1981 essays by Kamuf and Miller, and their correspondence in 1989, Kamuf objects to the feminist "reduction of the literary work to the signature," claiming an interest in women's writing to be simply a feminist version of the liberal humanism Foucault had upended.  Miller believed that regardless of what Kamuf might consider to be theoretically correct, feminists still needed to work on behalf of women writers, otherwise these women would "soon be forgotten, lost to history."  [2]   By the late 80s, Kamuf (a Derridean translator) had disavowed the word "feminist," as referencing a closed system which inevitably would end up deconstructing itself.  Miller, conversely, still thought that feminism was politically necessary, but that identity politics had passed.  The path forward was unclear, and critical theory has since been marked by what Alice Jardine calls "non-knowledge":  asignificatory terms ("non-narration," "anti-lyric"), also in critical race theory and Lacanian philosophy (woman as "pas tout"), rather than an appositive definition of otherness (however unhelpful, as Judith Butler has argued, such resignifications can be, reentering as they do the undertow of negative dialectics).
Liberal and conservative feminists alike have been accused of essentializing the category of women, just as, in race theory, the accusation of "conceptual blackness" counters that of "conceptual whiteness."  Neither Kamuf nor Miller exchanged gender-based politics for a class- or race-based feminism, and Marxist feminism dropped off sharply during this decade, though echoes of sociologist Christine Delphy's manifesto ("women are a class") reappear today, as women writers move beyond biological and gender essentialism, static genre definitions, and the high theory of écriture féminine, seeking new access points to postmodern socio-political discourse.  "I am interested here in new thought," says poet Lisa Robertson.  "I am standing dressed in the skin of a sheep or a cow in the occidental forest. My name shall be she to them. It is a shame. It is velvety, voluptuous, and odorous . . . each thing's hunger is my fate, is universe of the undiscussed.   My name shall be she to them, in grotesque, monstrous, most ancient mixture.   This is a class."  [3]
Signifiying a movement, in language, or attempting to name a problem, may be recondite, but the struggles for equality, safety and civil rights persist:  complicity in pop culture through the desensitizations of post-ironic media (parodic and slapstick humor), can discharge tension, grief, paranoia, and shame, but perpetuate the underreporting of gender-based violence (a Daily Beast article states only seven percent of these crimes are reported):  the moral relativization of crime coupled with the literality of suffering.  The perpetuation of rape culture will continue for as long as the conversation is one-sided, with rape apologists such as James Taranto, Richard Mourdock, or George Galloway behind the mike (referencing Julian Assange's sexual assault charges, Galloway argued that if the victim is asleep, it can't be considered rape:  "This is something which can happen . . . not everybody needs to be asked prior to each insertion.")
If women are only considered as moving parts (domestic workers, mothers, sex commodities) in a post-industrial assembly line, how can they experience themselves, or other women, as agents of their life, bodies, and vocations, unless precedents are set and laws upheld?   Because rape culture, like every cycle of violence, is perpetuated by silence, victim-blaming, and a lack of solidarity, support for women by women can be difficult to find in a culture where the consequences (from social stigmatization to murder) can result from speaking out against rape, misogyny, or hate speech, in, for example, the U.S. Military, where an increase of females in positions of authority has been countered, according to statistics released by the Pentagon, with a sharp increase in sexual assault.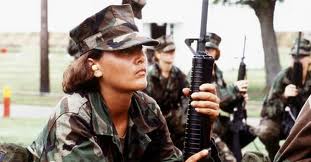 If the most powerful word in childhood and adult development is "no" (determining what one doesn't want before developing preferential desires), how useful is an arsenal of "safe words" in sado-masochistic sexual relations, for a woman who hasn't internalized her right to negotiate the social contract, see its terms as fluid and not compulsory, or decline to participate, at all?   Conscription into sexual and domestic slavery, as well as non-consensual sex, without language, isn't, then, a question of complacency or complicity.  According to Catharine MacKinnon, Noam Chomsky's "manufacturing of choice" is the sid pro quo of a woman's initiation into capitalist relations of gender dominance ("more than one-third of all girls experience sex . . . under conditions that even this society recognizes are forced or at least unequal"):  the manufacturing not just of choice, but desire.  Robin West agrees, questioning how "liberated" is the seeming assent of 21st century women in coerced embraces of, say, domesticity (kitchen, child-rearing), when there doesn't seem to exist viable alternatives, an outside to capitalism, or another opportunity for labor.   [4]
The culture industry makes a killing marketing sadomasochistic violence (from revenge porn to snuff films) as "sexy," pumping out images of men as sexual aggressors tasked with "bagging" "having" "shagging" or "nailing" women to maintain social clout, and women, with demurring until the right suitor arrives, initiating only to risk the stigma of promiscuity were the date or relationship to become violent or abusive beyond her ability to identify (name) or control.  Celebrities and pop stars also deliver the message not only of consent, but enjoyment in playing the role of the subjugated:  Brittany Spears' "I'm a Slave for you," and Gaga's "Do What you Want" (with my body), as stylized marketing ploys advertising the woman as penitent whore, as in Sade's Justine:  a willed, even campy, prostitution of body and self.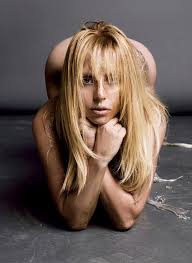 The link between the erotic and the pornographic, performed or actual subjection, and pain and pleasure, is not a postmodern perversion, of course:  George Bataille, more than any other modernist, mourned the impossibility of thinking the un-representable (the "holy terror" as Jacques Rancière put it) except by recourse to images of torture and the erotic; Batailles' Tears of Eros is a paean to Todestriebe (death drive), the "supreme atrocity of nonbeing," and its transcendence, through art.
If a return to signifying terms (coalitional feminism, eco-feminism, eco-socialism, conscious/creative/cognitive/Bolshivek capitalism) isn't the answer in resurrecting subject-object relations of mutual acknowledgment and reciprocity, rather than mutually assured destruction or annihilation, can it help?   The democratic dream of rule by the people or moral majority is myopic, to say the least:  as Alexis de Toqueville pointed out in Democracy in America, representational democracy can easily devolve into mob rule:  control by the moneyed elite, reducing the "other" to a wage-laborer, or tokenistic fetish.  Angela Davis argues for the creation and circulation of micronarratives, crucial to providing a dialogic structure for the survival of self, other, and community in protest against historical erasure:  heterogeneous "forms" of representation toppling the vacuous clichés and rhetorics (boosterism, aesthetic volunteerism) of free market capitalism.  [5]
Finding new forms of self-articulation outside of these donnés (necessary evils?) are key to exiting the maze:
"I love [Zaha Hadid's] little manifesto 'Randomness vs. Arbitrariness' . . . "Randomness in architecture is a visual translation of pure mathematical order and thinking which is guided by logic, whereas arbitrariness has no underlying conceptual logic. . . . A catalogue exists from which they freely copy anything and apply it with little relevance to any situation. But in architecture our responsibilities are far greater: we must create a new dynamics of architecture in which the land is partially occupied. We must understand the basic principles of liberation' (1982)."  [6]
Questioning the utility of a materialist theory of language, and an aleatory "aesthetic" as emancipatory, Robertson asks if we could differentiate, though writing, beginning with recognizing the difference between intentional, or intentioned (purposed for an other) forms.  How else, in other words, to transition from being an occupied "site" or essentialized collective to a signifying subject, then to recognize chance operations as a means (revolutionary and freeing) yet not a reified end-game in itself?   "Could we recognize that arbitrariness is not in itself liberatory? [ . . . ] How could a text partially occupy a site?"
The actual making of art defies the history of female as muse or amanuensis, whose goal is to accurately translate a male speaker (e.g. Vera Nabakov).  Mimesis, however, since Homer, can also be seen as a procedural stage or apprenticeship:   Mary Wollstonecraft was inspired by the male-dominated the French Revolution, Simone de Beauvoir adopted Sartre's phallocentric categories, and John Stuart Mill attempted to provide a structural critique of women's oppression.  "The point is not the origins of an idea (no provenance is pure), but the use to which it is put and the effects it can produce," says Moi.  [7]
Alicia Ostriker's Stealing the Language, Prosperpine (1820), by Mary and Percy Byshe Shelley, The Speed of Darkness by Muriel Rukeyser (1960), Snapshots of a Daughter-in-Law by Adrienne Rich (1963), Plath and Sexton's archaeo-mythologies, and works by Alice Walker, Margaret Atwood, Chris Krauss, Eileen Myles, Ariana Reines, Alice Notely, and many others, are powerful revisionist texts.  In theory, Helene Cixous and Luce Irigaray have reapproriated Derrida's writings, Sandra Gilbert and Susan Gubar, the literary theory of Harold Bloom, and Helene Cixous, the consequences of what she calls "death-dealing binary thought."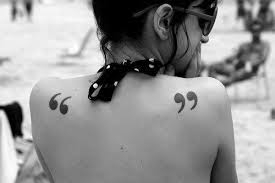 Shock can be used as political tool to anesthetize subjects, so as to smoothly "rewrite" narratives of place, origin, and criminal history:  or erase them all-together.   During a period of post-9/11 cultural paralysis, this subterfuge began, argues Naomi Klein in The Shock Doctrine, with the reappropriation of language, perpetuating the myth that the global free market triumphed democratically.   Neoliberal aesthetics hasn't helped, decontextualizing the subject from a frame, leaving said "subject" vulnerable to packaging and branding, as an vehicle consumption and cooptation in the legacy of Marx (claimed by Stalinist and Maoist régimes), Orwell, by neocons, and "feminism" by the Bush administration to justify its wars of choice.
Along with textual revisionism, erasure poetics can also provide a necessary ground clearing for the recovery of place (beginning with, as Adrienne Rich noted, a reclamation of the gendered, racial, scarred, female body by differentiating between "the body" and "my body" as a particularized, specific site) and post-colonial, post-imperialist history.  Collier Nogues sets her erasure poems in sites of recollection (her childhood spent at military bases in Japan):  poet Lynn Xu has spoken about her writing as shaped by her childhood in Shanghi.   Erasure poetics (the whiting-out rather than inscribing of the "trace"), unlike silence, acknowledges context:  the self as conceived, stabilized, through mirroring, then made, through overwriting, erasing, or succeeding a precursor's frame.   (Derrida rightly cites writing as a "pernicious" pharmakon, both remedy and poison:  as an externalization of experience, writing requires citationality to shore up ethos, and any attempts at inscription, in the technocratic age, prompt issues of intellectual property and copyright, parasitism and plagarism.)
However we choose to reconcile with the paradoxical power and vulnerability of language, speaking cogently (or deliriously, as declared by the censors) is crucial to combat non-economic (sexual violence, sex trafficking, reproductive rights) and economic realities for women in an era of contingent labor (decreased wages and job security, declining living standards, unpaid overtime, exacerbation of the double/triple/quadruple shift – and a rise in poverty, increasingly concentrated in female-headed households).   Uncritical consumption of neoliberal cant (brand yourself, or be branded, and buy, or die), using the rhetoric of female empowerment to justify exploitation, feeds, rather than helps dismantle, capital proliferative anti-logic:  Homo economius' dog-eat-dog (Darwinian) "laws," relegating exiled representations to the margins of the canon as minor or, simple inadmissible, as  "literature," both in form (realpoetik vs. corporatespeak), publication, and distribution.  F@*$ the Bauhaus, in the words of Isa Genzken, German multimedia artist whose works explode notions of scale and perception (the word "no," in its most eloquent form).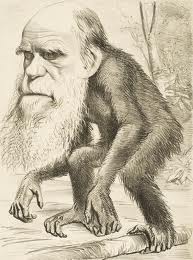 Notes
---
[1] Encylopedia Brittanica entry on Feminism, http://www.britannica.com/EBchecked/topic/724633/feminism
[2] Toril Moi, 'I am not a woman writer':  About women, literature and feminist theory today," Feminist Theory, vol. 9(3): 259–271, 2008, pg.
[3] Don Share, reposting of Lisa Robertson's "Dispatch from Jouhet!," Harriet, November 11, 2009.
[4] Robin West, "The Difference in Women's Hedonic Lives:  A Phenomenological Critique of Feminist Legal Theory," Wisconsin Women's Law Journal 3 (1987):  94.
[5] Angela Davis, Truthout, May 6, 2013, "Recognizing Racism in the Era of Neoliberalism."
[7] Feminist, Female, Feminine, The Feminist Reader:Â  Essays in Gender and the Politics of Literary Criticism, Eds. Catherine Belsey and Jane Moore (London:Â  Blackwell, 1997), p. 4.
***
Virginia Konchan's poems have appeared in Best New Poets, The Believer, The New Yorker, and The New Republic, her criticism in Workplace:  A Journal for Academic Labor, Quarterly Conversation, New Madrid, and Boston Review, and her fiction in StoryQuarterly and Joyland, among other places.  Co-founder of Matter, a journal of poetry and political commentary, regular contributor to The Conversant and, in 2014, Jacket2, she lives in Chicago.  
Guest post by Teresa Albor
Jeremy Deller said last month that art is useless.  He said this in front of an audience of artists and no one batted an eyelash, no one objected, no one was offended.  The event was an all day/all night performance piece, involving dozens of artists led by Bob and Roberta Smith, who gathered at the rundown seaside resort of Scarborough on the east coast of England.  "The Art Party" brought a spot of bright colour to the grey landscape, and approached the serious issue of cuts to government spending on the arts in a way only artists would: by breaking rules, being witty and irreverent. Perhaps, because it wasn't seeking to be "useful" the event was thought-provoking sans the righteousness of more serious affairs.
Having spent October in the village of Toffia working on a piece called "Everything simple is false," Bob and Roberta Smith's project resonated.  My month in Italy occurred at the end of three years in Chicago and before a move back to London.  Although the village became home and the Association that sponsored me an instant community, I was very much an outsider, embedded for all too short a time to make a piece of art for/with an essentially captive audience. Arriving in Toffia was surprisingly reminiscent of my arrival to do development work as a US Peace Corps Volunteer on a tiny Philippine island thirty years ago. One big difference: This time there was no intention of "doing good".  This time I was not concerned with the "usefulness" of my work.
When working in a process-based way, the intention can be to confer agency to people, but if this doesn't happen it's no big deal.  And without going down the rabbit hole of trying to ascertain the criteria by which one critiques a relational project (if this is what this type of work might be called), my experience, at the very least, reinforced the importance of avoiding the pitfalls of trying to "do good " and its close corollary, to "be useful."
It also served to shed more light on other aspects/limitations of this way of working: that all relational work is political because it involves people; the tensions between maintaining the integrity of a piece when provocation ensues; the fact that you leave and others stay behind; and feeling as if you are inflicting your work on an audience that hasn't asked for it.
What happened was expected and unexpected at the same time.
The title of the piece is a reference to "Bonini's paradox": when complex systems are simplified so we can understand them, they become less true.  A completely accurate map, for example, would need to be 1:1 to capture the detail of the territory it is meant to represent, but would be completely impractical.  So we simplify it, modify it to suit our needs, until it becomes false, but perhaps, useful.  (The London Tube Map is a good example.) This project was about discovering the complexity of a seemingly idyllic hill top village outside of Rome, to understand the "more true" version vs. an outsider's perception of its picture postcard perfectness. The idea was to listen to the people who lived there and reflect back to them what they were saying about themselves. Beyond that, the strategy was left to evolve based on living and working in the community.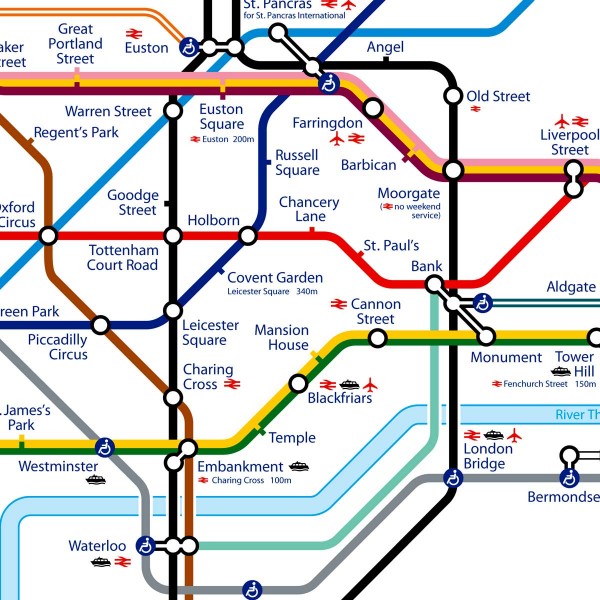 This was not intended as a piece of political art.  But in this case, as the village was in the process of selecting candidates for next year's mayoral elections, everything that impacted the daily lives of the village was perceived as political.  And as the artist Tanya Bruguera has said, art is not political art, unless it has consequences.  Using the low-tech bulletin board system of the village, flyers with quotes gathered though interviews with several villagers were posted.  The first called for affinity despite the perfections and imperfections of the village. A local SMS number was displayed along with the phrase: "What do you think?" Forms were also distributed after cultural events and we used the Associations' Facebook page to solicit content, which, interestingly, generated the most direct comments. The second flyer said: "Toffia is divided. Toffia is united.  What do you think?"  By now the posters were the talk of the town, some were torn down, and it was rumored the mayor's office didn't want any more posters to go up.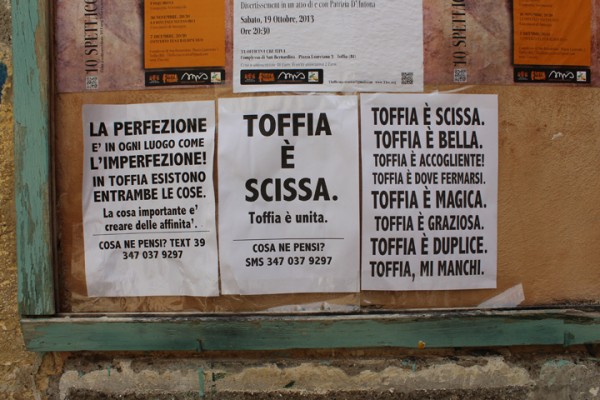 One woman said: "You've put your finger in a wound." She was, as were most people, quietly supportive. The consensus seemed to be that this "outsider" was saying what no one else would say, that only an 'outsider' would say.  In fact, all of the words, phrases, quotes came from people living in the village. Clearly, the work was going to be provocative, but what was unexpected was how easy it would be to provoke.  Meanwhile, the Association was being put under pressure.  It has taken years of hard work for the group to set up and operate a cultural programme on a tiny budget.  To their credit they engaged in nuanced discussions about how to proceed—essentially encouraging and supporting the project.  It was left to me to decide how far to push, knowing that if I pushed too hard, I could damage the very organization sponsoring me.
My methodology afforded me an observer's vantage point. At least six international artists a year stay in this village, and many of us do relational pieces.  Wanting to avoid directly approaching too many of the residents here was, in part, to avoid what a fellow artist described as treating the audience like a "vending machine" for "responses to art projects".  Locating so much experimentation in such a small place has its limitations.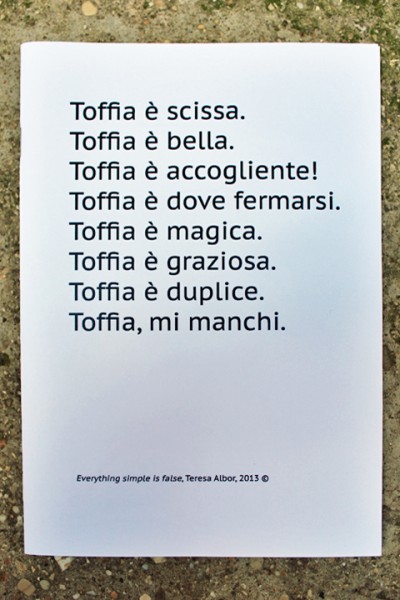 In the end, responses—including those that were flattering as well as those that were provocative—were collated into a book with black and white line drawing illustrations of the village, alluding to one's ability to layer their own perceptions over a neutral reality.  One hundred copies were given away for free on market day.  The following day, an event/open studio was held and the Association led discussions of the work.  To my surprise, the aspect of the poster campaign that was considered political was the phrase: "What do you think?" and several people at the event proposed continuing with more editions of a free periodical called: "What do you think?"  Whether this initiative takes off or not, at least the possibility of taking action, always there, sometimes acted upon, was considered.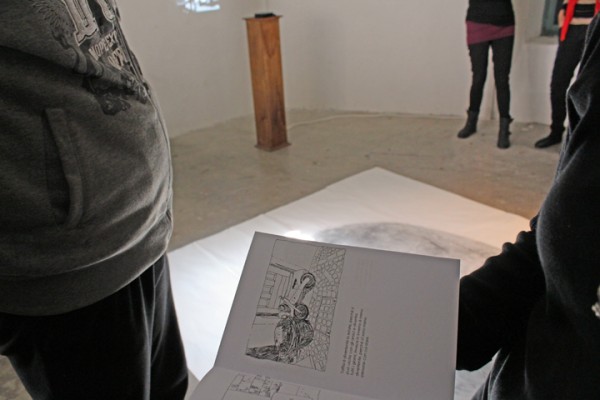 As an artist assessing my own work, the strength of this project was the attempt to engage vs. entertain an audience and an openness to many different outcomes.  It would not have been possible to achieve this if the work had as its intention an overt usefulness.  And whilst flawed, and imperfect, too short, too simplistic, this project is certainly one that was worth doing and from which more, and better projects will emerge.
In a critical Robinsonian[1] sense of utility or usefulness – that utility is a circular concept in that an entity's utility is what makes it desirable, whilst the fact that individuals desire something shows that it has utility—art could be considered both useless and useful, in a world where we accept that art provides a deeper quality of life, even strongly desire art to be part of our lives.  However, as artists, by accepting that what we make or do does not necessarily align itself with conventional definitions of usefulness we are enabled to move even further away from the trap of "production" within a capitalist social economy.  This represents real freedom (and a good starting point for another essay).
Teresa Albor is a multidisciplinary artist currently based in London and interested in site specific projects and working with/within communities. Current investigations revolve around what art is, who it is for, how and where it is made, and where it is shown. A Midwesterner, with an MFA from the University of Arts London and an undergraduate degree from the University of Wisconsin, she recently spent three years in Chicago. 
Guest post by Lise McKean
The Lightning Testimonies, Amar Kanwar (2007)
Art Institute of Chicago (Modern Wing, Gallery 291)
Extended until April 20, 2014

      All photographs courtesy of the Art Institute of Chicago
Lucky for us in Chicago that Amar Kanwar is no stranger to our city. The Renaissance Society brought him in 2003 after Susanne Ghez, a co-curator of Documenta 11 saw his video, A Season Outside. Like gallery goers here and elsewhere, I've been following Kanwar since his Documenta/Ren debut. The sensuality and aesthetics of his work intrigue me—along with the heart-mind that infuses it. A longue durée of roaming, studying, and living in India further whets my interest in Kanwar. The past four months I've shared this interest with over a dozen friends, arranging visits to see and talk together about The Lightning Testimonies along with Artemisia Gentileschi's formidable painting, Judith and Holofernes.
The Lightning Testimonies premiered in 2007 at Documenta 12, and since then it's traveled the world. The School of the Art Institute invited Kanwar to Chicago in 2011 for its visiting artist series. He spoke about and screened past and current work, including Torn Pages and The Sovereign Forest, an ongoing multimedia, multi-site project. The Chicago opening of The Lightning Testimonies in October 2013 coincided with Kanwar's delivery of the AIC's annual Speyer memorial lecture on contemporary art. In the lecture, Kanwar talked about the big ideas he explores through his work—the passage of time, loss, and memory, violence and its celebrations, crime, evidence, and the struggle for justice, nationalist ideology and state power, poetry and prophecy.
Viewers get to The Lightning Testimonies after walking through two bright white galleries adorned with colorful artwork. White text on a black wall announces Kanwar's piece. A dark passageway gives eyes a moment to adjust to the dim light. The Lightning Testimonies is a multi-channel video installation: 8 screens on 4 walls; color and black and white synchronized video running 33.5 minutes in a loop. As director, Kanwar gets the lion's share of credit, but he's quick to acknowledge editor Sameera Jain and Ranjan Palit on camera for their integral artistic role as long-time collaborators, and the whole crew's invaluable contributions.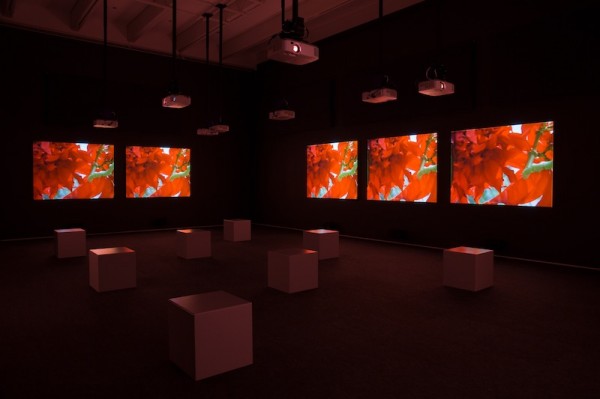 The work begins with the title page appearing on all 8 screens. Briefly a succession of images fills all the screens simultaneously. Then a dispersal begins as different images begin to fill each screen that consist of written fragments of spoken memories accompanied by footage, photos, drawings, and archival images that connect each memory to a specific place on the Indian subcontinent and to a particular moment in historical time. This multiplicity across the screens continues for about 20 minutes until 7 screens go black and the screen that's alone on its wall remains live until the title shot fills all the screens again.
Even if eyes can adjust quickly to the change in light, most viewers—myself repeatedly one of them—can't prepare for what's to come. Odds are that the viewer enters at a point when different images fill 8 screens. The absence of an obvious pathway through this work understandably challenges and unsettles those viewers who prefer more certainty about where to direct their attention.
The video formally starts with a short, stark black-and-white title shot. Soon comes the only time we hear Kanwar's voice. It asks, "How to remember what remains and what gets submerged?" The 8 screens blossom into a blaze of red poinsettias. Later the screens fill with yellow sunlight ricocheting off the window of a moving train. Throughout the work beautiful images come and go. We see the lush green perpendiculars of rice terraces, dewdrops balanced on tips of grass, delicate faces of young women. But it doesn't take long to realize the picture isn't pretty. Iconic black and white images of the subcontinent's 1947 partition appear that show a moving train bulging with people and a woman being pulled to its packed roof. On another rooftop under laundry fluttering in the breeze, a baby lies on its back vulnerable and alone.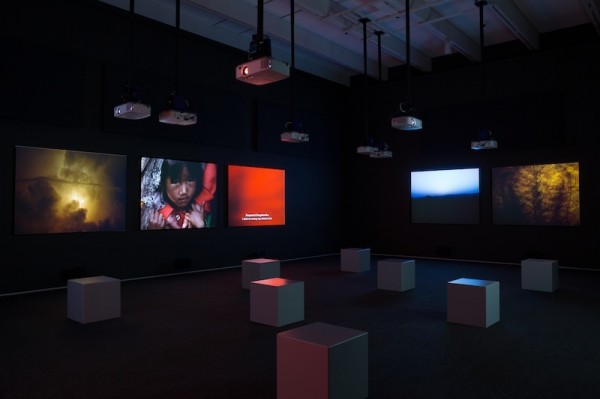 The Lightning Testimonies doesn't show images of the violence it interrogates. By citing the words of those who remember it, the work evokes a hair-raising sense of its pervasiveness, its lurking menace, and the impunity which it normally meets. For example, one witness rues, "Do you wonder sometimes how the attackers could be so brutal? Why they were not afraid. Is it because they knew they would not be prosecuted?" Images and words continue to pile up like survivors on a lifeboat. Just when you think it's going to capsize, the different fragments of testimony on the eight screens start here and there to loop. If the viewer stays long enough, this screen-specific looping might allay anxiety about where to look and how much is being missed.
Whether it's the rhythm of the rails, crackling fire, temple bells, plaintive saxophone, or the blood-curdling cry  "Ma Ho" by acclaimed Manipuri actor Sabitri Heisnam as she rehearses and then performs her role in Draupadi, the sound design by Suresh Rajamani gives viewers an aural guide. It also complements and augments the work's visual effects. Perhaps taking a cue from the grieving mother who wove an exquisite pattern into cloth to commemorate her daughter and the long struggle to bring her murderer to justice, image and sound are the warp and woof of The Lightning Testimonies.
The climax of the work—and this is where it especially resonates with the sure hand of Gentileschi and her Judith—is the unforgettable footage of women protesting in the northeastern state of Manipur outside the gate to an Assam Rifles post. The protest echoes Draupadi as the women decry both this paramilitary force for decades of criminal violence and the government of India that abets the violence by refusing to repeal the Armed Forces Special Powers Act (1958). The protesting women's rage and pain are even more searing than Indian poets and singers in Kanwar's Night of Prophecy (2003).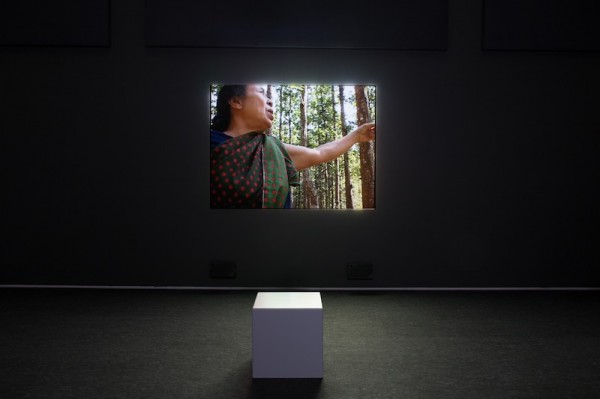 With so many ways for voices of authority to stake questionable claims—for example the Assam Rifles official website asserting, "Through its long deployment in the tribal belt, the Assam Rifles have developed an ethos primarily based on friendship with the people of the region and have earned their complete confidence," or a pair of Columbia University professors rehabilitating the reputation of Prime Minister hopeful Narendra Modi in a letter to the Economist—I'm immensely grateful for Kanwar's deliberative work. As for the relevance of the professors' letter, Kanwar attributes the explorations resulting in The Lightning Testimonies to his shock at the celebratory response to the rampage of rape, mutilation, and murder in Gujarat that took place in 2002 when Modi led the state as Chief Minister.
I've heard viewers criticize the work for being overwhelming, hard to follow, didactic, too documentary-like, and other aesthetic missteps. In the end our aesthetic judgments are based on our experiences of the work and mine tell me that this finely tuned team of artists succeeded in its complex, heart-rending, and hugely humane endeavor. Although Kanwar said he wasn't familiar with Images in Spite of All, The Lightning Testimonies breathes life into Didi-Huberman's ideas about montage and makes them visible: "Montage is valuable only when it doesn't hasten to conclude or to close: it is valuable when it opens up our apprehension of history and makes it more complex, not when it falsely schematizes; when it gives us access to the singularities of time and hence to its essential multiplicity."
In his Speyer lecture, Kanwar asked, "If a crime continues to occur is it invisible?" And later he said, "It does come down to the way we look, how we perceive." His montage starts in South Asia yet reaches wherever there are men and women. Whether we see them or not, signs of violence against women and girls are all around us all the time. Maybe it's a glamorous ingenue's broken forearm or a woman on Michigan Avenue the night of the Speyer lecture begging for bus fare to a domestic violence shelter. Or just possibly it's a trucking company forgoing its usual leprechaun and shamrocks to create a mobile testimonial: a truck painted the funereal purple of domestic violence awareness crawling through morning rush hour on the Eisenhower Expressway. It announces the name of a woman and the year of her birth and death. It's a co-worker's lament and memorial for his cherished friend whose life was stolen by a murderous man.
Lise McKean is a social anthropologist and writer based in Chicago. In 2013 she curated StreamLines, an exhibition of contemporary art in Vaishali, India.