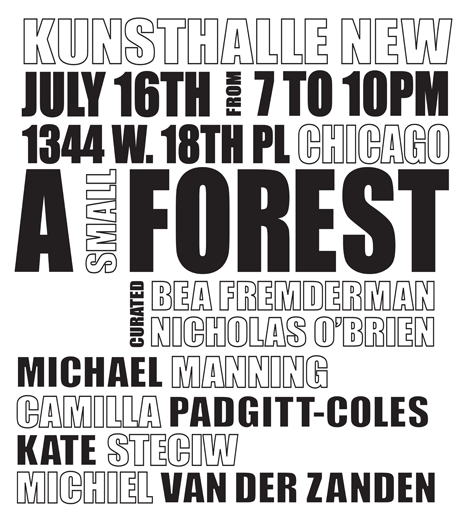 Just popping in on this beautiful Friday afternoon to give a heads' up about a one-night only exhibition event at Kunsthalle New this Saturday (that means tomorrow) night, July 16th, from 7 to 10 pm. Titled "A Small Forest," it includes the work of artists Michael Manning, Camilla Padgitt-Coles, Kate Steciw, and Michiel van der Zanden. The show is co-curated by Nicholas O'Brien and Bea Fremderman, and focuses on "delicate landscapes manipulated by the space of the screen" – love this premise! Full details below; and remember, its a one-night event so catch it this Saturday evening!
A Small Forest
artist included:
Michael Manning
Camilla Padgitt-Coles
Kate Steciw
Michiel van der Zanden
Co-Curated by Bea Fremderman and Nicholas O'Brien
A Small Forest explores delicate landscapes developed and appropriated by artist that have been found and manipulated within the space of the screen. The scale and focus of these environments varies between each maker, however the underlying self-reflexiveness of each participant is reflected in the tenderness of the spaces that they shape. Manning employs gifs to create delicate animation loops that reflect on a recent past, a distant landscape, and the resulting forgotten emotion that was once occupied but now remains abstract. The lush super-saturated moments found within Padgitt-Coles' digital images linger in an ambient realm that only appears in discarded or neglected VHS b-roll footage from backyard nature documentaries. The abstract nostalgia of Manning and Padgitt-Coles is countered by the physical reconfiguration of Steciw's rug which reminds us our physical presence in the space of the screen. Lastly, van der Zanden's machinima employs a humorous approach to tackling the issue of land and its representation in digital frameworks. Together these artists create a suite of subtle works that slow the otherwise rapid navigation of the networked world, and give pause to allow for the sublime properties of land to take precedence when entering screen space.
http://kunsthallenew.com/
http://www.facebook.com/event.php?eid=182888091770847
Pure awesomeness. An extended shot of designer Jasper Morrison's Playmobil collection. It's kinda like the Utopian flip-side of that famous tracking scene from Jean-Luc Godard's 1967 film Weekend, no? Even if it isn't, I like how it looks when they're played simultaneously. Happy weekend people.
(Playmobil Via Things magazine).
Swap & Share at Arnold Circus from Jasper Morrison Shop on Vimeo.
First off…if you haven't listened to this week's Bad at Sports interview with Hennessy Youngman, the creator of Art Thoughtz, make sure you do – it's a gem, and just went live today! Next, on this month's episode of Fielding Practice on Art21, we're joined by two guest panelists: Nicholas O'Brien, our regular B@S columnist and an independent curator and writer on net art, and Abraham Ritchie, Chicago editor of Art Slant online magazine and The Chicago Art Blog. Along with our regular moderator Duncan Mackenzie, we discuss recent changes to the long-running 12 x 12 exhibition series at the Museum of Contemporary Art and review its current exhibition, Pandora's Box: Joseph Cornell Unlocks the MCA Collection, then take a look at Jeff Carter's current solo show, The Common Citizenship of Forms, at the Illinois Institute of Technology, in which the artist uses hacked Ikea furniture to recreate a number of Chicago buildings by Bauhaus architect Walter Gropius that were demolished in 2009. Finally, we discuss the situation faced by Chinese artist and activist Ai Wei Wei, who was recently released from a 3 month detention by the Chinese government. Plus, our picks for events and other happenings in Chicago for the month of July. Click on over to Art21 to listen in, and as always, thanks for joining us!
Ryan McGinley is the latest artist to be hit with a copyright lawsuit, Rachel Corbett reports in Artnet. Janine Gordon, aka Jah Jah, an artist and rapper who was included in the 2002 Whitney Biennial is suing McGinley, along with Levi Straus & Co. Inc., Jose Freire, Team Gallery Inc., Agnes B. Worldwide, Inc., and Peter Hay Halpert Fine Art. Gordon claims that for the past decade McGinley has been infringing on her work, which focuses on "risk-taking & thrill-seeking in various subcultural factions in society," and takes the form of various media, including photography. Gordon is seeking $30,000 per infringement. In 2005 Janine Gordon also sued Dr. Dre and 50 Cent for copyright infringement, claiming that her songs  "Poppin' At Da Club," "Hardcore" and "Crazy Dreams," among others – were used without her permission on 50 Cent's album "The Massacre."
Click on over to Artnet to take a look at the photographs that Gordon claims McGinley copied and judge for yourselves, although to me the comparison itself seems irrelevant. But beyond it's reportage, Corbett's article is a fun read for bits like this one:
McGinley's guilt was compounded, at least in Gordon's mind, in 2003, when she ran into him at a PS1 opening and he responded with "a fearful gasp and speedy retreat into the crowd," according to the complaint.
Hee. Or this quote from Gordon:
"This is an art world travesty, when artists can freely steal from another artist for 10 years and be praised, paid and dance in the sun all day," Gordon said in an email to Artnet News, adding that her prints go for $5,000 while those of her younger, more successful counterpart might go for $20,000."
It's that "dance in the sun all day" jab that'll keep me laughing for the rest of the day.
Regardless, Gordon's claims seem pretty specious. Seriously, can you really claim to hold copyright on the idea of bodies flying gracefully through the air? Much as I'd love to see a moratorium placed on such imagery, this is obviously not the way to go about it. Looks like Richard Prince's loss may be the gain of artists like Gordon, and everyone's lawyers, of course.
Hey folks – just wanted to put out a quick heads' up about our friends The Post Family, who have an exhibition opening this Friday night at the Chicago Urban Arts Society, a very cool new(ish) space that has been putting on some very interesting shows. We have been informed that there will be food trucks and home brew available so you have no excuse not to join in on the brotherly love that is Post Family. Full details below.
Collections
The Post Family July 8, 2011 – August 27, 2011
Opening Reception: Friday, July 8, 2011 6PM – 11PM 2229 South Halsted Street
Chicago, IL 60608
The Post Family has been known for finding inspiration in everything from the monumental to the mundane. Given the opportunity to showcase some of their own work together for the first time in a gallery setting since they opened their doors in 2007, the family has decided to change the typical gallery spotlight from framed finished pieces to the unusual artifacts that fuel the creative process. One part hoarder habits and one part cabinet of curiosity, they aim to share these objects in order to inspire others to take action in making and sharing together. Join us for the opening reception on July 8th for an exhibit of discarded beauty, overlooked treasures & unexplainable collections. Show runs through August 27th. Exhibition is available for viewing during regular gallery hours: Thursday and Friday 6pm-9pm and Saturday 1pm – 5pm.