"In the beginning, in the beginning, there was not a beginning. The common ancestor is unknown. Between each species and the common ancestor, who is unknown, one must seek, forever seek the intermediate forms." (Georges Aperghis, Sextuor l'origine des espèces).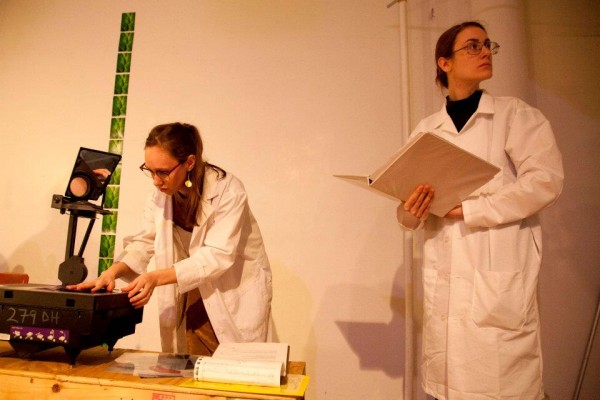 The performance took place inside a non-descript office building in Mid-town Manhattan. Despite the newish marble-clad lobby downstairs, the designated floor rested on creaking wood floors, that had been subdivided by drywall. Within an audible distance, someone sang scales and the outside wall of the theater (just opposite the elevator) was decorated with pairs of headshots a before and after beneath which lay professional tag lines and phone numbers offering touch-up services. We had gathered in the corridor of what felt like a rehearsal studio a realization that only added to the curiousness of what was to come: I mean, what would an opera about Darwin look like?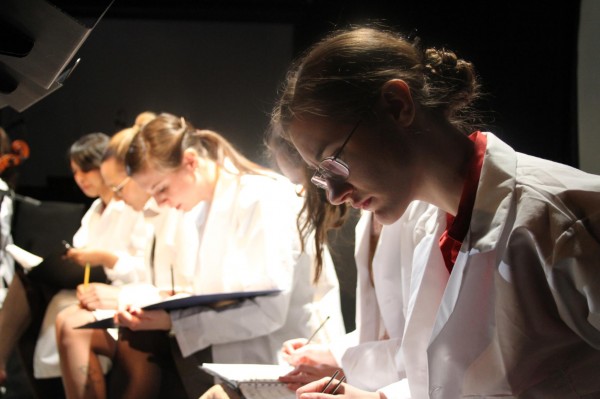 When we first sat down in the theater, before the production had started, the nearby, but disembodied voice had switched from scales to Celine Dion practicing for an upcoming audition, I supposed. She continued to push through the climax of her song until the accompanying pianist would stop unexpectedly silence ensued (what signified a conversation to me) and then the two started again, just before the song's crescendo. Two folding tables stood waiting on stage. Five binders waited patiently on each, along with a pair of rubber gloves, glasses and an assortment of small, plastic animals. (There was a pause in the Dion song, this one longer than the last). A series of steam-punkish bare bulbs had been clipped to the table and one of the walls was covered with pictures from an animal calendar. The invisible chanteuse finally completed the song and the room grew quiet. So too the house lights dimmed as six women came on stage in lab coats. One carried a cello. They bowed, we clapped and the cellist moved to the side. She sat apart from her peers who moved behind the folding tables and sat down side-by-side.
The cellist spoke first, in French (the language of the entire piece); she suggested both that there was no beginning and that we must look to intermediate forms to discover human nature. Drawing on both Charles Darwin's Origin of the Species and Stephen Jay Gould's Wonderful Life, Greco-French composer Georges Aperghis wrote a seventy-minute opera. With those texts as an anchor, and the ever present counter balance of the cello (the only instrument the opera calls for), we experienced a musical rendition of the history of evolution. Much of the performance is babbling — an assorted accumulation of consonants that sometimes mimic other life forms (a parrot for instance) but there are coherent narratives that emerge in the throng. Each of the five vocalists performs an aria on one of the following themes: Birth (Soprano I : Megan Schubert), Death (Contralto: Amirtha Kidambi), Cinderella (Mezzo-soprano: Silvie Jensen), Delivery (Soprano II: Christie Finn) and the love experience (or eros)(Soprano III: Gelsey Bell). The Cellist, Émilie Girard-Charest embodies theory (logos), and often seems to quote Darwin and Gould directly. Probably it would seem like madness, except that the characters delivering this production are certain of themselves and focused; they never seem bewildered by evolution but instead appear to channel its course seeming at once facilitators of process and investigators. They wield the authority of science, conducting comical demonstrations in petri dishes. The last thing I was expecting was that sense of humor and it gave so much life to the whole show, eliciting a whole range of emotional experience (for me anyway) from Laugh out Loud, to the sanguine bittersweet.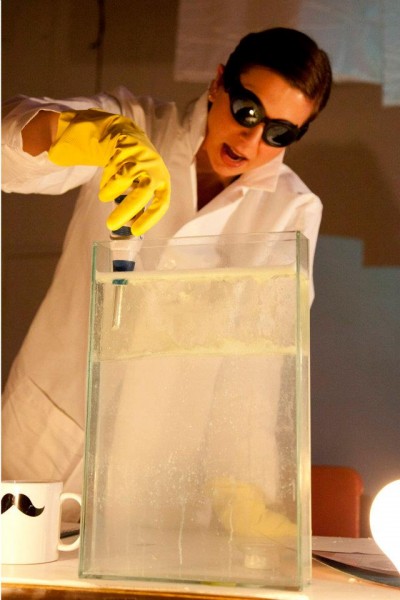 The script regularly calls for a nonsensical interlude, portions of rhythmic nonsense that separate individual solos. Always, the cellist guides the audience through the changing landscape. The production continues this way: the cellist sits to the side and interjects sensible, reflective statements. These are interrupted by longer interludes comprised primarily of phonemes the building blocks of language produced by the other singers. Much of the vocalist sound seems hysterical, harpy-like and unformed, yet perhaps aptly capturing the chaos of ecology; the five woman fall extraordinarily into sync. At those moments the audience is supported with a sudden cohesion: what often leads to the description of a particular life form: "We are in the Age of Arthropods, in the fossiliferous rocks the oldest have suddenly appeared the species belonging to the great divisions of animals. But we are in the Age of Arthropods, far more numerous than Mammals."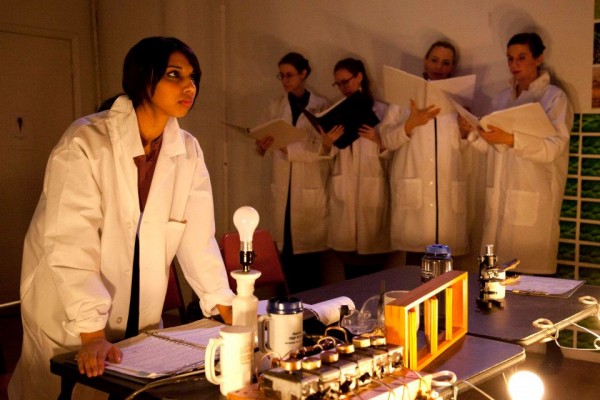 Sextuor l'origine des espèces is not officially an opera. It is an oratorio. As an admitted amateur, I've at least discovered the broadstrokes of distinction. Operatic characters interact with one another; operas also engage historical or mythological themes. Oratorios have traditionally dealt with sacred material; they are often produced in churches and require little in the way of sets.Sextuor l'origine des espèces seems to occupy a wonderful in-betweenness where these genres are concerned. On the one hand, it uses the scientific tradition as a sacred platform, conjuring the feel of an origin-story within the terminology of science. At the same time it incorporates colloquial myth, telling the Cinderella story between the music of birds and the introduction of fish. As in a proper oratorio, the characters interact very little. What interaction exists appears incidental.
One might say the same in biology. In Giorgio Agamben's The Open: Man and Animal, one of the primary projects of the book is to examine where and how humanity defines itself against its animal cousins. Over the course of that discussion, Agamben incorporates an historical naturalist Jakob von Uexkill. "Where classic science saw a single world that comprised within it all living species hierarchically ordered from the most elementary forms up to the higher organisms," Agamben writes, "Uexkhill instead supposes an infinite variety of perceptual worlds that, though they are noncommunicating and reciprocally exclusive, are all equally perfect and linked together as if in a gigantic musical score at the center of which lie familiar and at the same time, remote little beings called Echinus esculentus, Amoeba terricola, Rhizostoma pulmo, Sipunculus, Anemonia sulcata, Ixodes ricinus, and so on" (p. 40). Agamben goes to describe precisely how the fly cannot physically perceive the spider web that the worlds of spider and fly while being mutually reliant essentially exclude one another. To return to SLDE, the piece occurs both as a cohesive potentially operatic whole, as an oratorio comprised of several, independent, interlocking parts.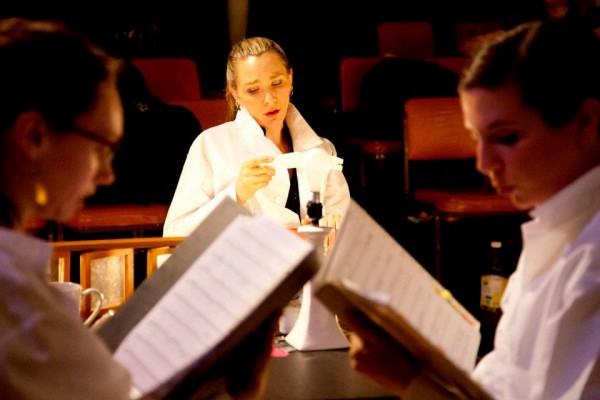 And then there is the most marvelous end. Because any biography must surely account for the demise of its subjects, a performance based on the fleeting occasion of life must also account for its own disappearance. Suddenly humanity's advantage its peculiar capacity to tell a story seems especially mistaken in its privilege. A gross delusion we share, even Homer's posthumous fame would appear insignificant: another bit of fodder for time's desert. SLDE admits to the weight of that knowledge by drawing through audience into darkness. We feel its immanence. The stage goes dark after a particularly moving solo by Love, in which she describes the pleasure of being alive, just shy of an epiphany perhaps. "But I, I was truly having fun. I whirl about as if drunk. I understood that I was carrying a great weight on my shoulders. I have an explanation for the beginnings of life on Earth. I understood that I was already lucky to be a living being." Following her song (she has taken off her lab coat and wears only a dress now), the other performers gather in a circle, joining hands around a single light. The cellist puts down her bow and joins the others, who must open their circle wider to admit her. "O, you who listen to me tell this story full of memories and holes, we are that improbable," says the Cellist in French, "and fragile species heading toward extinction and the extinction of all species, internal causes, external causes, I do not know, we the original species that tells the story of its origins full of holes and gaps, because we have so few documents, an incomplete story of the Earth in an ever changing dialect, of which we have but the last volume, some fragments of its chapters and some lines of its pages or some letters, and words of uncertain meaning! Immense Nature improbable and unpredictable, contingent nature, where are we going, we who say life was wonderful, we who say life is wonderful?"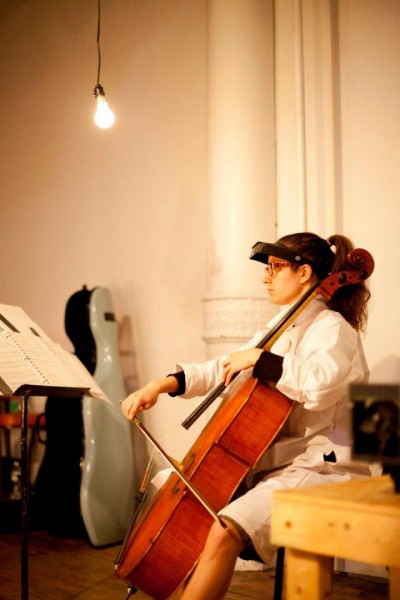 This production made its New York debut once before one year ago. Almost the same cast performed at Joria Productions in 2012. After several months of preparation this year, they had a three-night run. I felt so fortunate to be there. It brought so much to mind for instance, Timothy Morton's ideas about Nature and how there is no "over there" Nature, only a mesh we all inhabit together: SLDE captures that, while at the same time maintaining the tension of a human narrative. It also made me think about artist Marion Laval-Jeantet's experiments in hybridity and how these potentially challenge hierarchical habits between species. And then, of course, the very recent attempts Russian scientists have made to drill into an ancient lake in Antarctica: in order to see what life may have endured there, outside our human timescapes. There is so much more to write about and think about, perhaps most of all the musical components, which I am probably the least qualified to consider. But. It was amazing. The energy and vitality of its members as they negotiated what I can only imagine to be a most challenging musical score. I hope they can put it on again, for a longer run; I would love to see it again.
**Sextuor l'origine des espèces was directed by Jeremy Bloom and Nick DeMaison with lighting design by Kryssy Wright. It was hosted by Joria Productions from February 2nd-4th, 2012.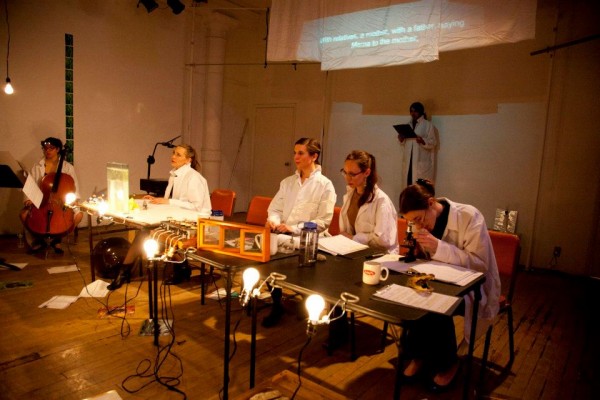 This Friday, Steve Seeley's painting show opens at Rotofugi (who not too long ago moved to Lincoln Park, so check the website for their new address if you're unsure). Seeley's figurative work often features the juxtaposition of human bodies and animal limbs, or heads. Sometimes alien parts make an appearance as well. He integrates old and new surfaces, incorporating the nostalgia of his childhood into a present assemblage. I grew more and more interested in something we didn't talk about, namely the idea of the hero and how it charts through these visual, narrative landscapes. Seeley's icons adopt the iconography of saints and superheros with all of the mystical proportions childhood bears with them. To re-erect and reexamine the Gods of childhood in effort, perhaps, to examine those ancient power structures. In Seeley's case, they often become hybrid.
Caroline Picard: I'm really interested in the way you combine natural elements with mythical ones: for instance, the way your work often offers a kind of misty (and almost traditional-painterly) background with a vibrant superhero, or animal, alien or hybrid in the foreground. It kind of reminds me of old cartoons; in the Smurfs, for instance, you could tell the background was fixed to one surface, and moving figure(s) interacted on a clear gel over top. How did you come upon this strategy in your own work? 
Steve Seeley: The backgrounds for me are definitely an homage to animation cels. I'm a child of the 80s and I grew up on cartoons; He-man, Thundercats, Thundarr, and the like, so that sort of nostalgic animation occupies a huge section of my creative mind.  I started the "delicate matter" body of work in 2004 with the backgrounds being multi-layered and muted, almost ghost like, paintings, and at some point maybe three years ago, I transitioned to printed matter. I have always integrated things I collect into my work, I guess in a way bowing to my inner nerd. Thus the action figure-y, comic book-y and taxidermy look and feel. I also happen to collect antique chromolithographs. Mainly landscapes. So it was only natural for me to eventually  incorporate/appropriate these into the work. The process involves buying a lithograph, scanning it in, messing around with it, and printing it out to paint on. By printing them out (opposed to painting directly on the print) I can control overall scale, color, direction and halftone size. And after all the other elements are painted, I get that stark dichotomy with the digital print and the paint, given that animated feel I grew up on.

CP: Your use of the bear, the deer, and the wolf feels very iconic, somehow, especially in those places where give your figures gold-plate halos. Can you talk about how your engage the animal world? Is the ram-figure any different from superman's figure? 
SS:Â Again, a great deal of my work ideas come from a nostalgia. The animals are a nod to growing up in the sticks of Wisconsin. I use animals that I used to see everyday (the deer and specific birds) as well as the animals my brothers and I feared when we played in the woods (the bear and wolves). I grew up in the super small town of Ringle which happened to be home to one of the largest wild dog packs in the state of Wisconsin. So I incorporate any number of dogs that I saw or that may have survived to be part of the wild pack (sorry chihuahua and pugs, I love ya but I you wouldn't have made it).
As for the difference between man and animal, there isn't a huge difference for me. In the "delicate matter" series, the story so far is that man has left earth for outer space because he becomes enamored with something he can't comprehend, something that is entirely different from what he knows. He leaves earth on bad terms with the animals and while he is gone animals become what they were destined to be, a transformation per se, into heavy metal loving, super power using, pop culture loving creatures. When man gets to space he finds it to be less than he had hoped, and he tries to come back but the animals refuse. So man is stuck in space while animals take he's place back on earth, essentially filling his old shoes, and becoming the new "man."
There were a few years when I only painted animals (except in the "segue" paintings) but currently man has started to reappear. But only under the guise of a superhero since generally that means your true identity is hidden. Oh yeah and celebrities have always remained on earth, which is why the animals often chill with Miley Cyrus and let Sasha Grey ride around on their backs.


CP:Â At the same time, your figures are basically anatomically correct, and feature studied detail. Then of course there are places and points where you interrupt our expectations, creating a hole inside a bear's chest for instance. Or giving a human torso a wolf head: how do these interruptions come about?
SS:Â The holes (along with the halos) are meant to lightly symbolize a religion, rather literally. The holes become an extreme stigmata of sorts. I am not necessarily a religious person but I am fascinated by what religion does to societies. It causes rifts and causes people to take sides, which can result in conflict… which is something for years I didn't have in my paintings. Everything and everyone peacefully coexisted. It was thru adding the religious aspect that I was able to split the world I had created.
The head swapping was a way for me to even more-so humanize the animals. Initially all the human body, animal headed figures in my paintings were referred to as "saints", figures that were idolized by the other animals and which usually also adorned halos. But once Saint Sasha Grey and Saint Cringer (from He-man) got introduced, I began to play with the animal headed figures as not only religious icons but also celebrity icons. For my upcoming show at Rotofugi there are 25 animal/alien/monster headed human figures all imagined as boxers or wrestlers.  My intention is to make them a whole new breed of celebrity within the world they exist, at the same time causing additional rifts. Sport is such an easy way for people (or animals in this case) to turn on one another and choose sides.
see more of Seeley's work by going here.
Many of these discussions about hybridity seem to center on the borders of identity: those places we feel something might end so that another substance, or self can begin. Language is essential in the communication of those boundaries; it enables a consensual agreement. The very act of naming, for instance, differentiates one body from another. I am curious about how language is embodied and how an artist invested in movement-as communication might explore that position. I thought I could interview performance artist, Justin Cabrillos. He is particularly focused on how the body and language relate: what seemed like an additional progression from my last discussion with Vanessa Place. Drawing on elements of dance, performance art, poetry, and sound art, explores an inefficient use of breath, the valleys of nonsense and physical exertion. Cabrillos was an IN>TIME Incubation Series artist-in-residence at the Chicago Cultural Center, and a 2011 LinkUP Artist at Links Hall. He recently collaborated with Every House Has a Door in a performance for artCENA in Rio De Janeiro. He is the recipient of a Greenhouse grant from the Chicago Dancemaker's Forum.
Caroline Picard: I'm interested in how you integrate language and the body: there is something about this process that makes a lot of sense to me, in so far as both the body and language are mechanistic. In your performances, you seem to embody the two at once, calling attention to the ways in which the body gives life/animates language. At the same time, I feel like you also illustrate a kind of twitch or glitch in both, as they merge  — is there some way that you could talk about this?
Justin Cabrillos: That's a nice way of putting it. The body does give life to language. I'm particularly interested in the twitch, tremor, trauma, and the body in crisis because it calls attention to those different kinds of bodies, which language can inhabit and can be transformed by. In my most recent piece, Troupe, I often worked with generating flow in movement and in text, which I would then disrupt, physically or vocally, with a twitch. Somehow that moment of twitch or of crisis speaks to one of many processes of giving life to the body and language. When I was making Troupe, I would often  develop movement and language separately and then superimpose them on one another. Other times, I would read about P. T. Barnum's discussion and publicity of the different figures in his circus and I would use that to develop some of the choreography. There were moments where I sang selections of P.T. Barnum's autobiography, but then my gestures would align with the singing and other times where I would create a gap between the image of me singing and the actual song. I might flail my arms, while I was whispering. Or, the rhythm of my gestures would be staccato, while the singing was legato. In general, this is a kind of strategy I use because I am interested in picking apart a very familiar experience and then offsetting it slightly, so that you can experience elements of the familiar and the unfamiliar simultaneously. I guess the strategy itself is mechanistic in that it is informed by digital processes. It's kind of like watching a movie in which the soundtrack is slightly off. Though the body and language are related, I also think that they are different in many ways. Each has a different presence on stage and has different strategies for meaning making and unmaking. Dance can do things that language cannot do and vice versa. But, I'm interested in how the different things they can and cannot do bump up against one another to do something else.
CP: Where do you imagine the body ends and begins? Does that conception change depending on whether or not you are performing?
JC: For me the body doesn't begin and end at the skin container, so to speak. It's easier for me to think about bodies instead of the body. I got injured a few times this Fall, and I've been curious about these different bodies that these different injuries have produced. After the injuries, my body has never been the same, but that showed me even more that my body was never the same in the first place. I am interested in the way spit, feces, food, and lovers are all extensions of our bodies. The anthropologist Nadia Serematakis discusses this way that our bodies can extend beyond what we normally think of as the boundaries of ourselves. In much of the choreography and writing that I do, I often look to pulling from outside sources, music I'm listening to, books I'm reading, movement I observe in a museum—which I then alter in different ways. In Faces, Varieties, Postures, I performed several images from a Civil War Era etiquette book depicting men with their guns. I am not interested in where bodies end, but I am interested in how bodies begin and begin again. This concept doesn't change much whether I am performing or not. I think there are multiple bodies, the performing body, the social body, the injured body, but I am invested in all of them when I think about a body because the perceived differences between them highlight their differences and commonalities. I don't really believe that there is a neutral or blank body, whatever that would look like, and so I don't believe in a body that ends. It just becomes something else.
CP:Â  What is the function of breath in your work?
JC: When I did On a Corner, this was a central concern. In the piece, I recite the alleged origins of the Corner Bakery, which are printed on their cup sleeves. I inhaled instead of exhaling the words, and allowed myself one breath between each line of text. I lost my breath and started going into spasms because of the task's effect on my body. There I wanted to deal directly with the breath in relation to language. However, the piece became something else, as it was also a way of connecting with the audience. The sound and image of someone breathing can move someone else to breathe in a similar way, as in a Yoga class. The way we move our breath can lead us to move and breathe in different ways. This in turn can lead someone to feel different emotions that are associated with that pattern of breathing. In performance and in generating material, I play with different ways of using and misusing breath. I am drawn to different language and different vocalized sounds, like weeping or laughing in Troupe, that are somehow as basic as a breath. These sounds, among other effects, mirror a response to the audience and that somehow can construct empathy, coercion, and manipulation. At the end of Troupe, I lie on my side and laugh for several minutes with my mouth in a held smile. I have dealt with laughter in other pieces as well, but this time, I was curious about the laugh track in sitcoms. I slightly altered the usual "heh" sound to a laughed "i" sound. The repetition of it produced some laughter from audiences, while I struggled to hold myself up and push myself across the floor. Laughter was just one of many responses, but I welcome those other responses. I often use the voice and movement in ways that can create fields of responses that can conflict. I am fascinated when an audience member has an ambivalent response, and when audience members have very different responses from one another. An audience member might be laughing at something that is suffocating me, while other audience members might be well aware that I'm suffocating. I don't see breath as having a singular function in my work, but I do think that it often establishes a sort of visceral connection with the audience that may help tap into some of the other issues I'm dealing with in a piece.
CP: Where does sense come from?
JC: I think sense is neither objective, nor completely subjective. It is akin to consensus, and is similarly grounded in particular disciplines, social groups, and individuals.  When making a performance, I think a lot about the contract that a performer establishes with the audience. I try to establish different buoys for an audience, so that we can move further into "nonsense" and perhaps create some consensus out of that. Ultimately, I wonder how something that is called "nonsense" or that is outside of  "common" sense or that is socially awkward somehow, speaks both to the consensus of a particular group of people and to the dissensus of others.
When following an agenda or thesis of some kind — in this case, my steady and probing look at hybridity — one often tries to fit multiple practices under one umbrella: there is a desire to keep everything neat and tidy, in order, I suppose, to embolden an intuition with evidence, to make that intuition feel reasonable, and therefore true. Theoretical exercises might resemble murder investigations in that way — one wants to find proof beyond the shadow of doubt. At least, that's what I find I do, and in this particular case it's amusing, because my original inquiry is centered on an unstable concept. Hybridity is intentionally resistent to categorical thinking. The minute categories are defined, the hybrid wants to transgress and muddle and undermine the categorical thought it inhabits. Thus, I take some deep pleasure in printing the following transcript. It shows how I began to get too comfortable with what "hybridity" might mean, and thus how I began to apply it, suddenly and smoothly, to anything. The following transcript marks a failure in that attempt. It is not so simple, (as I had originally and perhaps hastily presumed) to call Vanessa Place's practice a hybrid one: yes, she is both an esteemed lawyer and experimental poet. Yes, her legal work — the plethora of accrued documents — has become, literally, her poetry. And with these two yes's, combined with my own experience of her performance — during which she read, word for a word, a trial transcript — I imagined she was combining two worlds. I thought I could convince her to talk about her work in those terms, under my umbrella. Instead, Place calls attention to the slippery nature of words;  meaning falls slick through our grasp like sand, ever sensitive to context just as it is always capable of transformation. In fact, words, like people, like bodies and chairs: are fickle, multifacted, both present and out of reach. Vanessa Place has published many books, including  Dies: A Sentence (2006), La Medusa (Fiction Collective 2, 2008), Notes on Conceptualisms, co-authored with Robert Fitterman (Ugly Duckling Press, 2009), and The Guilt Project: Rape, Morality and Law (2010). In addition to her own poetry and legal practice, she is also the co-director of a magnificent, experimental poetry press called Les Figues.
Caroline Picard: In some ways, it seems like you lead a double life as a criminal appelate lawyer and literary force. These two occupations could require a split in your mind, but you have managed to integrate them: How did this possibility first occur to you? 
Vanessa Place:Â It was more a matter of capitulating to the inevitable; one learns not to avoid the trap, but to walk into the trap and see if it can be trapped.
CP: Are traps generally trappable? Do they have inherent weakness (by virtue of being traps)? Or are those weaknesses a result of the expectations we impose upon ourselves? (For instance that one must choose to be one thing or another).
VP: Traps are always trappable. The trick is to want the trap: see Brer Rabbit. The other trick is to have no expectations.
CP:Â How is the poet most often trapped? How does this compare to traps in witness testimony?
VP:Â Both fall for the truth-trap.
CP:Â Is language itself a trap?
VP:Â Wittgenstein said so. If so, it is the unavoidable trap. As is meaning (though there is no difference in this).
CP: When I saw you read here in Chicago you read a transcription of a domestic assault trial as poetry. Would you consider that transcription a hybrid text? Does the hybridity rely on the performance/context? Or does it exist just as well in a court of law?
VP: It exists simultaneously as a legal document and as a poem. It's not a matter of hybridity, but of transubstantiation. In other words, words only exist in context, in whatever language game in which they happen to be deployed. Content is context.
CP: Can the human body be similarly transubstantiated? Are texts and bodies synonymous? This would make us like chameleons, in some way…
VP: Not chameleon because the chameleon remains chameleonish. That is to say, it alters not when it alteration finds. Texts, like bodies, are capable of complete metamorphosis
CP: How is it possible to communicate meaning if meaning is always contextualized (and therefore, I presume, relative to each subject)?
VP: Subjects are always sobjects, amalgams of subjects and objects. Consider whether it is possible that we are meeting at the point of our mutual thingness rather than our mutual selfness.
CP: Is it possible that mutual thingness is an experience held in common by all things — living and nonliving alike? Would a text's thingness be equivalent to a chair's thingness?
VP:Â Yes.
CP: How much does your performance of the material influence that context? When I saw you read, for instance, it was as if each word was given the same treatment and weight, as though you removed the emotive passion of the spoken words.
VP: Performance is another context, thus creating another piece. Similarly, one performance context, such as a reading in a gallery, creates a different piece than the same performance occupying another context.
CP:Â Where does the animation come from? Is there anything especially remarkable about words said via breath vs. words written on the page, or on the ground, or letters scattered on a refrigerator?
VP:Â Not remarkable. They are different creatures, however. In other words, you tell me.
CP: Does something essential about that "found" manuscript transform when it is recontextualized by a poetry reading? Or maybe, more generally, what happens? (For my part, I remember being astonished both by the horrific violence you were relaying, what was nonetheless paired with a simultaneous experience of beauty — the beauty of language, for instance, the beauty of a vernacular and the beauty of appropriation, even the visceral experience of horror).
VP: What happens depends on the receiver of the text — all of the things you describe are absolutely true — for you. Another person might be blinded to any potential for beauty, another, aroused by the violence. There is nothing essential in the text itself: the text is dead. The context, on the other hand, remains quite animated.
Vanessa Place from editionsere on Vimeo.
CP:Â  Is violence a necessary tool for animation? Or, more generally, what does violence do? What is its function?
VP: It insists on.
CP:Â How can an impersonal force contain insistence in all its manifestations?
VP:Â Think of shame.
CP:Â Does violence have a mutual thingness?
VP: No.
CP:Â How does violence impact a given page? Does the trauma it inflicts reoccur each time that page is read? Would that somehow be equivalent to someone who, in retelling the story of his or her violence, reenacts the incident in some way?
VP:Â Pages are people too. Like pages, they flip, depending on who they turn to.
CP:Â I have a friend who went to law school initially because he said he wanted to learn more about human language and (in his words) "the scaffold of reason." How do you feel your relationship with language has changed with regards to your legal background?
VP:Â You assume it has changed.
This is how it has changed.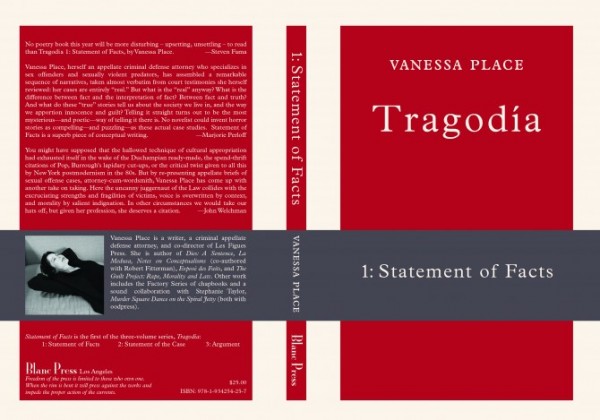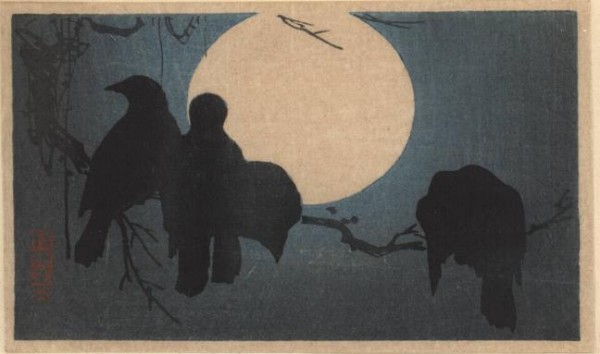 Given that these weekly discussions address the subject of hybridity, it seemed worthwhile to expand the conversation beyond the bounds of art practice per se and foray into those scientific, philosophical landscapes which so often inform the art one makes. In this particular case I had the opportunity to interview, via email, Timothy Morton. Many of my questions about hybridity came into focus after reading his book, The Ecological Thought, (Harvard UP, 2010). You can imagine, then, how awesome it is to communicate with him directly, and especially on the heels of Tessa Siddle's performative embodiment of plants and animals.  In addition to The Ecological Thought, Morton teaches at UC Davis, and has published a number of articles, essays and lectures (a number of which can be read/listened to here). His first book, Ecology without Nature was published in 2009 (Harvard UP).  Morton deals specifically with the interrelatedness of  life forms— a framework that incorporates and integrates the society of all creatures.
Caroline Picard: I am especially interested in the interstitiary borders between species, animals, plants and (even) robots. In your book you suggest that those borders are not fixed, but constantly in flux. At a certain point, our attempts to differentiate a robot a non-robot are become arbitrary. (I love your example of a computer virus vs. a flu virus, for instance). Thus the human tendency to delineate and classify boundaries between this and that are both aggressive and artificial. It reminds me of this idea that, Adam for instance, had no connection with his environment before he began to name the animals. Yet in naming he imposed distinctions that separated different objects and creatures. Is there another kind of strategy to learn about one's environment? Or should we think of our names and categories as temporary scaffolds that may change at any moment?
Timothy Morton: Well, one could think about science as assuming that we might be wrong about something, and then investigating the contours of a thing to assess whether we were wrong or not. One of the most inspiring things about Darwin's work is that he was ready to let go of categories such as "species" and "genus" that had held since the days of Linnaeus.
But there might be a problem with this approach, not so much in the practice, but in the attitudes that swirl around it. There is a widespread assumption that things such as butterflies and chimpanzees have no intrinsic reality because they have no essence: you won't, for instance, find a chimp-flavored piece of DNA as opposed to say a daffodil-flavored piece. The trouble is not science per se, but scientism, including the philosophy that thinks it's above other forms of philosophy because it cleaves closer to what it thinks science is saying, namely that smaller things like atoms are more real than medium-sized things like horses.
When we see a horse not as a category or as a species, we see it as this unique entity galloping towards us. I think that the refusal to put too many labels on things doesn't have to blur everything into grey fudge, but rather it could allow things to be just what they are, which in my view is totally unique. At that point it's all right to say "horse," because you know that it's just an arbitrary designation. But the rippling, neighing beast in front of you isn't nothing at all, nor is it a grey fudge sculpture. It's a real horse, an actual horse.
There is a weird Möbius strip quality to this way of thinking, then. As you continue to dissolve concepts about things, the things themselves become more vivid. Ecological awareness, which is becoming the default mode of human being on this planet, just is this strange blend of vivid and unreal.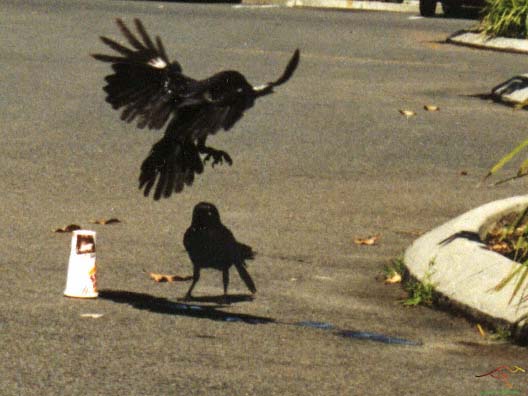 CP: Can you talk a little bit about the ways we have personified Nature in the past? And how your work disassembles that vision, in order to integrate our consciousness into it? (I don't know if that's how you would suggest using your idea of the mesh, but I had a feeling in order to embody that idea, something fundamental would have to shift with regard to my understanding of self, i.e. that I was somehow able to expand that idea of self, or imagine it porous and (also) fluctuating.)
TM: It is not so hard to imagine yourself as porous and fluctuating. Perhaps in the old days mystics only could do this, but now all you have to do is have a blood test or read a biology textbook. They will tell you that your body is full of mercury, radioactive materials, and so on. The book will show you mitochrondria, which are bacterial symbionts with their own DNA living in each of your cells, without which we would keel over unable to live at all. Mitochondria are in hiding from the environmental catastrophe they caused, the one we call oxygen.
Nature is not a concept we can take with us into an ecological age. It's a relic of an agricultural life that has been dominant on Earth for three thousand years but which shouldn't persist forever — remember that it's responsible for an awful lot of global warming. We've just gotten used to seeing the world that way: as bounded, with a horizon — the sun comes up, the sun goes down, hopefully there are no windfarms on the hill to spoil the picturesque view. Nature just is a picture postcard, not actual coral or bacteria or aspen trees.
Nature is a product behind a glass screen in a shop window. The glass screen is the windshield of your SUV. You drive your SUV through the wilderness to get a couch potato experience of watching Nature as if on TV. Or you watch TV shows of other people doing it, so you don't have to. Nature is a combination of agricultural framing of the world with its rolling hills and horizons and sheep; and of industry, with its processes and automation. Nature is a modern product that is antiqued to look ancient and premodern. But modernity is over — the writing is on the wall, or rather in the thin layer of carbon deposited from 1790 throughout Earth's crust, beginning what is now called the Anthropocene. We created a geological era that now intersects with human history: think for a moment about how scary that is. Now we know it — so Nature, which just is "stuff over yonder" — is no more, because we now know that "over yonder" doesn't exist: it has a real name, such as Pacific Ocean or wastewater treatment plant or neonatal tissue. There is no "away" to which to chuck things anymore.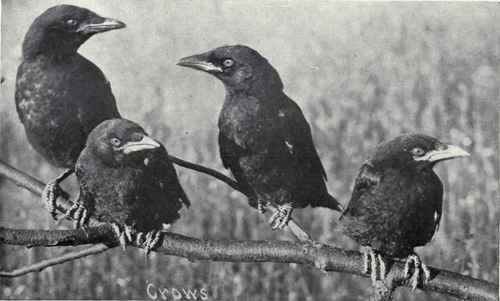 CP: Do you feel like there is something fundamentally human? And (this may not be related, but I was curious nonetheless) what is the role of our imagination in all this?
TM: According to evolution science, there are two things humans do very well, but they are a bit of an ego blow: throwing and sweating. Everything else is also done by nonhumans, including consciousness, feelings, art, tool use, you name it. I am not a fundamentalist at all so of course, there can't be something fundamentally human. Many philosophies and beliefs tell us we are uniquely good or uniquely evil, including some environmentalist ones. Those ideas are getting in the way of what we need to do right now, which is simply to recognize that nonhumans are, and always were, on "this" side of social, psychic and philosophical space. Crows and slime molds are already part of society: just think of the crows that use suburban streets and cars as nutcrackers, dropping nuts just in front of the wheels. This is not such a strange idea if there is no away any more. Everything is "here." We have to widen our ideas about what democracy is: it includes cows, corn and clouds of methane.
Read more of Morton's thoughts, interests and observations on his blog, Ecology Without Nature.