THIS WEEK! Some great posts — Aiding his ongoing comparison between the Big East Coast City Life and Small Town Midwest, Shane McAdams got a speeding ticket.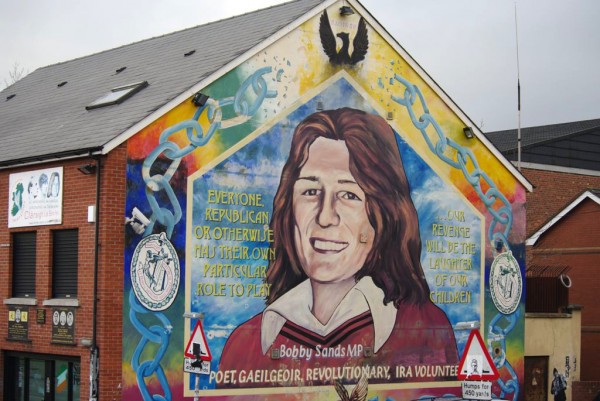 Social Practice Tuesdays featured Mary Jane Jacob's post about Belfast, Ireland, where she participated in an EU endeavor called City (Re)Searches:
"The Belfast conversation was not just about supporting enrichments or extending access to entertainment, though these ways of experiencing culture were there, too: from classes to community care programs to opera to technology. But it was also about imagining a wider narrative that can enable a realization of the part we each play—not divided into dark and light matter—and one where the possibility of everyone's own agency can come into the foreground. This is maybe not always result in changing the world, but it can lead to life well lived. "Cultural agency is not dependant on artists, though their way of seeing and practicing can offer moments of insight and real vision. One thing we know well in Chicago is that by working in collaboration, participating in making culture, we have agency in the world. This cultural agency is about self and collective determination."
And Abby Satinsky's reflections on Mess Hall, and how to measure socially engaged art projects:
"I really am going to miss Mess Hall. I say that with unabashed sentimentality. It will remain a compass for me because of its messiness, its utopian promise, its desire to be so wholly other than the typical art institution and outside the market, and because its sweet belief that social and economic justice could exist coterminously with a desire to be an ethical, socially-engaged culture-maker. Go see them before they close, the final party is on Friday, March 29. As they say: Join us for our final gathering in the space. We will say our farewells with a parade, a key-tossing ceremony and a night-long party. The current key-holders do not wish to leave the space alone. We will leave it as we found it: together. "PS: Never the Same is doing a free seminar this summer on archiving Chicago's politically and socially engaged history, their call for participation is here!"
The San Francisco report came in via Jeffrey Songco. "To be blunt," Songco writes, "It's been quite difficult to write about Rachel Mica Weiss. Her seemingly simple artwork of woven fibers, heavy rocks, and large tapestries of knots deliver moments of considered contemplation. For me, that contemplation reduces my chances of finding something to write about. It's like taking a really wonderful bubble bath, and then realizing that you've just been soaking in all your grimy dirt, so you have to get up and take a shower." Songco  goes on to interview Weiss about her first solo show, a window show nylon nets, plastic bladders, salt, pigment and lights.
J: Can you share some ideas that were present from the start of the project and then some that emerged post-press release? R: I guess this project, like a lot of my work, started with the idea of self-containment. I'm thinking about the ways in which we place limitations on ourselves. J: You mean like self-control? "I'm only going to have one more cupcake." R: Sure. This project in particular kind of took on a more global or geologic perspective. It was definitely informed by human practices around climate change, but in a more general way, it's talking about our attempts to contain that which doesn't want to be contained. These crates – or what should I call them – these box forms are trying to hold on to pounds and pounds of salt, but it's a ridiculous task because it's pouring out of the net. It's futile. I guess the other side of the installation deals with the opposite extreme: trying to hold on to something so tight that you lose access to it, like the plastic bladders of water that are wrapped in net, and then wrapped in another layer of net – it's this precious resource nobody can even get to.
Feeling blue? Follow some of Richard Holland's mood remedies. This week, Holland suggests som COAST to COAST AM radio. 
A couple of weeks ago, Eric Asboe wrote to me to point out that Bad at Sports had failed to include a dispatch from the great Minneapolis. Thanks to Asboe, I am happy to say that my editorial oversight was officially remedied this week via his dispatch. Asboe addresses two shows in "Process, Here And There: One View of Twin Cities" —  Painter Painter at The Walker Art Center and R.U.R. at The Soap Factory,  calling them "spare, quiet returns to formalism." Asboe goes on to say, "These glimpses into the processes of the artists point to the larger concerns of both exhibitions generally. As static and formal as the works appear to be, the exhibitions are truly invitations to move beyond the walls of the gallery, to delve into the process of art making, to begin exploring the artists' bodies of work and their relations to contemporary art practices."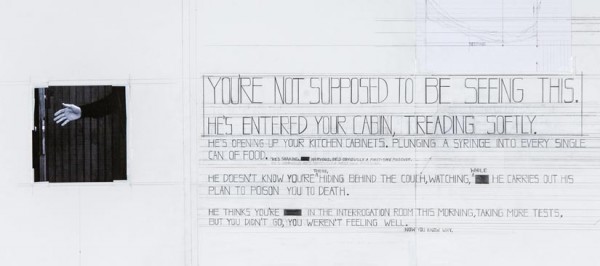 Richard Holland interviews the highly esteemed and ever illustrious Deb Sokolow, about her solo show at Western Exhibitions — a show inspired bySokolow's residency in Norway last summer: "The story is loosely based on the residency's environs and I wrote the residency's administrators and the other artists there into the story as characters… I don't want to reveal too much- but the idea for it comes from this feeling I had about the place. The entire two months I was there, I kept thinking, 'What's the catch?' Because the place is an artist's fantasyland: Each artist receives a monthly stipend, a travel stipend, a beautifully designed cabin and a large, gorgeous studio with a whole wall of windows looking out on the most beautiful Nordic forest scene ever, and there is a significant amount of uninterrupted time to work. Everything about it just seemed too good to be true, so I thought that maybe the place could be a front for something else." (Editor's note: To emphasize their wisdom, I emboldened that last sentence.) Sokolow's show opened this last Friday and will be up until April 20th.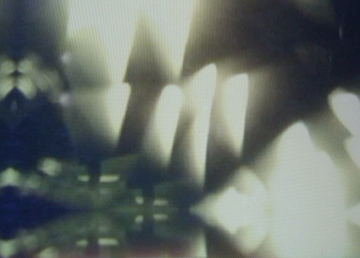 Stephanie Burke's TOP 5!!! (A phrase that should always be shouted through a megaphone, in the same style used by Monster Truck Rally-ers nation wide). I also announced a panel discussion about Service Media that took place at the Cultural Center this last Saturday.
Danny Orendorff put together a fantastic post about visiting your family, finding kinship at a Renaissance fair, and ruminating on the potential of craft to both document and celebrate alternative familial pasts/presents/futures. "Yes, I went to The Annual Arizona Renaissance Festival & Artisan Marketplace," Orendorff writes. "Sure, there were obscene amounts of turkey legs and synthetic fairy hats. But, there were also inventive, and unusual, and entirely self-determined lives being lived by an all female group of traveling weavers, by a motorcycle posse displaying self-designed insignia, by the self-described 'Family of Artisans' hand-making gorgeous moccasinsas part of Catskill Mountain Leather Co., by the cute fire whip master being assisted by the falconer's girlfriend, and even by the falcons themselves – rescued and rehabilitated by this hodgepodge group of folks. I met an older gentlemen carving wood spoons and thought to myself, despite my complete lack of artisan skill, that I could do that too. I wondered about apprenticeship as a possible alternative for the establishment of intergenerational connectedness. I encountered an oddball bunch of chainmaille artisans who looked at me knowingly, with love, as I admired their sexy two-tone halter top – the one with a silver women's symbol subtly entwined with classic gold chain."
I interviewed Chicago painter Ann Toebbe about her show at ebersmoore. When asked about the way she painted windows in her interior spaces, Toebbe replied: "A friend told me that he knows my world until he looks outside my house. I take a lot of liberty in painting the outdoor views that will be covered by curtains or partially hidden from view by furniture. I desperately want to paint loose and to be expressionistic and these obscured outdoor spaces give me the opportunity to be painterly. I use washy, sponged, and pooling paint in the window views in the newer work. Another clue that the room is a painting and isn't grounded in reality."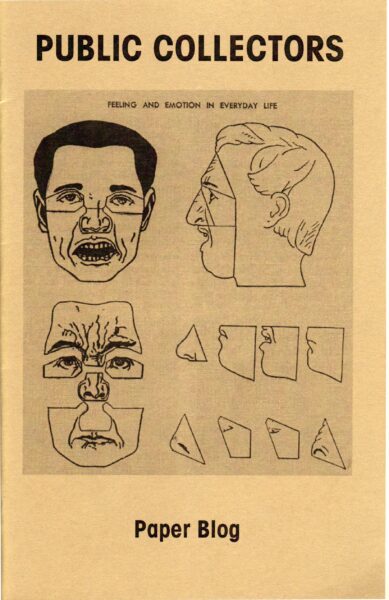 Bailey Romain talks Public Collectors: "I may have been largely attracted by the gold sparkly cover when I picked up a copy of "Public Collectors" at Zine Fest a few weeks ago. The glittery paper is wonderfully complemented by the diagram of a fragmented and grimacing human face – shown both frontally and in profile, and topped by the caption "FEELING AND EMOTION IN EVERYDAY LIFE" (the image is scanned from "Psychology: The Fundamentals of Human Adjustment," published 1946)."  
Ann Toebbe is well known for her stylized, architectural paintings — paintings of empty rooms occupied only by objects. These are rooms at rest, between uses, and the furnishings within them stand enigmatic and remote, at once pointing to a network of human relations while being simultaneously autonomous; it is as though these things are preoccupied with a non-human work. Toebbe's chairs seem to be doing very well for themselves, even when not fulfilling their intended, anthropocentric function. In her latest solo show at ebersmoore, The Inheritance, Toebbe introduces humans for the first time. The human figure shares space with its furnishings, pointing to a narrative that seems, at first, more accessible. It is a narrative that invokes the artist's biography as well. By way of a press release, we learn that these ornate tableaus tell a story of inheritance and greed — "Dorothy and Jessie also left shares of their P&G stock to their handyman and caretaker, Ron; to their church pastor, and to a man from their church named Loreaux. But when Dorothy and Jessie died, Loreaux claimed a greater share and sued the estate. While the lawsuit was pending the stock market crashed; by the time it was all over, the fortune was all but wiped out. Toebbe's parents had counted on the inheritance for their retirement, but because of Loreaux's greed, all they inherited was frustration, disappointment, and anger." While this narrative hovers like a background noise, the figures depicted seem remote from it at first. They stand or sit, static as any area rug, bed or book case. Together, these various, human and non-human, elements conspire to create an illusion of stability and cohesion, an illusion that ties in directly with our expectations of domestic life. The home is supposed to be a solid and reliable structure. It never is simply that, however, especially when one considers the transmission of its objects between generations. As a result the given narrative reminds the viewer that what one assumes based on a constellation of objects is only ever half of the whole story. While Toebbe presents calm scenes of the home, she nevertheless reminds us of an unpredictable and dynamic vitality therein, incorporating shifting POVs and gestural marks that evoke the emotional somersaults in a home and its family. Somersaults not always visible from the sphere of personal affects. It is perhaps the way any home works, being at once functional and flighty, recognizable and strange.
Caroline Picard: How do you think about the objects in a given space?
Ann Toebbe: I have a knack for flattening space. It wasn't considered a great asset in my early training in drawing and painting but I have cultivated my skewed perception — often called folk or faux naïve — of space. I imagine objects flat first, then bend and fold them in creative ways to make everything fit in a given room.
CP: Yeah, there are points in a given painting with the orientation of a viewer to the scene will completely shift form, for instance, a bird's eye view transforms into an eye level sight line.
AT: I started out using predominantly a bird's eye view. My early paintings look like cardboard boxes with the lid taken off. You'd look in and see a room in my version of three-point perspective. I drew the lines of the wall in perspective making the floor look like it was in deep space. As I painted more rooms the architecture flattened out — it's simpler for me to unfold the walls rather than try to use extreme perspective to include everything. The rooms are unstable in terms of gravity but since I know from the start how the painting will be oriented and place things accordingly, they feel grounded.
CP: That's what's so striking to me: even though the POV shifts dramatically, the objects you paint feel grounded and stable — even the way you incorporate materials like doily fabric, or the grounding pattern running across the floor — everything has this visual tactile quality, but then you'll suddenly twist the POV — can you talk about that a bit?
AT: The Inheritance is my first mixed media show. I included fabric from my mom's wedding dress, yarn, store bought Christmas lights, and grass paper intended for train sets. My mom inspired The Inheritance and she loves kitsch.
CP: This is the first time I've ever seen you incorporate the human figure into your work — how did that transition came about? Did the human form felt like an intrusion in your conception of space?
AT: I've wanted to include the figure for a while. I can't count the times I've been asked why human figures aren't there or if I'd ever include them. I wanted to give it a try — why not? I just had to come up with the right body of work. Without figures the mood or emotion in the rooms is very different — it's still or even embalmed. The rooms represent many similar memories compressed into one picture — so the paintings are always in the past and the memory centers around how the room was decorated and the furniture arranged.
The Inheritance is a story about a specific time and place and also about a specific set of relationships. The people don't feel like an intrusion in this particular body of work. It wouldn't have been interesting to paint the rooms without them.
CP: What is the difference between living subjects and furniture in your paintings?
AT: It's not evident from the digital images but the figures and furniture in The Inheritance are cut paper collage not painting. I constructed everything in the rooms with the same level of care and detail — a folk art thing. The furniture and figures are stiff, sort of like a carved wood sculptures. I carefully chose the figures' poses especially how they positioned their hands and feet. A posed figure is different from placed and positioned furniture. The figures change the role of some of the furniture. Instead of being stand-ins for the figure, as in previous paintings, the chairs and couches become props for the people sitting on them.
CP: What is it about the domestic setting that compels you?
AT: I started using domestic settings in New York in my twenties. I lived in Brooklyn and was homesick. I had no real intention of returning to Ohio but at the time everything in my life was topsy-turvy and uncertain. I stumbled into painting interiors because it felt comfortable and so many things about living as an artist made me uncomfortable. The funny thing is now that my life is more like Ohio, I miss unruly Brooklyn; so I've made several paintings about my Williamsburg apartment. Painting interiors calms me down and allows me to focus on formal concerns — composition, color, shape, texture. I spend my studio time inventorying life and putting things in order, this works for me as an artist.
There's a story behind each painting and collage. In the early work they were my stories — sleepovers at my grandmother's farm, mopping my kitchen's white tile floor, the neighbors messy house where I babysat. In the newer work I ask people to draw and describe rooms from their memory — my husband's apartment with his ex-wife, my mom's attic bedroom growing up, my uncle's one bedroom apartment…
CP: I am also really interested in your depiction of the outdoors — the "natural" landscape is always framed by a window, and your treatment of that outdoors is totally different, the way you describe trees, for instance, feels much more gestural and abstract — as though it is composed in a different vocabulary of mark making. How did that variation came about, and what does it say about the domestic tableaus you create?
AT: A friend told me that he knows my world until he looks outside my house.
I take a lot of liberty in painting the outdoor views that will be covered by curtains or partially hidden from view by furniture. I desperately want to paint loose and to be expressionistic and these obscured outdoor spaces give me the opportunity to be painterly. I use washy, sponged, and pooling paint in the window views in the newer work. Another clue that the room is a painting and isn't grounded in reality.
CP: Maybe this also ties into a similar idea of framing and mark-vocabulary, but I you also quote other paintings — you know, because it's a domestic scene so of course these people have paintings on the wall, and then you copy them. But here again, there is a stylistic break that I'm really interested in. What happens in those moments? Those little framed images also feel so pastoral, or decorative, and that seems like a kind of meta-conversation that you are having as a painter painting these very decorative, domestic tableaus…..does that make any sense?
AT: Perfect sense! My compositions are made up of the all objects in a room. And as you said this includes the artwork or pictures on the walls. My approach or technique for depicting the art within the art is to do what is most economical. For cats or fruit I look online for simple images and abstraction often comes from cut outs of paintings made by my young daughters. The miniature art works channel the Sunday painter in me along with my admiration for dollhouse craft. It's much easier to paint small — each little artwork can be very detailed but only takes an hour versus weeks to make.
The stylistic breaks you mentioned, the outdoor spaces and miniature artworks, are ways for me flex different artistic muscles and at the same time ride the balance between modern and folk and representation and abstraction.
Saturday, March 16, 2013 4:00-6:00 pm
Chicago Cultural Center, Millennium Park Room, 5th Floor
Panel Discussion & Book Release with Joyce Fernandes, Stuart Keeler and Allison Peters Quinn
There are all kinds of overlaps in this art world of ours, old friends and close friends and collaborators — I find myself working with people in different capacities all the time. This weekend my press, The Green Lantern, is releasing a book three years in the making. It's a project that exemplifies the overlap and intersection of various networks — what is perhaps especially fitting, given that it centers on the subject of socially engaged art practice. To celebrate the release of the GLP's next book, "SERVICE MEDIA: IS IT PUBLIC ART? OR IS IT ART IN PUBLIC SPACE?" we'll be having a panel discussion at the Cultural Center, moderated by Bad at Sports' own, Duncan MacKenzie. Details are as follows:
Inspired by The Green Lantern Press' 30th title, Service Media: Is it "Public Art" or is it Art in a Public Space?,  this panel, a Poetry Center of Chicago Heap of Language Series event,  will discuss unconventional art works and practices that take place outside of galleries. As such, the panel extends a conversation that Service Media begins, from text-on-the-page to an evening of public discourse.  Service Media: Is it "Public Art" or is it Art in a Public Space? is a collection of essays that investigates socially engaged art. Editor Stuart Keeler strives to reexamine the terminology surrounding this discipline, just as ensuing contributors explore and critique a range of socially minded projects as artists, administrators and critics. It's a collection that deserves attention for its careful assessment of a once-radical practice that has since become a staple in contemporary art practices and institutions alike.
Joyce Fernades, Executive Director of archi-treasures since 1998, is a cultural worker whose career encompasses extensive experience in arts administration, lecturing and teaching, critical writing, and visual arts practice. Her primary focus has been to develop innovative community arts practices. As Executive Director of archi-treasures she works hard to facilitate strong community  partnerships by recognizing and honoring the tremendous assets and resources that are available in all communities, and designing creative projects that leverage and complement those assets. Fernandes is also the former Director of Exhibitions and Events at the School of the Art Institute of Chicago, and the former Program Director at Sculpture Chicago. She received her MFA from the School of the Art Institute of Chicago and her BFA from Tyler School of Arts in Philidelphia.
Stuart Keeler is an artist of public spaces who organizes exhibitions and multi-platform projects with the collaborative role of "curator" as the conceptual identity of his practice.  Is it "public art" or is it art in public space?  The role of the artist is challenged by his investigative projects interpreting social praxis as an innovative business model. Keeler aims to model a new process of curatorial practices by engaging with a continuing dialogue in public space centered on the expanded role of the artist. With an MFA from the School at the Art Institute of Chicago (2005), Keeler has exhibited at Gallery 400 UIC, Yerba Buena Center for the Arts, Center on Contemporary Art, Espace-Art Unit, The Hyde Park Art Center, John Michael Kohler Arts Center among others.  Innovative curatorial projects include Art 44|46, Chicago, Le Flash! – Atlanta, LEITMOTIF, Nuit Blanche – Toronto. Keeler has completed over 75 public art commissions in North America and Internationally. He is currently  completing a commission a the San Diego International Airport with Swaroskvi Crystal–Austria.  He currently holds the position of Director/Curator at The Art Gallery of Mississauga, Canada.
Allison Peters Quinn is the Director of Exhibitions at the Hyde Park Art Center (Chicago), where she has curated exhibitions, and produced symposiums, performances and publications since 2004.  She has organized significant exhibitions for emerging and established artists such as Cándida Alvarez, Theaster Gates, Kelly Kaczynski, and Bibiana Suárez.  She has served on critique panels and taught graduate seminars at the School of the Art Institute of Chicago and The University of Chicago Graham School. Awarded the Ramapo College Curatorial Prize, she has served as juror for the Artadia Award, Efroymson Award, and the Ragdale Foundation.  Her writing has appeared in Proximity Magazine and artists' monographic publications including William Steiger: Transport (2011) and Altogether Mutable: The Work of Mary Lou Zelazny (2009). Allison studied a MA at the Center for Curatorial Studies, Bard College, and a BA at the University of Wisconsin – Madison.
Founded in 2005, The Green Lantern Press is an artist-run, non-profit press focused on emerging or forgotten texts in order to bridge contemporary experience with historical form. We celebrate the integration of artistic mediums. We celebrate the amateur, the idealist and those who recognize the importance of small independent practice. In a cultural climate where the humanities must often defend themselves, we provide intimate examples of creative thought. Dedicated to the "slow media" approach, the Green Lantern Press conceives each book as a   curatorial site;  small editions are printed with artist plates, ephemeral inserts and silk screen covers. We are efficient about the material we use, economic about our proportion and intent on local production. More information at www.press.thegreenlantern.org
An independent not-for-profit arts organization founded in 1974, The Poetry Center of Chicago's mission is to promote poetry through readings, workshops, residencies and arts education, to make poetry accessible to the general public, to stimulate and encourage young poets, and to advance the careers of poets by offering them professional opportunities. The Poetry Center is in residence at the Chicago Cultural Center. A Heap of Language is the Poetry Center's 2012/13 Event Series, at the Chicago Cultural Center.
It's been a busy week on the blog and I continue to be surprised and giddy about B@S' content. Somehow this little blog manages to traverse fields from Chicago stomping grounds, to Kansas City, Royal Oak Michigan, to the nuance of kitsch, job fairs, the debut of a comics column (you know, instead of the Sunday funnies). What could be better indeed?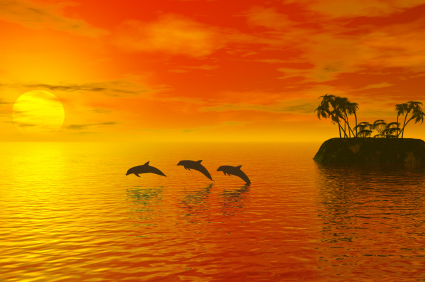 OK — Maybe a desert island with dolphins, or more simply an hour of sleep but I always believe you got to work with what you have, and Chicago, baby, you got a whole lot of talent and whole lot of heart.
This week Jereiah Hildwine gave us a couple insider tips about CAA, including "…the dirty little secret most people don't know about the CAA conference before their first time attending:  You don't need to register for the conference to attend the professional development stuff or go into the Interview Hall."  In addition to hearing about performing maleness, street styles outside of SAIC's BFA show, and John Neff's artist talk at the Ren, I also  learned about  a tumbler for all thinks pink and clever; all courtesy of Edition #4 of Dana Bassett's T.
Anthony Romero and Johannes Göransson have continued to discuss kitsch, the foreigner and whether or not it applies to ASCO — a 70s/80s Chicano performance group. The discussion is something I've been especially appreciative of, given that each author makes good points, articulating their disagreements while struggling with the nuance of language. Can "kitsch" — a category of cultural production so quickly dismissed by the mainstream — enjoy supreme freedom because of its marginalization? How do we discuss and examine the foreigner? Is the foreigner a semantic category that defines a state of "otherness?" Or is it about one person immigrating elsewhere? Perhaps the latter can't shed the former (can it?) without overriding a history of oppression (is that the danger?). Then the question is who is a foreigner to whom in the case of the Chicano and the American? Shouldn't the American be the foreigner? As a population that arrived her from elsewhere? Romero responds to Göransson's first B@S post here. Göransson replies to Romero here. I enjoyed the flow of discourse, benefitting tremendously from the difficulties these authors articulate.
I should add, as a somewhat personal aside, that such moments exemplify, for me, the best aspects of community. Community is accidental and easy when everyone gets along and agrees. It can start to feel oppressive, if room isn't made for disagreement. The alternative is much harder, more interesting, and dynamic: to be part of a group that allows for differences of opinion, a group that is nevertheless invested in discussing those differences. What a feat! Especially if courtesy remains throughout. For me, courtesy signifies the desire for a productive discussion — which is its necessary own challenge. We aren't going to like everything that everyone else does, if for no other reason than because we are a large, confounding group with nebulous parts. (I'm not just talking about B@S either, I mean more generally — Chicago's art world, the larger more general art world, the larger more general world).  I'm probably making too much of this, but I was so psyched to see a discourse emerge between posts, especially one with such high stakes. Such instances make me braver in my own voice, just as they make me more likely to trust this idea of "community" that we all love to fall back on.
Jamilee Polson Lacy posted about Kansas City, and went on the record to say "Kansas City, in my opinion, is a sentimental place." Lacy goes on to say, "the arts scene in KC has seen lately a confluence of presentations demonstrating artists' longing for many pasts, presents and futures." She contextualizes this longing with "KC-based fiction writer Annie Fischer's 2012 essay, 'Wish You Were Here,' which somehow, amazingly, sums up all of these wild ideas." So. Check it out.
Mystery blogger, Thomas Friel, appears on the scene! That is to say, I've never met Friel and have yet to communicate with him (Friel, if you're reading this! Consider it a message in a bottle and email me! I love your posts!) — : this week Friel sort of accidentally rescued Friday. You know, I try and set something up to post every day, and a couple things fell through so I figured Friday would get a pass, but no! Lo! When I visited the blog on Saturday morning, I came to find Friel's essay about Butter Projects' Valentine's show in Royal Oak, MI. "Already, this is a better take on the Valentine themed art exhibit. Curated by Alison Wong, "I Like You and I Together," on view until March 16, allows our experience with love to be the biggest thing in the room, in the air around us instead of plastered on the walls."
Stephanie Burke's Top 5, (need I say more?)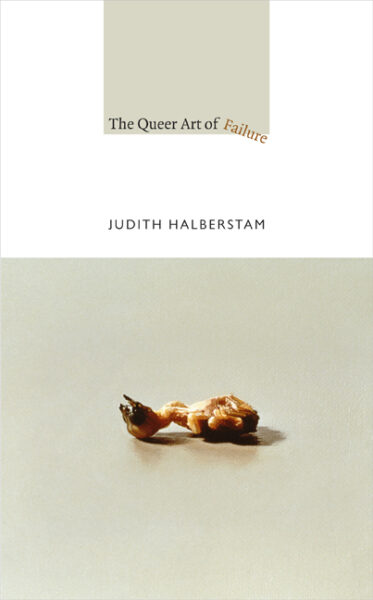 Saturday opened up with a great book review by Terri Griffith on Judith Halberstam's The Queer Art of Failure. In Griffith's words, "Halberstam (see Gaga Feminism), introduces us to alternative ways of viewing failure, as perhaps an expression of rebellion or as means to resist mainstream America's pressure to conform." What if, by rejecting the society's endowment of legitimacy, one can achieve a new sense of freedom (and perhaps shift societal paradigms and hierarchies). It's maybe not so different from the Timothy Leary Tune in Drop out, though I suppose we are wiser and smarter now?



Brit Barton posted some ENDLESS OPPORTUNITIES (though, #alas, in case any of you were holding your breath, there weren't any listing for free beachfront condos).

Last but certainly not least: that new take on Sunday Funnies by Sara Drake. Drake introduces her series and gives a top 3 list of her own: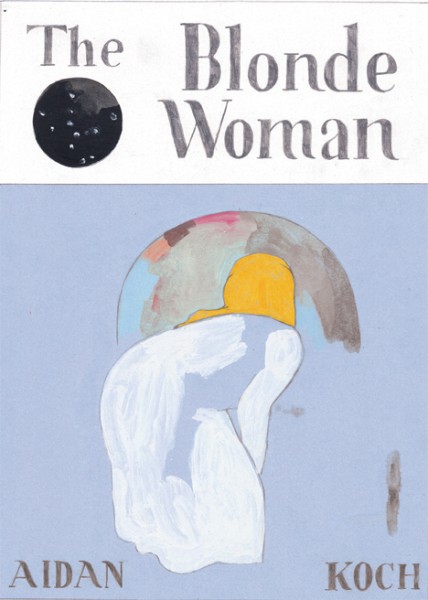 1. Aidan Koch's gorgeous book,The Blonde Woman, was created with assistance from a Xeric Grant and was originally released online via The Study Group Magazinewebsite. I recommend reading it all in one sitting if possible.
2. The New York Times recently published a mini-comic by C.F. called Face It.
3. Cartoonist, Brian Chippendale made an animated music video out of flip-books he drew as a kid. There's a dragon and eyeball bombs in it – need I say more?Black Pus – 1000 Years

I got the following reminder in my inbox and wanted to pass it along, in case any of you (like me) are on the look out for hot tax tips:
A reminder that tomorrow – Wednesday, March 6 at 7PM at threewalls – is the artist tax workshop. Â The workshop is free and open to the public, so please invite anyone you think may benefit!
Also, they bumped the Propeller newsletter up in the month, so if you have any announcements to include, send them along STAT.