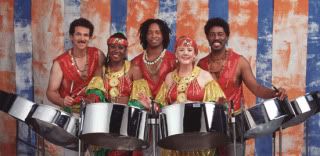 Friday's Links Roundup is now becoming Friday's Twitter Roundup. It just makes more sense. On this week's short roundup we have drunk people in yoga positions (ouch!), The Renaissance Society posts a video with director Susanne Ghez, and I reveal that I was in a steel drum band in high school. Have a great weekend everyone.
Drunk People Yoga Positions. Entertaining in a sad way.
Oxymoron of the day: custom Channel motorcycle.
Watching a demo of the Augmented Reality app on Plural Blog.
Did anyone check out MP3 II: Curtis Mann, John Opera, Stacia Yeapanis at the MoCP this weekend?
I was in a steel drum band in high school. This brings back memories. (via TWBE)
RT: @RenSoc New RenSoc video: Director Susanne Ghez interviews artist Judy Ledgerwood.
Yes! Newberry Book Fair starts tomorrow. Be sure to check it out before it ends this Sunday
RT @ChiGalleryNews Randolph St. Market takes place in the West Loop this weekend. Happy hunting!
Zaha Hadid's delayed Burnham Plan Centennial pavilion in Millennium Park might still open in early August.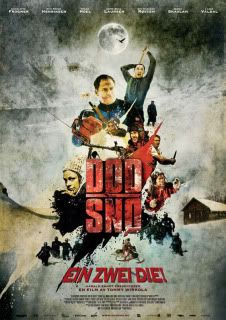 Tommy Wirkola's Nazi-zombie film Dead Snow looked as if it had everything needed to become a horror classic. But its predictable plot line and weak screen writing left much to be desired from the campy gore fest set in the mountains of Norway. The film follows 8 medical students as they relax during their Easter vacation. Before they even arrive at their remote cabin one member of their party, who decided to hike alone (obvious bad idea), is killed by the surprisingly swift zombies that inhabit the mountain. Billed as the next great horror film since Let the Right One In, the Norwegian film relies too heavily on film references and instead of expanding the Nazi-zombie sub genre.
Within the first night of their stay we learn from a creepy local that the village had been occupied by Nazis during WWII. Led by a treasure hungry Colonel Herzog the battalion pillaged the town of all of their gold. It wasn't long until the villagers rebelled and forced Herzog and his men into the freezing mountains. I had to wonder how they became zombies in the first place? Were they zombies to begin with? Did the cold make them zombies? Or did they encounter a zombie out in the mountain? None of these questions are addressed in the film but Wirkola does give some interesting attributes to his legion that separates them from other zombie films. For starters his zombies are abnormally fast but only when it is convenient for them to be. They also are able to use objects like binoculars and weapons, and are equipped with a keen sense for prey/treasure.
Once I let my expectations fade away, (comparing it to Let the Right One In is truly an injustice) I actually began to enjoy the gross out humor that plagues the movie. At one point in the film two of the horny characters get it on in an outhouse while one is taking a shit. When the zombies arrive the female is pulled under the outhouse. The next time we see her she is covered in shit and about to be ripped to shreds.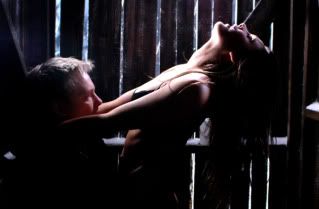 The film's flaws can be overlooked if you are into campy horror. If you want to see a film where a person's head is pulled apart and their brains fall on the floor then Dead Snow might be what you are looking for. If not, I would recommend skipping this film and catching Outpost, a less campy take on the Nazi-Zombie genre.
This week's pick is a 3 part documentary entitled Situationist International
via artstar11
"A video documentary combining exhibition footage of the Situationist International exhibitions with film footage of the 1968 Paris student uprising, and graffiti and slogans based on the ideas of Guy Debord (one of the foremost spokesmen of the Situationist International movement). Also includes commentary by leading art critics Greil Marcus, Thomas Levine, and artists Malcolm Mac Laren and Jamie Reid. Branka Bogdanov, Director and producer. NTSC-VHS 22 min. 1989″
It has felt like a rather slow week for art news. Here are some of the stories you might have missed this week via our twitter page.  On this weeks roundup you will find Japan's bad ass million dollar, robot flying Spiderman, the history of the pubic wig, and one young man's thoughts on the Walker art Center. Hope everyone has a great weekend. Maybe we'll see you at the Hyde Park Art Center on Saturday.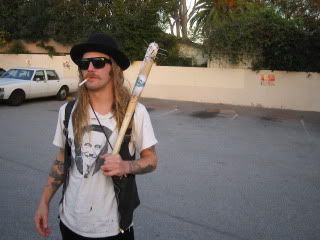 Spotted this news on AFC. It appears that artist Dash Snow died Monday night from a heroin overdose.
via Roberta Smith for the NYT:
"Dash Snow, a promising young New York artist, died Monday night at Lafayette House, a hotel in Lower Manhattan. He was 27 and lived in Manhattan. His death was confirmed by his grandmother, the art collector and philanthropist Christophe de Menil, who said that Mr. Snow had died of a drug overdose."