Plastic Bouquets-Man on the Moon from Richard Metzger on Vimeo.
Today on Boing Boing Xeni Jardin posted long lost footage of the Andy Warhol produced musical Plastic Bouquets- Man on the Moon. "The play was conceived by John Phillips of the Mamas and the Papas and his third wife, South African actress, Genevieve Waite, as a potential film or stage production originally entitled 'Space."
For more on the video footage and on the musical check out boing boing's post.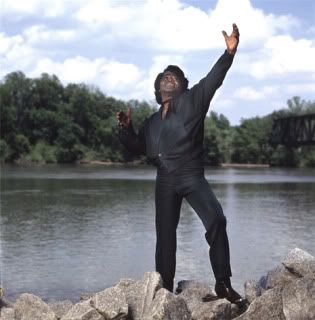 This week's roundup comes to you from my now semi empty apartment after a long day of moving. Here are the stories that caught my eye this week. Have a great weekend.
RT: @Lampo Illinois Arts Council FY10 budget is just $8M compared to $19.4M in FY07 – budget has plummeted more than 58% in three years.
James Brown was seriously bad ass. I wish I had half of his moves.  (via The Barstool Romantic)
MCA's chief curator, Elizabeth Smith,  steps down
Vogue takes a look inside Cindy Sherman's swanky pad and studio.
RT @KnightLAT Oops. Forbes magazine thinks Eli Broad helped to found a contemporary art museum in Chicago:
Going to go see Justin Cooper's performance at the MCA in a couple of hours. I'll post some photos tonight on the blog.
"I have odors in special places."
Reading @artfagcity's post on Bellwether's expenses and revenue loss.
Checking out the Get It Together Show on flickr.
Watching an awesome video of skateboarders in slowmo. via @hustlerculture
How did I miss the Thai western film Tears of the Black Tiger?
Star Wars + sports + a high school gym
Rob Roy Kelly American Wood Type Collection (via Post Family)
Proximity has posted photos from last weekend's openings.
RT: @artfagcity Merce Cunningham Dies at the age of 90.
I just got back from Justin Cooper's performance at the MCA. His week long series entitled Vay Kay is part of the Here/ Not There series. Tonight's performance was titled Crater. This performance involved a sound piece in the twelve by twelve space that was activated by people moving in front of the sensors. About 30 minutes into the sound piece the performance moved outside where there was a match between a 65 Million Year Old Dinosaur and British philosopher Thomas Hobbes
via the MCA:
"This is an interactive deconstruction of a family vacation argument using four invisible laser beams which crisscross the space. With multiple viewers moving through the space, the vocal laser beams are activated at completely random intervals to create a fragmented cacophony that refers to the memory of past experiences."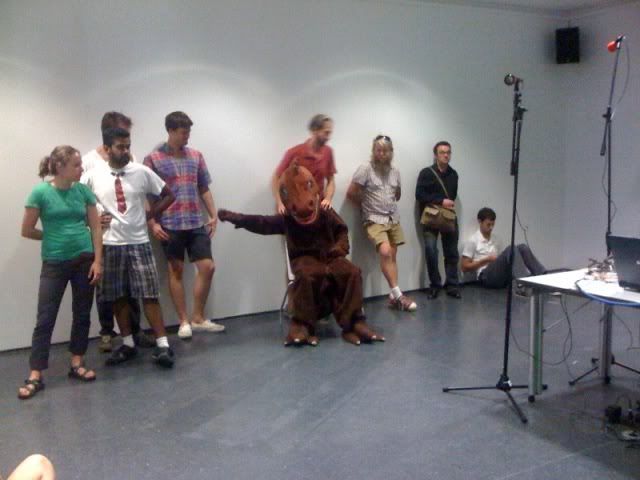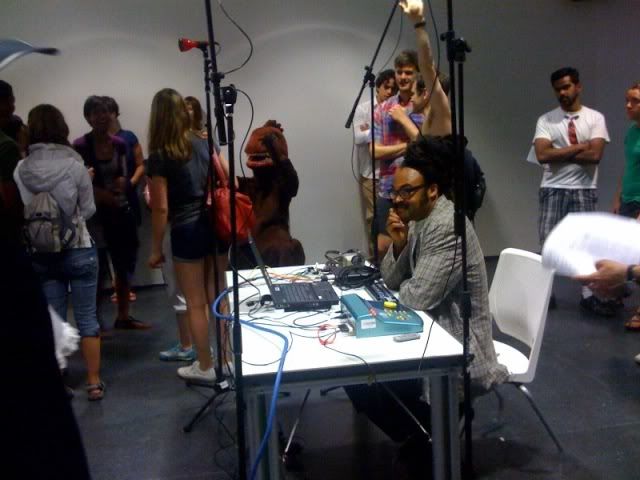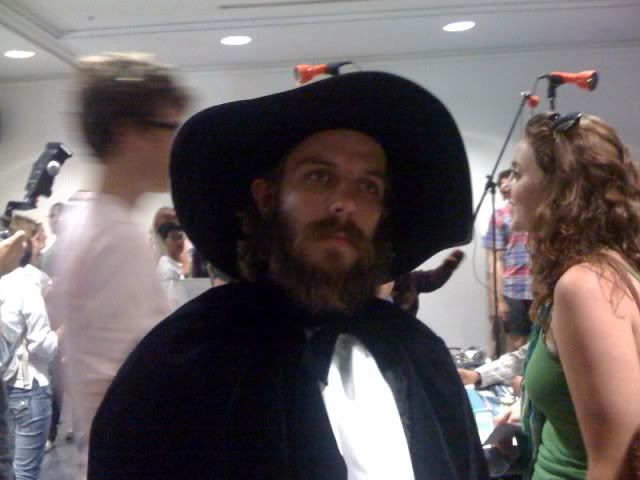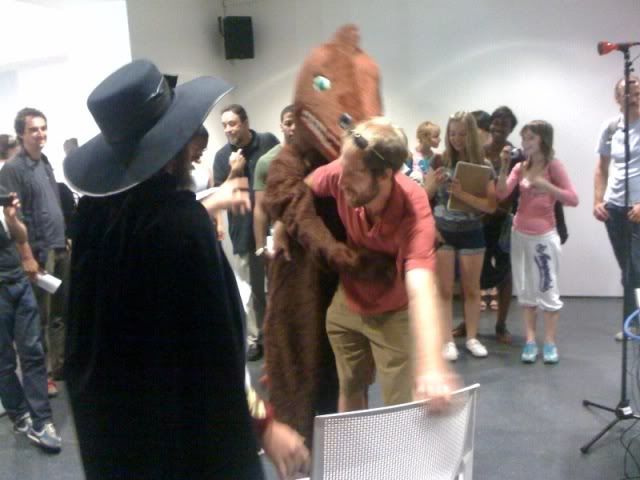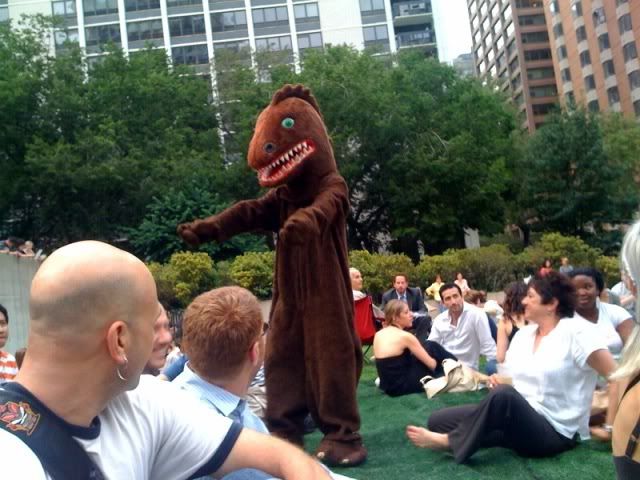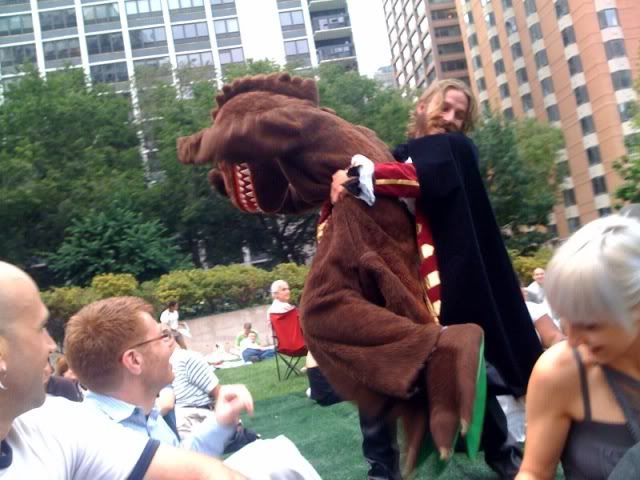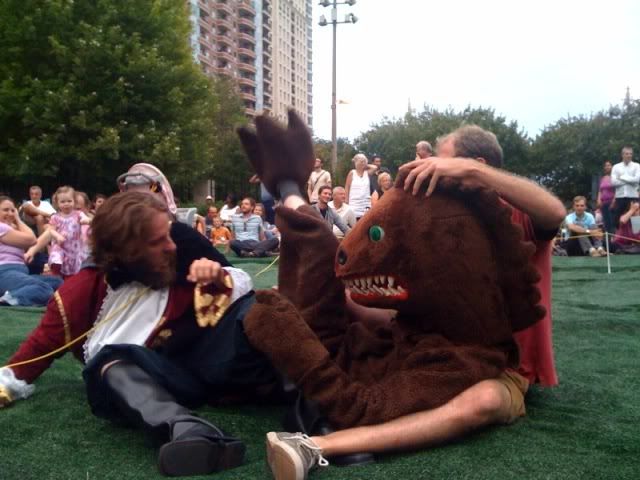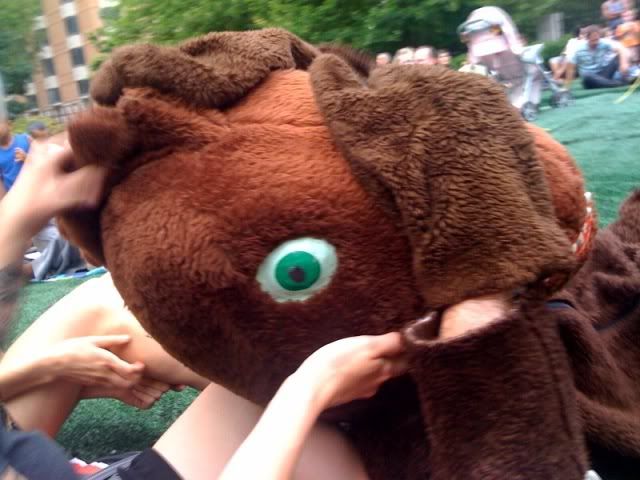 Justin Cooper: Vay Kay
July 28 – August 2
Justin Cooper presents four different performances: Crater, Sprinkle, Relax, and Crumple on the theme of the family summer vacation.
Museum of Contemporary Art
220 East Chicago Avenue
Chicago, IL 60611
Last night I was looking at work by contemporary Icelandic artists when I discovered the work of Egill Sæbjörnsson. This video, Ping Pong Dance (2006), borders on being annoying while still holding onto that stoner "whoa" factor. "An installation with objects, video and sound. Ping pong balls fly out of the buckets and perform actions that seem impossible in reality."
For more info on Egill Sæbjörnsson please check out his site.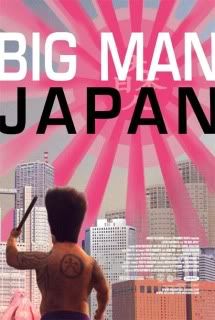 Big Man Japan at times felt as if it was two different movies. One made me laugh so hard that the people viewing it with me actually thought I was in physical pain. The other part, so boring I started to fall asleep. The mockumentary written, directed, and starring Hitosi Matumoto follows Daisato, a middle-aged slacker that has inherited the role of being the latest Big Man. How big is Big Man? About Godzilla size once he has been shocked with enough electricity. This process not only makes him the size of a building but also leaves him with a Don King hairstyle. Daisato is the descendant of the original Big Man who helped protect Japan during World War I. Unlike his father and grandfather, who were considered national heroes, Daisato is criticized by the citizens of Japan as being a nuisance and out of shape. It isn't until he meets a devil-like monster that leaves Big Man running for his life do people actually tune into his poorly rated tv show.
The seventy-five minute long film is way too long, and that is coming from a person that loves epically long films. Although there were a few moments when I chuckled during the slower scenes, most of the humor lies within the film's bizarre cast of monsters. They range from a smelly old monster from the suburbs to a nipple sucking child monster. The last 30 minutes of the film turns into a live action Ultraman-esque battle against the devil-like arch enemy. Accompanied by a team of American giants that yell "Justice" as they attempt to defeat Big Man Japan's archenemy the film ends with a critique of their performance.
Big Man Japan will be released on DVD Tuesday, July 28, 2009