Audio clip: Adobe Flash Player (version 9 or above) is required to play this audio clip. Download the latest version here. You also need to have JavaScript enabled in your browser.

download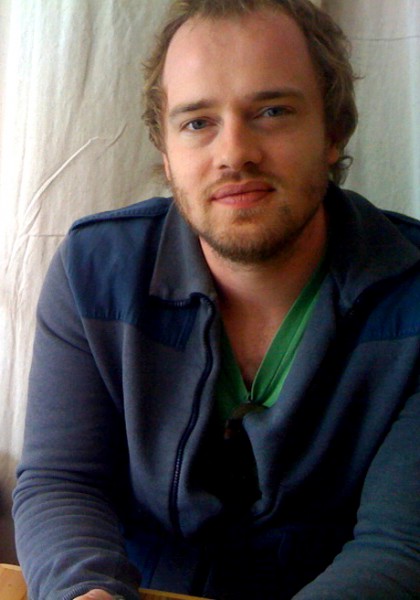 This week: From OxBow, Duncan, along with with Abigail Satinsky and Elizabeth Chodos, sit down for a chat with Hesse McGraw.
Hesse is a curator and writer and is Vice President for Exhibitions and Public Programs at the San Francisco Art Institute. At SFAI he directs the Walter and McBean Galleries, and oversees SFAI's public programs, visiting artists series and public education programs for youths and adults. From 2008 to 2013 he served as chief curator at the Bemis Center for Contemporary Arts in Omaha, Nebraska, where he developed an exhibition program focused on site-specific, immersive, cross-disciplinary, and socially engaged projects. At the Bemis Center he produced two-dozen exhibitions, including major public projects with artists Theaster Gates and Michael Jones McKean.
McGraw was formerly associate director of Max Protetch gallery in New York, and was the founding director and curator of Paragraph, which operates under the non-profit Charlotte Street Foundation in Kansas City, Missouri. He lectures widely and his writing has recently been published in Afterall, Art Papers, Outpost and in diverse exhibition catalogues. Recent awards and grants include an Andy Warhol Foundation Curatorial Research Fellowship, an ArtPlace America grant, a Robert Rauschenberg Foundation Artistic Innovation and Collaboration Grant, an NEA Our Town grant, and a Harpo Foundation grant.
Audio clip: Adobe Flash Player (version 9 or above) is required to play this audio clip. Download the latest version here. You also need to have JavaScript enabled in your browser.

download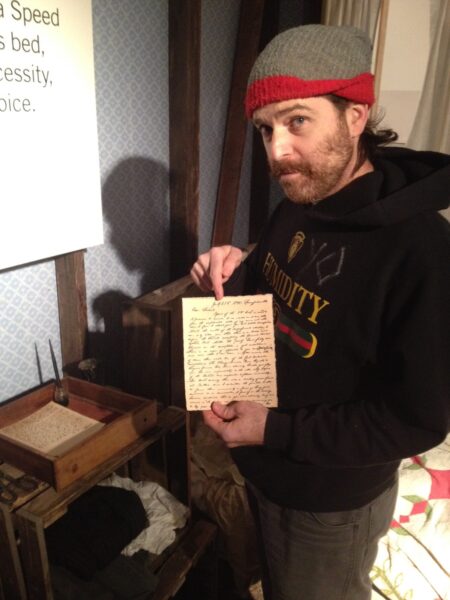 Skylar Fein was born in Greenwich Village and raised in the Bronx. He has had many careers including teaching nonviolent resistance under the umbrella of the Quakers, working for a gay film festival in Seattle, stringing for The New York Times and as pre-med student at University of New Orleans where he moved one week before Hurricane Katrina hit.
In the wreckage of New Orleans, Fein found his new calling as an artist, experimenting with color and composition of the detritus of Katrina. His work soon became known for its pop sensibility as well as its hard-nosed politics. After a few starring roles in group shows, he had his first solo show in May 2008 at Jonathan Ferrara Gallery in New Orleans.
In the fall of 2008, his Prospect.1: Biennial installation, "Remember the Upstairs Lounge," shined a spotlight on an overlooked piece of New Orleans history: a fire that swept through a French Quarter bar in 1973, killing everyone inside. The worst fire in New Orleans history has never been solved. His installation walked visitors right through the swinging bar doors, and offered visual riffs on politics and sexuality circa 1973. The piece was praised in Artforum, Art In America, The New York Times Magazine and The New Yorker, among others.
In late 2009, Fein had his first solo museum show, "Youth Manifesto," at the New Orleans Museum of Art. The exhibition was an ode to punk rock as a force for social and cultural upheaval. True to form, the opening reception was shut down by police responding to the look of the unlikely art-going crowd.
In March 2010, Jonathan Ferrara Gallery presented Fein's solo installation, "Skylar Fein: Rise of the Youth Front" at VOLTA Art Fair in New York during Armory Week. This installation drew thousands of people and delved into revolutionary politics past and present, a continuing theme in Fein's work.In May 2010,Fein was invited by the New York curatorial project No Longer Empty to recreate his "Remember the Upstairs Lounge" installation in a vacant Chelsea space.The exhibition, once again, drew thousands of visitors and sparked renewed interest in this piece of history. In September 2011, Fein exhibited over eighty new works in his solo exhibition Junk Shot at Jonathan Ferrara Gallery, New Orleans. This exhibition embodied this artist's turn towards formalism and art historical reference while maintaining Fein's iconic sensibilities and aesthetic.
Skylar Fein was the recipient of a 2009 Joan Mitchell Foundation Award and his work is in several prominent collections including The Whitney Museum of American Art, The Brooklyn Museum, The Frederick R. Weisman Art Foundation, The Louisiana State Museum, The Birmingham Museum of Art, the New Orleans Museum of Art and collectors Beth Rudin DeWoody, Lance Armstrong, and Lawrence Benenson.
Audio clip: Adobe Flash Player (version 9 or above) is required to play this audio clip. Download the latest version here. You also need to have JavaScript enabled in your browser.

download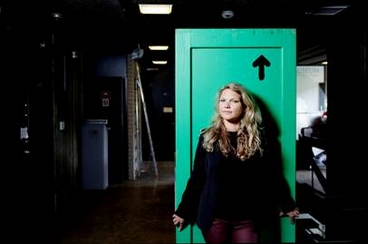 This week: From our residency at Expo Chicago 2013 we talk to the new (as of June 2013) Director of the Renaissance Society at the University of Chicago, Solveig Ovstebo.
Audio clip: Adobe Flash Player (version 9 or above) is required to play this audio clip. Download the latest version here. You also need to have JavaScript enabled in your browser.

download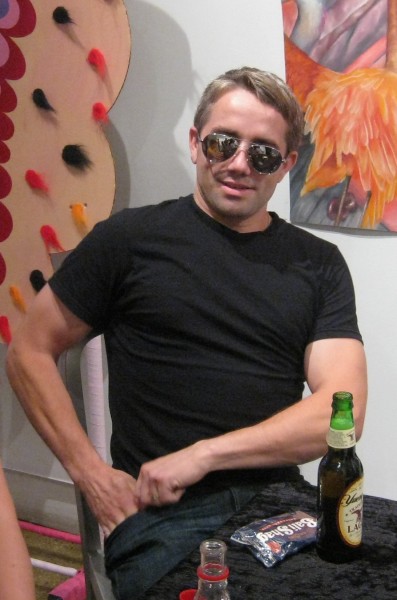 This week: Live on stage without a net from Art Expo Chicago 2013 (aka EXPO CHICAGO, The International Exposition of Contemporary and Modern Art) Duncan and Richard talk to Galleries Charlie James (Charlie James Gallery, Los Angeles) and artist William Powhida!
William Powhida (b. 1976, New York) is an artist and critic living and working in Williamsburg, Brooklyn. For several years Powhida worked as an art critic for the Brooklyn Rail while developing his own artistic practice. Powhida's work, reflecting his critical background, displays a concentrated fascination with the politics of access and the powers that control the assignment of value in the artworld. All roles are fair game, from nouveau-hot artists and the market-setting collectors that buy them, to the branded dealers that sell the work and the critics paid to provide intellectual justification for the pricepoints.
To soften what might appear a direct editorial voice, Powhida projects his commentary through the lens of an alter-ego, one with whom he shares a name (William Powhida). This alter-ego closely resembles any number of freshly minted artworld 'geniuses,' though Powhida's character happens to exhibit all of the worst traits imaginable in any coddled enfant-terrible art star. The fictional Powhida is petulant, narcissistic, and debauched. He has enormous feelings of entitlement, and a perspective so firmly rooted in solipsism that it seems an impossible exaggeration. This art star on the verge of self-immolation documents his misery and rage against the manifold injustices of the art world through a series of To Do Lists, Enemies Lists, and monomaniacal screeds that take on the look of disturbed 3am rants. However, not all of this work exists in the first person. In addition to the alter-ego's jeremiads, Powhida adds the sycophantic voice of the press ¬ a vital part of the star-making process. Ostensibly a frequent subject of Man About Town profiles in fashion magazines and newspapers, the alter-ego's more offensive conduct and outsized claims are documented in this way.
Which brings us to the startling visual power of Powhida's work. All of the content above, from the character's first-person attacks to press profiles by the New York Post, the LA Weekly, and 944 Magazine (examples) are all rendered in beautiful trompe l'oeil compositions that use various combinations of graphite, gouache, and colored pencil on either panel or paper. It is in fact the visual presentation of Powhida's arguments, coupled with their humor, that makes Powhida's sometimes scathing commentaries so much fun to digest.
William Powhida earned his BFA from Syracuse University, and took his MFA from Hunter College. He is represented by Platform Gallery in Seattle, and Charlie James Gallery in Los Angeles.
Established in Los Angeles in 2008, Charlie James Gallery represents work by emerging and mid-career artists.
969 Chung King Road
Los Angeles, CA 90012
T: 213.687.0844
F: 213.687.8815
HOURS:
Wednesday – Saturday
12 – 6 PM
Audio clip: Adobe Flash Player (version 9 or above) is required to play this audio clip. Download the latest version here. You also need to have JavaScript enabled in your browser.

download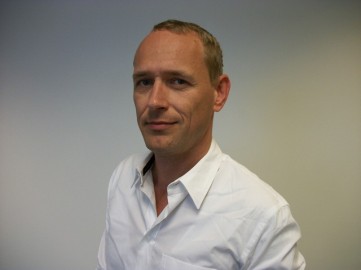 This week: Patricia talks to artist Christian Jankowski. Chaos ensues. Chewing too.