GUEST POST BY HEATHER MCSHANE
I arrived late in the evening to the opening of Jason Lazarus's The Search at Andrew Rafacz Gallery. Left were the previous climbers' footprints on the white-painted steps of The Search, which resembles a pyramid. Wearing a skirt and heels, I hesitated to ascend the stairs, but the footprints enticed me—and thankfully—because at the top awaits a surprise, an opening down into which a ladder leads to a space where two chairs and a table sit, illuminated by a hanging lamp. The night of the opening, two people occupied this denlike interior; one of the people seemed absorbed in drawing on the pages of, I later learned, the ledger for the signatures and comments of the pair of interlocutors. I looked on briefly, feeling voyeuristic.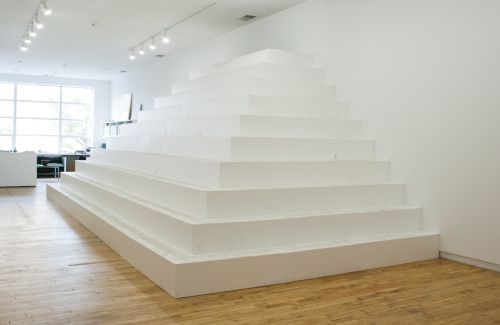 The same night, outside the building, a friend introduced me to Lazarus who, upon learning I am a writer, invited me to be paired with a stranger (of a different vocation) and talk with the stranger inside The Search. (This proposition was perfect for me—I love talking to strangers.) A few days later, I received the formal invitation in my inbox to participate. Near the end of the email I read:
"I'm asking you to be onto The Search.
You are invited to be in conversation with:
Name:  Scott Hunter"
From googling "Scott Hunter," knowing from his email address his affiliation with the University of Chicago, I learned he is Scott J. Hunter—notice the J—an Associate Professor of Psychology and Pediatrics there. After a few email exchanges with him to coordinate a date and time—Lazarus had instructed us to meet for up to an hour—and Hunter befriending me on Facebook, on September 30, around 5:00, I recognized Hunter (from Facebook), approached him on the sidewalk as he paid the parking meter fee, and introduced myself. He was impeccably dressed, his patterned shirt crisp, tucked in, and he smiled and talked easily. We chatted with each other and with the employees of the gallery before we were allowed entrance to The Search. Upon our arrival, it was still occupied with two other people, who were eventually politely told their hour was over, emerging happy, almost jubilant.
Then it was our turn. We climbed the stairs and each awkwardly brought shoe to ladder rung and lowered ourselves into The Search. (Me first, again in a skirt, probably the same skirt.) Inside, it felt cozy—the warm, inviting, natural-colored wood of the walls; the soft light; the comfortable chairs—and perhaps this setting helped for the ensuing conversation. However, during the conversation, I did notice Hunter occasionally shift in his chair, I caught myself sometimes fidgeting with my pen, but these movements seemed more natural than uneasy.
Although I'm inclined to reproduce the conversation as fully as possible, Lazarus did not intend for the dialogues in The Search to be recorded. I did not bring a recording device into the space, nor did I write much in my notebook (see the image below). The following snippets—from my faulty memory—are meant to give an idea of the conversation.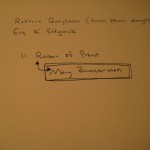 For example, as initial how-do-you-know-who's go, I learned Hunter knows Lazarus through his art because Hunter is an art collector in addition to being a psychologist. A future purchase, he hopes, is a photograph taken by Lazarus of the ceiling from Sigmund Freud's couch.
We talked about Hunter's work as a child psychologist. Many of his patients are cancer survivors. Radiation, chemotherapy, and other procedures performed to rid the patients' bodies of cancer can be detrimental to the patients' learning and thought processes. I started to think about how visceral fear is, how frightening it would be to have cells in my own body attack other cells, how fear hampers learning. I told him the original word for bear in German has been lost because to utter it, was to call it and so a euphemism was used instead.
Our discussion turned to other animals, the animals in Chicago—squirrels, opossums, foxes, wolves—yes, wolves. Hunter and his old 40-pound dog—he didn't tell me the dog's breed—encountered a city wolf before, running along train tracks.
Despite seemingly wild jumps in topics, most talk revolved around memory, language, and attention. Marcel Proust's In Search of Lost Time was brought up often. We discussed Freud again (his psychoanalysis and idea of the uncanny). We talked about words as metaphors, active versus passive reading and writing, learning versus teaching, and attention spans and text in the digital age. Hunter remarked he felt refreshed after our conversation ended. He included as much in the ledger.
Later, upon reflection, having mentioned David Antin to Hunter, I thought more about how talking can be writing. I like how the following recording begins with Antin saying "with the search . . . " (he's talking about The Tempest, but listen on for a great story about a woman who lives her life poetically):  David Antin
And later still, I remembered one of the first questions I asked Hunter about his own photography—whether he preferred to work by chance or to construct a setting. My experience with The Search involved both.
The show continues through Saturday, October 15.
Heather McShane is an associate editor of Dear Navigator and a regular blogger for The Lantern Daily. She worked as an editor at World Book Encyclopedia before earning an MFA in Writing from the School of the Art Institute of Chicago. 
GUEST POST BY MONICA WESTIN
As environmental art progresses and then doubles back again between earthworks and site-specific land art to more explicitly ecological work, there's a real question hanging in the air these days about what kind of awareness art can or even should bring to the natural world, and what successful environmental art might look like or do. Michael Wang's article in May's Artforum about the contemporary merging of architecture and the environment focused on the process of making the invisible visible—such as the work of experimental architect Bernard Tschumi in Santiago, who uses polluted air as "material for design"—avoiding simple propaganda about air pollution in making public encounter part of a zone of aesthetic experience that includes the weather. Wang closes his discussion with a call to "make evident" the "dissolution of boundaries" between the human and the natural.
This might seem like an overly-heady invocation to an intentionally very family-friendly art show at the Morton Arboretum—and much of the art doesn't lend itself to much discussing in academic terms, though it's fun for the kids to look at, like a stack of tree logs with a huge bow on top or fluttering wisps of kite-like material improbably named "Soul of the Trees"—but there are a handful of pieces that are remarkably thoughtful, even groundbreaking in their approach to the question of this boundary between nature and human. While a few works seem completely disconnected from their environment in the arboretum, others offer new perspectives on the framing of nature and the issue of medium specificity. A couple offer explicitly environmentalist messages, and a handful of them—which are as cutting-edge and thoughtful as any other art I've seen in Chicago this year—actually reflect on the work of this frame itself and offer up a strong model for what a critical environmental art practice might look like.
First the slightly less interesting pieces. The You are Beautiful collective presents a huge namesake sign, not unlike the Hollywood sign, at the top of a hill—white from a distance, but yellow on the sides close up. The piece is about the relation of the work to space and the perspective of the viewer, but there's no interaction between the work and its environment; it sits in a clearing, framed by nature.  It could be anywhere. Slightly more interesting but falling squarely into the old activist ecological art mold are Theodoros Zaferiropoulos' "How Far Have We Gone?," which turns cross-sections of a tree trunk into stepping-stones eventually disappearing into a small lake; and Thomas Matsuda's "Purification," consisting of tree trunks burned to charcoal and displayed provocatively amongst the living trees in the arboretum. Both are visually interesting, but they take up an old rhetoric that sometimes makes my eyes glaze over, and it's hard to read much meaning or self-consciousness into each about the environment of the arboretum itself.
This is where I owe a big citation to Chris Millers' review of the show in New City; Miller points out that the arboretum is "more about science than aesthetics" and is therefore "an appropriate setting for conceptual art." Just pushing it one step further, I would argue that the arboretum is slightly artificial, itself on the boundary between the human and the natural; many plants growing there are not native to the area, and the only reason that this refuge exists is because the Morton Salt company family are generous and progressive enough to create this sort of natural simulacra. We might even think of an arboretum as having the kind of "dissolution of boundaries" that Wang discusses… and I wish more of the work had commented on this liminal, weird environment in which their environmental art would dwell.
Juan Angel Chávez's "Jimshoe" (named after a homeless man the artist met) seems more challenging. Built with found materials and resembling a cocoon as well as garbage, the piece holds—or possibly vandalizes—a tree that young visitors to the arboretum are encouraged to climb (the day I went, the work was framed off with an orange plastic fence). The work is closed, the tree is framed (twice over for me), and it's hard to tell whether the piece would change much if the cocoon were surrounding an industrial swingset. Similarly, Letha Wilson's "Wall in Blue Ash Tree," while visually interesting—on one side, a smooth white wall with branches poking through; on the other, as though backstage, the unpainted and patchwork wood, and tree, supports for the piece–also doesn't make any strong claims for nature/art relations or boundaries as such. What makes both pieces interesting visually has to do with the material relation between processed and raw wood, but I wanted more reflexivity about the boundary, about the framing process.
Which brings me to the most unlikely suspect for the kind of thought-provoking, meta-aware praxis of environmental art people are looking for: a crochet-covered tree called "Lichen It," created by Carol Hummel and a number of volunteers. It looks exactly as you'd imagine, but with garish colors in yellow, red, and purple that make the tree look diseased. It's easily the most popular piece of art, the most photogenic, and the most funny (at least for people who are familiar with yarn-bombing and/or grew up with a plethora of  throw pillows and afghans strangling their bedrooms)  of any of the works in the show. The first time I saw it, I took some pictures for a couple posing in front of the tree and didn't give it a second thought—until I walked fifty paces away and saw, in a groomed, manicured hedge with flowers growing in between, the same color combination of yellow, red, and purple. This garden was just as unnatural as the crochet, and the juxtaposition posed real questions to me about material, form, the way we frame nature in everyday life as well as art. In other words, it makes the invisible visible. "Nature doubly framed and overly implicated," the show should read, and the kids would still have just as much fun.
The show runs until November 27, and since I'm writing this delinquently late, you have probably already gone to see it if you were planning to. However, I'd urge you to go again, to see what happens to each work as the natural world, and its relationship to the work, changes.
Monica Westin is the former Deputy Editor and current contributing art editor to Flavorpill in Chicago, where she also regularly writes about art and theater for New City, Chicago Magazine, and the Huffington Post. A current PhD student in rhetoric at the University of Illinois, Chicago, Monica teaches courses on arts writing and new media in DePaul University's Writing, Rhetoric, and Discourse department.
Guest Post by Jeriah Hildwine
I first met Conrad Freiburg in what must have been the Spring of 2008, while I was living out in Belmont Heights (about as far west as you can go and still be in the city limits) and working at an Ace Hardware in River Grove. A friend my wife Stephanie Burke had made while we were living in Baltimore was dating a guy from Chicago, a friend of Conrad's. Unfortunately, I had to work at the hardware store while the rest of them went to visit Conrad's studio, but when I got home from work, Stephanie described to me what she had seen: a big wooden roller coaster, down which one rolled a bowling ball. She said it was awesome.
I didn't know it at the time, but the piece Stephanie had described to me was "The Slipping Glimpser," its name taken from a quote by de Kooning, apparently famous although I hadn't heard it before Conrad told me about it, fairly recently: "…When I'm falling, I'm doing all right; when I'm slipping, I say, hey, this is interesting! It's when I'm standing upright that bothers me: I'm not doing so good; I'm stiff. As a matter of fact, I'm really slipping, most of the time into that glimpse. I'm like a slipping glimpser."
The Slipping Glimpser is a 160-foot track roller coaster, made of ash and hickory.  Conrad's carpentry skills give a level of high craft and polish to everything he makes; at his recent exhibition It Is What It Isn't at the Hyde Park Art Center, I was amazed by the precision and craftsmanship that he put even into the wooden bracket which held the camera with which he was documenting the operation of the Self-Contained Unit of Entropy. The Slipping Glimpser's track is designed to accommodate a bowling ball.  Conrad had some custom-made clear bowling balls, like the one that Ernie McCracken (Bill Murray) used in Kingpin (with the rose inside), only instead of a rose, the balls used in the Slipping Glimpser contained fragments of a previous sculpture: The Ball Dropper.
The Ball Dropper (2006) was a simple ramp in which a bowling ball was loaded into one end, rolled down the ramp to gain velocity, then hit a "ski jump" at the end to launch it over a short trajectory onto a pre-sighting target landing zone. Objects to be destroyed were placed in this landing zone, and were destroyed by the impact of the ball. The Ball Dropper was put to work as a busking device, audience members paying a small fee to have an object of their choosing destroyed by the machine. This kind of performative panhandling fits into Conrad's work ethic, which he described to me (when he was the
visiting artist at Co-Prosperity School) as "Everything I do has to provide me with food, shelter, or art."
Conrad has a weird, frugal humility, living simply and downplaying the significance of everything he does, which really comes across in an essay he wrote for Studio Chicago, called "The Great American Loserdom." Many months ago, Stephanie and I visited Conrad's studio to see what he was working on; it was a prototype of his drawing machine, a "harmonograph." He showed us the rough prototype, about the size of a sewing table, pendulums weighted by coffee can-sized chunks of concrete, which when set to moving created spirals or more complex shapes, bow ties and butterflies of line.  Conrad fed us dinner, an unexpected combination of rotisserie chicken (inexplicably, he had a rotisserie cooker in his studio), chickpeas which he had sprouted himself in a Mason jar, and oatmeal. It was strangely satisfying, and a perfect illustration to what he had been telling us, about a life in which he made do with very little, in order that nothing be allowed to get in the way of his making art.
Cut to this May, an event called Drink, Draw, and Destroy. I was running a drawing workshop and drinking martinis, but afterwards I was free to go see what Conrad was up to. He was the "Destroy" component of the event. The Self-Contained Unit of Entropy used a dropped weight to destroy small wooden sculptures that had been made by visitors to the event. I sat down at a vacant station to make one; a wooden "sled" served as the platform that would deliver my sculpture to the machine to be smashed. I went with a classic "log cabin fire" type setup: a pair of sticks (balsa wood being the material provided) laid parallel, then a second pair laid across them, and so on, each set getting slightly smaller, until the whole thing had the shape of a step pyramid. I saw another visitor making a very similar arrangement, and I must admit his reached a far more impressive height. But mine would serve, and so it was delivered to the machine.  The aforementioned digital camera documented its "before" state, and then the weight was dropped, smashing it. An "after" picture was taken, and the work was complete.
This destructive device has a precedent, not only in the Ball Dropper, but also in the first work of Conrad's I ever saw in person. A few months after we met, Conrad's show "A Great Daydream" opened (on Friday, September 5th, 2008). "A Great Daydream" refers to Gore Vidal's description of the Declaration of Independence. That document is central to the work in this exhibition: thirteen (as in original colonies) wall sculptures each illustrate a passage from it, and the large, central sculpture consists of a table and suspended concrete weights with their aspect ratios derived from the Declaration. The sculptures were interactive in many ways, for example in one piece the viewer can pull a cord which causes a hammer to strike a block of concrete, chipping it away very slowly.  The centerpiece, though, was the large table containing fragile wooden sculptures. A crank on the wall lowered (very, very slowly) a massive concrete weight, which if lowered far enough would destroy the sculptures. Stephanie and I, after having a few
glasses of Linda's trademark vodka punch, took turns working the crank, desperately trying to lower the block enough to destroy the sculptures, and every once in a while Linda would come out, shoo us away from the crank, and work it the other way, seeking to delay the inevitable destruction of the sculptures. It added a fine sense of drama to the whole affair, and by the time Steph and I called it a night, the sculpture was still standing.
Conrad recently had another show at Linda Warren, this one called "The Blind Light, The Pyre of Night." The Blind Light is an eleven-sided form (an undecagon) which serves as a performance chamber, concealing a musician inside. The form of the structure is intended to suggest a space capsule such as Apollo or Gemini, bobbing in the ocean after returning to earth. The performer (when I saw it, it was Conrad himself, although he had several guest musicians perform in it as well) is concealed from the audience's view, simultaneously eliminating the visual distraction of the performer's appearance from the
musical experience while creating a "what's going on in there" kind of fascination. The other works in this show include a sculptural representation of the amount of fuel it takes for a spacecraft to reach the moon, and "Burning Stars" which are incense burners with constellations of holes drilled into their aluminum covers. The whole affair, like all of Conrad's work, has a mystical, spiritual, pseudoscientific feel to it, a cross between 19th Century Spiritualism and the Museum of Jurassic Technology.
When I think now about Conrad's career, I keep coming back to a piece which I've never seen, but which he old me about during his presentation at Co-Prosperity School:  Catapult For A New Millennium. Built during what must have been Conrad's last semester of Undergrad at SAIC (Fall 1999), this project was a catapult installed in a soybean field in Paris, IL on New Year's Eve, on the border between the Eastern and Central time zones. For one hour, it was after midnight in Indiana but before midnight in Illinois, and the catapult could launch objects across the time zone and into the new millennium. He describes the purpose of the catapult as having been to launch his career through time and space, into the future. His great modesty aside, it seems to have succeeded.
Jeriah Hildwine is an artist, educator, and art writer for Art Talk Chicago and Chicago Art Magazine.  Jeriah lives and works in Chicago, with his wife Stephanie Burke.
GUEST POST BY ELIZABETH CORR
In April, Princeton Architectural Press released the first monograph by Jeanne Gang of Studio Gang Architects. Reveal is completely enthralling, so much so that it becomes impossible not to pour over every single footnote, photo caption, and insert. There are incredible nuggets of information packed throughout, all of which provide a voyeuristic glimpse into the day-to-day operations of one of the most wildly successful and innovative design firms coming out of Chicago.**
I have to admit that I tend to get nervous when an artist I admire steps boldly into new territory – in this instance writing. There is always the fear of disappointment, but fortunately Reveal does nothing of the sort.
The book is organized according to a logic that underscores much of the undertakings of Studio Gang – by material. It is this fascination, obsession really, with material that makes Studio Gang's work so compelling. They're consistently pushing the boundaries, and in doing so, challenging perceived limitations of materials from both performance and aesthetic perspectives. This approach to design is refreshingly scientific and deeply rooted in a process of assemblage. The studio searches for inspiration in seemingly unlikely places, and it is this guiding philosophy that distinguishes their approach from that of many other firms.
For example, when you think about steel what comes to mind? For those at Studio Gang, one answer would be samurai swords. Seems strange at first, but by the end of the essay I found myself nodding in agreement wondering why I hadn't made that connection ages ago. This is just one example of the seemingly disparate connections Reveal pushes you to make, thereby confronting the often times insular world of architecture.
What's particularly nice about Reveal is that it doesn't try to do too much. That doesn't sound like a compliment, but it really is. Since this is their first publication, Jeanne could have crammed loads of information in here, surely there is a great selection to choose from, but instead she demonstrates great restraint, letting the Studio Gang narrative come to life through a robust collection of images, sketches, foldout essays, and graphics  – for those graphically inclined, the credits page is not to be missed (see this article at Imprint for numerous page illustrations from the book). As a whole, the publication challenges the commonplace way in which public discourse on architecture is shaped – i.e. around one, maybe two, superstar partners – and instead, insists upon acknowledging a broad range of collaborators (engineers, scientists, fellow architects, students to name a few) that make each of Studio Gang's designs possible.
Reveal illuminates the idiosyncratic approach through which Studio Gang garners inspiration, and it is precisely this process that lends credence to the studio's overall designs – designs that seamlessly articulate the needs of clients, communities and environment.
I patiently await the next installment, and something tells me I'm not alone.
*******
**Editor's note: In the interest of full disclosure, it should be noted that Jeanne Gang is a supporter of NRDC, where the writer is currently employed.
Elizabeth Corr received a bachelor's degree in Psychology and a master's degree in African Studies from the University of Illinois at Urbana-Champaign. Her graduate work focused on contemporary African art in post-apartheid South Africa. She lives in Chicago and works at NRDC, an environmental nonprofit.
GUEST POST BY MARISSA PEREL
In this guest post, Marissa Perel talks with artist Justin Cabrillos about his studio practice and his recent performance of Following Dance at the MCA Chicago. Cabrillos will also be performing at: remixed/reimagined 2011 at the MCA Chicago Performance Benefit on Thursday, June 23, 2011, at 6 pm.
Marissa Perel: Tell me about your process for the Following Dance performance you did at the MCA as part of the Without You I'm Nothing: Interactions at the MCA.
Justin Cabrillos: I wanted to make a response to Vito Acconci because my work is largely inspired by his endurance pieces in the 1960-70's. For this performance, I studied his Following Piece, where he followed around strangers in the city for minutes or days until they disappeared from his view. I combined techniques for following museum visitors by imitating their movements while I performed on his sculpture, Bridge Chairs for Sex and Gender.
I considered Acconci's movements retroactively as a form of dance in Following Dance. It's a triangulation of his voyeurism, how he moves his body motivated by that voyeurism, and the bodies of the people who lead him through space. I became interested in a public choreography.
MP: How did you take this public performance art piece and make into a dance?
JC: I started observing people in the museum in October before my performance in January. I'd go into the MCA and watch the public in museum mode. I studied how people hold themselves when they go to see art down to how they hold their weight or shift their gaze. It was a kind of movement analysis that informed how I would build the dance. I sought to embody how people interacted with the art. Or more to embody the relationship between the viewer, the objects and the space between them.
Because of the nature of the work in the Without You I'm Nothing Exhibition, viewers are moving more than they normally would, and I saw that as an opportunity for movement analysis. I also paid attention to people who didn't choose to interact with the work, their stillness became a source of choreography for me.
Once I was performing, the ladders of the Bridge Chair enabled me to have a bird's-eye-view of what people were doing. I could look through the Andrea Zittel piece, A-Z Cellular Compartment Units and see kids taking off their shoes and crawling around, so I'd take off my shoes and crawl around. The ladder really facilitated the voyeurism for the piece.
MP: Vito would love that!
JC: I know! I developed a system to call attention more to the viewers than to myself. If someone was directly looking at me, I wouldn't follow that person, but the person could see who I was following. It's like when you're in a dance class, watching the teacher's movements and trying to follow as best you can. In this case, the public is the teacher. The goal is not so much to parody to make fun of the viewer, but to reveal something about the viewers to one another, and to create a consciousness of the relationship between the viewer and the space of the museum.
MP: How is this experience different than your experience of stage-based performance?
JC: I had to think of a different way to structure the performance. Because it wasn't about everyone being part of my time, but about the time people were spending in the exhibition. It was like a game where I had to be hyper observant of the audience. On stage you're rarely aware of audience members as individuals. In this piece, I had to anticipate how people would respond to my actions. It required me to simultaneously observe and perform the audience. That was a lot of information for me to contain in my body! I felt like I was possessed, inhabited by the other bodies in the room.
MP: I find that to be a compelling aspect of your work in general, how you embody your research, whether it's historical data, responses to sites or in this case, how you are embodying a relationship between art and the audience. It seems like you have to empty yourself of your own contents in order to become a vessel for the subjects of your performances. How do you make space for this, literally in your body and conceptually?
JC: When I was on a residency with Every House Has A Door, I had the opportunity to meet Netherlands-based choreographer, Meg Stuart. Once in a critique she said, "The body is not yours." I think it's important to let go of your body and see what happens. This can be liberating because you can see what your body is capable of.
By the end of my performances at the MCA, I could pan across the audience and string 6 different movement combinations together from the people I observed because I was totally invested in their vocabulary. My interests are now much more activated around the space of what I'm seeing in relationship to where I am in the moment.
MP: How long were you performing Following Dance?
JC: For two hours a day over the course of 6 days. I also performed for First Friday, artsmart [an event sponsored by the MCA's Women's Board], and I will be performing it again for the MCA benefit.
MP: This is definitely enough experience for you to perfect the art of "observational vocabulary," how do you keep it fresh?
JC: A lot of people talk about the conceptualism behind performance art of the 1970's, but what I appreciate is the childlike wonder about it. One thing that's different about this piece from my other work is that it's light. There's an almost childlike sense of humor about it.
During the First Friday show, I noticed a man texting on his cell phone, so I started to act like I was texting . Everyone that was watching us noticed what I did and started laughing. Another day, I noticed a woman lying inside the Convertible Clam sculpture [also made by Acconci]. I laid down in the other half of the shell and slowly copied her movements. It took her a long time to figure out what I was doing.
People seem to be of two minds when they figure me out, they either revel in the attention and play with it, or they run away. Kids are endlessly stimulating because they are always moving and they are also willing to play the game.
MP: What is it like for you to leave that way of performing and return to your studio?
JC: Even when I have physically left the space of the MCA, I'm not sure if my experience leaves me -it's never completely over. As artists, we're constantly living with the material of our work. I sleep and eat my material, and I try to pay attention to how my daily life is affected by the focus of my work, how my intention is shaped or directed by my interests. I work very hard to make ephemeral art, and I often ask why I am doing this. I don't have an answer,but I think the intimacy that I get to share with the audience, based on my intimacy with the material is one of the reasons I make ephemeral art. So, it's about sharing and extending that intimacy with the audience.
For more information on Justin Cabrillos, visit his website here.

Marissa Perel is a performance artist, writer and independent curator currently working in Chicago, IL.