By Kevin Blake
Josh Reames makes smart paintings. Whether he is deliberately utilizing painting tropes, such as the dripping brushstroke, or deploying obvious geometric abstraction, Reames' work acknowledges his awareness of the painting vocabulary while creating his own grammar from canvas to canvas. Reames aligns his understanding of painterly tradition with his interpretation of contemporary experience that speaks directly to the viewer through text, emoji, palm trees, and anything that seems fitting in the moment of creation. As Reames carves out his own space in the painting world, he wittingly nods his head to a history he  knows well.
Kevin Blake: You have an interest in the escapist ideal, and while those ideals are more overtly addressed in your multimedia constructions, I think your paintings, at times, depart from those ideas and allow for a more eclectic read. Can you talk about your modes of production and how those different methodologies have different relationships to your conceptual framework?
Josh Reames: Sure, I think the paintings lend themselves to an eclectic read, but only as a group. I try to keep individual paintings focused on specific ideas. I think all of the work addresses escapism, just in varied ways. The tropical imagery and psychedelic drug references are just as involved with escapism as the act of painting is. The eclectic read is a product of my scattered focus, which is probably a product of internet culture. My conceptual framework is pretty broad; if I had to describe my intentions with painting it would be to use painting as some sort of filtration device for cultural bi-product. I mean, I'm super into the idea of relativity (cultural, moral, etc.), and painting has this ability to literally flatten images and references into a rectangle. By pushing images together and composing them into a painting, you can flatten the references and remove the hierarchy of importance. So Abstraction, palm trees, emoji, drippy brushstrokes, dollar signs, cigarettes, and the Sphinx can all be flattened to the same level – composition. Either nothing is really dumb anymore, or all of it is, it's getting hard to tell.
KB: You make pictures that perpetuate your grasp of the canon of abstract painting, and I wonder if there is any escape from those parameters. When you are making paintings, how do you filter your knowledge of abstraction (historical and contemporary) to maintain something that is your own? Can artists escape the initiated forms they supersede? Can painting ever escape from itself?
JR: Maybe I'm wrong, but it seems like the need for iconoclasm is outdated. I think the idea of superseding or escaping abstraction comes from some need for a linear narrative of "this became that, then that became something else" which I think has been a legit way of understanding a progression of artists, at least for the past few hundred years. But now I think it's a little different; sampling, re-sampling, homage, and straight plagiarism are all viable forms of historical awareness in art. The drippy brushstroke has historically been an abstract tool, meant to express the presence of the artist – a remnant of the physical self. But over time, that becomes a trope, a symbol separated from it's original context. I think this is liberating in a way. It's sort of like Tarantino using the tropes of old kung-fu films like Zatoichi and Lady Snowblood; he takes an outdated thing and makes it fresh. In that sense, Robert Motherwell or Franz Kline didn't have the internet, so I have a fresh set of tools to play with.
KB: Is sampling, re-sampling, homage, and straight plagiarism unavoidable at this point?
JR:Â  I mean, all the best artists have stolen, it's just easier now. When you are completely inundated with images on a daily basis there becomes this subliminal pool of imagery and information that seeps into the studio. I don't think it's completely unavoidable, but if you are like most artists with access to the internet, it is pretty difficult to avoid. That being said, I don't think there is anything wrong with it.
KB: Your paintings reference artists like Charline Von Heyl and Christopher Wool among others and I am curious as to how you think you arrived at those influences?  What I am trying to understand from your perspective, is how you feel about so many artists drawing from the same well. The internet provides an infinite range of source material, yet the pool of imagery that seeps into your studio, seems to be oozing into everyone else's simultaneously. Fortunately, you are distilling it all in an interesting way. It is a pattern in art history for contemporary artists to be in dialogue with one another. How do you negotiate those terms and demands?
JR: I love Wool and Von Heyl, I think they are some of the most important living painters. I relate to how Wool handles abstraction, especially with the screen prints, in an almost hands-off kind of way. He takes abstraction, historically an emotionally charged way of painting, and filters it through a Warhol-ian process that removes the hand. I think there is a lot of humor there, super dry though. So good! There are only so many ways to make paintings; different combinations of styles, tropes, paint handling, tools, etc. Eventually it's not difficult to take a step back and see artists doing similar things. I'm not sure it matters though, as long as the thing being made is interesting and has some connection to the artist. After that it's all personal taste.
KB:Shifting gears a bit, I was hoping to talk to you about text in your paintings. Often times, text is integrated into the image and sometimes the text appears to be squeezed out of the tube on top of an abstract composition–your paintings "YYY" and "Land Grab" come to mind. How does text operate for you in your paintings?
JR:Text is a way to guide the viewer, to give some sort of context to an otherwise abstract painting. I always integrate the text so that the letters or symbols double as marks, either sprayed or squeezed in the same way any other mark would be made on the canvas.
KB:I'm interested in your word choices and how, if at all, you see them as a personification of yourself. Or are the words derived from language you see fitting into your escapist trajectory?
JR:I keep a running list of text ideas in my sketchbook and on my iPhone. The word combinations that get used are usually really open ended, allowing for specific/individualized reads, but also have a specific connection to me. Sometimes it fits the escapist trajectory, but others will be references to books I'm reading or words that I came across that stuck with me.
KB: Can you talk about how the array of non-traditional painting materials have made their way into your painting practice? Spray paint, airbrush, and fluorescents, to name a few, seem to be the rage. Are these materials and/or high key palettes coincidence or do you think they reflect something more concrete?
JR:In a broad sense I think non-traditional painting materials, usually applied to abstraction, are a way to make abstraction relatable. Matias Cuevas' poured paintings on carpet, or Andrew Greene's glass abstractions are good examples; they bridge the gap between a messy abstraction which really just exists as a historical trope, and everyday materials, which pulls the trope into something new. I don't think my work really fits in this category,  I think using airbrush and fluorescents aren't that uncommon; I started using the airbrush because I have no patience with paintbrushes. I'm a pretty shitty painter if you put a brush in my hand, I can never make it do what I want it to do! The airbrush is different, it's way more versatile, and quick. As far as the high-key color palette's go, I'm sure there's some coincidence there, maybe trends – personally I just like shiny things…
KB:I think you are right, these techniques are becoming more and more common in contemporary painting practices.  Maybe it relates to a culture of instant gratification, immediacy, and even escapism.  Does the pace of everyday life influence your material applications and the speed at which you make your work?
JR:I agree, I think people (artists included) generally have a short attention span and as a result, a lot of impatience. I know I do. I am always able to look at a painting that took months to complete and think "wow, that took a lot of time". But I don't think the amount of time something takes makes it any better than if it was quick. Again, my use of the airbrush is entirely about speed and impatience. I want the paintings to look meticulous, with slick surfaces and plenty of precision – but I want to make a lot of paintings, so speed is key! The pace of everyday life probably has an indirect influence on that.
KB:Speaking of the pace of everyday life, how do things look in your studio right now as you prepare for your solo exhibition at Luis De Jesus in Los Angeles this January? What do you plan to show?
JR:It's crazy in here, I just got back from an 11 day trip to NYC where I saw some pretty rad shows (Josh Smith, John McCracken, Joshua Abelow, etc.). It's great to be back in the studio working on some new paintings. I think I'm going to make a handful of emoji paintings and text paintings with text-message shorthand. The working title is THE INTERNETS. Time is such a luxury though, I've been considering hiring a studio assistant so I don't have deal with those pesky tasks like stretching and priming canvases… we'll see!
Kevin Blake is an artist and writer working in Chicago.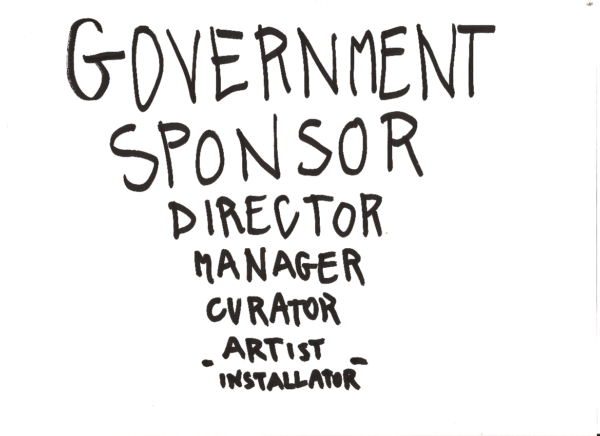 "Tumblr is a great way for people who don't create content to share content thus lending their life some kind of creative import."  This is the somewhat omniscient Jayson Musson's tweet from a couple of weeks ago.  The more I think about it – and I have been thinking about it way too much – the more I realize that he's probably right.  There are a lot of people on Tumblr and I am one of them.  And I cannot get enough.  But you know what, I don't care if these people haven't created the content they're posting, at least they're posting content – which, in of itself, is a creative act.  And it's visual, and I personally am constantly learning from it.  It's a visual literacy of the highest import.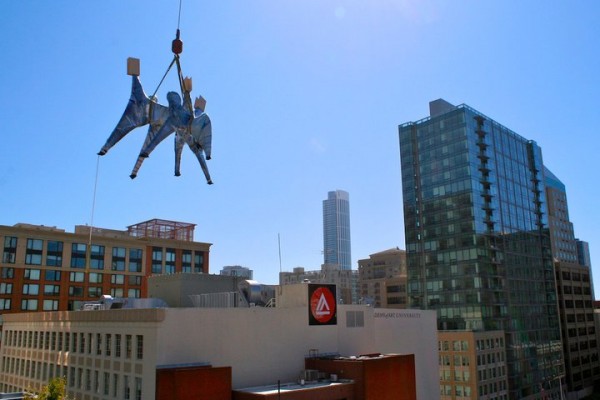 My own Tumblr, Installator, is a curated (for lack of a better term) blog of other people's content.    Installator (wrapit-tapeit-walkit-placeit) is essentially a compendium of art in a state of movement – being installed, de-installed, moved, crated, knocked down, hung, lifted, cleaned, screwed together, and on and on.  It's about art as an object, but decidedly not the object that most people understand it to be.  Not precious, or in some cases priceless, well-lit aesthetic nuggets that just seems to appear on walls, or pedestals, in fields, on buildings and above couches.  These are images of artworks that are not static.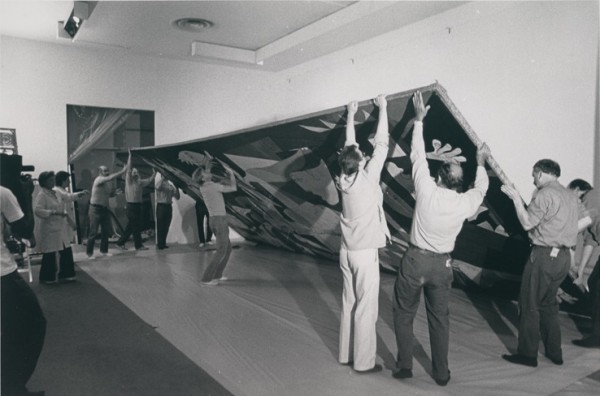 Sometimes I wonder if people who go to museums or galleries think these things just kind of magically appear overnight – like some sort of aesthetic fairy flitting down to delicately place a painting on a wall with their sparkly fairy-dusted level.  Well they don't, and there is a magical coterie of individuals who do make it happen: art handlers/preparators/riggers/etcetera.  I am not an art handler, though I have done my fair share of handling art (I'm also married to a former preparator).  It is with the utmost respect for these folks that I showcase them in the photos that make up Installator.  Other people are impressed too.  Of the many comments I do get on one photo or another – a common one is some form or another of: "I want to do this for living!"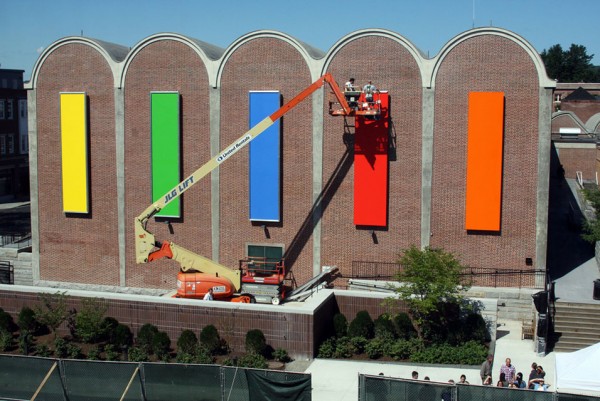 Looking for images can be a pain in the ass, but when I find a good one I get really excited.  I have a loose set of criteria that I stick to when finding them; ideally it's a large jpeg; includes an image of a person(s); is of an artwork or artist that I admire; is visually representative of the act of installing or de-installing and has to be stimulating to look at.  Funny pictures help, as do process-oriented sets of images.  I mostly start with a Google image search including an artist's name (or sometimes an artwork) and the word "installing".  Another route I take is plundering the Facebook photo albums of museums.  I find that European museums do the best job of documenting their behind-the-scenes, but there are a few museums with their own oft-updated Tumblrs, blogs and websites (the Dallas Museum of Art, Contemporary Museum of Art, Houston and the Walker Art Center are tops.)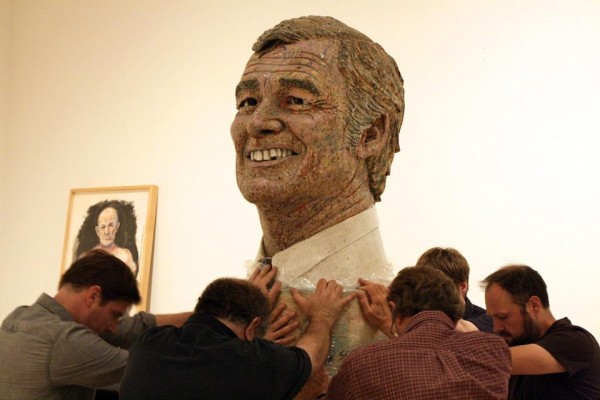 At this point it seems as though a lot of Museums are catching onto this peeking-behind-the-curtain-thrill.  Many of them are sharing much of the work that goes into setting up an exhibition, not only by posting more and more images for the public, but also using it as a form of education about the lives of artworks.  This can only be healthy.  It humanizes the pricelessness that these objects are assumed to have once they enter the institution.  It also showcases the care for these objects from a preservation standpoint.  I thought this quote from the Chrysler Museum of Art was interesting, even though the images they did post were some of the most beautiful I've come across: "We generally do not discuss anything related to the movement of art. There are lots of reasons for this, ranging from the obvious (security) to the obscure (proper protocols and handling).  …. We rarely if ever actually photograph art being moved. This is [a] field where mistakes are not an option, and a great work of art being damaged because somebody tripped over a photographer just can't happen."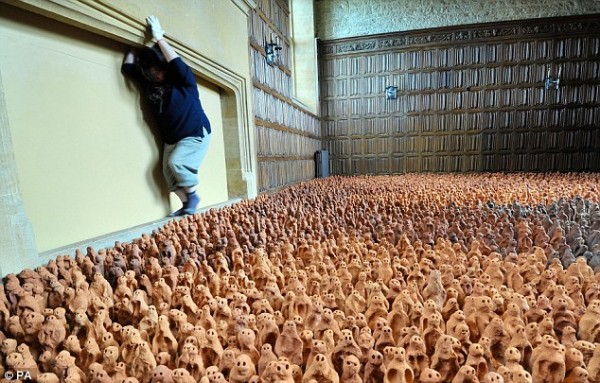 There is also what I cannot find.  I have a mental list of artists whose work I would very much like to see installed.  There are also museums that simply aren't interested in showing how work travels from the bowels of their storage to the walls of their galleries.  Outside of Instagram, commercial galleries very rarely show images of their artists work being installed (though Salon94 has a great blog that features this).  Along the same lines, it's often difficult to find images of art fairs being loaded in.  Artists who have their own websites also rarely show images of their work from this viewpoint (Sterling Ruby and Martin Eder (?) are a couple of exceptions).  Holy Grail images would include almost anything pre-1980, better yet pre-1950.   The Smithsonian's Archives of American Art (watermarks excluded) is by far one of the best resources I've found.  As far as mediums go, who knew it was so hard to find images of drawings and photographs being installed?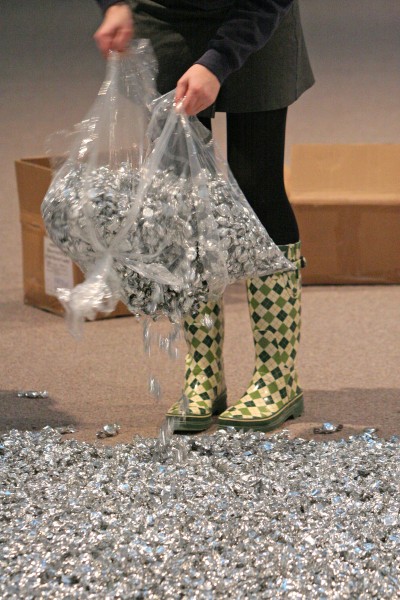 A short wish list, in case anyone was inclined to do some of their own digging and submit: Morris Louis (a good one, though this one is pretty good), Allan McCollum, Eve Hesse, Cady Noland and On Kawara.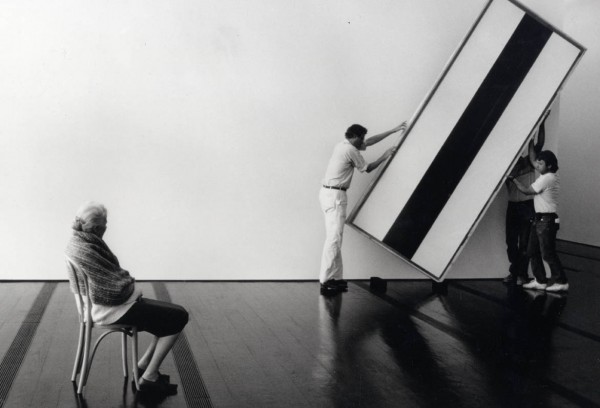 What's next? I thought an old fashion artbook might be a good way to harness a lot of what's happening on the Installator tumblr.  There is more to mine here: from the relational aesthetics of it all to the art historical precedents of installing art.  However, after looking into it and making a couple of inquiries, I realized that it would never happen.  I don't own these images and I certainly wouldn't want to deal with the red tape (from artist to gallery to museum) about ownership and rights.  Nonetheless, I do worry that with the fleeting nature of screen-scrolling, people aren't really looking.  Good old fashion page-turning sounds nice to me – maybe one of these days.  For now, I'll still be looking for content and posting it for my 137,507 "followers".
Bio: Britton Bertran ran 40000 from 2005 to 2008. He currently is an Instructor at SAIC in the Arts Administration and Policy department and the Educational Programs Manager at Urban Gateways. An occasional guest-curator, he has organized exhibitions for the Hyde Park Art Center, the Loyola Museum of Art and several galleries. You can find him trying to be less cranky about the art world on twitter @br_tton.  Stay tuned for a couple more guest posts where Britton will be waxing poetic on what's wrong with the Chicago art world circa 2013, while thinking out loud about how to fix it and another post about looking forward to 2014 (and maybe a top 10 list of sorts too.)
Above images:
"KULTÚRA NAPJAINKBAN, dan perjovschi után szabadon" (via richardlivesus)
"The Acrobatic Sculptures of the Rooftop Garden". Alexander Calder's "Man" being installed at SFMOMA
MoMA staff dismantling Pablo Picasso's "Guernica" (1937) for shipment to Spain. Photo taken on September 8, 1981 by Mali Olatunji. Image © The Museum of Modern Art, New York
"Monumental wall sculpture by Ellsworth Kelly installed on Dartmouth campus.  This major site-specific work, titled Dartmouth Panels, was commissioned by longtime arts patrons Leon Black '73 and his wife Debra, who contributed $48 million towards the creation of the center." (artdaily.org)
"This piece is made of ceramics, a medium which Robert Arneson helped bring to a full-fledged, independent art form. Typically, large-scale works such as this would be made out of bronze or marble. Luckily for our installation crew, this piece is hollow, meaning it only weighs between 500-700 lbs. Heave-ho!" (SFMOMA)
"This incredible sculpture by Turner Prize-winning artist Anthony Gormley, consisting of 40,000 clay figures, has been put on display at an empty Tudor manor house…. It took five days to place the humanoid characters into position across the ground floor of Barrington Court, a National Trust Property near Ilminster in Somerset. The installation 'Field for the British Isles', was originally created in 1993 and has been loaned to the property by the Arts Council Collection through its Trust New Art Programme."
Felix Gonzalez-Torres, Untitled (Placebo), 1991. Installation process. Image courtesy of the Williams College Museum of Art; photo by Roman Iwasiwk (curatedobject.us)
Dominique de Ménil supervise l'acrochage d'une toile de Barnett Newman en 1991. | Dominique de Ménil oversees the hanging of a Barnett Newman's painting in 1991. (Marc Riboud, circa 1991, 38 x 52 cm via Galerie Verdeau, via tongue depressors; via bruvu)
Last month, in the midst of the crazy Expo Chicago extravaganza, I had the pleasure of going on a tour with Gallery Weekend Chicago. GWC was founded by Chicago gallerist Monique Meloche in 2011 and offers annually a weekend of private gallery and museum tours. I went on the Sunday tour which took us down to the Washington Park and Hyde Park neighborhoods on the South Side and made stops at the Arts Incubator, the Smart Museum, the Renaissance Society, and the Logan Arts Center.
The Arts Incubator in Washington Park was the first stop of the day. This space, part of the University of Chicago's Arts & Public Life Initiative, was conceptualized by Theaster Gates, who is now director of the project. The Incubator is home to an artist residency program, a community arts education program for teens, as well as an exhibition and performance space.
The Incubator currently hosts five resident artists. They have access to all of the facilities at the Logan Arts Center, where we headed later in the day, and have studio space at the Incubator. The Space Between, an exhibition of these artists' work, was installed at both the Incubator and the Logan. The work addressed the social differences between these two spaces – one located in the University-centric Hyde Park, the other in the adjacent Washington Park neighborhood.
Despite the early hour of our arrival four of the five artists were kind enough to meet us at the Incubator to show us around their studios and the exhibtion: Avery Young, Cecil McDonald, Cauleen Smith, and Tomeka Reid. We were also joined by the curators Allison Glenn and Monika Szewczyk.
Cauleen Smith created two "space stations" for the exhibition – one in her studio at the Incubator and the other in the gallery at the Logan. The installation in her studio played off the aesthetic of a work space with filing cabinets, a work table and a temporary wall made from screens that she used to screenprint wallpaper for the other space station at the Logan. There were also shelves with plants and small artifacts that she made from materials found in the surrounding neighborhood: chunks of cement and fragments of a road sign.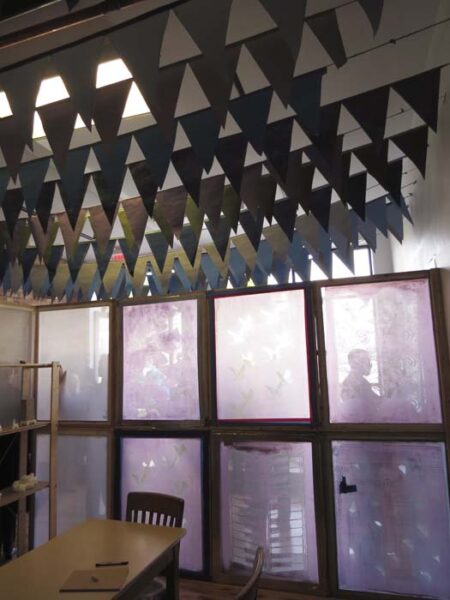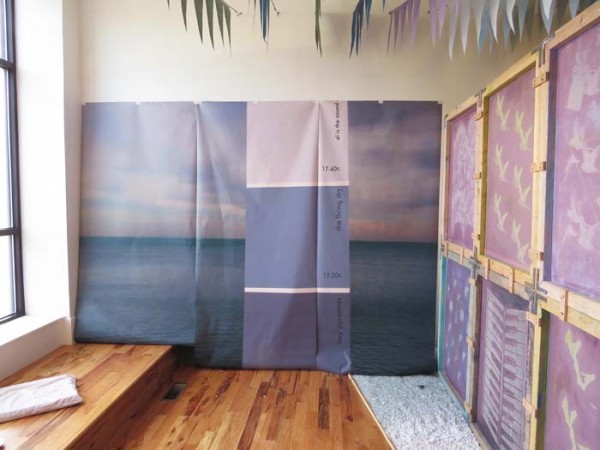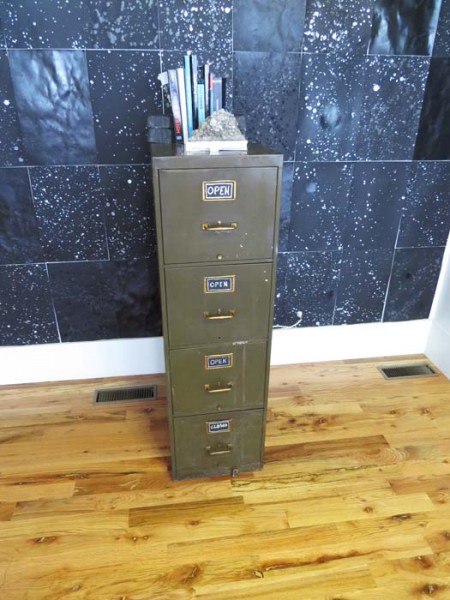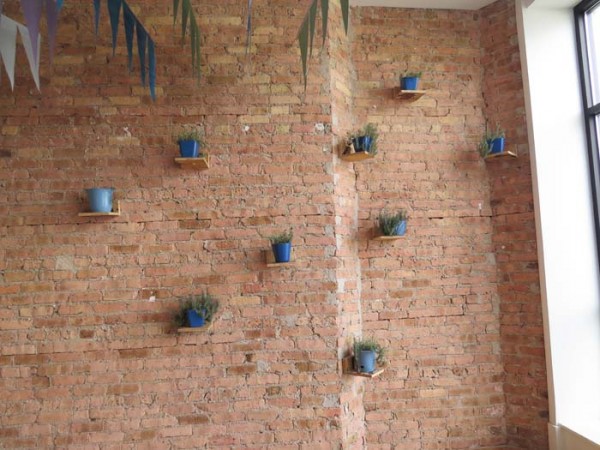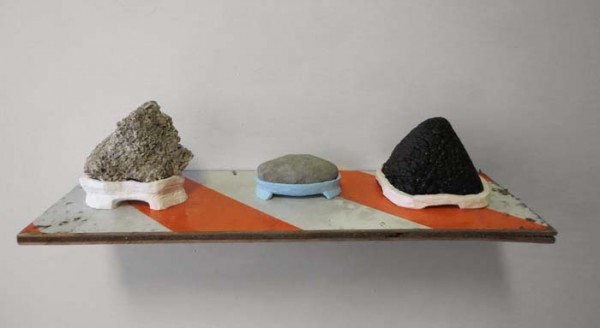 Avery Young and Cecil McDonald have a shared studio space, the floor of which was laid out with Avery's work for Groun(d), a solo show now up at the Incubator.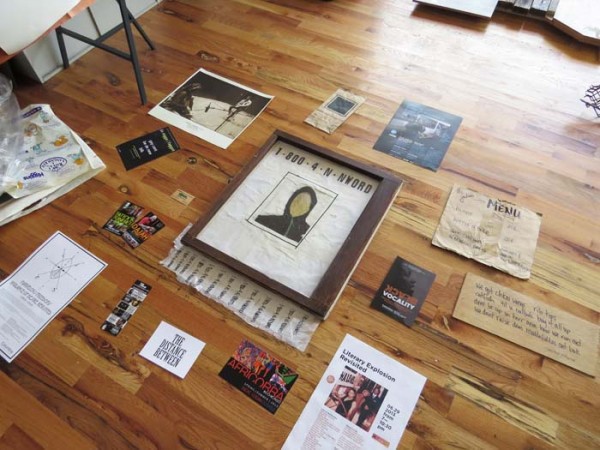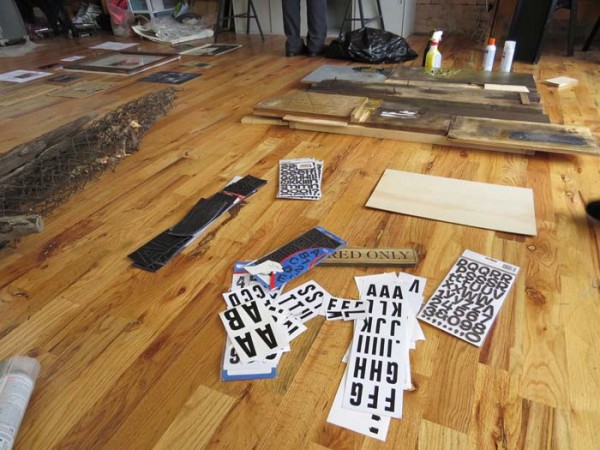 In the main exhibition space Avery Young, Tomeka Reid, and Cecil McDonald spoke to us about their work.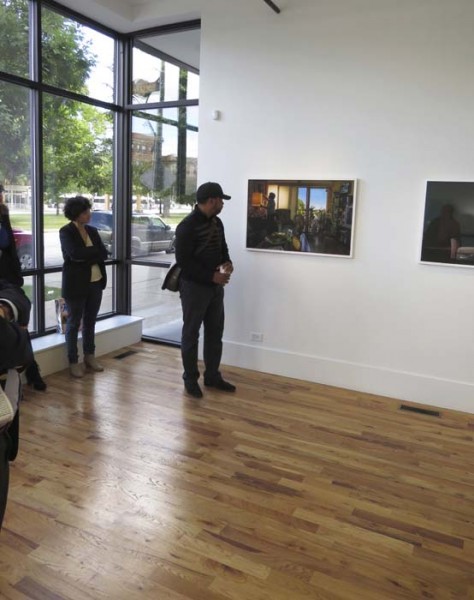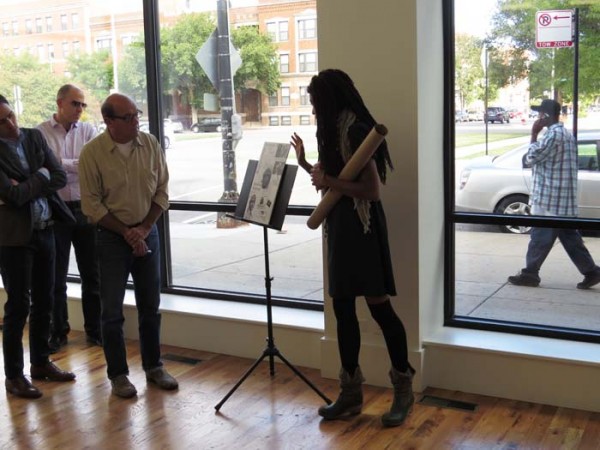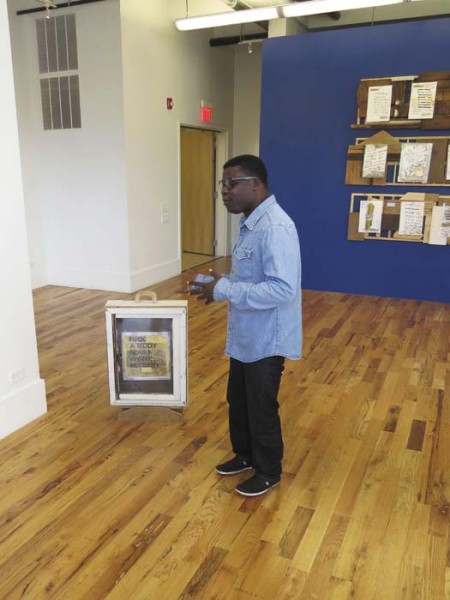 After going to the Smart Museum and the Renaissance Society (both of which have amazing shows up right now – Suicide Narcissus at the Renaissance Society blew me away.) we ended the day at the Logan where Monika Szewczyk showed us the other half of The Space Between, featuring Cauleen Smith's other space station, photographs by Cecil McDonald, assemblage works by Avery Young, and sound pieces by LeRoy Bach.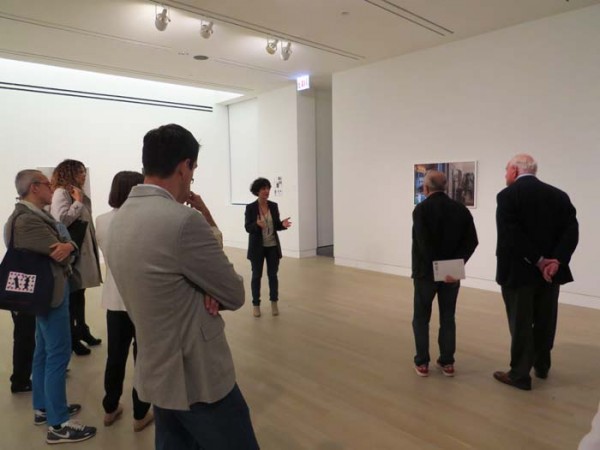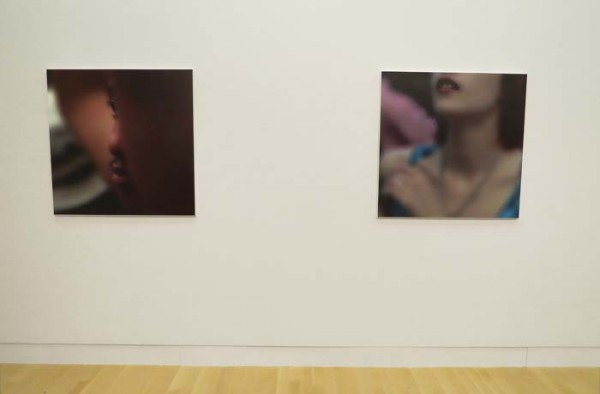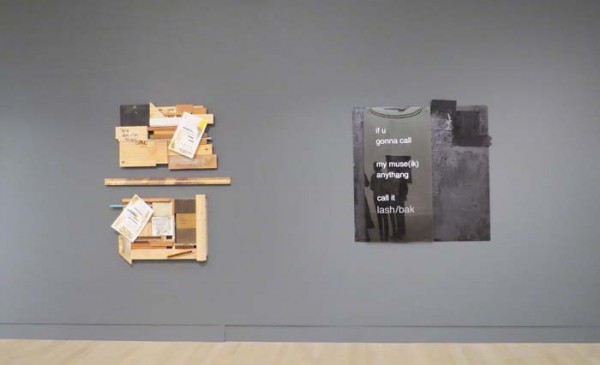 Monika also gave us a tour of building and, by the way, the view from the 10th floor is pretty phenomenal.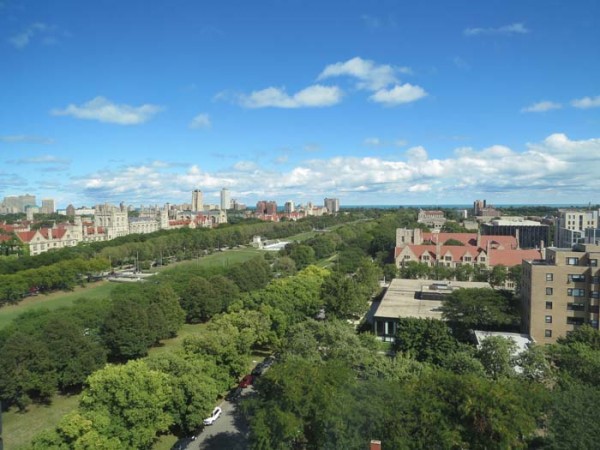 Bailey Romaine is an artist and bibliophile based in Chicago.
Guest Post by Jacob Wick.
So far, the things that have made the most sense in Los Angeles to me have been the things that make no sense at all. I'm writing about Juliana Paciulli's recent solo show at Greene Exhibitions, "Are you talking to me?" and Andrew Choate's poetry, like this one from Stingray Clapping:
more nipple than fig
more fig than nipple
dress up as fig
for Halloween
dress up as
nipple for birthd
figple
Choate sings his poetry, or singsongs it, more of a sprechstimme than a musical. I've never seen him read the poem I have placed above, but there's probably a tune it goes along with, and somebody always snickers at it, as I have seen them snicker in, now, several situations in Los Angeles. It's the same kind of snicker, or nervous laugh or outright laugh, perhaps if one is confident, that happens at a total failure of communication, when there is some kind of sudden – perhaps sudden, perhaps dramatic, possibly completely banal, like being hungover or otherwise exhausted – breakdown in a conversation or scene.
A scene perhaps like that in the title video of Paciulli's exhibition. A teenage girl, wearing a sagging black American flag as a cape, stands in typical suburban house – indeed a suburban house so typical it played Ferris Bueller's house in Ferris Bueller's Day Off - rehearsing De Niro's famous scene from Taxi Driver. She raises her gun; the shot centers on it: it is a yellow watergun (full disclosure: my yellow watergun; fuller discloser: John Paul Glover's yellow watergun), apparently empty, or mostly empty. The shot returns to the girl's face; she finishes the scene, pauses, says "oh, ok," and looks down and away. A housecat jumps over the flag/cape, which has apparently fallen off.
More forceful, adjacent to the sags another black flag, printed on bamboo twill, with a banana-yellow QUACK printed across its lower third. The flag might signify something, maybe national pride or Jasper Johns or Black Flag, a band I very unfortunately saw recently – a bunch of pathetic, ridiculous old men prancing around the stage like a bunch of assholes, which they certainly appeared to be – but the QUACK arrests its signification in the act, leaving the viewer speechless, in the strange afterimage of a short-circuit of meaning.
It has been important, certainly since the turn of the 20th century, to ask what things – not just art, everything – mean. What does this abstract painting mean? What does this realist short story mean? What does this rock mean? I learned at the Santa Monica police station, from an incredibly chatty technician who gently rolled my finger on the scanner, that the print on my left index finger is of the sort that less than 1% of people have. I asked, laughing, but not really, I felt pretty serious about it – it was my first thought – "what does it mean?" She said, "oh, probably nothing." If I look it up online – I think it was a double loop or a Peacock's eye or maybe a tented arch, I wish I remembered or wrote it down, but I didn't – it might mean that I'm a perfectionist, that I'm indecisive or diplomatic, that I'm independent and inflexible, or that I am "fiery."
The trouble with asking what things mean is that they often mean nothing, and those things that don't mean nothing often could mean many things along a varying scale of possible validity. I once wrote a review, for a class in undergrad, of that Ann Hamilton piece that is a bunch of white shirts, seams opened and singed, on a table. I wrote that it "meant" something about the Triangle Shirtwaist Factory fire. You know: sewing machines, fire, melancholy, death, feminism. It's certainly possible that the piece meant something, and that that meaning had something to do with about the Triangle Shirtwaist Factory fire, but it's equally possible it meant something about self-image, about burning or singing the demand to appear a certain way, or even the privileging of appearance (it's on a table after all). I point this out not to champion a wry, pseudo-"ironic" approach, an approach that I find vapid and profoundly irritating – and completely dissociated from the actual function of irony, but that's another story – but rather to wonder if it is not more interesting, or exciting, or even relevant, to ask what things do, rather than what they mean. In the case of Choate and Paciulli, their work could mean a variety of things, doubtless some of which are fascinating, but what is most important – to me at least – is what they do: they short-circuit or gag the transmission of subjective information. In so doing, they resuscitate the possibility of gesture.
What is gesture? Giorgio Agamben, in his enigmatically unfinished "Notes on Gesture," refers to the ancient Roman philosopher Varro:
The third stage of action is, they say, that in which they faciunt "make" something: in this, on account the likeness among agere "to act" and gerere "to carry or carry on," a certain error is committed by those who think that it is only one thing. For a person can facere something and not agere it, as a poet facit "makes" a play and does not act it, and on the other hand an actor agit "acts" it and does not make it, and so a play fit "is made" by the poet, not acted, and agitur "is acted" by the actor, not made. On the other hand, the general [imperator], in that he is said to gerere "carry on" affairs, in this neither faciti "makes" nor agit "acts," but gerit "carries on," that is, supports, a meaning transferred from those who gerunt "carry" burdens, because they support them. (57)
The three categories of action are, then: to make or produce; to act or perform; to carry on or support. Agamben identifies gesture with support, with gerere, to carry or carry on. The error that apparently was being made in the first century BCE, that of confusing performing with supporting, is simply exacerbated in the twenty-first century CE, where that which is supporting simply disappears. We see the actor perform, and admire the poet who made, but we miss, or fail to focus on, the gesture that supports: the tone of voice, the rise and fall of an arm, a certain tenseness or relaxation. It is the gesture that finally closes the act of signification, and for Agamben, this carries tremendous weight. As that which supports or endures, the gesture "opens up the sphere of ethos as the more proper sphere of that which is human" (57). It is not – or should not be – the sphere of production, nor the sphere of praxis, that determines one's humanity, but rather the manner in which one supports or endures, one's gestures. It is in one's gestures that one's character appears.
"Notes on Gesture" tracks the disappearance or capture of gesture from the late 19th century to the present. Beginning with Gilles de la Tourette's catalogue of irregular gestures, which became the basis for what is now called Tourette's disease; to Tourette's catalogue of normal gestures, which he describes with pre-cinematic relish. According to Agamben, after numerous cases being reported in the late 19th century, cases Tourette's disease "practically cease to be reported" from the beginning of the twentieth century until Oliver Sacks reportedly noticed several apparent cases of Tourette's while walking down a New York street in 1971. Agamben suggests, somewhat amusingly – a nervous laugh, a snicker – that this could perhaps "in the meantime ataxia, tics, and dystonia had become the norm and that at some point everybody had lost control of their gestures and was walking and gesticulating frantically" (51). The reemergence of Tourette's in the 70s signals not a sudden gaining of control of gesture, but perhaps the moment when the obsession over gesture – as one obsesses over anything one has lost, as any lost thing becomes transfigured into "destiny" – reached some kind of mark.
In any case, the desire to reclaim gesture or the nostalgia for gesture propels cinema. Extending Deleuze's term "movement-image," which implies that cinematic images are themselves in movement, Agamben writes:
Every image, in fact, is animated by an antimomic polarity: on the one hand, images are the reification and obliteration of a gesture (it is the imago as death mask or symbol); on the other hand, they preserve the dynamis intact (as in Muybridge's snapshots or in any sports photograph). The former corresponds to the recollection seized by voluntary memory, while the latter corresponds to the image flashing in the epiphany of involuntary memory. And while the former lives in magical isolation, the latter always refers beyond itself to a whole of which is it a part. Even the Mona Lisa, even Las Meninas could be seen not as immovable and eternal forms, but as fragments of a gesture of as stills of a lost film wherein only they would regain their true meaning. And that is so because a certain kind of litigatio, a paralyzing power who spell we need to break, is continuously at work in every image…
Cinema seizes and redeploys gesture, and as such "belongs essentially to the realm of ethics and politics" (55). For cinema suggests or imposes character, characters, ethos. For if it is through cinema, as Agamben so eloquently writes, that we dream of gesture; the question then becomes how to "introduce into this dream the element of awakening" (56). How do we, how can we, pinch ourselves back into awareness of our own gestures?
For Agamben, the key is to forget, or to remember, or to forget to forget, to forget to remember. Gesture appears involuntarily, in moments when we lose our track, when we are gagged, "indicating first of all something that could be put in your mouth to hinder speech, as well as in the sense of the actor's improvisation meant to compensate a loss of memory or an inability to speak" (59). Perhaps this is what Cage dreamed of when he asked for silence. When we are gagged, when we forget suddenly or witness a forgetting – for the gag is more than the actor forgetting, it is everyone in the theater witnessing that forgetting, participating in it – we witness gesture as pure means, dissociated from production or praxis.
And if cinema is the tool by which we dream of gesture, then Hollywood is the capital of dreams, of dreams suggested or imposed; and if we consider gesture to be the sphere of politics, as Agamben does, or if we consider gesture to be the support or character of ideology, as I do – or both, for that is perhaps two ways of saying the same thing – then Los Angeles becomes perhaps the ideal place to think about gesture, or to focus on work that brings forward the possibility of gesture, work that stops us from explaining what it means and forces to encounter what it does.
Jacob Wick is a conceptual artist based in Los Angeles. For more information, visit jacobwick.info.
 Guest post by Hannah Verrill
Michal Samama is a performance artist and choreographer from Israel.  She recently came to Chicago by way of New York to begin her MFA in studio art at The School of The Art Institute of Chicago. She is now focusing on the research and creation of movement based solo performances and multidisciplinary collaborations. A couple of weeks ago I spent time in the studio with Michal as she prepared for an upcoming performance at Northwestern University.  The following dialogue ensued:
Hannah Verrill: I'm thinking about a solo performance practice, and if it is distinct in the sense that you as the maker can never fully step outside of the work in order to witness it.  I am curious about how you come to 'know' the work that you are making as you are making it.  Do you use video as a reflective surface to see what you are making?
Michal Samama:  Now I find myself using video, but it didn't start that way.  I became so interested in the images, in creating images and then of course changing the images, transforming them into other images.  So in a way I feel that I have to see it. I guess I started to use video at some point, but before video I was using the mirror.  Over the past few years I've also started to take photos of my body and my movement in the studio.  I have tried to direct my body to a specific image but at the same time to be in the movement, or the position, or the expression while taking the photo.  Those moments that I've captured have helped me to develop the visual aspect of the performance.
So it starts from a visual image that I have, that I imagine, and then I start to explore it, to transform it, to do this whole research in the studio.  Video can tell me if the image or sometimes also the timing is right.  My question is what is that 'right'?  What is the right image?  What is the right timing?
HV: For me, time is something where video and live don't match up.  I can be watching a video of performance and something feels distinctly too long, but if I were with that body in space I could be having a completely different temporal experience of that same action occurring. 
MS:  It's interesting because when I look at the video, and again, it's a tool, it always seems for me that I don't take enough time.  That in live I push myself too fast, that it actually needs to be slower.
HV:Â  Right, and video helps you see that or know that.
MS:  Yes, even though it can be very boring to watch this stillness, but the way I sense the timing of my body through video is usually that I need to slow down and take more time.  It's something I'm trying to work on right now, but it can be very scary for me not to just move on and go to the next image.
So when it comes to performing in front of an audience there is this internal thing going on.   This other layer, the negotiation between the way I build or shape the external image with what's going on inside, and there is the encounter with the audience.
I remember the moment when I started look out.  I think there's a difference between this external artificial gaze into the audience versus really looking.  Of course it's a solo, like I am the performer and you are looking at me, but then I'm looking back at you and maybe you feel awkward or embarrassed, but maybe you are thinking about your next doctor's appointment or your surgery.
HV: Would you say that there's a kind of feedback loop in place? A set of information that you receive from your audience by way of their presence, in a specific sense, that comes to influence how you are performing?
MS:  Yes, or you could think of it as a dialogue. It's about questioning this idea of me as the performer being the authority.  Or it's also about questioning what is your (the audience's) role here.  I started to think more of this idea of performance as a collective event or social event. This is what is unique for performance.  It puts into a laboratory this idea of the social event.
I do remember one work from a few years ago when this question came up of if I wanted to take my gaze out into the audience or still be in this internal dance-y gaze, and at that point I chose not to.  I was too afraid or I didn't know what to do with it.  But now it's different, and I've started to make it more and more what I do.  I'm interested in this kind of transformation of images happening during the performance.  Part of the transformation of course is the homework that I worked on in the studio—the choreography—but of course part of it is like what you're saying, the feedback.  So in the end there are many more transformations than what I initially thought of because of the presence of the audience.
HV:  I wonder if you could talk about the process you're engaged in currently with this upcoming performance. 
MS:  In some ways this is the most difficult process to speak of because it is happening right now.  I'm working on this piece for a conference and the name of the piece is What Am I Paying You For? With the last few pieces I was more and more into this negotiation between the abstract of the body and the concrete of the body, and the idea of looking closely at body parts, zooming in on body parts.  But of course in performance you can't really do it.  I mean that's what I'm trying to do, but there is always the body as a whole.
HV: Right, and the space that the body is in.
MS:  The space, and the sound, and everything.  But the space and the sound are there in video, but in video we try to ignore it.
HV: But with video, with an actual zoom or various editing functions we can actually direct or focus attention.  I mean, with performance we can too, but it's very different. 
MS:  Yes, you can zoom in with a camera and show just this part, but how do I do it when my whole body is there, when the audience is there?  So I went into the studio taking this bag with me, with all of my materials in it. The rule that I set up for myself recently is that I don't do this theatrical thing of having a set stage, and then I perform, and then someone cleans it up.  I do it all myself as part of the performance, I guess to kind of blur this line between performance, life, when does it begin when does it end.  So I said OK, I'll just go to the space with the materials in my bag, but then I thought well this is not interesting enough. And then I decided to put the bag on my head.  I'm naked also.  So now I think that seventy percent of the performance is with the bag balanced on my head.
HV:  So you came to the studio with your bag of materials.  How is it that you decided to put the bag on your head? Is that an impulse or is that an example of an imagined image?  How did that happen?
MS: So that maybe was not an image, I mean when I did it I felt that maybe it could be an interesting image.  Putting the bag on my head immediately calls in a set of associations, connotations – I would like to play, at the same time, with the balance, the physical 'risk' or challenge but also with the associations, mine and those of the audience, sometimes they can also be risky especially when it comes to nudity… so I am on my knees, trying to balance the bag on my head, but I'm also a naked women on her knees.  You have to decide what to look at or what draws your attention. But I guess initially that gesture came from my desire to put myself in an uncomfortable or risky situation.
HV:  It's also a precarious situation because the bag could fall.  Does the bag fall?
MS:  It can, and in that sense there is a really different quality to rehearsal and performance, because things happen in performance because of the anxiety or excitement.  New things can happen.  For example I was working in an earlier piece with rocks, holding seven rocks.  During the first performance one of the rocks fell and it had never happened to me before, and it never happened after.  Just that first performance.  And yesterday my husband came to the studio to see this current piece for the first time, and I'm there standing with the bag on my head and I felt the weight of it on my neck and the tension in a way that I had never felt before in rehearsal.
HV:  Going back to the internal experience of the performer, and then there is the external image that you are creating with your body and various materials.  It occurs to me that the external image aside, you wouldn't know what's risky or vulnerable without feeling it, that it's a felt thing.  It's not exactly conceptual, but rather it seems as though it would need to feel legitimately risky for you. 
MS:  There is something very clear about the images, but then the risk is in the movement.  Otherwise it would be just like a photo.  A static image.
HV:  Does risk and vulnerability enter into the audience's experience of your work?
MS: Â We spoke about the gaze and how at a certain point in my work my gaze started to be directed out into the audience, and that is something I am working on, going more and more towards the audience and really bringing them into the situation.
But the whole idea of audience participation is such a cliché now.  It's a question of how to work with it.  With my body I try to ask: what are the possibilities of the body, what can the body be and how do we read each image that can be created with the body, or with the movement?  In working with audience, I want to give them a chance to respond in different ways, or to offer something that is a little disturbing maybe. I think no matter what you are always asking something from the audience, sometimes you are asking them to be very passive.  In my performances I think in a subtle way I try to ask them to be active.  What I don't want to do is to give instructions, this is not my way, I like that the way is more hidden.  To give more space, to create the space for negotiations.
HV:  And choice making as well, your audience can choose how and to what degree to participate.  But you're not letting them off the hook either. 
MS:  Yes.  This may be a solo, but don't be mistaken, you are here and you are apart of it.
For me, because I grew up on a kibbutz, I have these collective issues, and there is no solution for that, no answer.  It is just apart of what I am thinking through, or working through; this idea of performance as a collective experience, and creating space for individual responses. It's your choice, and it's a moment between us, and intimacy is a big word but I feel like there can be a kind of intimacy, something can happen there.
For example when I did the orange thing again at Judson Church, the first person was trying to take the orange from me, so it became this fight.  And then almost with everyone else they were imitating this.  So there's this kind of peer pressure, or how we follow what our peer just did.
HV:  It makes me think about what you were speaking to earlier, about how the presence or the feedback from the audience is a way to make the work improvisational to a degree.  It occurs to me that you cannot rehearse this aspect of the work, the interaction between you and your viewer(s).  So you are leaving space for your viewer to enter into the work, and also to determine the work, perhaps even make the work with you. 
MS:  That's the thing. I'm not so much into this idea of a closed production.  It's not just this thing where you come, and you see something, and you stay out of it.  It's more like a social experiment.  Of course I'm leading it and bringing the materials, the proposal.  I'm proposing something, and then it can change.  Parts of the work are very choreographed—there is a choreography in place—but still it is changing all the time.  There is an ongoing influence between you and I.
 
Hannah Verrill is an artist living and making work in Chicago, Illinois.