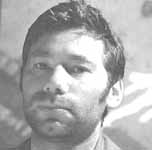 File this under exhibitions I really wish I could have traveled to see. UK artist, "Secret Victorian" and David Duchovny lookalike Mat Collishaw recently created an installation at the Freud Museum in London titled "Hysteria" that reframed psychoanalytic discourse by way of Freud's treatment (so to speak) of women. Collishaw and the Freud Museum are definitely an inspired pairing. Although Freud only lived in the London home for about a year or so after fleeing Austria, it now houses all of his relics and collections, left mostly as they were. In this video produced by the Tate, Colishaw tours several rooms in the house while talking about how his own work relates to the "dodgy" psychoanalytic practices that took place there. Hysteria, hypnosis, drugs, death, cigar smoke and naughty little boys (that's a hint to check out the Duchovny link above – it's not as random as you think), among other subjects, are discussed in the fascinating tapestry of past and present that Collishaw weaves as he walks through the house. Don't forget to look for Freud's super comfy-looking couch, pressed up against a wall in the study – it's where all the magic happened.
Via Curated.
Somehow I missed this series when it debuted at the end of November, but my trusty feedreader eventually makes sure the good stuff gets my attention. BOMB's Jackie Saccoccio posed this question to twelve painters whom she admires: "What is the current state of abstraction?" The answers, provided by Dan Walsh and Amy Sillman, Jessica Dickinson and Philip Taafe, Steve DiBenedetto and Eric Wendel, Jason Fox and Eva Lundsager, and Carroll Dunham and Keltie Ferris, are as tonally varied, compelling, cheeky and angst-ridden as is, well, the state of abstraction today, I guess. (Amy Sillman uses the question as the opportunity to formally break up with Abstraction). Read all of the responses here. The last entry in the series, including responses from Marc Handelman and Cheryl Donegan, are coming up in a future installment.
Semiconductor, an artistic collaboration between the UK artists Ruth Jarman and Joe Gerhardt, have put together a three minute video titled Black Rain. It's a compilation of heliospheric satellite images– as the artists describe it, "raw scientific satellite data which has not yet been cleaned and processed for public consumption" — that were taken during the NASA stereo solar mission, but it could easily pass for an early work of experimental film.
Black Rain from Semiconductor on Vimeo.
Via Blur and Sharpen.
While I was looking at the photographs of Anna Shteynshleyger at the opening of this Russian-born, Chicago-based artist's new solo exhibition at at The Renaissance Society, a middle-aged woman wearing a fluffy, faux-fur coat sidled up next to me. "Do you know what that is?" she asked me, pointing to the image I was peering at intently. It was a blue-tinged photograph of some sort of twisted, fleshy material that looked like raw bread dough.
"I'm not exactly sure," I replied. "I can't tell if it's soaking in a bowl of something or what."
"It looks organic," the woman mused, "like an organ from a body."
"Well, it's challah….It's not baked yet. But I can't make out what this part is," I said, gesturing to the circular, fan-like opening out of which the doughy form appeared to be rising.
"Oh, it's challah!?" she exclaimed. "I know what challah is — I make challah. But that looks more like a body part. How do you pronounce the artist's name?" I told her I had no idea, and she nodded. "She should have changed it to Smith!" [Read more]
Artist Blake Fall-Conroy is in the process of making a sculpture that enables everyone to earn minimum wage (or rather, the wage set by the state of New York–Illinois law guarantees a minimum wage of $8.00 per hour for workers 18 years of age and older). From Conroy's website:
"The minimum wage machine allows anybody to work for minimum wage. Turning the crank will yield one penny every 5.04 seconds, for $7.15 an hour (NY state minimum wage). If the participant stops turning the crank, they stop receiving money. The machine's mechanism and electronics are powered by the hand crank, and pennies are stored in a plexiglas box."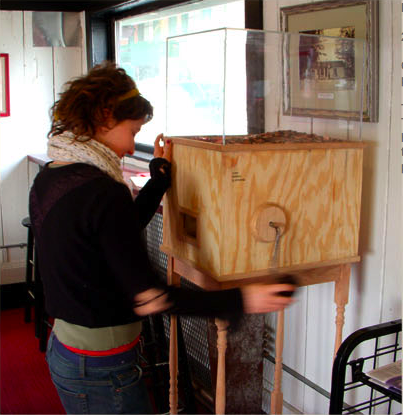 Via New Art via Tomorrow Museum.