There's been a second round of layoffs at the Art Institute of about 65 employees, the Chicago Tribune reported yesterday. The first round of layoffs occurred approximately one year ago, when 22 employees lost their jobs. According to the Tribune, of the 65 layoffs, 50 are security managers.
That the majority of cuts are in the area of security shouldn't come as a surprise, given that in March the Art Institute cut some of its gallery hours, closing some galleries for one to two hours a day in an effort to cut costs. At the time these "rotating closures" were described as an experiment that could potentially save the Museum $150,000 annually if continued. The cuts in security last week are probably a signal that fewer open hours in some galleries, on a rotating basis, are here to stay.
The other 15 positions cut include staff from the museum education department, retail operations, and the facility/physical plant department.
The Trib says the latest round of layoffs are due to the Art Institute's "massive budget deficit" resulting from endowment losses of the type that have also been experienced by major U.S. museums such as the Getty in Los Angeles and the Met in New York.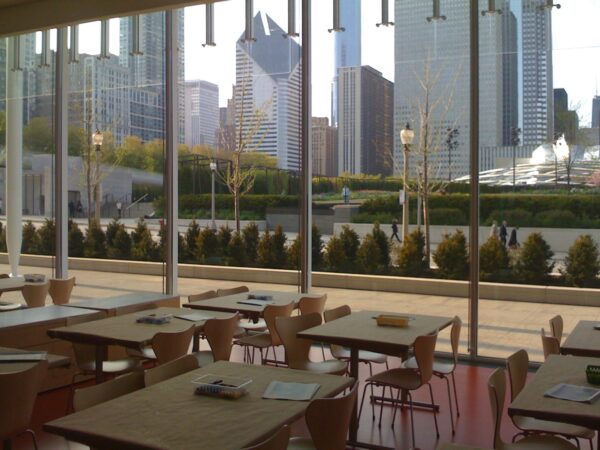 I've been following the 'curation' meme for awhile now, and find its latest iteration particularly fascinating. Whereas in the recent past, the term 'curated' has tended to crop up in marketing and shopping-related contexts (i.e. "to curate" = "to pick and choose," "to select," or at its most base, "to shop around so others don't have to"), last week I noticed that the term is now being slung around by those on both sides of the iPad/Apple wars. In an article titled Curated Computing: What's Next for Devices in a Post-iPad World, on ars technica, analyst Sarah Rotman Epps puts a new spin on what's already become a tired (and annoyingly mis-applied) buzz-word, arguing,
There is something very significant about the iPad beyond how many units it will sell: it's changing how we think about the PC. The iPad creates a use case for a device that doesn't do everything your laptop does, targeted at a consumer that uses devices more for consumption than production. The iPad ushers in a new era of personal computing that we call "Curated Computing"—a mode of computing where choice is constrained to deliver less complex, more relevant experiences. Let me repeat that, because it's the essence of the Curated Computing experience: less choice; more relevance.
Oof! The connotations of the word 'curation' just get worse and worse, don't they? "Less choice; more relevance?" Here, the verb curation isn't merely equated with shopping; it signifies exclusivity and an active process of kicking the riff-raff out of the so-called "walled garden" of Eden that Apple has created and actively cultivates (or polices, depending on your point of view). You can watch a YouTube video of Epps describing her "curated computing" concept in (slightly) further detail here; I think it's pretty dumb myself, but you can judge for yourself whether the idea of 'curating' in this context provides a useful conceptual metaphor or just trendy b.s..
In The Death of the Open Web, NYT Magazine columnist Virginia Heffernan used the term 'curation' to drive a related train of thought. In yesterday's Magazine, Heffernan describes the Web as "a teeming commercial city…where Malware and spam have turned living conditions in many quarters unsafe and unsanitary" and "bullies and hucksters roam the streets." Before, she argues, there was no way that Web denizens could escape the rabble. The rise of the iPhone, the iPad and the ubiquitous app, however, are now allowing users to migrate into the online equivalent of a gated community in the 'burbs. Heffernan goes so far as to liken it to "white flight." She writes,
In spite of a growing consensus about the dangers of Web vertigo and the importance of curation, there were surprisingly few "walled gardens" online — like the one Facebook purports to (but does not really) represent.

But a kind of virtual redlining is now under way. The Webtropolis is being stratified. Even if, like most people, you still surf the Web on a desktop or laptop, you will have noticed pay walls, invitation-only clubs, subscription programs, privacy settings and other ways of creating tiers of access. All these things make spaces feel "safe" — not only from viruses, instability, unwanted light and sound, unrequested porn, sponsored links and pop-up ads, but also from crude design, wayward and unregistered commenters and the eccentric ­voices and images that make the Web constantly surprising, challenging and enlightening.
Heffernan's analogies are powerful and persuasive, although I do think she's romanticizing some of the cruddier aspects of internet citizenry a bit.  In any case, Hefferman's use of  the term 'curation' in this context aligns curators with those snooty, front lawn-obsessed Homeowners Associations and NIMBY-types, if not with community policing.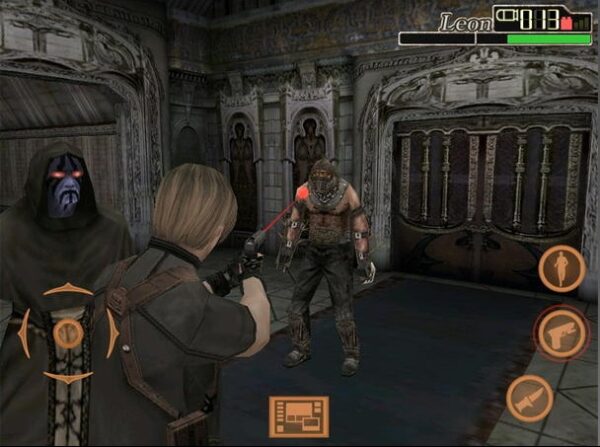 And finally Eliot van Burskirk, in an article written for Wired last week, took a jab at Epps' opportunistic deployment of what he describe as "a well-worn meme" while acknowledging that Epps is undoubtedly "on to something" in her use of the term curated. Van Burskirk, tongue loosely planted in cheek, goes Epps one better and dubs this "The Age of Curation."
Curation is the positive flip side of Apple's locked-down approach, decried as a major, negative development in computing by many observers, present company included. Who would have thought that in 2010, so many people would pay good money for a computer that only runs approved software?

It runs counter to the idea, prized by geeks, that computing equals freedom. If it were Microsoft doing this, we'd all be storming the Gates with torches and pitchforks.

Nonetheless, the Age of Curation (see? anyone can coin a catchphrase) began long before today's conversation about curated computing. In this Age of Digital Excess (oops, there I go again), we're surrounded by too much music, too much software, too many websites, too many feeds, too many people, too many of their opinions and so on.

Curation is already fundamental to the way in which we view the world these days, and the iPad is hardly the first technology to recognize this.
Van Burskirk goes on to note that Facebook, MP3 blogs, your Google Reader and practically a zillion other online websites and services found within the (unwalled) portion of the open Internet are also "forms of curation," and that critics of the walled garden model are overreacting.
I don't have a dog in the walled garden vs. the riff-raff, suburb vs. gritty city, the iPad vs. Freedom of All that Is Good and True argument. I'm more interested in the ways that the terms curator and curation, which once had such dusty connotations, are undergoing a semiotic rejuvenation of sorts. Its meanings are not confined to a single realm of experience anymore – the curator has finally broken free of the White Cube. Alas, the white cube seems only to lead out into a Walled Garden, but I guess you have to take what you can get.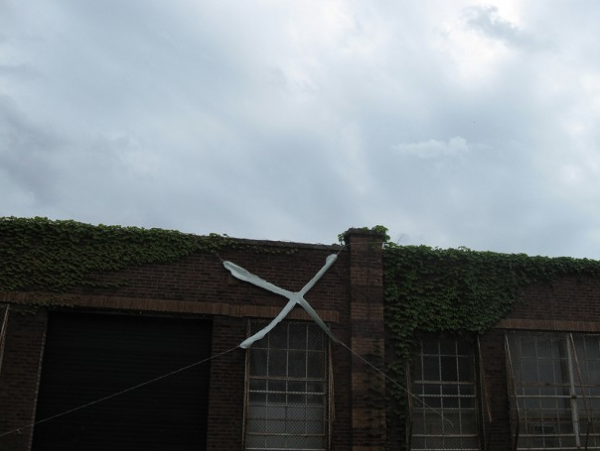 Chicago artist and recent SAIC grad Dana DeGiulio has a new show up at Julius Caesar, the alternative space she co-runs with Molly Zuckerman-Hartung, Diego Leclery, Colby Shaft and Hans Peter Sundquist. I'd seen several presentations of DeGiulio's work before this show, each somewhat different from the other: her 2009 solo exhibition at Carrie Secrist Gallery was formal, framed, lovely and "proper;" in contrast, the group of works selected for the SAIC exhibition Picturing the Studio last winter contained sketchy, exploratory scrawls as well as a tongue-in-cheek key code linking gestural motifs to emotional states (you can see examples of this in the Documentation section of DeGiulio's website). DeGiulio's latest solo show, titled Erect, contains a sculptural frieze/wall relief, a video, and a large black X made from an acrylic pour stuck directly to the wall. I met with Dana one Friday afternoon in the gallery to talk about the work in her latest show. It was the first time we'd met. The intimate scale of the space and (lucky for me) the opportunity to talk with her for an extended, unbroken period of time made it feel like a studio visit. It's funny – I've had several conversations with different people recently about the difficulties of talking or writing about works of art, about how impossible it can be for language to embody the experience of art. This can be frustrating (especially for me, because I identify so strongly as a writer) but it can also be liberating, depending on how you look at it.  Dana and I talked about this during our in-person conversation. I think the Q & A that followed, which was conducted like a written conversation over email several days after we first met, explores the language/experience schism (for lack of better terms) further, and in ways that were inspiring and invigorating for me personally. I'm really grateful to Dana for the time and consideration she took in answering my questions. Dana DeGiulio's show is up through May 30th at Julius Caesar Gallery, 3311 West Carroll Avenue. Viewing hours are every Saturday and Sunday, 1-4pm, and by appointment. That means only two weekends left to see it,  so get yourselves on over, pronto!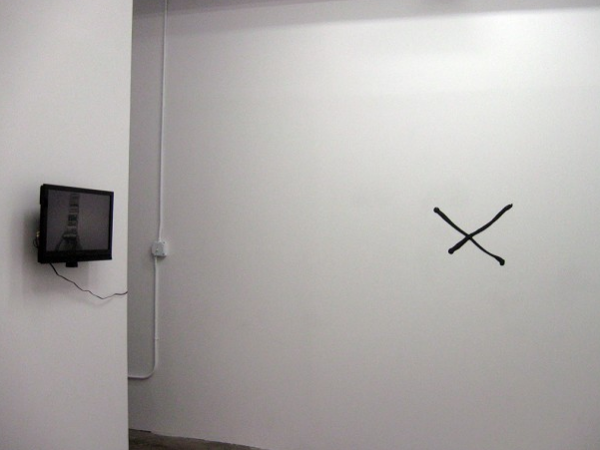 CI: The title of your show at Julius Caesar is "Erect." Each of the three works on view appear to play with a dialectic of erection/deflation, of standing upright/crawling, holding/dropping etc. in some way. For me this dynamic raises larger questions about what it takes to continue to hold something up (be it a structure of belief, an artistic practice, a category, a routine, a relationship): does it require faith, distraction, will, laughter….all of these things? And in turn, the works in the show also seem to meditate on everything that has to be ignored or shut out in order to maintain that erect state, that disciplined and even militaristic stance of attention. So for me, the exhibition begs the question: at what point is it okay to let go, to deflate, to give up, to put down your hand, to turn away? It's a question that I suspect is a personal one for you too, but also one that may relate to what happens in the studio, in your studio. Your thoughts?
DD: Okay.  What a lovely hell of a question.  Hesitant to affix words here not because they're specious and bullshit, but because I'm compelled to obfuscate, diminish, wad up whatever phenomenological speechless impact the work might present: because I'm suspicious and a little arch when I'm frightened.  Our initial conversation was so reactive and immediate and fluid and dialogical, this format makes me a little nervous (for opposite reasons): I want what you're suggesting to be true.  I have to engage my humility.  Claudine, the generous empathic subjective read imbedded in the question is yours: and it's one of the possible reactions I want (because empathic, etc).  Speech is noise, utterance (yeah yeah ripeness) all.  What can I provide here?  A sloppy poetics, a quietus, a sort of yearning vitriol, a failed teenaged attempt to shatter a window.  And I want to give those things: because beauty does what gravity does, out of love.
CI: The video titled "The Cry Collapses to Form" is a performance piece conducted in private (ie w/o an audience) that has a distinct narrative arc. It begins with you standing against a wall with a very large stack of books on your head, keeping this pose for as long as you can. When a tipping point is reached, when the books begin to wobble, white paint begins to splatter down from above, onto the stack of books and onto you. The column of books then topples.  There's a really great and silly slapstick moment right after this when the very last of the paint goes "splat!" and hits your cheek – it's like a pie in the face. But you are laughing, which makes it clear this is not about humiliation. Instead the piece, which is only about 3 minutes long, builds up to those final moments when an almost ecstatic release is reached. The final brief shot gives us a momentary glimpse of the sky. It's not a simple clear blue sky but one that's overcast, with sunlight visible through the clouds — its more complicated than blue skies. To me, this closing frame/shot delivers another type of slap in the face, this time aimed at viewers. But it's more like the kind of slap that the Zen master gives the initiate, the kind meant to wake you up.  Why did you include that last shot of the outdoors? How did the idea for the piece come about?
DD: I can really hold things, and meant the last shot as operational, to break the diegesis of no-audience endurance exercise, trying to slap I into We.  Women, artists, writers, bipeds (in general), are habituated to erect, and history demands holding, and lying about the weight of what holding, and I want to construe holding and standing as decisions.  I don't know that our spines automatically compel us upward, and that stakes perpendicularity at all as an elected position, an opposition: the X intersection of spinal plumb-line and ground as ambivalence.  I've crawled and liked it.  As per ideas, I guess, I just recently (really) realized that I'm a woman.  Those caryatids: looking at reproductions of the Erectheum I thought: my god that's me, women can't stand without being instrumentalized, without becoming columnar (historically, as exemplary warning or tribute).  So, in the video, there's the symptomatic (not flinching from your own time: Hugo describing the endotic condition as an asphyxia, seeing the outside inside of yourself, unable to help it) versus the metaphoric (deliberately employing performance strategies requiring a degree of temporary physical exertion to represent and correspond to an actual metaphysical agon).  That actually fits with everything I make, and ends up funny.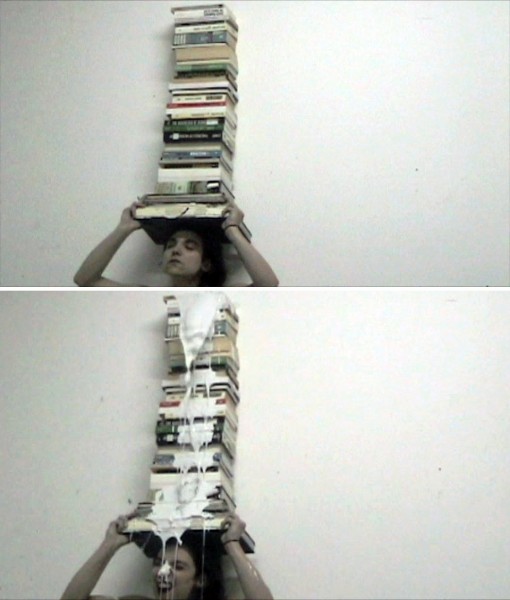 There's collapsing to form and persisting to form.  The point is, you're right about the double-slap, and the not-humiliated, because fraught participation in these dialectics is elective, and the punishing marks of this elected also, a consequence and gift.  Reactions are surplus.
CI: On the wall, a long frieze titled "What was lodestar now is feet (the Pergamon Altar)" skitters between the mediums of painting and sculpture. From a distance the forms appear to be three-dimensional scribbles, but when you get closer you see they are diminutive human figures and horses, or more accurately fragments of people and horses. Few if any of the human or animal figures stand upright, like classical Greek sculpture. Instead, they're either bent over, or they're limbless and amputated. Depending on the angle from which you look at the piece (or pieces), they either take on recognizable forms or look like inchoate blobs of paint. The title makes reference to the Pergamon Altar. Can you explain your interest in it?
DD: Yes, inchoate: all perverse, imperfect, gestures recorded, suspended pre-form or falling away from.  The real Pergamon Altar is this tremendous broken antique frieze, plundered from Turkey and reinstalled in Berlin.  It's the fracture, the interruption, the abstraction via subtraction by time and vandals of faces, genitals, entire torsos; so these expressive parts persist: reach, hold, torque, strain, almost ache, it's the Gigantomachy, a battle, so all mortal active verb, the reduction of specific bodies to urgent acting fragments.  For me, the interest is in the resistant elastic potential of what's left.  It helps posit all attempted effacement as redaction, collaboration.  Sometimes only half a shoulder remains: I'm really stunned and moved and excited by what (in an apparent crisis of absences) narrative, psychological, and affective force that shoulder contains.  I copied it to be able to start to see it.
I'm starting to learn to think of stillness as not-death.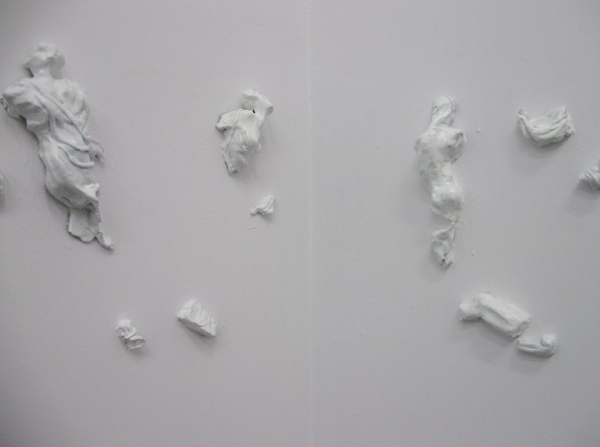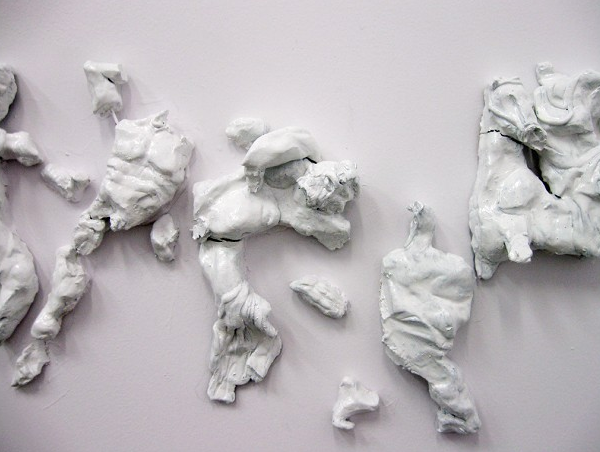 Around the Coyote has been in trouble for awhile (read Deanna Isaacs article on the organization's woes in the January '10 issue of The Reader here), but at the end of last week New City reported that, as of May 8th, the 20 year old Chicago nonprofit arts organization had officially closed its doors and ceased operations (and those doors are *really* shut: even ATC's website no longer exists). By many accounts ATC's program had been in decline for several years, and Executive Director Alison Stites was quoted in Isaac's article saying that she'd been "trying to figure out if there is a natural time for this organization to end." Looks like that time has come.  Duncan and Richard interviewed Stites on Episode 110 of the podcast, right around the time Around the Coyote made its controversial move from the Flat Iron Building in Wicker Park to the Splat Flats (a building which is now up for sale).  Here's the text from the press release issued by ATC Board President Chris McVety:
After two decades of working with Chicago's vibrant emerging arts community, Around the Coyote is regrettably closing its doors and ceasing operations as of May 8, 2010. Â The staff and board of directors would like to express their thanks to all of the artists, donors and collectors that supported the not-for-profit for so many years. Through the years we did our best to add to the Chicago art dialogue, Â support the start of strong art careers, and foster the collecting of the emerging arts. We are proud of what we accomplished, and we are confident that with continued vigor, good things lie ahead for the arts in Chicago.

Of course, while it is with a heavy heart that we announce the closing of Around the Coyote, we are encouraged by the certainty that in our absence, other opportunities for artists will emerge. Our tireless and devoted staff have been working to allocate the remaining resources, knowledge and equipment we have to other local arts non-profits in hopes of encouraging continue growth in this area. Some of these Chicago-based arts non-profits are Three Walls and Chicago Artists Coalition. We encourage all of our supporters to get involved with these excellent organizations.

Three Walls

, which holds gallery exhibitions, residencies and special programs in the visual arts, is having a fundraiser on May 28 which we hope you will attend.

Chicago Artists Coalition

is entering an exciting time as they re-imagine their programming for emerging artists. They have put together a new team and are focused on advocating for artists, and providing professional development and exhibition opportunities throughout the city of Chicago.

Special thanks to Allison Stites, Around the Coyote's interim Executive Director, for her passion and dedication to the organization through its final days of operation.

Chis McVety

Board President
Duncan brought this fascinating New York Times article on William Furlong to my attention yesterday. Duncan was particularly interested in how Furlong's Audio Arts magazine, which consisted solely of cassette recorded conversations with other artists, provides a precursor to what Bad at Sports is doing in Chicago. A new book, titled "Speaking of Art," containing  edited transcripts of 43 interviews from the archive has just been published by Phaidon Press. From the New York Times article, which was written by Randy Kennedy:
For a couple of decades the lowly plastic cassette tape, full of good sounds, cheaply copied and passed around like samizdat, served as creative raw material mostly in the indie-music world and the college dorm room.

But in London in the early 1970s, a conceptual artist named William Furlong began harnessing the cassette for his unlikely purposes in the visual arts. The motivation wasn't dauntingly conceptual: he and his friends talked a lot and listened to the conversations of other artists and realized something.

"It became apparent to us," Mr. Furlong said in a telephone interview last week from his home and modest recording studio in the Clapham section of London, "that none of that talk and none of our interests were being met by any traditional arts publications."

Phaidon Press has now published "Speaking of Art," a small sampling of the immense undertaking that resulted from that dissatisfaction. Beginning in 1973, with the help of a few collaborators, Mr. Furlong created Audio Arts, a no-budget "magazine" composed solely of cassette recordings of interviews with artists Mr. Furlong found interesting. He mailed them to friends and subscribers, at first hundreds and then thousands.

The critic Mel Gooding, in the book's introduction, invokes the provisional title that Joyce used for many years for "Finnegans Wake" — "Work in Progress" — to describe the spirit of Mr. Furlong's enterprise, noting that another provisional title for Joyce's novel would have applied just as well to the vast audio archive: "Here Comes Everybody."

Mr. Furlong considers the magazine a work of art itself: a monumental audio sculpture. Though it has never received much attention in the United States, it has long had an art-world cult following in Europe, and in 2004 its archive, thousands of hours of tape, was acquired by the Tate Britain, which describes it as the most comprehensive collection of artists' voices in the world. (The museum has put four hours' worth of the archive on its Web site, at tate.org.uk/britain/exhibitions/audioarts.)
Read the full article in the New York Times here.