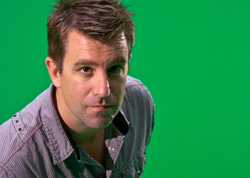 Brian Andrews is a contemporary artist, critic, and visual effects supervisor currently living in San Francisco.
His studio practice inquires into how special effects are visual mechanisms that expose the political and ontological undercurrents of contemporary culture. His artwork has been exhibited internationally, including at the Hong Kong Exhibitions Centre, Apex Art and the New Museum of Contemporary Art. Understandingart-making as a communicative exercise, Brian Andrews also records on contemporary art as the west coast producer for Bad at Sports Contemporary Art Talk.
His writings can be found in Artnet, Art Practical, Beautiful / Decay Magazine, as well as numerous catalogs. Currently, he is the Course Director for the compositing program in animation and visual effects at Expression College for Digital Arts in Emeryville, California.