So, uh, it's the weekend of Fourth of July. Which means there aren't even five shows. So here, this is the one thing you should go to, if you're not to busy getting trashed and shooting roman candles and bottle rockets at eachother:
Complementary Width at The Franklin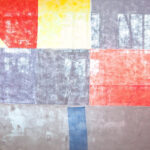 Work by Anna Kunz, Luis Romero, Mika Horibuchi, Thaddeus Kellstadt, Josue Pellot, Jose Lerma, Michelle Anne Harris and Summer Air.
The Franklin is located at 3522 W. Franklin Blvd. Reception Saturday, 6-10pm.
Stephanie Burke was born in Nevada City, CA in 1984. She received her BA in Studio Art and Anthropology from Humboldt State University in 2007, and her MFA in Photography from The School of the Art Institute of Chicago in 2009. Currently she makes work, teaches photography at Wilbur Wright College and Hyde Park Art Center, writes for Bad at Sports and works as Managing Editor for Art Talk Chicago and Chicago Art Magazine.When not making, teaching, looking at, or writing about art, she enjoys running around in the woods, drinking beer by bonfires, and target shooting.
Latest posts by stephanieburke (see all)