Setting the stage, the Liverpool Biennial is spread among multiple buildings within Liverpool's city center. A previously abandoned trade union center called The Old Blind School holds the work of seventeen artists, this blind school rehabilitated enough – outfitted with electricity – to form the central axis of the Biennial, a group show curated by Anthony Huberman and Mai Abu ElDahab. The artists in A Needle Walks into a Haystack come from outside, not from Liverpool. And in this sense, the Biennial is not a selection of the regional, but an exhibition that might draw outsiders into the northern industrial city. Outposts surrounding the central group exhibition include a re-hanging of the Tate Liverpool collection, a Whistler exhibition and various artists presenting solo works at locations such as a film center, a cathedral, and a research foundation.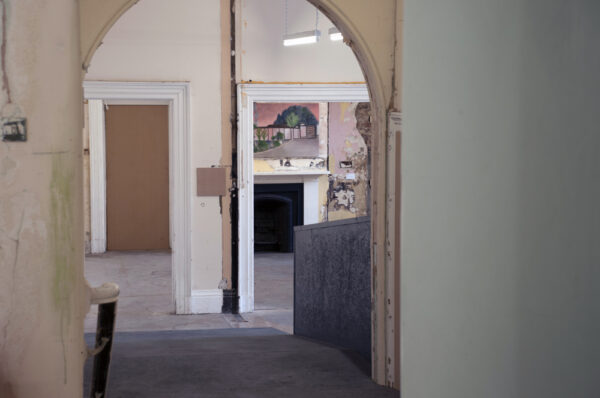 Entrance ramp into the Liverpool Biennial
The Blind School is called this without question, the title of the building written above the entranceway in fading words. Varnished fireplaces scattered room to room in the school draw to mind lost, now usurped, uses of domestic space. The first floor of the Biennial opens onto paintings by American artist William Leavitt. Roller coasters and atomic clusters are illustratively depicted on top of suburban pastel homes, not unlike the colors of peeling paint on the walls of the school. The exhibition never loses sight of William Leavitt, one of the artists out of seventeen who reappears on every floor.
There are no people in Leavitt's paintings of homes. Uninhabited, the paintings are speculative stagings. Flat rendering of realist images introduces an aesthetic to follow throughout the group exhibition – a realism into which fantasy is projected and announces itself as running commentary: Amelie von Wulffen draws a cartoon of her interior monologue with Goya as she navigates the art world; Peter Wächtler paints watercolor washes of the sexual liaisons of royalty as viewed through the eyes of a butler; Christina Ramberg animates drawings of jacket sleeves without a body, and binds disembodied body parts with cloth, in as many ways as possible.
The exhibition at first struck as downtempo, a kind of aesthetic camp, its artworks including color pencil sketches and video composed of the rehearsal of simple scripted lines – with time, those lines and garments gave way to a series of entranceways and confinements.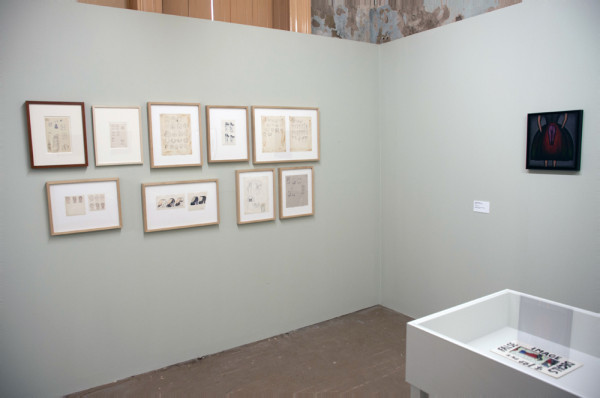 Installation of Christina Ramberg in Liverpool Biennial, 2014
Christina Ramberg, a Chicago Imagist also known for acrylic paintings, makes notational ballpoint ink-on-paper drawings. Ramberg turns pieces of clothing into a graphic system of symbols for specialized use. How many times can a belt be tied and untied, how many ways a person strapped to a chair?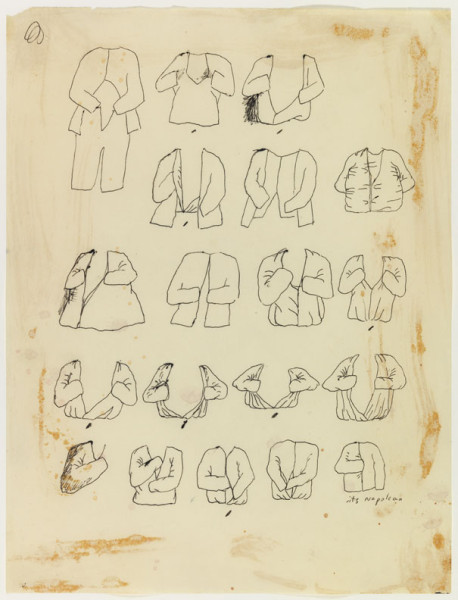 Christina Ramberg, Untitled (It's Napoleon), 1967, ballpoint pen on paper, 11 x 8 1/2 inches, image courtesy of Estate of Christina Ramberg and Corbett vs. Dempsey, Chicago
Enter a strong purple curtain and a projection of a planet. French doors open onto the moving planet that moves beyond the purple curtains. The raised platform stage, through which blows a breeze, is a set made from simple wooden construction, and therein plays a soundtrack of no known origin. It looks like the world as it is. Although the planet is larger and closer than it should be – as oversized as a film screen inside of a modestly sized home.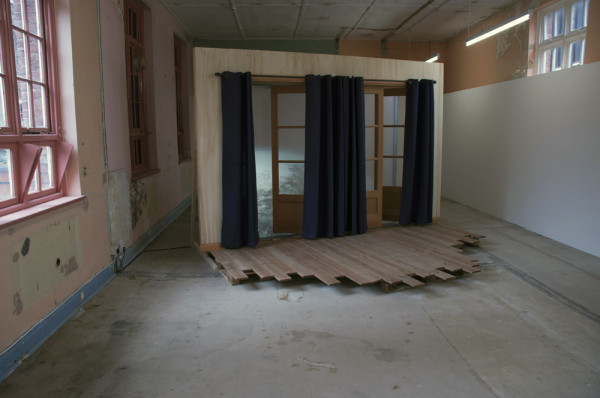 William Leavitt, Arctic Earth, 2014, mixed media installation with video projection and recorded music
On the backside of the screen, a projector sits on the floor, throwing the image of the planet without pretense to hide the planet's source. Wooden beams are exposed from the back. Back stage is basely constructed, made only as well as it needs to be made. It is real life on rolling wheels, the invention of a film, or more like a dream that behaves familiarly without calling attention to the fact that it exists outside of time.
A preamble to this piece, a flatly painted dream called Arctic Earth, is an acrylic painting of the open French doors with drawn back curtains. The window-scape is a floating frame disembodied from a house, carrying along rock mortar, orbiting a planet. Subject matter is not far-reaching. Mostly, Leavitt's chosen images are exteriors of single-story houses encroached upon by a roller coaster, a UFO. Outside the house, there is the spaceship we would rather see.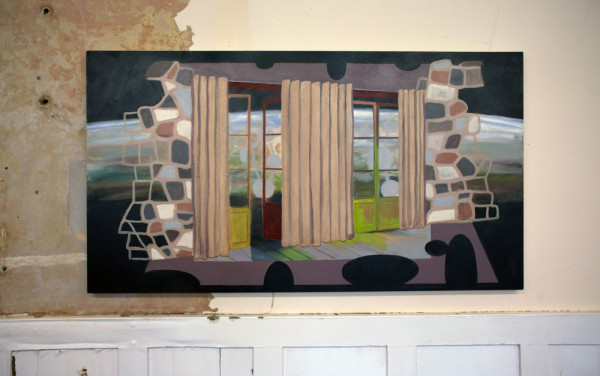 William Leavitt, Arctic Earth, 2013, acrylic on canvas
In the last room of the exhibition, Leavitt appears beside Marc Bauer, an artist who lived in a Liverpool hotel for a number of weeks, drawing the surfaces of an anonymous rented room. The one-room drawings reverberate with the first floor video by Peter Wächtler of a depressive monologue recorded over a video animation of a downtrodden rat climbing in and out of bed, walking across the apartment and back.
Like curtains that begin to move in a still hotel room, like a rat who occupies our bed, the tedium of looking at the same environment over and over again prepares a person for the appearance of an alien invasion. The trail of a rat in the house is a welcomed arrival of the metaphorical body most equipped to deliver a ranting. A Needle Walks into a Haystack is an exhibition of bodies seeking to be abducted by a character, to communicate through this abduction, in a place where alter-ego is the voice which keeps ordinary lives from being lived indifferently.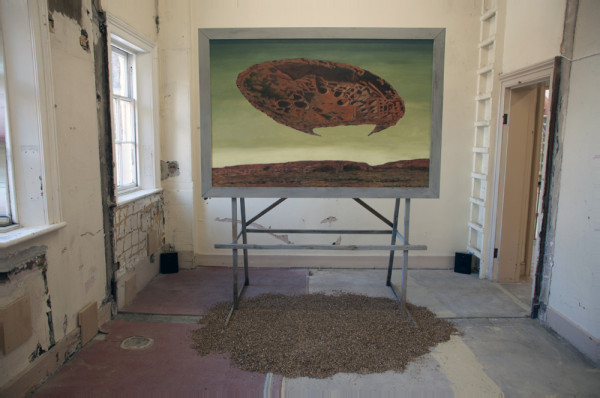 William Leavitt, Chaco Rising, 2008, acrylic on canvas, wooden stand, vermiculite, speakers
Based in New York, Erin Leland is an artist using photography, writing and video. She has recently exhibited in the group exhibition, White Petals Surround Your Yellow Heart at the ICA in Philadelphia and in her solo exhibition, Everything is Everything at Michael Strogoff Gallery in Marfa, Texas.
Latest posts by Erin Leland (see all)