Last week I returned to New York for the first time in a month – my longest stint away since I moved there in 2002. If you've read any of these entries over the past year or so, you know that my part-time residence in Cedarburg, Wisconsin is a bit quainter than my neighborhood in Greenpoint, Brooklyn.
Any quaintness Greenpoint offers is mitigated by the realization that it's sitting on 30 million gallons of spilled oil, that comes out in occasional farts that engulf the neighborhood. It's not a sharp scent, but one that hovers, a dull top note that occasionally drops in to interrupt one's enjoyment of a hot dog or cup of coffee. It's so subtle that you almost forget that it's there. But a few weeks away from New York is the equivalent of eating a handful of oyster crackers before tasting a new wine. And my return offered a fresh sip.
In addition to the aerosol of volatile organics, I happened to be downwind from the Andreas Gursky-esque water treatment plant on Greenpoint Avenue, which added a tangy middle note to the urban perfume that gently spritzed the wrist of my day.
The bottom note of the multilayered fragrance came in the form of some especially earthy marijuana smoke seeping through my building's ventilation system, which eventually melded with the others into a unique mélange that only Brooklyn could produce.
* Other sub-notes such as diesel fuel, boiling cabbage and wet garbage also contribute to this one-of-kind fragrance.
Ironically, I planned to meet a friend later that day to see, or rather, smell, a show called "The Art of Scent" at the Museum of Arts and Design dedicated to "olfactory art."
It turned out to be a great change of pace from my traditional art safari. The content scents in the show emanate from a couple-dozen concavities in the wall, shooting fragrance when they detect the motion of a curious head. "Olfactory art" translates here to created scents, so there's no "bacon" or "cotton candy," just perfumes and colognes. That was a little disappointing, but I figured I could go breath the exhaust from a halal cart if I needed something more grounded than Jicky.
I went through the show three or four times, until the nerves in my nose surrendered. And until they did, it was a thoroughly orgiastic experience. Even the repulsive Drakkar Noir transported my back to a locker room in 1988. Given the vacuity of much of what's passing for visual stimulation around the art world, one could do worse than to engage in an orgy of the nose. The only downside was that dinner afterwards, which I'm sure was loaded with flavor, tasted as bland as a handful of oyster crackers.
I left for the airport on Sunday morning, picked up by a car service whose dashboard was graced by a Lady of Guadalupe candle. Its smell blended curiously with Armor-All and residual cigarette smoke.
Northside No. 5.
I met my father-in-law at arrivals and we drove back to Cedarburg.  When I got out at the homestead, I pulled in a long, deep drag of Wisconsin's best air. And my sinuses froze immediately. It smelled like cold. Which smells like nothing. But, still, so inert and fresh.
I thought about all the air spritzers I'd purchased that claim to smell like water or cotton that actually smell like a Palmolive factory exploded. Not water, nor cotton. Not fresh. Olfactory metaphors. Is 'freshness' a scent, or lack of it? Pure Concept?
And, is a little sanitized nothing better or worse than a lot of pungent something? Or are scents part of a yin/yang cocktail of potent wine and oyster crackers, living symbiotically?
I walked inside the house where a pile of bratwursts awaited my arrival. Hot and glistening. Timed perfectly for my arrival.
They smelled, simply, delicious.
---
Audio clip: Adobe Flash Player (version 9 or above) is required to play this audio clip. Download the latest version here. You also need to have JavaScript enabled in your browser.

download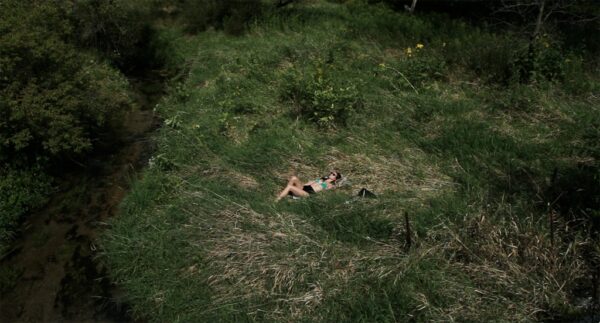 This week: Duncan and Claudine talk to Chicago-based artist Irena Knezevic, whose show "Night of the World" at Alderman Exhibitions closed earlier this month. They discuss Knezevic's background as a math genius and her involvement in the student activist movements in Serbia. There is some musing on the nature of evil. Artist Anna Shteynshleyger drops in and joins the conversation. Plus!! We hear live music by Irena and Joerg Becker, who perform selections from Knezevic's limited edition record "Sailors Sing Suicide Songs." Bourgeois notions of love are ridiculed. A good time is had by all.
Irena Knezevic works in various visual art formats, music, and architecture. Upcoming projects will be exhibited at New Projects, Chicago; Institute for Contemporary Art, Philadelphia; Hyde Park Art Center, Chicago; and Kunstraum München, Germany. For information on past exhibitions and selected projects, visit: 
http://allyouknowistrue.net/
.
Jeremiah Chiu from
Icy Demons
is featured as "the guy on keyboards."
---
I first came across SPARE residency at this past year's MDW Fair, held at the monstrous industrial complex adjacent to the defunct Fiske coal plant and now known as Mana Contemporary Art Center. The fair was kind of a clusterfuck, but I somehow made my way through the madness to SPARE's small table displaying smart, well designed books and postcards – all printed on a Risograph GR3750 stencil printer.
Among the things that caught my attention were "The Commodity," a love story told in receipts, by Caitlin Warner and "A Family Home" by Megan Hopkins.
Another book that caught my eye was "Vaporware" – SPARE's collaboration with Christopher Roeleveld of Working-Knowledge, a fellow Chicago Risograph owner – which was made specifically for the occasion of MDW.
Several weeks ago I had the pleasure of paying a visit to the home of SPARE's Risograph – which also happens to be the home of Kyle and Shannon Schlie, their 9 month old son Theodore, and dog Roxanne. The family lives on the third floor of a graystone walk-up a stones throw from Harrison Park in Pilsen. Bookshelves made of recycled lumber and an array of vintage medicine cabinets hung over the bathroom sink decorate their cozy apartment. Two of the three bedrooms are dedicated to the residency: one is living quarters for the resident and the other houses the Risograph printer. Lining this small wood paneled workroom are shelves holding books, paper, a long arm stapler, basic book making supplies, and various other tools.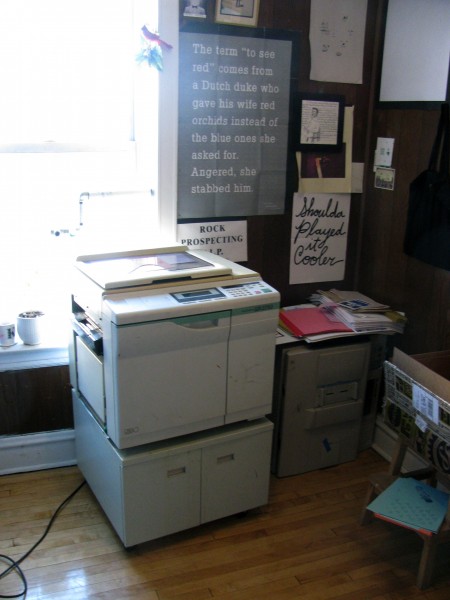 Tucked away under these shelves are large pod-like crates housing the different color ink drums for the Riso. The inventory of books and postcards that have been printed at SPARE occupies other boxes. Posters and printed materials paper the walls. A Spiderwort plant hangs by the sole window, which looks out across the neighboring rooftops.
At first glance the Risograph looks a lot like a standard office copier. However, when you open it up, there is a large cylindrical ink drum inside, around which a stencil of the image to be printed is wrapped. As the paper feeds through, ink is transferred through the stencil onto the paper. One color is printed at a time, and while registration is finicky due to the nature of the process, colors can be layered in really interesting ways.
SPARE has been in operation for about the past year and has hosted 4 residents so far, for 1 or 2 weeks each. Kyle and Shannon provide room and board as well as access to the Risograph and workroom. When I was at their house, their most recent resident had just completed a run of books, which were stacked neatly in the workroom.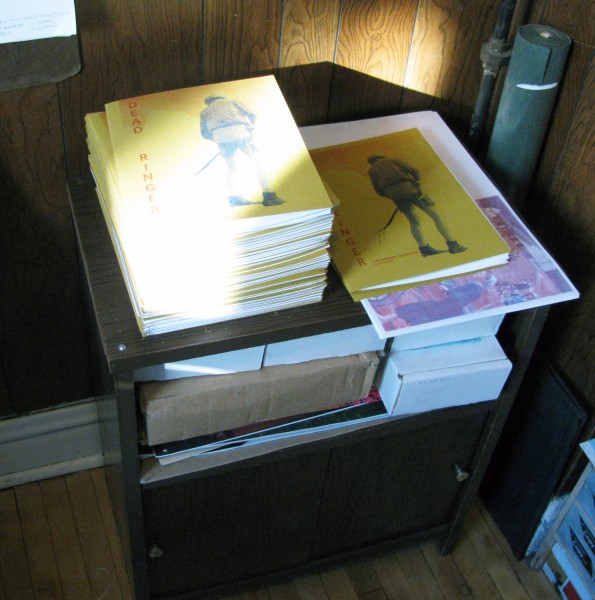 The following is an email correspondence that followed my visit.
Bailey Romaine: How did you come to Risograph printing and what about it was so appealing to you? How did the residency develop out of or around your interest in this machine?
Kyle Schlie: I came to it through making books, which is in part a search for ways of making and printing on a small budget. I really liked the Risograph prints I'd seen, and wanted a way to print things myself, and the price was right, so it made sense to try it. One of our stipulations in getting a Risograph was that we needed a framework for allowing others to use it too. Since I'd been interested in the Riso for a while I figured others would be similarly interested, so we developed a residency program that we ourselves would want to be a part of and built it around the Riso.

BR: When I met with you at your home a few weeks ago, we talked a bit about the network of Riso printers that you have been finding your way to – or have been finding their way to you – since you acquired the press. You mentioned Issue Press – a small press based out of Grand Rapids that prints with a Risograph – as well as a number of Chicago artists who have Risographs in their homes or studios. Can you talk a bit more about these connections you've made?
KS: I wish I could claim more intention behind those connections. They've mostly been initiated by other people, or out of sheer necessity on our part. In Chicago, Christopher Roeleveld of Working-Knowledge and Clay Hickson who operates Tan & Loose Press found me shortly after getting Risographs and are each doing great things with them now. It's typical for people with a Risograph to reach out to others as problems, questions, or sharing opportunities arise. Risographs being used for small press stuff is more common now and seems to still be growing.
BR: It's a pretty intimate gesture to invite artists you've never met before to come stay with you and your family. Did the two of you have any reservations about how it would work out?
KS: Not really. There's no way to know about things like that and at a certain point you just have to try it. The upside seemed great and we focused on that. Every person we've had so far has been awesome and the experience for us has been uplifting way beyond printing and making books.
BR: It seems like you've had residents come from all over. How have applicants come across SPARE? What sort of outlets did you take advantage of to get the word out?
KS: This is another question I wish I had a better answer for. Our approach has been to go for things we feel are worthwhile, then figure out and adjust along the way. We've had the residency posted on websites that post opportunities for artists. Initially we made almost no effort to let people in Chicago know what we were up to, since we anticipated more appeal for people abroad because we're offering room and board in addition to the bookmaking stuff.
We don't how people find us, but emails and applications continue to come in. It's not a great answer but that's how it's been for us. Of course, we too are open to suggestions from people who actually know about these things.
BR: You are currently getting your MFA and your work seems pretty materially diverse. What do you think is the importance of making books – particularly in this aesthetic that both you have and SPARE seems to foster, that is somewhere between the finely crafted and the ad hoc?

KS: I think finely crafted can be ad hoc, and vice versa. I guess, to make a connection between my studio work and Risograph printing, I'm interested in what's available or neglected and bringing it on board in service of certain ideas I'm pursuing. The Riso falls into this category. It's no-hassle mass-printing before digital technology, and has fallen out of favor commercially and institutionally so most  printers, schools, and churches are getting rid of them.
The aesthetic of the Risograph is unique in large part because of how it operates. I like that the process is visible in the final result. We're making books by hand and though the Riso makes prints easily and in large quantities they come out slightly different each time. The machine has lots of quirks which require responses from the operator that often challenge how a book gets made. It's a great in-between technology in that it's mostly automated but inexpensive, and can quickly make one print or a lot of prints.
BR: Absolutely – I think that this notion of taking what you have and turning it into something discrete and well made is very clearly at the heart of SPARE. I really love the subtle ways you have designed around the quirks of the printing process – such as playing with registration and seeing how it shifts over an entire run. I'm really interested in the postcard project you did recently. Can you talk a little bit about this project?
KS: When I started grad school I knew the residency would take a back seat but I didn't want to let the printer sit unused. And I still wanted to work with other artists but knew I couldn't handle someone living with us for a few weeks and working intensely on a book while I was away in my studio every day. For the postcards, we came to the idea of using a simple standard format and to work more with the Riso's inbuilt economy of printing. We contacted artists we knew and/or admired and offered paper and ink color options which were intended to maximize the printing quantity and variety and minimize the expense. I saw it as a chance to try different options on the Riso, almost in a print sample way, and see what others would come up with based on the options and restrictions we gave them. We worked with Dante Carlos to design the graphics and cards and I think they work really well in showcasing both the printing and the work the artists contributed.
There was also some hope that we could make a few dollars to support the residency program with the postcards, but that prospect seems unlikely. We can't complain too much but at times it's hard knowing that the residency will always be an occasional and maybe not very long-term thing because in addition to everything else it does cost money to run.
BR: Dante Carlos is also the artist who designed the "registration graphics" that you have up as gifs on the SPARE website? I think those are so great.
You guys have certainly been very generous in the way you've structured the residency. Something we talked about somewhat in depth before was the fact that Chicago really is lacking a good book store or gallery that supports projects like SPARE and could be a source of income to fund the residency (through books sales, etc.). How do you see your life post-grad school, Chicago, SPARE, and the printing/book making/small press initiative playing out? Are there things you would like to do or see other people do with these things in Chicago?
KS: I came to books through art, so I often think of them in that context. Because I'm interested in how objects, and the ideas they carry, move and live in the world, books open up a lot of options that aren't as likely for other art-type things. I feel like books have a potentially wider, or at least different, reach that interests me. Books circulate, books are distributed, and so on, which to me, feels like an exciting active process; one which I would like to take beyond just books.
I also like that books are slow and give me the opportunity to really focus and lose myself in them. And beyond books, I'm in favor of slow focused venues for processing what other people have made. I think this is something that has to be fought for. I've started talking about it through the book, and consequently the places that allow us to get the book in our hands, but it exists in other ways. For example, going to a film screening versus watching it on your computer in your office while eating lunch. I'm not against the other options but I do know that if I want a bookstore to be around I have to support a bookstore. I can't complain too much about the lack of anything unless I'm really working to help the things I value survive. So we have a residency program to provide the little bit of what we want to see remain. I don't know if it's the most necessary thing to do but it's what we're doing right now. We'll keep offering artists our time and our printer, and food and a bed, and keep making books, and see what comes of it. Even thinking of it a success or a failure seems like a luxury right now. The poles are more like doing-it or not-doing-it.
I should also say regarding the previous conversation you hinted at, there are lots of great places, bookstores and otherwise, in Chicago. I just finished getting some new books ready to take to Quimby's where some of the SPARE books are stocked. Quimby's is really supportive and has been around for a while which I think strengthens other related endeavors. I think those foundational places are the key to allowing other scrappier things to emerge and grow. There are certainly other things I would like to see in Chicago but I'm optimistic overall about what's happening. I've been trying to think of an idea or example while answering this question, and I don't have it, but here's what I came up with. A Chicago Supplemental Library which includes all the non-book stuff that should be available. If I were doing it it would be a museum-library-laboratory hybrid kind of system with check-out-able equipment, artwork, assistants and a variety of other world-class programming. But I'm not going to run it so it could be just like a place to borrow an umbrella for an afternoon or whatever.

http://spareresidency.com/
http://kyleschlie.com/
Bailey Romaine is a printmaker and bibliophile currently living in Chicago.
---
Since the beginning of her tenure as the Curator of Exhibitions and Programs at the Center for Book and Paper Arts Gallery at Columbia College in 2010, Jessica Cochran has been quietly curating rigorous and substantial gallery exhibitions, steadily setting a new standard for book centers, which aren't always known for their gallery shows—and expanding my own understanding of the genre of artists' books and works on paper. This fall Cochran organized a standout retrospective of Johanna Drucker that showcased her depth and breadth as a curator; she has also organized shows both in and out of the CPBA gallery focused on the nature of text and art markets. Cochran a gifted writer, and the catalog essay for the CPBA Gallery's newest exhibition, "Structures for Reading: Text, (Infra)Structure, and the Reading Body in Contemporary Art," demonstrates her attunement to both theoretical questions and practical issues related to the evolution of the book, here considered through various engagements with the book-object and emerging concepts of reading in new media contexts as sites for contemporary art practices. I emailed back and forth with her after wandering around during the installation of the show, which opens tonight.
MW: For a show about text and reading the body, I expected a lot of artist books and pieces about the physical process of reading as a way of seeing in contemporary art. While there were a number of pieces along those lines, I was also struck by how many artists took up themes that I would consider questions of digital culture and new media/ the process of dematerializing the book, especially Freeman's Commercial Yard Goods and 56 Broken Kindle Screens. Do you find that all roads these days tend to lead to the question of dematerialization? Does the concept of "remediation" you used in the catalog help to broaden this issue?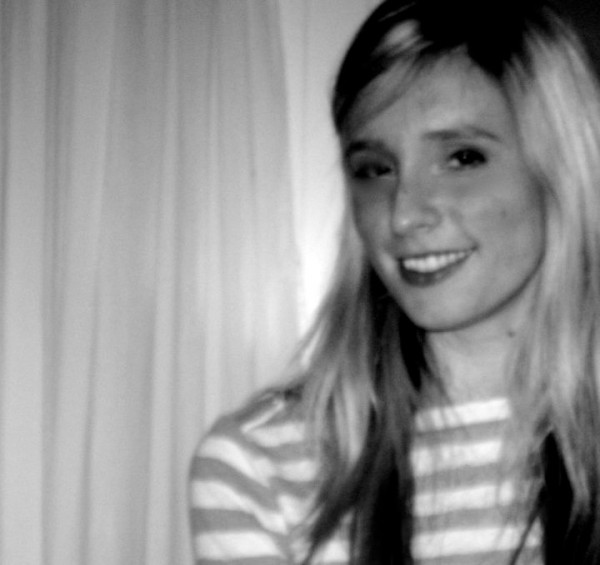 JC: In a correspondence last fall artist and scholar Johanna Drucker purposefully used the phrase "distributed materiality of the present" rather than "dematerialized" to describe book's existence today. To me this phrase "distributed materiality" articulates perfectly how artists in the exhibition are concerned with the multitude of ways we understand the book and interact with its many forms, from codex to pdf, through various technologies such as Internet cloud   based services, print on demand self publishing, and mobile computing. In the show, for example, Judith Leemann's project reading aloud: stories about a coyote began with over fifty different actual books and texts, which she read aloud in her studio. This activity was recorded, edited and published into podcasts, distributed through the Internet. And for the exhibition, 5 hours of this recursive text was commercially printed on fabric, which exhibition viewers can now purchase by the yard. Suddenly this patchwork of texts has a whole new kind of potential for circulation. I also love that the bolt of fabric is in itself a sort of artist's book, and so the texts have sort of come full circle, re-published several times over.
With regards to remediation, I love to think that the book object, when it is sited within a contemporary artwork such as a photograph, installation or sculpture performs meaning in a really incredible way. In his book on the subject, Bookwork, a fascinating read, Garrett Stewart seems to imply that books in the gallery are something of ruins or mementos because they are stripped of their original textual function. I tend to disagree. I think of the gallery as an active space. To me, really successful works of art, at least the ones that I want to show, illicit a strong sense of contemporanaeity. In this I mean that they deal with "world picturing, placemaking or connectivity" – art historian Terry Smith suggests all works that are "truly contemporary" address one or more of these concerns. So meaning is always in process, changing. So when I see a book, whether in codex or digital form, oriented within a broader art project in a gallery, I understand its currency as a cultural object that has helped to shape our "present," and I seek out its textual message, however muted, multiplied, amplified, stripped, modified—because its still there somewhere! This to me is very active and interesting.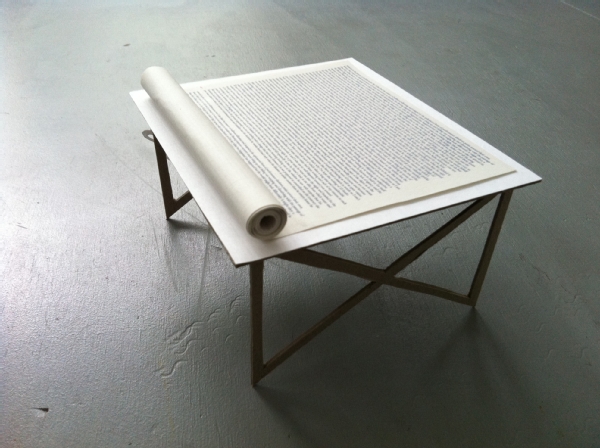 Judith Leeman, Reading Aloud, Installation Mockup, 2013
MW: In the catalog essay, you make reference to the work of Bob Stein in developing his social reading platform called Socialbook. More and more I hear about social reading as a solution to the problems of working with print culture in a post-print culture. You've called the idea of social reading exciting and exhausting—I'd love to hear more about your understandings of social reading, especially as a model for contemporary artists. When Stein talked at Columbia last year, he also put forth the idea that in the future, most books will be artist books—or "books as works of art," as he put it. What do you think about this hunch of his?
JC: There are so many ways to understand reading as a social activity, particularly as a model for contemporary artists. Triple Canopy recently asserted in copy for their seminar Automatic Reading that one way reading takes a social form in the context of art (within the legacy of conceptualism) is when the written word is publicly activated. To this end, in my essay I cite Vito Acconci as an example of an artist who not only publicly activates the written word through performance (his move from poet on the page to artist on the street is infamous and important) but utilizes the language of reading metaphorically when describing his practice: body as page, etc. Similarly, I chose to include many works in this show, including those by Tony Cruz, Gareth Long, Judith Leemann, Matthew Girson and Moyra Davey, because they made me think about the spatial dimension of reading both around, to and with others both as personal practice and as art practice. This is the social dimension of reading in a physical sense- corporal proximity to others. And it's no wonder that so many artists address the topic of reading in the studio and out in the world—I rarely find myself on a studio visit when the topic doesn't meander to what the artist is reading or when my eye doesn't repeatedly scan on the artist's bookshelves. Artists are prolific readers!
Relative to social reading as a solution to the problem of print's demise, I should also mention that many artists and cultural organizers are dealing with the so called "demise" of print culture in inventive, social ways meant to re-circulate books within new meaningful networks of participants by organizing libraries (Reanimation Library (New York), Read/Write Library (Chicago)), reading/pedagogical groups (The Public School, the Surplus Library) and other projects like Printers Ball draw thousands of bibliophiles and print enthusiasts. The Center for Book Arts in New York has a show up right now, Brother, Can You Spare a Stack, that imagines new models for the library as a force for social change.
The digitally-networked dimension of social reading (and writing) is an extension and acceleration of our relational impulse as readers. This is what is brilliant (and possibly exhausting) about SocialBook (where every other reader's marginalia is yours to read if you want to) and reading online in general: we can satisfy that desire to share ideas or commune over texts instantaneously. There is so much going on in this field that is fascinating. And it seems totally plausible, per Stein's assertion about the future of physical books as artists' books, that as innovation continues to make browser-based and tablet-based reading more viable, that physical books will circulate with less and less efficiency as commodities within the broad consumer market, so printed books will have to become become more rarified and "boutique" existing in something like an art market. There will be a justifiable reason for a book to be printed and sold, and this reason might be bound up in its paratextual artfulness- paperstock, typography etc. That said, there is of course already a market for artists' books (different markets for different types, from fine press books and rare books to zines and "democratic multiples"). These are not very efficient markets. It is hard for anyone to make money on their books, from dealers to publishers to artists!
MW:  Regarding the theme of reading and the body, I found that prostheses were a surprising theme of the show. Did you think about this when planning the show? Are there ways in which some substitutes for books can seem like prosthetic devices (I'm thinking about treating screens like codexes, say)? Or, to be more morbid, if books are like bodies, in that they're physical objects that eventually decay and crumble (I'm thinking of Liz Sales' photographs here), is part of the show about creating prosthetic devices for them?
JC: I've spent a lot of time thinking about the prosetheses that appear in the show, particularly those created by Eva Kotatkova and Johana Moscoso-those were actually the initial "structures for reading" I was thinking about early on in the curatorial process. Kotatkova's strange limb-like book holding devices don't make reading easier. In fact, they have such a disciplinary quality to them, they seem to be structures designed to make it harder. In one of my favorite poems in the world, The House was Quiet the World was Calm by Wallace Stevens there is a line where he talks about a reader, leaning over a book, wanting "much to be the scholar to whom his book is true." That passage has always resonated with me: I think that there is a psychic vulnerability inherent in reading: is reading always failure? I forget almost everything I read, and it drives me crazy. Or, what if I fail to successfully use what I learn; what if the author disappoints me? In learning environments these feelings might be attributed to Imposter Syndrome. Many of Kotatkova's prostheses, because they are sited within learning environments, seem to play off of the complexity of reading as a psychological process.
On the other hand, there are some prosthetic objects in the show designed to make reading easier- Moscoso's Multitask Walker addresses our incessant need to read, email, eat and walk all at the same time.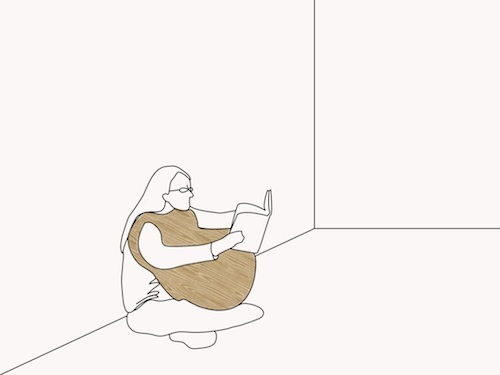 Johana Moscoso, Emotional Prosthetic (in progress), 2012
And you mention Liz Sales' work, steam, the book as a kind of decaying body. This piece is kind of sad: the steam coming off the cup on the book tells us a reader is nearby, but why is this book suddenly a prop or a tabletop landscape? Why is it hosting small trees? There is a long legacy in art and literary theory of the "book as corpus," object of our desire and fetish (Buzz Spector outlines many of these assertions from Mallarme's "virginal books" onward in The Book Maker's Desire). In psychology Theory of Mind explains how we empathize with others and try to understand their behavior; we literally try to theorize what is happening in their mind. We do this with inanimate objects too, especially the book. Now that the physical book's very existence is in flux once again, the discourse around their fate and role in our lives is, one might suggest, incongruent to their reality as inanimate objects. If you read or listen to discourse around disappearing bookshops, or talk to a reader who is defiantly holding out against that "inevitable" Kindle purchase, you'll find that these conversations are incredibly passionate—it's like we think of these books as living things! This helps explain the currency of the book itself as a visual signifier of our contemporaneity, or what Terry Smith calls, "our passing present" particularly when it is sited within contemporary art projects. My reaction to Sales' photograph steam is much more passionate than it would be if it was, say, an old box or shoe sitting on the table rather than a book.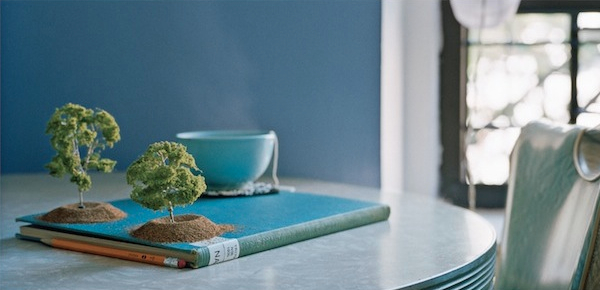 Liz Sales, Steam, 2010
MW:  I also found blueprints to be a major theme, often used very humorously—there are a few artists in the show who call ironic attention to the contrast between blueprint and realization in various projects. I found myself laughing at the contrast between the design and realization of Garth Long's Bouvard and Pechuchet's Invented Desk for Copying, an impossible invention in Flaubert's novel. Do you see blueprints as a metaphor or way of understanding books as a relationship between the conceptual and the physical?
JC: I see the blueprints or "plans" in the show, particularly those by Eva Kotatkova, Gareth Long and Sebura&Gartelmann, as really light and humorous commentaries on the relationship between idea and object. Some are blueprints for totally speculative things that are absurd in terms of their actual use-value—Kotatkova's darwings for wearable reading devices, for example, are rendered cartoonlike. The blueprints in the show also relate to the book in various ways (the idea of book as manual, book as starting point for an idea) and several also underscore a public/private theme that occurs throughout the show: the non-public place where an artist reads is the place where the artist writes, drafts, plans, makes, etc., which reaffirms reading as an active, not passive process for artists. For this reason, the desk form pops up in the show multiple times, and it wasn't something I was thinking about in the beginning of the show.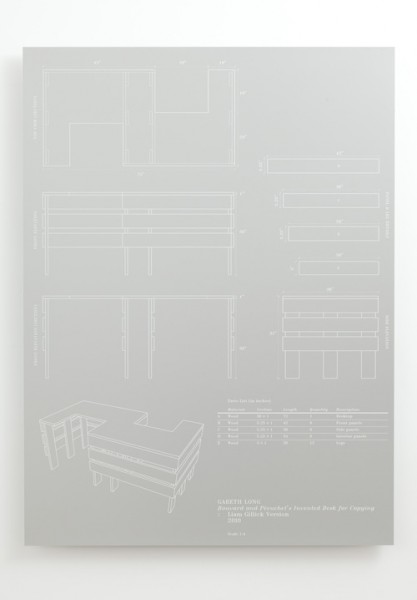 Gareth Long, Bouvard and Pecuchet's Invented Desk for Copying (construction diagram), Liam Gilllick Version, 2012
MW: Can you talk at all about your own hunches about the future of both Columbia's book center and others across the country and world?
JC: I think the future for the Center for Book and Paper Arts, and that of other art / book-related organizations is exciting; the pulse at fairs like the New York Art Book Fair or Chicago's own Printers' Ball is extraordinary and growing. We are energized as a center and academic department right now—our activities have never been more research-driven and pedagogical, and always interdisciplinary. The interest in our academic journal, The Journal of Artists' Books (JAB), is steadily growing, as is the subscriber base (the Centre Pompidou just subscribed a few days ago!) and we just received a major NEA grant to commission artists' books for the iPad as part of a broader electronic publishing initiative, in addition to a Clinton Hill Foundation exhibitions grant to explore hand papermaking as social practice. We have researchers from MIT coming to our studios to work with our MFA students on paper-based electronic books. We are busy, and it often surprises people how broad our approach to publishing and book and paper arts actually is!  And the best part is that our MFA students play a role in all of this, from printing JAB to planning exhibitions.
"Structures for Reading" opens February 22 and runs through April 6 at the Center for Book and Paper Arts, Columbia College. 
---
1. How Do I Look? at Roots and Culture
Work by Edie Fake, Erin Leland, Aay Preston-Myint, Michael Sirianni, and Latham Zearfoss.
Roots and Culture is located at 1034 N. Milwaukee Ave. Reception Friday, 6-9pm.
2. Structures for Reading at Center for Book & Paper Arts
Work by Jessica Bardsley, Tony Cruz, Moyra Davey, Matthew Girson, Eva Kotátková, Sebastian Schmieg/Silvio Lorusso, Liz Sales, Sterling Lawrence, Judith Leemann, Gareth Long, Johana Moscoso, and Sebura+Gartelmann.
Center for Book & Paper Arts is located at 1104 S. Wabash. Reception Friday, 5-7pm.
3. Wingding at LVL3
Work by Michael Hunter, Paul Kenneth, Easton Miller, Liz Nielsen, and Kate Steciw.
LVL3 is located at 1542 N. Milwaukee Ave. Reception Saturday 6-10pm.
4. Pop Garden! at Thomas Robertello Gallery
Work by Sarah Hicks.
Thomas Robertello Gallery is located at 27 N. Morgan St. Reception Friday, 6-8pm.
5. You Look At Me Like An Emergency at Firecat Projects
Work by Cig Harvey.
Firecat Projects is located at 2124 N. Damen. Reception Friday, 5-9pm.
---