1. New Kingdoms/Expulsion at International Museum of Surgical Science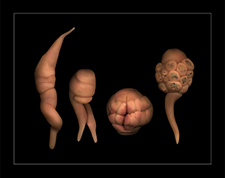 Work by Alison Carey and Michael Reedy.
International Museum of Surgical Science is located at 1524 N. Lake Shore Dr. Reception Friday, 5-8pm.
2. Thomas Schleinstein at Queer Thoughts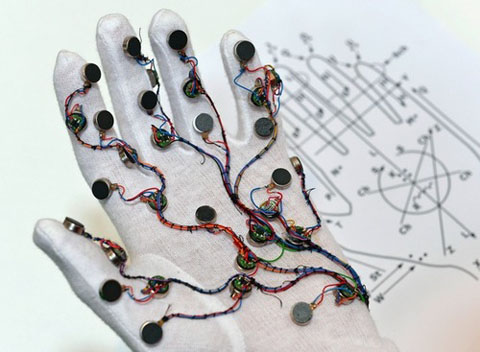 Work by Thomas Schleinstein.
Queer Thoughts is located at 1640 W. 18th St. #3. Reception Friday, 7-10pm.
3. How to Repel Wolves at +medicine cabinet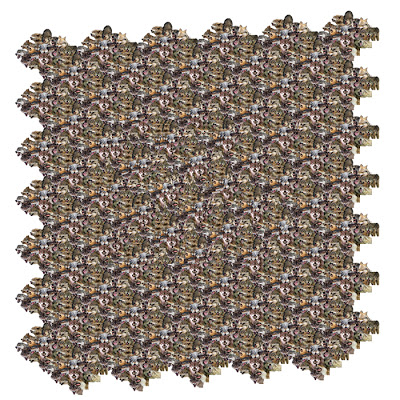 Work by Chris Hammes.
+medicine cabinet is located at 3216 S. Morgan St. Apt 4R. Reception Saturday, 7-10pm.
4. In the Garden at Western Exhibitions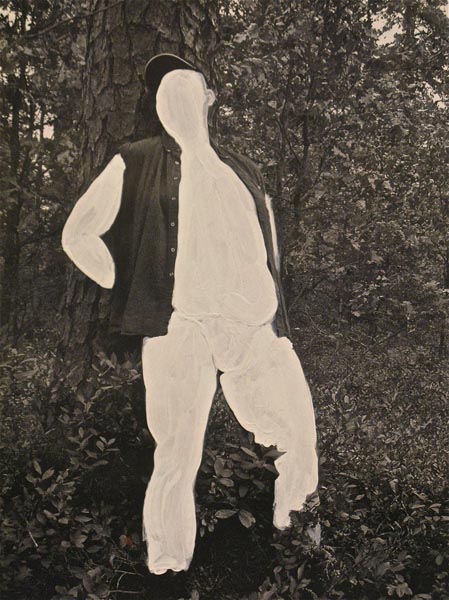 Work by Dutes Miller.
Western Exhibitions is located at 845 W. Washington Blvd. Reception Friday, 5-8pm.
5. Taffy Pull at The Milk Factory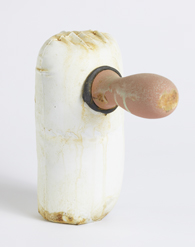 Work by Paul Erschen.
The Milk Factory is located 907 N. Winchester Ave. rear apt. Reception Saturday 7-10pm.
---
Oh, Detroit. Has it been two years already?! It seems but a day since I took my first Michigan left and brought my Subaru to a stop in the center of your simultaneously horrifying and humbling splendor. From those early moments, I knew our relationship would be as tenuous as your gloriously rusted patina. I came equipped with my New York Times-fueled expectations and, to my 21st century grand narrative, you countered with the arresting reality of day-to-day life in an urban center lacking in infrastructure, population, and amenities. From you, I experienced the creativity that emerges from near lawlessness; I witnessed the ingenuity required to survive and, indeed, thrive in urban wilderness; and I was charmed by the entrepreneurial spirit that nurtured makers, doers, and hackers alongside BYO basement strip clubs and speakeasy-style soul food joints. What resonates with me still is the unwavering commitment to a locality where life is a unique brand of struggle but, even so, there is palpable energy created around cumulative gestures of grassroots transformation. Detroit is a truly contemporary American city—engaged with the potential of the present—sending up smoke signals to the future while building on the recently razed past.
So Detroit, it's been real, but a working girl has got to eat, (specifically, she's got to eat fresh produce other than the lemons and limes purchased at liquor stores), so this B@S blogger is moving on!
In September, I accepted a position in Portland and, beginning next Wednesday, I will be continuing my correspondence from the Pacific Northwest's veritable hipster haven notorious for crafting, composting, and pre-retirement. Despite its bicycle riding, NPR listening, backyard chicken tending demographic, not all of Portland is steeped in cliché. Surprisingly, this city holds remarkable likeness to the Dirty D. There are hardcore, ambidextrous makers here—creative entrepreneurs who have eschewed the traditional a-list urban locale to continue canning, woodworking, and weaving from the comfort of a spacious home studio. A spirit of resourcefulness and resilience abounds. Like Detroit, the stability of full-time employment is hard to come by, but within this piece-meal existence, comes a freedom that facilitates forging alternative ways of living, working, and remaining creatively and culturally fulfilled. Portland's got some hustle too, B@S!
Thanks largely to Fred Armisen and Carrie Brownstein, Portland has become the subject of popular myth and, I'll admit, there is something about this city beyond the grunge and facial hair that begs the question: "Do you remember the 90s?" From what I've seen so far, much of the cultural work produced in Portland does bear the vague glimmer of an outstretched Clinton-thumb. Far from the 90s articulated by Jeff Koons and new genre public art, the Portlandia version is defined by expressions of optimism and imagination that often leverage the space of art and exhibitions as sites to launch fantastical alternatives.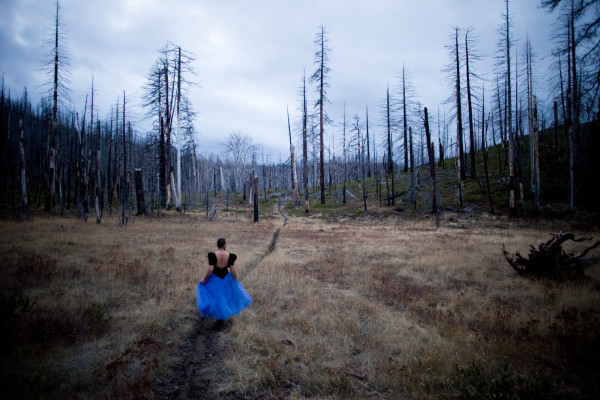 Consider the work of Wayne Bund, Portland-based photographer recently featured at Cock Gallery, whose riveting portraiture explores sexual identity through the incarnation of fantasy—a veritable feast of cinematic unconscious that is as compelling as it is uncanny.
On view at the Henry Gallery is Like a Valentine, a solo-exhibition of Seattle-based ceramist Jeffry Mitchell, that features an other world of playful flora and fauna whose irresistible sweetness is perforated by gilded glory holes.
And just last weekend, I had the opportunity to experience an installation by Patrick Rock, visual artist and director of rocksbox, whose practice in studio and art space is notorious for combining blithe humor with biting art world irreverence. Â Requiem combined a room-scale bouncy playground with light effects, Mozart, and Dumbo, in a space resembling a church-y community center that would be hosting a pancake breakfast the next morning. The experience was cacophonous and disorienting… But I liked it.
Conversations with these three folks forthcoming, but first, an interview with MK Guth, an artist whose multifaceted practice includes sculpture, performance, image making, and Fluxus-style game playing. Not to reveal too much, but our conversation explored the logistics of participatory art: engaging various publics, embracing the unknown, and looping the experience back by transforming a collective process into a compelling art object. Stay tuned: MK Guth, next Wednesday 12/19, B@S blog!
---
Audio clip: Adobe Flash Player (version 9 or above) is required to play this audio clip. Download the latest version here. You also need to have JavaScript enabled in your browser.
download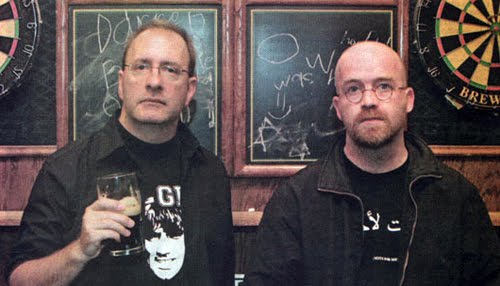 This week: The epic Industry of the Ordinary show! Duncan and Richard interview Adam Brooks and Matthew Wilson who are Industry of the Ordinary. Go check out their show at the Chicago Cultural Center!
industryoftheordinary.com
"Through sculpture, text, photography, video, sound and performance Industry of the Ordinary are dedicated to an exploration and celebration of the customary, the everyday, and the usual. Their emphasis is on challenging pejorative notions of the ordinary and, in doing so, moving beyond the quotidian."
---
My art department's field trip this semester was to Madison, Wisconsin, to visit the Chazen Art Museum. Like many museums, the Chazen's permanent collection unfolds chronologically, progressing through art eras room-by-room, with the preponderance of work representing the modern and contemporary at the end of the tour in the biggest galleries. A funny thing happened as my class and I strolled through a millennium of art history; somewhere between the gilded altarpieces of the 13th century and the identity politics of the 1980's, I realized that much of the impact of early modernism was lost on my students, and, for a while, on me as well.
I spent my college years an abiding supporter of reductive visual evangelists like Roger Fry, Adolf Loos, Clive Bell and others who set out to strip the western world of the ornament and excess of an outmoded academy. My students on the other hand grew up mostly without art as a significant influence in their lives. Yet they and I gravitated to the same works at the Chazen that afternoon: folksy melodramas by the pre-Raphaelites, John Steuart Curry's hearty regionalism; Cossack-filled canvasses by 19th century Russian academics, and an exhibition that would have sent me running for Montmartre 20 years ago: "The Golden Age of British Watercolors, 1790–1910."
After a century of steeping in insignificance, these outliers finally seemed strange enough to pass for contemporary. Next to the forgotten neoclassicism and bizarre watercolors of the early 20th century I considered the possibility that the modernist gospel – the Manet through Pollock narrative – might be a bit overdetermined, perhaps baked too long in the ivory towers of art history departments. Conspiring with my students, to whom Piet Mondrian paintings read as clumsy academic pranks, and for whom Andrew Wyeth is an unassailable visionary, I dwelled on the legitimacy of a history subordinated by the modernist narrative; the Kenyon Coxes, the Franz Xavier Winterhalters, and the Jules Bastien Lepages. And for a while, Fernand Leger's work had never seemed so tired, and Thomas Hart Benton's never so improbably contemporary.
A few weeks later, I attended a program in New York City called "Culture Shock 1913" at the Greene Space with some friends. It recounted the events that rocked the cultural world that year, including the Armory Show, Arnold Schoenberg's first atonal symphony, Stravinsky's Rite of Spring and Marcel Duchamp's first readymade. MoMA curator Ann Temkin persuasively made the case for 1913 being the most pivotal cultural upheaval of the century; a time when civilization hung in the balance, its future up for grabs.
In terms of art I might have quibbled, but with the assist of music and literature, I was reminded of the reverberations and residue of that formal remodeling project. Listening to Erik Satie next to Stravinsky next to Schoenberg, and considering the formal inventions of Virginia Woolf and James Joyce, Picasso and Matisse started to laugh at me from their graves.
The question inevitably arises from such panel discussions as to what the next big thing in art will be. Are we doomed to languish in cyclical postmodern ennui, or does our ever-unfolding society always unpack a new paradigm at every dead end? Ms. Temkin was sure there would indeed be an "it" and "it" would be something birthed from technology and social media. Even with Picasso snickering, I had to wonder silently whether "it" might still be a wholesale reevaluation of the modernist project, dredging up an alternative history to coexist alongside the one we've taken for gospel.
On Monday, back in class, I decided to serve up some Rite of Spring to my students to gauge it's impact. Before the music could even set in, one of them blurted, "it sounds like a soundtrack to an intense science fiction movie."
"An old one?" I asked. "No one in the theaters now." I agreed that it did, but pressed no further. They were squirming and ready to flee as freshmen do when class time is up.
I looked up at the clock and confirmed that class was ending. Only as they scrambled out the door did the institutionalized simplicity of the clock strike me. "The stripped-down and reductive spawn of 1913, " I thought. Twelve sans serif black numerals stark on an ornament-free white metal disk covered in curved Plexiglas. Vladimir Tatlin himself would be proud of the legacy. And modernism ticked along implacably as the students moseyed on.
We may all be moving past modernism, but its ghost haunts us whether or not we've been listening to it rattle its chains against the tile floor of the institution for the past 50 years.
---
1. Between Places: Chicago-Detroit at 6018NORTH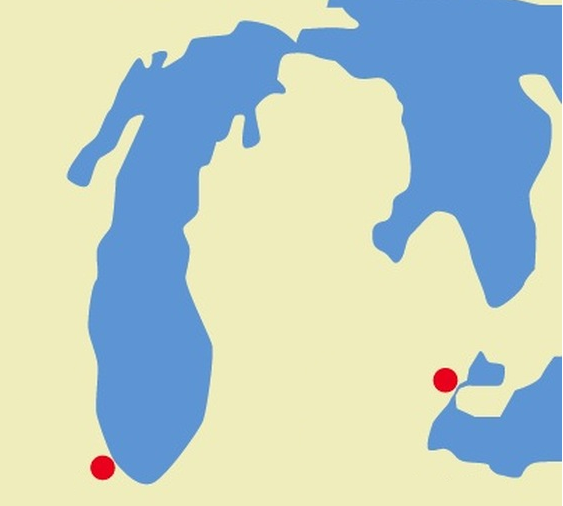 Work by College for Creative Studies students Austin Brady, Megan Leigh Jessup, Sean Maxwell, Tom Burns, Fatima Sow, Andrew Mehall, Maggie Kozma, Benjamin Thompson, Eric Maurer, Kristina Sheufelt, Shaina Kasztelan, Jen Wang, Leucochloridium Paradoxum, Joanna Marie Care, and Jordan Stohl.
6018 NORTH is located at 6018 N. Kenmore Ave. Reception Saturday, 5-9pm.
2. 24HRS/25DAYS Presents: Schlong Night at New Capital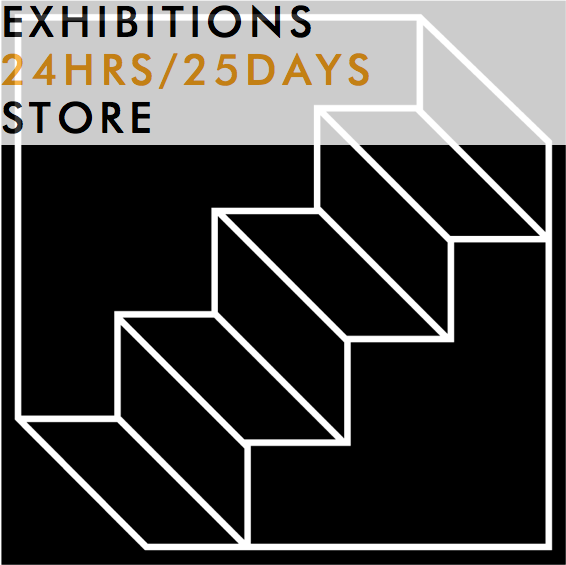 Work by Anastasia Chatzka, BEERY/KARP, Carl Moberg, Catie Olson,EC Brown, Jonathan Ozik, and Tom Burtonwood.
New Capital is located at 3114 W. Carroll St. Reception Friday, 7-10pm.
3. Life, in Some Form at Chicago Artists' Coalition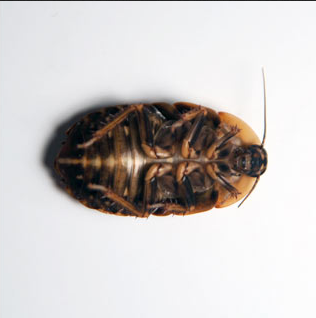 Work by Marissa Lee Benedict and Brittany Ransom.
Chicago Artists' Coalition is located at 217 N. Carpenter St. Reception Friday, 6-9pm.
4. Mythologies at Sullivan Galleries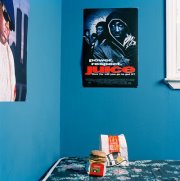 Work by David Alekhuogie, Rashayla Marie Brown, Alexandria Eregbu, Christina A. Long, Hannah Rodriguez, and Cameron Welch.
Sullivan Galleries is located at 33 S. State St. 7th fl. Reception Friday, 4:30-7pm.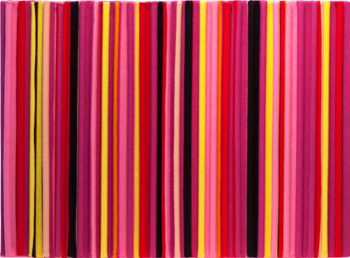 Work by Sam Jaffe.
65GRAND is located at 1369 W. Grand Ave. Reception Friday, 6-9pm.
---