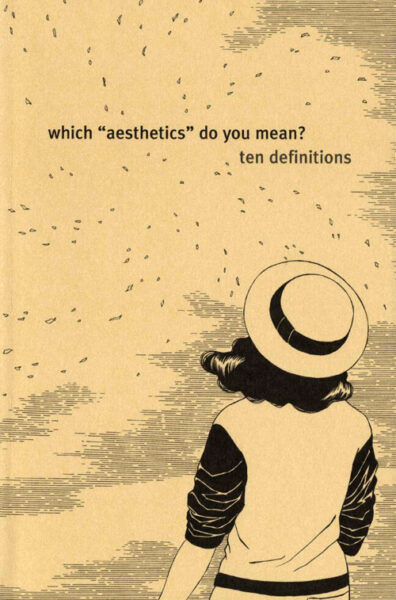 I don't know much about aesthetics. When my friends start talking, usually with plastic cups of wine in their hands, and tossing that word around I nod my head and pretend to know what they mean. But I don't really. The problem is that the word has so many meanings and definitions vary depending on who's using it. I never studied aesthetics in school, but it's not as if I haven't made an effort to educate myself. I read a little Kant and that helped, but not in any sort of practical way. When people say "aesthetics," I'm still not sure what they are talking about.
When I saw the charming little book Which "Aesthetics" Do You Mean?: Ten Definitions, I immediately picked it up. At only 94 pages, many of which are images, this slim book by Leonard Koren undertakes to clear the confusion. In the introduction Koren drills right down, writing "If you have this book in your hand you are most likely a creator or cultural worker who, on any number of occasions, has been seized by the desire to wrestle the terms 'aesthetic' or 'aesthetics' to the ground and strip them of their pretentions. This has probably occurred when you've heard or read 'aesthetic' or 'aesthetics' used in some vague or ambiguous way whose main purpose, it seemed, was to fill semantic dead space, as in I really like his uh, uh, ummm, aesthetics." He's right on all counts.
Which Aesthetics Do You Mean? is divided into two sections. The first section is simply ten definitions of aesthetics with concrete examples, and they are everyday definitions at that. For example, "a style or sensibility" and  "a branch of Western philosophy concerned primarily with the nature of art and related phenomena." These are the kinds of definitions I was expecting, but he also has some surprises in "a profession devoted to the beautification of the human body." Well, I guess that's aesthetics, too. By addressing without judgment all of the ways in which we use "aesthetics," Koren allows us to consider the meanings and their relationship each other.
The second part of the book, however, is odd. Presented as "usage in context," part two serves myriad functions. True to its title, Koren uses the words "aesthetic" and "aesthetics" in context, and next to each instance he provides the definition in brackets. It's illustrative and funny. The oddness comes in the content. At its heart, it is an essay, but it becomes unexpectedly personal and nearly narcissistic with Koren discussing the ugly lawsuit with his ex-wife and what lead him to write his previous book Wabi-Sabi. I also found myself questioning the veracity of what I was reading and wondering if Koren hadn't just presented this fictive example of aesthetics in action. But I don't think so.
Despite its peculiarities, or perhaps because of them, when I finished reading Which Aesthetics Do You Mean?, I was sad. Ultimately, that's how I judge a book.
Which Aesthetics Do You Mean? Leonard Koren. Imperfect Press, 2010.
Terri Griffith has published fiction and criticism in Art21, Bloom, Suspect Thoughts, and BUST, as well as in the anthologies Without a Net: The Female Experience of Growing Up Working Class (Seal Press, 2003), Are We Feeling Better Yet? (Penultimate Press, 2008), and Art from Art (Modernist Press, 2011). Since 2006, she has been a literary and culture blogger for Bad at Sports. Griffith is the author of the novel So Much Better (Green Lantern Press, 2009) and the co-editor of The Essential New Art Examiner (Northern Illinois University Press, 2012). She teaches writing and literature at the School of the Art Institute of Chicago.
Latest posts by Terri Griffith (see all)