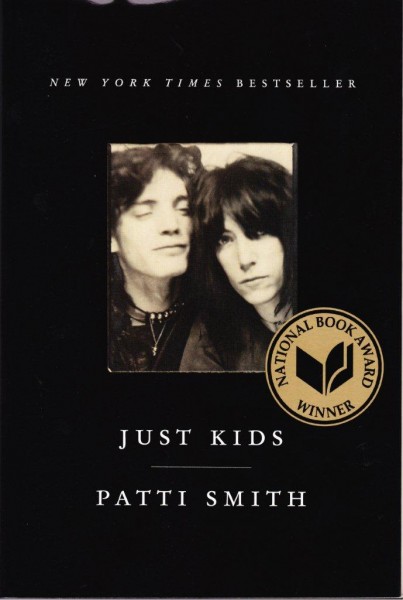 For a while now I've been meaning to write about Just Kids, Patti Smith's 2010 memoir about her relationship with artist Robert Mapplethorpe. But you know how you put things off until it seems like the moment has passed? Well, that moment has just come back around again. In case you were super busy last year, let me fill you in. Just Kids won the National f*ing Book Award and spent almost two months on The New York Times bestseller list. She was also this year's speaker at The School of the Art Institute's commencement. That's a lot of action for someone who started her career in the early 70s and is often referred to as the Godmother of Punk.
Two interesting things happened this week. Spotify just posted a ten-hour playlist based on music mentioned in Just Kids. I thought I was the only one who made playlists from books, but it turns out that for many biblio/audio-philes this is a legitimate pastime. The publishing blog Galley Cat has been posting links to playlists for authors like Ann Patchett and Thomas Pynchon. You should definitely check them out. The ones I've seen are considerably shorter than ten hours.
The second tidbit is that Patti Smith has been contracted to co-write the screenplay for the film adaptation. I love, love, love artist bio-pics. Pollack. Basquiat. Henry and June. Caravaggio. The Moon and Sixpence. (Perhaps this is worthy of its own blog post.) I can't wait to see the completed movie. I hope they cast really sexy people and not just some kids who are popular. Hmmm, I wonder who could play Patti Smith and Robert Mapplethorpe at 20? Well, whoever ends up playing them, they're most likely still in junior high so it's probably not worth my time thinking about it too much.
Do check out the book:
Just Kids by Patti Smith
Ecco, Harper Collins, 2010
320 pages
Terri Griffith has published fiction and criticism in Art21, Bloom, Suspect Thoughts, and BUST, as well as in the anthologies Without a Net: The Female Experience of Growing Up Working Class (Seal Press, 2003), Are We Feeling Better Yet? (Penultimate Press, 2008), and Art from Art (Modernist Press, 2011). Since 2006, she has been a literary and culture blogger for Bad at Sports. Griffith is the author of the novel So Much Better (Green Lantern Press, 2009) and the co-editor of The Essential New Art Examiner (Northern Illinois University Press, 2012). She teaches writing and literature at the School of the Art Institute of Chicago.
Latest posts by Terri Griffith (see all)