download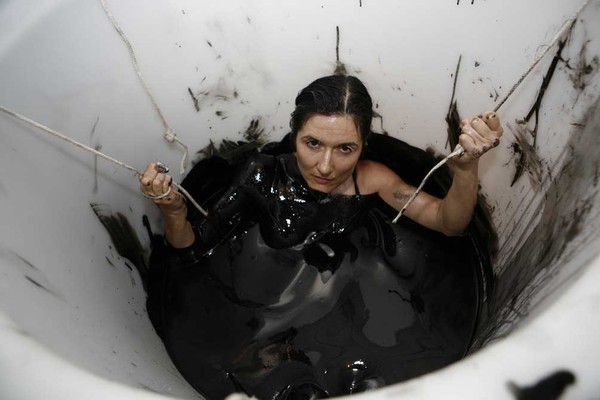 This week: Living legend, innovator, visionary, Carolee Schneemann.
Working across a range of disciplines, including performance, video, installation, photography, text, and painting, the artist Carolee Schneemann has transformed contemporary discourse on the body, sexuality, and gender. During her recent visit to San Francisco, Schneemann participated in the November 30, 2011 panel discussion, "Looking at Men, Then and Now" [LINK: http://www.somarts.org/manasobject-closes/] at the Somarts SOMArts Culture Cultural Center, in San Francisco, in conjunction with the exhibition, Man as Object: Reversing the Gaze, in which she was also a featured artist. On December 2, 2011 Eli Ridgway Gallery hosted an evening in celebration of the recently published Millennium Film Journal #54: "Focus on Carolee Schneemann." Art Practical's Liz Glass and Kara Q. Smith had the opportunity to sit down with Schneemann in between the two events to speak with her about her work.
Carolee Schneemann [LINK: http://www.caroleeschneemann.com/index.html] has shown at the Los Angeles Museum of Contemporary Art; the Whitney Museum of American Art; the Museum of Modern Art, New York; Centre Georges Pompidou, Paris; and the New Museum of Contemporary Art; among many other institutions. Her writing is published widely, including in Correspondence Course: An Epistolary History of Carolee Schneemann and Her Circle (ed. Kristine Stiles, Duke University Press, 2010) and Imaging Her Erotics: Essays, Interviews, Projects (MIT Press, 2002). She has taught at New York University, California Institute of the Arts, Bard College, the School of the Art Institute of Chicago. Schneemann is the recipient of a 1999 Art Pace International Artist Residency, San Antonio, Texas; two Pollock-Krasner Foundation grants (1997, 1998); a 1993 Guggenheim Fellowship and a NationalEndowment for the Arts Fellowship. The retrospective of her work, Carolee Schneemann: Within and Beyond the Premises, is on view at the Henry Art Gallery, in Seattle, through December 30, 2011. [LINK: http://www.henryart.org/exhibitions]
An abridged transcript of this interview appears in Art Practical's "Year in Conversation" issue, which you can see here:  http://www.artpractical.com
Christopher Hudgens is the Operations Manager for BaS and works in various other capacities for other organizations in the Chicago Art & Culture scene. Most recently as Business Operations Manager for the Bridge Art Fair and currently an advocate for all things art & technology.
Latest posts by Christopher (see all)