download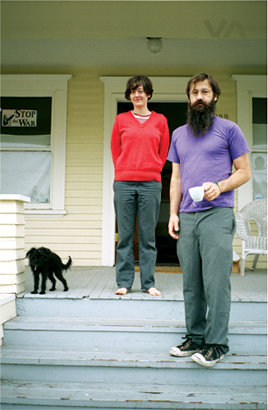 This week: Duncan talks to Chris Johanson and Jo Jackson from Ox-Bow this summer!
"Johanson was born in suburban San Jose, California in 1968. He has no formal training in art, learning some technique by painting skateboards and houses. He moved to San Francisco, California'sMission District in 1989, where he became a member of the local art community, initially drawing cartoons on lampposts and bathroom walls using black Sharpies." from Wikipedia.
Through out the nineties Johanna (aka Jo) Jackson found herself in art school in Maryland and later at SFAI but with her artistic sympathies moving toward a similar "street informed" aesthetic. In the late nineties and early "aughts" She and Chris both became associated with the SF Mission  school along with notables Barry McGee and Margaret Kilgallen. Both were feature prominently in the documentary and publication "Beautiful Losers."  In 2004 they bought a home and moved to Portland, Oregon. They now split there time between Portland and LA.
Both are particularly rad people.
Christopher Hudgens is the Operations Manager for BaS and works in various other capacities for other organizations in the Chicago Art & Culture scene. Most recently as Business Operations Manager for the Bridge Art Fair and currently an advocate for all things art & technology.
Latest posts by Christopher (see all)