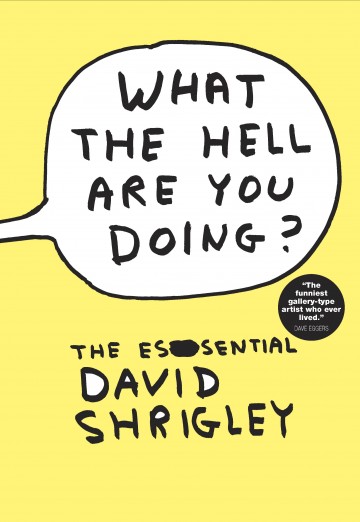 David Shrigley fans, take note: Shrigley will be signing copies of his new book What the Hell Are You Doing? The Essential David Shrigley TONIGHT at 7pm at  Quimby's Bookstore, 1854 W. North Ave., Chicago. Tomorrow night, he'll be speaking at Columbia College Chicago's Stage Two from 6:30pm – 9:30pm, 618 S. Michigan Ave., 2nd Floor. Quimby's will be there both nights to sell the hell out of his books. Should be good! And stay tuned over the coming months for Duncan's interview with Shrigley on the podcast (dates still TBD). Full details on tonight and tomorrow's events below:
WHAT THE HELL ARE YOU DOING? The Essential David Shrigley

"David Shrigley is probably the funniest gallery-type artist who ever
lived." -Dave Eggers

"With a casual gesture Shrigley points to that hideous shape whose
name I've never known—and then he names it. And the name is
profoundly, embarrassingly familiar. I'm laughing while frantically
searching for a pen, so desperate to capture the feeling he has
unearthed in me." -Miranda July

David Shrigley is the rare artist that can comfortably walk the fine
line between pop culture and high art. While he's animated videos for
musicians such as Blur and Bonny Prince Billy, his work can also be
seen in world renowned museums such as MoMA and the Tate Modern, and
his highly distinctive style has been on display in galleries in New
York, Paris, Berlin, Melbourne, and beyond. He is also clearly a
madman.

The aptly named WHAT THE HELL ARE YOU DOING: The Essential David
Shrigley [W. W. Norton & Company; October 24th, 2011; $35.00
hardcover] is an outrageous compilation of his illustrations, comics,
photography and sculpture. His crude drawings and unexpected
compositions are at once childish and clever, and each depiction oddly
sincere. They capture the morbid humor of Edward Gorey, the absurdity
of a Monty Python sketch, and the peculiar perspective of a Charles
Addams cartoon. In short, this beautiful, full color collection is an
indispensible introduction to one of contemporary art's most
fascinating and provocative minds.

The pieces in this book are an eclectic and encompassing
representation of Shirgley's interest in the surreal. From a
photograph of a hot dog (affixed with googly eyes and tucked
comfortably into bed) to childlike drawings of humanity's most
grotesque members (a man drinking a goblet of blood, captioned simply
with "CHEERS!") this book is a both a celebration of condemnation of
humanity's most base urges, fears, and delights.

WHAT THE HELL ARE YOU DOING? is remarkably bold, and Shrigley leaves
no topic untouched. Through colorful commentary, he explores
everything from clowns to caffeine, sexuality to God, and all the
delightfully inappropriate bits in between. You would be hard-pressed
to find, in any other work of art, a match to Shrigley's satirical
brilliance. As Will Self points out in the introduction, "Shrigley's
photographic works suggest the refined eye of someone sent back from
the future beyond the looming apocalypse, charged with assembling
images that, while ostensibly of the mundane, nonetheless explain how
it came to pass that humanity destroyed itself." By turns unsettling,
moving, and gut-wrenchingly funny, WHAT THE HELL ARE YOU DOING? is a
revealing glimpse into an offbeat, darkly comedic, and utterly
hilarious artistic mind. For more info: davidshrigley.com/.
Tues, Sept 20th, 7pm at Quimby's Bookstore 1854 W. North Ave., Chicago
Wed, Sep 21st , 6:30pm – 9:30pm at Columbia College Chicago – Stage
Two 618 S. Michigan Ave., 2nd Floor.…Quimby's will be there to sell
books.

These events are co-sponsored by Quimby's Bookstore, Columbia College
and AIGA Chicago.

Quimby's Bookstore    1854 W. North Ave Chicago, IL 60622   p:
773-342-0910Â  f: 773-342-0998Â  quimbys.com
Claudine Isé has worked in the field of contemporary art as a writer and curator for the past decade, and currently serves as the Editor of the Art21 Blog. Claudine regularly writes for Artforum.com and Chicago magazine, and has also worked as an art critic for the Los Angeles Times. Before moving to Chicago in 2008, she worked at the Wexner Center in Columbus, OH as associate curator of exhibitions, and at the Hammer Museum in Los Angeles as assistant curator of contemporary art, where she curated a number of Hammer Projects. She has Ph.D. in Film, Literature and Culture from the University of Southern California.
Latest posts by Claudine Isé (see all)