Over the last few years, Community Supported Agriculture (CSA) has exploded in popularity. When I moved to Chicago in 2000, there were only a handful of CSAs available to Chicagoans. Now there are dozens. CSAs have become so popular that The New York Times frequently runs articles about what to do with your seasonal surpluses. CSAs work in an interesting way—customers "subscribe" or buy "shares" in a farm's yield. In this way, farmers know in advance their minimum sales and also have money upfront to purchase supplies. For the buyer this means excellent, seasonal produce (or fruit, meat, dairy) that is usually organic and always high quality. But CSAs are about more than just yummy, healthful food. CSAs are a way for non-farmers to support an activity they find valuable, like independent farming.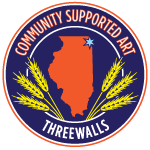 Three Walls is applying this same idea to art. Their Community Supported Art program offers six artworks by six different artists, all for the reasonable price of $400, or $350 if you act before April 30th.  Various arts groups have done this before. In the 80s, SubPop had their Singles Club whereby each month subscribers received a fresh-off-the-press single right to their mailbox. More recently, I was a subscriber to Featherproof Press's Paper Egg, a subscription book service. Sadly, Paper Egg didn't really work out for the folks at Featherproof, but that doesn't mean it was a failure. People want to support artists. Buying art is hard, though. It's expensive and often it is hard to know where to spend your hard-earned dollars when you do finally decide to buy an artwork. But this is where the subscription, the food-type CSA model does its best work. Just as we are not exactly sure what each CSA box might yield, neither do we know the contents of a Three Walls CSA box. I mean, anything could be in there. [UPDATE: Okay, so not anything could be in there. There are 12 works in total of which each subscriber will receive 6.]
While not exactly common, Community Supported Art programs are springing up around the country and are a fresh way to explore alternative methods of connecting artists and those who buy art. Do listen to Claudine Ise, Duncan MacKenzie, and Dan Gunn discuss this on the Art:21 Centerfield podcast. The official launch of the 2011 Three Walls CSA is on April 30th from 6 to 9, in conjunction with Art Chicago/NEXT.
Terri Griffith has published fiction and criticism in Art21, Bloom, Suspect Thoughts, and BUST, as well as in the anthologies Without a Net: The Female Experience of Growing Up Working Class (Seal Press, 2003), Are We Feeling Better Yet? (Penultimate Press, 2008), and Art from Art (Modernist Press, 2011). Since 2006, she has been a literary and culture blogger for Bad at Sports. Griffith is the author of the novel So Much Better (Green Lantern Press, 2009) and the co-editor of The Essential New Art Examiner (Northern Illinois University Press, 2012). She teaches writing and literature at the School of the Art Institute of Chicago.
Latest posts by Terri Griffith (see all)