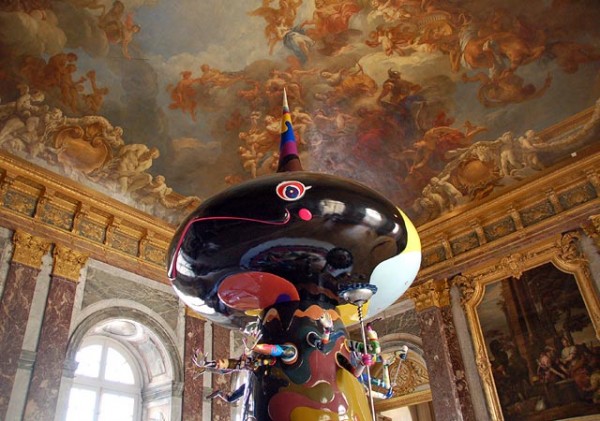 Takashi Murakami at the Château de Versailles
Takashi Murakami's new exhibit in Versailles has recently opened (closes December 12th if you are of the jet set type) and from what I have heard and seen it is a show not to be missed if for no other reason then it's striking contrast and humorous seemingly paradoxical existence. read more here
Inaugural Art Loop Open Competition Begins
From October 15-29, Art Loop Open—Chicago's new art competition (presented by the Chicago Loop Alliance)—will transform ten venues throughout Chicago's Loop into interactive public art exhibits (200 artists in total) having the public voting on the winner with 1st receiving $25,000 2nd: $15,000 & 3rd: $10,000. It looks to be a fun and smart program to engage the general public (which I still think we could do oh so much more in terms of) but sadly haven't given it much promotion due to not knowing exactly how to aproach it. I will be looking forward to seeing how it plays out and more so to year two.
From what i can gleam the jury process was pretty solid and most of the artists involved I have either seen, worked with, known or interviewed so I wish them all good luck and more so remind them to forget the prizes this is a great opportunity to rewrite the image of the Chicago artist with the general public so in short "don't be obtuse, rude, impatient or a douche" also Check out Tom Burtonwood and Pamela M Johnson's work here & here respectively. Read more here
Banksy does the Title Sequence to the Simpsons

Interesting Video on How Printing Ink is Made
Having been a child in the heyday of Mister Rogers'Â Neighborhood I grew up with a love of lilting jazz music & seeing how everyday items are made (plus hand puppets but thats private) so it's interesting to watch just how what I spend most of my money & art career touching plus half of my business career fighting with is made. watch it here
Race & Ethnicity Mapped By Block
As a footer for this week there is a visual map done by Bill Rankin using dots to show the more subtle changes across neighborhoods in Chicago using block-specific US Census data. Called a "taxonomy of transitions" it is quite interesting both visually and mentally but then again I am a data & logistics wonk so might just be me. read more here or even read about music preferences on Last.fm by gender here if you are so brave.
Latest posts by Christopher
(see all)