This weekend is making up for the last couple slow ones. In all, 35 openings, with shows in all the standard art districts, a few museum events, and an awesome array of shows at the weird-ass venues that make Chicago such a vibrant art scene. Here's my picks:
1. Living Treasure at Pentagon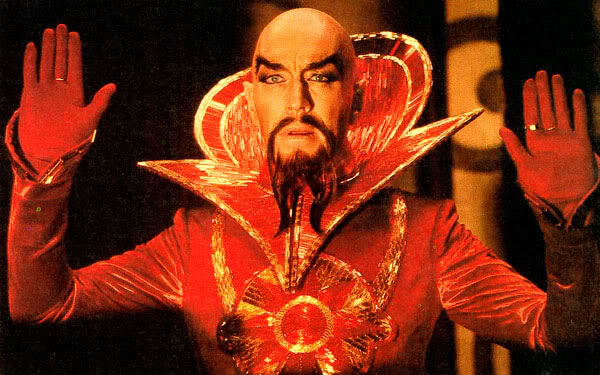 "Living Treasure is a shadow of Pentagon Gallery's first opening Nemesis, A show that engaged cultural others and darkness in music, film, literature and athleticism. Living Treasure attempts to take note from Nemesis but focuses on current global issues and America's involvement with in them. Each artist transforms ideas of violence, destruction, environment, religion, and sexuality by utilizing different mediums and engaging the viewer to be critical of their own social nature. The show it's self might seem sinister but stays satirical with subject and matter." Work by Carl Baratta, Carolina Wheat, Montgomery Perry Smith, Theodore Darst, Ryan Ingebritson & Flash Gordon (1980).
Pentagon is located at 961 W. 19th St., 1F. Reception is PLEASE NOTE: Saturday from 7-10pm.
2. Younger Than Janis at Noble & Superior Projects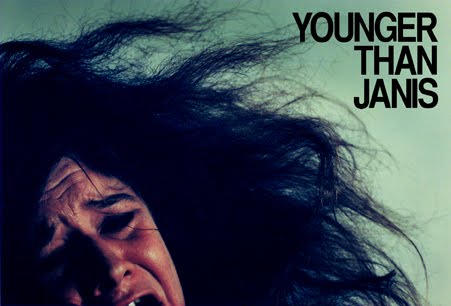 "The work of all of these artists (who together cover film, sculpture, sound, food, printed matter, painting, photography and video) considers the ephemeral nature of youth and beauty. The work ranges from musings on death to pursuit of an infinite youth, covering all the fleeting affect in between." Work by Marcel Alcala, Ryan Barone, Lucas Blair, Patrick Bobilin, Connor Camburn, Kevin Clancy, Adam Cruces, Cara Anne Greene, Eliza Koch, Andre & Evan Lenox, Vanessa Macholl, Celia Marks, Ross Meckfessel, Michael Morris, Erin Nixon, Michael Radziewicz, Anna Rochinski, Steve Ruiz, Liz Rugg, Hannah Verrill, Blair Waters, Ali White, Andrew Norman Wilson, and Travis Wyche.
Noble & Superior Projects  is located at 1418 W. Superior St. Reception is Friday from 6-10pm, film screening is Saturday from 7-10pm.
3. A Packer Schopf 3-fer: "South County Scrapbook", "Gleaners, Hawkers, and Reapers" and "Skivery"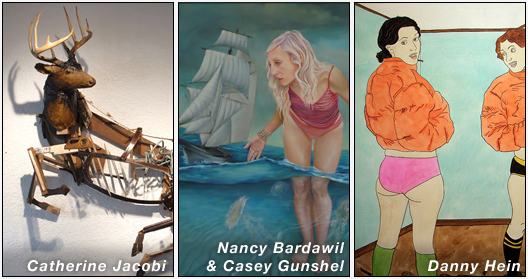 Danny Hein: South County Scrapbook – "My drawings are inspired by romantic memories of growing up in rural Indiana. I always felt there was a lot of mystery there. The figures here represent the land. I think of them as corn-fed-ghosts."
Catherine Jacobi: Gleaners, Hawkers, and Reapers – "The Histories of Objects are platforms from which Jacobi starts her pieces – considering a narrative that has already existed and one that she will have imagined existed. The novelty of form is that it leads you to believe it will endure. Look at a body, her body – immortality it seems is mortal."
Nancy Bardawil & Casey Gunshel: Skivery – "Nancy Bardawil started her art career as a painter and a sculptor, but for the last twenty years she has been working in film as a director. Although she's been painting since she was six-years-old, this is the first time she's shown her paintings in public. As a child, Casey Gunschel learned to draw by way of National Geographic and Dungeons and Dragons monster manuals. That introduction has inspired a lifetime fascination with animals, creatures and all things wild."
Packer Schopf Gallery is located at 942 W. Lake St. Reception is Friday from 5-8pm.
4. Action! at Chicago Art Department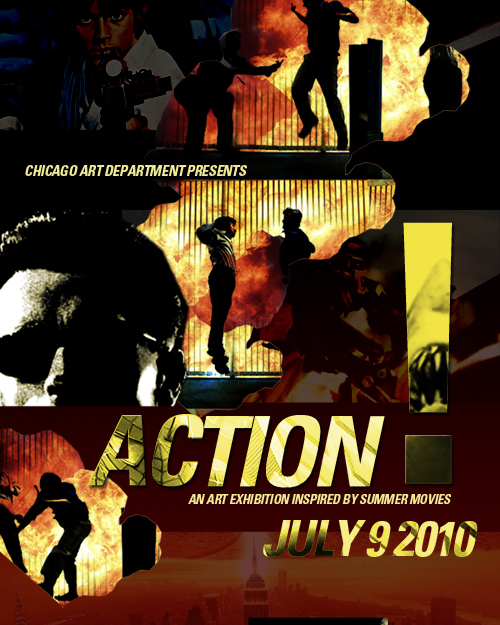 "ACTION! is a Chicago Art Department exhibition themed around the idea of the Hollywood summer blockbuster movie.  Since the release of Jaws in 1977, the summer movie season has, for better or for worse, become characterized by over the top, big budget, action, special-effects laden movies that we now know as "the summer blockbuster".    The art in this exhibition looks at the summer movie as cultural phenomena and symbol, as nostalgia and memory, and yes even simple, mindless fun." Work by Ryan Roberts, Christophe Roberts, Clare Rosean, Nat Soti, Jim Jeffers, Ali Serradge, Sarah and Joseph Belknap, Kayce Bayer, Chris Lin, and Kerry Flaherty.
Chicago Art Department  is located at 1837 S Halsted St. Reception is Friday from 6-10pm.
5. Visible City: Map Room at Fill in the Blank Gallery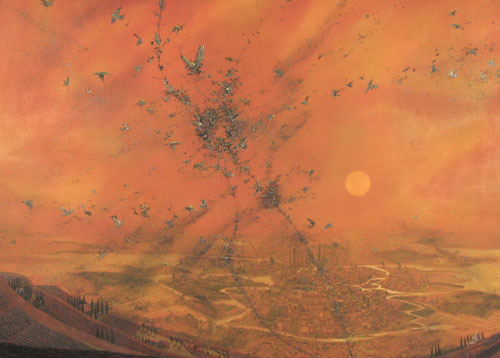 "Visible City: Map Room is part of an ongoing body of work by Aaron Delehanty in which painted images and drawn maps work together to build a mythos of a nonexistent place called Visible City. This exhibition highlights two features of this city—its urban physical space and its mental space—by showing scenes of the city as being designed in harmony with its surroundings. The maps of Visible City are strange and unique, different from your usual map because Visible City is a different kind of human settlement."
Fill in the Blank Gallery is located at 5038 N. Lincoln Ave. Reception is Friday from 7-11pm.
Latest posts by stephanieburke
(see all)