…To Start Off The New Year!
Hey everyone! Hope ya'll had a good hooliday! And now we stride fourth, from the 'Ots to the Onezies, with many a show to look forward too. This weekend (especially Friday) is particularly ripe for new year pickings, so in celebration of all that, I give you…
THE FIRST 10 OF THE NEW YEAR!
(In not much of a particular order)
Happy 'Effen 2010!
1. In Stereo at Rotofugi
I feel like I should hate this work for being hip and trite, but it just makes me think of Rosler's 60-era "Bringing the War Home" too much for me to hate it. Make your own decision.
Reception Friday from 7-10pm. Rotofugi is located at 1953 W. Chicago Ave.
2. 3-for-1: Queen of Heaven, R&R (…&R), and Up Is Down at the Chicago Cultural Center
I am generally in favor of 3-for-1 shows, especially when there are actually three big shows in one place, something few other places do as well as the Cultural Center. On top of that the work looks worth seeing, to boot. Sheesley presents nearly photo-real paintings of puddles, Faier forces confrontation with death (or our refusal to confront it) with his images of mausoleums and their waiting rooms, and Slavick explores carnage in Afghanistan, Iraq, and Lebanon through over painted photographs.
Reception Friday from 6-8pm. The Chicago Cultural Center is located at 78 E. Washington St.
3. Cheat Codes: Lessons in Love at Antena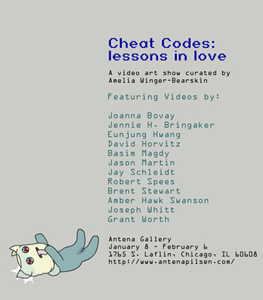 Everyone needs cheat codes now and again, especially in love. And I quote: "A lesson in love [or, a cheat code] is a key sequence, password, or series of steps to be entered within a video art work
that will provide the player some object, ability, or access to a level or location within the game that is secret, hidden, or that would have otherwise been unobtainable or unavailable to the viewer [player] [12]."
Reception Friday from 6-10pm. Antena is located at 1765 S. Laflin St. #1R
4. Robert Middaugh at Printworks
I'm not sure which portions of Middaugh body of work are going to be on display, since Printworks doesn't associate a specific image with his show announcement on their site, but it doesn't matter. Surrealist suits or surrealist science projects, you get some soothing humor either way. It may seem like a Magritte redux, but sometimes that's ok.
Reception Friday 5-8pm. Printworks is located at 311 W. Superior St.
5. Depictions at Schneider Gallery
Start the new something new by looking back to something old (or perhaps just old-ish)? Well, we went out last year with the first Daguerreotypes ever made of snow flakes, so why not bring in the this year with photographs of bodyguards in "Gold Tone in Ambrotype Case[s]." I have a thing for antiquated-looking work, in case you didn't know.
Reception Friday from 5-7:30pm. Schneider Gallery is located at 230 W. Superior St.
6. Prostrate at Zg Gallery
Jim Nutt, R. Crumb, and GWAR. Those are the names that immediately spring to mind when I see Jacobsen's work. His work is sexual, his work is gross, his work is perverse, his work is gluttonous. What does all that mean? It means you should go see it, damn it! It's AWESOME!
Reception Friday from 5:30-7:30pm. Zg Gallery is located at 300 W. Superior St.
7. Le Cirque de L'Armee Rouge at Dubhe Carreño
Perhaps I'm just in a Communist mood after hanging out with my buddy Osvaldo, but this show struck me with giddy joy. The circus of the Red Army? I'm super excited to see this piece in reality, to get to interact with it and see it's actual scale. And, perhaps, I will perform with the circus too!
Reception Friday from 5-8pm. Dubhe Carreño is located at 118 N. Peoria St.
8. Weatherbee's Revenge at ebersmoore
My reaction to this work is similar to that featured at Zg. I believe that last time I was at ebersmoore and saw the announcement card for this show I loudly gaffawed and yelped "That's freakin' awesome!" I say awesome a lot, in case you hadn't noticed. The Image on the card is actually a sculpture, but I'm even more fond of the images. Take that, wholesome 1950's America!
Reception Friday from 6-9pm. ebersmoore is located at 213 N. Morgan St.
9. Deathmetalhippiekiller at Packer Schopf
I used to live in Arcata…in Humboldt County (huh huh, dude, Humboldt County maaaan)…with metal heads. It was beautiful. My dear, drunken, bottle smashin', hippy hatin' roomies were the only thing that kept me sane in that stoned-out wasteland (well, not the only thing, but damn near). So, my friends, you can understand why a show such as this would hit close to home. On top of that, I've come to find that Packer rarely steers me wrong when I comes to art. Make sure to give the whole gallery a once over, not only is Lahr is showing. Moby Dick, work by Tim Vermeulen and Vent Figure Fun!, work by Gene Hamilton are also on display.
Reception Friday from 5-8pm. Packer Schopf is located at 942 W. Lake St.
10. Getting Acquainted at Johalla Projects
I don't know much about this show, but I used to live in Baltimore, and this image struck me. Last time I went to Johalla, I was not disappointed by the art (the drinks, on the other hand, were too expensive, but I digress). The current show is a group affair, including the work of In b Flat, Kristin Freeman, Shane Lavalette, Jason Polan, The Listening Project, and Daniel Shea. It was curated by Joseph Rynkiewicz.
Reception Friday from 7-10pm. Johalla Projects is located at 1561 N. Milwaukee Ave.
Stephanie Burke was born in Nevada City, CA in 1984. She received her BA in Studio Art and Anthropology from Humboldt State University in 2007, and her MFA in Photography from The School of the Art Institute of Chicago in 2009. Currently she makes work, teaches photography at Wilbur Wright College and Hyde Park Art Center, writes for Bad at Sports and works as Managing Editor for Art Talk Chicago and Chicago Art Magazine.When not making, teaching, looking at, or writing about art, she enjoys running around in the woods, drinking beer by bonfires, and target shooting.
Latest posts by stephanieburke (see all)