download
This week: The AMANDA BROWDER SHOW! Amanda and Tom start 2010 off with an interview with Miami artists Alain Guerra and Neraldo de la Paz about their collective Guerra de la Paz (awesome composite of their names) about their work, and how clothing can be more than just a shell over one person's nubile body..but a story and a basis for sculptural exploration.
Then, Mike Benedetto returns!!! He offers up a meditation on Steven Seagal, Lawman.
Guerra de la Paz is the composite name of Cuban born, American artist duo Alain Guerra (born 1968) and Neraldo de la Paz (born 1955), who have been collaborating since 1996. They are based in Miami.
Guerra was born in Havana and de le Paz in Matanzas. Guerra de la Paz work in sculpture, installation and photography. Their work references the politics of modern conflict and consumerism alongside symbols of faith; they often use old clothing to build their sculptures.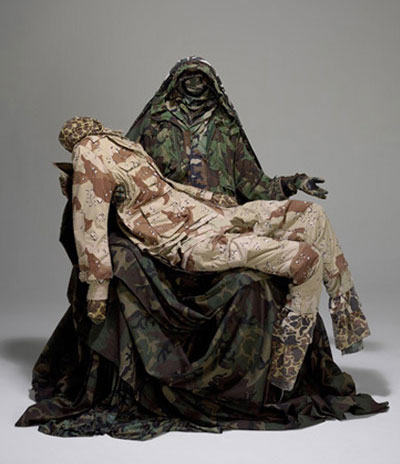 Alain Guerra
Neraldo de la Paz
Guerra de la Paz
Steven Seagal
Cobble Hill, Brooklyn
"pepe" stores
Escada
Versace
Fendi
Ralph Lauren
Saatchi Collection
Art Basel Miami
Chicago Cultural Center
Tyson
JCVD
Christopher Hudgens is the Operations Manager for BaS and works in various other capacities for other organizations in the Chicago Art & Culture scene. Most recently as Business Operations Manager for the Bridge Art Fair and currently an advocate for all things art & technology.
Latest posts by Christopher (see all)