Performance artist Anya Liftig costumed herself as Marina Abramovic's double (long blue dress, sideswept braid) and sat across the table from Abramovic all day long last Saturday, March 27th, during Abramovic's marathon performance piece "The Artist is Present," part of her current retrospective at the Museum of Modern Art. Liftig considered her action to constitute a performance of her own, and even has a title for it: "The Anxiety of Influence." Bombsite has an interview with Liftig here. An excerpt:
Tatiana Berg: When I read reviews of "The Artist is Present," writers often describe Abramovic's piece as her "interacting" with her audience, which I think is a misnomer. The performance is really as far from interaction as you can get, since in the museum setting surrounded by guards on all sides – who won't even let you take a picture – the audience's available set of actions is very limited. So rather than interacting with Abramovic, it's more like she's inviting the audience to sit there and contemplate themselves, not her.

What I liked about your performance was that you totally played by the museum rules: no one said you couldn't be dressed a certain way, no one could say you had to get up and let someone else have a turn. Did you nevertheless feel like a transgressor? A museum interloper?

Anya Liftig: I did feel like a transgressor but I love the subtle art of subversion – playing with ideas from the inside out. As I was sitting there, I felt like that was one of the strongest elements of Marina's piece. She is attempting to "interact" with the audience, but really, the endeavor for empathy is one of implicit sadness, as we connect and miss one another. It is not meant to be read at face value. It also brings up the role of the artist, how they connect on an individual, emotional level with others when they are constantly being observed and commented upon by the masses held at bay by the guards.
Read the full interview on Bomb's website; it's really interesting and, based on the interview, Liftig seems to have approached her action with sensitivity and thoughtfulness rather than as a cheap stunt.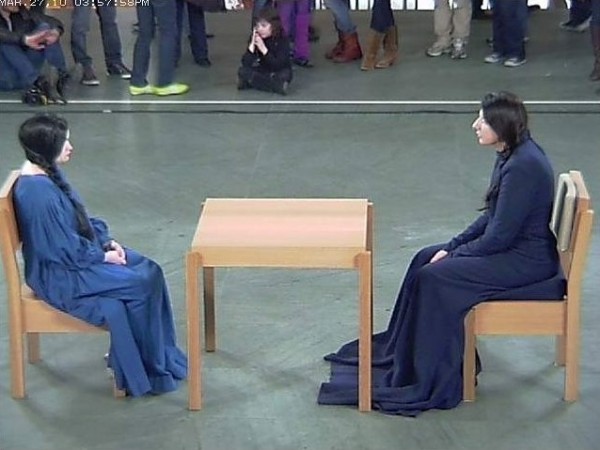 Claudine Isé has worked in the field of contemporary art as a writer and curator for the past decade, and currently serves as the Editor of the Art21 Blog. Claudine regularly writes for Artforum.com and Chicago magazine, and has also worked as an art critic for the Los Angeles Times. Before moving to Chicago in 2008, she worked at the Wexner Center in Columbus, OH as associate curator of exhibitions, and at the Hammer Museum in Los Angeles as assistant curator of contemporary art, where she curated a number of Hammer Projects. She has Ph.D. in Film, Literature and Culture from the University of Southern California.
Latest posts by Claudine Isé (see all)