Due to time constraints little time was spent on the 12th Floor going through Art Chicago and a majority of these photos are from the Next Preview Opening. Which from the talk that I heard no one will complain about (even though what little I saw it looked to be better then previous years but Tomato Tomäto).
Coming away from the Next show much can be said about the much smaller size, omni presence of Kavi Gupta's Gallery & connections, growth of paid Marketing Partnerships in the show & the search for "Big" things to fill all the empty space. Having said that though I walked away with the feeling not of abuse but more how fragile this years Next really was, right or wrong. Any real complaignts I had seemed to fall more with the Marts operations side which seemed to either be skeleton staffed, temp hires or just poorly managed in general. A marked decline from previous years effort.
Best work of the show for me personally was surprisingly the independent groups and apartment galleries representation (which I couldn't say in previous years) they really stepped up this year in both polish, substance, displaying actual works not items they want to convince you were finished works & energy. Also I don't think enough can be said for the works in the show by Tony Tasset this year. They were well positioned, welcomed surprises & overall great work by a artist who deserves his reputation.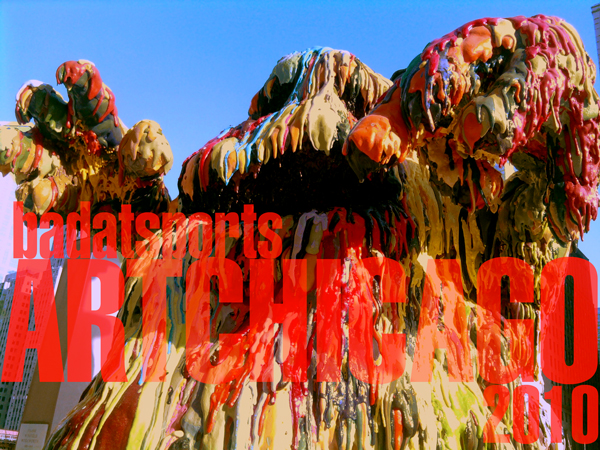 ---
It's the weekend of art fairs (and labor struggles), and another weekend of listings from Yours Truly. This was a hard pick, as a lot of great shows are opening this weekend (and everything in River North and West Loop are open, at least Saturday night). If you do make it into Art Chicago and NEXT (make sure you get one of those free passes floating around), you should defiantly come take part in Tara Strickstein's Bloodshed Event: Pataphor, where Jeriah and I will be doing battle with participants. Alright everyone, start your engines. It's time for art, and time for free drinks! Hooray!
1. SAIC Graduate Exhibition at The Sullivan Galleries

Come see what those freshly minted MFAs are churnin' out.
The Sullivan Galleries are located at 33 S. State St. Reception Friday, 8-10pm.
2. Lazy Shadows at Golden Gallery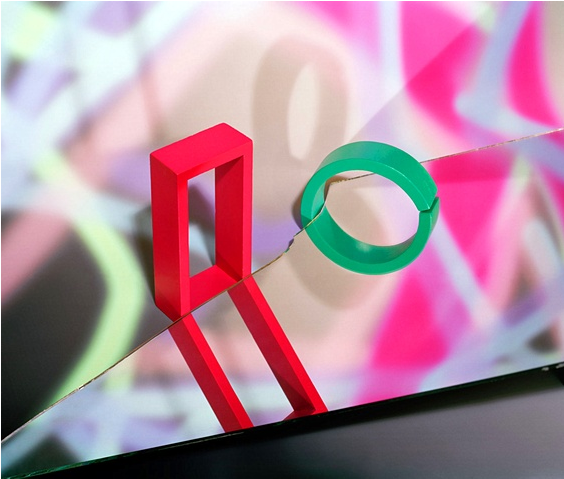 Awesome new work by Jessica Labatte. Come and enjoy the smoke and mirrors.
Golden Gallery is located at 816 W. Newport Ave. Reception Friday, 7-10pm.
3. All the Colors of the Dark at Ebersmoore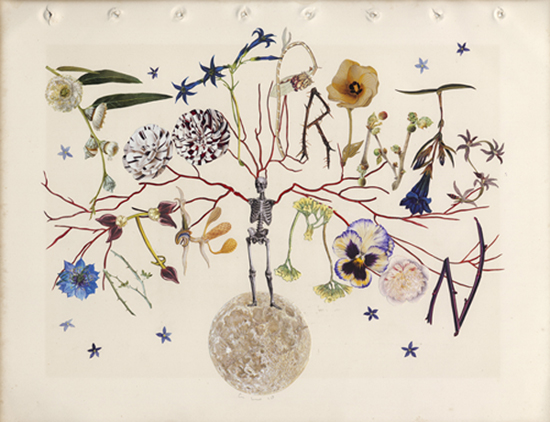 Collage and cryptic messages? Oh, so Victorian. Work by Alexis Mackenzie.
Ebersmoore is located at  213 N. Morgan. Reception Saturday, 6-10pm.
4. Passing the Torch: The Chicago Students of Callahan and Siskind at Stephen Daiter Gallery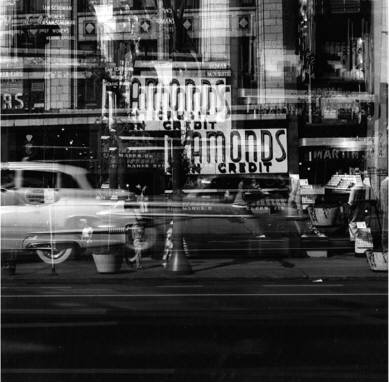 Come see the children of the masters. Work by Barbara Crane, Stef Leinwohl, Joseph Jachna, Joseph Sterling, Kenneth Josephson, Charles Swedlund, Tom Knudtson, Bob Tanner, and Mary Ann Lea (Dorr).
Stephen Daiter Gallery  is located at  230 W. Superior St. Reception Saturday, 5-8pm.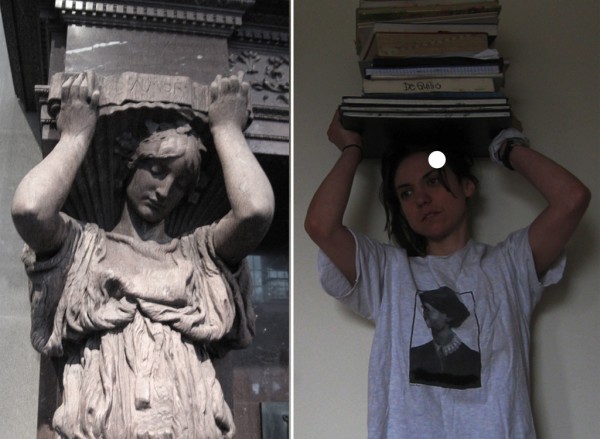 Dana DeGiulio holding up the world at Julius Ceasar.
Julius Ceasar is located at 3144 W Carroll Ave, 2G. Reception Sunday, 4-7pm.
---
The MCA Chicago announced today that Michael Darling, modern and contemporary curator at the Seattle Art Museum, will be its new James W. Alsdorf Chief Curator. Darling will leave the Seattle Art Museum, where he's worked since 2006, in July. Before that Darling worked at L.A.'s Museum of Contemporary Art. Here's an excerpt from the MCA's press release:
Madeleine Grynsztejn, Pritzker Director of the Museum of Contemporary Art (MCA), Chicago, announced today that Michael Darling has been appointed the new James W. Alsdorf Chief Curator, concluding a comprehensive international search. Darling is currently the Jon and Mary Shirley Curator of Modern and Contemporary Art at the Seattle Art Museum (SAM) and plans to assume his new responsibilities at the MCA on July 12, 2010.

"Michael Darling is the perfect creative leader to evolve the MCA as a preeminent contemporary art destination in terms of reputation, influence, relevance, and visibility," said Grynsztejn. "I am looking forward to joining with Michael to realize a compelling new vision for the MCA. We share the same goal to forge an artist-activated platform that engages audiences by producing art, ideas, community, and conversation around the creative process. His exhibitions and acquisitions are always innovative and relevant, yet grounded in a larger art historical framework, and fueled by his distinctive passion, knowledge and integrity."

Darling said, "I am honored to lead the MCA's curatorial team and to build on the museum's momentum. I look forward to actively participating in the cultural community of Chicago — a world-class city with a long-standing appreciation for the vanguard — and balancing a local perspective with a global outlook. I am excited to advance the MCA's tradition of groundbreaking exhibitions and programming into a 21st-century multidisciplinary museum model."
And so on, blahbity blahbity press release so on. Although I think this is a fairly boring, business-as-usual kind of pick on the MCA's part, my view was ameliorated somewhat by reading the glowing praise that respected arts writer Jen Graves of The Stranger has for Darling. She writes:
What distinguished Darling from the others was his genuine commitment to exploring and revealing the connections between here and abroad. He was seemingly at every opening, and his exhibitions and acquisitions reflect that he did not simply live and work here, he thought here.
Grave's assessment strongly suggests that Darling will not be another "Chicago curator" in name only who dials it in from elsewhere. I'm sure he'll be good at his job (what constitutes 'failure' when it comes to museum curation anyway?), but I find myself caring less and less about who holds what position at big institutions lately. In the three years that I've been living in Chicago, I've become way more interested in the curatorial programs of Chicago's college and university spaces and nonprofit art centers, and in the plans and activities of the (relatively) unsung curators and administrators who work there. There's just more room for interesting failures and fresh insights in those spaces (although they, like any organization, require increased funding, donations, membership and public support to keep doing good work). Maybe it's just the mood I'm in but…my whole take on the "big news" of today is one big meh.
---
Tonight – Wednesday April 28th at 6pm Bad at Sports' own Tom Sanford moderates a multi-generational panel on painting. The discussion takes place at apexart in New York and is the second live event presented in conjunction with the exhibition Don't Piss on Me and Tell Me It's Raining, organized by Bad at Sports. Full details below….
Painters/Painting
Moderated by Tom Sanford, painter and Bad at Sports correspondent
Featuring:
Kamrooz Aram
Dike Blair
Holly Coulis
David Humphrey
Deborah Kass
These "Painters of Painting," representing various generations of New
York painters, are all prominent voices among their cohort who enlist
a wide variety of approaches to the medium. They will discuss the
current concerns in painting as well as painting's enduring relevance
as a humanistic and idiosyncratic antidote to the prevailing corporate
culture of consensus and commodification.
In conjunction with the exhibition Don't Piss on Me and Tell Me it's
Raining curated by Bad at Sports & will be recorded for podcast on an
upcoming edition of the Bad at Sports Podcast (AKA the Amanda Browder
show).
Kamrooz Aram was born in Shiraz, Iran, in 1978, and received his MFA
from Columbia University in 2003. Aram's works bring together
traditional, modern and contemporary cultural references to create
images reflecting the complexity of contemporary life. His work has
been shown in museums and galleries around the world and featured and
reviewed in numerous publications. In spring 2010 his work will be
featured in the group exhibition Self-Consciousness in Berlin at
VeneKlasen Werner, co-curated by Peter Doig and Hilton Als. Aram lives
and works in Brooklyn, New York.
Dike Blair is a painter and sculptor who lives and works in NYC and
Hortonville, NY. He teaches painting at RISD and has contributed
articles to a number of magazines.
Holly Coulis lives and works in Brooklyn. She was born in Canada and
received her MFA in Boston. Her work can be seen at Cherry and Martin
Gallery in LA.
David Humphrey is a New York artist represented by Sikkema Jenkins &
Co. An anthology of his art writing, Blind Handshake, was released by
Periscope Publishing this year.
Deborah Kass' paintings examine the intersection of art history,
popular culture and the self. She received her BFA in Painting at
Carnegie-Mellon University, studied at the Whitney Museum Independent
Study Program, and the Art Students' League. Her work is in museum
collections throughout the U.S. and numerous public and private
collections and has been shown nationally and internationally. She is
a Senior Critic in the Yale University MFA Painting Program and is
represented by Vincent Fremont and the Paul Kasmin Gallery.
---
Hong Kong Architect Gary Chang took his 344sqft apartment and turned it into the ultimate 24 themed space all in 1 room.
[flashvideo file=http://badatsports.com/wp-content/uploads/2010/05/ultimateapartment.flv /]
---