Here's my picks for the weekend, in chronological order. This whole weekend is a bit slow and dull, so do blame me if these five weren't all you'd hope for. P.S. Fall is here, did you notice?
1. For the Time Beings at Fill in the Blank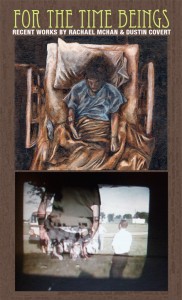 This place is close to me, relativity new, and generally entertaining. Opening this week is For the Time Beings, an exhibition of work by Rachael McHan and Dustin Covert. The work looks pretty depressing, but it's fall, fall's all about depression, right? Reception is Friday from 7-11pm.
Fill in the Blank is located at 5038 N. Lincoln Ave.
2. Atom Basham at Sapere Art/Intuitive Works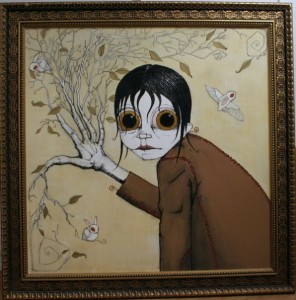 Weird cartooning. Creepy drawings. Mmmmm…looks like fall to me. Do I have a skewed sense of fall? Maybe, but this work is as autumnal as pumpkin pie. Work by Atom Basham, Eulalio Fabie de Silva, Mark Lace and RW Ruehlen. Reception is Friday from 6-9pm.
Sapere Art/Intuitive Works is located at 1579 N. Milwaukee Ave.
3. With Our Forces Combined at Barbara & Barbara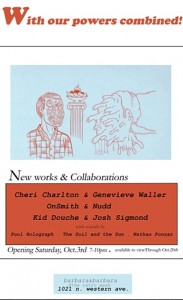 Collaboration! It's awesome. This show is based around collaboration, and features the work of three collaborative pairs: Josh Sigmon and Kid Douche, Onsmith and Nudd, and Cheri Charlton and Genevieve Waller. Reception is Saturday from 7-10pm.
Barbara & Barbara is located at 1021 N. Western Ave.
4. Strangers at Spudnik Press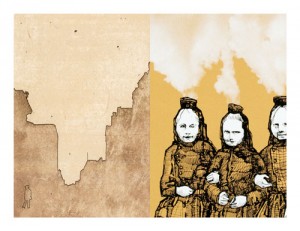 I'm generally not crazy about printmaking. I don't dislike it, it just rarely appeals to me. The work I've seen from this show, on the other hand, actually peaqued my curiosity, so I'll give it a shout. Features the work of Sanya Glisic and Mischa Kegan. Reception is Saturday from 7-10pm.
Spudnik Press is located at 1821 W. Hubbard St.
5. Once Upon a Time and Now at Evanston Art Center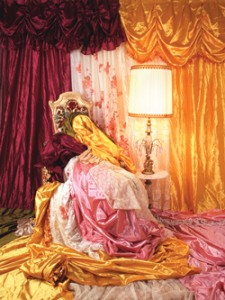 Ahhh fall, the time of group shows. Well, is it fall, is it the economy, what is it? Here is yet another packed group show up at the 'ole EAC, featuring work by Patty Carroll, Teresa Mucha-James, Stacee Kalmanovsky, Bonnie Klehr, Julie Laffin, Erik Lowe, Casey Riordan-Millard, Mitch O Connell, Alex O Neal, Deborah Simon, Eleanor Spiess-Ferris and curated by Susan Sensemann and Barbara Blades. Reception is Sunday from 5-8pm.
Evanston Art Center is located at 2603 Sheridan Rd.
Stephanie Burke was born in Nevada City, CA in 1984. She received her BA in Studio Art and Anthropology from Humboldt State University in 2007, and her MFA in Photography from The School of the Art Institute of Chicago in 2009. Currently she makes work, teaches photography at Wilbur Wright College and Hyde Park Art Center, writes for Bad at Sports and works as Managing Editor for Art Talk Chicago and Chicago Art Magazine.When not making, teaching, looking at, or writing about art, she enjoys running around in the woods, drinking beer by bonfires, and target shooting.
Latest posts by stephanieburke (see all)