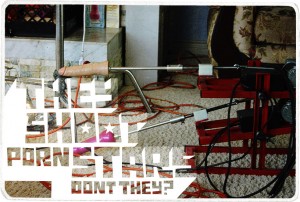 Recently Susannah Breslin, who has often written about the San Fernando Valley adult movie industry for boingboing and other publications, published a photo essay in the form of a website, "They Shoot Porn Stars, Don't They?", which looks at the current state of the adult entertainment biz as it exists in the so-called "Porn Valley." In particular, she interviewed adult movie performers, visited porn movie sets, and had discussions with other adult movie professionals about how the current state of the economy has affected their industry and thus, their livelihood.
At once fascinating and deeply disturbing, Breslin's point of view eschews the easy distancing that irony provides in favor of an empathetic and at times grimly humorous take on the subject, particularly when it comes to the industry's female workers, who are most definitely not portrayed as empowered.
In the essay's first half, Breslin looks at one development that arose from the industry's economic decline: suddenly, the flesh and blood male appendage is looking slightly more expendable. Why? The invention of Robocock, a mechanical phallus aka low-maintenance "fuck machine" used by adult film director (of kooky shock-sex films like "Whore of the Rings" and "Texas Dildo Masquerade") Jim Powers. From Breslin's essay:
"We got rid of the male talent!" Powers crows, triumphant. He enumerates the benefits of working with an animatronic phallus on one hand. "They don't complain as much. They're always hard. You don't have to feed them." Of course, the 21st century woodsman does have one drawback. "They've always got bolts falling off," Powers admits with a shrug.

"The market is saturated with porn, the Internet is pirating porn left and right, and the economy is in the shitter," Powers laments after Hunter's shoot, staring out the sliding glass doors at a fountain trickling pleasantly in the sun-dappled backyard. He looks like a spurned lover-heartbroken. "Porn destroyed itself," he mutters. "2005 was the peak of shit." He shakes his head. "Now, we're just living in piles of shit." He is crestfallen. "It completely destroyed everything." He looks at the floor.

A redhead appears in the doorway. Powers will shoot a total of five scenes today, and hers is next. It's time for Jim to get back to work. On the sidelines, another machine is waiting for its turn in the spotlight. This one is double-headed."
Read Breslin's full essay here. It ain't pretty, it ain't for the easily grossed out, and the large color photographs taken by Breslin that accompany the essay make it definitely NSFW either. Note: Photographer Larry Sultan also has a well-known series of photographs on this same subject, titled The Valley, which you can read more about here and here.
Claudine Isé has worked in the field of contemporary art as a writer and curator for the past decade, and currently serves as the Editor of the Art21 Blog. Claudine regularly writes for Artforum.com and Chicago magazine, and has also worked as an art critic for the Los Angeles Times. Before moving to Chicago in 2008, she worked at the Wexner Center in Columbus, OH as associate curator of exhibitions, and at the Hammer Museum in Los Angeles as assistant curator of contemporary art, where she curated a number of Hammer Projects. She has Ph.D. in Film, Literature and Culture from the University of Southern California.
Latest posts by Claudine Isé (see all)