Someone alerted me to this photo they saw of me in the gossip column of ArtForum (better known as "Scene and Herd") and I thought I would use it to illustrate the magic of cropping: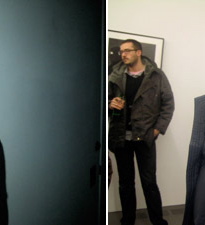 There I am standing in front of that photograph at the opening of Walead Beshty's show at Wallspace just on the other side of that wall that cuts into the left of the picture…

Psych, actually I'm standing behind that other more important looking guy (happens to be the Director of White Columns) at the edge of the photograph.
I found this mildly entertaining in the context of conceptual photography, a popular brand in which Beshty always has one foot.  This show where I happened to be "scene" follows two veins of Beshty's work, although I imagine they are meant to be taken together as a record of the process.  The first is the prominently featured abstract photograms.  These large sheets of color photo paper are somehow folded or rolled in the exposure process.  This is only gleaned from looking at them, so I'm not sure what the process is actually, but it seems sufficient to take away that these colors and shapes are not chosen but rather arbitrarily arrived at through a photographic process.  In the other works — black and white portraits of the people, places, and machines that have helped Besthy along the way to producing his work — he likewise lets his process do all the decision making. Notice here the photogram that actually hangs off of the center wall.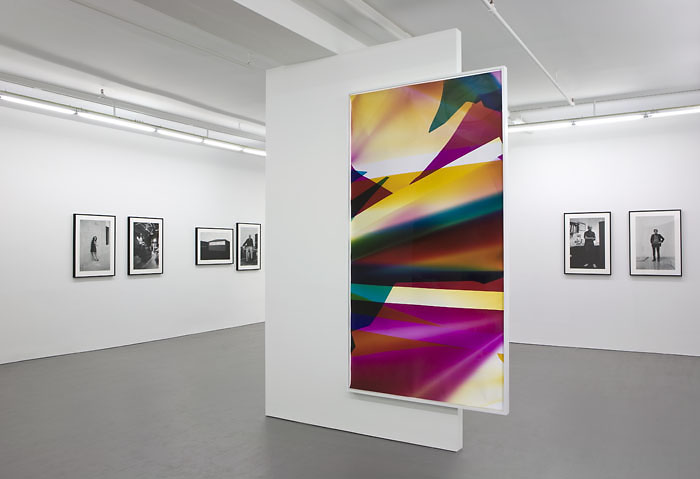 This placement was arrived at again by some system of finding the center of walls… I don't think the point is actually to understand the system in place, but rather to see that there is a system, and recognize it as arbitrarily imposed… After all I think that is the underlying critique even found in this rhyming press release:
Whatever Marxist schadenfreude might be gleaned from black-and-white
Effectively reclaims the found object as a multivalent political site

Of the show's relaxed attitude toward lines of demarcation
which, sexy as it sounded, felt like little more than rhetorical lubrication

Among the most special is Walead Beshty's photo-slide meditation
Here flashy surface need not come at the cost of art historical, conceptual, and
socio-political elaboration
After my brush with the art world paparazzi I've decided to lay low, but I will be venturing out tonight to see two openings that look promising.  First, "It's You. Not me" at Andrew Kreps in Chelsea.  Second, and honestly more exciting, is the first solo show in four years for the painter Richard Phillips at Gagosian uptown.  I'll leave you with some enticing words from Phillips himself and follow up later with my conclusions on the show:
"At its core, this show is the conflict between capitalism, fascism, and communism. It looks into the nature of representation, propaganda, and misinformation, and how they redirect the ideologies of institutions."