I'd go just to get drunk and stare at the glittery high-rises at night, but the dense program of talks on urban landscape are right up my alley, too: in conjunction with Los Angeles Art Weekend, Postopolis!, a "live 5-day blogathon of back-to-back discussions, interviews, panel talks, slideshows, films and parties themed around landscape and the built environment" is taking place on the rooftop of The Standard Hotel (ah, bliss).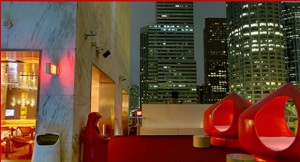 Luckily you don't to be in L.A. to partake: the Storefront for Art and Architecture is streaming all of the talks live from 5-11 pm Pacific time via USTREAM. The program kicked off a few days ago, but you can still catch some great speakers tonight and tomorrow–check out the Friday and Saturday schedule below, and the Storefront's website for further details and info on the six bloggers who organized the 'thon.
FRIDAY 3
05:00 : Michael Downing LAPD
05:40 : Bryan Boyer Organizer, Helsinki Design Lab 2010
06:20 : Ari Kletzky Founder, Islands of LA
07:00 : BREAK
07:20 : Eric Rodenbeck Founder, Stamen Design
08:00 : Matthew Coolidge Director, Center for Land Use Interpretation
08:40 : Christopher Hawthorne Architecture Critic, Los Angeles Times
09:20 : BREAK
09:40 : David Burns, Austin Young & Matias Viegener Founders, fallen fruit
10:00 : Ken Ehrlich Artist and Writer
SATURDAY 4
04:20 : Benjamin Bratton Architect and Theorist
05:00 : Christian Moeller Artist
05:40 : Sean Dockray / Dan Goods / Daniel Rehn / Jay Yan
06:20 : Media Panel ( Matt Chaban (Architects Newspaper), Curbed LA, Alissa Walker, Greg J. Smith, Christina Ulke)
07:00 : Photography Panel (Catherine Ledner, Misha Gravenor, Dave Lauridsen, Tom Fowlks, Gregg Segal)
07:20 : BREAK
08:00 : Paul PetruniaFounder, Archinect School Bloggers Panel
08:40 : Magazine Panel Sam Grawe DWELL, Zach Frechette GOOD , & t.b.d
09:20 : CLOSING PARTY
Claudine Isé has worked in the field of contemporary art as a writer and curator for the past decade, and currently serves as the Editor of the Art21 Blog. Claudine regularly writes for Artforum.com and Chicago magazine, and has also worked as an art critic for the Los Angeles Times. Before moving to Chicago in 2008, she worked at the Wexner Center in Columbus, OH as associate curator of exhibitions, and at the Hammer Museum in Los Angeles as assistant curator of contemporary art, where she curated a number of Hammer Projects. She has Ph.D. in Film, Literature and Culture from the University of Southern California.
Latest posts by Claudine Isé (see all)