I recently came across MW Capacity, Chris Lowrance and Sam King's "painter blog for no-coasters," and if you're not already among its readers I encourage you to start checking it out on a regular basis.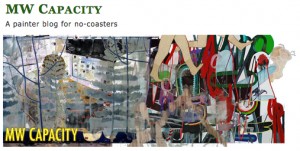 MW Capacity focuses on painting in the Midwest, and I love their approach: lots of images, very brief write-ups on the artists (and sometimes none at all, just pictures) and that's it. The blogs' readers take over from there in the comments, resulting in an online version of group crit that's surprisingly respectful and considered given our tendency on the internet to let the s*&t fly first and think about it later.
Today MW Capacity posted on Angelina Gualdoni's new work at Kavi Gupta (and have also covered her in the past, with a relatively large number of comments on the work in response). They also had an interesting group discussion on Jim Lutes. But no gang rapes allowed: the blog's policy is to take down posts if an artist doesn't want to be there. It seems to be a pretty friendly and laid back atmosphere, so I imagine having one's work featured would be something to feel excited about, not fear.
Claudine Isé has worked in the field of contemporary art as a writer and curator for the past decade, and currently serves as the Editor of the Art21 Blog. Claudine regularly writes for Artforum.com and Chicago magazine, and has also worked as an art critic for the Los Angeles Times. Before moving to Chicago in 2008, she worked at the Wexner Center in Columbus, OH as associate curator of exhibitions, and at the Hammer Museum in Los Angeles as assistant curator of contemporary art, where she curated a number of Hammer Projects. She has Ph.D. in Film, Literature and Culture from the University of Southern California.
Latest posts by Claudine Isé (see all)