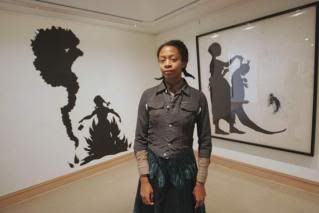 In this week's roundup Jerry Saltz threw down with Glenn Beck, Ikea changed their font, and a show flake out from Kara Walker turns into a (revenge) piece. Have a good weekend.
Jerry Saltz challenges Glenn Beck to a curatorial challenge.
Ikea switching over to Verdana.
"Who Wants to Be the Future of Arts Journalism?" Uhh, we do!
RT artnetdotcom A flake-out by Kara Walker becomes an example of email-correspondence-as-art
This slide is just so wrong. via @boingboing
Boot Print Volume 3 Issue 1 is now available online. http://www.bootsart.com/htm…
Columbia (A Journal for Literature and Art) has a call out to design a sign to inform people of nuclear dumps. @pruned
Ed Ruscha is a recipient of a 2009 National Arts Award.
Plural Blog has a teaser for the 16th Annual Chicago Underground Film Festival at the Gene Siskel Film Center.
RT @ThirdCoastFest Save the Date! 2009 TC Awards Ceremony coming up October 23. Radio gets glamorous…
Betsy Sussler has an interview with Cindy Sherman on @art21.
Meg Onli is a visual artist and blogger born and raised in Los Angeles, California. Meg moved to Chicago, Illinois in 2005 where she received a Bachelor in Fine Arts from the School of the Art Institute of Chicago. She has been with the Chicago-based art and culture podcast/blog Bad at Sports since 2006 where she is currently the Associate Producer. She has an unfathomable apatite for documentary films, 60s & 70s performance art, and cute cats. Meg has exhibited work in Los Angeles, Chicago, and New York City. Currently, she is working on a project that documents her steps in recording Motwon's first girl group sensation, the Marvelettes, version of "Where did Our Love Go?"