Even Umberto Eco. I love what the Louvre is doing by signing him on as guest curator (as they have previously done with writer Toni Morrison and composer Pierre Boulez). Eco's theme for his work at the Louvre is "The List." For example, he's organizing a conference on 16th century Flemish artist Pieter Bruegel the Elder that looks at how the latter's peasant subjects make for a kind of visual list. There will also be a performance art piece that draws from lists found in works by Homer, James Joyce, Victor Hugo and Eco's own oeuvre. I like that they're using Eco to curate not artworks but institutional programming, which allows him greater reach and play.
J. Crew's a curator now too. Their online catalog features a new "Designer Collaborations" series, one which promises "a HIGHLY EDITED selection of the top names out there–those who have truly perfected their CRAFT. You shouldn't have to travel the world to find the very BEST." Italics and bolded words most certainly NOT MINE.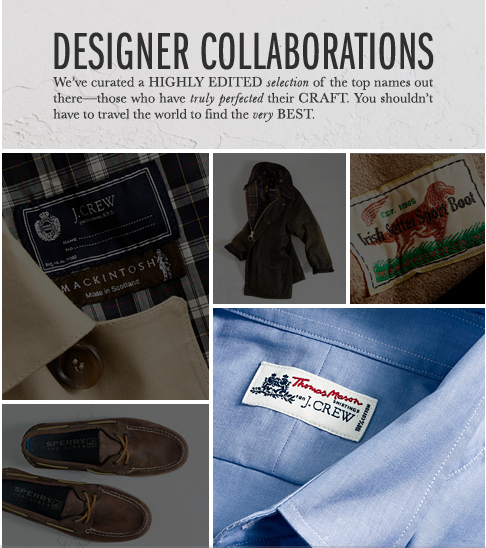 The New York Times ran an interesting article last week about the attractions that the word "curator" holds for fashion, new media and marketing professionals, but that J. Crew blurb pretty much sums it all up: an offer of selectivity and exclusivity, of authoritative knowledge and insight into what's considered to be the best that's out there.
I like the fact that the word 'curating' has gone mainstream, although it does seem like most of the marketers who use the term "curate" are confusing its meaning with the idea of list-making, or worse, with personal shopping. Even if that list is meant to be a selective offering of the best whatever-it-is in your field, it's still just a list of things you're meant to go out and buy. Curating, as we know, isn't exactly like that (although Whitney Biennial-type curating sometimes kinda is….). Curating for museum professionals is as much about cultural and historical contextualizing and recontextualizing as it is about discernment or "having a good eye" — a phrase that curators themselves throw around and which I always loathed, mostly because it tended to make me feel self-conscious about my shoes.
Claudine Isé has worked in the field of contemporary art as a writer and curator for the past decade, and currently serves as the Editor of the Art21 Blog. Claudine regularly writes for Artforum.com and Chicago magazine, and has also worked as an art critic for the Los Angeles Times. Before moving to Chicago in 2008, she worked at the Wexner Center in Columbus, OH as associate curator of exhibitions, and at the Hammer Museum in Los Angeles as assistant curator of contemporary art, where she curated a number of Hammer Projects. She has Ph.D. in Film, Literature and Culture from the University of Southern California.
Latest posts by Claudine Isé (see all)