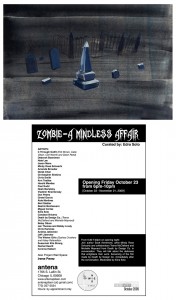 Don't forget that tonight is the opening for Zombies: A Mindless Affair at Antena Gallery.
And get there early, because from 6:30 – 7:00pm there'll be a discussion between author Scott Kenemore, artist Mindy Rose Schuartz and collaborators Teena McClelland and Michelle Maynard from Death by Design Co. about "the darkness that enlightens their work" moderated by exhibition curator Edra Soto.
There will also be a screening of the film "Throb" made by Death by Design Co. immediately after the conversation.
---