1. University of Iowa Full Time Position Description: The Department of Cinema and Comparative Literature at The University of Iowa invites applications for a tenure-track position that will be filled at the Assistant or Associate Professor level, depending on qualifications and experience. The position will begin in August 2014. We are looking for a Film/Video maker with significant experience in digital documentary filmmaking. The successful candidate might also work in non-fiction and experimental modes of film and video production. This new faculty position is part of Iowa's Public Digital Arts Cluster initiative. (for more information see: http://now.uiowa.edu/2013/06/new-faculty-cluster-public-digital-arts ). New faculty with expertise in public digital arts will complement the University's considerable existing expertise in these areas to form the core of this innovative multidisciplinary initiative. Participation in the PDA Cluster will be an important component in performance evaluations. Candidates will be expected to teach courses in digital video production and post-production at all levels of the undergraduate and graduate curriculum. Possible courses may range from documentary filmmaking, digital cinematography, and new media to digital animation, 16mm, directing, and screenwriting. Screening begins November 15, 2013. More info here.
2. Unsolicited Proposal Program at APEX Art: Applications accepted Oct 11 – Nov 8, 2013 — online only Submit your idea for a curated exhibition.
Now in its 17th year, apexart's Unsolicited Proposal Program open call is accepting submissions for exhibition ideas starting October 11, 2013. Three winning proposals will receive funding and administrative support from apexart to present their show in its Tribeca space.  The Unsolicited Proposal Program asks for idea-based, 500-word proposals for curated shows of three or more artists that examine a compelling idea. Exhibitions can be about any topic that the organizer finds compelling—successful shows have been selected about everything from television to mapping to literature. No prior curatorial experience is required and we invite submissions from people of all backgrounds. Proposals are anonymously evaluated by an international jury of 150 people from all disciplines. Votes are processed through a unique apexart-developed crowd-sourcing computer script to determine which three proposals received the highest scores with no direction or interference from apexart or its staff.  The three winning exhibitions will be presented in apexart's 2014-15 season. Proposals are accepted online at apexart.org/unsolicited.php from October 11 – November 8, 2013. You may also visit this page for FAQs and other guideline details.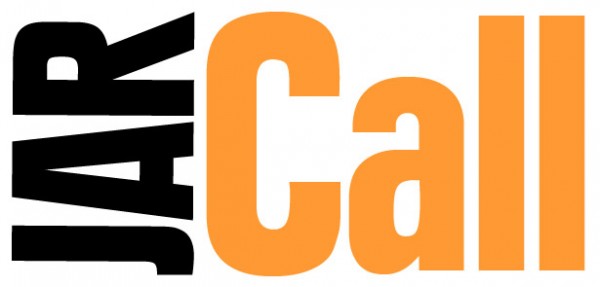 3. The Journal for Artistic Research (JAR) invites original submissions for future issues from artists worldwide, with or without academic affiliation. The journal is open to submission from all artists who wish to reflect on and expose artistic practice as research, who are interested in exchanging ideas and processes with a group of engaged peers and, thus willing to contribute to the ongoing debate about research in the arts. Submissions that should be considered for JAR5 need to be made before November 15, 2013.
JAR is a peer-reviewed journal, publishing original research from artists of all disciplines. Published twice a year, with currently four issues accessible online, the journal is unique in its field, marrying the rich-media and social networking capabilities of online publishing to peer-review and scholarly rigour.With the aim of displaying and documenting practice in a manner that respects artistic modes of presentation, the journal uses the Research Catalogue, a free-to-use online tool that allows the weaving together of text, image, audio and video material.JAR is open to all possible approaches to the publication of research including those that use little or no text. The Research Catalogue also enables collaboration, allowing multiple authors to work on the same document simultaneously and submit to the journal as a team. Articles that are not accepted for publication in JAR can be self-published, free of charge in the Research Catalogue.

JAR is a free open-access resource, with an international readership and a growing pool of renowned artistic and academic reviewers. The journal's issues are non-thematic and submissions are considered by an experienced editorial board, in a rolling fashion, as they are submitted. To submit an article, contributors are required to register for an account on the Research Catalogue, and use the writing space to layout and expose their research. JAR provides editorial guidance and technical help with these processes.

Interested contributors should first acquaint themselves with previous issues at www.jar-online.net (the inaugural issue JAR0is a good place to start) and then contact the journal to discuss the suitability of their material and receive advice on progressing towards submission.

The next issue, JAR4, will be published in November.

Send your correspondence to Barnaby Drabble, Managing Editor, Journal for Artistic Research:Â barnaby.drabble@jar-online.net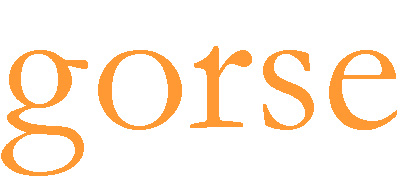 4. Call for Critical Writing Proposals:JARÂ is published by the Society for Artistic Research.
gorse's website will publish shorter pieces of criticism [1], narrative essays and interviews. We are not currently considering fiction or poetry. Please send a query, or the first 500 words of your proposed essay, to info [at] gorse [dot] ie. Work should be previously unpublished. Simultaneous submissions are acceptable as long as you tell us straightaway if your work is accepted for publication elsewhere. We will do our best to reply to all queries, but if you don't hear back from us within six weeks please feel free to submit to another venue. Please note that as our resources are limited, we are only in a position to offer contributors a token fee. Finished pieces for the website would ideally be between 500 to 3000 words.

We are interested in the potential of literature, in literature where lines between fiction, memoir and history blur (Sebald, Cendrars, Bolaño, Joyce), in experimental [2] writing, in fiction in translation, in the unconventional and the under recognised, in the personal essay (Sontag, Dyer). We are a literary journal equally interested in the arts (fine art, photography, architecture, film, music), in culture, in politics. We're looking for smart writing, not academic.

---

1. "I. The critic is the strategist in the literary battle. II He who cannot take sides should keep silent. III. The critic has nothing in common with the interpreter of past cultural epochs. IV. Criticism must talk the language of artists. For the terms of the cenacle are slogans. And only in slogans is the battle-cry heard…" Walter Benjamin ↩

2. We acknowledge the word 'experimental' is not without its problems. (See John O'Brien on this point: "If Sternewere writing today, he would be labeled a postmodernist, but what sense would that make, given when he was actually writing? As far as I am concerned, the history of fiction is one of invention, oftentimes playful and conscious of itself, but always pushing limits in terms of what it is and what else it can be. But I absolutely do not think of a Sterne or a Joyce as "experimenters": they didn't experiment, they made these remarkable books whose ingenuity and art are rarely seen in other writers or matched. Their works are finished and complete achievements, not experiments.") 'Experimental' is not weird for the sake of weird, it is innovation. ↩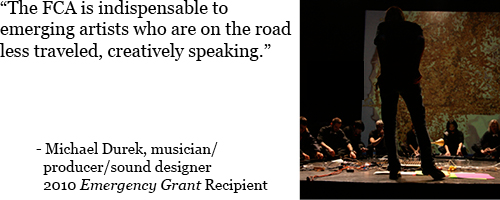 5. Emergency Grants
Created in 1993, Emergency Grants provides speedy funding for visual and performing artists who have unanticipated, sudden opportunities to present their work to the public, or who incur unexpected or unbudgeted expenses for projects close to completion with committed exhibition or performance dates. The grants are intended to support the creation of innovative and experimental work, and are meant to assist individuals and groups when there is insufficient time to seek other sources of funding.
Requests are primarily granted to artists who are "emerging" and have few sources of financial support. Emergency Grants is the only active, multi-disciplinary program that offers immediate assistance of this kind to artists working anywhere in the United States.
Emergency Grants applications are accepted year round; there is no deadline. Applications are accepted online only; please refer to the application requirements below. Grants are determined on a monthly basis by the Emergency Grants Panel, a volunteer committee of established artists. In 2012, grants ranged in amount from $350 to $2,440; the average grant was $1,165. Go here for more information
---
I'm always really pleased but also sort of baffled, too, when an artist invites me over for a studio visit. Once, when I had an institutional career, it was pretty obvious why an artist would want me in his or her studio, and what the stakes were: at minimum, the promise to 'keep them in mind' for some vague something in the future, and the best outcome, definitive inclusion in an upcoming exhibition I was planning. Now, not so much. I don't have anything to offer an artist other than my words, so I'm all the more touched when they make the effort to invite me over.
This morning I was musing about the different forms of engagement that a studio visit versus an art review or some other type of written assessment represent. For me, not for the artist. I can't speak for the artist. Which is why I think that studio visits are such charged experiences for me. I have to warm up for them – not by reading up on the artist's work or anything (although I guess that would be nice, huh?)—but by getting into a certain kind of flexible brain state of mind. I have to start stripping away at some self-protecting and thus extremely comfy walls around myself, and that takes work.
Studio visits require me to be even more open and in-the-moment and attuned to the kinds of all-body awareness that every instance of looking at art requires, but since I'm also being watched by someone else and engaging in a conversation with them, I need to be equally open to the experience of radical vulnerability. When I write, I'm alone, and I can compose and then revise my opinions until I think they're ready, or ready enough, for public viewing. When I'm in the studio, face to face with an artist, I don't have the luxury of crafting my words. Since I almost always have no idea what I'm going to see when I get there, a studio visit means I'm going to have to think on my feet. But since I don't really believe that an artwork has an essential "meaning", only meanings (and, old-fashioned though it now may be, I retain much suspicion about the whole authorial intent thing too), I also have to be willing to say lots of things that, were I writing about this work instead of talking about it, I would have eventually come to erase or re-word or recalibrate.
The most intimidating thing about studio visits for me is that sometimes, the artist seems to be expecting me to respond to something on the spot. It takes me days to write an art review, days of slapping little black symbols onto white space (because that's how most of us write now—I don't inscribe my thoughts with pens and paper, it feels more like conjuring: I think, my brain makes my fingers jiggle and jerk, tiny words appear on the big, blindingly white screen before me, I look at those words and sit back and try to figure out if they work. If they do the work they are supposed to do. And if one or more of those words doesn't, if it's being stubborn or recalcitrant, I need to sit back somehow and figure out why not, why isn't that word saying what it's supposed to, god dammit, is it because it's really supposed to be this, not that, or maybe it's more like that, not this?
From that place, for me, meaning arrives. If I'm lucky. Sometimes, pretty rarely now but still sometimes, I am not so lucky, and everything falls apart.
Things are always falling apart in the studio, though, and that's what I find so exciting and energizing about engaging with artists and their work in that space. Conversations can flow between the artist and myself as if we were old friends, even though we're not; they can also be halting or spurting or circuitous and even more meaningful because of that. Sometimes there's that panicky feeling you get when it sounds like you're engaging in a conversation, one where we think that we understand what the other person is saying, and vice-versa, but then you start to realize that perhaps this is not at all what is happening, that you're actually speaking two different languages that sound alike but are, in fact, nothing alike.
In the artist's studio, I have to be willing to grope for words and say the wrong thing and/or be misinterpreted and just generally come off as totally stupid – and hey, let's face it, not just to look stupid, but to actually reveal myself as the stupid human being that I am. This is easy to do but hard to accept. I take a certain amount of pride in the fact that I have managed to be stupid successfully, over and over, actually pretty much every time I have visited an artist's studio. I think that's something. Maybe it's everything. Right?
---