Since 2009, The Pfister Hotel in Milwaukee has sponsored a year-long Artist-in-Residence program. The selected artist sets up their studio in a glass-walled room on the ground floor of the luxury hotel, and guests are encouraged to observe and engage with the artist as they work. The 2014-2015 Pfister Artist-in-Residence was Niki Johnson, a multi-media sculptor and curator. The body of work Johnson developed during the residency was largely one of ceramic and mixed-media sculpture inspired by a selection of fairy tales. These drew from both from the Brothers Grimm and Hans Christian Anderson, focusing on Snow White, Little Red Riding Hood, Cinderella, The Princess and the Pea, Rapunzel, and Thumbelina.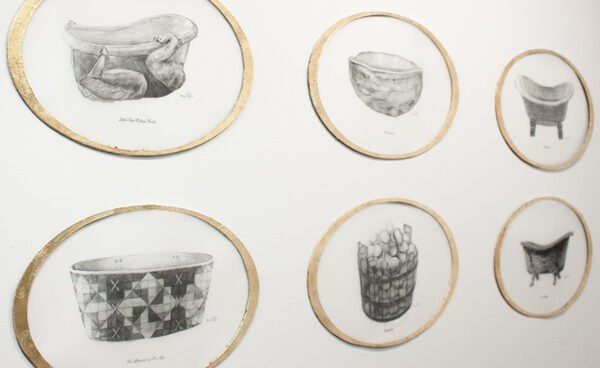 The studio space, in addition to functioning as both an artist's studio and a fishbowl for observers, also serves as a small gallery space, displaying finished works alongside those in-process. A series of images, black and white illustrations framed in gold, showed designs for six sculptural tubs created in response to each of the fairy tales. Two of the tubs, Tether (inspired by Snow White) and Lather (Cinderella), were present in the studio during my visit. Each Artist-in-Residence at The Pfister leaves an artwork behind as a contribution to The Pfister's permanent collection, and Tether was Johnson's legacy piece. It is a small tub—about the size that would accommodate a young child being read fairy tales— hand-pressed in terra cotta clay. The outside is a vivid red with gold patterning, and lined in places with cracks of gold reminiscent of kintsugi, the Japanese practice of fixing broken pottery with metallic lacquer. The interior is lined with feathers, fur, and snakeskin. The various colors, textures, and patterns evoke a certain sumptuous that feels appropriate for a luxury hotel.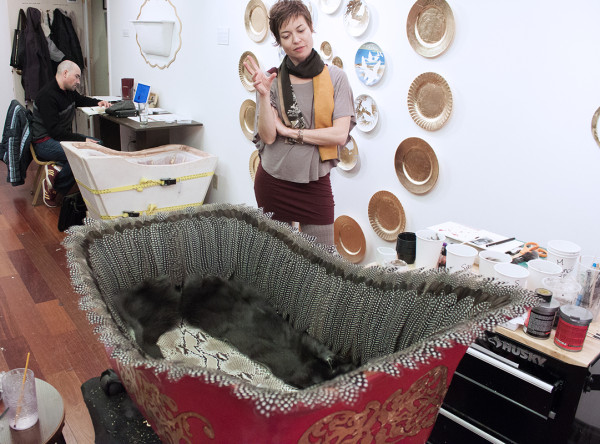 Also on display were Nest Egg, a series of altered commemorative plates making extensive use of gold leaf to create the silhouettes of birds in various natural settings, and Drop/Let, an arrangement of porcelain balloons painted in pink, white, and gold, created for the Susan G. Komen Foundation's The Pink Balloon Project. Somewhat of an outlier is the piece Laid Bare, a found late-19th-century chaise lounge elaborately reupholstered with expired French condoms.
Johnson's body of work, however, was not exactly what brought me to Milwaukee from Chicago for a weekend this spring. In lieu of a standard wine-and-cheese reception or exhibition, Johnson chose instead to close out her residency with a day-long symposium. (There is somewhat of a precedent for putting a twist on the closing reception; fiber artist Timothy Westbrook turned his Pfister reception into a runway fashion show in 2013.) The event was called MarKEt/FORWARD and designed as the first act of MarKEt, a new non-profit she is developing with Kayle Karbowski. MarKEt (a blend of the Milwaukee abbreviation MKE and the art market) is described in its mission statement as follows:
"MarKEt is a Milwaukee based non-profit that fosters growth in the Milwaukee art scene by establishing a platform for new opportunities, education and professional development for the self-made artist. Sparked by the Midwestern DIY ethic, MarKEt aims to connect Milwaukee's institutional, entrepreneurial, and financial communities, by working with established non-profits and commercial entities to create grassroots alliances."
This text is largely aspirational, as MarKEt has only just come into existence, but having spoken with Niki Johnson I find it unsurprising that she wants to take on this kind of community organizing. One gets the impression that there is a parallel universe in which she is some kind of guru: a motivational speaker, a cult leader, a brilliant military captain. She speaks articulately, giving thorough, thought-out answers to spontaneous questions as if she had some vast internal text she could draw on at any moment. "I'm not trying to run this town," she said at one point. She was smiling, but her voice was serious.
After arriving in Milwaukee the night before the symposium, I spoke with both Johnson and fellow arts writers in town for the event (James Pepper Kelly for ArtSlant and Kate Sierzputowski for Newcity). The conversation was lively, but by the end of the night I was very still very unsure what to expect; there was a lot of enthusiasm, but not a lot of specificity. Unfortunately as the symposium itself got underway, I found myself underwhelmed. Overall I was far more interested in Johnson's artworks and personal conversation than in the content of the symposium. I found myself wondering, fairly ungenerously, how someone who makes such compelling objects and speaks so charismatically could create an event I found mostly tedious.
Over the course of the day, however, I kept reaching the same realization: I was somewhat disinterested because this event was not for me, which is not necessarily a negative. As a glance at the event's graphic design or the Power Point styles of its presenters could tell you, this symposium was not slick, and its contents not especially groundbreaking, but it was serving its intended audience. It's right there in the mission statement: MarKEt is for the Milwaukee-based, self-made artist. As someone with a couple of art degrees and a life entirely lived in the orbit of the three largest American cities, this symposium was not designed with me in mind. And that's fine: perhaps too much of the art world is designed for someone (well, a man) coming to it with that perspective.
"Grant Writing Unmasked" with Melissa Dorn Richards, the first presentation after introductory remarks, was particularly unexciting to me, not because what she was saying was off the mark, but because it all seemed so obvious. Talking points included many basics: look at where a granting organization gets their funding and what projects they have funded previously; have someone else look at your application; imagine being on the other side of the table. But when I looked around the room, I saw an audience of people listening carefully and diligently taking notes. It was heartening. I'd been under the misapprehension that most people were in the same boat as me: I know what I need to do to apply for a grant, because resources about that information are all around me, but I'm disorganized, or lazy, or afraid of failure. But here is an artistic community that seems really eager for this kind of information, especially when it comes to Wisconsin-based resources like the Funding Information Center at Marquette University.
The presentation highlight for me was "Manufacturing Creativity" with Reginald Baylor, a Milwaukee-based artist working in a variety of media, and the 2009-2010 Pfister Artist-in-Residence. He spoke about how he turns to the music industry, the tech industry, and the sports industry, rather than the traditional fine art market, for inspiration in doing business. The art world, he asserted, should take a lesson from hip-hop; we can be more like Russell Simmons. "Suburban homes," Baylor told us, are "the best museums," urging us to acknowledge that there is a larger art market than that of exclusive galleries and collectors. He is interested in 200,000 buyers of his work, not 5—"I don't think I love my work enough if I only want five people to have it." In service to this kind of accessibility, Baylor sells his work out of his open studio, seeking to create an experience for his audience that is inviting rather than intimidating, more garage sale than gallery auction. His talk was an enjoyable reminder that there are infinite options when it comes to structuring the business of being an artist, and that it's wise to assess those choices in light of your audience and goals, rather than pursuing one standard prescribed model of artistic "success."
Overall, while MarKEt may not be as compelling to a Wisconsin outsider as Johnson's personal artistic practice, it seems to have the potential to be a valuable addition to the Milwaukee art scene. Smaller American cities are often undersold, with the talented and ambitious encouraged to emigrate to the nearest hub and join the fierce competition for big city resources if they wish to succeed. But Milwaukee is, of course, not merely a satellite of Chicago (which is itself often [mis-]represented as dwelling under the shadows of New York and Los Angeles), but its own site of cultural production, with its own aesthetics and values. If the receptive audience of MarKEt is any indication, the Milwaukee art community is one hungry for passionate, locally-focused organization.
---
Unless you're one of the lucky ones who can swing the Venice Biennale package excursion, or go off on a museums-of-the-world grand tour, late summer is a drag in the art world. In New York, after the kitchen-sink group shows conclude in July, the economic drivers of the art world flit off to the Hamptons, Fire Island…or Venice, and the apparatus effectively shuts down until they return after Labor Day. Thankfully September is bananas and more than makes up for the brief hibernation.
I wasn't sure when I arrived in Wisconsin if the same would be true, but by late July it was clear that haute culture takes a back seat here as well, only in favor of jet skis, pontoon boats, and prime rib Saturdays. Even for the philanthropist/board member set, which is part of the charm of the place. I'm told Door County is Wisconsin's version of the Hamptons, though I don't think there are any go-karts in the Hamptons.
So in terms of spectatorship, it was a fairly dry late summer. With one significant exception.
I finally found the time to drive two-and-a-half hours north to the tiny town of Little Wolf to see, indeed, experience, The Poor Farm, the experimental exhibition project imagined by Michelle Grabner and Brad Killam.
On the way there my GPS went out of range somewhere outside of Manawa, so I stabbed forward like a pioneer searching for a pass through the mountains. I eventually hit County Road B by blind luck, took a right turn and happened by a large building with a David Smith-y looking sculpture out front. I was right in assuming I was where I was supposed to be.
The Farm might pass as your typical two-story rustic house in the country, only contemporary art occupies the spaces that might otherwise be used to store mason jars full of rhubarb preserves. The dozen-or-so galleries spread over two floors and basement are home to installations that run an entire year. That year officially kicked-off last week with an annual extravaganza called the "Great Poor Farm Experiment", complete with video screenings, performances, and a little wholesome socializing. Ahem.
It's difficult to appraise the individual exhibitions at the Poor Farm independently from the raw charm of the space itself. Though there is a clear demarcation between exhibitions, the Farm's ambient personality unifies the experience. One of my favorite pieces on view is a painting by John Riepenhoff in gallery 5 on the second floor; another is a nearby wall in gallery 3 whose stratified paint layers happen to be artfully flaking away.
Also captivating is an installation of large abstract paintings by the Italian artist Lucio Pozzi, occupying the largest gallery on the main floor. Pozzi's suite of paintings, like the gallery and building encasing them it, are a healthy mix of sophistication and eccentricity. The paintings seem to be clean and hermetic at first but their composure degrades and their informal, slightly skewed character is comes to the fore.
The installations in the basement join forces to create somewhat of a Freddy Krueger-esque experience. That I was alone and the rural silence was split only by an eerie sound piece under the stairwell by C. Spencer Yeh, contributed significantly to the impression.
I left satisfied and compensated for August's otherwise paltry offerings. The Poor Farm is a recommended trip even given the Chicago-to-Manawa road time. Perhaps on the way back home can hit some other Wisconsin art offerings I recommend for fall.
First, I'll nerd-out with a show that might not get every art lover salivating, but as an art history professor, I'm looking forward to a survey of painter-of-presidents and theatrically-derived genre scenes, Thomas Sully, at the Milwaukee Art Museum.
As for local, contemporary interests, two Wisconsin surveys are happening concurrently: the Wisconsin Triennial at the Museum of Contemporary Art in Madison (MMoCA) and the third installment of the Haggerty Museum of Art's Current Tendencies. I'm looking forward to seeing Kristy Deetz's paintings in Madison, which draw equally from craft, folk art, Fra Angelico, and imagination. Current Tendencies boasts work by photographer Jon Horvath, mixed media artist Jason S. Yi, and other favorites from the Milwaukee area.
For the bananas portion of the season, I'll save my wilder enthusiasms for the fourth annual Ghost Show, a collaboration during Halloween among a number of independent art spaces in Milwaukee that will merge the occult, the esthetic and the potable to what I've heard are thrilling, if not supernatural results. Stay tuned for more details about that.
Coinciding with the grand opening of the Thelma Sadoff Center for the Arts in Fond du Lac, New York-based light/space and all-around phenomenological pirate, Hap Tivey, will reconfigure an extraordinary installation called "Sodium Exchange". The piece invites viewers to interact with each other on either side of an illuminated scrim. Think: Robert Irwin, Doug Wheeler, but with a ladle-full of relational gravy and a sprig of playfulness on top.
I'll conclude my short list of things to see in Wisconsin this fall with a plug for a show a thousand miles away on 20th Street in New York City. Mike Womack, an artist I've championed in the past will have his third show at ZieherSmith. It opens on September 5 if you're in the area. This time around for the protean artist: concrete encased works on paper. The sketchbooks of Frida Kahlo colliding with Brutalist architecture? Paul Klee's drawings in a death match with Donald Judd's Chinati cubes? I can only hope, but I'll have to be surprised.
So no one thinks I'm taking thematic liberties, I'd like it noted that one-half of ZieherSmith, Scott Zieher, is, beyond being an exceptional poet and collage artist, a native son of the great state of Wisconsin. So there.
Happy viewing and Gooo bee-ad-yers.
---
Culture's a funny thing; so many of us accept it as a ubiquitous and powerful force, yet we tend to undervalue the level to which it influences our choices. Cognitive dissonance of the highest magnitude.
I've seen this in high-relief over the last 18 months, commuting between Wisconsin and Brooklyn. From television to cuisine to high-art, culture seems bent on sanding us down even as we strut about thinking of ourselves as unique splinters in the side of society. And me too, flying back-and-forth, literally feeling above the fray in mind and distance. But with my family settled safely in Wisconsin, all that commuting ends soon. At which point I'll be back on the ground, in the fray, trying to protect my nose and exposed fingers from the ever-normalizing orbital sander of prevailing culture.
April 8 will by my last Thoughts from the Cultural Divide from the trenches.
Speaking of rugged individuals and sandpaper, today I showed my class the famous photo of 'The Irascibles' along with segments of Hans Namuth's videos of Jackson Pollock in East Hampton. The imagery seemed especially dated this time around. So musty and conservative. I had to work harder than usual to remind myself that the New York School once represented a viable avant-garde. One woman. All white and self-satisfied. All in suits and clean-shaven, though Theodoros Stamos has a mustache in the photograph that would humble the most pretentious Brooklyn bartender.
As mothballed as the New York School seemed this morning, the contemporary alternative as described in Randy Kennedy's New York Times article about contemporary social practice didn't seem any more promising when I read it tonight.
The piece, "Outside the Citadel, Social Practice Art Is Intended to Nurture" describes a movement of art centered on affecting social change rather than making objects for the marketplace. All fine; fighting for a good cause is hardly something to root against. But the quick rise of this approach to art feels somewhat overt to me. My suspicion is that social practices, like much art throughout history will end up sacrificing content on the altar of self-conscious form. Form that will become apparent only after the initial seduction of the movement has evaporated. Or to paraphrase Roland Barthes from Mythologies, "a little formalism turns one away from History, but a lot of it brings one back to it."
Even more to the point, and to my skepticism, Michael Kimmelman from a piece called "DIY Culture", in the New York Times a few years back:
"The myth of an avant-garde serves the same market forces avant-gardism pretends to overthrow. Art may challenge authority; and popular culture (this includes clownish demagogues like Glen Beck) sometimes makes trouble for those in charge, the way Thomas Nast's cartoons did for Boss Tweed in Tammany Hall. But art doesn't actually overthrow anything except itself, and never has, not in 19th-century France or 20th-century Russia or 21st-century China or Iran. Even when it manages to tilt popular thinking, it still ends up within the bounds of existing authority, and there has never been a true "outside" that really stayed outside: public consumption, by definition, adapts to the change, co-opts and normalizes all culture."
The pop analogy I often use to explain this phenomenon is the life cycle of a fashionable name. Take, "Jennifer" over the last 50 years. Not biblical and of obscure origin, the name just kind of tipped over into the popular consciousness in the 20th century. It went from the 20th most popular name in 1965, to 10th in 1966. It was the single most popular baby name from 1970 through 1984, but by 2000 it had fallen out of the 25, usurped by all the Abigails, Brianas and Madisons. While one can't determine which mothers were channeling popular consciousness and which were drawing from their own independent creative sources, the numbers suggest most are a case of the former.
Like Jennifers, art come in waves that build, crest and crash. This might all sound a bit cynical, but it shouldn't. It's not the name "Jennifer," nor that my neighbor here has a Green Bay Packers flag mounted to his house, nor making art as social practice that pricks me, it's that the numbers, the movements and the waves all suggest that culture is shaping us while we think we are in control. That we picked 'Jennifer', and the handlebar mustache, and the social practice, and the DIY collective gallery space in Ridgewood, when in fact, they probably picked us. And, who knows, maybe you were inspired, but we should have some humility because the numbers show that you and I aren't as fiercely independent as we might think.
I've also gleaned via crude armchair sociology over the past year-and-a-half that, yes, it's probably true that Brooklyn gets bartenders with handlebar mustaches a year or two earlier than Wauwatosa, Wisconsin, but being the first to start a wave of pretentious affection is a dubious distinction, and simply more proof of cultural homogenization, not individuality. And we should make doubly sure that our art doesn't follow the same trend psychology that our facial hair does.
So I suggest we leave the handlebar mustaches to Theodoros Stamos and try to avoid being battered and worn down by the relentless waves of culture.
---
I left New York City for Wisconsin just as hurricane Sandy was barreling up the East Coast, and I returned in the middle of the nor'easter that came to salt the wounds that hadn't yet healed.
That means I was in Wisconsin to observe the aftermath of both the election and the hurricane. It was the first election I spent outside of New York in over a decade, and, despite being in a place that rallied behind a lesbian senator and prides itself on its artisanal cheeses and beers, the sense that I wasn't in Brooklyn was palpable.
Romney/Ryan signs dotted most of the manicured lawns of the bedroom communities in Ozaukee County, one of the most republican enclaves in the state, indeed the country. Cedarburg, where I stay with my in-laws sits smack in the center of the county, and happens to be the place where John McCain and Sarah Palin chose to launch their 2008 presidential campaign, which didn't even think about coming close enough to Brooklyn to see its forearm tattoos.
When ensconced inside Cedarburg's city limits one begins to understand why its citizens gripe about the federal government. Look around and you'll see a community that seems from every vantage to have figured things out. Not in some kind of sinister, Ayn Randian, elitist disengagement either, but in a real, communitarian, bucket brigade, do unto others way. A way that leads many of those who don't leave the place to wonder why a bunch of bureaucrats 1000 miles away should be shaking them down for money to pay for social and cultural programs that they manage just fine on a community level.
In Cedarburg, if you needed food, you could walk up to any restaurant and they'd give you a meal. That's welfare. If you were sick, the doctor would see you. That's medical care. If you were pregnant and 16, the community would politely shame you and gossip about you for the rest of your life, but would also see to it that your child was cared for. That's social services. That's also the police.
My dad-in-law – who happens to be named Sandy – is one of a majority in his community who if allowed would shrink the entire federal government into a 24-hour help desk whose phone number was buried so deep on the website that you'd have no choice but to use the on-line chat to reach them. But as he watched New Jersey and New York plunge into darkness and not immediately light back up, I watched his conviction waver. And as he watched his beloved Chris Christie lay olive branches in front of Barack Obama, I thought I saw a little pan-American Esprit de corps bubble up from inside and pierce his usually impenetrable exterior.
Seeing Christie and Obama together, he muttered, "This must be a dire situation because it's not easy for someone that big to kiss an ass."
We stayed up late talking about Jacksonian versus Hamiltonian democracy as the disaster unfolded over cable news. We didn't agree on everything, but it was wholly amicable. I gave him a copy of Naomi Klein's book "The Shock Doctrine" which he didn't immediately throw into the fire or back at me, a gesture as tender as a hug if you knew the man.
He liked it when I riffed about how the media's job is to locate scapegoats where they can and to create them when they can't. I did a shtick about natural disasters in Chris Rock's voice and then played him Rock's bit about why people blame music and video games when kids go on shooting rampages at public schools.
"What ever happened to CRAZY!!??"
"What ever happened to BIG, POWERFUL, IMPLACABLE, UNAVOIDABLE, NATURAL FUCKING DISASTER!!!?"
He roared like a kid telling dirty jokes on the playground. He said all journalists were like hyenas but with less loyalty, and then told me an old one about a blind stewardess and a couple of donkeys for good measure.
Sometimes it takes a catastrophe to galvanize people.
The day after the election, I caught Sandy out in the front yard taking down the Romney/Ryan and Tommy Thompson signs. He like the rest of the town was emotionally hungover from the political orgy of the past few nights. In fact, earlier in the day I actually saw a guy crying at the gas station about the election. It could have been for other reasons, but I assumed he was pissed about either Romney or Paul or Tommy. After gathering and tossing the campaign signs in the trash we went inside where the 24 hour news droned on. It was Fox News and the subject was the fiscal cliff and the end of the Bush tax cuts.
Sandy  yelled over one the pundits, "BE AFRAID, BE VERY AFRAID!!"
"Of the host's hair?" I added sarcastically.
"Of the SOCIALISTS!!"
"You mean of our democratically elected federal government whose taxes are roughly a quarter of its gross domestic product?"
"A quarter given is a quarter wasted and redistributed!! Protect my shores, deliver my mail, and get the hell out of my life!! And don't let the door hit you on the way out!!"
Hurricane Sandy was back and no bucket brigade could stop it.
---
My father-in-law was born in Cedarburg, WI. So was his father. And his father before him and his father before him. My wife's family has eerie family portraits on the walls in their house like the ones in Scooby Doo and Peter Sellers movies in which generations of patriarchs line up side-by side, looking alike save for unique period facial hair patterns. No wandering eyes, but if it's late enough and you have anything in your subconscious to hide, your mind will play tricks.
That father-in-law's granddaughter – my daughter – was born last Tuesday at St. Luke's-Roosevelt medical center in New York City. A break in geo-natal continuity that silently resonates through the family only coming out in polite, passive-aggressive reminders about the merits of life in Cedarburg.
I've refrained from telling dad-in-law about our labor odyssey on that special day. The previous day was Rosh Hashana, the roads were empty and the late summer sun shone gloriously. But we went into labor on Tuesday of course, driving through walls of rain and relentless traffic, from Brooklyn all the way to Manhattan's west side. On our final approach to the hospital, on the other side of Lincoln Center, we stalled behind a handsome cab finally inching into the hospital entrance at walking speed.
Once admitted into the maternity ward, it was concluded by the nurse on duty that my wife's situation indicated "impending" but not "imminent" labor, and should leave the hospital. Apparently, in September, there's a run on birthing space and prioritizing is necessary. Despite my resistance we were urged to leave and "stroll around the neighborhood" until she was further along, "maybe get lunch at the Time Warner Center and relax" until we moved the ball into the red zone.
Given the driving rain and my firm belief that Per Se wasn't an ideal location to go into a birthing holding pattern, I splurged for a hotel room that was nicer than anything I might have reserved for our honeymoon. Within a half-an-hour it was clear that my wife should be in a hospital. Desperate, we called her doctor who instructed us to drive to 77th and Columbus for an emergency visit. I didn't finish my Shake Shack burger (almost caught in a Jujy Fruit Seinfeld moment) before my wife called to inform me that the birth was indeed imminent and that her doctor had called insisting on re-admittance to the Roosevelt birthing ward. I drove French Connection-style 20 blocks south to the hospital and escorted my moaning wife to the 12th floor, the car idling on the curb the whole time.
Yada yada, we now have a beautiful, healthy baby daughter..and a colorful only-in-New York story to crown the ordeal. Though I'm not sure I will forever cherish it. My mother-in-law who was staying with us and took in the play-by-play over the phone as it happened, wouldn't stop telling a story about how her husband's mother was born premature in her house with the help of a mid-wife and a life-long family physician who put her in a shoebox in a dresser drawer with hot rocks as soon as the cord was cut.  I still don't know the exact implication of the story, but judging by the frequency of its recanting, it means something.
I'm sure Roosevelt hospital spills over with all the best technology available to man and baby, but still, it's hard to fathom all that magic could be almost out of reach because I was stuck behind a horse. And that our access to it was blocked by a nurse who was treating expecting mothers like construction workers getting egg sandwiches at a bodega at eight in the morning. But still isn't that better than a drawer full of rocks? Who knows. But I'm not telling my father-in-law anything. I guess he can't jab at me about the horse.
I've always said that I wanted my child to build her formative foundation in a sandbox in Wisconsin, and have all her crown molding finished in New York. The jury's still out on all that construction in-between.
But alas, the concrete's been poured.
---