It has been a big week for sure! I've spent the last few days in Portland, at the Open Engagement Conference and many of my posts have covered that. But I'm getting ahead of myself. Let's start from the beginning.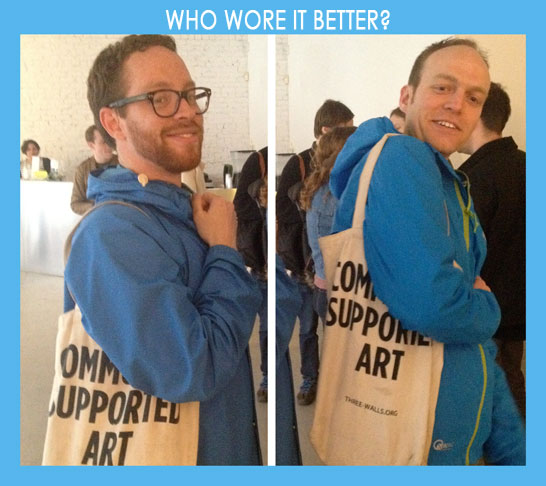 The week began with some real T courtesy of Bad at Sports' official Gossip Columnist, Dana Bassett, including E-Dogz upcoming, Â "Twends" Â spotted at the SAIC Fashion Show this year, an architectural study of the Bachman House, a WHO WORE IT BETTER and some sketch gifs by Elisa Hawkins. Once again, another Episode not to be missed.
Reporting on all things Social Practice, Mary Jane Jacob writes about terminology and the settling thereof:
"Social Practice" has caught on as a name, as well as a practice. I'm relieved to see relationship aesthetics (Nicholas Bourriard) dropped from the vocabulary list along with the litany of terms: new genre public art (Suzanne Lacy), dialogic art (Grant Kester), participatory art practices (Claire Bishop), more recently art of social cooperation (Tom Finkelpearl), and others of a collaborative, community, or group persuasion. Maybe it has taken us 20-some years to arrive at a name, not because we didn't try, but because the practice itself has been evolving and this name works.

Social Practice evokes Beuys' Social Sculpture, while practice is more open and active; it's also less cumbersome than socially engaged art practice. It can hold a variety of ways of working and making, thus avoiding the critic's urge to nit-pick definitions and lock in characteristics which inevitably shortchange the art and pigeonhole the artist into what amounts to a style. [Look for our exhibition in September 2014 at SAIC's Sullivan Galleries that will bring the social practice artistinto the gallery, not to document what happened out in the world but to engage the gallery as a still-critical space of, yes, "engagement."]
Thomas Friel writes about the unveiling of Mike Kelly's Mobile Homestead — and maybe it's the jazz station plays in the background on a friend's radio, but Friel's intro gives me the chills almost; it's so good it feels like it could be the start of a detective novel:
Walking up to the clapboard rancher surrounded by a sod lawn in front of a brick building whose facing side was painted a sky blue, an uneasy feeling of displacement crept up my spine. On one side was downtown Detroit, the other was suburbia. Except it was some sort of self conscious version of suburbia, reminiscent of the prosaic childhood setting so many of us are familiar with, but with an almost mythic nature as a newly fetishized art object. Originally "launched" in 2010 as an intricately choreographed performative sculpture, Mike Kelley's Mobile Homestead finally opened to the public on May 11, 2013 at the Museum of Contemporary Art Detroit as a permanent fixture on the adjacent lot. As a recreation of the late artist's childhood home in suburban Westland, MI, the resulting structure is fairly straightforward. As an art work, it is extremely complex, a nearly uncatagorizable masterpiece, wholly embracing major themes of his life's work while barreling into new territory altogether in the most ambitious project of his far too short career. Mobile Homestead asserts itself as both public and private sculpture, focusing on community involvement and outreach, yet retaining a strong sense of privacy and secrecy inherent in homes by the elaborate basement labyrinth which will be kept off limits to the general public.
On Thursday, Thea Liberty Nichols interviewed the "indefatigable" Jodie Mack, whose "films traffic in the tropes and technical achievements of the history of moving image work while simultaneously canabalizing themselves in the process of their creation." In Mack's words:
On a fundamental level, I'm interested in the tension between form and meaning. Each one of my films studies some sort of tangible object or set of objects: colored plastic (A Joy), photo-negatives (Lilly), magazines (Yard Work is hard Work) junk mail (Unsubscribe 1-4), fabric (Harlequin, Rad Plaid, Posthaste Perennial Pattern, Point de Gaze, Persian Pickles, Blanket Statement), posters (Dusty Stacks of Mom), etc. The materials guide the messages; the results take on different forms, some looking more like pre-established genres than others. The role of abstract animation in cinema – its sensational and narrative possibilities – surfaces often in my films no matter the material I'm exploring. DSoM chews through the posters and digests them through a number of animation techniques; certain scenes emphasize representational aspects of the posters while others abstract the material. So, I'd say the depiction of representational imagery vs. abstraction in this film is both a focus of the piece and a by-product of the material at hand in this case.
Robert Burnier brings it all home again with this post about painting and craft —
I once had a penchant for the obsessive, compulsive traditions of certain Dutch painters like Paulus Potter, Adriaen van der Spelt and Jan van Cappelle, so whenever I was in an encyclopedic museum, I would always make my way toward those galleries. Afterward, however, I would go straight to where the modern art was and stand in front of a Cy Twombly or some other such work. In 2002 the Gerhard Richter retrospective, 40 Years of Painting, came to the Art Institute of Chicago. One salient aspect of this was to witness a similar kind of range more or less present in one artist; one who held up Reading, Grey Mirror, and 256 Colors as artistic statements of the same order. I see these memories as analogies for the way I continue to approach works of art, especially – though in a limited sense – when it comes to issues of craft.
"What is Open Engagement?" you might ask. Open Engagement (OE) is the socially engaged art conference I am at presently. In Portland, Oregan. AKA Paradise. I'm still here and it's still awesome. I have been interviewing a couple of artist and writing some blog posts about events that have taken place. I expect to be writing a little more about things, and posting some blog-format interviews down the line. But for the moment, you can read my first introductory post:
The first Open Engagement conference was the result of Jen Delos Reyes' thesis project at the University of Regina; Reyes wanted to create a "different kind of conference," one platforming emerging and established artists while providing a site for both "production and reflection." This is Open Engagement. Delos Reyes came to Portland State to co-direct the MFA in Art and Social Practice once she had finished her MFA, and in 2010 Open Engagement came to Portland State. To this day, the conference is the result of collaboration between MFA students, Delos Reyes and OE Co-director, Crystal Baxley. In her opening remarks, Delos Reyes remarked on the sometimes "unkempt" nature of the conference, highlighting that it was focused on an artistic discipline that by its very nature is influx, and sometimes messy. That directive affords a kind of experimental quality which is perhaps missing from what she refered to as a more "rigid professionalism."
Wonder what's t(w)ending at OE this year? Ethics, Failure and Utopia, or so I suggest.
Do you have questions about terminology in social engaged art practice? Well OE did not and here are some remarks about that.
---